Welcome back! I am stuck in bed fighting a cruel late-summer flu. I hope you are reading this in a much more pleasant place. A beach, perhaps.
Thank you for subscribing. Invite others to follow along by signing up here.
Today's Smart Brevity count is 1,700 words, about 6 minutes.
1 big thing: Cities tap into social media feedback
Like companies and major brands that monitor social media feeds to keep up with consumer sentiment and tastes, city governments are now tapping into those data streams to keep tabs on residents' chatter and complaints about what's happening around town.
Why it matters: Twitter and Facebook posts, when combined with other city tip lines and data collection tools, can be a gold mine of information about what citizens really think, helping cities direct resources to what residents actually care about.
What's happening: Zencity, a Tel Aviv-based Microsoft-backed startup, sells an AI-powered sentiment analysis tool designed to track citizen opinions so cities can gauge how they are performing. Zencity works with 75 communities and collects more than 1.5 million social media interactions each month.
"Cities need to know if they're doing a good job, but they don't have a feedback loop," said CEO Eyal Feder-Levy, citing low response rates to city surveys and low attendance at traditional town hall meetings. "This is the basic concept of meeting people where they are."
How it works: Zencity's tool aggregates data points, including social media posts, local news stories, messages received by cities' 311 portals, and online feedback forms. AI is used to identify and sort trends, anomalies and public sentiment.
For example: Houston works with Zencity to gauge how residents are responding to changes in city services, such as a recent garbage pickup schedule change and a project equipping free WiFi on public buses and trains.
In Cary, North Carolina, a town of about 160,000, local officials used Zencity data to monitor how residents felt about the fleet of electric scooters that quickly appeared on sidewalks. Mixed feelings from residents led the city council to allow e-scooters but reserved the right to change the ordinance if needed.
But, but, but: Cities naturally want to take advantage of the troves of information citizens are sharing on social media, but some people may not expect city administrators to "listen to" them when blowing off steam about a traffic jam or venting about a snow plow.
Privacy tensions bubbled up when law enforcement agencies were found to be using social media to monitor protesters and activists in 2016. After criticism, Twitter, Facebook and Instagram changed their policies to prohibit using their data for police surveillance.
That's where the distinction between passive monitoring and personal tracking is key, says Kelsey Finch, senior policy counsel at the Future of Privacy Forum.
"When we think of public monitoring, people jump to tracking individuals, which feels more targeted than tracking aggregate sentiment," she said. "It feels very different when people can put you in jail versus coming out to fix your pothole. People for the most part like to be lost in the crowd and the sense of security that comes along with it."
For its part, Zencity aggregates data to show broad trends, heat maps and topics without singling out specific users. If city employees want to drill down to an individual comment or comment thread, names are whited out, the company said.
2. San Jose steps into gun control debate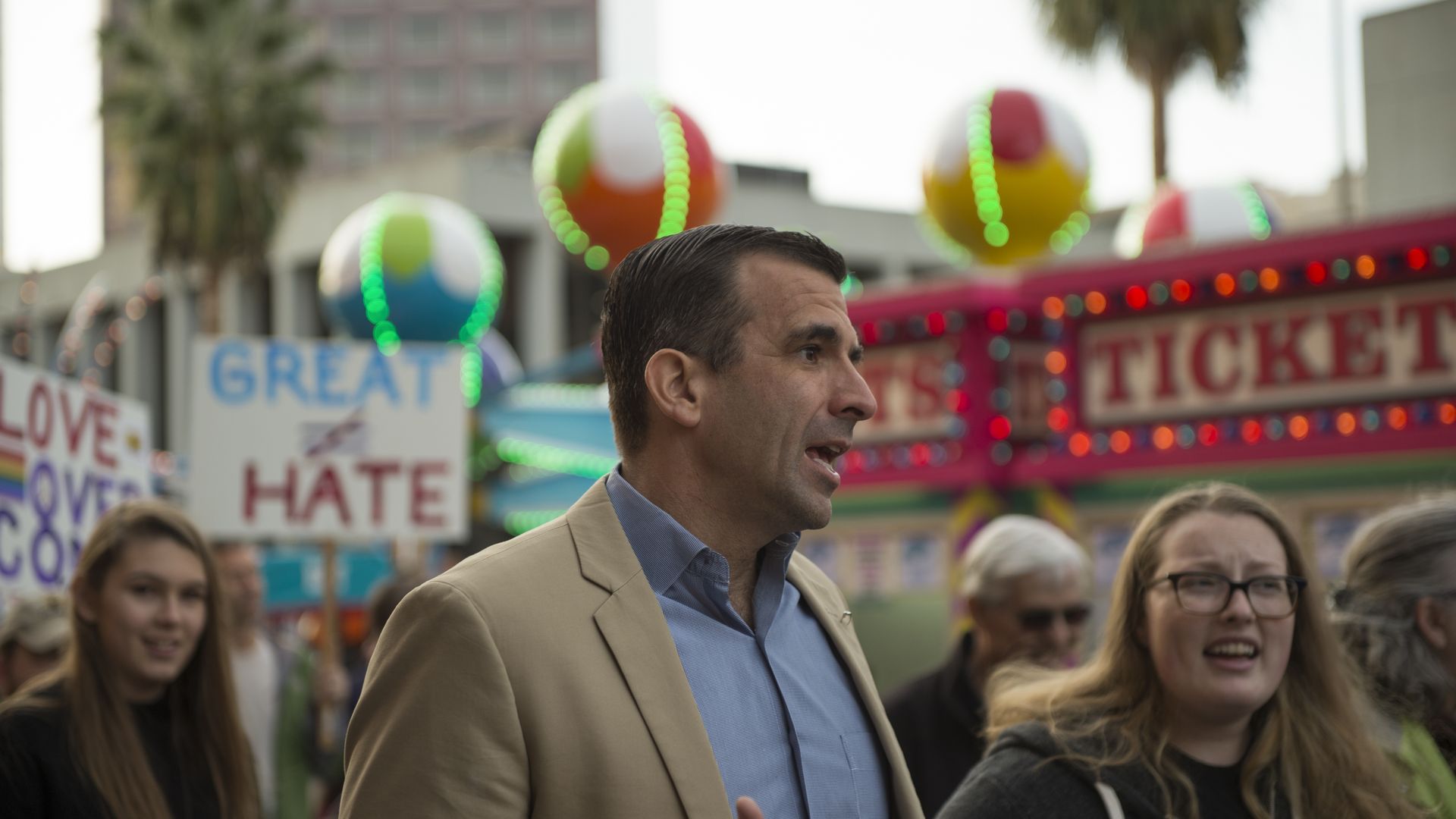 San Jose Mayor Sam Liccardo this week proposed a city ordinance that would require firearm owners to either carry liability insurance or pay a fee to cover public costs of gun violence to the city.
Why it matters: San Jose is reeling from the Gilroy Garlic Festival shooting last month that killed 2 children and 1 adult and injured a dozen more. The city, the 10th largest in the U.S., is the first to propose this kind of "harm reduction" measure to curb gun violence.
"This is an opportunity for cities to lead the way because we are not perhaps as beholden to the special interests," Liccardo told me.
How it works: If approved by the city council, the measure would require San Jose gun owners to have private liability insurance.
If such insurance is not available, or if an individual is not able to purchase coverage, firearm owners would pay a fee intended to help cover the costs to city police and emergency services related to gun violence.
That payment would need to be protected with strict privacy standards to comply with California's state law that precludes local governments from establishing gun registries.
Under his proposal, insurance would provide coverage for accidental discharge of the gun and for the intentional acts of third parties who steal, borrow or otherwise acquire the gun.
Insurance can incentivize safe behavior and discourage risky behavior, from purchasing a home security system to thinking twice about letting a teenager drive a car, Liccardo said.
The other side: Opponents of the insurance measures say they infringe on Second Amendment rights by creating a new financial burden for gun owners. The insurance and firearm industries have argued in the past that property or casualty insurance does not cover intentional criminal behavior.
What to watch: Liccardo said he's talking to other California mayors and state legislators about the proposal. "We're seeing cities start to jump out there, saying 'Let's see what happens in San Jose,'" he said. "So far the response has been positive."
3. Fewer Americans are buying homes...
Homeownership rates have plunged over the past 15 years, in a trend that isn't likely to reverse itself, writes Axios chief financial correspondent Felix Salmon.
What's happening: House prices have been rising where they're already unaffordable and falling where they're within reach. To put it another way: If you want to make a good investment, you can't afford it; if you can afford it, it's not going to be a good investment.
Demographic trends also work against homeownership.
There's a broad move out of rural areas and into urban ones, which is to say a move from where homeownership levels are generally high to where they're generally lower.
Homeownership among the white population is about 70%, but it's well under 50% for the black population and Hispanics, and Asians are also well below the white level. As America becomes increasingly non-white, the culture will continue to move away from the homeownership ideal.
4. ...but investors are snapping them up
Private equity firms, real estate speculators and other investors made up more than 11% of U.S. homebuyers in 2018, the highest percentage on record and significantly higher than the level seen before the 2008 housing crash, writes Axios Markets editor Dion Rabouin.
The starter-home shortage: Not only has the investor share of homes risen to a record high, but investors are taking an even greater share — also a record high — of so-called starter homes, or the smaller, more affordable houses that typically attract lower-income and first-time buyers, according to data from CoreLogic.
The bottom line: The supply of starter homes is already historically low, and with prices continuing to rise and young potential buyers more indebted than ever, there's little sign that the struggles in the housing market will correct in the near-term, analysts say, even with low mortgage rates.
Go deeper: The roots of the rental economy
EXPERT VOICES
5. Mobility data could help improve equity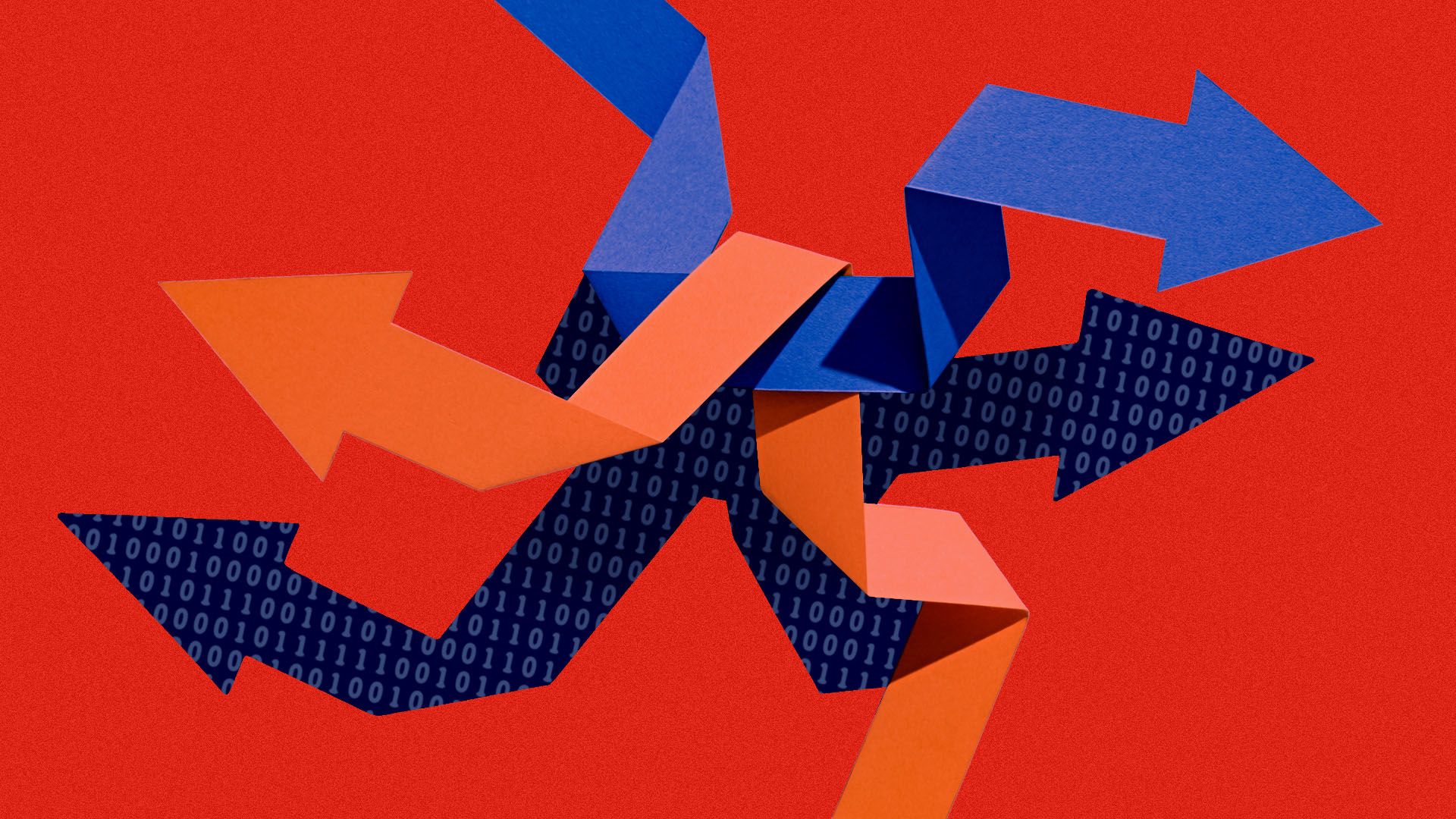 Cities need tools to responsibly track, store and analyze mobility data from ride-hailing, dockless bikes and e-scooters, writes Sudha Jamthe for Axios Expert Voices.
What's needed: It's imperative that cities anonymize data and store it securely — but it's also important for cities to be transparent about what data they're collecting and make it available for analysis by city officials, residents, academics and other stakeholders.
What's happening:
The city of Los Angeles developed the Mobility Data Specification, which establishes how data could be uniformly formatted and shared among multiple stakeholders.
A group of cities (including LA) and private and nonprofit organizations recently formed the Open Mobility Foundation, which aims to use new mobility technology to improve safety and equity while adhering to strict privacy and security practices in how data is collected and managed.
Between the lines: These programs foster the use of data to ensure equal mobility access to all residents, even when data is initially collected by private companies.
Cities could also use mobility data to plan infrastructure updates that could expand mobility options and accessibility and ensure that available mobility services are equitable and that no neighborhoods are left behind.
What to watch: As mobility data is combined with other data sources such as census findings and retail data, cities could begin to make planning decisions and investments differently.
Sudha Jamthe is director of DriverlessWorldSchool and teaches AV Business at Stanford Continuing Studies.
6. Urban links
The looming global water crisis☝️(Dave Lawler — Axios)
'Vehicle ranching' in Seattle: Inside the underground market of renting RVs to homeless people (Vianna Davila — Seattle Times)
America has a housing segregation problem. Seattle may have the solution. (Dylan Matthews — Vox)
This high-tech solution to disaster response may be too good to be true (Sheri Fink — New York Times)
The rural America death spiral (Stef Kight, Juliet Bartz — Axios)
Postmates lands first-ever permit to test sidewalk delivery robots (Kate Clark —TechCrunch)
7. 1 📚 thing: Libraries help fend off summer learning loss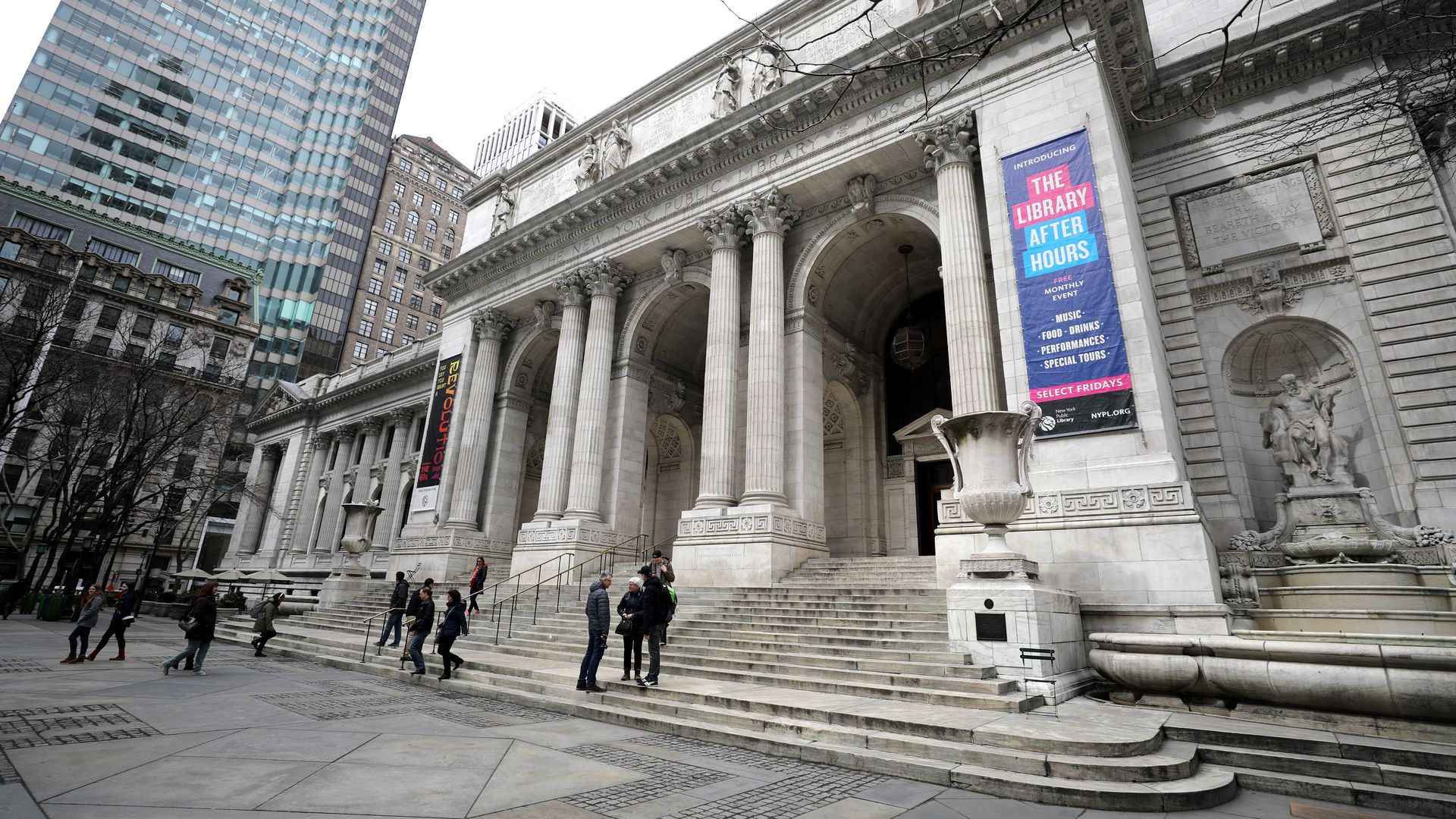 Low-income black and Hispanic students are more susceptible to losing ground academically during summer breaks, and public libraries help to lessen the pitfalls from the hiatus from reading and writing, Chalkbeat reports.
The big picture: President Trump has proposed to defund federal money for public libraries. While that hasn't come to pass, public libraries are still at the mercy of potential cuts in city budgets, putting youth programs at risk, writes Axios' Marisa Fernandez.
Zooming in: Millions of dollars of cuts for New York City's 3 library branches —Brooklyn Public Library, Queens Public Library and New York Public Library — had been imminent under Mayor Bill de Blasio, which would have required some libraries to close on weekends.
After public outcry, de Blasio and City Council Speaker Corey Johnson agreed in June to provide city libraries with $33 million in additional funding, a historic high.
By the numbers: In 2018, nearly 1 million children and teens attended summer activities through NYC public libraries. More are estimated this summer with over 42,000 programs and events, Chalkbeat writes.
But, but, but: It all comes down to access, especially among students of color. Lack of access to transportation during the summer hinders attendance when working parents are unable to accompany their children to programs.
Thanks for reading! We'll be back next week.