Axios China
September 21, 2018
Next Monday is the Mid-Autumn Festival 中秋节 and China will officially be on holiday. The Sinocism newsletter will publish as normal Monday.
Axios Autonomous Vehicles, a weekly analysis of autonomous tech, and its impact on cities, policy and the economy, launched today. Sign up here. 
Thanks for reading, and if you want a daily and deeper look at China, please check out my daily Sinocism China Newsletter and follow me on Twitter @niubi.
1 big thing: Trump says "It is time to take a stand on China"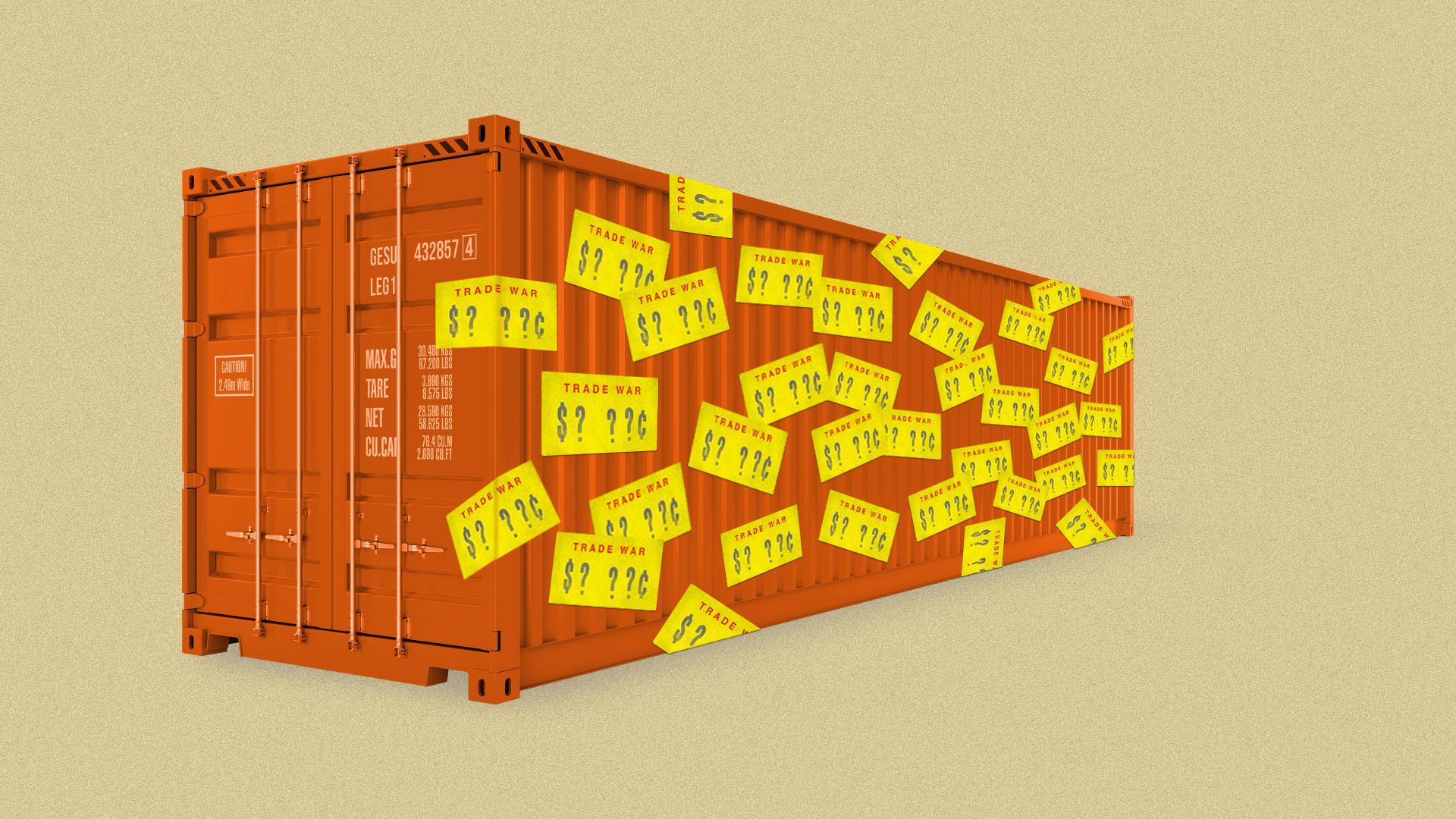 President Trump last night reiterated his stance on the trade war against China, telling Fox News host Sean Hannity:
"Well, it is time to take a stand on China. We have no choice. You know it has been a long time. They have been hurting us."
Background: The White House announcement Monday of the next round of tariffs on $200 billion in Chinese imports promised:
If China takes retaliatory action against our farmers or other industries, we will immediately pursue phase three, which is tariffs on approximately $267 billion of additional imports.
The other side: China immediately responded by saying there'd be a new round of tariffs from them as well, but so far there's been no announcement of the threatened retaliation details. That may change in the next few days.
My thought bubble: The U.S. announcement of the new tariffs and threats of even more unless China surrenders unconditionally, was on the 87th anniversary of the September 18, 1931, Mukden Incident that was used as the pretext for Japan to invade Manchuria.
This supports the point to just about everyone in China paying attention that America's real goal is to keep China down, and that China has become too reliant on American markets, technology and imports.
Even in the very unlikely event there's a short-term deal between the U.S. and China, the message seems crystal clear now to the PRC — that America has a broad strategy to contain China's rise.
It further bolsters Chinese President Xi Jinping's position, as described in an April piece I wrote about the U.S. smackdown on ZTE:
While the company may end up crippled, the episode has strategic and propaganda value for Beijing. The timing of the announcement — right before the 2nd anniversary of an important speech on cybersecurity and technology made by Chinese President Xi Jinping — only serves to strengthen the point he's been making about the need to reduce reliance on foreign, and especially American, technologies.
Why it matters: Some say the U.S. may be underestimating China's resolve to lessen its dependence on America. Reuters offers a good inside look at China's strategy in the soybean trade war:
"Many foreign business people and politicians have underestimated the determination of Chinese people to support the government in a trade war," said Mu [Yan Kui], vice chairman of Yihai Kerry, owned by Singapore-based Wilmar International…
Just one prong of the strategy Mu detailed — to slash soymeal content in pig feed — could obliterate Chinese demand for U.S. soybeans if broadly adopted, according to Reuters calculations.
Cutting the soy ration for hogs from the typical 20 percent to 12 percent would equate to a demand reduction of up to 27 million tonnes of soybeans per year — an amount equal to 82 percent of Chinese soy imports from the United States last year. Chinese farmers could cut soymeal rations by nearly half without harming hogs' growth, experts and academics said.
Quick take: Once they have cut their reliance on American soybeans, why would they ever go back?
Go deeper:
2. Profile of Robert Lighthizer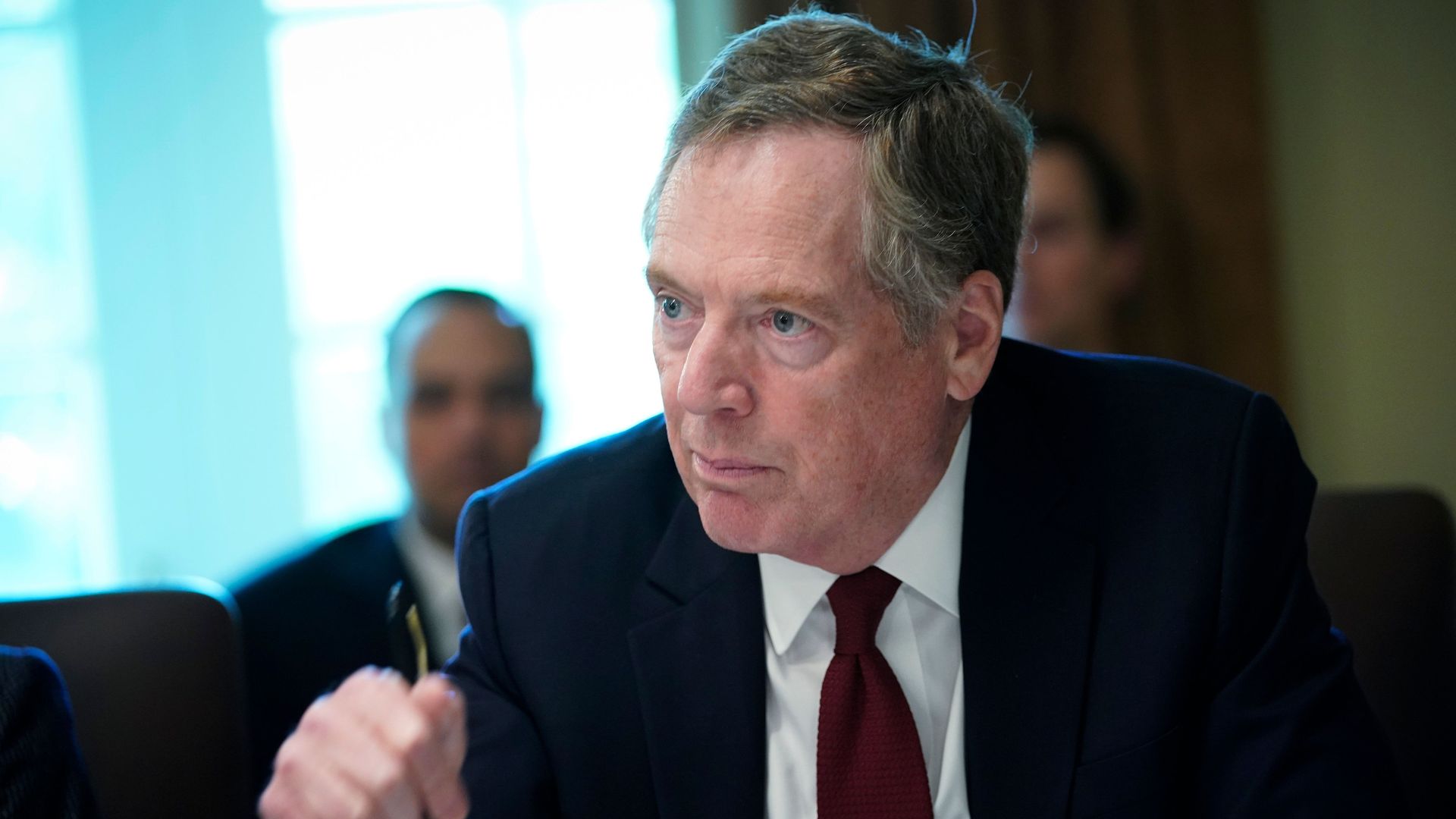 Bloomberg's Shawn Donnan has written an interesting profile of the tough trade negotiator, U.S. Trade Representative Robert Lighthizer:
"He believes strongly that the endgame is China," says Jim Lighthizer, adding that his brother isn't counting on a quick victory. "He believes that it is going to be a long, long haul with China."...
If Lighthizer is seen to be driving policy on China, it's because both [Commerce Secretary Wilbur] Ross and [Treasury Secretary Steven] Mnuchin have failed to bring Trump a Beijing deal he can live with — and for that they've been publicly rebuked.
Asked what he had learned about negotiating with the Trump administration after the U.S. and Mexico announced an agreement in principle on Nafta in late August, Mexico's economy minister, Ildefonso Guajardo, says: "Any deal where Lighthizer is not responsible for the architecture doesn't see the light of the day."
As a member of Trump's cabinet, Lighthizer continues to frame the issue in those epochal terms. "I'm in it for one reason," he told the U.S. Chamber of Commerce in May, pointing to the trade deficit as a reflection of a "paradigm" in need of wholesale change. "A big part of that," he added, "is getting the relationship between the United States and China right."
Why it matters: Lighthizer has spent decades arguing and preparing for an overhaul of the U.S.-China trade relationship. He has just gotten started.
Read more of the whole piece.
3. Kids separated from parents in Xinjiang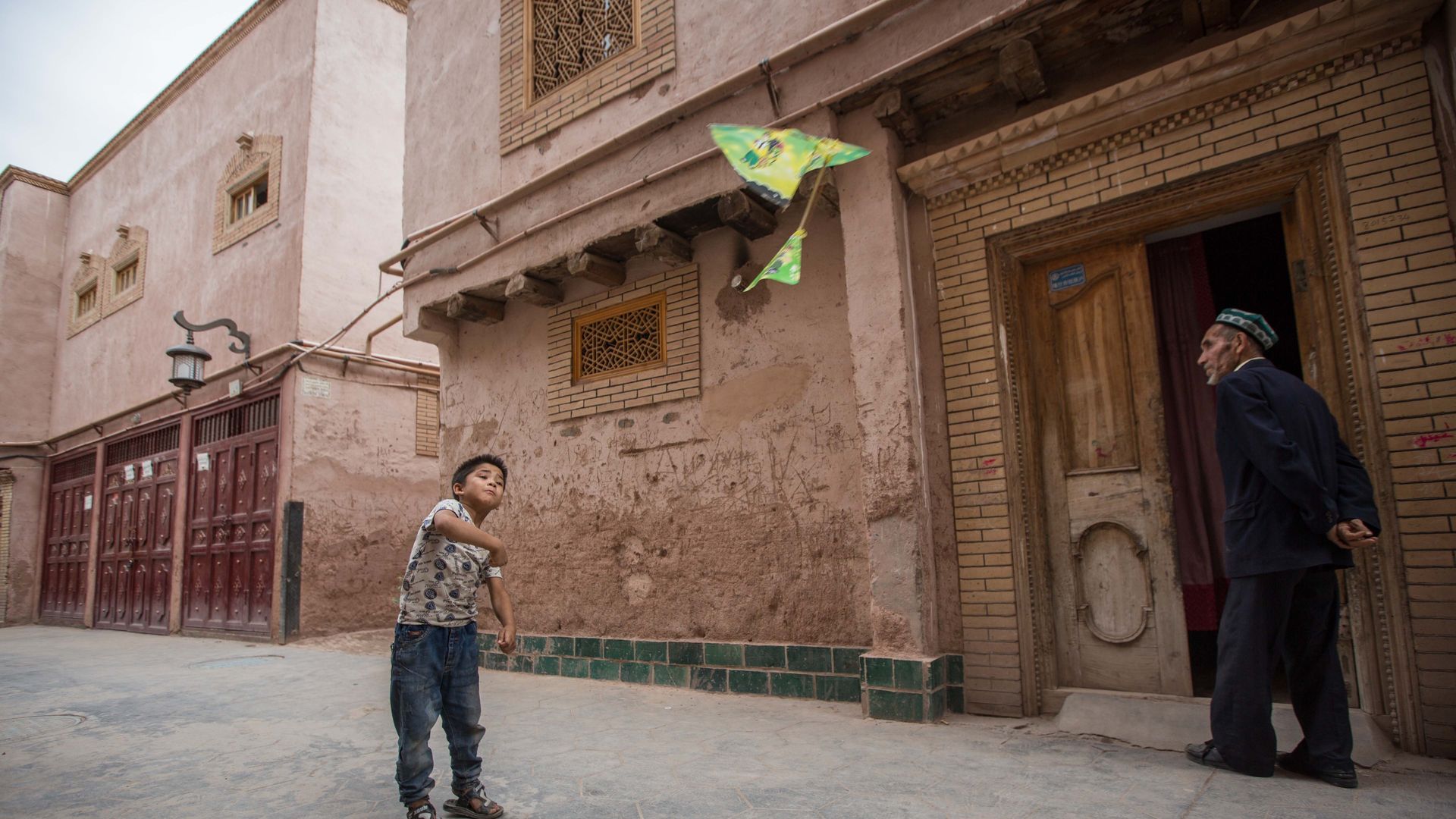 The Associated Press reports that the children of Uighur exiles and detainees are becoming wards of the state:
Now there is evidence that the government is placing the children of detainees and exiles into dozens of orphanages across Xinjiang...
China says the orphanages help disadvantaged children, and it denies the existence of internment camps for their parents. It prides itself on investing millions of yuan in education in Xinjiang to steer people out of poverty and away from terrorism.
At a regular news briefing Thursday, Chinese foreign ministry spokesman Geng Shuang said the measures taken in Xinjiang were necessary for "stability, development, harmony" and to fight ethnic separatists...
An AP review of procurement notices in Xinjiang has found that since the start of last year, the government has budgeted more than $30 million (200 million Chinese yuan) to build or expand at least 45 orphanages, known variously as children's "welfare centers" and "protection centers," with enough beds to house about 5,000 children.
No sign Beijing will change policies: Guo Shengkun, whose post as secretary of the Communist Party's Central Political and Legal Affairs Commission makes him China's top law enforcement official, just spent four days in Xinjiang on an inspection tour.
According to Chinese media reports (郭声琨在新疆调研时强调) he said that stability had been difficult to achieve and should be cherished and continually strengthened.
4. More Chinese internet controls coming
The new director of the Cyberspace Administration of China (CAC) wrote an article in the latest issue of the authoritative Qiushi magazine on the need to deepen controls over the internet, following Xi's directions at the Aug. 21–22 national conference on publicity and ideological work.
The South China Morning Post reports on the article by Zhuang Rongwen:
[He] vowed to unite efforts in both promoting "positive energy" — party speak for uplifting propaganda — and suppressing "negative elements", which Zhuang categorised as "wrong ideological trends" that range from distorting the party, the state or the military's account of history, negating the party's leadership or the socialist system, attacking the party's guidelines and policies to undermining the ideology or image of party leaders, as well as rumours and terrorism-related video or audio.
Zhuang pledged to hold internet tech companies strictly responsible for content management and to speed up the establishment of an overarching nationwide platform for all key internet companies, as well as platforms for the emergency management of public opinion on the internet.
He also called for all internet users to join party members and propagandists to fight a "people's war" to rehabilitate the "cyber ecology".
"The internet has become the main battlefield and forefront of propaganda and public opinion work. To take the helm of ideology work, we not only need the driving force of party members and mainstream media editors and reporters, but also need to fully make use of the broad masses of internet users," he wrote.
Go deeper: Zhuang's Qiushi article 科学认识网络传播规律 努力提高用网治网水平
5. One world, two internets
CNBC's Lora Kolodny reports that Eric Schmidt, CEO of Google and executive chairman of parent company Alphabet, "predicts that within the next decade there will be two distinct internets: one led by the U.S. and the other by China."
Schmidt, who was speaking at a private event in San Francisco on Wednesday night, was asked about the chance that the internet will fragment, per CNBC. According to the network, he said:
"I think the most likely scenario now is not a splintering, but rather a bifurcation into a Chinese-led internet and a non-Chinese internet led by America."
"If you look at China, and I was just there, the scale of the companies that are being built, the services being built, the wealth that is being created is phenomenal." ...
"I think you're going to see fantastic leadership in products and services from China. There's a real danger that along with those products and services comes a different leadership regime from government, with censorship, controls, etc."
"Look at the way BRI works — their Belt and Road Initiative, which involves 60ish countries — it's perfectly possible those countries will begin to take on the infrastructure that China has, with some loss of freedom."
My thought bubble: This trend has long been clear. I bought the domain oneworldtwointernets.com many years ago when I was thinking about doing a book on the Chinese Internet and Rest of the World Internet, led by America...
H/T to Axios' Mike Allen and his AM newsletter. Subscribe here.
6. Report: New Zealand checks professor's office for surveillance
The New Zealand Herald reports that the New Zealand Special Intelligence Service has swept for surveillance bugs in the office and home of a China specialist professor, who had experienced recent burglaries. Per the Herald:
Electronic surveillance specialists from the Security Intelligence Service have carried out a search for listening devices at the University of Canterbury office of the professor revealed to be a possible target of Chinese espionage.
News of the sweep, confirmed by several university staff, comes as academic colleagues of Anne-Marie Brady came out in support of the China specialist who has suffered a string of break-ins she claims are in direct response to her work exposing China's influence campaign in New Zealand.
The Herald understands a similar search for bugs by the Security Intelligence Service (NZSIS) has also been conducted at Brady's Christchurch home, the site of another suspicious burglary being investigated by authorities.
Go deeper:
7. Worthy of your time
AP — China 'outraged' by US sanctions over Russian weapons buy
The Washington Post (Global opinions) — Is #MeToo changing China?
SCMP — Henry Kissinger didn't press Donald Trump to work with Russia to 'box in' China, institute says
Center for a New American Security — Power Play: Addressing China's Belt and Road Strategy
The Economist — China's Global Times plays a peculiar role
China Change — Four Years Afar: Xu Zhiyong on his arrest and time in prison
China Media Project — China's Propaganda Mission in 15 Characters
NYT — Shan Tianfang, a Superstar of Chinese Storytelling, Dies at 83
Brookings — China's long game on human rights at the United Nations
SCMP — The decline and fall of Chinese Buddhism: how modern politics and fast money corrupted an ancient religion
Global Times — Alibaba sets up semiconductor company to develop proprietary AI chipset
NYT — Buddhist Temple, Now a Communist Shrine, Plants China's Flag in Taiwan
RFA — Editor Wanted by Police From China's Jiangxi Over 'Coffin-Snatching' Video
This week's issues of my Sinocism China Newsletter