Good morning. The Year of The Dog is a week away and China is gearing up for its most important holiday of the year.
PRC stock markets have tumbled this week as well but so far the decline is nothing like the crash in the summer of 2015.
Remember, if you want to read me more than once a week please check out my daily Sinocism China Newsletter and follow me on Twitter @niubi.
https://www.axios.com/newsletters/axios-china-ea84c1cd-1b5e-4931-a809-e27148e947b5.html?chunk=0#story0
1. U.S.-South Korea disagreement over North Korea fits China plans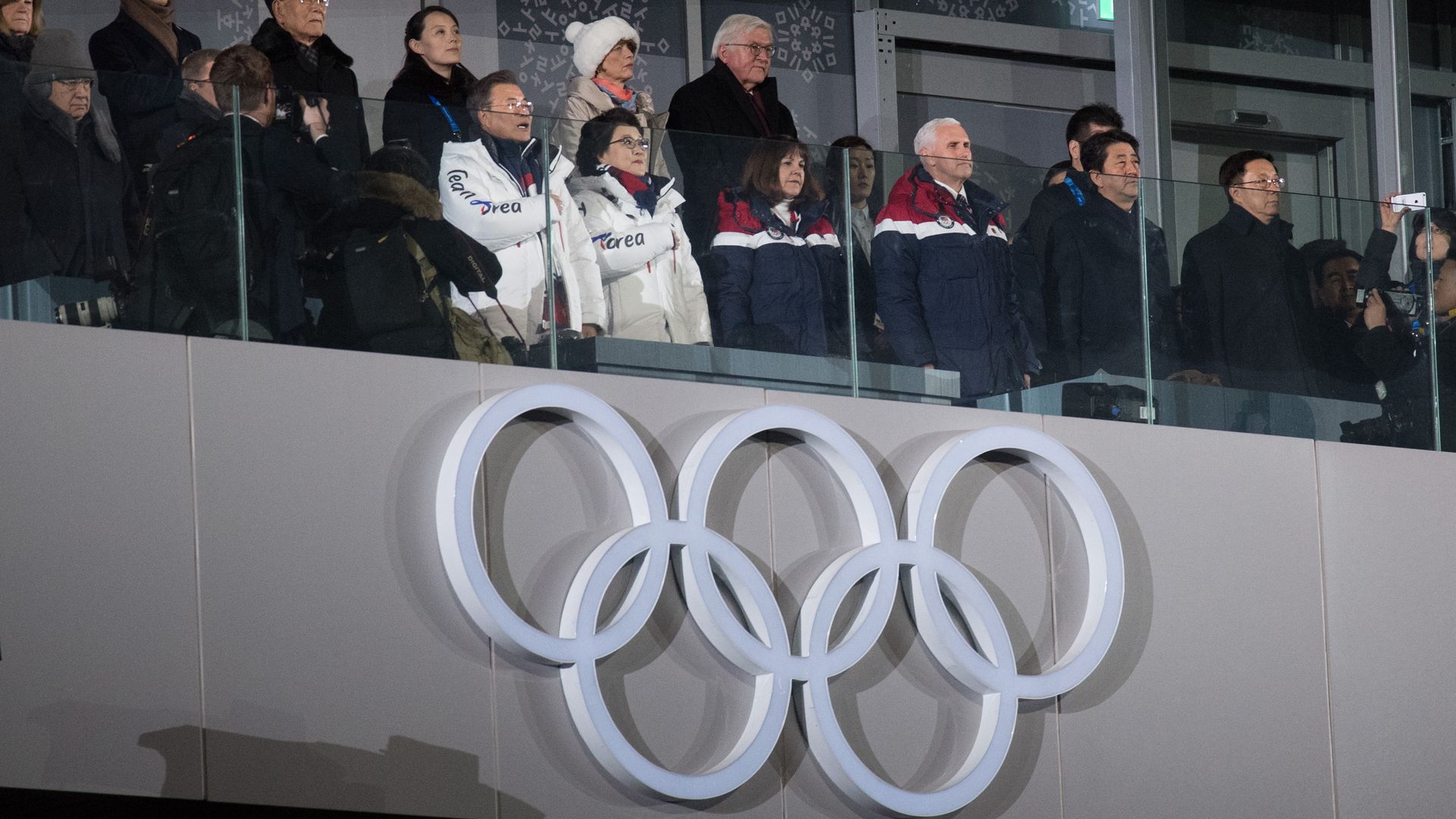 Vice President Mike Pence, who's in South Korea for the Olympics, has promised a new round of tough sanctions on North Korea. But while the U.S. is downplaying the Olympics as a possible starting point for a new round of negotiations with North Korea, South Korea is openly stating its plan to use the Olympics to re-start talks, according to the Washington Post.
What's happening: WashPost's Josh Rogin, traveling with Pence who's in South Korea as the senior U.S. representative at the opening ceremony of the Winter Olympics, reports that the U.S. and South Korea now openly disagree on North Korea.
South Korean President Moon Jae-in says he wants to use the meetings with North Korea officials during the Olympics as a starting point for negotiations, WashPost reports.
China wants that as well. Politburo Standing Committee member Han Zheng is attending the opening ceremony as the senior PRC representative, and Xinhua's report on Han's meeting with Moon notes that the two sides have seen progress.
Back in D.C.: China's top diplomat Yang Jiechi met with Secretary of State Rex Tillerson Thursday and said that "the international community should support the improvement in relations between North and South Korea," Reuters reports.
Why it matters: Beijing wants to put stress on the U.S.-South Korea alliance and restart talks with North Korea that will reduce the near-term risks of conflict on the peninsula.
https://www.axios.com/newsletters/axios-china-ea84c1cd-1b5e-4931-a809-e27148e947b5.html?chunk=1#story1
2. China builds its diplomatic corps as U.S. cuts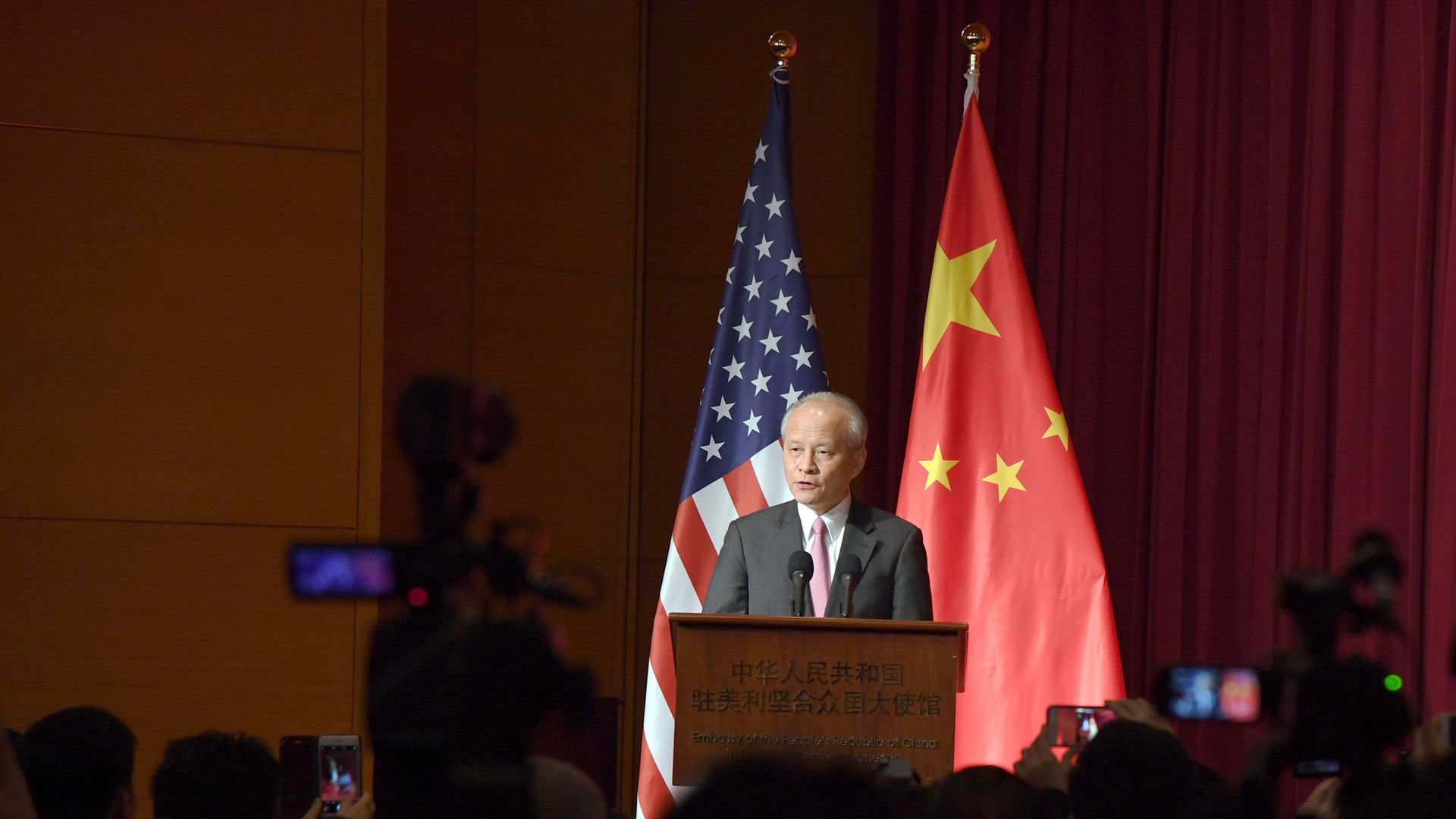 As the U.S. cuts its budget for diplomacy, China is increasing its own significantly, per Bloomberg:
"China budgeted 54 billion yuan ($8.5 billion) for foreign affairs last year, almost double from 2013. The White House, meanwhile, requested $27.1 billion for international programs, almost 30 percent lower than 2016."
The details, per Bloomberg: Beijing is revamping management of its embassies to give more power to the Ministry of Foreign Affairs (MoFA) and its ambassadors, according to four people familiar with the matter.
"The plan calls for most agencies to stop replacing staff in Chinese embassies by next year, giving ambassadors direct control over their portfolios, said two of the people, who requested anonymity because they're not authorized to speak to media…"
"Chinese leaders believe the country needs a more consolidated diplomatic structure after [Chinese President Xi Jinping] told party cadres in October China was 'approaching the center of the world stage,' one of the people said, citing internal instructions."
Quick take: China wants to reshape the global order, as Axios reported three weeks ago, and this reorganization is another sign it is laying the groundwork to capitalize on what it sees as its "historic opportunity."
https://www.axios.com/newsletters/axios-china-ea84c1cd-1b5e-4931-a809-e27148e947b5.html?chunk=2#story2
3. Mapped: Chinese exports take over the world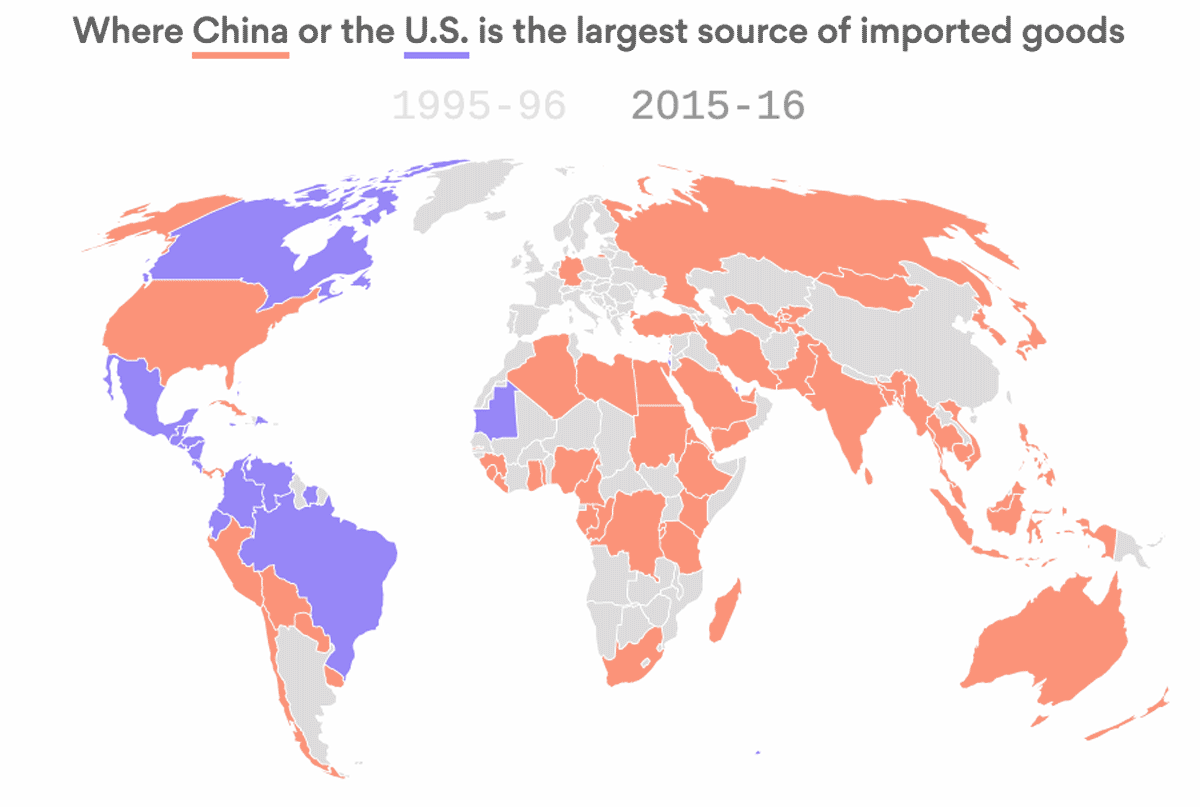 Data: The Observatory of Economic Complexity; Chart: Chris Canipe / Axios
Two decades ago, China's gross exports were on par with the Netherlands', and only North Korea relied on the world's most populous country as its primary source of imports. Now, China exports far more than any country on earth, and is the top supplier of countries in every corner of the world, Axios' Erica Pandey reports.
Key takeaways:
China exported $2.06 trillion worth of products in 2016, nearly 10 times its export output from 1996, per MIT's Observatory of Economic Complexity. That's less than the $2.26 trillion the entire European Union exported, but considerably more than the $1.42 trillion from the United States
China gained ground in Eastern Europe, where Russia was once dominant, and South America, where the U.S. led in exports. But the U.S. is still a leading exporter in many of these countries, often taking the second or third spot.
"The death of distance" due to globalization has allowed China to become the lead exporter in African and Middle Eastern nations that used to trade primarily with their neighbors.
The U.S. manufactures more high-end goods, such as satellites and aircrafts, than China. And China's edge over the U.S. in exporting to poorer nations can be explained in part by the lack of demand for such goods.
https://www.axios.com/newsletters/axios-china-ea84c1cd-1b5e-4931-a809-e27148e947b5.html?chunk=3#story3
4. Lobbyists soften tough legislation on China investments in U.S.
Proposed legislation in Congress designed to prevent China from acquiring sensitive U.S. tech is being softened after U.S. businesses complained about possible impact on sales, according to four people with knowledge of the matter, Reuters reports.
Per Reuters:
"Two bills in the House of Representatives and Senate would broaden the powers of the inter-agency Committee on Foreign Investment in the United States (CFIUS) in hopes of stopping Chinese efforts to acquire sophisticated U.S. technology."
"'We are concerned that it vastly expands the scope and jurisdiction (of CFIUS),' said Nancy McLernon, chief executive of the Organization for International Investment, a group that represents global companies with U.S. operations."
Why it matters: It is another sign of the political difficulties of following through on the "get tough with China" talk, given the PRC-related interests to so many U.S. businesses.
https://www.axios.com/newsletters/axios-china-ea84c1cd-1b5e-4931-a809-e27148e947b5.html?chunk=4#story4
5. Sun Zhengcai's trial may be nearing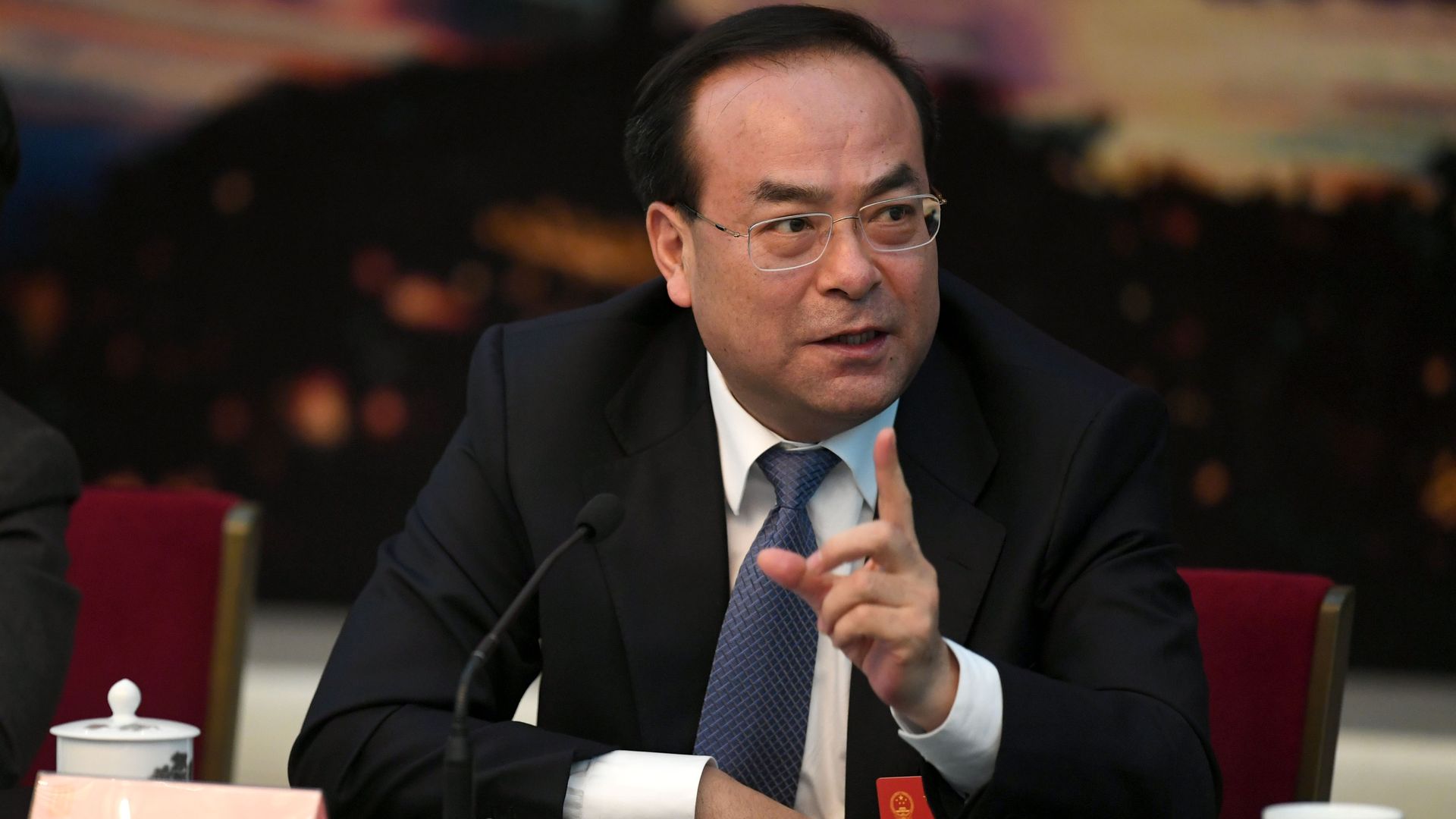 Two prominent businesswomen have reportedly been detained in what is seen as an escalation in the investigation of Sun Zhengcai, former party secretary of Chongqing and Politburo member in the 18th Party Congress.
Buzz: Sun, who was once once seen by some as a possible successor to Xi, was put under investigation last summer for possible corruption, leaking secrets, bribery and abusing his power, Reuters reported. In a sign his trial may be nearing, two women connected to him have been detained.
1. Liu Fengzhou: The cover story of the latest issue of Caixin magazine looks at Liu, who reportedly had a long-term relationship with Sun. She is now also in custody.
2. Whitney Duan (段伟红): The New York Times reported this week that Duan was detained last fall, also in connection to the Sun investigation. Earlier NYT reporting alleged Duan also was a possible front for the investments of family members of the former Premier Wen Jiabao. According to the NYT this week:
"Whispers of Ms. Duan's detention began to circulate among China's rich and powerful after she failed to show up for the September opening of a boutique hotel in Beijing developed with the Italian jewelry and luxury goods maker Bulgari."
"Business associates said that Ms. Duan disappeared on or about Sept. 3, just weeks before the gala event for the hotel, and that government agents had prevented her from leaving the country in the weeks before. Several of Ms. Duan's employees have also been detained, they said."
My thought bubble: There has been speculation that Xi's corruption crackdown would shift away from targeting current and retired senior leaders, known as "tigers." I think that's wishful thinking and based on what I am hearing from sources, the Sun investigation may be leading towards an even more senior target.
https://www.axios.com/newsletters/axios-china-ea84c1cd-1b5e-4931-a809-e27148e947b5.html?chunk=5#story5
6. More signs of stress at conglomerate HNA
Last week's newsletter noted that HNA was under significant financial stress and pressure from Beijing to de-leverage. This week brings more signs of trouble ahead.
What we're hearing: Bloomberg reports that HNA co-chairman Wang Jian said in an internal speech that reactionary forces from both China and overseas are using HNA to subvert China and undermine the Communist Party. Bloomberg says a transcript of the speech it received shows that Wang told employees:
'They want to disrupt the entire Chinese economy, then disrupt HNA, leading to social unrest, subverting the entire 19th Party Congress, China's 'Belt and Road' initiative and the planning for further, deeper reform. This is their conspiracy, these are their evil motives, and they've been plotting for a long time."
Separately, on Wednesday the company held a ceremony for all its Communist Party members to retake their Party initiation oath (海航集团召开党员大会 党员干部重温入党誓词), copying Xi's oath retaking ceremony just days after the 19th Party Congress last fall, South China Morning Post reports.
Meanwhile the company is trying to sell $4 billion worth of properties in New York, Chicago, San Francisco and Minneapolis, per Bloomberg.
Be smart: HNA has been one of China's most aggressive overseas investors. Resorting to blaming foreigners and raising the specter of a plot to subvert the Communist Party are naked efforts to pander to Beijing for some kind of bailout, and should be a warning sign to all of HNA's foreign creditors and partners. Beijing will prevent a disorderly collapse of HNA but not without forcing a significant restructuring and likely a management change.
https://www.axios.com/newsletters/axios-china-ea84c1cd-1b5e-4931-a809-e27148e947b5.html?chunk=6#story6
7. U.S. bombs group China considers terrorists in Afghanistan
In last week's newsletter, I wrote that China is intending to play a bigger role in Afghanistan and that there is potential for U.S.–China cooperation to improve the security environment in Afghanistan. This week brought evidence of the potential for cooperation.
What's new:
U.S. bombers targeted training facilities to prevent "the planning and rehearsal of terrorist acts near the border with China and Tajikistan by such organizations as the East Turkistan Islamic Movement [ETIM]," per Resolute Support, a NATO-led, non-combat mission.
At a Senate Foreign Relations Committee hearing Tuesday, Randall Schriver, DOD assistant secretary for Asian and Pacific Affairs, testified that:
"There is the possibility that China on the counterterrorism front could be a [U.S.] partner. They certainly have their own concerns about terrorism within China and the potential for linkages with terrorist groups operating elsewhere and for that to seep into China. Historically, we have run into some difficulties with what they define as a terrorist, particularly inside China and the way we look at things. There's an important difference there, but they do have an interest in stability in Afghanistan."
Why it matters: ETIM is mostly made up of Uighurs, a people who are seeing increasing radicalization in part due to China's policies in the Western region of Xinjiang.
https://www.axios.com/newsletters/axios-china-ea84c1cd-1b5e-4931-a809-e27148e947b5.html?chunk=7#story7
8. Worthy of your time
Inquirer.net— "Exclusive: New photos show China is nearly done with its militarization of South China Sea "
Reuters — "China says U.S. bill on Taiwan ties threatens stability"
Catholic Herald — "'China is the best implementer of Catholic social doctrine,' says Vatican bishop"
China Media Project — "The 'Misguided Academics' of Europe"
Global Times — "Brandishing China threat theory helps West push hegemonistic designs"
The Washington Post — "Putin's Silk Road gamble"
The Wall Street Journal — "The Man Who Bets Tencent's 'Moonshot' Money"
Dim Sums — "No. 1 Document Sets Rural Revitalization Program"
TechNode — "Updated: China's tech giants announce plans for hongbao battle ahead of Spring Festival"
This week's Sinocism China Newsletters for a daily, deeper look at China.