Axios China
April 06, 2021
Welcome back to Axios China. Today we're looking at capitalism's complicity in Xinjiang, Olympic uniform contracts, the genocide debate and lots more.
Reader emails are the best. Send comments, feedback and suggestions for future coverage to [email protected], or just hit reply.
Today's newsletter is 1,417 words, a 5-minute read.
1 big thing: Global capitalism abets China's repression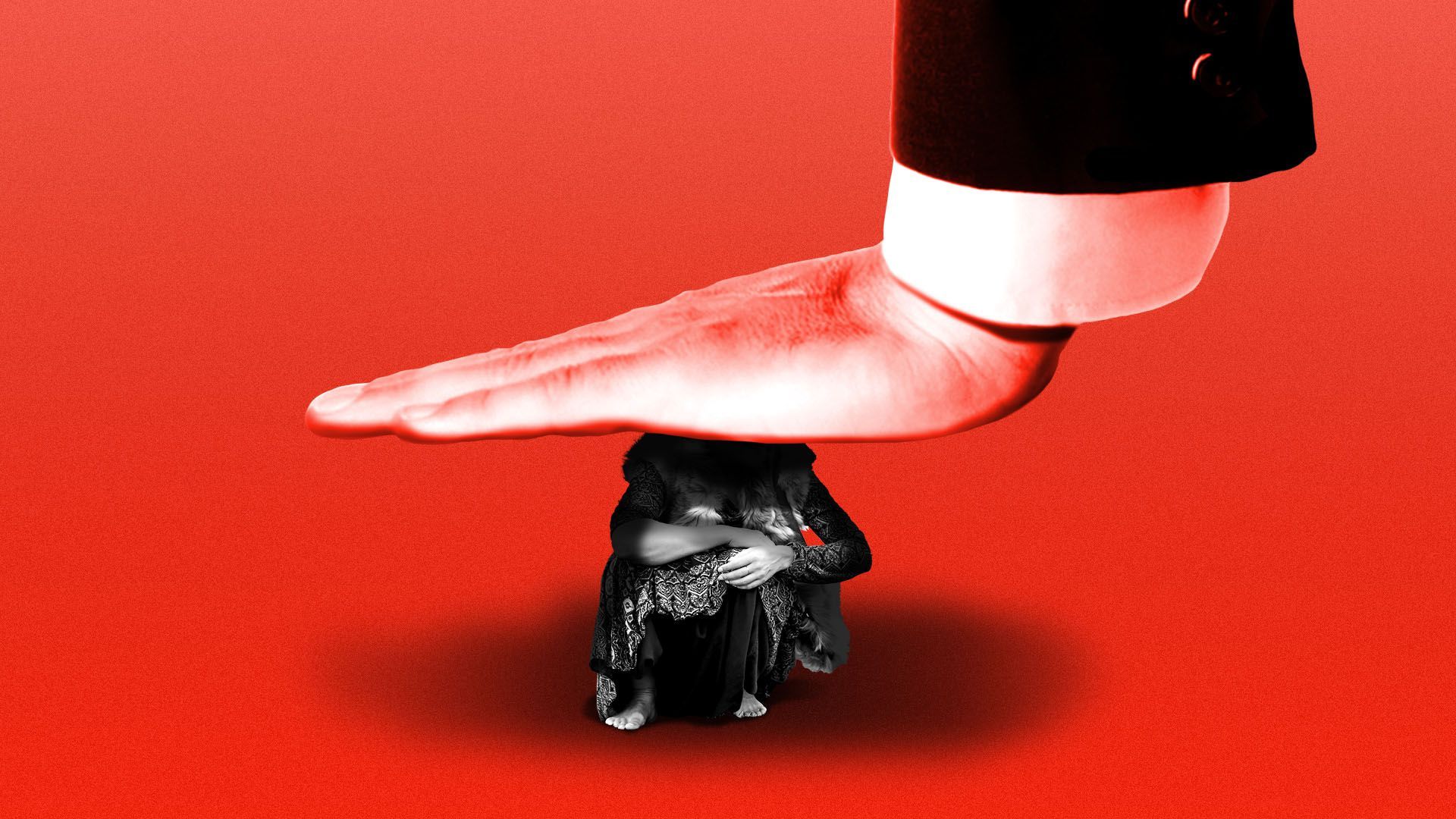 By incentivizing companies to go along with the Chinese government's repressive policies in Xinjiang and imposing punishments on those that don't, the Chinese Communist Party has made complicity in repression profitable for some companies — and for others, even mandatory.
The big picture: With the second-largest market in the world — one that is projected to surpass the U.S. by 2028 — the CCP has an enormous amount of power.
Since Beijing has made access to the potential riches of China's markets contingent upon toeing party lines, companies face growing financial incentives to accede to China's demands.
Some, though, face counterpressure from their home governments in the form of sanctions, export bans or other actions.
Driving the news: Last week, Chinese social media users lambasted Swedish clothing retailer H&M for its previous statement disavowing the use of Xinjiang cotton, amid a state-supported nationalist backlash. H&M stores were removed from Baidu maps and their products disappeared from Chinese e-commerce platforms.
Other multinational brands including Nike, New Balance and Hugo Boss soon faced a similar boycott. Hugo Boss then posted a Chinese-language statement on Weibo saying the brand would "continue to purchase and support Xinjiang cotton" — but then deleted the post the next day.
Context: The CCP has put at least 1 million Uyghurs in mass internment camps in its northwest region of Xinjiang, banned most religious practice, used forced sterilization, and destroyed cultural heritage sites in what some international human rights lawyers and several governments are now calling genocide.
Hundreds of thousands of Uyghurs have reportedly been pushed into factory work and cotton production as part of the Chinese government's forced assimilation campaign, potentially tainting global supply chains and resulting in a U.S. import ban on all cotton and tomato products from Xinjiang.
A United Nations human rights panel recently warned that more than 150 companies, including "well-known global brands," were connected to "serious allegations" of forced labor and other abuses in Xinjiang.
What's happening: Beijing is increasingly incentivizing companies to proactively contribute to its domestic repression and global geopolitical goals.
The Chinese government has required domestic facial recognition companies to develop software that can recognize Uyghur faces, and it has increasingly worked to integrate these requirements into national industry standards. Chinese companies, in turn, are working hard to set international standards in emerging industries.
The government has provided incentives for foreign and domestic companies to open facilities in Xinjiang. Demonstrating economic development in the region could burnish the CCP's policies there.
Companies that accept Uyghur "labor transfers" — a term referring to a coerced labor program — may receive government subsidies. Some Chinese suppliers who receive labor transfers are intertwined in supply chains around the world, including for major global brands.
What to watch: The U.S. has banned cotton and tomato imports from Xinjiang, and the U.S. and the EU have levied sanctions on several Chinese government officials and entities deemed complicit in Xinjiang rights violations.
Those actions can help push the private incentive structure in a direction that marginalizes human rights violators — but only if the measures are adopted by major markets and consistently enforced.
2. IOC gave uniform contract to Chinese company with Xinjiang ties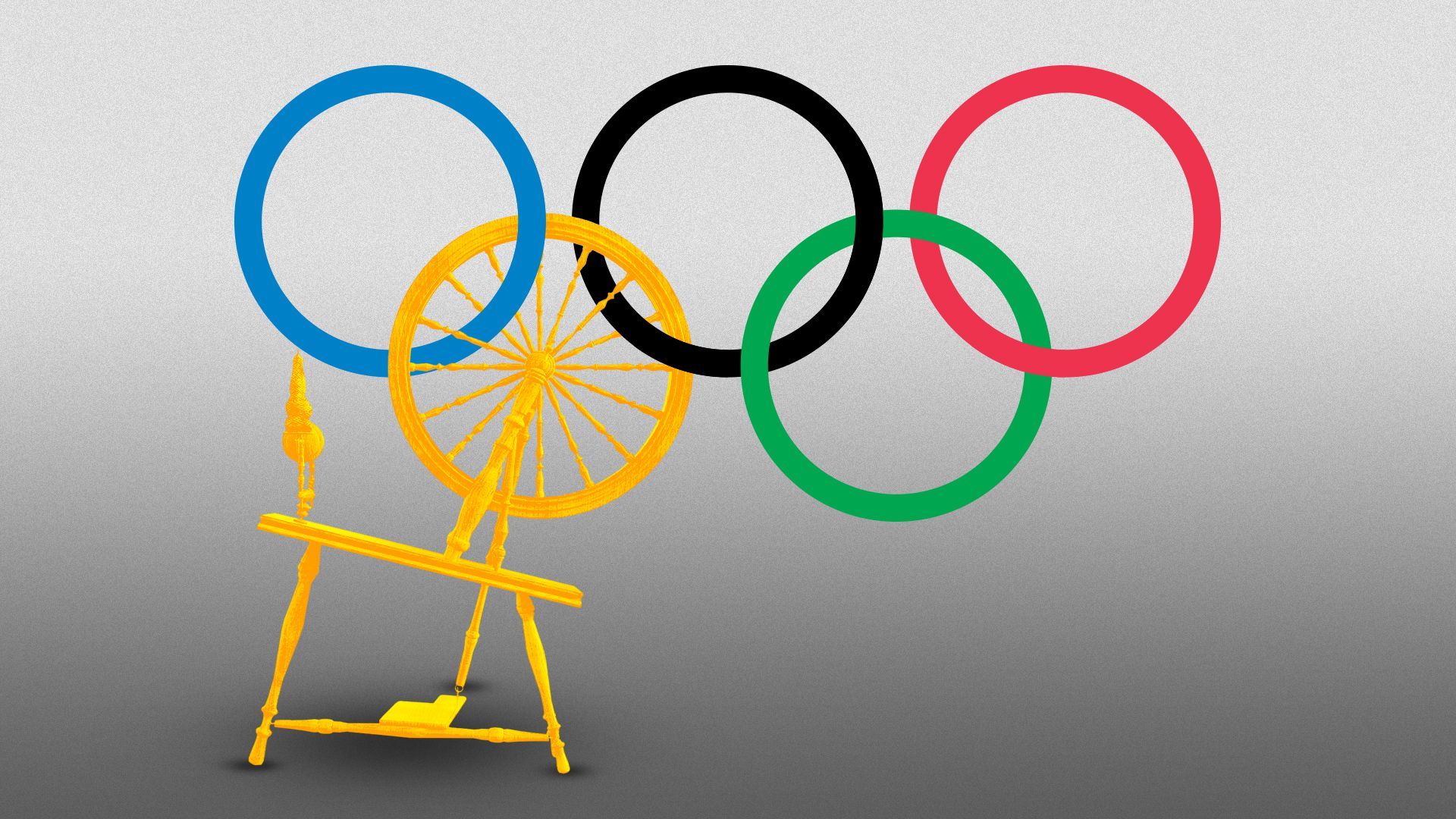 The International Olympic Committee (IOC) gave a uniform contract for the Tokyo 2021 Summer Olympics and the Beijing 2022 Winter Olympics to a Chinese textiles company that has an affiliated factory in Xinjiang and that openly advertises its use of Xinjiang cotton, Axios' Shawna Chen and I write.
Why it matters: The opacity of supply chains in China means it may be hard to determine if goods are made through forced labor.
The company told the IOC that the cotton used in the Olympic uniforms doesn't originate in Xinjiang.
Details: The IOC announced in September 2019 that Hengyuanxiang (HYX) Group would supply formal uniforms, such as those used in ceremonies, for IOC members and staff.
HYX Group has a long-standing relationship with the Chinese Olympic Committee and was a sponsor of the 2008 Beijing Olympic Games.
In listings on e-commerce platforms such as Taobao and JD.com, the company advertises numerous products as containing Xinjiang cotton.
HYX Group oversees a consortium of franchise factories. One of these factories is located in Xinjiang, according to the company website.
Background: Supply chains in China (and elsewhere) are often opaque, making it difficult to trace products made with forced labor.
The Better Cotton Initiative, an international cotton sustainability organization, announced in October 2020 that it was pulling out of Xinjiang after determining there was no way to engage ethically there.
"The Olympics should have no association with corporations producing in the Uyghur Region. Partnering with a company that not only sources from the Uyghur Region but boasts about it in its product advertising is morally reprehensible," said Penelope Kyritsis, director of strategic research at Worker Rights Consortium, a labor rights group, after reviewing information about HYX Group.
"At a time when the world is waking up to the horrors taking placing in the Uyghur Region, the IOC appears to be turning a blind eye," Kyritsis said.
What they're saying: An IOC spokesperson told Axios that HYX Group provided the IOC with a certificate of origin for the cotton used in the production of the IOC uniforms and that the certificate indicated the cotton originated from outside China.
The spokesperson did not say what body had issued the certificate and did not provide a copy of the certificate at Axios' request.
"Given the diverse participation in the Olympic Games, the IOC must remain neutral on all global political issues," the IOC said in a statement provided to Axios.
While the IOC is committed to upholding human rights, it "has neither the mandate nor the capability to change the laws or the political system of a sovereign country," the statement said.
HYX did not respond to multiple emails and phone calls, and messages sent to its official store on Taobao were not answered.
Go deeper: Read the full story.
3. Catch up quick
1. The Shanghai branch of an international cotton trade body said there is no forced labor in Xinjiang, Reuters reports.
I wrote earlier this year about the Better Cotton Initiative, its previous ties to a Chinese paramilitary group in Xinjiang, and its struggles in identifying forced labor there.
2. Mexico's foreign minister will visit China and Russia to secure vaccines, Reuters reports.
3. China sent a carrier group to do drills near Taiwan, saying those drills will now be conducted regularly, Reuters reports.
4. Interview: Lawyer Djaouida Siaci says genocide in Xinjiang is "crystal clear"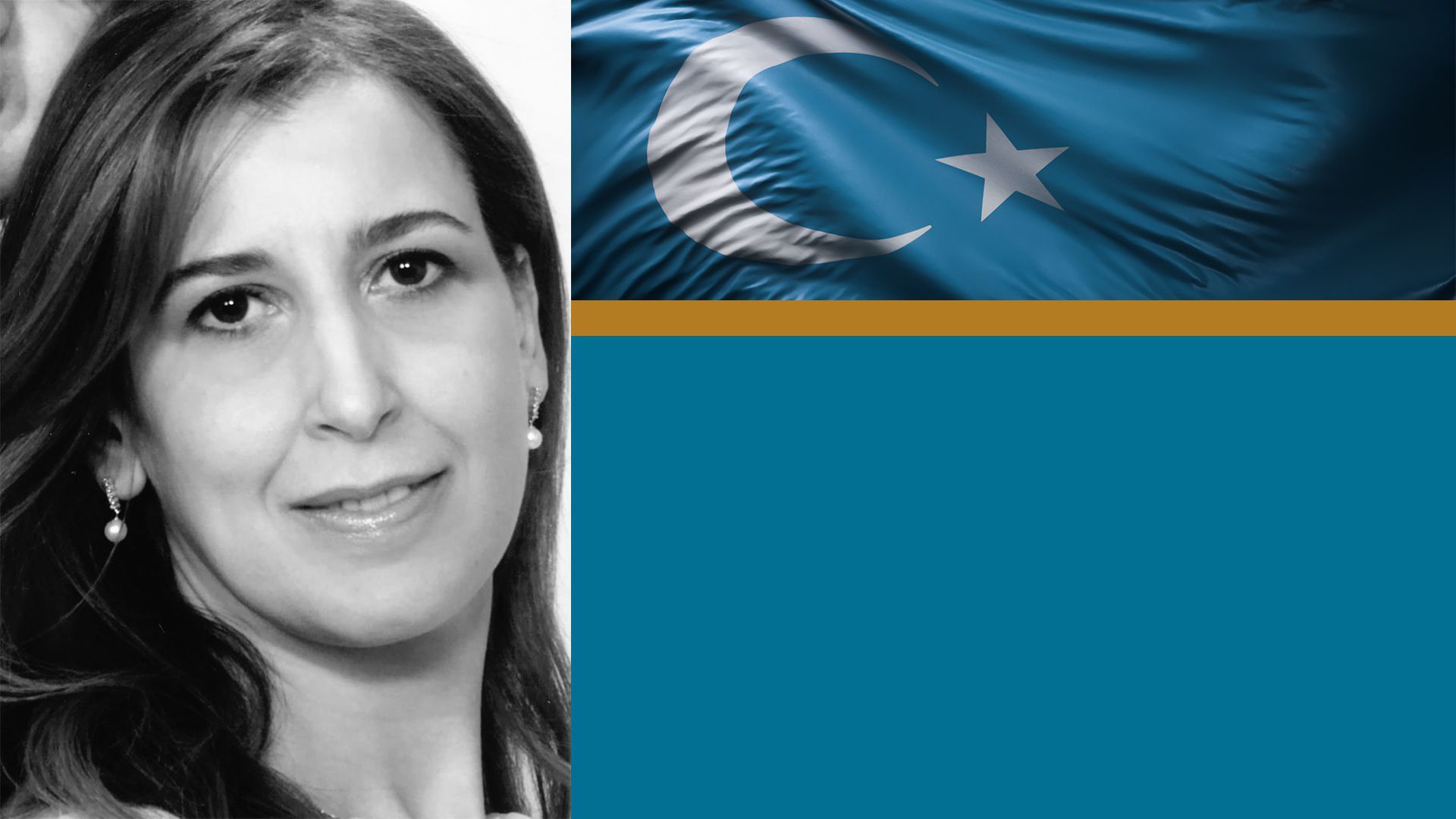 Djaouida Siaci is an international lawyer who focuses on human rights violations, genocide and sexual violence. She spoke to Axios about the international human rights law perspective on the Chinese government's actions in Xinjiang.
Why it matters: Siaci believes that an Olympic boycott wouldn't just be symbolic; it could help persuade international legal institutions to open an investigation related to allegations of genocide in Xinjiang.
Driving the news: Siaci was one of the contributors to a recent report presenting a legal case for China's state responsibility for genocide in Xinjiang.
What she's saying: "It is crystal clear that there is a massive violation of China's obligation under the genocide convention in destroying the Uyghur group in whole or in part," Siaci told Axios.
Details: The Chinese government's intent to cause the "slow death" of a group of people has been made clear through leaked government documents and government statements, Siaci said.
But what's especially damning is the reproductive and sexual violence being committed against Uyghur women. Siaci, who has worked on cases relating to the mass rape of Rohingya women in Myanmar, said systemic sexual violence is a clear sign of a campaign to destroy the ability of women to reproduce, both physically and socially, through the stigma of rape.
While rape isn't known to be occurring on a mass scale in Xinjiang, the growing evidence for rapes in camps, combined with coerced marriages of Uyghur women to Han men, forced sterilizations, and the large-scale removal of Uyghur children from their parents — these "have exactly the same effect in the long run" as physical killings, she said.
What to watch: A global boycott of the 2022 Beijing Winter Olympics might help spur legal action against China. "The games are an insult to everyone," said Siaci.
But "no one wants to stand up to China," she said. "China has waged a malicious and insidious campaign from the get-go to suppress a campaign and they have been successful. They have the means to crush any attempt to show the world what they are doing."
Editor's note: This story has been corrected to remove references to the International Criminal Court.
5. What I'm reading
Strange bedfellows on Xinjiang: The CCP, fringe media and U.S. social media platforms (Australian Strategic Policy Institute)
"Chinese Government officials and state media are increasingly amplifying content, including disinformation, produced by fringe media and conspiracist websites that are often sympathetic to the narrative positioning of authoritarian regimes."
Spotlight on diplomats: Who's who in the Chinese Embassy? (Beijing to Britain)
This useful brief from the newsletter Beijing to Britain, which focuses on the Britain-China relationship, takes a close look at the staff at the Chinese Embassy in London.
Activism in sports: NCAA basketball teams should take a stand against Uyghur genocide (National Review)
6. 1 photo thing: Chinese peacekeepers in Lebanon observe Tomb-sweeping day
April 4 was Qingming Jie, or Tomb-sweeping Festival, a traditional holiday when Chinese families often visit the graves of relatives, bringing flowers and paying their respects.
In the photo above, Chinese peacekeeping forces in Khiam, Lebanon, keep the tradition by giving homage to Chinese UN observer Lt. Col. Du Zhaoyu, who died in an Israeli air raid in the 2006 Israel-Lebanon War.