Axios China
January 18, 2019
Situational awareness: President Trump and North Korean leader Kim Jong-un will meet for a second summit "near the end of February," White House Press Secretary Sarah Sanders said Friday.
I would not be be surprised if a meeting between Trump and China President Xi Jinping is added around this. The Chinese want another Xi-Trump face to face to close a trade deal before March 1.
And, if you want a daily and deeper look at China, please check out my daily Sinocism China Newsletter, now with a 20% discount for Axios readers. Plus, follow me on Twitter @niubi.
1 big thing: U.S.-China trade talks could be inching toward progress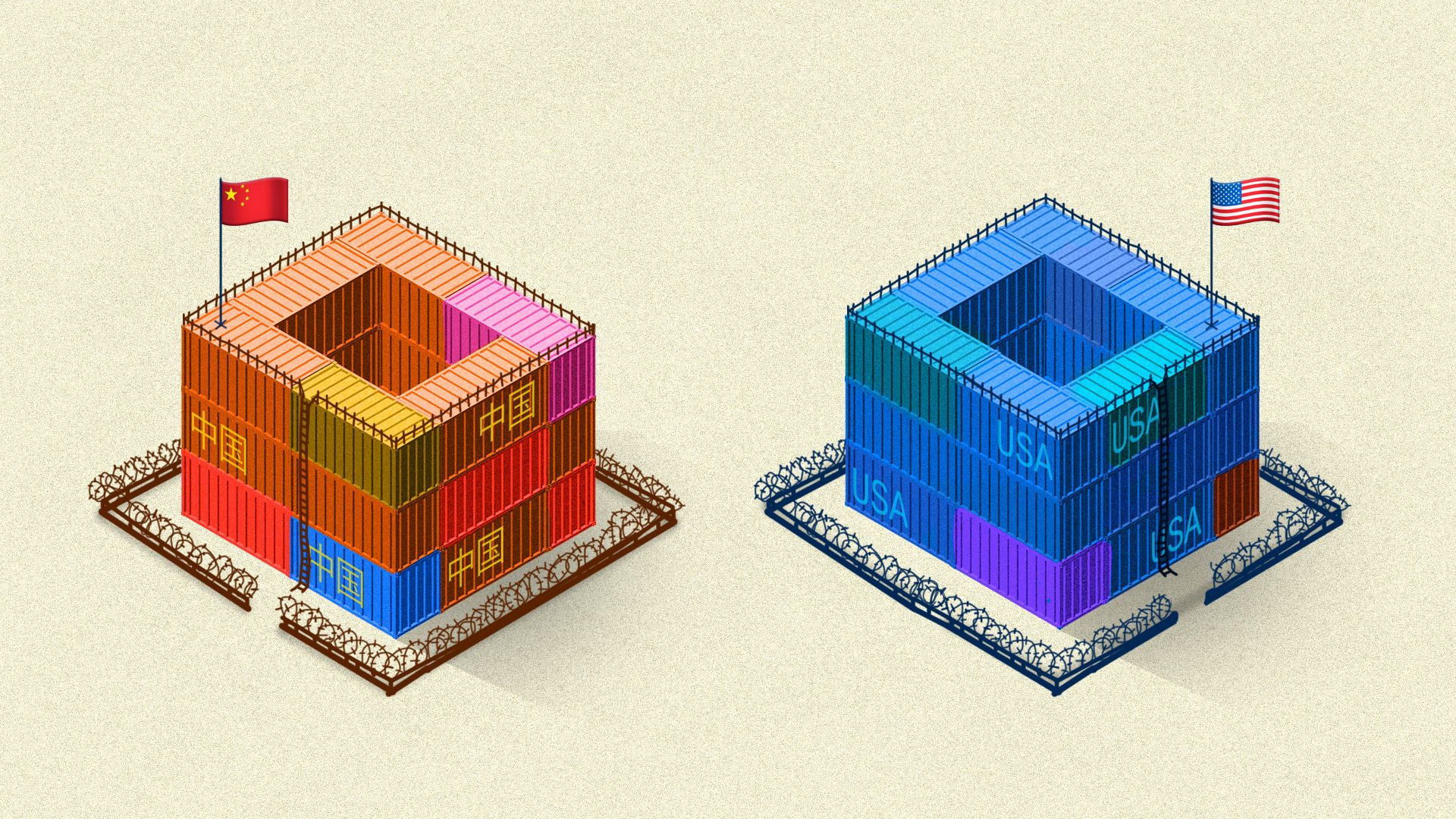 There appears to be some movement in the trade negotiations between the U.S. and China.
What's happening: The Chinese side confirmed earlier this week that Vice Premier Liu He will come to Washington, D.C., on Jan. 30–31.
Commerce Vice Minister Wang Shouwen and Finance Vice Minister Liao Min will travel to D.C. next week, the Wall Street Journal reported Thursday
That same WSJ story also excited markets by reporting...
U.S. officials are debating ratcheting back tariffs on Chinese imports as a way to calm markets and give Beijing an incentive to make deeper concessions in a trade battle that has rattled global economies.
The idea of lifting some or all tariffs was proposed by Treasury Secretary Steven Mnuchin in a series of strategy meetings, according to people close to internal deliberations. They say the aim is to advance trade talks and win China's support for longer-term reforms.
My thought bubble: Officials denied the report but it jibes with what I have been hearing about continuing dissension within the U.S. side and an overall softening in the quest to get a deal. But preemptively backing down would be a signal of eagerness to Beijing.
The revelation that Jared Kushner is involved in the China negotiations is a very interesting part of that WSJ story:
Presidential adviser Jared Kushner has indicated some sympathy for lifting at least some tariffs, say those tracking the talks, but not on the scale of Mr. Mnuchin.
Meanwhile, the Chinese are offering to ramp up purchases of U.S. goods to reduce the trade deficit to zero by 2024, Bloomberg reported Friday morning.
Quick take: Trump, as we know, is all about the trade deficit, and it is much easier for the Chinese to buy their way into a cease fire while avoiding any of the difficult structural reforms the U.S. has demanded.
The bottom line: As I wrote last week, I expect that the Chinese offer will fall far short of what U.S. Trade Representative Robert Lighthizer wants, but using a mixture of big purchase commitments, unofficial lobbying, flattery, and headline concessions will ultimately prove enough for Trump.
The big question: Will the Chinese put the possible extradition from Canada of Huawei CFO Meng Wanzhou on the table as a last-minute ask to close the deal?
Go deeper: The U.S. and China Are Hatching a Plan to Reopen Chicken Trade (WSJ)
2. Beijing will cling to Made in China 2025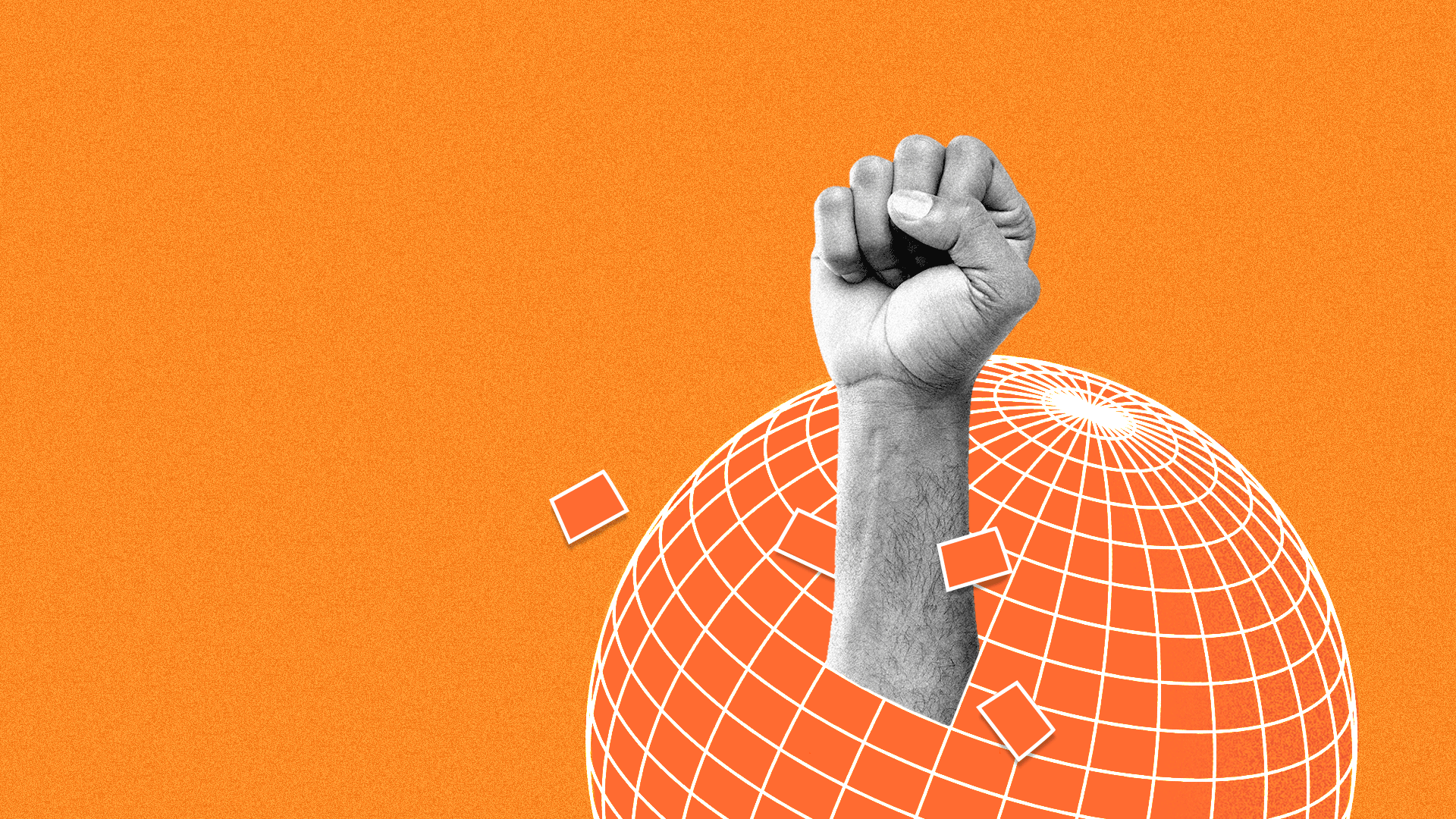 Earlier this week, Axios Future released its geopolitical forecast for 2019. Number 4 is that Beijing will cling to Made in China 2025, as Steve LeVine explains...
The U.S. and China continue to negotiate against the backdrop of a trade war that is contributing to economic mayhem in both countries.
In a deal, look for China to far more concretely open the doors to Western investment and products, with sharply lower tariffs and a more verifiable promise to no longer demand a U.S. company's intellectual property as a price of entry to its market.
But, while Beijing may feign movement on the margins, look for no real concession on its central strategic policy, known as Made in China 2025. This is Beijing's plan to dominate the technologies that will drive economic and global power in the decades ahead.
The primary dynamic is the Mountain Rule, which explains the behavior of big countries whose history and culture leads them to seek large aims and to play outside the norm.
Do not forget this: Back to the Injustice Rule, etched into Chinese policy is the unforgettable humiliation of the Opium Wars of the 19th century, when the U.S. and Britain forced China into far-reaching concessions.
3. Rumors of a key political meeting grow
Every January the provincial-level legislatures and political consultative conferences meet, in advance of the national-level "Two Meetings" each March.
What's new: Over the last month the dates of several of those provincial-level meetings have changed, creating an opening in the political calendar from this weekend through early next week.
That has led to much speculation that the opening was created to convene the long-rumored 4th Plenum of the 19th Party Congress.
Why it matters: This 4th Plenum, whenever it is eventually held, will likely focus on economic issues. But the normal protocols for announcing a plenum have so far been ignored, and so we are left to speculate.
Other possibilities: There will be no meeting and everyone is wildly speculating (this happens a lot with Chinese politics), or there may be meeting of provincial and ministerial-level officials similar to the one held the summer before the 18th Party Congress.
Of note: Zhao Zhengyong, who until 2016 was party secretary of Shaanxi Province, is under investigation, Caixin reports. Do not be surprised if Zhao is part of a bigger case that brings down even more senior officials, possibly soon.
4. Engineers of the soul: ideology in Xi's China
John Garnaut was one of the top foreign journalists covering China before he joined the Australian government, first as a speech writer for Prime Minister Malcolm Turnbull and then as a China policy adviser.
Background: Garnaut led the Australian government's analysis of and response to PRC/Chinese Communist Party interference and influence efforts in the country, and he and his work have since had significant influence within other Western governments as they reshape policies towards China.
Earlier this week, Garnaut allowed me to a publish a speech he gave at an internal Australian government seminar in 2017 in which he outlines his understanding of Xi's vision for China. Some of the highlights...
Xi is talking seriously and acting decisively to progress a project of total ideological control wherever it is possible for him to do so. His vision "requires all the Chinese people to be unified with a single will like a strong city wall", as he told "the broad masses of youth" in his Labor Day speech of May 2015. They need to "temper their characters", said Xi, using a metaphor favoured by both Stalin and Mao.
Mr Xi did not invent this ideological project but he has hugely reinvigorated it. For the first time since Mao we have a leader who talks and acts like he really means it.
And he is pushing communist ideology at a time when the idea of "communism" is as unattractive as it has been at any time in the past 100 years. All that remains is an ideology of power, dressed up as patriotism, but that doesn't mean it cannot work.
The challenge for us is that Xi's project of total ideological control does not stop at China's borders. It is packaged to travel with Chinese students, tourists, migrants and especially money.  It flows through the channels of the Chinese language internet, pushes into all the world's major media and cultural spaces and generally keeps pace with and even anticipates China's increasingly global interests. 
Read more of the speech here.
5. "Re-educating" Xinjiang's Muslims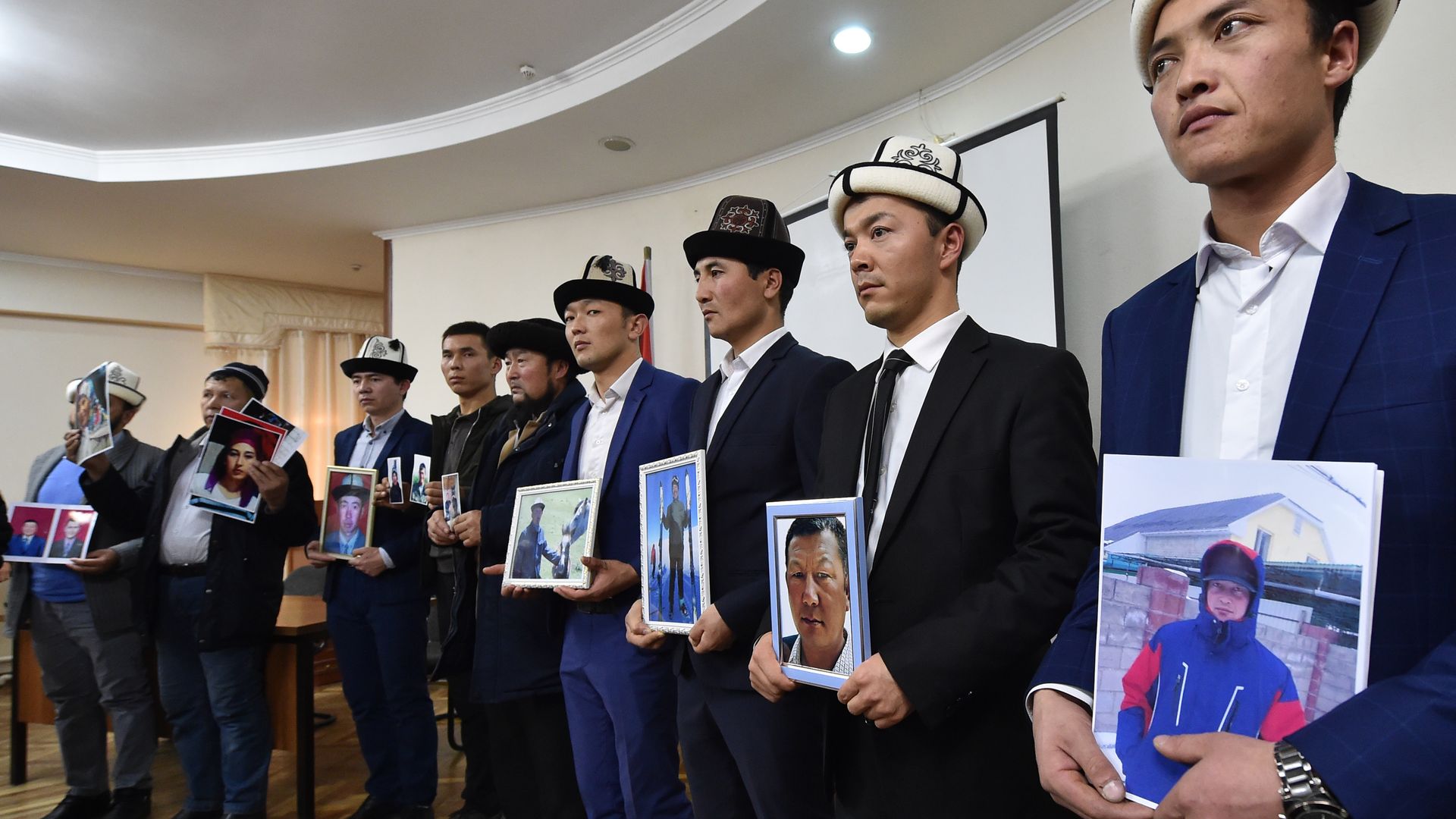 The cover essay of the latest issue of the New York Review of Books is "Reeducating' Xinjiang's Muslims" by Georgetown University professor James Millward. It's about Beijing's policies towards Xinjiang and the massive archipelago of re-education camps that hold hundreds of thousands or more people.
From the essay:
How did the PRC come to this? I see two broad reasons: an official CCP misunderstanding of what Islam means to most Uighurs and other Muslim groups, and a recent CCP embrace of Han-centric ethnic assimilationism, an idea that runs counter to traditional Chinese modes of pluralism. (The Han are the majority ethnic group in the PRC as a whole, though not in the former colonial territories of Xinjiang and Tibet.)...
The CCP's mass internment and coercive indoctrination of Muslim minorities is intended to forcibly remake their identity. The word "conversion" (zhuanhua) appears in official Chinese names for the camps (jiaoyu zhuanhua peishun zhongxin, "Educational Conversion Training Center") and in the "de-extremification" regulations. The party now increasingly finds Islamic faith and even non-Han ethnic culture to be inimical to the goal of homogeneous Chinese identity.
Re-education, or re-engineering? Read the whole, disturbing essay here.
Go deeper:
6. An obscure Chinese commission could change the future of AVs
Axios Expert Voices contributor Patrick Lozada writes ... China's Ministry of Industry and Information Technology (MIIT) last month released a sprawling roadmap for autonomous vehicle development that named an "Internet of Vehicles Development Commission" to lead work on AV policy.
Why it matters: AV leadership by this commission may indicate a more protectionist approach in China, given incentives to carry out President Xi's goal of limiting reliance on foreign "core technologies."
Background: The commission's head, Miao Wei, is the minister of MIIT and the architect of the Made in China 2025 plan, which set detailed targets for replacing foreign technology with domestic substitutes.
The plan has drawn international criticism for acting as a barrier to trade and violating WTO rules.
Eliminating its targets has been a goal of the U.S. in bilateral trade negotiations.
What to watch: Miao, who is also the former CEO of state-owned Dongfeng Motors, identified 3 priorities for the commission...
Develop an AV demonstration zone in the Xiong'an New Area, where an AV-enabled metropolis is planned.
Expand infrastructure for vehicle-to-everything (V2X) technology.
Increase financial and policy support for Chinese companies producing core technologies like telematics and sensors.
The bottom line: Both American and Chinese officials increasingly see technology as a zero-sum game. But U.S. efforts to limit sales of AV tech to China through export controls and Chinese limitations on the foreign use of China's mapping data won't help vehicle development in either country. If AV development suffers, companies and consumers all lose.
Go deeper: Read the full post.
Lozada is a director in the China practice of Albright Stonebridge, a strategic advisory and commercial diplomacy firm.
7. Worthy of your time
Caixin Interview — Apple Chief Counsel Accuses Qualcomm of Holding Smartphone-Makers to 'Ransom'
What's on Weibo — "What Is Peppa?" - Viral Ad Campaign for 'Peppa Pig' Movie Makes the British Pig More Chinese Than Ever
Xinhua — Xi urges new, greater progress in Beijing-Tianjin-Hebei coordinated development during inspection tour
Caixin — QE Speculation Dismissed by Source Close to Central Bank
Carter Center — A Momentous Occasion: Academic Papers Written to Commemorate President Carter's 1979 Decision to Normalize Relations with China
Quartz — Shan Weijian's Out of the Gobi traces 40 years of US-China ties
Chinanarrative — Witness to Divorce: A Chinese Judge's Perspective
New Yorker — Denise Ho Confronts Hong Kong's New Political Reality
Sixth Tone — How Illegally Harvested Timber Is 'Greenwashed' in China
CFR's Brad Setser — Will China's Currency Hit a Wall?
Sinica Podcast — Gene-edited babies, CRISPR, and China's changing ethical landscape
This week's issues of my Sinocism China Newsletter, now with a special 20% discount for Axios readers
Today is the 2-year anniversary of Axios. Thanks to everyone for reading!