Axios China
November 30, 2018
Situational awareness: The most important dinner this weekend will be the one at the G-20 between President Trump and General Secretary Xi Jinping.
Thanks for reading, and if you want a daily and deeper look at China, please check out my daily Sinocism China Newsletter, now with a special discount for Axios readers, and follow me on Twitter @niubi.
1 big thing: G-20 speculation enters high gear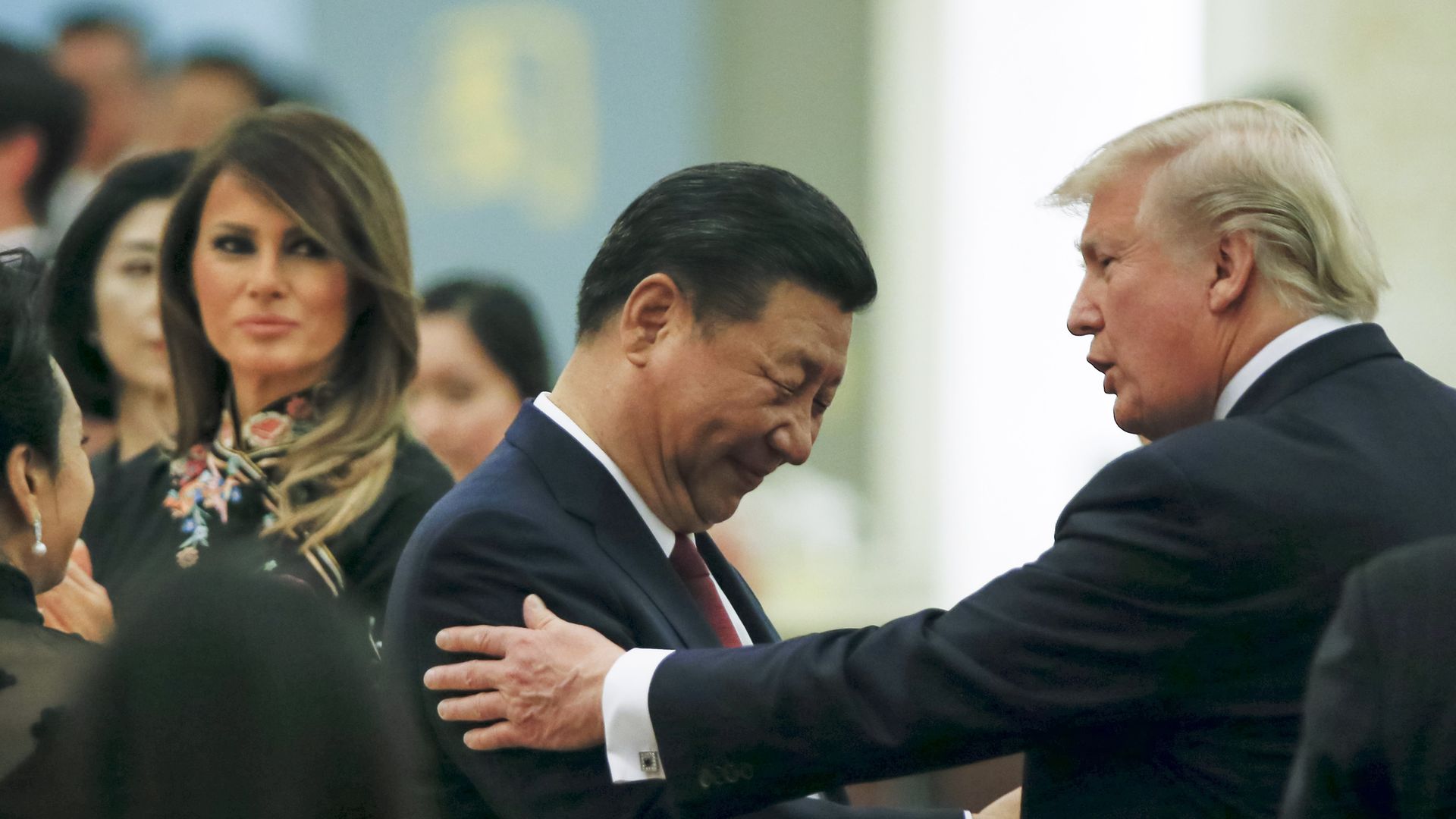 Both the Wall Street Journal and Bloomberg have stories suggesting that the U.S. and China may reach a ceasefire deal over the dinner between President Trump, General Secretary Xi and their respective teams.
Driving the news: Outlines of this supposed deal have been discussed for weeks, mainly because it is perhaps the only possible arrangement the two sides can agree to right now.
According to the WSJ:
"The U.S. and China ... are exploring a trade deal in which Washington would hold off on further tariffs through the spring in exchange for new talks looking at big changes in Chinese economic policy..."
"New talks would focus on what both sides are calling trade 'architecture,' a broad term that could encompass many issues the U.S. has wanted Beijing to address, including intellectual property protection, coerced technology transfer, subsidies to state-owned enterprises, and even non-trade issues such as cyberespionage."
Bloomberg reported that:
"Those discussions... have centered on the possibility of a truce in which the U.S. would delay ramping up tariffs on China in exchange for Chinese concessions."
"The two leaders would also agree on a 'framework' for further talks, U.S. officials such as Commerce Secretary Wilbur Ross have said publicly.
"The two sides have also been eyeing a possible mid-December trip to Washington by Liu He, Xi's top economic adviser, according to two people familiar with the discussions. But whether that visit actually takes place would depend on a positive outcome in Buenos Aires."
The big picture: A tariff ceasefire in exchange for some big PRC purchases of U.S. goods and a framework for months of talks would probably make the financial markets and Beijing quite happy.
The bottom line: But all of the reports in the run-up to the dinner are really just speculation at this point. It will come down how Trump and Xi are feeling during the meeting.
Go deeper:
2. Chinese influence & American interests
A group of leading China specialists and students of one-party systems under the auspices of the Hoover Institution and the Center on U.S.-China Relations of the Asia Society have issued a long report titled Chinese Influence & American Interests: Promoting Constructive Vigilance.
The big picture: It comes at a time when many Western governments, led by Australia, are waking up to the activities of the CCP inside their countries.
Between the lines: The report is interesting, balanced, timely and has some good ideas about how to deal with the threats. But I do not like the title. 
It is a mistake to talk about "Chinese influence" when the issue is Chinese Communist Party influence and interference operations, as just saying "Chinese" is a dangerous conflation that can spark anti-Chinese sentiment. To paraphrase Confucius, names matter.
I reached out to John Garnaut, a participant in today's report and one of the leading forces behind Australia's awakening. He told me:
"The great significance of this report is that it shows how the China-watching community has turned."
"The experts across the United States and further afield who came together to write this report are by no means China hawks. This group has been leading the engagement effort over many decades. These are people who share a great commitment to China and its people, without exception."
"But gradually, and reluctantly, they have accepted — we have had to accept — that China under General Secretary Xi Jinping is materially different to the China we knew under Jiang Zemin and Hu Jintao."
"The liberalising forces of civil society and market economics are not prevailing. The possibilities for reform have narrowed, and they have been pushed further over the horizon, and the risks to our own open societies have grown."
"So the policy of engagement has to be coupled with a commitment to managing risk."
Why it matters: The threats from Chinese Communist Party influence interference are real, but it is important the U.S. take a measured, targeted approach against ""covert, coercive or corrupting"" methods while avoiding channeling Base Commander Jack Ripper's classic quote in Dr. Strangelove:
I can no longer sit back and allow Communist infiltration, Communist indoctrination, Communist subversion, and the international Communist conspiracy to sap and impurify all of our precious bodily fluids.
Go deeper:
Read the full report here.
Fearing espionage, U.S. weighs tighter rules on Chinese students | Reuters
How WeChat helped a Chinese American immigrant win a seat in the Maryland statehouse | The Washington Post
3. More details on Google's China project Dragonfly
Ryan Gallagher of The Intercept has owned the story of Google's secret plans to relaunch a search engine in China. Yesterday he published the latest in his series of scoops about Project Dragonfly — Google Shut Out Privacy and Security Teams From Secret China Project:
Why it matters: The official Google story keeps unravelling as more current and former employees with knowledge of the project start talking, giving the impression at least that Google management was trying to hide something.
Several hundred employees have now signed an open letter calling on the company to "drop Dragonfly." Others Google employees have signed an internal letter in support.
Per Gallagher:
"Yonatan Zunger, then a 14-year veteran of Google and one of the leading engineers at the company, was among a small group who had been asked to work on Dragonfly."
"He was present at some of the early meetings and said he pointed out to executives managing the project that Chinese people could be at risk of interrogation or detention if they were found to have used Google to seek out information banned by the government."
"Scott Beaumont, Google's head of operations in China and one of the key architects of Dragonfly, did not view Zunger's concerns as significant enough to merit a change of course, according to four people who worked on the project."
"Beaumont and other executives then shut out members of the company's security and privacy team from key meetings about the search engine, the four people said, and tried to sideline a privacy review of the plan that sought to address potential human rights abuses"
Go deeper: John Hennessy, Alphabet chairman, on Google China plans — CNBC:
"Anybody who does business in China compromises some of their core values," Hennessy said in an interview this week with Bloomberg. It's true for every company "because the laws in China are quite a bit different than they are in our own country," he said.
4. Gene editing takes a foreboding leap forward
China is temporarily suspending the work of scientists who claimed twins were born after being genetically edited as embryos.
Why it matters: The scientific consensus is that gene editing embryos at this stage of science is "irresponsible." But, while this particular experiment has not been verified, the fact is the technology is available to researchers, so there's a growing call for international limitations on its use.
ICYMI: Chinese scientist He Jiankui announced earlier this week that twins were born after he used the gene-editing tool CRISPR-Cas9 to cut the CCR5 gene that's known to play a role in HIV infection, Axios' Eileen Drage O'Reilly notes.
"He stirred even more dismay when he mentioned the possibility of a second pregnancy."
China currently bans human implantation of gene-edited embryos. Its Ministry of Science and Technology is investigating the claims, per Xinhua.
There are concerns about the safety, efficacy and possible mosaicism, where a person can contain genes in both its edited and unedited forms, from cutting genes.
Editing embryos raises an even bigger concern: The genetic changes and all the unknowns around them can be passed down to future generations.
Between the lines: Not everyone viewed it as a complete disaster. For instance, Harvard Medical School's George Daley suggested that it may be time to reconsider the massive amounts of research done over the past several years and look for plausible methods of moving forward.
What to watch: Scientists are cautious about predicting what the impact will be, in part because the details of this claim are thin. However, the debate is heating up and one concern is it will dampen important research.
Medical ethicist Jonathan Moreno from the University of Pennsylvania says the situation reminds him of other times in history where there were tremors in the science world, like the death of 18-year-old Jesse Gelsinger in 1999 from a gene therapy trial that led to years of diminished research.
The bottom line: The alarm over what could be next is real. But scientists hope the current debate will promote consensus on firm limits and promote transparency.
Go deeper:
5. Fentanyl flows and fortunes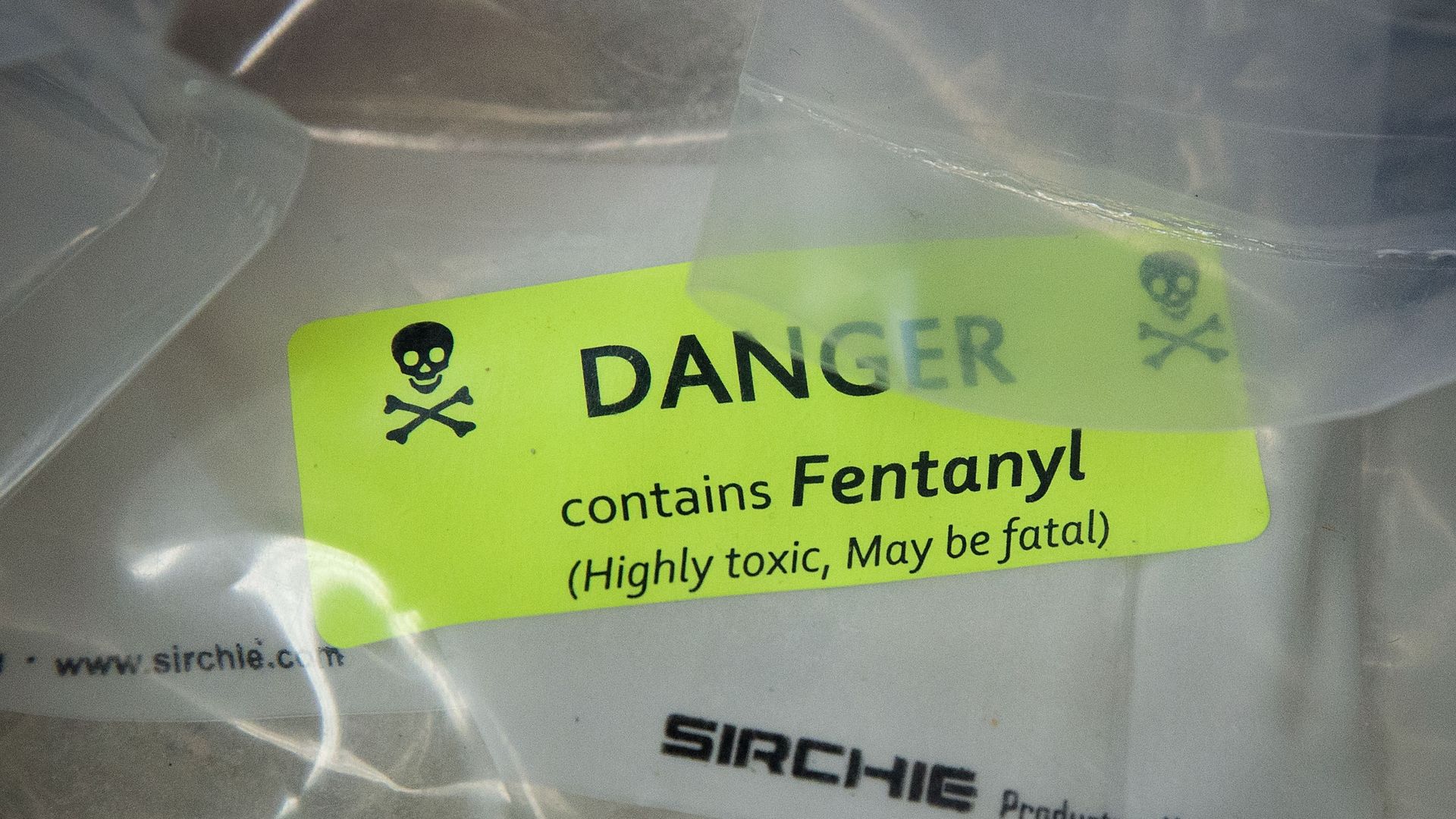 Earlier this week the U.S.-China Economic and Security Commission issued an updated report on "Fentanyl Flows from China", an increasingly contentious issue in U.S.-China relations.
The big picture: "China remains the largest source of illicit fentanyl and fentanyl-like substances in the United States... In large part, these flows persist due to weak regulations governing pharmaceutical and chemical production in China."
Between the lines:
"Chinese officials have shown a willingness to work with their U.S. counterparts, controlling 39 new substances since February 2017 and assisting with U.S. law enforcement investigations into alleged Chinese drug traffickers."
"Beijing's scheduling procedures remain slow and ineffective... U.S. officials have proposed strategies for Beijing to systematically control all fentanyl substances, but the changes have not been approved by the Chinese government."
"U.S. law enforcement agencies are taking legal actions against known Chinese drug traffickers."
Go deeper: Fentanyl is hugely profitable for criminals, and some of the profits have flowed into the Vancouver real estate, according to a secret police study obtained by Canada's Global News:
6. Electric vehicles in China send real-time data to government
Teslas and other electric vehicles in China constantly send information about the precise location of cars to the government, AP's Erika Kinetz reports.
Why it matters: The data adds "to the rich kit of surveillance tools available to the Chinese government as President Xi Jinping steps up the use of technology to track Chinese citizens."
"More than 200 manufacturers, including Tesla, Volkswagen, BMW, Daimler, Ford, General Motors, Nissan, Mitsubishi and U.S.-listed electric vehicle start-up NIO, transmit position information and dozens of other data points to [Chinese] government-backed monitoring centers."
"Generally, it happens without car owners' knowledge."
The responses: "The automakers say they are merely complying with local laws, which apply only to alternative energy vehicles."
"Chinese officials say the data is used for analytics to improve public safety, facilitate industrial development and infrastructure planning, and to prevent fraud in subsidy programs."
"But other countries that are major markets for electronic vehicles — the United States, Japan, across Europe — do not collect this kind of real-time data."
Go deeper: The race for the next billion cars
7. Worthy of your time
The Economist - Chip wars: China, America and silicon supremacy
The Washington Post- Bloomberg is still reporting on challenged story regarding China hardware hack
South China Morning Post- Xi Jinping targets grass roots in push to extend Communist Party control
Global Times - Concerns over Alibaba founder Jack Ma's Party membership reflect lack of knowledge of CPC grass-roots functions: experts
The New York Times - The Road to Confrontation
Reuters - Tracking China's Muslim Gulag
NBC News - Lu Guang, winner of World Press Photo awards, vanishes in Xinjiang
Caixin - How Deadly African Swine Fever Spread Across China
Taiwan Sentinel- Assessing The Impact of the 11/24 Elections in Three Questions
NüVoices Podcast - Long-Form Magazine Writing With The New Yorker's Jiayang Fan
Sixth Tone - China's Aging Migrant Workers Are Facing a Return to Poverty
My 4X per week Sinocism China Newsletter, now with a special 20% discount for Axios readers.