Axios China
March 30, 2018
Happy Good Friday and Passover…it's also Spring Break here in D.C. so today's newsletter is a bit shorter than normal.
To my Ohio readers, you can join Axios' Mike Allen at The Ohio State University Monday for a discussion on the Future of Work with entrepreneur Mark Cuban, Governor John Kasich and Axios co-founder Jim VandeHei. To RSVP, click here.  
Thanks for reading, and remember, if you want to read me more than once a week, please check out my daily Sinocism China Newsletter and follow me on Twitter @niubi.
1. Kim's surprise visit may be due to China pressure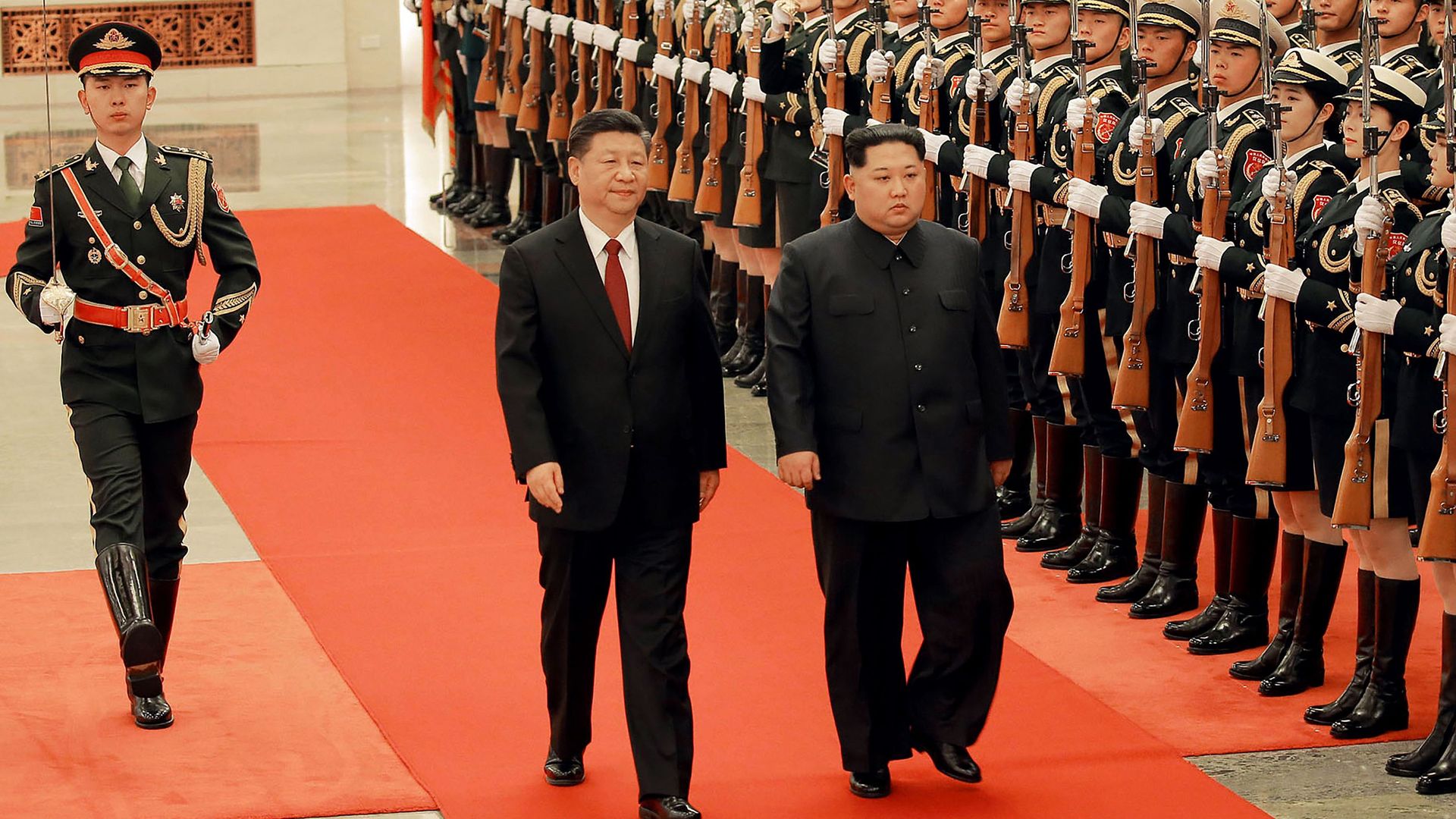 North Korea leader Kim Jong-un's journey to Beijing this week appears to have come as a surprise to the Trump administration but the White House seems to be spinning it as a positive development.
What's happening: Per the Washington Post, administration officials, who were thrown off balance when China announced it had held its own summit with Kim, debated the implications of the meeting but ultimately decided to declare it a positive result of its "maximum pressure" campaign against North Korea.
The big question: Why Kim made the trip now — and what will he get from China in return — are among the key questions surrounding the visit. According to data released Friday, China may have been squeezing North Korea even harder than required under the current UN sanctions regime. The Financial Times reports that several Chinese exports to North Korea showed recent significant drops:
The monthly average of refined petroleum exports in January and February was 175.2 tons — 1.3% of the monthly average of 13,552.6 tons shipped in the first half of 2017.
Coal exports were cut to zero in the 3 months ending Feb. 28 — after running a monthly average of 8,627 tons the first half of 2017.
Steel exports ran at an monthly average of 257 tons in the first 2 months of this year — down from a monthly average of 15,110 tons in the first half of 2017.
Why it matters: China has reminded everyone that it still has significant influence over North Korea, and that all roads to a solution will have to run through Beijing. Now that Kim has paid proper tribute to China President Xi Jinping, will China back off on some of the pressure?
Go deeper: Former State official P.J. Crowley writes for Axios' Expert Voices that Kim's diplomatic offensive upends U.S. policy. The Korean Central TV offers a documentary with English voiceover on the visit, now on YouTube, and it's a fascinating look at an alternate, fraternal Socialist universe.
Be smart: Some skepticism may be needed about the upcoming U.S.-North Korea meetings. North Korea has talked about denuclearizing before, but always with conditions that effectively include removal of U.S. troops from South Korea and the destruction of the U.S. alliance system in Asia.
And, don't forget — in 2009, NYT reported that Secretary of Defense Robert Gates said he was "tired of buying the same horse twice" in reference to another deal with the DPRK.
Separately, Russia's RIA news agency reports via Reuters that Chinese Foreign Minister Wang Yi is to visit Russia on April 4 and 5 — and I am now hearing a rumor that Kim will visit Russia soon after.
Editor's note: We corrected the spelling of Kim Jong-un's name.
2. Xi convenes reform committee
Xi convened the first meeting of the Central Committee for Deepening Overall Reform (中央全面深化改革委员会), Xinhua reports.
The details: The committee, one of the leading groups upgraded as part of the massive bureaucratic restructuring decided at the recent Third Plenum, approved a long list of reforms.
As Xinhua notes:
"Transforming the former central leading group for deepening overall reform to the central committee for deepening overall reform is an important measure to improve the institutions and mechanisms by which the Party exercises leadership over major work."
Quick take: 2018 is the 40th anniversary of the "Reform and Opening" Period begun under the leadership of former paramount leader Deng Xiaoping. Xi keeps promising big reforms this year, and he certainly appears to now have the power and also the institutional structure in place to push very hard on his vision of reform.
My thought bubble: The U.S. is pressing China hard for reforms to further open the PRC market, and Xi's goal of China's Great Rejuvenation will not be realized without massive change — but since it's still Chinese Marxist-Leninist, don't expect Xi's vision for reforms match the West's…
3. Trump's trade war may miss "Made in China 2025"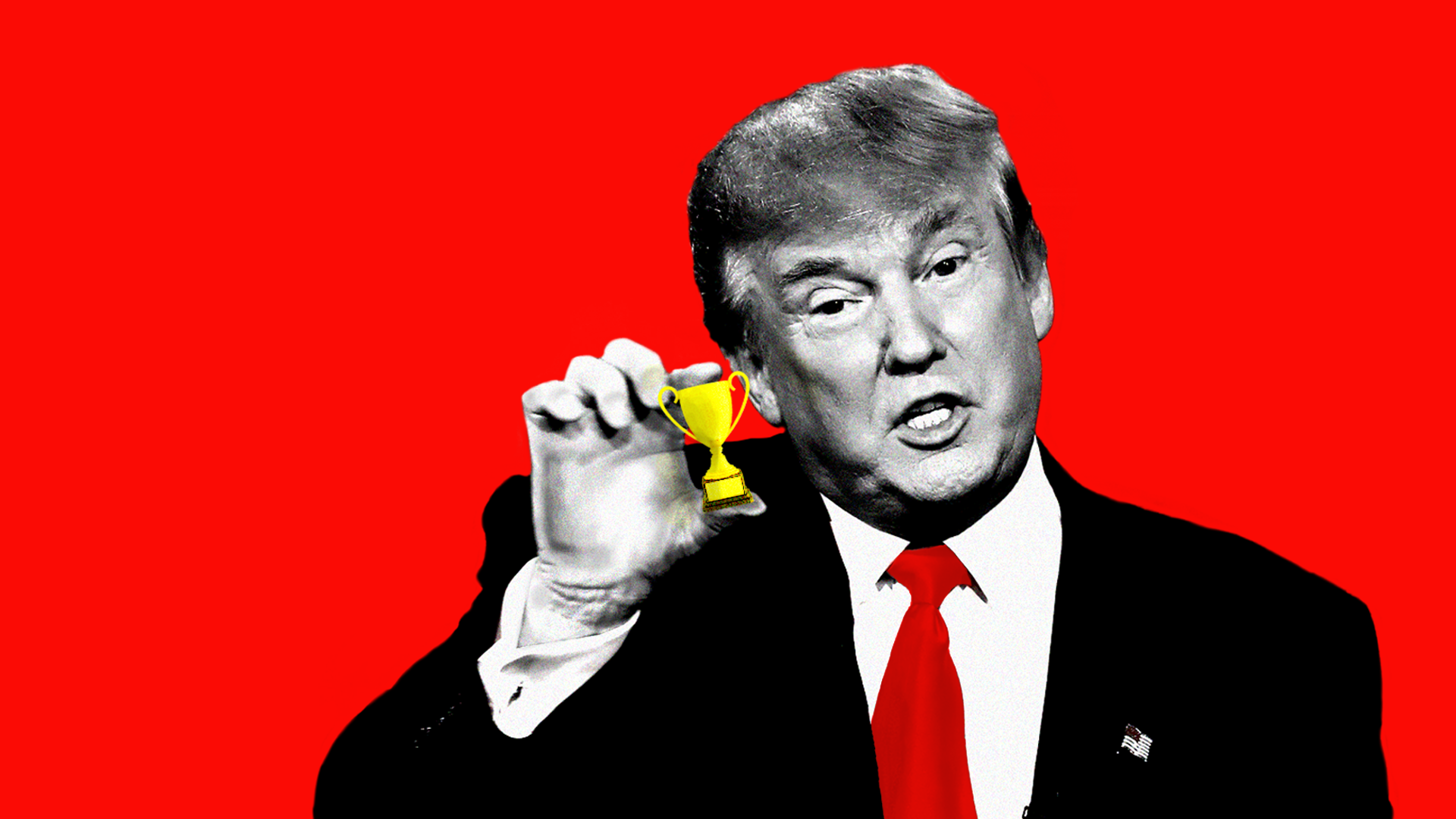 Axios' Steve LeVine writes: Trade and China experts fear that President Trump, seeking a marquee, high-dollar deal with Beijing to reduce a $375 billion trade imbalance, may achieve a political win but leave the U.S. at a critical, long-term economic disadvantage.
What they're saying: China's stated objective is to dominate the primary industries of future wealth and the jobs that come with them, including artificial intelligence, robotics, self-driving and electric cars, and advanced microchips. It's smoothing its path there using tech obtained through means including coercion of western companies, according to long-standing industry complaints.
The aim in the current U.S. trade talks, these experts tell Axios, should include a halt to Beijing's forced transfer of know-how as a price of doing business in China. There should be a level playing field in the battle for these future industries, what Beijing has dubbed Made in China 2025.
But U.S. negotiators instead seem to be focused on greater access to China's financial markets, lower tariffs, more chip sales and other dollar steps toward reduce the annual trade imbalance.
"Trump is fixated on trade balances, that deficits mean one is being cheated," said Scott Kennedy of the Center for Strategic and International Studies. "But reducing the trade deficit is different from hamstringing China's industrial policy, from inhibiting China Inc."
Bottom line: Tech and other U.S. industries are eager that Trump not declare trade victory while leaving the greater technological battleground to China. "The concern is that Made in China will intensify Chinese interest in obtaining U.S. and other Western technology through legal and less than legal means," said Jeff Schott of the Peterson Institute for International Economics.
4. Does China have a global rendition program?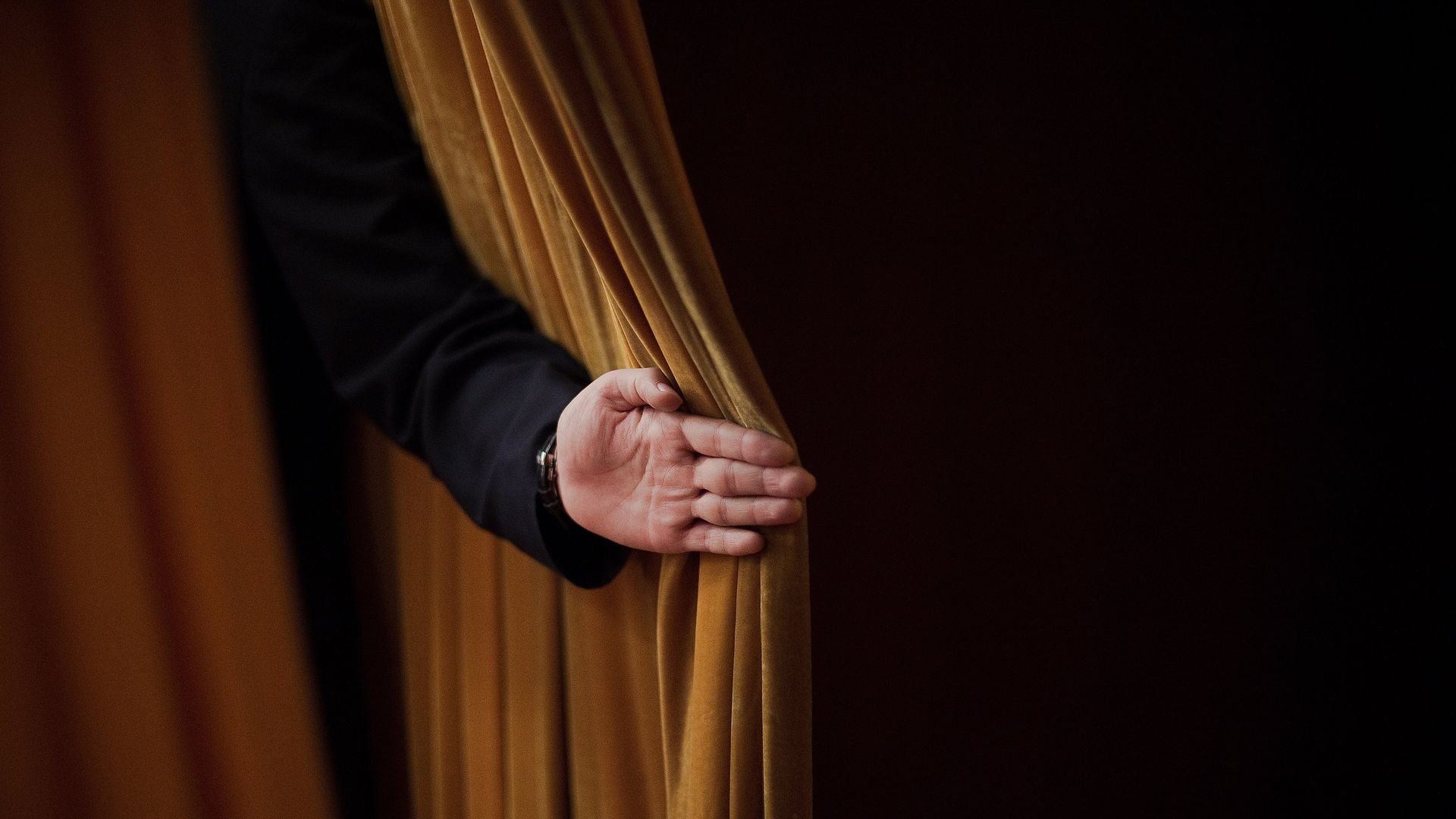 Foreign Policy published Thursday an explosive story, "The Disappeared," examining the mysterious vanishing of Chinese citizens over the last several years. Some of the cases are well-known, like those of financier Xiao Jinhua and bookseller Gui Minhai, who were both taken from Hong Kong.
Yes, but: The article claims the efforts extend to Australia and increasingly America, though according to FP, the known American cases so far appear to involve pressure instead of outright kidnapping. FP spoke to a senior former U.S. intelligence official who insists there's no evidence that the American cases are not "true" renditions, like the kidnappings now seen in Australia. Per FP:
"There's a big difference between kidnapping and pressure," the former official said, "[between] kicking in a door and taking a guy forcefully away and saying, 'Come with us or we'll kill your family in Inner Mongolia.'"
"It would be a 'huge leap' for Chinese intelligence to shift from employing extreme pressure tactics to performing actual hands-on kidnappings in the United States," the official said.
ICYMI: One recent high-profile case in the U.S. involved the unauthorized visit of two PRC security officials to meet with fugitive businessman Guo Wengui. As the Wall Street Journal reported last year in a story that reads like a spy thriller, the FBI detained the two officials but the agency was prevented from formally arresting them and so allowed them to return to China.
Why it matters: Expect these cases to only increase as China's global power and influence increases — and as the Communist Party expands its efforts to influence the overseas Chinese diaspora.
More: Read these pieces from The Economist and the WSJ.
5. The next monster Chinese internet IPO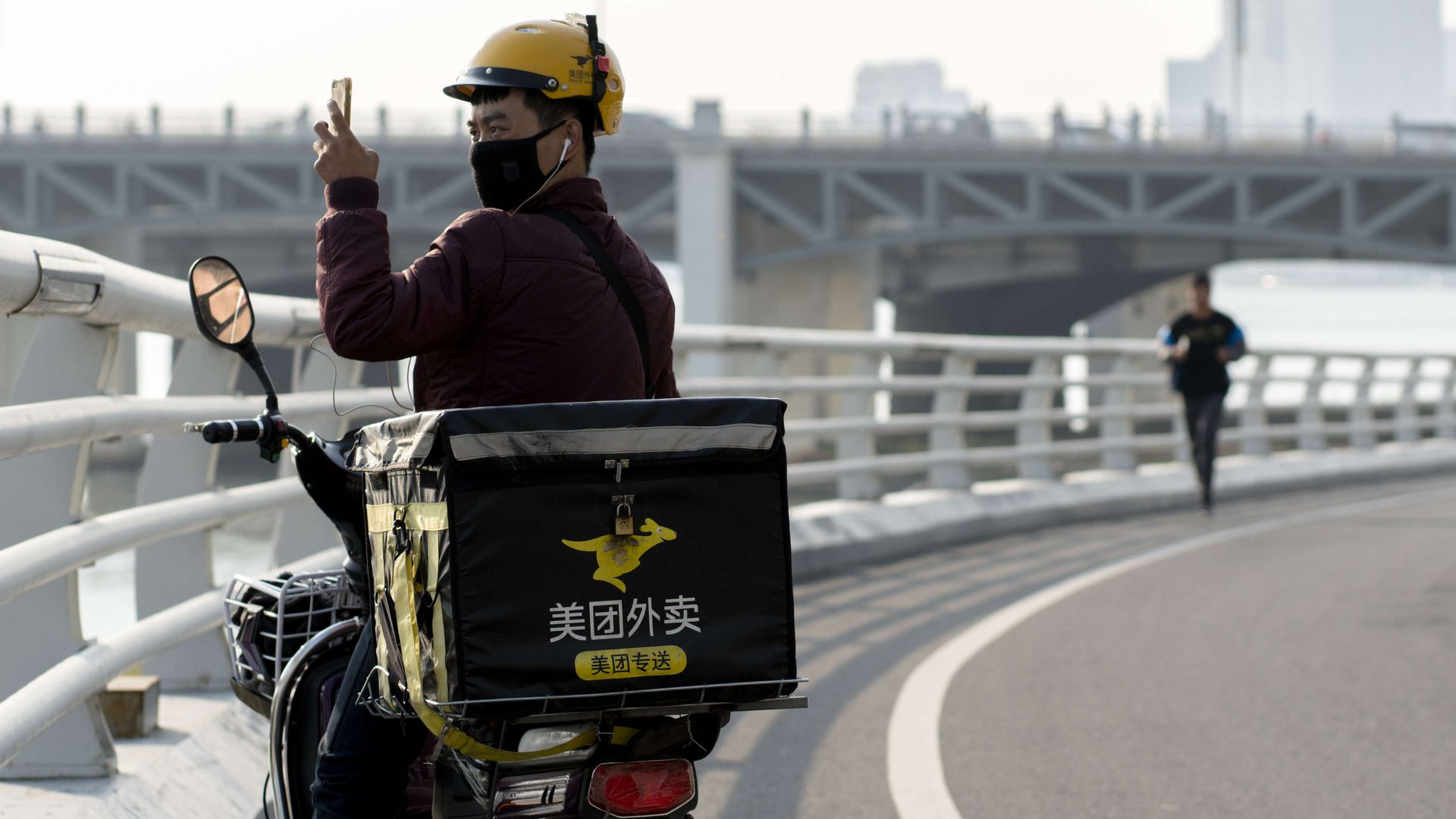 Meituan-Dianping, which bills itself as China's largest provider of on-demand online services like group buying, food ordering and ride hailing, has selected the investment banks to take it public in Hong Kong later this year, per DealStreetAsia.
Key number: The expected valuation may be as high as $60 billion, Bloomberg reports.
Founder and CEO Wang Xing recently spoke with The Information. Among the highlights in the article:
320 million users have made at least 1 purchase through Meituan in the past year and the company delivers around 20 million meals daily.
2017 revenue was $5.4 billion and the company had $7 billion in the bank in November.
The company is aggressively expanding its ride-hailing service to take on Didi Chuxing.
This is Wang's third internet startup. He had a minor success selling Facebook-clone Xiaonei in 2006 while his next venture Fanfou, a Twitter clone, was shut by the government in 2009. Forbes called him "The Cloner" in a 2011 article but he is way beyond that now.
Blue chip investors include Tencent, Priceline and Tiger Global.
Why it matters: China may have the most competitive and well-funded internet market in the world, in spite of the increasing Communist Party controls.
6. It's tough being a Chinese tycoon
The latest to go on trial is Wu Xiaohui, former head of insurance giant and Waldorf Astoria owner Anbang.
What's happening: At his one-day trial Wednesday, Wu, after raging he did not understand the law and so didn't know his activities were illegal, admitted his involvement in what prosecutors say was a $100 billion illegal fundraising scheme, Caixin reports. The court has not yet announced his sentence.
The big picture: Wu was masterful at exploiting bureaucratic loopholes and playing bureaucratic arbitrage. One of the goals of the restructured financial regulatory system is to prevent future Anbangs. Caixin pointed out that reform committee approved a document to better regulate financial conglomerates.
Why you'll hear about this again: Ye Jianming, the billionaire founder of energy firm CEFC, disappeared into detention recently. Caixin Magazine published an extensive investigation of Ye earlier this month that was very quickly removed by censors. But, thanks to Google cache and Australian academic Andrew Chubb, an English translation of the report is now online.
7. Worthy of your time
South China Morning Post — "Betrayed and abandoned: why China's underground Catholics feel like Jesus on Good Friday"
AFP — "Vatican rules out 'imminent' China bishop deal"
New America — "China's Cyberspace Authorities Set to Gain Clout in Reorganization"
AFP — "Foreign companies in China brace for VPN crackdown"
Quartz —"China's blockchain ambitions revealed in sheer number of patent applications"
Coin Telegraph — "China To Develop Centralized Crypto, Protects Yuan Against Non-State Digital Currency"
The Washington Post — "China's new surveillance state puts Facebook's privacy problems in the shade"
Taiwan Sentinel — "Taiwanese Novelist Wu Ming-yi To Lodge Protest With Man Booker Prize Over 'Taiwan, China' Designation"
VOA — "US, Chinese Scientists Work Together to Reintroduce Pandas to Wild"
Sinica Podcast — "Orville Schell on China's Unexamined, Unreconciled Past"
Recent issues of The Sinocism China Newsletter