Today is China's annual National Youth Day and the 99th anniversary of the May 4 Movement when several thousand students protested in the center of Beijing against the imperialist humiliations inflicted upon China at the Versailles Peace Conference.
Thanks for reading, and remember, if you want a daily and deeper look at China please check out my daily Sinocism China Newsletter and follow me on Twitter @niubi.
https://www.axios.com/newsletters/axios-china-a35ac9e0-a5b9-4a4a-9a4a-82605968c298.html?chunk=0#story0
1 big thing: U.S.-China trade talks splutter out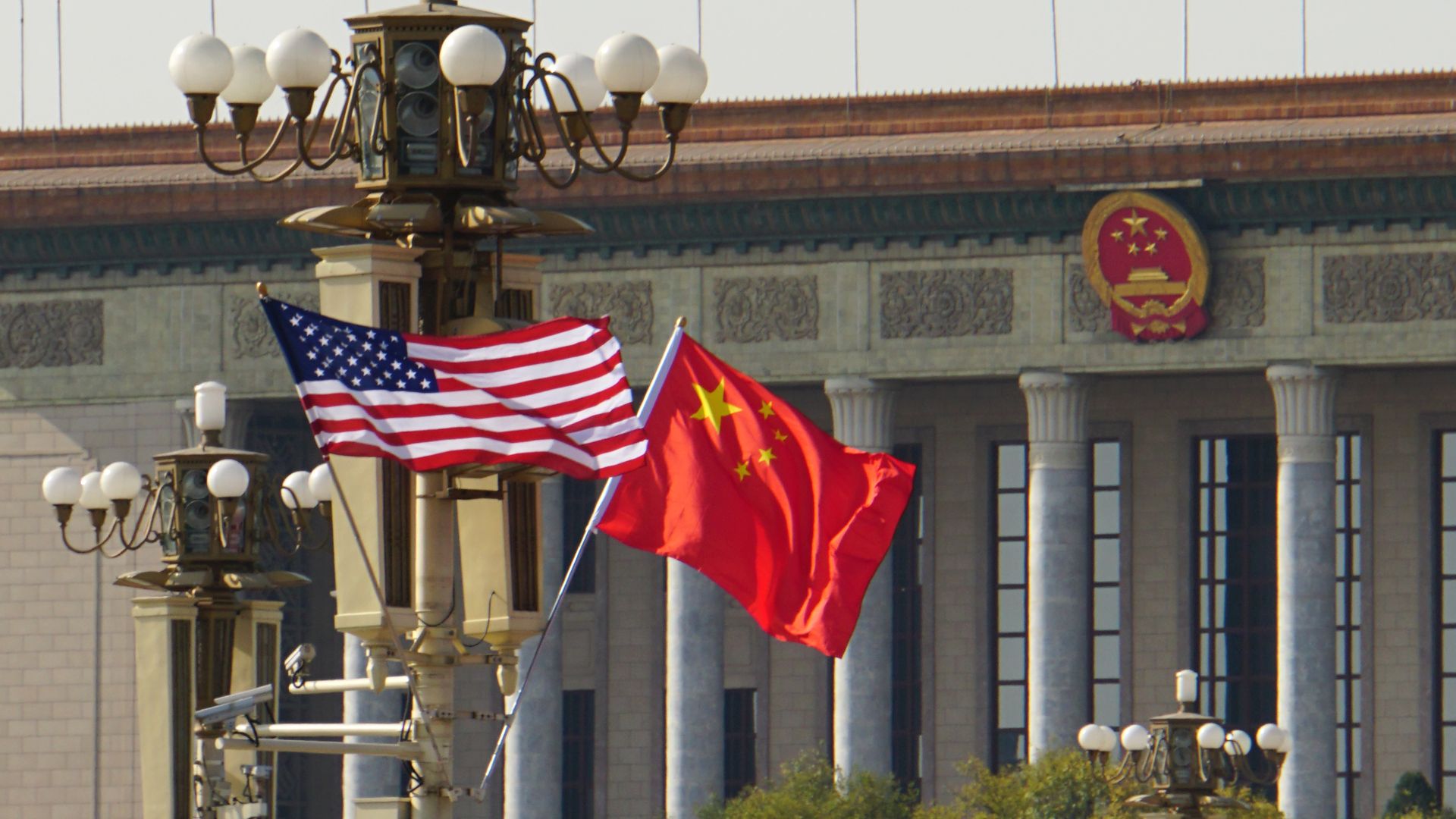 The U.S.-China trade talks that just ended appear to have yielded very little progress. The U.S. presented a very forward-leaning document with aggressive timelines that, if agreed to, would lead to massive structural changes throughout the Chinese system.
The big asks: The U.S. wants to cut the trade deficit by $200 billion by 2020, as last year, the deficit reached an all-time high of $375 billion. China wants the U.S. to cease its increased security checks on Chinese investments.
My thought bubble: The U.S. delegation led by Treasury Secretary Steven Mnuchin did not meet with either Wang Qishan or Chinese President Xi Jinping, which can be seen as a sign that the Chinese were very unhappy with the talks.
Don't forget — the clock is ticking on U.S. tariffs and possibly other executive actions targeting leading PRC tech firms.
And, now that both U.S. and Chinese demands were leaked Friday, this could make it possibly even harder for Trump or Xi to back down.
The backdrop, via Axios' Jonathan Swan: The relentless focus on the trade deficit comes straight from Trump. He wants what he wants; and what he wants is far closer to hardliner Peter Navarro's version of the world than that of free-traders Mnuchin and Larry Kudlow. The real question is how far Trump is willing to bend.
The bottom line: There's no indication yet from Beijing that it'll agree to some or all of these demands. China's official news agency, Xinhua, put out a statement following talks saying, "Both sides realized that there are some relatively big differences on some issues. And more work needs to be done to achieve more progress."
Go deeper: Read Axios' Erica Pandey's story on this topic here (she also contributed to this piece). Also, the Wall Street Journal describes the trade demands here and Axios' Expert Voices has a piece on the disengagement between the two countries by Daniel Kliman here.
https://www.axios.com/newsletters/axios-china-a35ac9e0-a5b9-4a4a-9a4a-82605968c298.html?chunk=1#story1
2. Rubio to "target China's tools" of aggression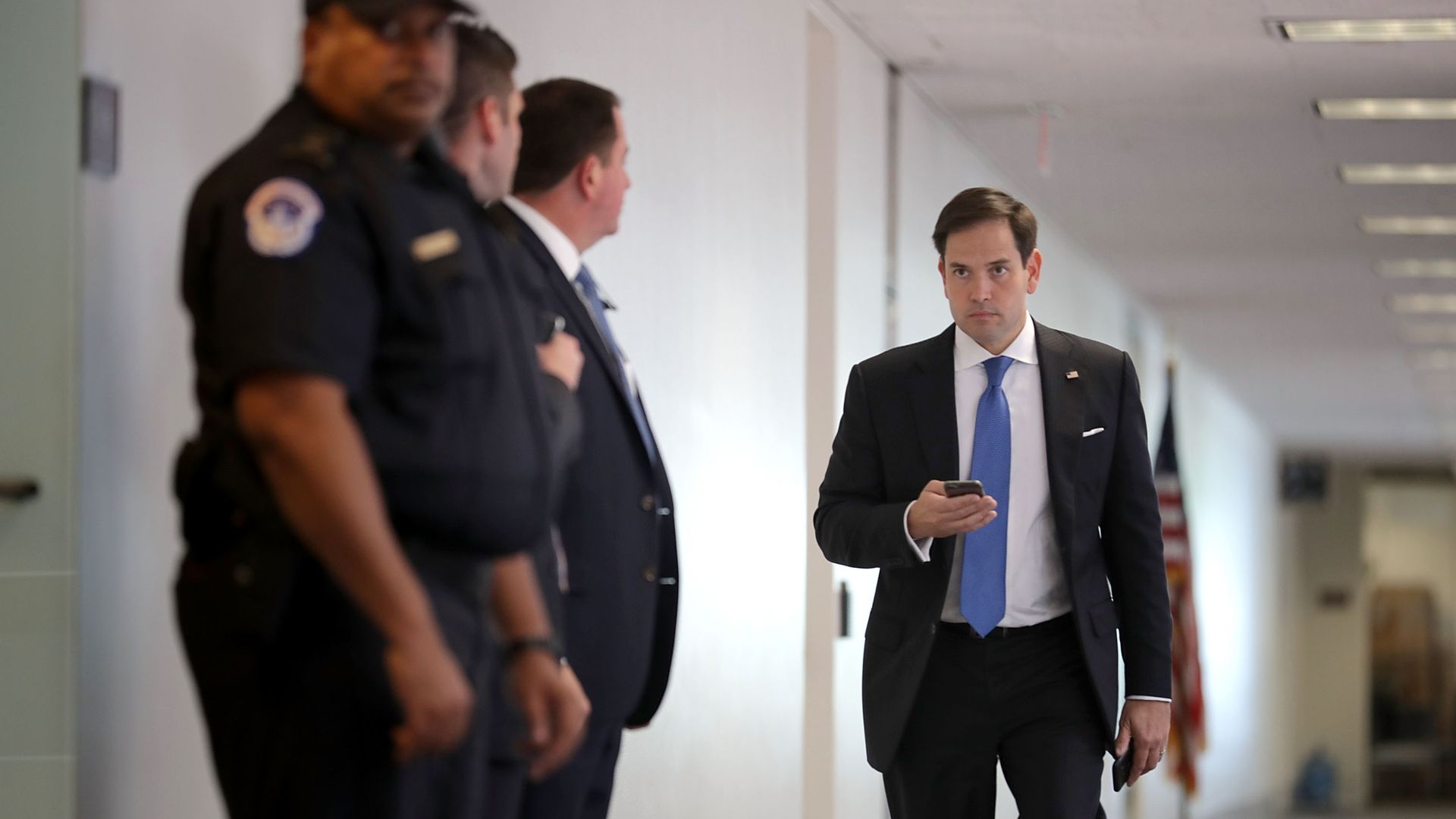 Sen. Marco Rubio will introduce the Fair Trade With China Enforcement Act "to guard the American people against China's nefarious influence on national and economic security, directly targeting China's tools of economic aggression."
The details: According to an OpEd by Rubio in the Washington Post, the legislation would:
Ban the sale of all sensitive technology or intellectual property to Chinese entities and impose a shareholding cap on Chinese investors in American corporations.
Amend the 1984 income tax treaty with China to impose a withholding tax on Chinese entities earning investment and dividend income in the United States.
Impose duties on Chinese capital goods in the sectors targeted by the "Made in China 2025" plan.
Raise taxes on the foreign income of multinational corporations if they enter into vulnerable "joint ventures" with Chinese firms.
Why it matters: Bipartisan forces are aligning across D.C. to take a much tougher approach to China. Beijing may find a way to blunt some of the Trump administration trade threats but Congress is even more hawkish towards the PRC.
https://www.axios.com/newsletters/axios-china-a35ac9e0-a5b9-4a4a-9a4a-82605968c298.html?chunk=2#story2
3. China deploys missiles in South China Sea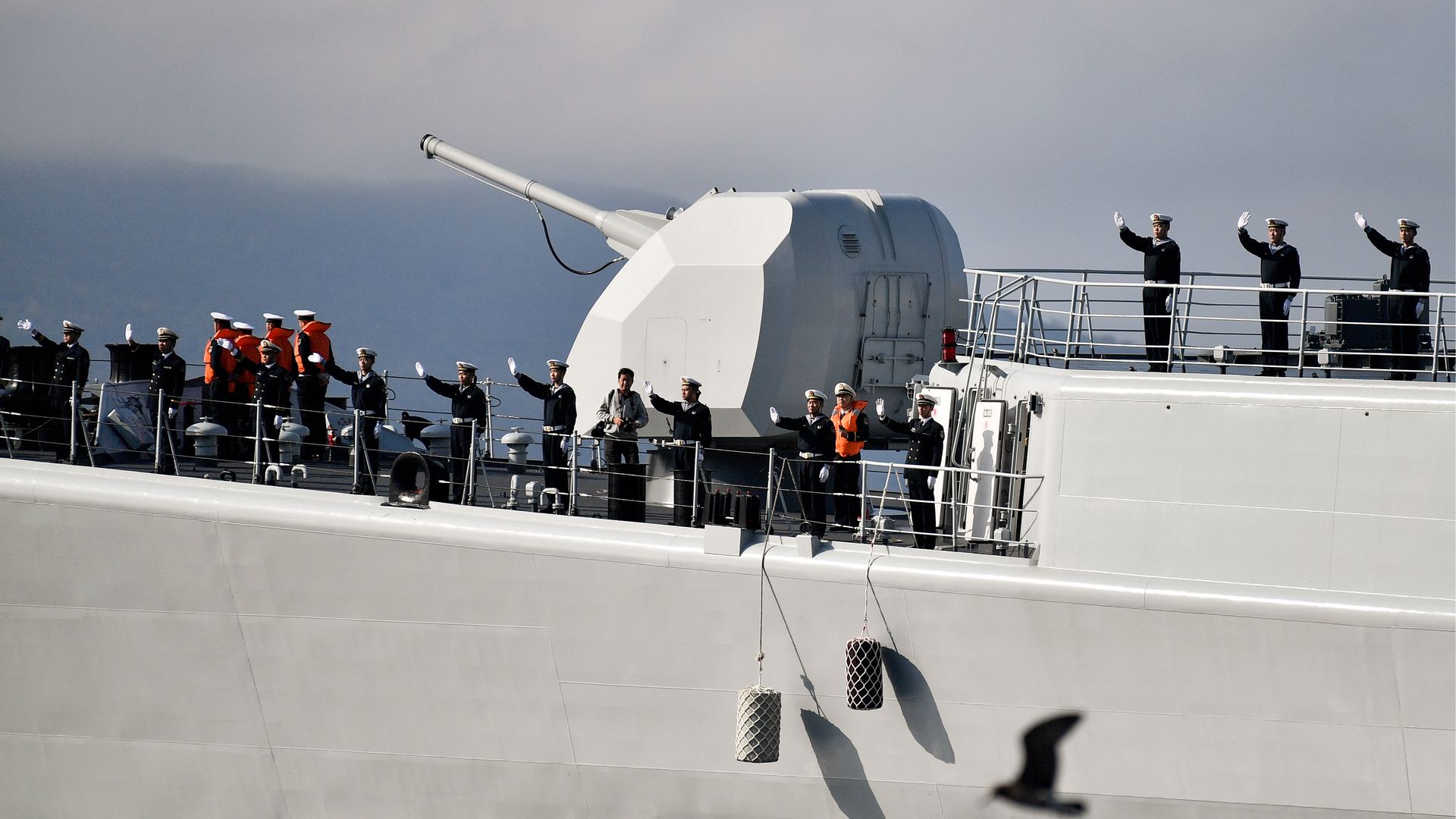 CNBC broke the news that China has deployed anti-ship cruise missiles and surface-to-air missiles on several of the outposts it built in the Spratly Islands in the South China Sea. The Chinese foreign ministry confirmed, per the Sydney Morning Herald.
"There will be near-term and long-term consequences."
— Sarah Sanders, White House press secretary, said in response
Why it matters: The South China Sea is among the more potentially volatile of the growing number of flashpoints between the U.S. and China. U.S. threats of "consequences" are likely viewed as hollow, given how few options the U.S. has, short of war, to dislodge the Chinese from these massively expanded bases.
Unhelpful ally: In response to the report of the missile deployment, according to Al Jazeera, a Philippine presidential spokesman said: "With our recently developed close relationship and friendship with China, we are confident that those missiles are not directed at us."
https://www.axios.com/newsletters/axios-china-a35ac9e0-a5b9-4a4a-9a4a-82605968c298.html?chunk=3#story3
4. Xi marks Marx's 200th birthday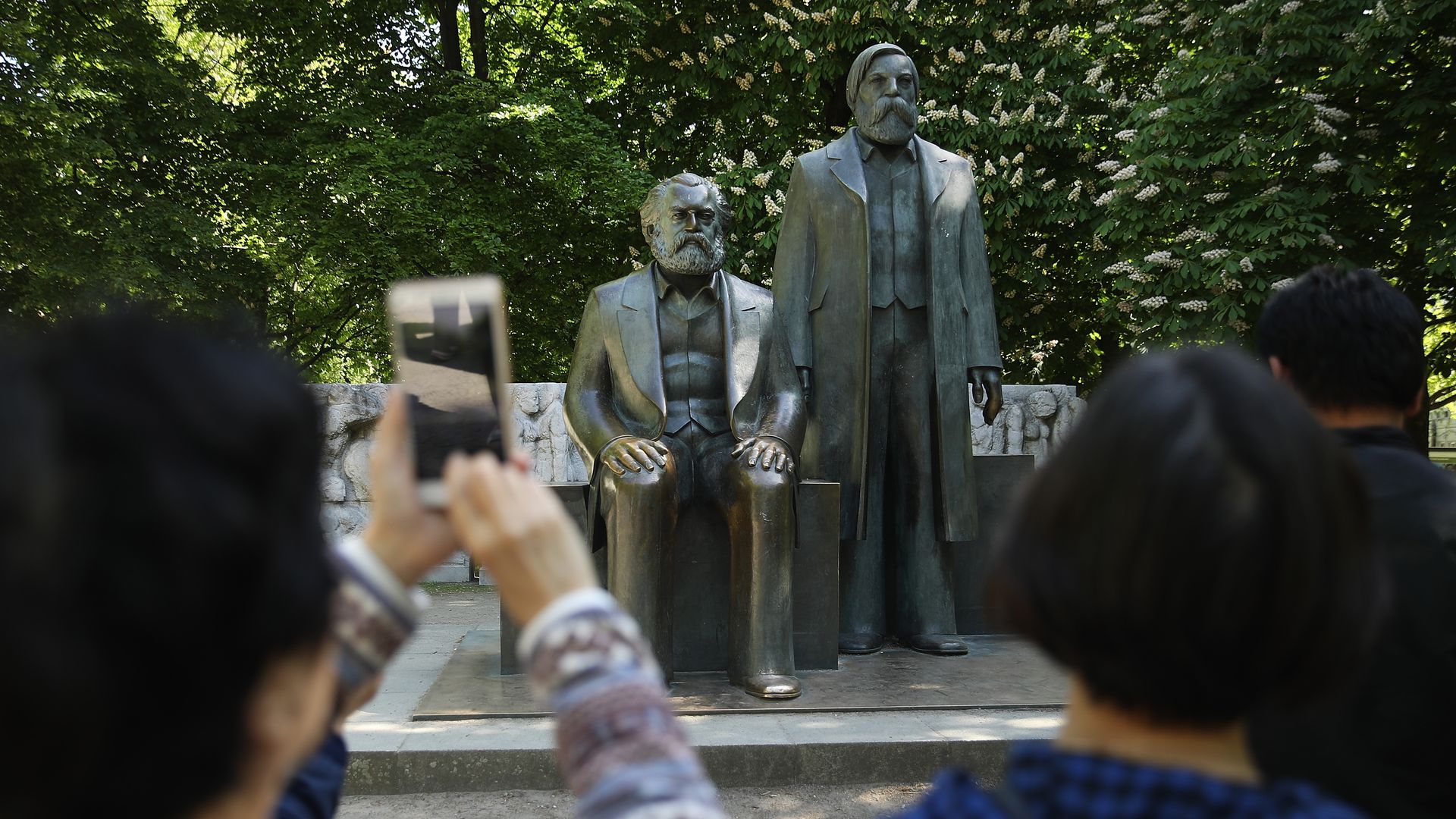 The Communist Party held an event Friday to commemorate the 200th anniversary of Karl Marx's birth. Xinhua reports that in his speech at the event, Xi praised Marx as:
"[A]Teacher of revolution for the proletariat and working people all over the world, the main founder of Marxism, creator of Marxist parties, pathfinder for international communism and the greatest thinker of modern times…"
"With noble ideals and no fear of difficulties and adversities, throughout his lifetime, Marx devoted himself to perseverantly striving for the liberation of humanity, scaling the peak of thoughts in his pursuit of truth, and the unremitting fight to overturn the old world and establish a new one."
Other stops: Earlier in the week, Xi visited Peking University (PKU), China's most prestigious school. According to Xinhua, he told students about his enlightenment at age 15 when he grasped the truth that is Marxism. Xi said:
"Marxism should be consolidated as the guiding ideology and promoted in campuses, classrooms, and among students."
Why it matters: As discussed in last week's newsletter, the contemporary PRC brand of Marxism and Communism is far removed from the original visions, but the CCP believes it has the right, the power and the ability to evolve those ideas to fit the times. Xi looks to be a true believer and his recent comments and activities likely signal another nationwide Marxist education campaign, with special focus on properly indoctrinating the youth.
https://www.axios.com/newsletters/axios-china-a35ac9e0-a5b9-4a4a-9a4a-82605968c298.html?chunk=4#story4
5. China is afraid of its ethnic minorities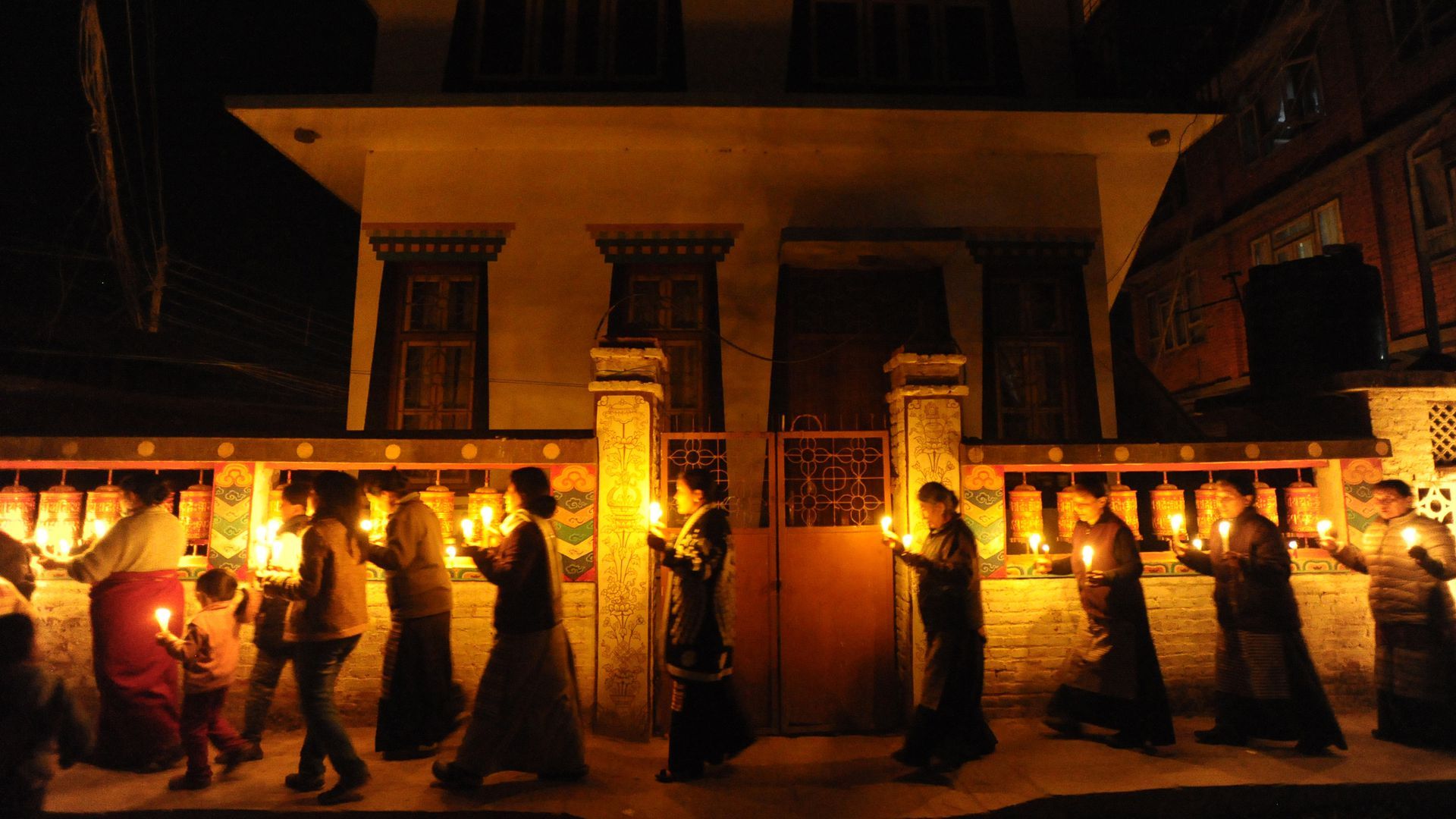 Erica writes: As Xi takes Chinese influence to every corner of the world, there remain corners of his own country that his government struggles to control.
What's happening: There are two main regions, which are now under strict surveillance and subjected to propaganda campaigns, that are of particular concern for the Communist Party:
1. Xinjiang, which is populated by Muslim Uighurs. China has a long history of repression of the Uighurs.
Tensions between Chinese officials and Uighur separatists in Xinjiang have often led to violent clashes.
In Xinjiang, officials are collecting mandatory DNA samples and fingerprints from citizens under the guise of a free health care program, says Sophie Richardson, China director at Human Rights Watch.
Hundreds of thousands of Uighurs are also detained in political education camps that push propaganda about Chinese identity.
2. Tibet, which is where authorities have tried to squash opposition to Chinese rule, including by exiling the Dalai Lama, Tibetan Buddhists' spiritual leader. Nearly 150 Tibetan monks have protested by self-immolation.
Here "local officials [from the Atheist Communist Party] have intruded into core decision-making about how monasteries and nunneries are run," Richardson says.
And local schools in Tibet heavily emphasize Mandarin Chinese, stripping children of Tibetan language and culture.
The big picture: The Chinese Communist Party has no tolerance for dissent from ethnic minorities, and fears it could be damaged if word of human rights violations against those groups spreads outside China's borders.
Go deeper: Read Erica's full story here.
https://www.axios.com/newsletters/axios-china-a35ac9e0-a5b9-4a4a-9a4a-82605968c298.html?chunk=5#story5
6. Opinion management for foreign commentators
In advance of the U.S.-China trade talks, the PRC government hosted foreign opinion leaders plus Chinese officials, scholars and business leaders, to reinforce the narrative about China's bottom lines in the growing trade dispute with the U.S.
The gritty details:
The official Tsinghua report on the meeting states that the purpose was to positively and directly disseminate Xi Jinping Thought on Socialism with Chinese Characteristics for a New Era and study and discuss the "rich thought content contained" in China's great achievements since the start of reform and opening,【校庆活动】2018年中国与世界思想对话会在清华大学举行.
Between the lines: It's nearly impossible for foreign journalists and commentators to get access to PRC officials unless it is through official events like this. There may be some value in attending but there's no question the Chinese side, especially in the increasingly paranoid Xi Era, will be very wary of deviating from approved talking points.
https://www.axios.com/newsletters/axios-china-a35ac9e0-a5b9-4a4a-9a4a-82605968c298.html?chunk=6#story6
7. Amazon is avoiding its China mistakes in India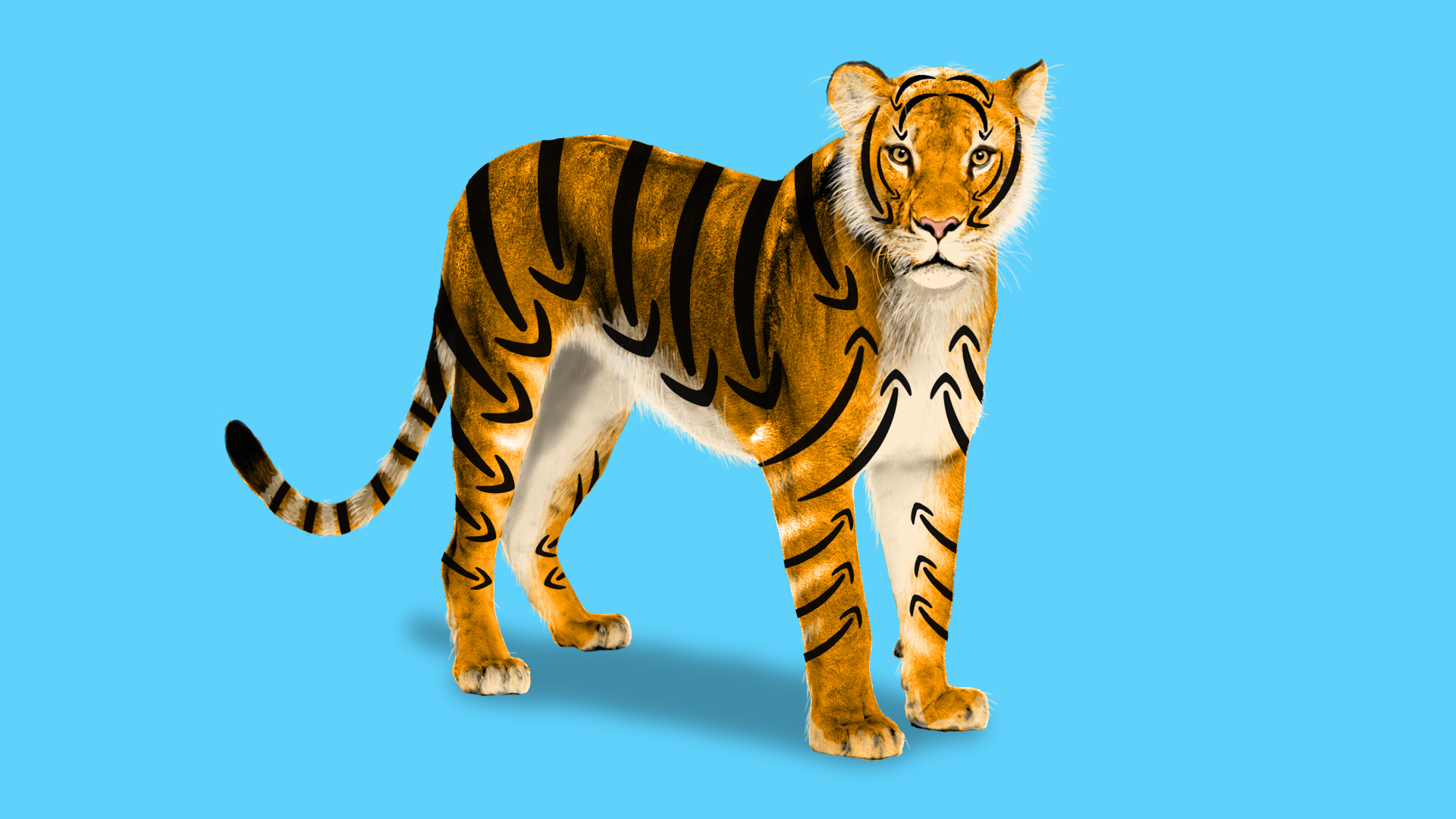 Erica reports: Amazon has been in China for 14 years, but it hasn't been able to defeat homegrown rivals like JD.com and Alibaba. It is determined not to make the same mistakes in India.
What went wrong in China: Amazon didn't invest enough, and got outspent.
JD.com was only one year old when Amazon went to China, but it outspent Amazon and invested in customer service and faster delivery methods, says venture capitalist Hans Tung, a managing partner at GGV Capital.
Amazon initially under-invested in China, and as a result, it had less than 1% of Chinese market share by 2016.
The big picture: India has the world's fastest growing e-commerce market. To make sure it dominates, Amazon is over-investing there, but it's running into competition as U.S. rival Walmart does the same.
More: Read the full story here.
https://www.axios.com/newsletters/axios-china-a35ac9e0-a5b9-4a4a-9a4a-82605968c298.html?chunk=7#story7
8. 1 fun thing: China Horse Club owns Derby fave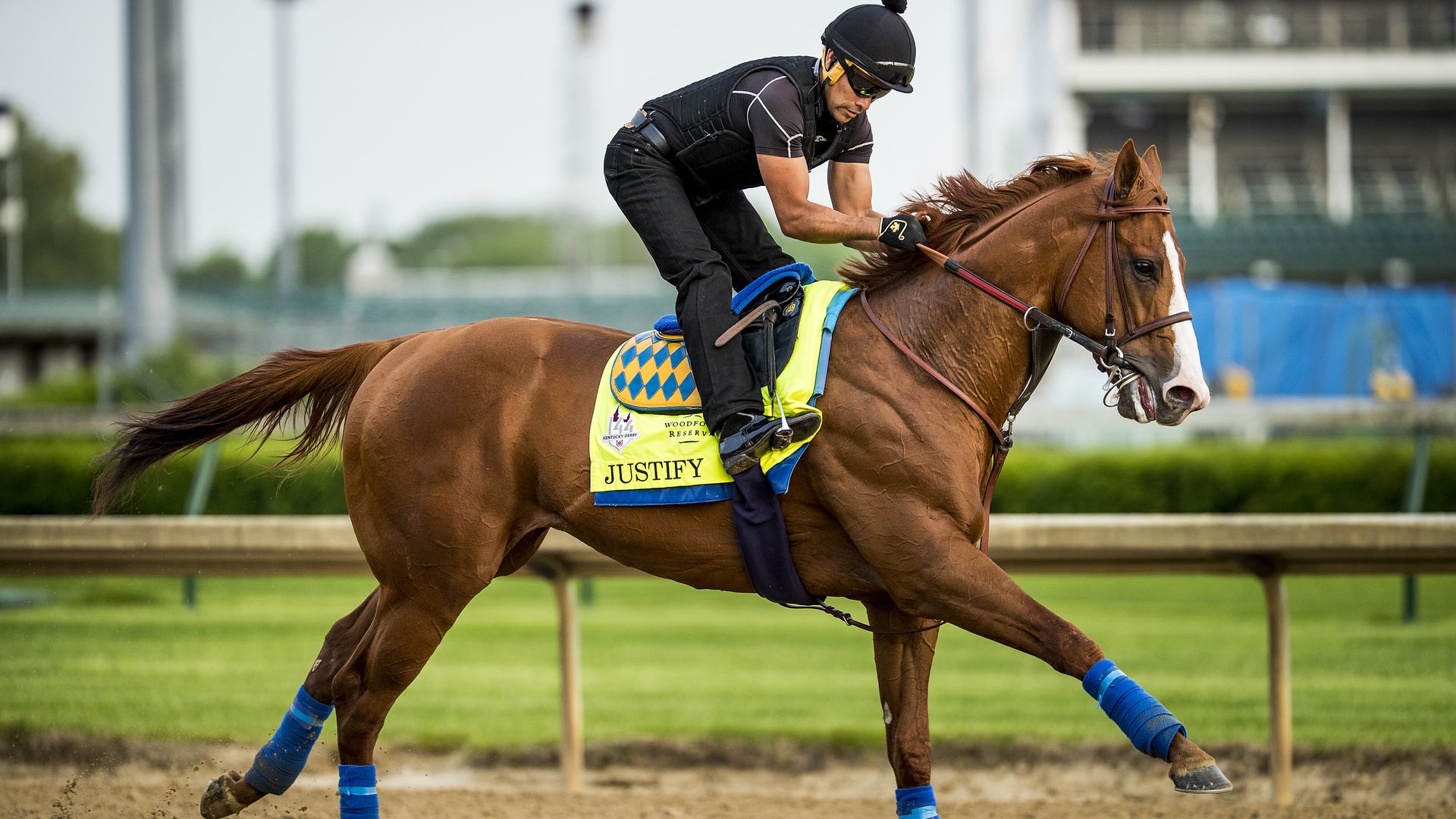 The New York Times has an interesting story about the secretive China Horse Club, which has become a major global player. The club co-owns 10 prominent horses that will race Friday and Saturday, including Kentucky Derby favorite, Justify.
Place your bets now!
https://www.axios.com/newsletters/axios-china-a35ac9e0-a5b9-4a4a-9a4a-82605968c298.html?chunk=8#story8
Bonus: Worthy of your time
China Heritage — May Fourth at Ninety-nine
Council on Foreign Relations — The Rising Bilateral Deficit with China and the Negotiations Over China 2025
MacroPolo — Financial Asset Exchanges: Auctioning Bad Loans to the Masses
The Asan Forum — An American Lens on China's Interference and Influence-Building Abroad
Nikkei Asian Review — SoftBank's Arm cedes control of China operations to local joint venture
WSJ — Qualcomm's Smartphone Chipset JV Gets the Nod in China
Caixin — Tencent Leads $820 Million Investment in Robot Maker Ubtech
The Washington Post — He was one of millions of Chinese seniors growing old alone. So he put himself up for adoption
South China Morning Post — Chinese debtors shamed with broadcast of names and faces on giant screens on May 1 holiday
Sinica Podcast — Joanna Chiu on Hong Kong's illicit wildlife trade
Recent issues of my Sinocism China Newsletter