Axios China
December 20, 2022
Welcome back to Axios China, our last edition for this year. I'll be back in your inboxes in 2023. Happy holidays!
Today we're looking at rising deaths amid the COVID surge in China, soaring property bonds, Christmas duck, and lots more.
Today's newsletter is 1,678 words, a 6½-minute read.
1 big thing: Beijing faces dilemma as COVID deaths rise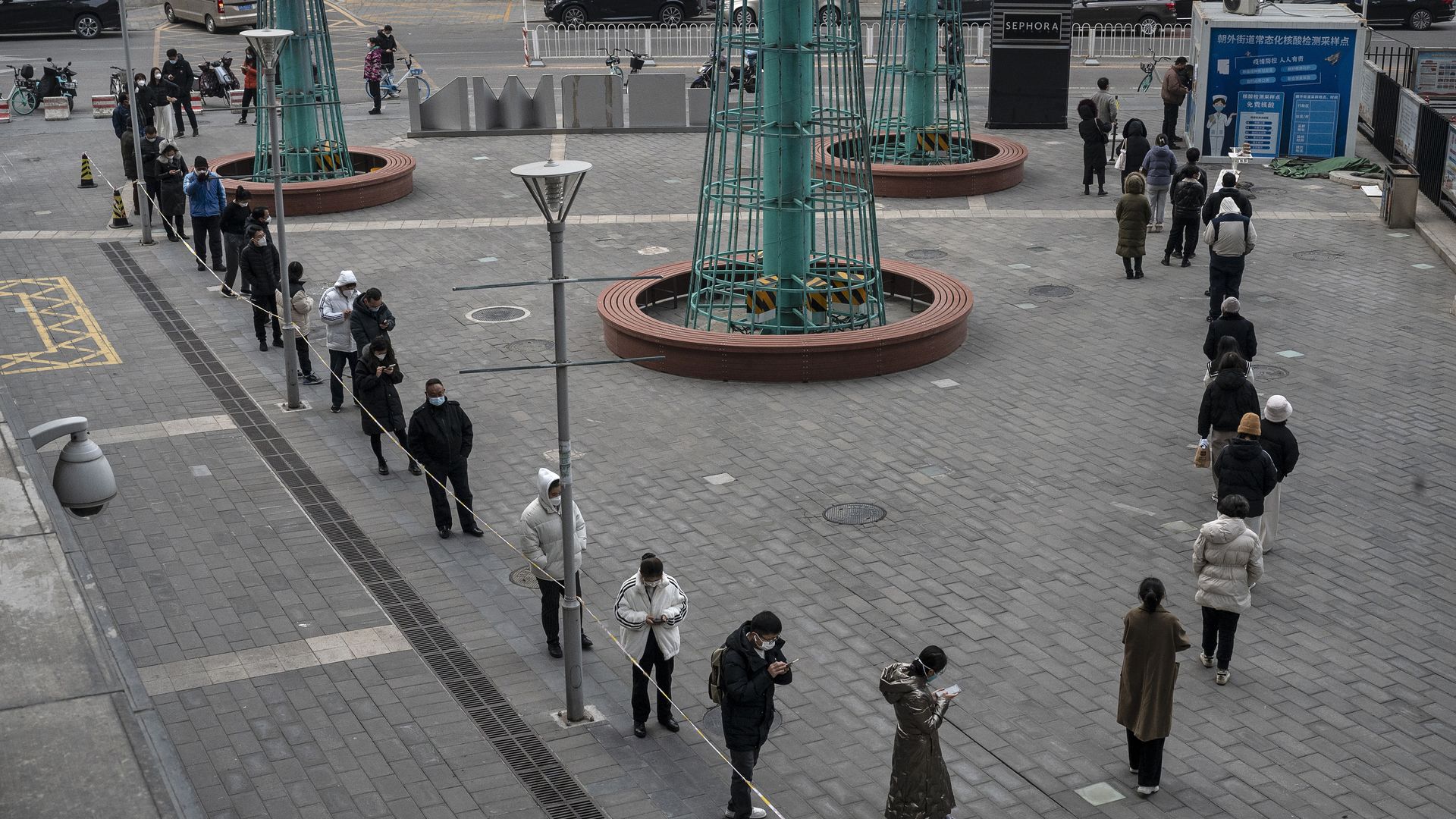 After years of holding the virus at bay, the Chinese government is now facing the same dilemma governments around the world have faced for the past three years: how to let people get back to normal life while preventing COVID cases from overwhelming the health care system.
Why it matters: Up to a million people in China might die from COVID next year, according to new projections from the U.S.-based Institute for Health Metrics and Evaluation.
The institute recommends health officials in China reimpose some pandemic restrictions in order to lower the number of deaths, which is rapidly rising.
What's happening: Demand at funeral homes and crematoria has surged, according to social media posts and some reports. COVID-related deaths remain low, according to government data, but doubt is spreading on Chinese social media about official figures, Bloomberg reports.
Zhang Wenhong, an infectious disease doctor in China who became well known during the pandemic, has warned that Chinese hospitals will soon face their "darkest hour," per the Economist.
Medical wards are not yet overflowing with patients but fever clinics have seen long lines.
Blood banks are running low on supplies as would-be blood donors stay away due to testing positive for COVID or fear of infection.
Companies and factories are also struggling with staff shortages as many employees call in sick.
Some factory managers are implementing a closed-loop system that keeps workers isolated from the outside world. Others are worried they may have to close until enough workers have recovered, the Financial Times reports.
Case counts are so high that regular business has been disrupted and supply chains are being thrust into chaos.
The big picture: Beijing championed its zero-COVID policy as a model the world should have emulated — but dismantled it rapidly in recent weeks as the government faced pressure from Chinese citizens and the country's economy suffered.
Zero-COVID restrictions bought China time to ensure its population was fully vaccinated, but Chinese authorities didn't permit the widespread use of more effective but foreign-made mRNA vaccines — leaving the population both without significant natural immunity and without the best available protection.
Now Chinese health authorities may have to look to the approaches of other governments, many of which now have years of experience periodically loosening restrictions to allow greater freedoms, tightening back up when case counts rise and hospital beds fill up, and loosening once again when the wave subsides.
💭 My thought bubble: If deaths do spike as high as some estimates suggest, some Chinese people who suffered under the strictures and deprivations of the zero-COVID era — once viewed as necessary to preserve life — may begin to question those sacrifices, fueling further resentment against health authorities they once trusted.
2. Chinese national arrested for stalking pro-democracy activist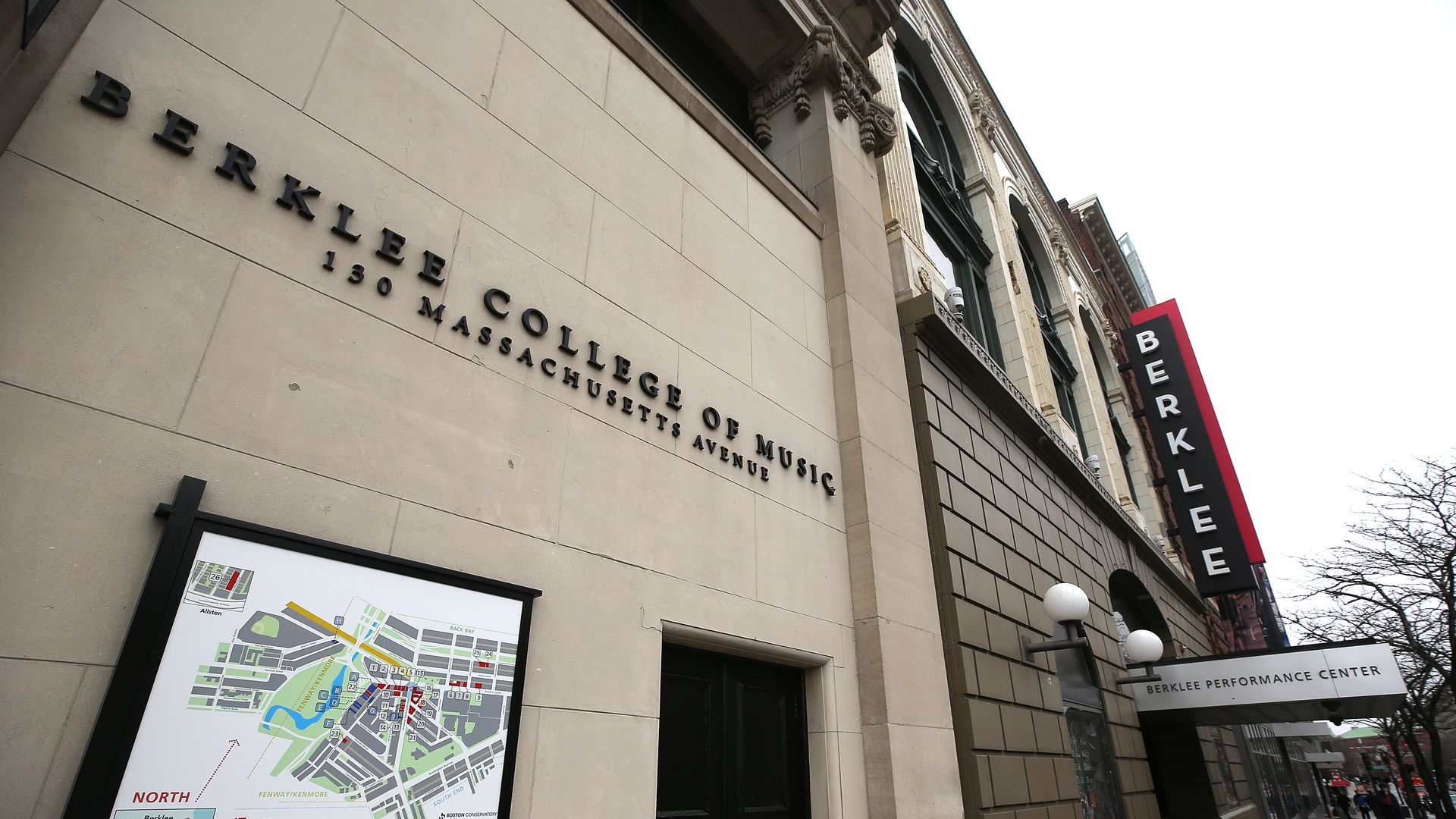 Last week, the U.S. Department of Justice announced the arrest of a Chinese student in Boston who allegedly stalked and harassed someone who put up posters calling for democracy in China.
Why it matters: The arrest demonstrates that U.S. law enforcement is taking action to support the rights of Chinese people living in the U.S., including on campuses, where many Chinese students have said they feel at risk of being surveilled or reported to Chinese authorities if they engage in anti-Beijing organizing.
Details: Wu Xiaolei, a 25-year-old student at the Berklee College of Music, allegedly sent threatening messages to a Chinese national and U.S. permanent resident who had put up fliers on Oct. 22 around the college with slogans like "We Want Democracy" and "Stand With Chinese People."
Wu allegedly told the victim "Post more, I will chop your bastard hands off" and said he had reported the activities to China's public security and that Chinese security officials would visit the victim's family.
Wu also allegedly posted the victim's email address publicly and tried to get others to harass the victim as well.
What they're saying: "This case also highlight's the FBI's ongoing commitment to protecting the exercise of free speech for all citizens and our efforts to bring to justice anyone who tries to infringe on those rights," FBI special agent Joseph R. Bonavolonta said in a statement.
Wu's lawyer has not commented publicly.
Background: A wave of posters denouncing Xi Jinping and calling for democracy in China began appearing in cities around the world in October after a man in Beijing hung a banner on a bridge in Beijing denouncing Xi, calling for democracy and urging an end to zero-COVID restrictions.
3. Catch up quick
1. Russia and China will hold joint live-fire naval drills this week in the East China Sea near Japan, CNN reports.
The drills come as Moscow and Beijing are deepening their security partnership, including in the Asia-Pacific.
2. The State Department has created a new Office of China Coordination, or "China House," to coordinate U.S. policies related to the country. Go deeper.
The new group will include China experts from throughout the State Department who will "work shoulder to shoulder" with experts in economics, technology and international security to develop the Biden administration's plan for working with Beijing.
3. U.S. regulators said they have gained full audit access to Chinese firms for the first time, ending the risk that about 200 Chinese companies would be booted from U.S. stock exchanges due to lack of compliance, Reuters reports.
"This is a remarkable development," wrote China analyst Bill Bishop in his newsletter Sinocism. "This entire audit episode should be a case study in how you can negotiate concessions from the PRC government if you have something it wants and you have fortitude and institutional support."
"In this case the PRC leadership realized that having their firms de-listed from the U.S. financial markets was a step in decoupling they did not want to take."
4. House Republicans may investigate baseless claims that U.S. climate activists are colluding with Russia and China. Go deeper.
GOP offices have sent many climate groups oversight letters in the past year suggesting they're part of foreign influence campaigns, including several citing a debunked claim that one foundation may have been used as a conduit for Russian money, Axios' Jael Holzman reports.
4. China property bonds soar after bailout announced
Prices for bonds of China's heavily indebted homebuilders have soared in recent weeks after banks announced a major bailout package for the sector last month, Axios' Matt Phillips writes.
Why it matters: The rally, spotlighted by the Wall Street Journal, suggests investors think China's economic troubles are so great that the government has no choice but to keep supporting key players in the residential real estate market.
From the traders' perspective, that means bonds of companies that were near bankruptcy will keep making payments to investors. Therefore, that paper — recently considered nearly worthless — is quite valuable again.
Flashback: In the fall of 2021, China Evergrande, one of the country's largest housing developers, started running short of cash to pay creditors, setting off a financial crisis among other real estate developers amid a downturn in the housing market.
Investors then dumped bonds of Chinese homebuilders.
The big picture: Homebuilding and related industries account for between 25% and 30% of China's GDP, analysts have recently estimated.
With China's important trade and export sector severely fouled up because of COVID-related lockdowns and growing tensions over trade with the West, it's imperative that the domestic housing sector doesn't completely implode if China is to deliver economic growth.
That's why China's banks, which largely operate as an arm of the government, announced the bailout last month.
The bottom line: A long-standing tactic among traders worldwide is to buy what governments are bailing out. That trade is clearly working here.
5. What I'm reading
David and Goliath: Taiwan's international space in the new decade (Atlantic Council)
"In anticipation of further Chinese attempts to restrict its access, Taiwan should continue looking for channels to expand its international space in which the PRC has less or no influence," cross-Strait expert Jessica Drun recommends in this new report.
"One particularly effective approach has been participating in multilateral discussions in which the PRC is not a member, such as the Halifax Security Forum, the Summit for Democracy, and the Open Parliament Forum."
Drun also calls for Taiwan to do more outreach to countries in the Global South — which China has increasingly sought to cultivate to create voting blocs in international institutions — and to focus on strengthening bilateral trade ties with more nations.
The New China Shock: How Beijing's party-state capitalism is changing the global economy (Foreign Affairs)
"Political imperatives have come to trump economic ones. Multinational corporations, once greeted with a red carpet in China, are now subject to political pressure if they cross the CCP's redlines. ... Domestic business elites are treated even more harshly if they criticize the government: some are imprisoned, and others have their empires dismantled."
"But this is not the approach of a regime ready to walk the world stage confidently. The CCP is the opposite — a leadership obsessed with its own weaknesses and fearful of the difference between its economic profile and that of its competitors. At the same time, the CCP has transformed from a responsive, if illiberal, regime to one increasingly reliant on repression and techno-surveillance."
6. 1 food thing: Christmas duck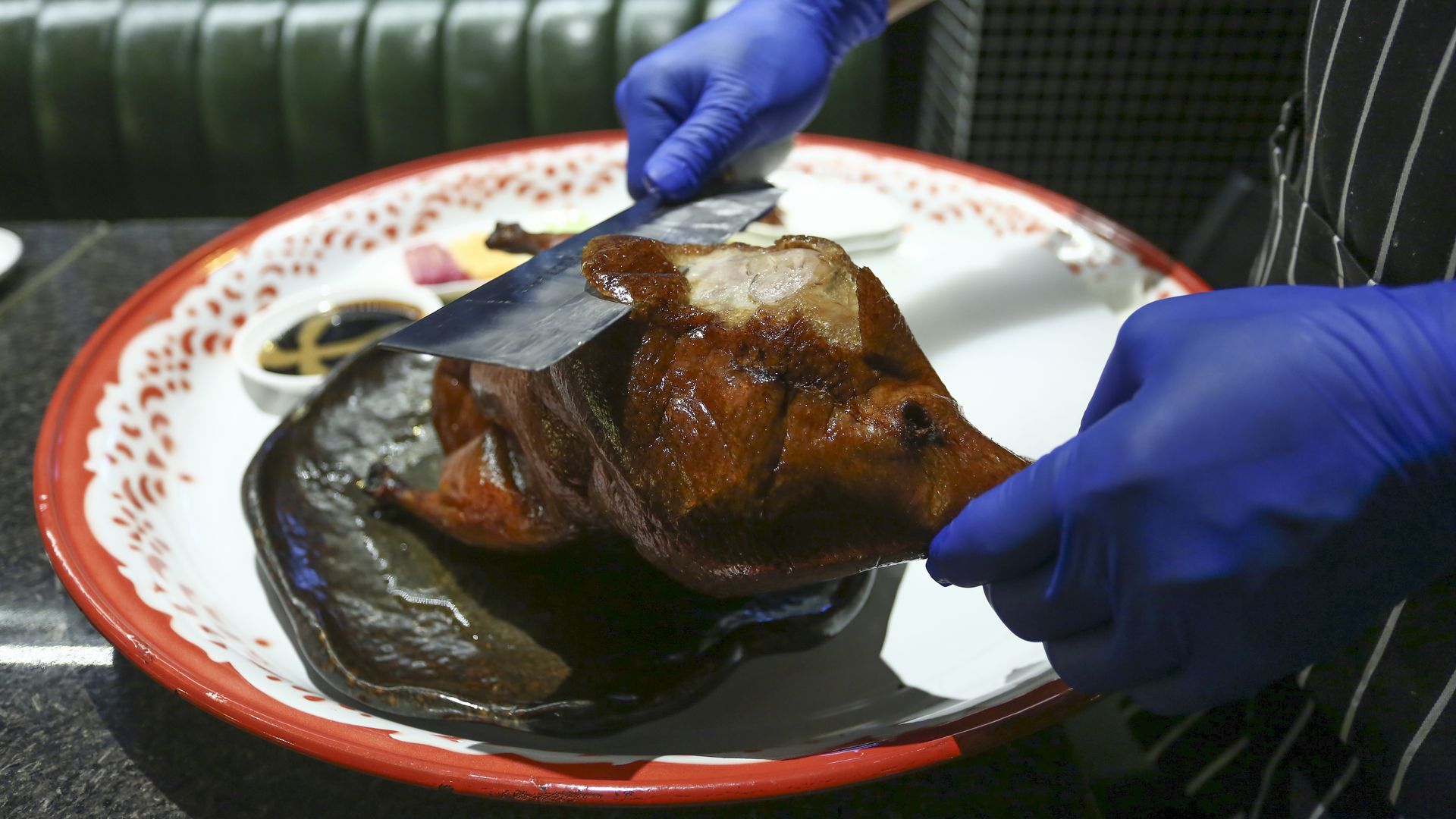 As I'm preparing for my first Christmas in Taiwan, I can't help but recall the holiday dinners my friends hosted during the years I lived in China.
Some years were more successful than others — a Polish friend's borscht was a hit one year, while my attempt at deviled eggs another year failed miserably (couldn't find mustard).
But what made holiday meals in China such a treat for me was the world's most delicious alternative to a turkey — Peking roast duck.
The classic Beijing dish is, of course, a tour de force in its own right. The duck takes days to prepare and is basted with maltose syrup to give it that signature rich mahogany color, as National Geographic has aptly described it.
It's roasted until the skin is crisp, then carved into slices and served with thin pancakes and dipping sauce. YUM.
On the menu: Turkey over rice is a popular dish here in Taiwan, so that's what I'll be serving this year.
A big thank you to Alison Snyder for edits, Sheryl Miller for copy edits, and Matt Phillips for contributing.