Axios China
March 11, 2020
Welcome back to Axios China. Today we've got Beijing's PR blitz, another loss for Taiwan, coronavirus around the world and much more.
Today's newsletter is 1,421 words, a 5-minute read.
1 big thing: Beijing's coronavirus propaganda blitz goes global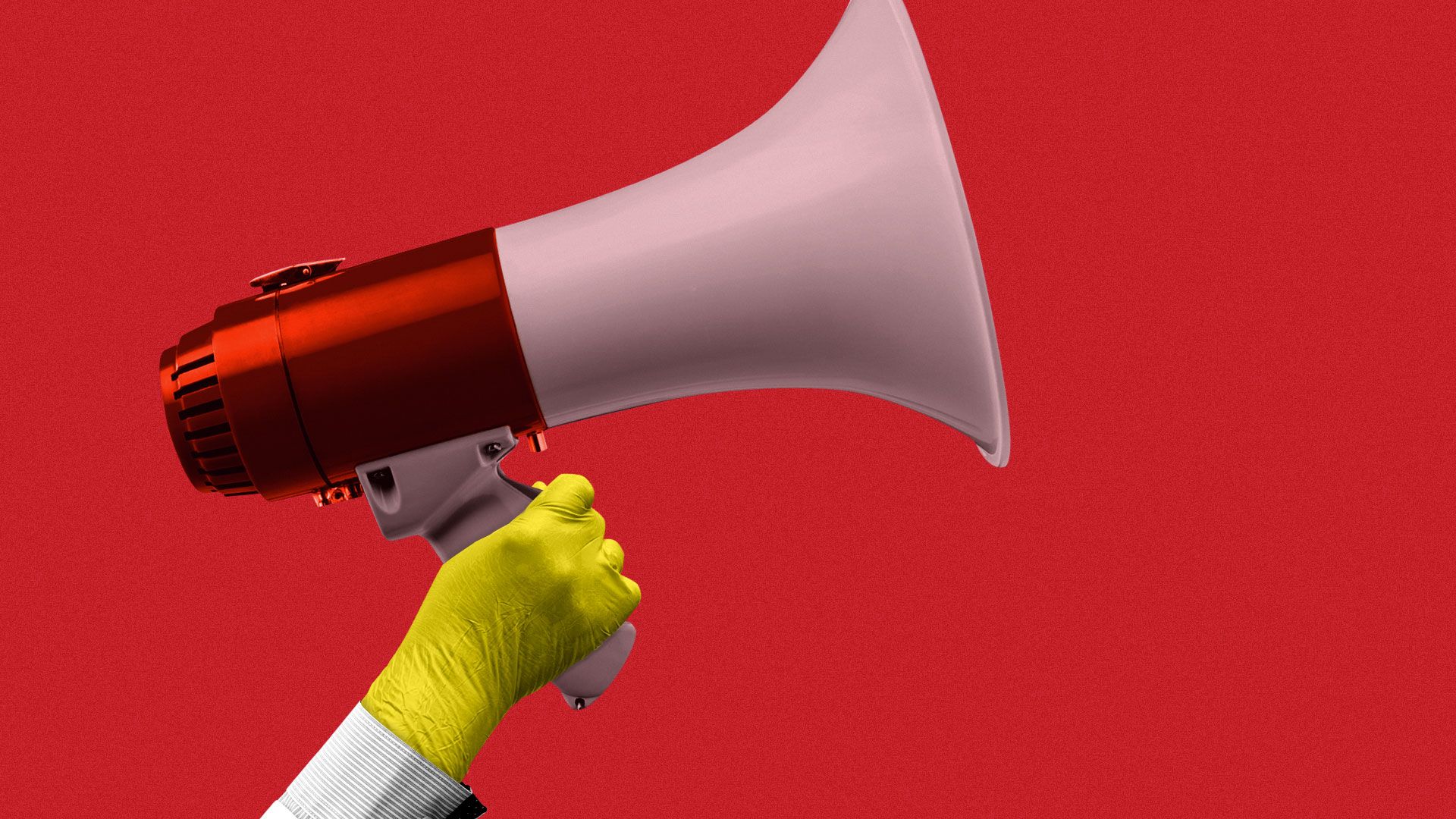 As China begins to get its coronavirus outbreak under control, authorities are going on the offensive to rewrite the narrative that the global epidemic is Beijing's fault.
Why it matters: We're getting a glimpse of how China's formidable propaganda apparatus can obscure the truth and change narratives abroad, just as it can at home. The stakes are high — for the world and China's standing in it.
What's happening: Chinese diplomats are taking to Twitter and email, pushing talking points that deflect blame from Beijing and instead praise its response.
The efforts are getting a boost from Chinese state-run media.
"The CCP is masterful at rewriting history, and we're watching them do it in real time," Bill Bishop, author of the Sinocism newsletter, told Axios.
What's at stake: The world is facing a potential global economic recession that can trace its roots in part to specific decisions by Chinese authorities. Chinese President Xi Jinping wants to prevent that narrative from taking hold.
Chinese authorities are pushing the following talking points:
1. The coronavirus may not have originated in China.
What they're saying: "Though the COVID-19 was first discovered in China, it does not mean that it originated from China," Zhong Nanshan, a scientist helping lead the government response, said in a Feb. 27 press conference.
China's propaganda apparatus is now pushing that idea hard.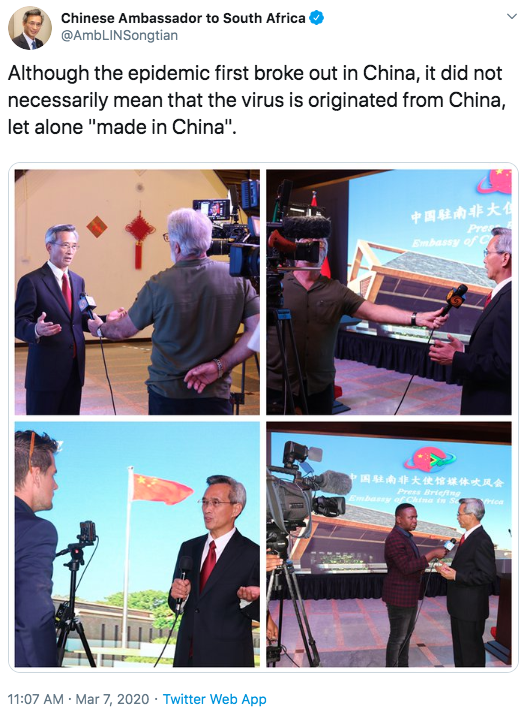 The Chinese Embassy in Canberra recently sent an email intended for foreign journalists, which "suggested journalists are politicizing the coronavirus by suggesting it originated in China."
Reality check: There is no evidence COVID-19 spread in any human population before it spread in China.
2. China's response bought time for the rest of the world.
What they're saying: On March 9, the official Twitter account of China's Ministry of Foreign Affairs wrote, "China's endeavor to combating the epidemic has bought time for int'l preparedness."
State news agency Xinhua also pushed that narrative after Xi Jinping called upon Chinese media to publish stories casting China's response to the coronavirus in a positive light.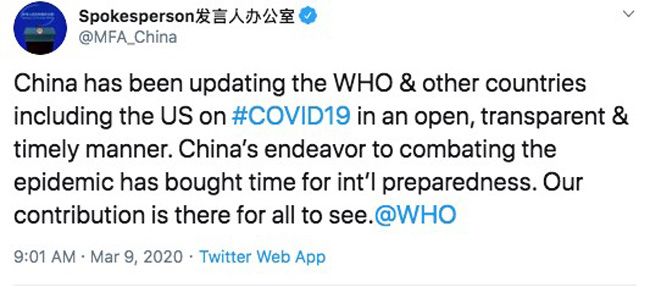 This has been a particularly successful piece of Chinese propaganda, and it's now widely echoed outside of China. Most recently, an economist at Harvard repeated it in a March 9 interview for NPR's Marketplace, saying, "China really did great work in buying the rest of us time."
Reality check: The Chinese government's cover-up of the virus allowed it to spread unchecked in Wuhan for weeks, including among the 5 million city residents who left the city without being screened, leading to a national epidemic and inevitably to its spread outside China.
What to watch for: "The worse the coronavirus response in the foreign country, the more effective [Beijing's] narrative is going to be," said Bishop.
If the U.S. government bungles the response, it will be easier to believe that China actually got it right.
2. Scoop: JHU map changes "Taiwan" to "Taipei and environs"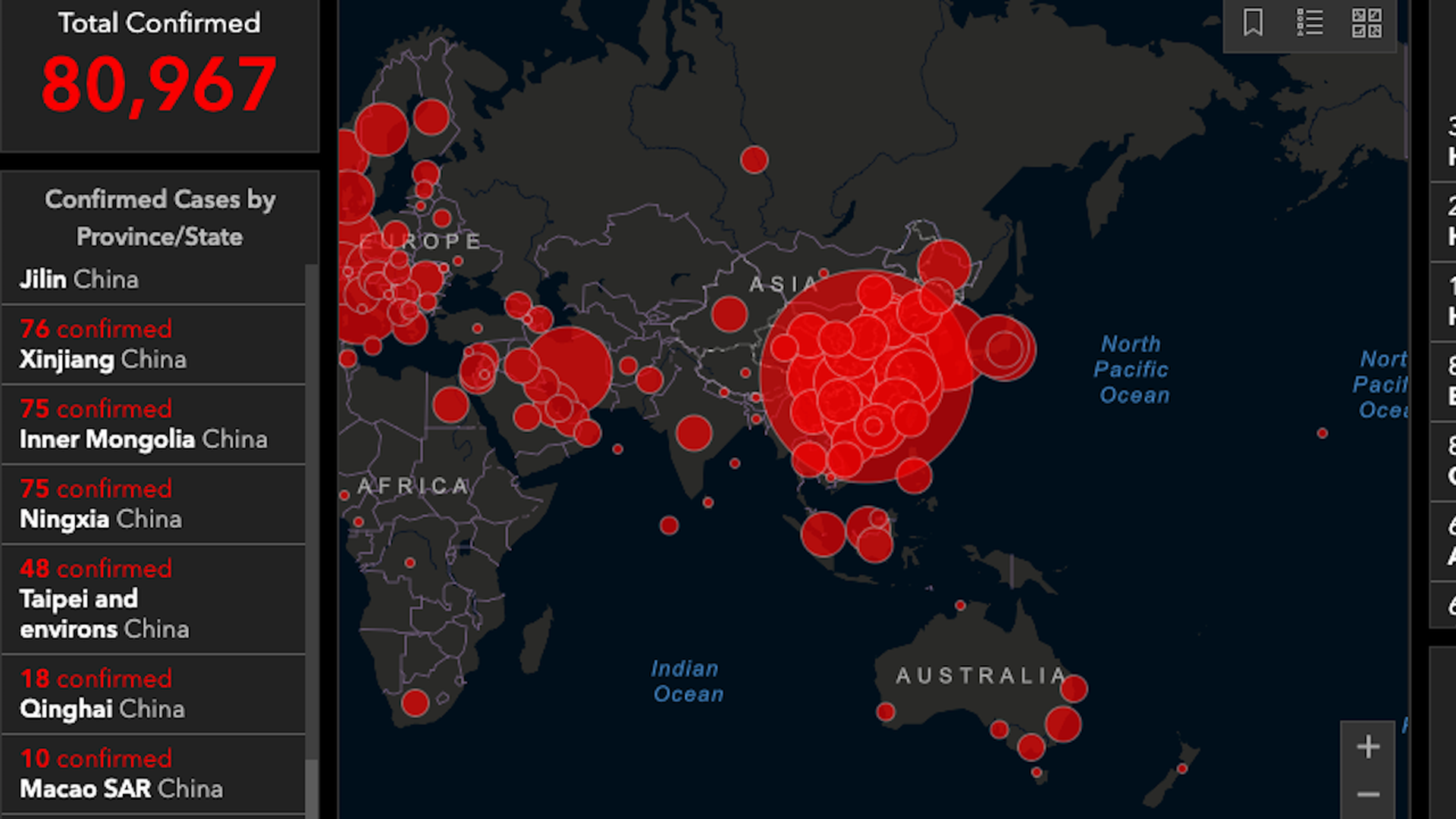 The Johns Hopkins University Coronavirus Resource Center, which maintains an interactive map tracking the number of coronavirus cases worldwide, has changed how it refers to Taiwan, Axios has learned. Instead of "Taiwan," the map now uses "Taipei and environs."
Why it matters: The change tracks closely with how the Chinese government prefers to refer to Taiwan, which it views as part of Chinese territory.
Screenshots from early February show the JHU coronavirus map still used "Taiwan" as a category under a section called "Confirmed cases by country/region."
But now the map uses "Taipei and environs," referring to Taiwan's capital city and surrounding areas.
The big picture: Over the past several years, the Chinese government has increasingly sought to control how international organizations and companies refer to Taiwan, insisting they change the wording to align more closely with the Chinese Communist Party's "one-China policy."
In 2018, the Chinese government threatened airlines around the world with retaliation if they did not change their wording on websites and on-plane reading materials.
Those airlines now list the capital of Taiwan as simply "Taipei" or as "Taipei, China."
Taiwan's government has said it will lodge a protest to JHU.
Go deeper: China's push to erase Taiwan
Bonus: Coronavirus cases in 6 countries, compared
3. Domestic violence worsens with quarantines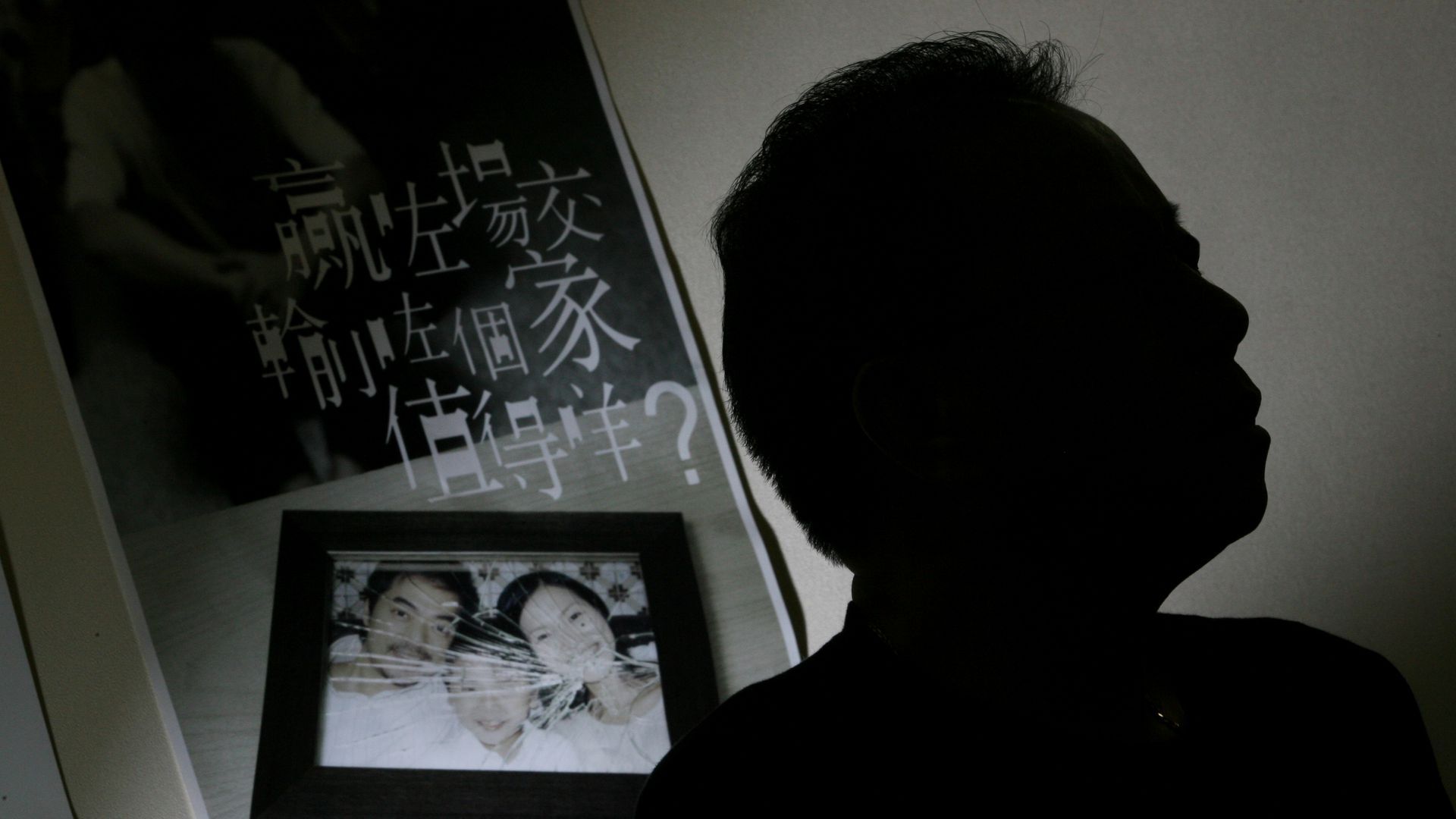 Chinese activists say domestic violence cases have risen dramatically as people across much of the country have been quarantined during the coronavirus outbreak.
Why it matters: The trend highlights poor enforcement of China's new domestic violence law and the rise of state-sanctioned patriarchy under a Communist Party that once stood for radical gender equality.
What's happening: "The epidemic has had a huge impact on domestic violence," Wan Fei, the founder of an anti-domestic violence nonprofit in Jingzhou, a city in Hubei province, told Sixth Tone, a news outlet in China.
The number of domestic violence cases reported to a nearby police station had tripled in February, compared to the same period the previous year, Wan said.
Yet activists said Chinese police were not taking the cases seriously, leaving women to fend for themselves amid quarantines.
China passed its first domestic violence law in 2016, after years of advocacy by activists.
But the law has been poorly enforced, in part because of the Chinese Communist Party's growing belief that political stability, its top obsession, begins in the home.
The party believes that "it would be destabilizing if all these victims of sexual or domestic violence were to find recourse in the courts," Leta Hong Fincher, author of "Betraying Big Brother: The Feminist Awakening in China," told Axios."The government thinks it would lead to chaos."
Go deeper: Read the full story
4. UN aviation agency justifies Twitter blocks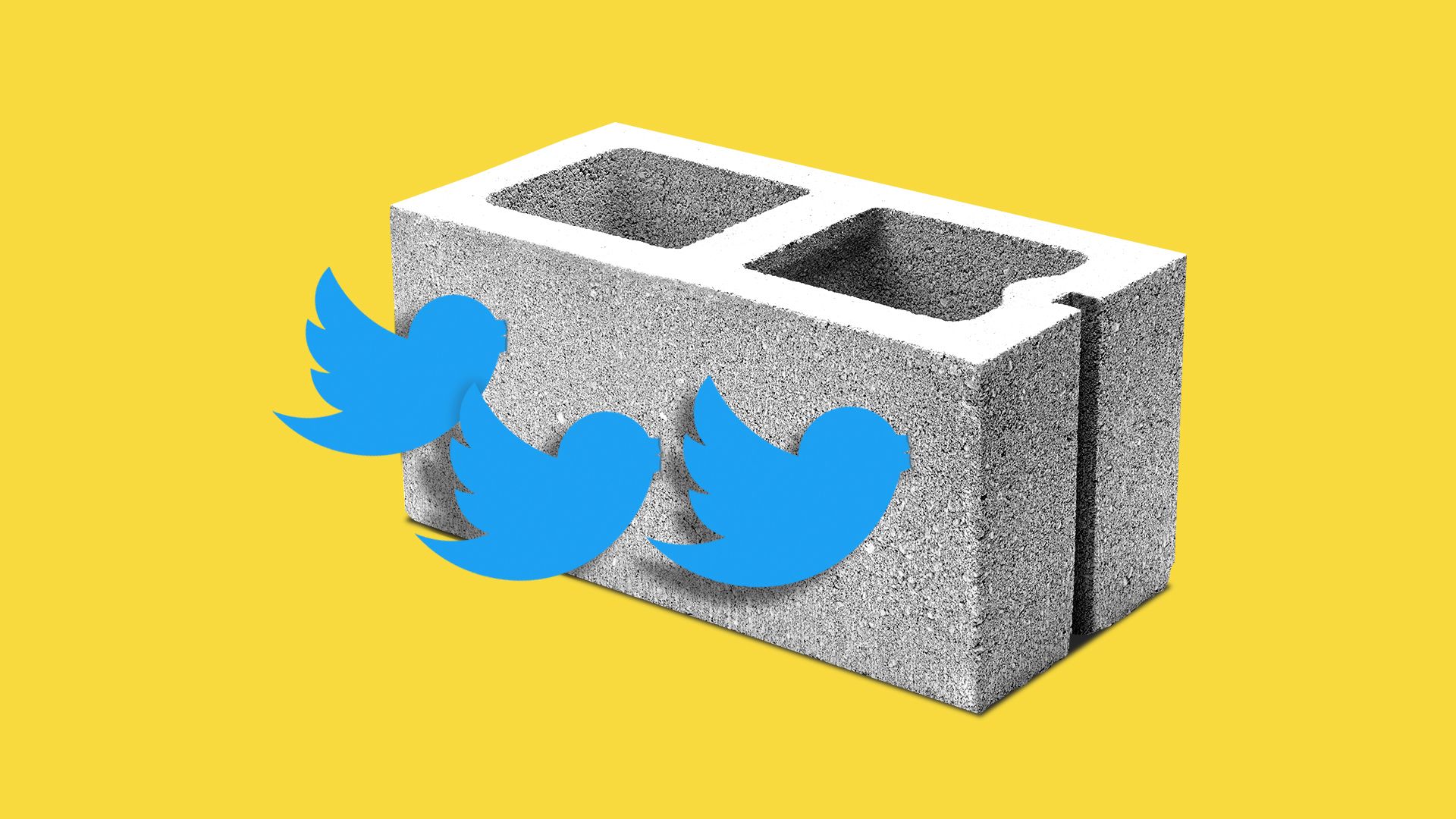 After intense criticism from the U.S. government, the United Nations' International Civil Aviation Organization (ICAO) is doubling down on its policy of blocking Twitter accounts that criticize its policy of excluding Taiwan from membership, according to a letter viewed by Axios.
Why it matters: ICAO's attempts to suppress criticism on an issue that China's leaders consider sensitive have raised fears that the organization is under Beijing's sway.
The big picture: China views Taiwan as part of its sovereign territory and has worked for decades to isolate it diplomatically and to shut it out of membership in international organizations like the United Nations.
What's happening: In late January, as the coronavirus had begun to spread in Asia, ICAO came under fire for blocking Twitter accounts belonging to researchers, analysts and congressional staffers who said ICAO should reconsider its exclusion of Taiwan.
The ICAO Twitter account blocked critics who argued that aviation information-sharing is crucial during an international public health crisis, making Taiwan's exclusion from ICAO a public health risk.
The State Department issued a statement on Feb. 1 criticizing the ICAO and demanding it no longer block critics on Twitter.
In early February, the House Committee on Foreign Affairs sent a letter to ICAO expressing opposition to its exclusion of Taiwan and its blocking of Taiwan-related discussion on Twitter.
The ICAO's letter responding to Congress, dated Feb. 11 and signed by Salvatore Sciacchitano, president of the ICAO Council, doubled down on the agency's new social media guidelines.
What they're saying: The letter underscored ICAO's commitment to freedom of expression and the "healthy exchange of information."
"However, as recent world events have well-demonstrated, reducing the spread of inaccurate or intentionally misleading information via social media is a major challenge," the letter continued.
The expert take: "As an international organization, they're supposed to be serving all the people. This doesn't seem like a reasonable approach," Anthony Arend, a professor of government and foreign service at Georgetown University, told Axios.
Go deeper:
5. What I'm reading
China aids Italy: Chinese Foreign Minister Wang Yi reportedly told Italian Foreign Minister Luigi di Maio that Beijing was willing to donate 100,000 high-tech masks to Italy, 20,000 protective suits and 50,000 diagnostic tests.
University closings: Harvard, Northeastern University's Seattle campus, Stanford and Vanderbilt are some of the U.S. universities that have temporarily canceled classes, with some moving classes online.
My thought bubble: What will happen to international students who live in school dorms and who are in the U.S. on student visas that require them to attend in-person classes?
Forever surveillance: "The new normal": China's excessive coronavirus public monitoring could be here to stay (The Guardian)
"Experts say the virus, which emerged in Wuhan in December, has given authorities a pretext for accelerating the mass collection of personal data to track citizens, a dangerous prospect given that the country does not have stringent laws governing personal data," The Guardian's Lily Kuo writes.
6. 1 acting thing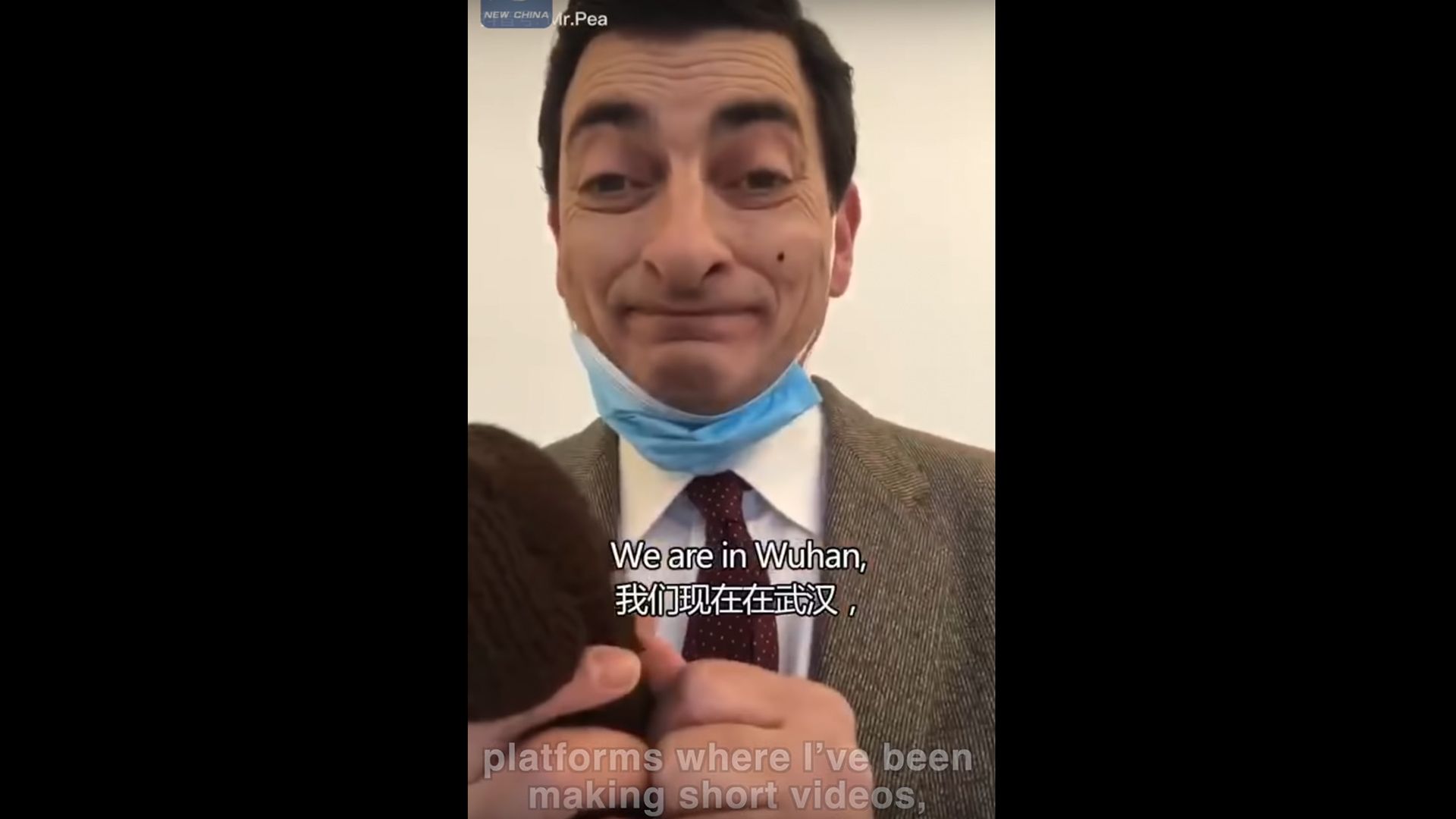 A Mr. Bean impersonator, British national Nigel Dixon, has lived through two months of quarantine in Wuhan and has documented his experiences online.
"I decided to carry on making meaningful funny videos that would support the community of China," Dixon said in one recent video.
He created exercise videos in character that can easily be done while stuck at home in quarantine, along with other videos documenting his experiences at the epicenter of the outbreak.
The videos went viral on Chinese video-sharing platforms.
Dixon also throws in a few apparently earnest lines that sound similar to Beijing's own talking points:
"It sickens me to hear of other countries blaming China, but for what?"
"Thank goodness for the brave decision taken by the government to lock down the city to prevent further spread."
Watch one of Dixon's videos, which was posted to a YouTube channel affiliated with Xinhua, China's state news agency.