Happy 4/20. China doesn't celebrate National Weed Day. (Vox's Primer for never-stoners. H/t Axios AM.)
Chicago readers: Register here to join Mike Allen's Monday conversation with Mayor Rahm Emanuel about innovation and automation.
Thanks for reading, and remember, if you want a daily and deeper look at China please check out my daily Sinocism China Newsletter and follow me on Twitter @niubi.
https://www.axios.com/newsletters/axios-china-7f5f7309-bfd1-4889-a5e6-d98a7474cf14.html?chunk=0#story0
1 big thing: U.S. tech smackdown proves Xi's point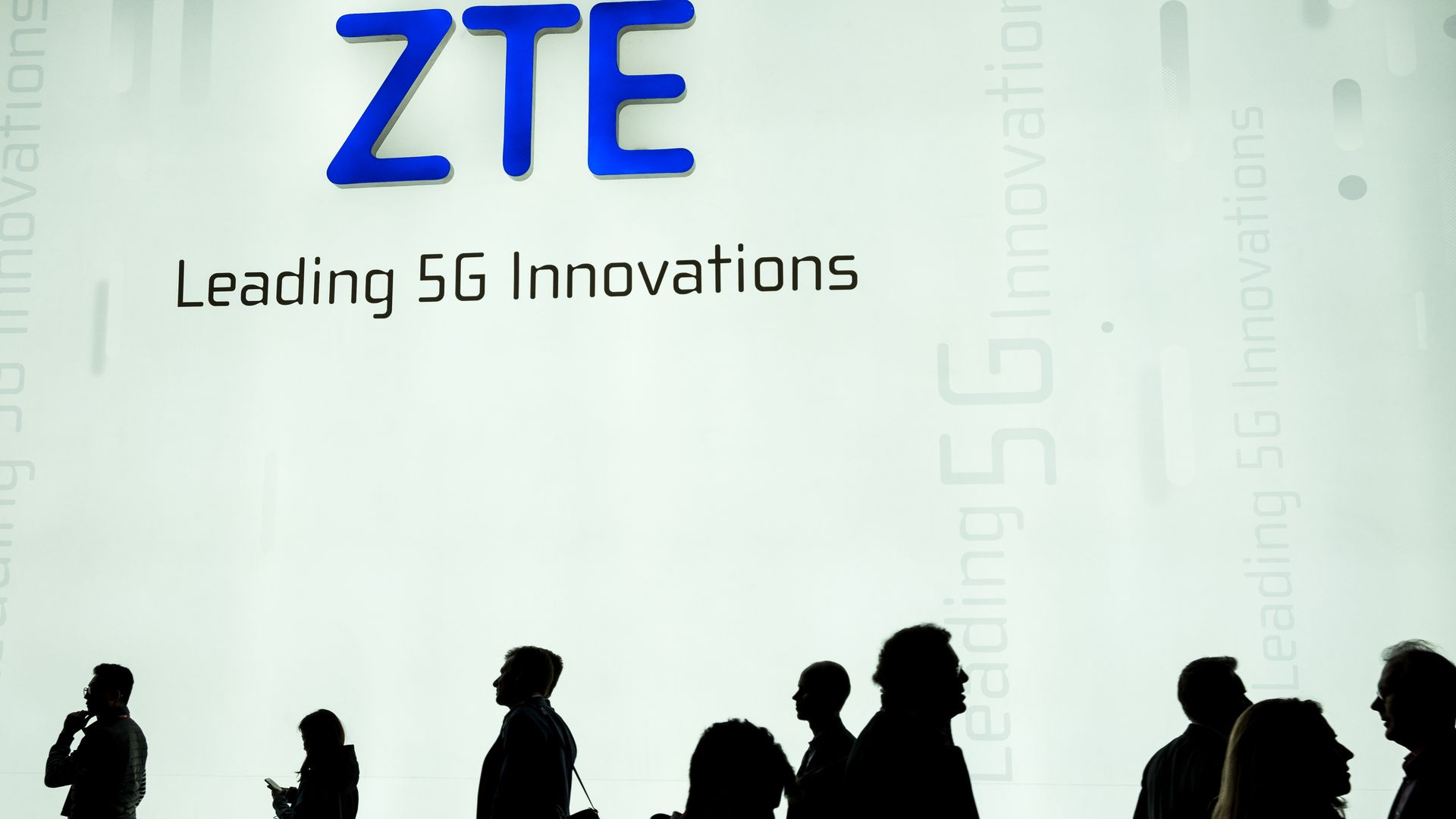 The U.S. Department of Commerce may have issued a corporate death sentence to Chinese telecom equipment maker ZTE by banning American firms from selling to it for seven years. The company condemned the ban today, but the U.S. is unlikely to reverse its decision.
From the Chinese perspective: While the company may end up crippled, the episode has strategic and propaganda value for Beijing. The timing of the announcement — right before the 2nd anniversary of an important speech on cybersecurity and technology made by Chinese President Xi Jinping — only serves to strengthen the point he's been making about the need to reduce reliance on foreign, and especially American, technologies.
Between the lines: China cannot do that overnight but they are closer than they were 2 years ago. The ZTE decision, especially in the context of the worsening U.S.-China relationship, will lead to a redoubling of the PRC's efforts to de-Americanize its core information technology stack and achieve the goals laid out in the "Made in China 2025" plan.
ZTE, in spite of its bad behavior, is easily portrayed in PRC media as a victim of American bullying.
Plus, China is now seen as suffering from U.S. "trade blackmail", as one Chinese think-tanker called it ( 把网络强国搞上去,就不怕美国的贸易讹诈).
Go deeper: Xi looks prescient in his calls for China to reduce U.S. reliance on foreign technologies from his speech two years ago, which was much lauded in Chinese media on the 2nd anniversary this week.
Already: Reuters reports today that plans are already underway to accelerate indigenous chip development.
https://www.axios.com/newsletters/axios-china-7f5f7309-bfd1-4889-a5e6-d98a7474cf14.html?chunk=1#story1
2. U.S. sees tech war with China deepening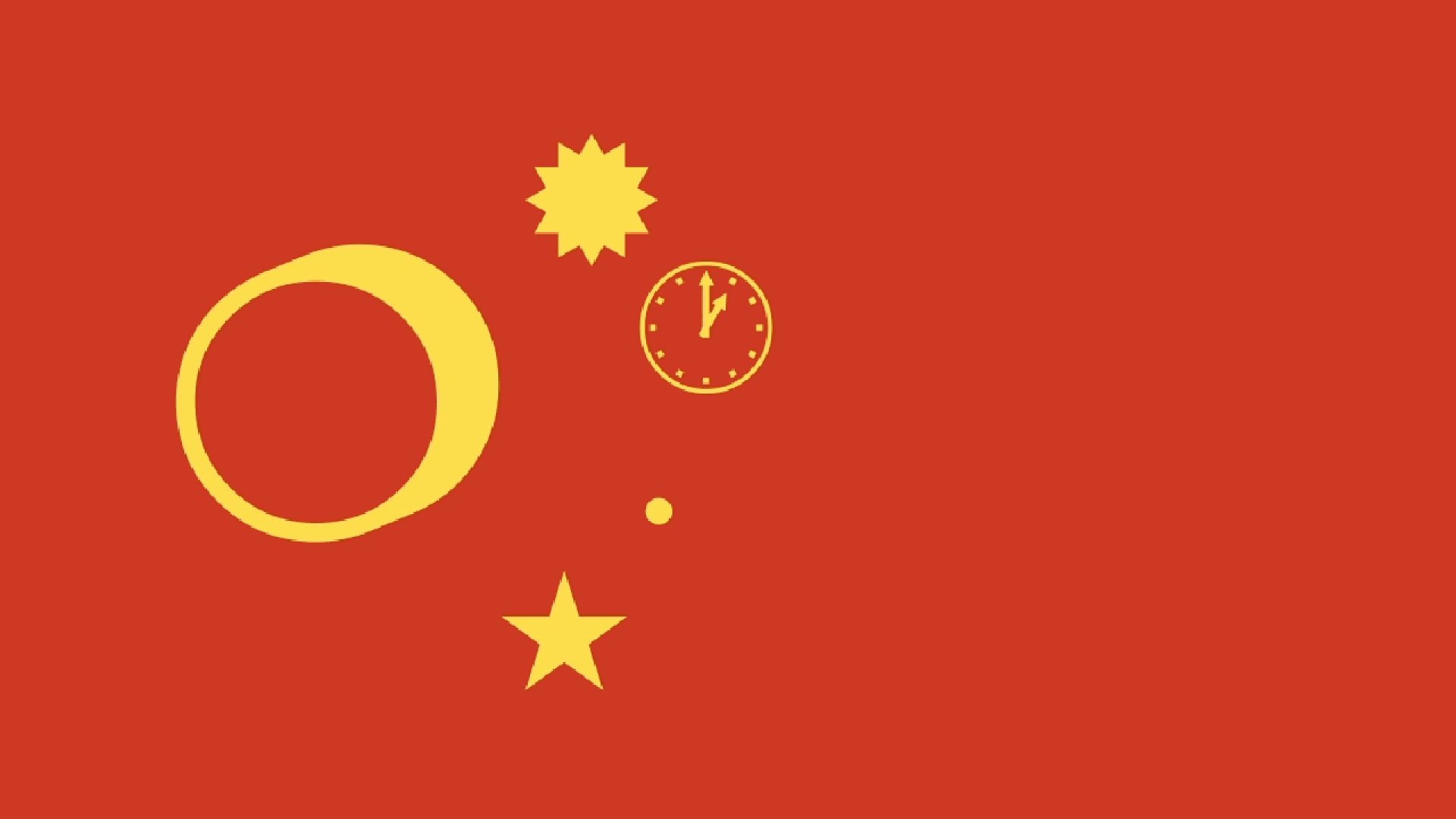 From the U.S. perspective: Tensions with China over technology are only going to deepen.
What's happening:
The U.S. is considering using emergency powers to curb Chinese tech investments by invoking the International Emergency Economic Powers Act, Bloomberg reports.
The Washington Post says a new report by the U.S.-China Economic and Security Review Commission shows the "U.S. government is dangerously vulnerable to Chinese espionage or cyberattack because of its dependence on electronics and software made in China."
Quick take: If you rely on China for your supply chain, have you finished your contingency plans in the event of massive disruption?
Yes, but: These trade wars can have unintended consequences, as Axios' Dan Primack writes in his Pro Rata newsletter this morning. He points out the current format of the CFIUS bill "could prevent U.S. investment funds from investing in sensitive U.S. tech companies (think semiconductors, cybersecurity, etc.), so long as those funds have Chinese limited partners."
And, from the other side, the NYT says if China boycott's U.S. goods, it could backfire on them.
Meanwhile, Axios' Steve LeVine writes that the U.S. is experiencing a revival of Japan syndrome, circa late 1970s. That's when "Made in Japan" abruptly stopped being a source of mirth, Americans began to snap up Toyotas and Nissans in big numbers, and Detroit sank into a profit-and-jobs bloodbath.
Similarly, 5 years ago, American technologists sneered at China's Baidu and its new search engine. But "they aren't laughing anymore," says Gregory Allen, an AI expert at the Center for a New American Security. "Now they are marveling at Baidu's advances in artificial intelligence."
https://www.axios.com/newsletters/axios-china-7f5f7309-bfd1-4889-a5e6-d98a7474cf14.html?chunk=2#story2
3. Author interview: the new Chinese state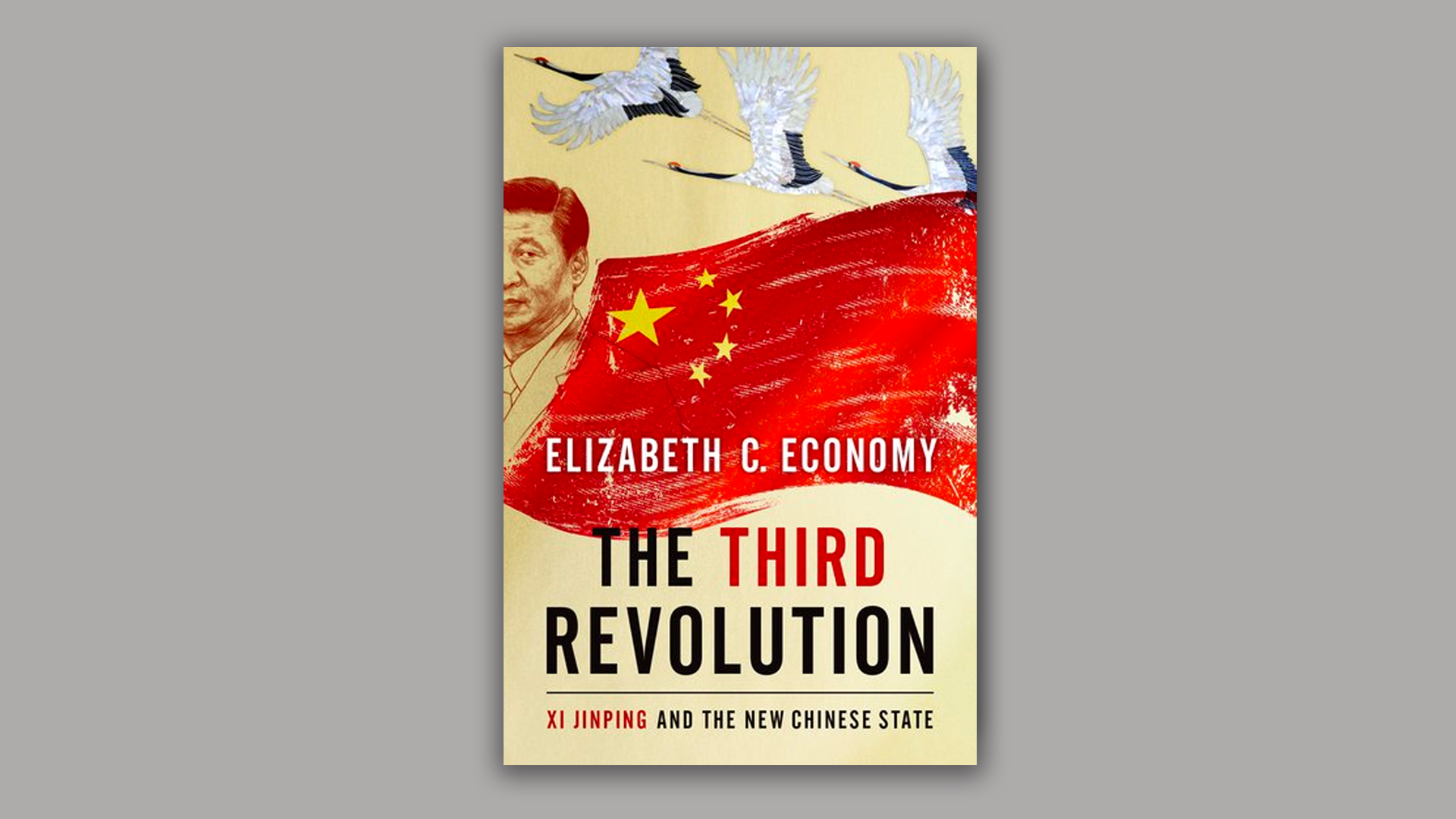 Elizabeth Economy, an expert on Chinese domestic and foreign policy, is out with a new book: "The Third Revolution: Xi Jinping and the New Chinese State". Yesterday, I conducted brief email interview with her:
What is Xi's vision for China, and if he is successful what will China look like in the next 10-20 years?
"Xi's vision is Singapore at home and the United States abroad. At home, China will be a prosperous society that boasts a clean (no pollution, no corruption), modern economy and a paternalistic political system dominated by one party. Abroad, China is able to shape international norms and institutions to reflect its own values, maintain a powerful presence globally that can be mobilized to meet its needs, and be admired for its values and cultural achievements." 
What does Trump have right and what does he have wrong about China and how the US should be addressing the challenges in the relationship?
"Trump is right that China respects strength and will negotiate for real only when forced to. Otherwise, Beijing will talk and talk, while it militarizes islands in the South China Sea, trades with North Korea, and adopts protectionist economic policies. Trump is wrong to praise Xi Jinping (and other dictators) so effusively. It makes vulnerable the United States' greatest strength — its commitment to democracy 'with American characteristics.'"
There seems to be near bi-partisan consensus in the US of the need to "get tough" on China. Are there any likely off-ramps or should we expect more of a structural downturn in the relationship?
"Off-ramps are everywhere. In the emerging tariff war, Trump needs only two or three small wins like the Chinese reduction in auto tariffs to declare victory and start walking back. A win on North Korea could similarly help dissipate trade tensions. That being said, it will take a herculean effort to maintain equilibrium in the overall relationship and avoid a structural downturn." 
Go deeper: Economy posted an essay excerpt from her new book in Foreign Affairs.
https://www.axios.com/newsletters/axios-china-7f5f7309-bfd1-4889-a5e6-d98a7474cf14.html?chunk=3#story3
4. Report: GOP fundraiser's China connection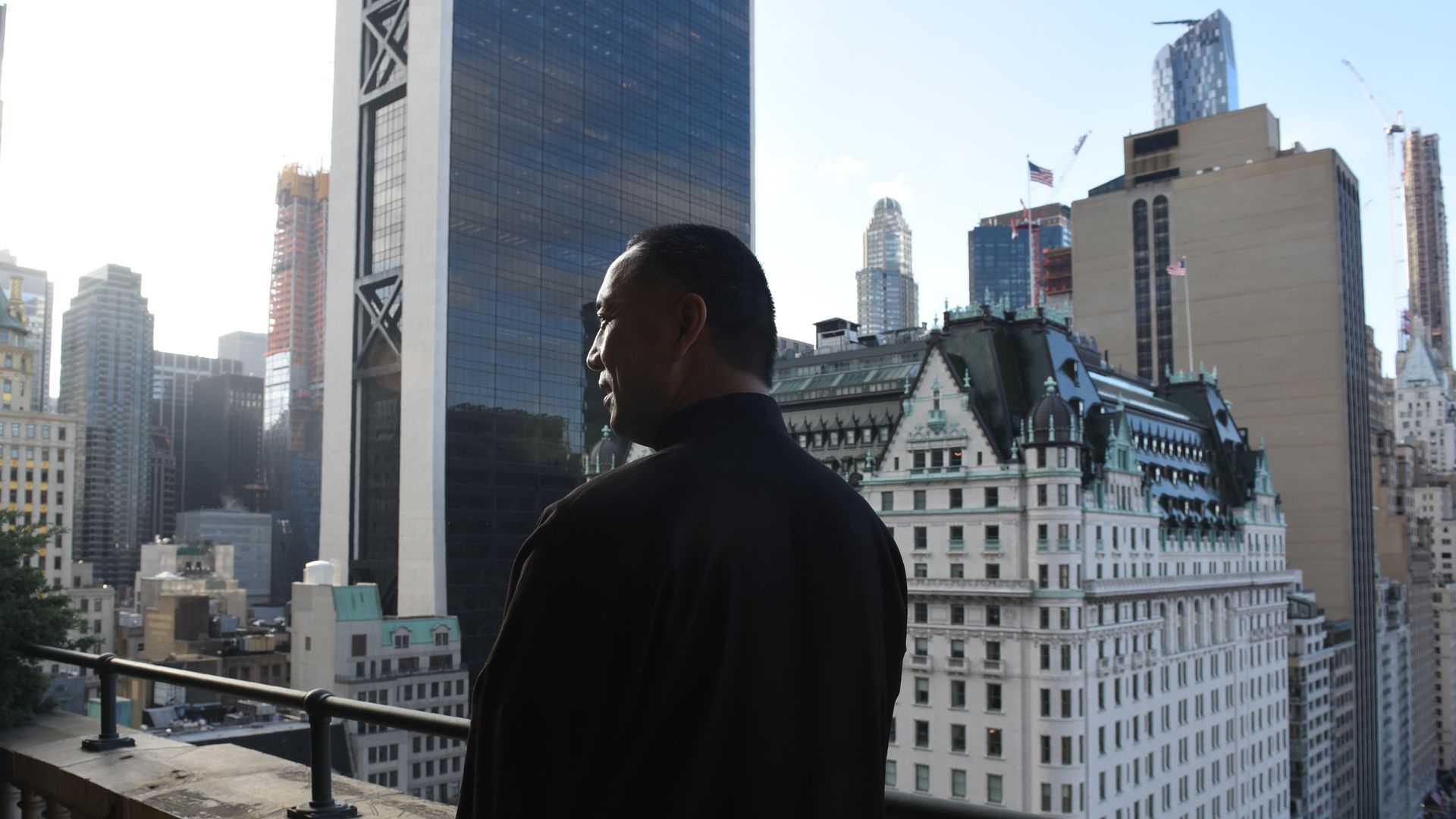 The New York Times on Thursday explored documents they had obtained that they say appear to show Elliott Broidy, a top Republican fundraiser, as having had plans to try and force the exit of Chinese billionaire and dissident Guo Wengui.
The details, per NYT:
The documents, allegedly written by Broidy, involve complicated schemes but essentially would involve UAE requesting Guo to be extradited there, and then possibly transferring Guo back to China.
UAE might agree to deliver Guo to China because they believe he owes $3 billion to Emirati investment funds and China might pay off that debt, Broidy wrote.
Broidy reportedly wanted to please Chinese allies in Malaysia and possibly the United Arab Emirates as well as raise money.
"One person close to Mr. Broidy said he was interested in the case because of his friendship with Steve Wynn, another top Republican fundraiser."
In a statement to NYT, Broidy said, "This whole narrative is a fabrication driven by hackers who want to undermine me."
Flashback: The Wall Street Journal reported last October that Wynn had given Trump a letter from the Chinese government asking the U.S. to return Guo. And Caixin last July published a piece on Guo and Abu Dhabi investors.
https://www.axios.com/newsletters/axios-china-7f5f7309-bfd1-4889-a5e6-d98a7474cf14.html?chunk=4#story4
5. China leads asylum seekers in the U.S.
Speaking of Chinese asylum seekers, Axios' Stef Kight and Erica Pandey write about how oppressive measures such as the "one-child" policy — and Beijing's refusal to take back most people who are deported from the U.S. — have left the U.S. with more asylum seekers from China than any other nation.
https://www.axios.com/newsletters/axios-china-7f5f7309-bfd1-4889-a5e6-d98a7474cf14.html?chunk=5#story5
6. WeChat's fake news problem
A new report from the Tow Center for Digital Journalism examines the spread of fake news and misinformation among Chinese-American immigrant users of WeChat, Tencent's communication platform that is used by nearly 900 million people globally, including Chinese overseas.
Among the report's findings:
WeChat content is disproportionally focused on affirmative action/census data disaggregation and unauthorized immigration over other topics like jobs, economy and health care.

"

Local stories and policies especially fall prey to distorted information, when lack of local news coverage on issues of particular interest to immigrant Chinese leaves a vacuum for misinformation to flourish."
One example of a "fake news" headline on a platform is: "Kill a Chinese, get a green card."
Read the full report.
Why it matters: Western policymakers grappling with the growing global influence of the PRC and the Chinese Communist Party have little ability to influence the content flowing through WeChat.
My thought bubble: I am in several groups of mostly Chinese-American immigrants and I regularly see some crazy stuff getting posted. Another issue is that many consumers have weak English skills and so only read Chinese-language media.
https://www.axios.com/newsletters/axios-china-7f5f7309-bfd1-4889-a5e6-d98a7474cf14.html?chunk=6#story6
7. 6 billion cockroaches might do some good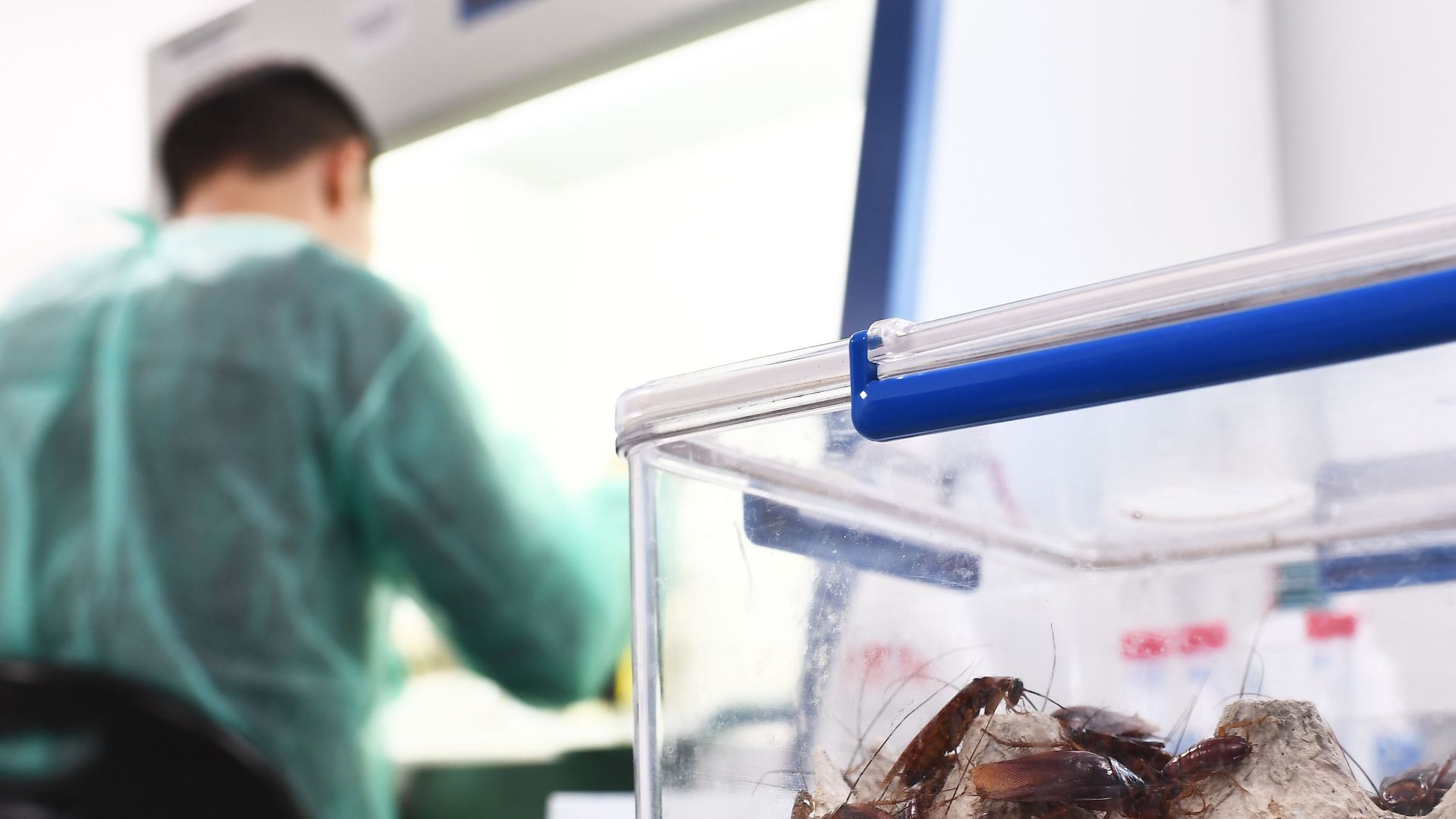 This story may not be easy to read — 28,000 roaches per square foot!! — but if cockroaches have medicinal value and can be bred in massive quantities for harvesting then why not? 
Buzz: The South China Morning Post describes a giant indoor farm in Xichang, China, that's breeding 6 billion cockroaches a year — larger than the world's population. Per SCMP:
It's also using artificial intelligence to manage the colony, which plans to use the cockroaches for a "'healing potion' being consumed by millions of patients in China, according to the Chinese government."
"Professor Zhu Chaodong, the Institute of Zoology's lead scientist in insect evolution studies at the Chinese Academy of Sciences in Beijing, said it would be a 'catastrophe' if billions of cockroaches were suddenly released into the environment."
"The Chinese government funded nationwide studies into cockroaches' medical value that, after more than two decades of laboratory investigation and clinical trials, had discovered or confirmed dozens of disease-fighting proteins and biochemical compounds with huge potential value in medicine."
Quick take: I just hope they don't escape the breeding facility, which is near the Qingshan airport...
Go deeper: Three types of snake oil, via SupChina.
https://www.axios.com/newsletters/axios-china-7f5f7309-bfd1-4889-a5e6-d98a7474cf14.html?chunk=7#story7