Axios China
March 18, 2020
Welcome back to Axios China. I'm writing from my home office today, and I hope that's where you're reading, too! Today we're rejecting the democracy vs. authoritarianism paradigm, looking at China's coronavirus aid, and much more.
Send feedback and tips to [email protected].
Remember to practice social distancing, wash your hands and stay home if you can. We're all in this together.
Today's newsletter is 1,646 words, a 6-minute read.
1 big thing: It's not democracy vs. authoritarianism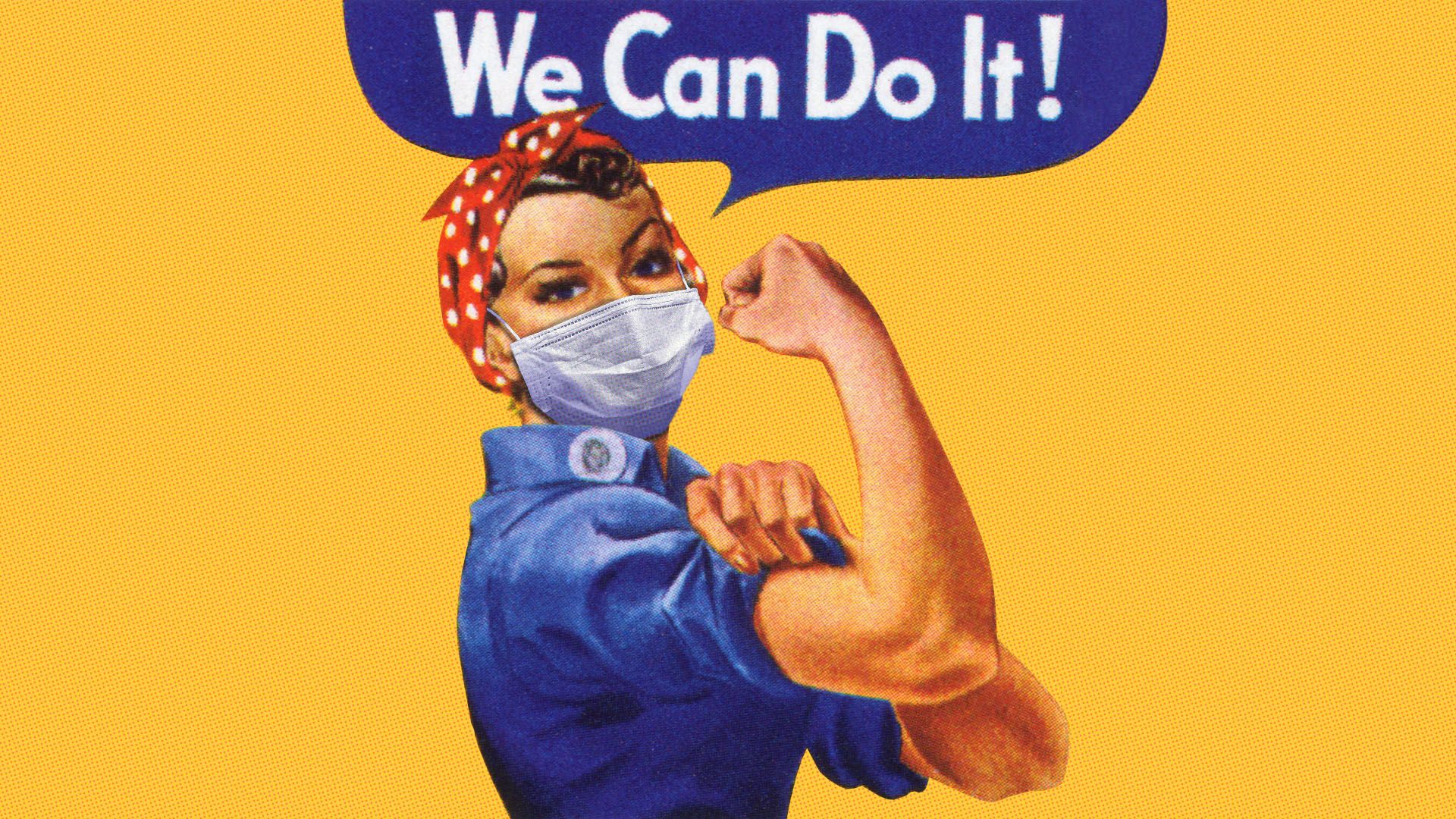 China's successful fight against the coronavirus has exacerbated a pre-existing crisis of confidence in Western democracies. But many of China's measures to combat the coronavirus aren't authoritarian; they are the kind of total social mobilization that happens during war.
Why it matters: In the fight against the coronavirus, as in wartime, democracies are perfectly capable of taking extreme measures when necessary.
What's happening: Growing calls for the U.S. government to take action in fighting the pandemic have resulted in a critical mass. Within a period of just days:
Multiple states closed schools and restaurants.
The president declared a national emergency.
Six counties in the San Francisco area issued a shelter-in-place order to residents. New York City is expected to follow soon.
Congress, usually gridlocked, is close to passing a sweeping coronavirus aid package.
"Wartime democracies are fearsome things," said one political scientist, who requested anonymity due to their government affiliation, in an interview with Axios.
Context: Many in the West watched in both horror and awe as Chinese authorities took historic measures to prevent the spread of the virus, which emerged in Wuhan, a city of around 11 million in China's central Hubei province.
Because China's political system is notoriously authoritarian, these extreme-sounding measures were painted as authoritarian as well.
To be clear, some of China's measures — including a health-surveillance regime enabled by mass data collection and the forcible rounding up of coronavirus patients into quarantine zones — have clearly represented a violation of civil rights and privacy protections that would be respected in a healthy democracy.
But when they succeeded in containing the virus, authoritarianism seemed to have won the day.
Reality check: Citywide quarantines, travel restrictions and obsessive public health checks aren't authoritarian. They're the kind of total mobilization that happens during major national crises such as war, regardless of the system of government.
Outsiders often "fixate on China's authoritarian political system," writes Ian Johnson for the New York Times. "But it's worth acknowledging that not all of China's failings are unique to its political system."
The flip side is that not all of its successes are due to its system either.
Democracies have a long history of successful mobilization, and they have mechanisms that both enable extreme policies and bring them to an end when they are no longer needed, to prevent authoritarian creep.
During World War II, the U.S. was initially paralyzed by a domestic debate about whether to get involved at all, says Maury Klein, the author of "A Call to Arms: Mobilizing America for World War II."
But after Japan bombed Pearl Harbor, the U.S. jumped into action immediately and effectively, taking actions that wouldn't be possible or acceptable during peacetime.
With government contracts in hand, private industry swiftly transitioned from producing consumer goods to war goods.
Price controls were adopted to stem inflation.
Mandatory blackouts were implemented in California out of fear of Japanese bombing raids, and neighborhood watches patrolled the streets at night to make sure everyone was in compliance.
Americans supported these measures as long as they were clearly necessary.
Yes, but: Two months after Pearl Harbor, the president ordered the internment of Japanese Americans.
What to watch: Fundamental questions about the health of our governance today and the effectiveness of our leadership suggest the U.S. may not rise to the occasion as well as it did almost 80 years ago.
2. The early days of China's coronavirus outbreak and cover-up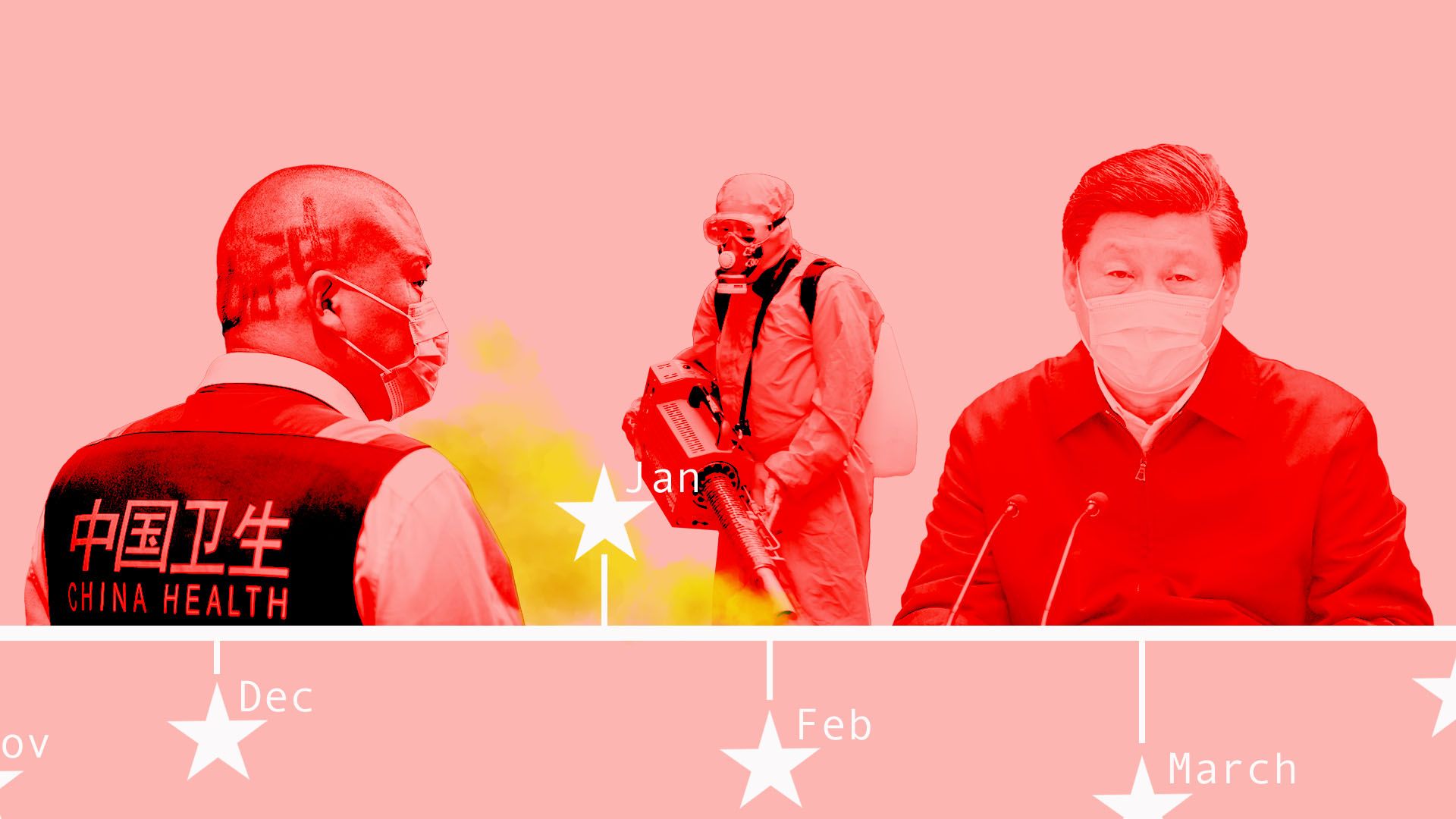 Axios has compiled a timeline of the earliest weeks of the coronavirus outbreak in China, highlighting when the cover-up started and ended — and showing how, during that time, the virus already started spreading around the world, including to the United States.
Why it matters: A study published in March indicated that if Chinese authorities had acted three weeks earlier than they did, the number of coronavirus cases could have been reduced by 95% and its geographic spread limited.
Here's an abbreviated timeline (full version here), compiled from information reported by the Wall Street Journal, the Washington Post, the South China Morning Post, and other sources.
It shows that China's cover-up and the delay in serious measures to contain the virus lasted about three weeks.
Dec. 10: Wei Guixian, one of the earliest known coronavirus patients, starts feeling ill.
Dec. 16: Patient admitted to Wuhan Central Hospital with an infection in both lungs but resistant to anti-flu drugs. Staff later learned he worked at a wildlife market connected to the outbreak.
Dec. 30: Ai Fen, a top director at Wuhan Central Hospital, posts information on WeChat about the new virus. She was reprimanded for doing so and told not to spread information about it.
Dec. 31: China tells the World Health Organization's China office about the cases of an unknown illness.
Jan. 1: Wuhan Public Security Bureau brings in for questioning eight doctors who had posted information about the illness on WeChat.
Jan. 2: Chinese researchers map the new coronavirus' complete genetic information. This information is not made public until Jan. 9.
Jan. 7: Xi Jinping becomes involved in the response.
Jan. 11–17: Important prescheduled CCP meeting held in Wuhan. During that time, Wuhan health commission insists there are no new cases.
Jan. 13: First coronavirus case reported in Thailand, the first known case outside China.
Jan. 15: The patient who becomes the first confirmed U.S. case leaves Wuhan and arrives in the U. S., carrying the coronavirus.
Jan. 18: Annual Wuhan lunar new year banquet. Tens of thousands of people gathered for a potluck.
Jan. 19: Beijing sends epidemiologists to Wuhan.
Jan. 20:
The first case announced in South Korea.
Zhong Nanshan, a top Chinese doctor who is helping to coordinate the coronavirus response, announces the virus can be passed between people.
Jan. 21:
The U.S. Centers for Disease Control and Prevention confirms first coronavirus case in the United States.
China's top political commission in charge of law and order warns that "anyone who deliberately delays and hides the reporting of [virus] cases out of his or her own self-interest will be nailed on the pillar of shame for eternity."
Jan. 23: Wuhan and three other cities are put on lockdown. Right around this time, approximately 5 million people leave the city without being screened for the illness.
Jan. 24–30: China celebrates the Lunar New Year holiday. Hundreds of millions of people are in transit around the country as they visit relatives.
Jan. 24: China extends the lockdown to cover 36 million people and starts to rapidly build a new hospital in Wuhan. From this point, very strict measures continue to be implemented around the country for the rest of the epidemic
The bottom line: China is now widely claiming that its actions to combat the coronavirus bought the world time to prepare. In January, the opposite was true.
Go deeper:
3. China bans journalists from 3 U.S. newspapers
The Chinese government announced Tuesday that it will revoke press credentials for American journalists who work for the New York Times, Washington Post and Wall Street Journal, retaliating for state media restrictions imposed by the Trump administration.
Why it matters: It's an escalation of a media war — in the midst of a global pandemic — that will result in around a dozen U.S. journalists effectively being expelled from China.
The journalists, whose credentials were set to expire in 2020, will also not be permitted to work in Hong Kong or Macao, which is often what blacklisted journalists have done in the past.
Between the lines: The Ministry of Foreign Affairs statement echoes the language of reciprocity that the U.S. State Department used to justify the media restrictions it adopted in February.
However, the U.S. restrictions targeted Chinese state-run media, which are widely recognized as propaganda outlets. With the exception of Voice of America, the U.S. outlets affected by new Chinese restrictions are private.
Go deeper: Read the full story
4. China offers aid and supplies to the world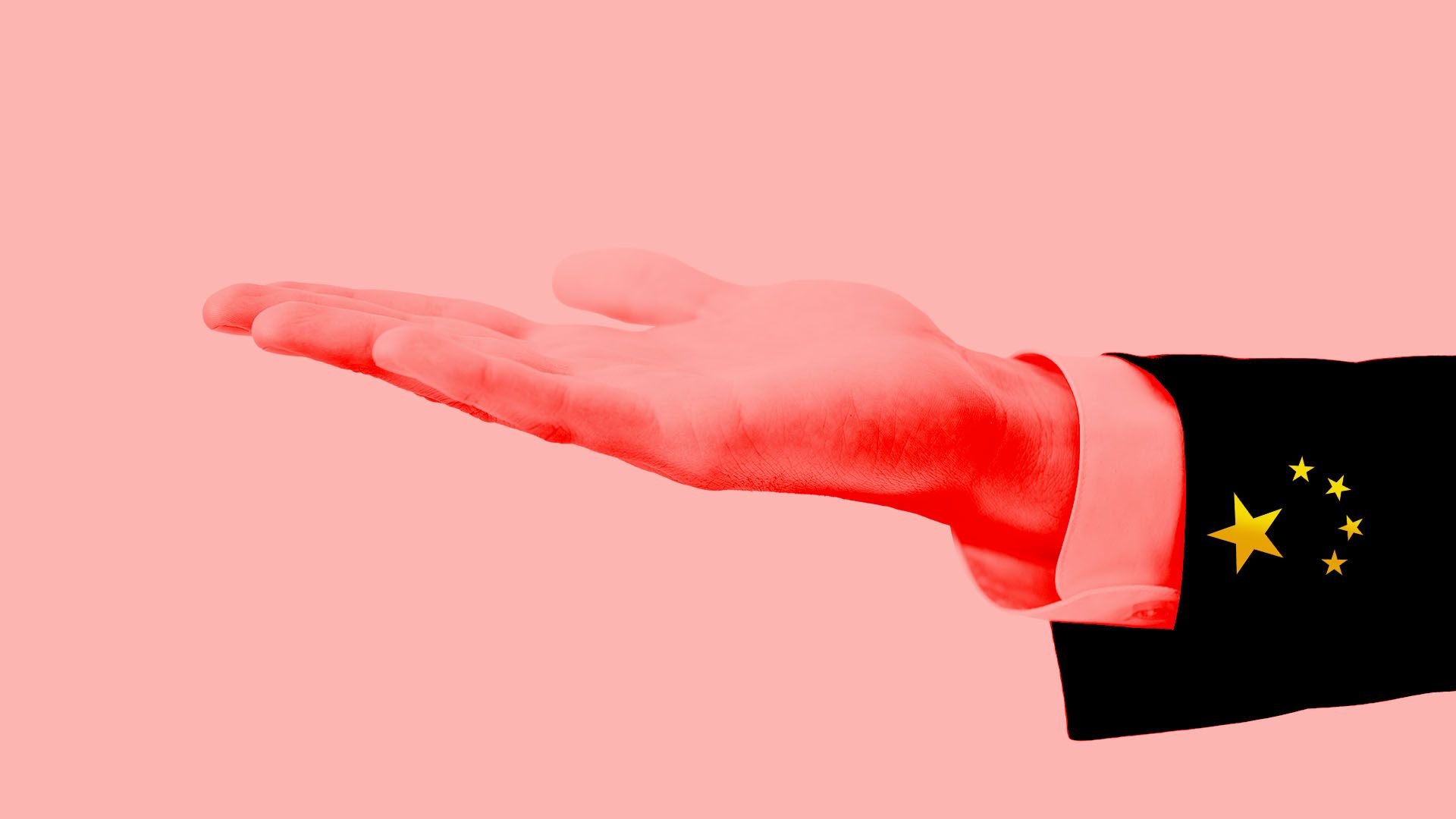 China has announced donations, exports of masks and medical supplies, and/or the deployment of medical advisory teams to:
Italy
Spain
Iran
Pakistan
And after Serbia called on China for help, China has now agreed to send aid to them as well.
Tencent app: The official Twitter account of the Chinese Mission to the United Nations wrote on March 15 that Chinese tech giant Tencent has created a bilingual app called WeDoctor that connects specialists around the world to Chinese doctors.
Alibaba aid: The Jack Ma Foundation has announced donations of masks and medical supplies to:
But it's a little more complicated:
Some of the assistance comes in the form of business contracts, not donations.
China is sitting on a stockpile of most of the world's masks. As it faced its own pandemic, China bought up most of the masks produced by its factories that it would otherwise have sent abroad to fulfill contracts.
5. What I'm reading
Beijing's whistleblower: Translation: An Urgent Call Regarding the Epidemic (China Digital Times)
In a Feb. 23 letter sent to Xi Jinping, now leaked, a former member of China's top decision-making body, the Central Committee, warned Xi that tight social controls and information censorship had led to a devastating mishandling of the coronavirus outbreak.
"Due to human error, we have missed the most important 'golden window' of time to combat the epidemic — the time around [Chinese] New Year, especially the beginning and middle of January. This has resulted in the epidemic spreading with great ferocity. The costs of this mistake are enormous. The lessons we must learn are unspeakably painful. The losses, immeasurable."
Eye witness: Locked down in Beijing, I watched China beat back the coronavirus (Washington Post)
Washington Post correspondent Gerry Shih describes his experience navigating China as its tough measures eventually contained the outbreak, though not before thousands had died. (Shih is one of the journalists whose press credentials will be revoked after China's announcement on Tuesday).
"What I also see is that China and the other successful Asian countries seem to have a public buy-in — a vast scale of grass-roots mobilization and coordination at the highest levels, which, for all its faults, happen to be the Communist Party's strengths," writes Shih.
Suing China: Class action filed against China over COVID-19 outbreak (Law.com)
A plaintiff has filed a nationwide class-action lawsuit in a U.S. district court in Florida against the People's Republic of China for its failure to contain the coronavirus epidemic.
Read the court document here.
6. 1 poll thing: Americans' concerns about the coronavirus
As Americans become more concerned about the coronavirus outbreak, there has been a rise in racist remarks directed at Chinese Americans.
U.S.-China tensions are growing as well; some U.S. commentators continue to claim without evidence that Beijing may have purposefully intended to use the virus to harm the United States.