Only 10 more days until China's annual meeting of the National People's Congress concludes.
Expect big news next week from the conclave — constitutional amendments, a new National Supervision Commission, appointment of vice premiers, a much-rumored reorganization of multiple government institutions, and the expected appointment of Wang Qishan to vice president.
Thanks for reading, and remember, if you want to read me more than once a week please check out my daily Sinocism China Newsletter and follow me on Twitter @niubi.
https://www.axios.com/newsletters/axios-china-7290a708-ddb8-40a3-8658-69eeea54589d.html?chunk=0#story0
1. China's view of possible Trump-Kim talks
Beijing will be pleased with lowered tensions, after President Trump yesterday accepted an offer to meet with North Korean leader Kim Jong-un. Ministry of Foreign Affairs spokesperson Geng Huang called it "a step in the right direction," Xinhua reports.
What I'm hearing: PRC officials were not aware that Kim had suggested to the South Koreans he was willing to sit down with Trump.
The big question: Trump has softened his approach to China because he has wanted their assistance in the "maximum pressure" campaign against North Korea. If a direct channel with Pyongyang is established, will Beijing still have all those cards to play against the U.S.?
Reality check: The location will matter. The Joint Security Area in the Korean Demilitarized Zone near Panmunjom seems like an obvious venue. Beijing may be happy to host, but Kim is unlikely to want to allow the Chinese to take any credit.
Trump may be tempted to go to Pyongyang, but that would be a huge propaganda win for North Korea. And, as North Korea and nuclear proliferation expert Jeffrey Lewis writes on Twitter:
"This is literally how the North Korean film 'The Country I Saw' ends. An American President visits Pyongyang, compelled by North Korea's nuclear and missile programs to treat a Kim as an equal."
Go deeper: Council on Foreign Relations president Richard Haass writes that this "calls for cautious diplomacy" in Axios' Expert Voices.
Editor's note: This was corrected to show the expert is Jeffrey Lewis, and not James Lewis.
https://www.axios.com/newsletters/axios-china-7290a708-ddb8-40a3-8658-69eeea54589d.html?chunk=1#story1
2. Section 301 is the true show to watch . . .
China (and Europe) already has threatened retaliation to Trump's move Thursday to push forward his tariffs on steel and aluminum imports. But, perhaps more importantly, China is most concerned with the outcome of the USTR Section 3o1 investigation, which I, and others like Axios' Jonathan Swan, are hearing may be soon.
The details on the 301 investigation, as Bloomberg reported on Thursday:
"An announcement following an [Section 301] investigation by the U.S. Trade Representative's office into China's IP practices is expected in the coming weeks, potentially handing President Donald Trump further cause to impose trade restrictions..."
"Under the most severe scenario being weighed, the U.S. could impose tariffs on a wide range of Chinese imports, from shoes and clothing to consumer electronics, according to two people familiar with the matter who spoke on condition of anonymity because the discussions aren't public."
"The Trump administration could combine the tariffs with restrictions on Chinese investments in the U.S., which are reviewed for national-security risks by Treasury's Committee on Foreign Investment in the U.S., the people said. The new measures being considered by the administration could go beyond even domestic security considerations."
Why it matters: The steel and aluminum tariffs will do minimal economic damage to China while handing it a propaganda win as the U.S. looks like the irresponsible, protectionist actor. 301 actions would be China-specific, much more targeted, more likely to cause economic pain to China, and more likely to prompt Beijing to act against U.S. companies and imports.
https://www.axios.com/newsletters/axios-china-7290a708-ddb8-40a3-8658-69eeea54589d.html?chunk=2#story2
. . . as China can now fight back against tariffs
Axios' Erica Pandey writes: In 2002, President George W. Bush slapped steep tariffs on steel imports, warning about the collapse of the U.S. steel industry, then lifted them 21 months later to avoid a trade war with the European Union and Japan. Sixteen years later, Trump is imposing steel tariffs of his own — but this time, the most powerful potential trade war foe is China.
What's happening now: Trump has been hawkish for years about a potential trade war with China, citing massive trade deficits as a sign that China is "ripping us off." But China "will not sit idly by and will take necessary measures if the US hurts China's interests," according to Zhang Yesui, a top diplomat and former ambassador to the U.S.
There are two main routes China can take:
Take action against U.S. projects by denying permits to U.S. companies or rejecting American investment
Impose tit-for-tat tariffs against American goods.
The bottom line: China's capability to retaliate against Trump's tariffs now rivals that of the entire EU. With Beijing's economic clout continuing to grow, these tariffs may be the last time the U.S. gets to set the terms of engagement with China.
https://www.axios.com/newsletters/axios-china-7290a708-ddb8-40a3-8658-69eeea54589d.html?chunk=3#story3
3. Goodbye to China's central bank chief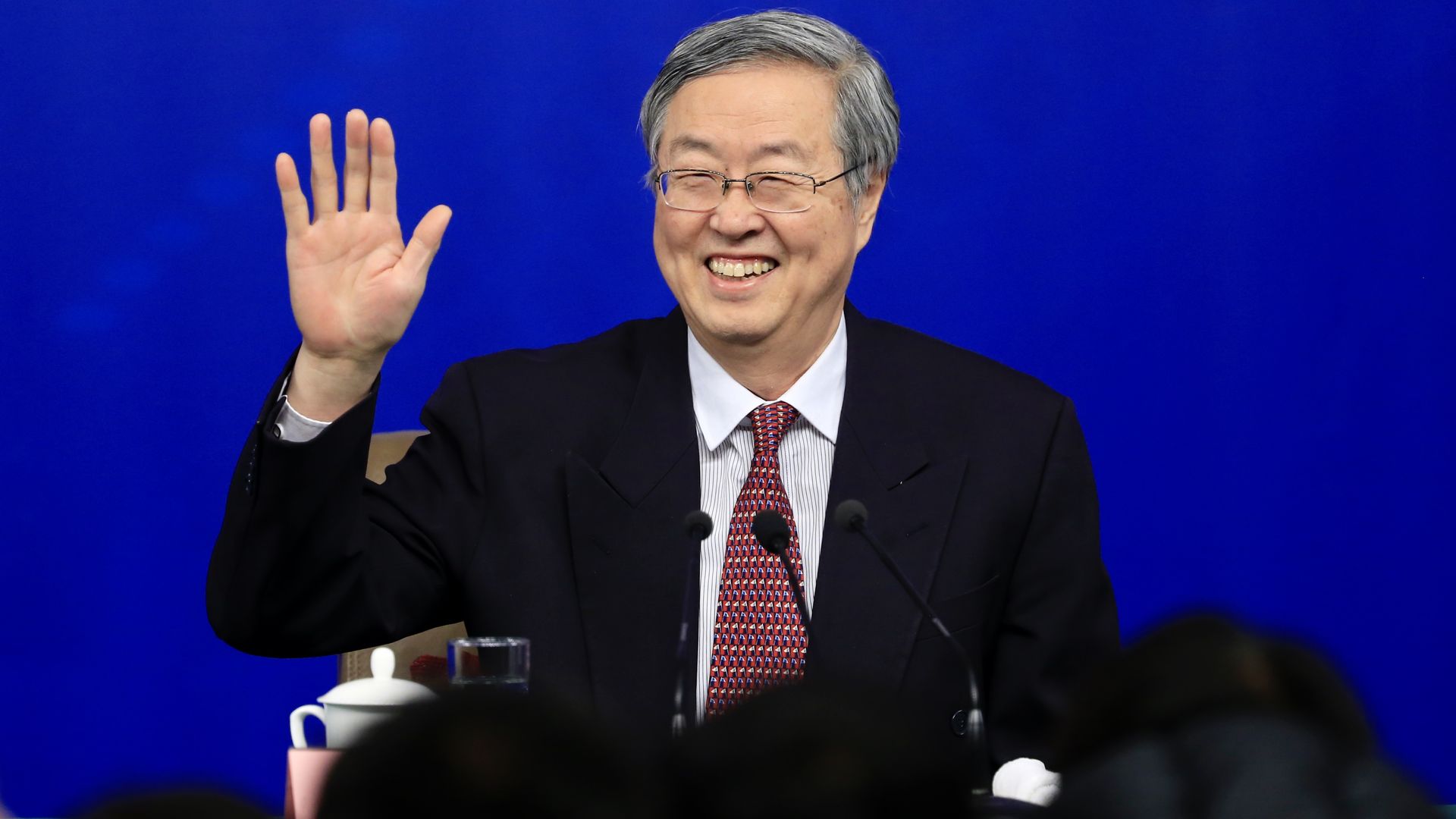 Zhou Xiaochuan just gave what is likely his last press conference as head of the People's Bank of China (PBOC), where he's held that position for the last 15 years. The new bank chief will be announced on March 19.
Key highlights from his speech, according to the China Daily:
Renminbi (RMB) internationalization promotes China's opening up.
China could take more bold actions to further open up.
China's leverage levels are stabilizing and gradually falling.
The PBOC will play a more important role in the country's new regulatory framework.
Why it matters: Financial markets and global regulators generally like Zhou and the relative stability he's brought over his long tenure. But his departure has been expected and so the markets will probably not react.
His successor is likely one of these three:
Liu He, Xi's top economic consigliere who should become a vice premier next week. (Recent rumors suggest Liu will add the job to his growing portfolio.)
Jiang Chaoliang, former banker and now party secretary of Hubei Province.
Guo Shuqing, a finance industry veteran who's currently chairman of the China Banking Regulatory Commission.
His legacy: Zhou, widely seen as among the more reform-oriented PRC officials, helped steer China through the 2008 global financial crisis. But he is blamed in some circles for a botched move towards a slight liberalization of the RMB in August 2008 that cost Beijing hundred of billions of dollars in reserves to defend the currency in the following months.
https://www.axios.com/newsletters/axios-china-7290a708-ddb8-40a3-8658-69eeea54589d.html?chunk=4#story4
4. Xi is conquering all parts of Chinese society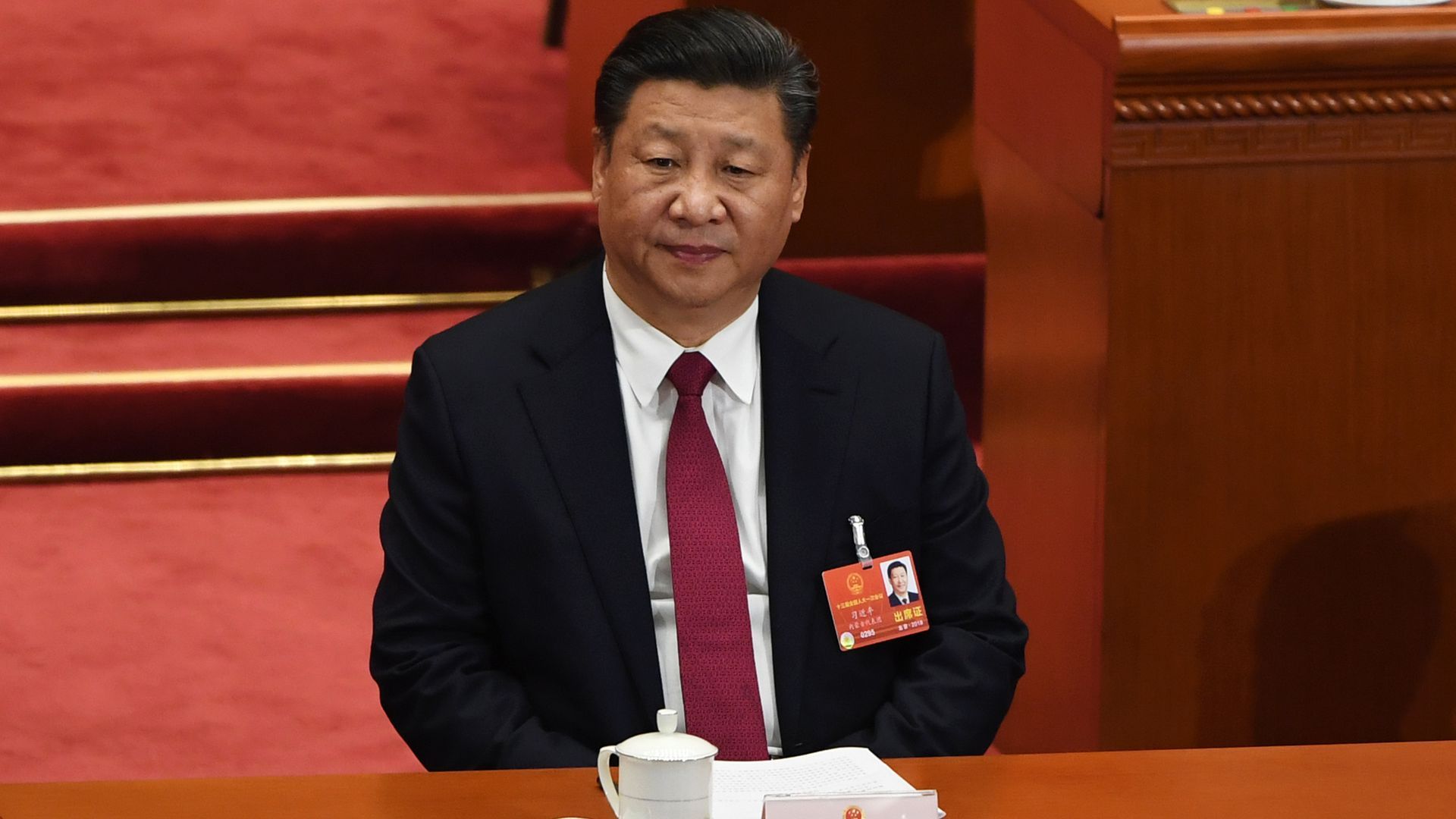 The change to presidential term limits in China has gotten much recent attention but just as important — if not more so — was the Third Plenum decision on deepening reform of party and state institutions that furthers the trend of the Communist Party of China (CPC) taking over state institutions.
Why it matters: President Xi Jinping is working to obliterate any boundaries between party and state and to reinsert CPC into all aspects of China's economy and society — all in conjunction with ensuring he's the unchallenged embodiment of the CPC. The end result will be Xi's complete dominion of all parts of Chinese government and society.
Background, via Xinhua: The plenum reforms have the goal of improving the "system for upholding overall Party leadership" with the guiding principle that:
"The Party exercises overall leadership over all areas of endeavor in every part of the country. A primary task of deepening reform of the Party and state institutions is to strengthen the CPC's leadership in every sector."
https://www.axios.com/newsletters/axios-china-7290a708-ddb8-40a3-8658-69eeea54589d.html?chunk=5#story5
5. How Xi removed the presidential term limits
We are 5 days into the annual meeting of China's parliament, the National People's Congress, and the propaganda coverage has made it clear it is the "Xi Jinping Show," far beyond the amendment to remove presidential term limits.
Quick take: That Constitutional amendment will pass next week — with little to no official opposition.
More: Chris Buckley of the New York Times explains Xi's machinations:
"Mr. Xi deployed speed, secrecy and intimidation to smother potential opposition inside and outside the party. He swept past the consensus-building conventions that previous leaders used to amend the Constitution. He installed loyalists to draft and support the amendments. And he kept the whole process under the tight control of the party, allowing little debate, even internally."
"Mr. Xi first formally proposed amending the Constitution little more than five months ago, at a Sept. 29 meeting of the Politburo, a council of 25 party leaders more powerful than the Central Committee, according to an official account issued
at the congress
on Monday."
"But he did not immediately raise the possibility of removing the term limit, said a retired official, citing a senior serving official. To avoid being seen as dictating changes, Mr. Xi let loyal provincial and city leaders quietly promote the idea in his stead, the retired official said. He spoke on condition of anonymity, citing fear of punishment for describing internal discussions."
Mao Zedong and Machiavelli would both be proud...
https://www.axios.com/newsletters/axios-china-7290a708-ddb8-40a3-8658-69eeea54589d.html?chunk=6#story6
6. Africa is next in the U.S.-China race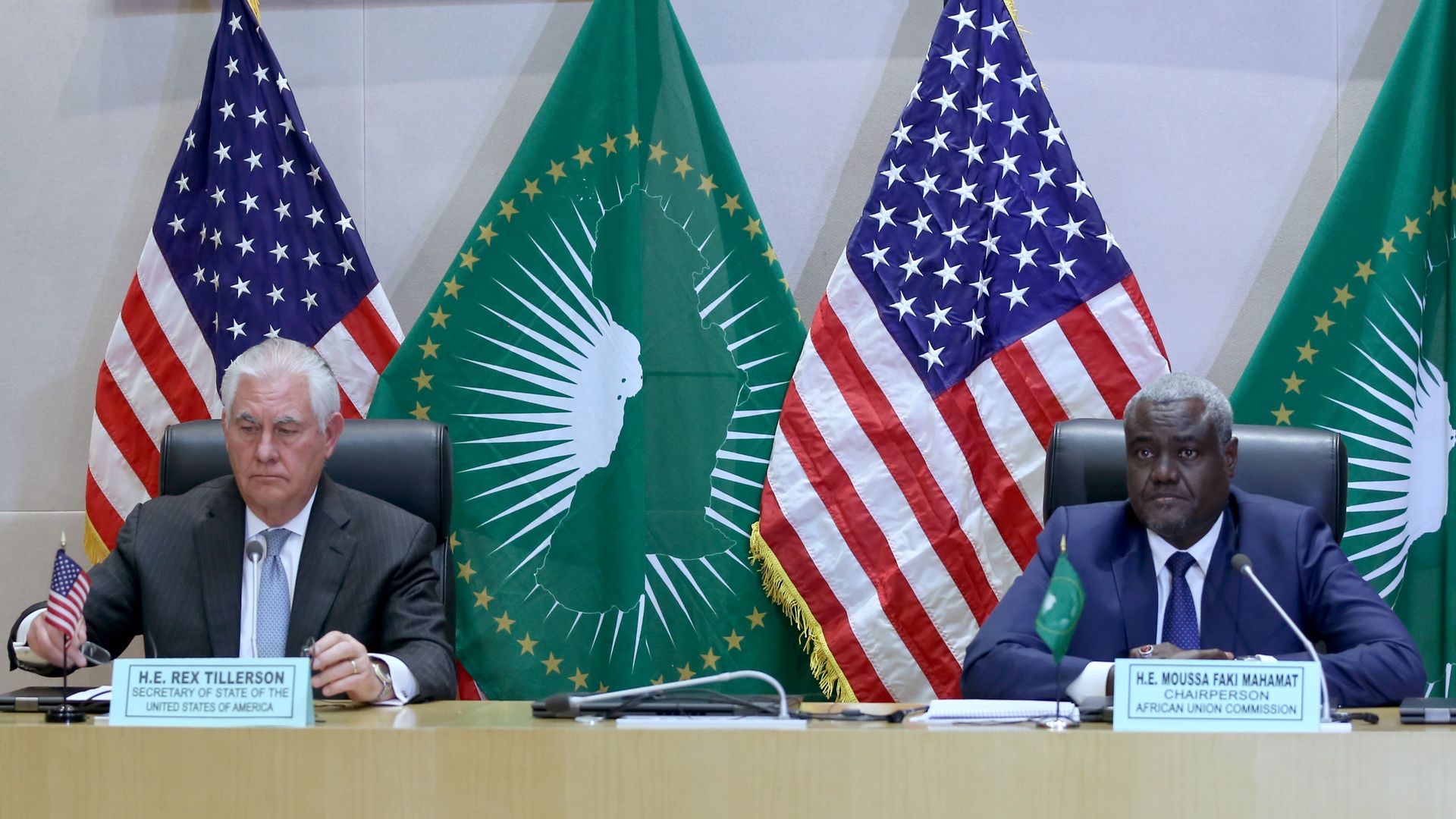 In early February, U.S. Secretary of State Rex Tillerson visited several countries in Latin America and sounded the alarm over China's influence there.
Now Tillerson is visiting five African countries and making similar warnings. At a press conference Thursday at the African Union headquarters in Ethiopia, Tillerson warned African nations against forfeiting "any elements of your sovereignty as you enter into such arrangements with China."
Why it matters: Africa is the new target in the global influence race between China and America. But, China's reach is expected to continue expanding, especially as Xi views Trump's "America First" platform as a boon.
What we're hearing: On the eve of his trip, Tillerson gave a speech where he said that China "encourages dependency using opaque contracts, predatory loan practices, and corrupt deals that mire nations in debt and undercut their sovereignty, denying them their long-term, self-sustaining growth."
Separately: U.S. leaders are growing concerned that PRC may be taking over a port in Djibouti as it increases its stake. In testimony to the House Armed Services Committee earlier, Reuters reports that General Thomas D. Waldhauser, who heads U.S. Africa Command, said that "If the Chinese took over that port, then the consequences could be significant."
The Washington Post also says that the U.S. government is increasingly concerned, especially since "[t]he port is significant not only because it sits next to China's only overseas military base but also because it is the main access point for American, French, Italian and Japanese bases in Djibouti."
My thought bubble: If the U.S. is going to compete with China, it has to offer market access, investments, and mechanisms to improve infrastructure.
Go deeper: Read my full story here, and check out Bloomerg's piece on China's massive investments in Ethiopia.
https://www.axios.com/newsletters/axios-china-7290a708-ddb8-40a3-8658-69eeea54589d.html?chunk=7#story7
7. One badass: Qiu Jin, China's "Joan of Arc"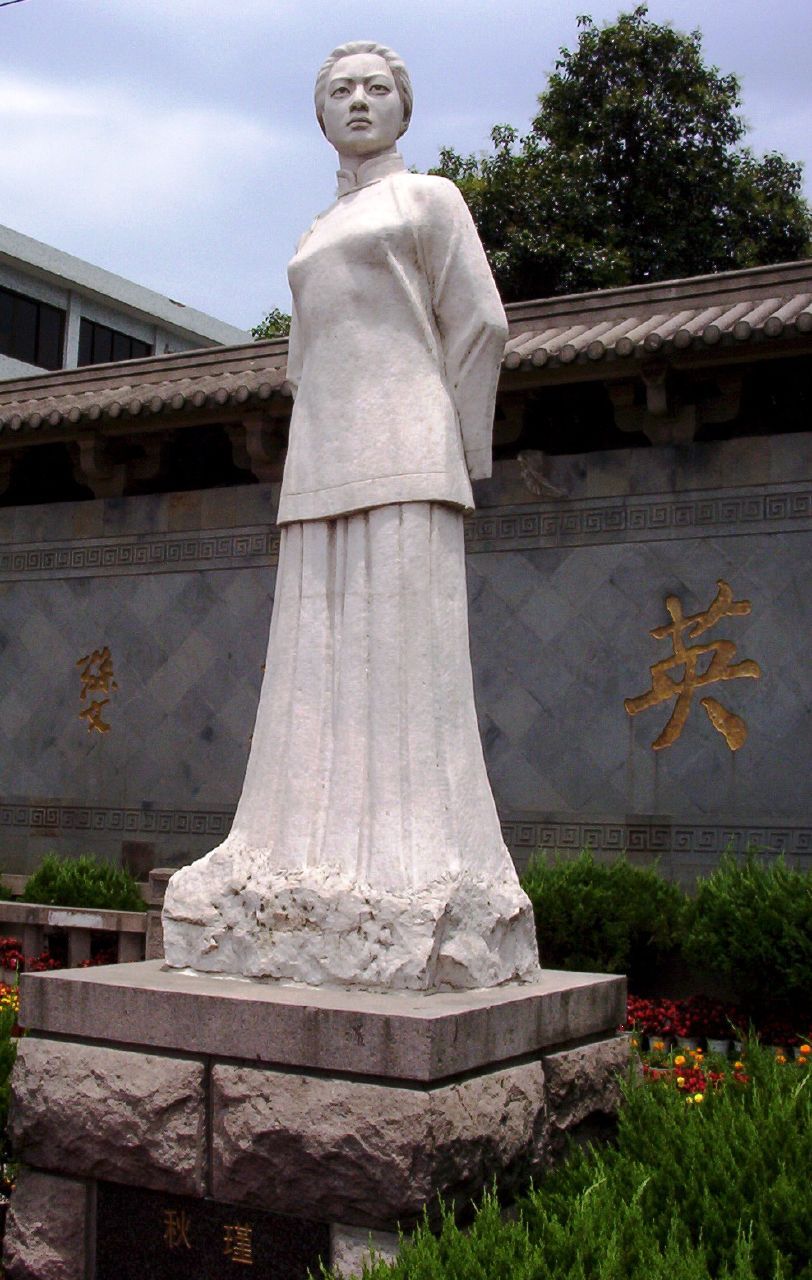 Statue of Qui Jin in Zhejiang, China. Photo: creative commons Flikr account of jensimon7
The New York Times included in its overlooked series an obituary of pioneering Chinese feminist and revolutionary Qiu Jin, born in 1875 and executed in 1907.
From Amy Qin's obituary of Qiu:
"Qiu rose to become an early and fierce advocate for the liberation of Chinese women, defying prevailing Confucian gender and class norms by unbinding her feet, cross-dressing and leaving her young family to pursue an education abroad."
"Her legacy as one of China's pioneering feminists and revolutionaries was cemented on July 15, 1907, when she was beheaded at 31 by imperial army forces who charged her with conspiring to overthrow the Manchu-led Qing government. It was her final act of resistance, and it would later earn her a place in the pantheon of China's revolutionary martyrs."
https://www.axios.com/newsletters/axios-china-7290a708-ddb8-40a3-8658-69eeea54589d.html?chunk=8#story8
8. China's space station
China has very ambitions plans for space, and a dying space station is not a setback.
What's happening now: Tiangong-1, China's first space station, is out of control and heading back to earth. According to the Aerospace Corporation, it should re-enter the Earth's atmosphere around April 3rd.
What's next: China has plans to launch another space station early in the next decade. Zhou Jianping, the chief designer of China's space program, said during the ongoing CPPCC meetings that the next space station should be done by 2022.
Among its many features, the new space station will "carry a space telescope that has a 2-meter diameter lens with the same level of image resolution as the well-known Hubble telescope but has a field of view 300 times that of the Hubble," per ECNS.
Go deeper: See Axios' How China plans to pull ahead in the space race, Xinhua's Female astronaut takes new role of legislator, dreams of being "moon goddess" and the South China Morning Post's Lift-off in space plane race as China tests hypersonic drone model.
https://www.axios.com/newsletters/axios-china-7290a708-ddb8-40a3-8658-69eeea54589d.html?chunk=9#story9
Bonus: Worthy of your time
Quartz — Xi Jinping says China's one-party, authoritarian system can be a model for the world
Foreign Affairs — How China Interferes in Australia
The Washington Post — America's new — and senseless — Red Scare
Foreign Policy — China's Long Arm Reaches Into American Campuses
Reuters — Indefinite rule for China's Xi snuffs out activists' reform hopes
South China Morning Post — China's battle plan against tycoons prompts Xiao Jianhua firm to sell US$23 billion of assets
Caixin Global — Billionaires Suggest Legislation on Belt and Road, 'Digital China'
Bloomberg — China's Biggest Farming Province Is Now Majority Urban
RFA — Box Office Sales For 'My Country is Incredible' Soar After Party Orders Members to See Film
Carl Minzner — Dawn of the Counter-Reform Era
South China Morning Post — Can China's latest military blockbuster Operation Red Sea strike a chord with the West?
Recent Sinocism China Newsletters for a daily, deeper look at China