Axios China
March 25, 2020
Welcome back to Axios China. Today we've got Chinese vs. Russian disinformation, U.S.-China tensions, and lots more.
I love hearing from readers. Send tips or feedback to [email protected], or just hit reply.
Be sure to check out our coronavirus dashboard. It's a quick and easy way to stay updated on the latest numbers.
Today's newsletter is 1,517 words, a 6-minute read.
1 big thing: China takes a page from Russia's disinformation playbook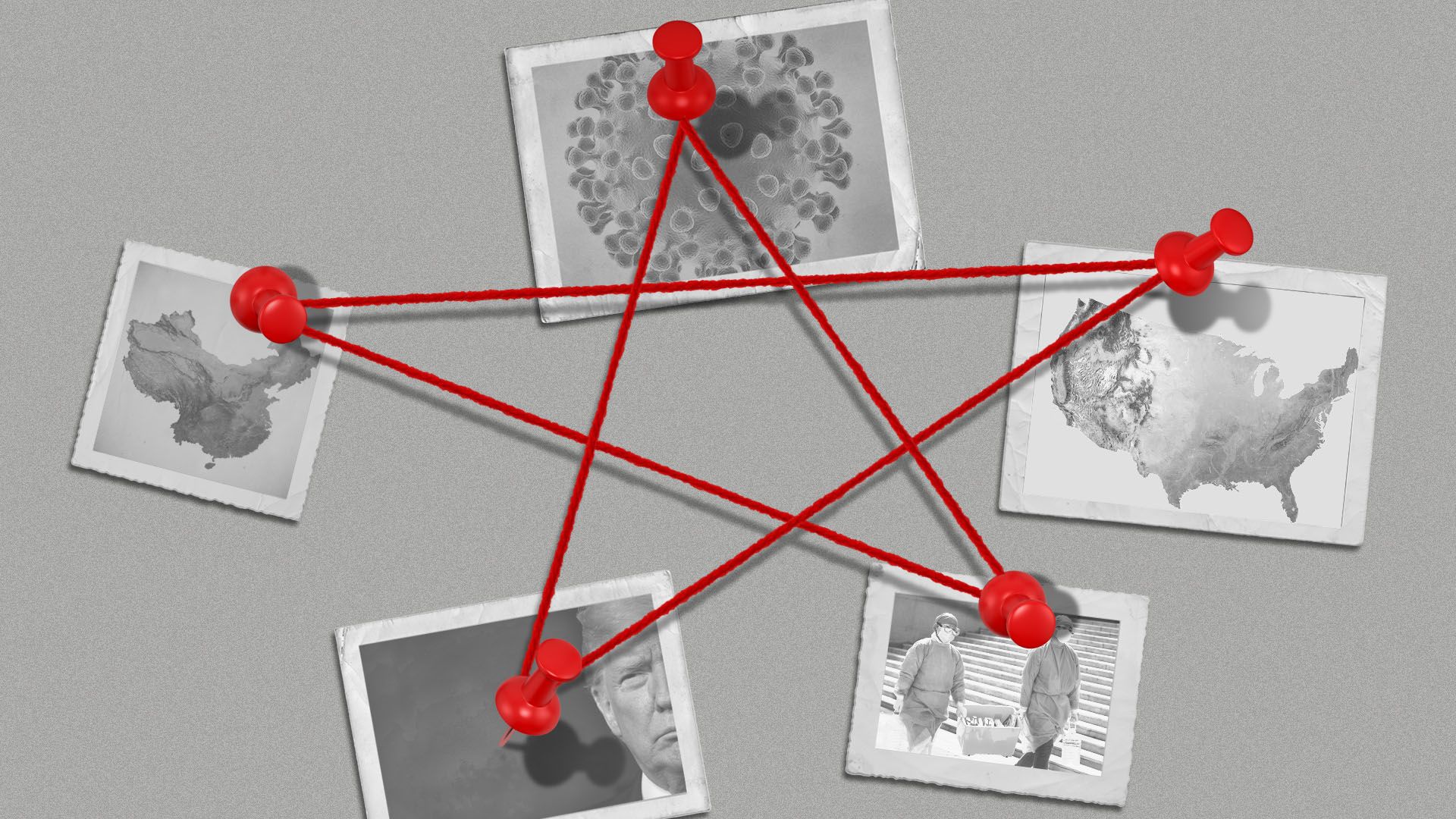 The Chinese Communist Party has spent the past week publicly pushing conspiracy theories intended to cast doubt on the origins of the coronavirus, and thus deflect criticism over China's early mishandling of the epidemic.
Why it matters: The strategy is a clear departure from Beijing's previous disinformation tactics and signals its increasingly aggressive approach to managing its image internationally.
What's happening: Verified Chinese government Twitter accounts, Chinese embassies and consulates, and some Chinese media outlets have promoted several different conspiracy theories about the origins of the coronavirus.
One theory, tweeted multiple times by Chinese Foreign Ministry deputy spokesperson Zhao Lijian and boosted by official Chinese state media, states that the virus may have come from a U.S. military lab.
Another suggests the disease first appeared in Italy in November, before it appeared in Wuhan.
Numerous pronouncements from a variety of Chinese government sources have stated more vaguely that the virus may not have come from Wuhan, the city in Hubei where the outbreak began.
Reality check: Virologists say the coronavirus shows no signs of being engineered in a lab, and epidemiologists agree that the first outbreak was in Wuhan.
China's ambassador to the U.S. Cui Tiankai has disavowed the conspiracy theory, calling it "crazy" in an interview with "Axios on HBO."
The big picture: Beijing is emulating Russia's disinformation playbook.
"What we've seen over the past week and a half over COVID-19 in terms of Chinese party-state manipulation has been a real departure from what we have seen in the past," Laura Rosenberger, director of the Alliance for Securing Democracy at the German Marshall Fund of the United States, tells Axios.
Rosenberger points to three main tactics that Beijing has applied in its coronavirus messaging campaign that clearly resemble Russian strategy:
The propagation of "multiple conflicting theories."
The amplification of conspiracy websites, or "gray sites," which Rosenberger said are third-party sites without funding transparency that promote the same theories the state aims to boost.
The coordinated use of diplomatic and embassy Twitter accounts and state-backed media to help boost the theories.
Russian disinformation tactics typically aim to destabilize the information environment through spreading conspiracy theories, with the goal of creating chaos and discord in target societies. This strategy has been widely deployed in recent years to:
Interfere in the 2016 U.S. presidential election.
Disassociate Russia from its poisoning of former Russian military officer Sergei Skripal on British soil in 2018.
Cast doubt on Russia's role in the downing of Malaysian Airlines flight MH17 over Ukraine in July 2014.
But Chinese Communist Party disinformation has previously followed methodology and goals distinctly different from Russia's.
Chinese information operations typically aim to uphold a single immutable narrative that casts the Chinese Communist Party in a positive light.
There is intense censorship inside China of information that makes the party look bad, as well as suppression of dissenting narratives outside China. The suppression is often done through coercion — increasingly, by threatening to deny market access to organizations if they say things the party doesn't like.
The goal isn't to destabilize the information environment, but rather to make Beijing appear unassailably good.
But unlike Russia, this strategy doesn't usually target foreign societies beyond their perceptions of China.
It isn't either/or: Beijing continues to simultaneously employ its traditional strategies both at home and abroad as it strives to deflect blame for its early cover-up of the epidemic and to show itself a more reliable partner to countries than the United States.
Go deeper:
Bonus: State of the outbreak
2. Chinese ambassador talks journalists and Xinjiang
The "Axios on HBO" interview with China's ambassador to the U.S. Cui Tiankai had tense moments, writes Axios' Jonathan Swan.
What they're saying: At one point, during an exchange about allegations of torture from former Muslim detainees in Xinjiang camps, Cui said it would not be productive to keep discussing such matters.
At another point, he accused Axios of insulting the Chinese Communist Party and equated the Party with the Chinese people.
On the disappearances of Chinese citizen journalists who were reporting on the coronavirus from inside Wuhan:
"Axios on HBO": "Where is the citizen journalist Chen Qiushi? He was doing some of the early videos from inside Wuhan that were showing the response to the virus and the chaos that was happening inside Wuhan."
Cui: "I have not heard of this person."
"Axios on HBO": "Really? Chen Qiushi?"
Cui: "Why not?"
"Axios on HBO": "Well you were asked about him on "Face the Nation" on February 9."
Cui: "No, I was not asked about any particular journalist."
"Axios on HBO": "You were. ... I watched the clip. Margaret Brennan named Chen Qiushi."
Cui: "But I did not know him then. I don't know him now."
"Axios on HBO": "Well, it's a month later. Weren't you curious to find out who he was?"
Cui: "We have 1.4 billion people back in China. How can I learn everything about everybody?"
Go deeper:
3. U.S.-China tensions hit a dangerous new high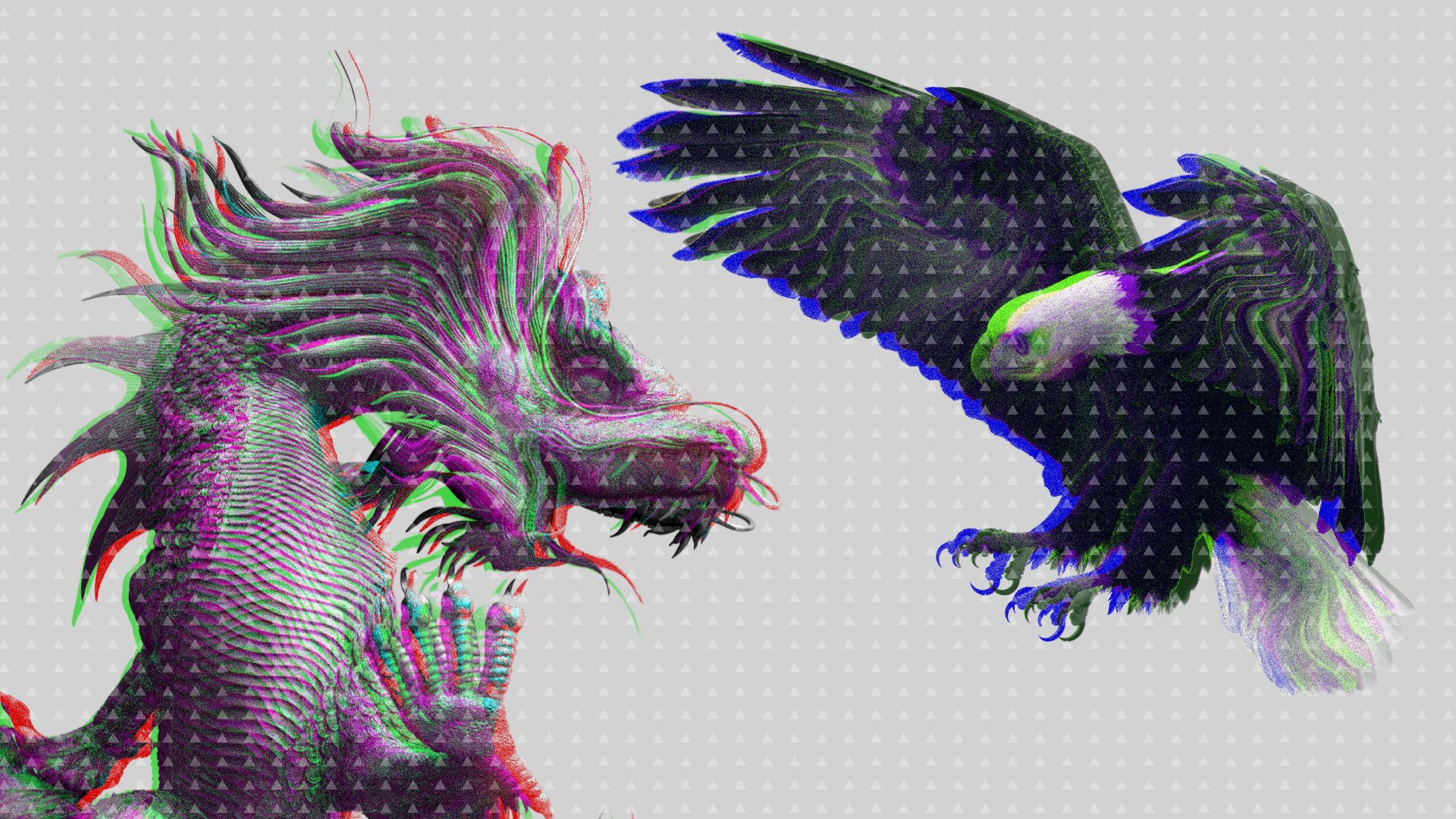 The coronavirus crisis has sent U.S.-China relations spiraling, alarming analysts who say the two countries are at their most dangerous point in decades.
What's happening: A high-level blame game between Washington and Beijing has brought simmering hostilities and mistrust to the surface.
In response to some Chinese officials and propaganda outlets pushing the conspiracy theory that the U.S. military planted the virus in Wuhan, some U.S. officials, including President Trump, have dubbed the coronavirus a "Chinese" virus, which goes against World Health Organization naming conventions.
A tit-for-tat escalation in media expulsions has seen two historically unprecedented measures: the U.S. effectively expelled about 60 Chinese state media workers, and last week, Beijing announced that U.S. journalists at three flagship U.S. publications would have to leave.
The big picture: The deterioration in bilateral relations may have been sparked by the pandemic, but its roots are in longer-term trends.
China now has the power and the confidence to challenge the U.S., and Western institutions and values more generally, across many fronts.
Under Communist Party Secretary Xi Jinping, China has taken a hard turn toward dogma and authoritarianism.
Under Trump, U.S. diplomacy, which might otherwise help arrest the bilateral free fall, has been largely sidelined and replaced with direct statements from the White House.
Go deeper: Read the full story
4. Coronavirus tests world leaders like never before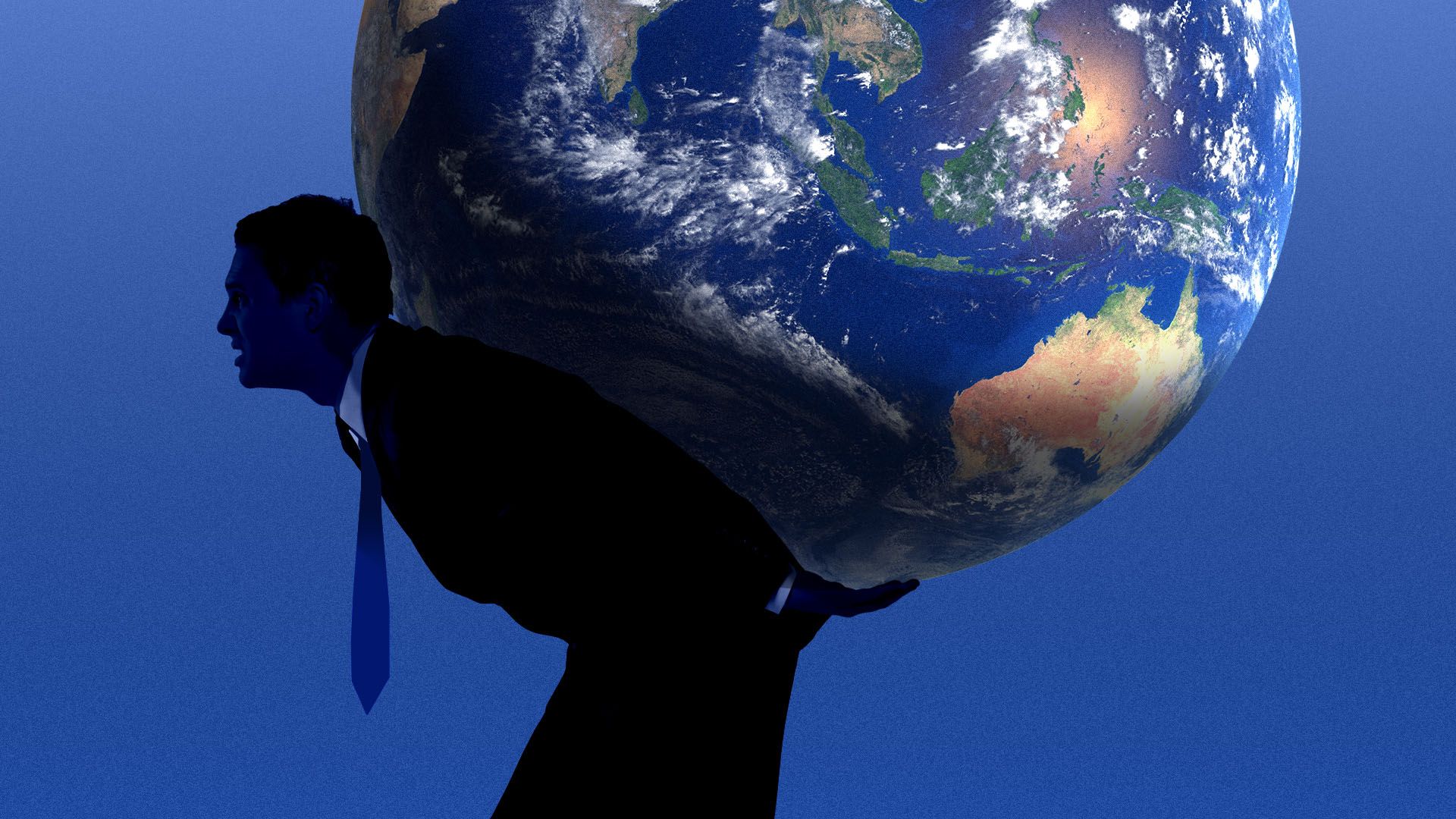 In the coming months, the decisions world leaders make — and their ability to communicate them effectively — could determine whether millions live or die, and whether the global economy stays afloat, writes Axios' Dave Lawler.
The first lockdowns came in China, but those drastic steps followed a slow initial response in which President Xi Jinping was shielded from public scrutiny.
Believing it's now past the worst, though, China is positioning itself (and Xi) as a global leader.
Indian Prime Minister Narendra Modi has locked down the country's 1.3 billion people for 21 days in hopes of avoiding a crisis on the scale of China's or Europe's.
Those who moved quickly, such as Japanese Prime Minister Shinzo Abe, now look prescient. Even those who initially downplayed the threat, like the Philippines' Rodrigo Duterte, have stepped up their rhetoric and policy responses.
What to watch: Nations are judging their leaders on a daily basis. They may ultimately be revered or reviled based on the decisions they make now. Some may emerge with new powers that last well beyond the outbreak.
Go deeper: Read the full story
Subscribe to Dave's Axios World newsletter here.
5. What I'm reading
Racism rising: Spit on, yelled at, attacked: Chinese-Americans fear for their safety (New York Times)
"As the coronavirus upends American life, Chinese-Americans face a double threat. Not only are they grappling like everyone else with how to avoid the virus itself, they are also contending with growing racism in the form of verbal and physical attacks."
Ground zero: Wuhan continues to find new asymptomatic Covid-19 cases daily (Caixin)
"Despite official figures reporting few to no new domestic Covid-19 cases on the Chinese mainland in recent days, authorities continue to detect more infections, with those in the city at the heart of the country's outbreak often amounting to more than a dozen a day."
These unreported cases are asymptomatic and are not included in the official count of coronavirus cases.
News desert: Letter from a foreign correspondent (WeChat)
An anonymous post, written in Chinese from the perspective of a foreign correspondent, has been widely circulated on WeChat.
It argues that expelling senior foreign correspondents inhibits Western understanding of China and empowers hawks by reducing the availability of nuanced media coverage.
6. 1 helpful thing: How Chinese businesses weathered the coronavirus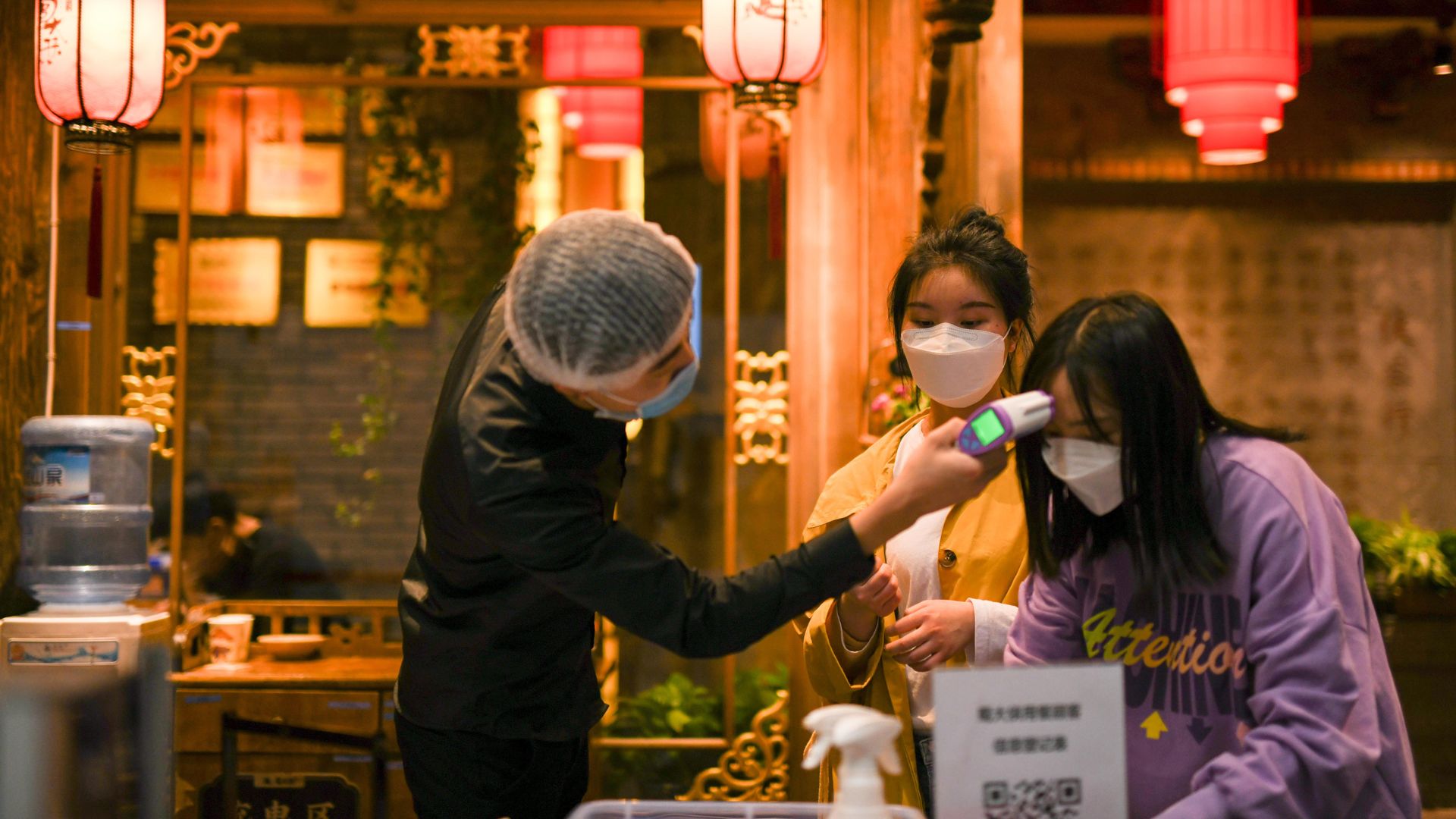 American companies can learn from the experience of Chinese companies that stayed afloat during the months-long shutdowns as China fought the coronavirus, Boston Consulting Group's chief economist Philipp Carlsson-Szlezak told me in an interview.
CEOs should lead the response themselves. "You have to really be in the moment. This is moving so fast," said Carlsson-Szlezak. Company leaders have to "reframe this on a daily basis;" it can't be delegated to a task force.
Redeploy workers, don't lay them off. "You don't want to go into a mode where you lay off workers particularly since you don't know the duration," said Carlsson-Szlezak. Some Chinese companies found creative ways to redeploy their temporary overcapacity — for example, one Chinese company quickly retrained staff as online influencers and were able to expand online sales.
Consider which consumer behaviors might change permanently. Some changes will be temporary, but others might stick. The crisis may lead consumers to embrace different ways of interacting with companies and products.
Prepare for the rebound ... whenever it comes. "For many Chinese companies ... it was not easily predictable how soon a rebound would be underway." Carlsson-Szlezak said that companies have to prepare in advance for that scenario, so that they are ready when the rebound comes and don't lag behind.