Axios China
January 24, 2023
Welcome back to Axios China. Today we're looking at Hong Kong's judiciary, Islam in Taiwan, China's shrinking labor force, and lots more.
Today's newsletter is 1,779 words, a 7-minute read.
1 big thing: Beijing's grip on Hong Kong tightens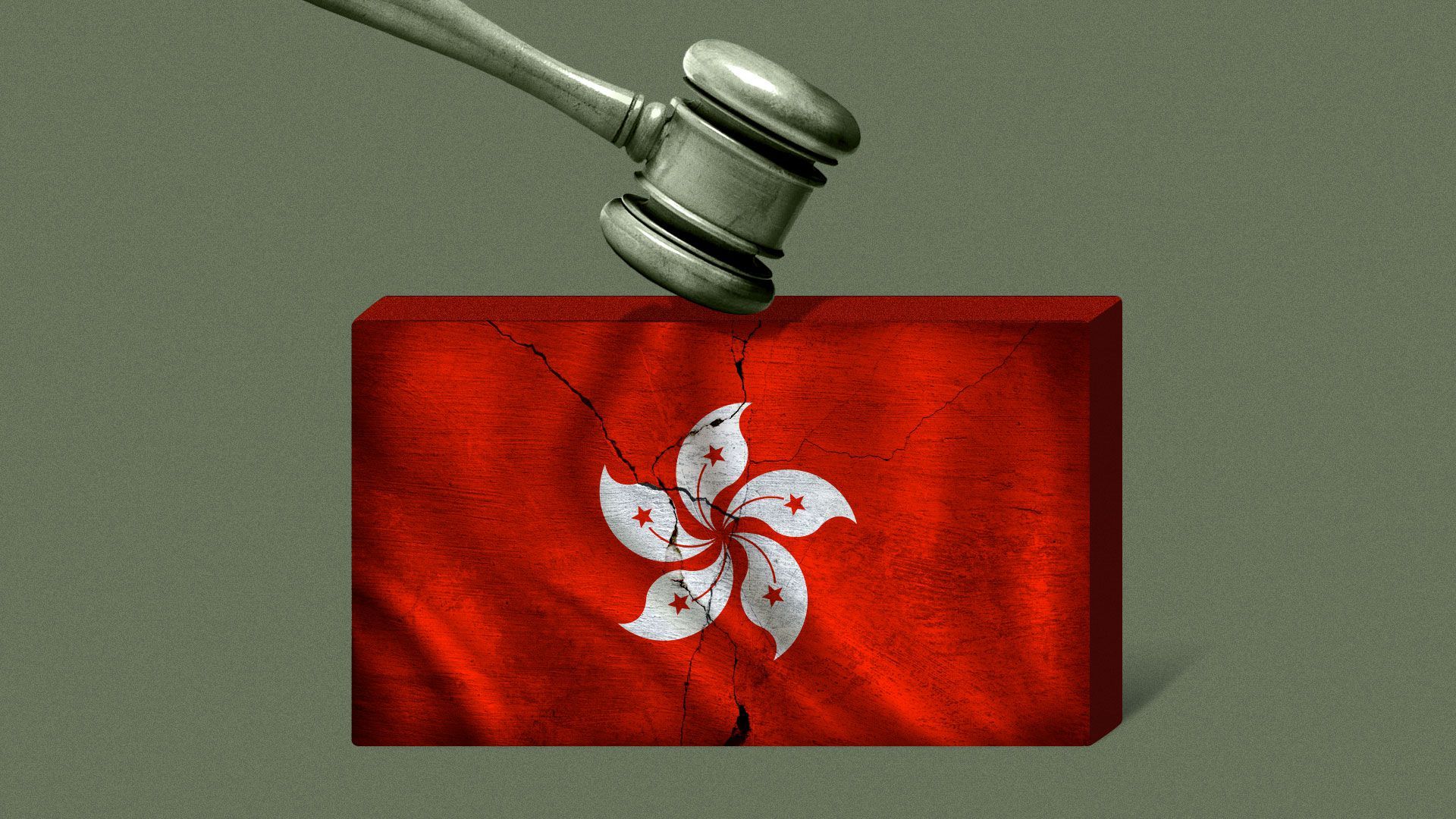 From press freedom to the judicial system, Beijing is seeking to erode the traditional political rights that once made Hong Kong the only free Chinese city.
The big picture: Hong Kong's pro-democracy movement has already been crushed, but the city's institutions are not yet as compliant as those in mainland China.
In 2020, Chinese authorities imposed tough national security legislation on Hong Kong that gave local authorities sweeping powers to detain and arrest people for broadly defined national security charges, making it nearly impossible for residents to push back against widening government repression.
What's happening: Hong Kong authorities are reshaping the city's judicial system to ensure a guilty verdict for pro-democracy media tycoon Jimmy Lai, who is on trial for "colluding with foreign forces" under the national security law, The Wire China reports.
Hong Kong has traditionally allowed foreign lawyers to represent defendants at trial. When Lai chose a British lawyer who doesn't face the same pressures as local lawyers, Hong Kong authorities appealed to Beijing to block the selection, and immigration authorities denied the lawyer a visa.
That appeal granted Beijing the power to block foreign lawyers from representing Hong Kong defendants in the future. A previous ruling in the lead-up to Lai's trial also gave the government power to deny him bail.
Hong Kong Chief Justice Andrew Cheung defended the city's judiciary last week, saying judges there "have all faithfully applied the law to the best of their ability, in accordance with the evidence presented before them."
Speech and press freedoms continue to deteriorate as well.
On Dec. 30, Hong Kong immigration authorities denied entry to a Japanese photographer who had photographed the 2019 protests in the city.
Six people were arrested last week for selling a book about the 2019 protests and other materials that authorities deemed "seditious."
What to watch: Hong Kong Chief Executive John Lee said last week that the Hong Kong government plans to enact a national security law in 2023 that will expand the range of activities prohibited under the current law.
2. One man's struggle to keep Islam alive in Taiwan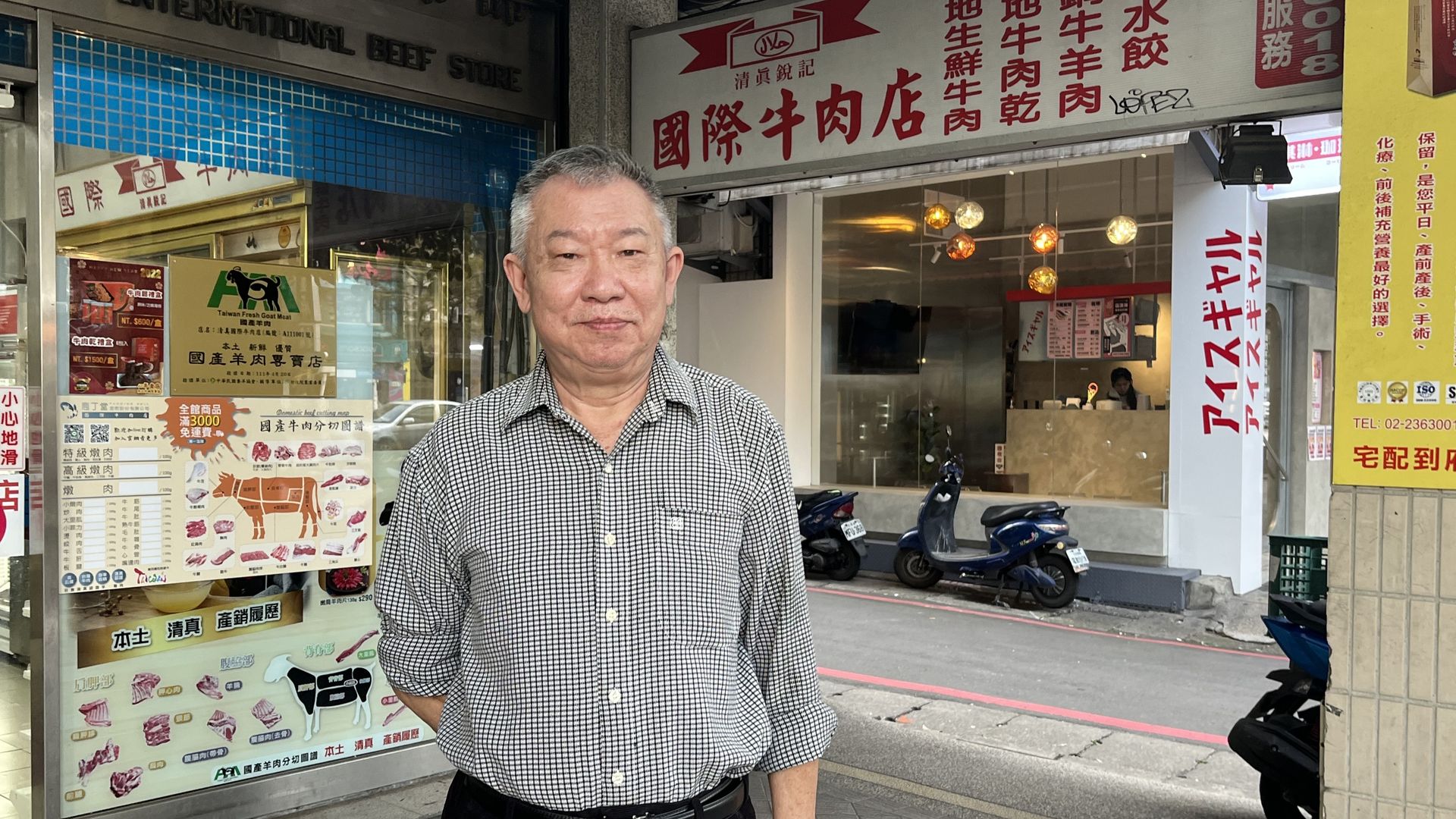 Fewer and fewer Chinese Muslims in Taiwan practice the religion of their ancestors. The grandson of a famous Chinese Muslim general is trying to keep the faith alive.
The big picture: Chinese Muslim communities in Taiwan are small and dispersed, which can make it difficult to transmit their traditions across generations. But a recent wave of migrants from southeast Asia have infused new vitality into Islamic life in Taiwan.
What's happening: Mohammed Ma, a member of Taiwan's Hui Muslim community, travels around Taiwan educating Muslims about the basics of Islamic practice. He's also a self-taught halal butcher and provides fresh Taiwan-raised halal meat and halal certifications for the handful of halal butcher shops in Taipei.
Ma's maternal grandfather is Bai Chongxi, one of the 20th century's most famous Hui Muslims, who served as China's minister of national defense from 1946 to 1948 before fleeing with Chiang Kai-shek to Taiwan in 1949. Bai is also revered among Hui Muslims for founding numerous Hui associations.
The resemblance between Ma and his grandfather is striking, and he seems to take his grandfather's legacy seriously. He serves as chairman of Taiwan's Hui Association, as well as a supervisor with the Association of Muslim Life Support Taipei.
What he's saying: When Hui Muslims came from China, "they dispersed around Taiwan rather than forming concentrated communities," Ma told Axios in an interview. Many intermarried with members of the majority Han ethnic group. Three or four generations later, many of their descendants don't know the basics of Islamic practice, Ma said.
So Ma holds classes teaching Muslims in Taiwan about what is "halal" (permitted) and "haram" (forbidden) in Islam.
He also serves as an informal social worker for Muslims here, including many migrants, when they face troubles at home or with the authorities.
"Most of what the Quran teaches is about relationships between people. ... So when Muslims here are having problems, they come find me and ask me to help," Ma said. "People call me their Muslim dad."
Background: Around 40,000 Hui Muslims fled China to Taiwan in 1949. Most were soldiers and generals from China's central and northwest regions, where Hui Muslims are concentrated.
The Hui are an ethnic group unique to China. They trace their ancestry back to Persian and Arab merchants and militias that arrived in China's northwest about a thousand years ago and intermarried with local Han Chinese women.
Several Hui Muslims feature prominently in Chinese history, including Zheng He, a 15th-century admiral who led huge fleets on expeditions around southeast Asia and India, sailing as far as the Horn of Africa and perhaps, some historians argue, even to California's coast.
But now, Ma said, there are now only about 20,000 people who identify as Hui in Taiwan.
"In Taiwan, the Hui population is too small to sustain a cultural group," Ma Haiyun (no relation to Mohammed; Ma is a common surname among Hui Muslims), a professor at Frostburg State University in Maryland whose research focuses on Chinese Muslims, told Axios.
"The good thing for the Hui Muslims in Taiwan is that they have a tolerant political and cultural environment," Ma Haiyun said, adding that in China, by comparison, Hui communities are much larger but Islam is tightly controlled.
Where it stands: Immigration is breathing new life into Muslim communities in Taiwan.
The Taipei Grand Mosque, the country's most famous Muslim house of worship, was built under Bai's supervision to accommodate the influx of Hui Muslims from China. But now most regular participants in Friday prayers there are Indonesian, Malaysian and Pakistani.
Today there are 11 mosques in Taiwan, several of which were founded to support new immigrant communities.
3. Catch up quick
1. The Biden administration has confronted Beijing with evidence that Chinese state-owned companies may be providing nonlethal aid to Russia for the war in Ukraine, Bloomberg reports.
It's not yet clear if Chinese government officials knew of this assistance.
2. Up to 80% of China's population has been infected with COVID, a top epidemiologist in China said over the weekend, Reuters reports.
3. Treasury Secretary Janet Yellen called on China to offer debt relief to struggling economies in her first speech on African soil. Go deeper.
Yellen's 10-day trip through three countries on the continent was intended to highlight what the U.S. can offer Africa.
4. Marvel Studios announced that "Black Panther: Wakanda Forever" and "Ant-Man: Quantumania" will be released in China next month — the first Marvel movies since 2019 to be allowed into Chinese theaters. Go deeper.
5. Video game giant Blizzard Entertainment suspended services in China amid an ongoing licensing disagreement with its local partner NetEase, meaning millions of Chinese gamers lost access to hit games like "World of Warcraft," CNN reports.
4. China's push for a more efficient workforce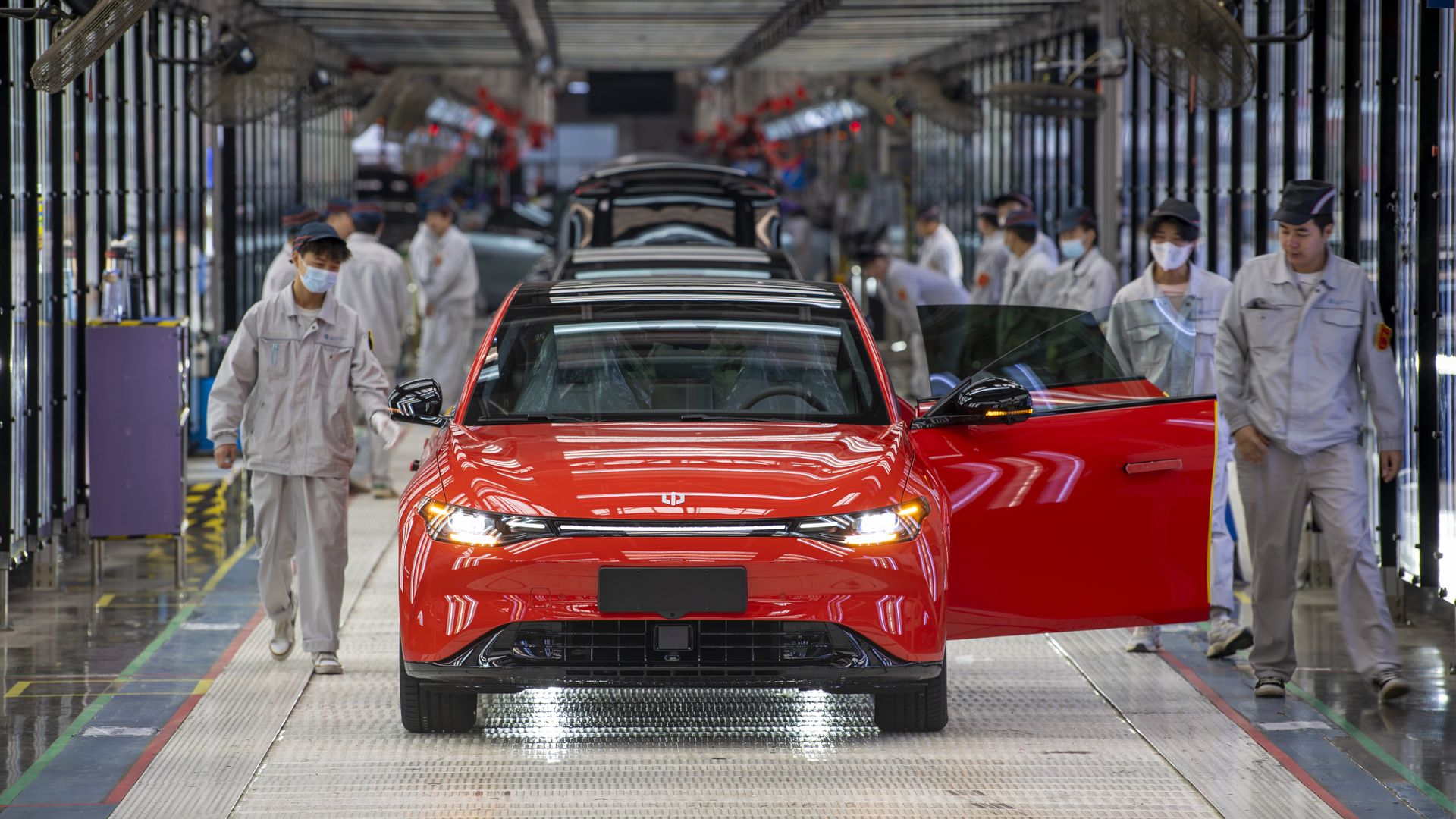 China's shrinking population highlights the need to build a more efficient and robust workforce, but analysts say that it won't be an easy task, Axios' Han Chen reports.
Why it matters: Harnessing the potential of existing workers will be key to maintaining economic productivity as the labor force gets smaller, experts say.
There are currently nearly 1 billion people of working age in China. By 2100, that number is projected to be less than 400 million, according to UN data last July.
Driving the news: Last week, China's National Bureau of Statistics released new data showing that the country's population shrank for the first time in more than 60 years.
What they're saying: "China's population decline means fewer people need to support more economic weight. Fewer people working the same jobs as before will not cut it," said Zak Dychtwald, founder of market insights firm Young China Group.
Jobs based on cheap labor are also expected to move out of China due to geopolitical tensions and as other countries like India become bigger manufacturing hubs, leaving a large swath of its population vulnerable to income loss, Dychtwald told Axios.
Technology is one key solution to both of these problems, said Joseph Chamie, an independent demographer and former director of the UN Population Division.
"Technology will play an increasingly important role in China's economic productivity," said Chamie, adding that robots could be an answer to aging societies.
State of play: Since 2017, the Chinese government has pushed the country to transition from "high-speed" to "high-quality" development. In its manufacturing sector, the government has prioritized the transition from making low-valued products to those based on advanced technology, which it hopes will drive economic growth in the future.
In 2020, the government also recommended delaying the legal retirement ages "gradually." In another document the following year, Beijing hinted that it could start implementing the measures nationwide by 2025.
Currently, the country has some of the lowest retirement ages in the world, with men retiring at 60 and most women at 55.
Analysts have argued that as China's population continues to age, it will create further strain on the country's already underfunded pension system.
What to watch: By 2030, up to 220 million Chinese workers may need to switch occupations due to automation, according to a McKinsey report in 2021.
5. What I'm reading
Dragnet: A group of friends attended a vigil in Beijing. Then one by one, they disappeared (CNN)
"The overall number of people detained in connection with the protests within China's notoriously opaque security and judicial systems also remains uncertain."
"What is known about these detentions, carried out quietly in the weeks after November 27, stands as a chilling marker of the lengths to which China's ruling Communist Party will go to stamp out all forms of dissent and free speech — and the tactics used to counter perceived threats."
Racism fears: The spectre of anti-Asian violence in the Monterey Park shooting (New Yorker)
"Waiting for details to emerge, there was the familiar apprehension and dread experienced by so many Asian Americans since attacks against them began to soar during the pandemic," writes Michael Luo.
Later, authorities "revealed that the suspect was an Asian male. So that, it seemed, was that. Apparently just another mass shooting in America, the latest evidence that the country is overrun by guns. I thought about the emotions that I'd just experienced. Had I been paranoid? Too quick to believe that a racial motivation might be the cause? I returned to the history in front of me."
6. 1 fun thing: In Vietnam, it's the Year of the Cat, not rabbit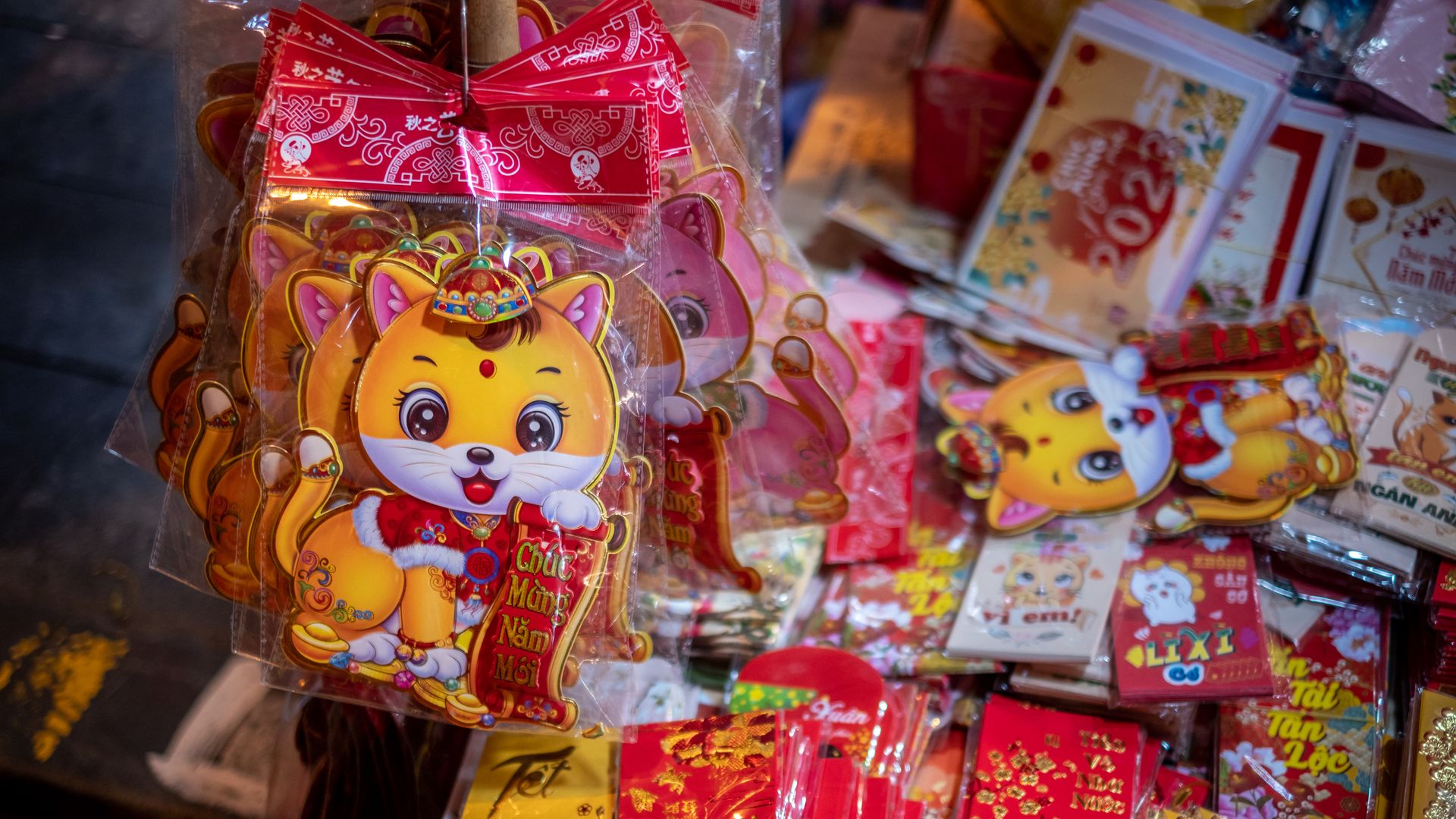 People in China, Taiwan, South Korea, and other communities across southeast Asia celebrated the arrival of the Year of the Rabbit this past weekend.
But in Vietnam, where the Lunar New Year is also observed, it's the Year of the Cat.
The other 11 animals in the Chinese zodiac make their usual appearance in Vietnamese tradition. How the cat came to replace the rabbit there is a bit of a mystery.
A big thank you to Alison Snyder for edits, Sheryl Miller for copy edits, and Han Chen for contributing.