Axios China
April 13, 2021
Welcome back to Axios China. Today we're looking at a big China bill in the Senate, the U.S.-Japan summit, cotton watchdog troubles, and a whole lot more.
Heads-up: The Axios app is 1 year old today. Download it here to get breaking news alerts, access Axios podcasts, and create your own custom news feed from over 25 channels.
If you're interested in world news, you can subscribe to my colleague Dave Lawler's Axios World newsletter for a twice-weekly tour of the globe.
Today's newsletter is 1,512 words, a 6-minute read.
1 big thing: Senate committee prepares sweeping China bill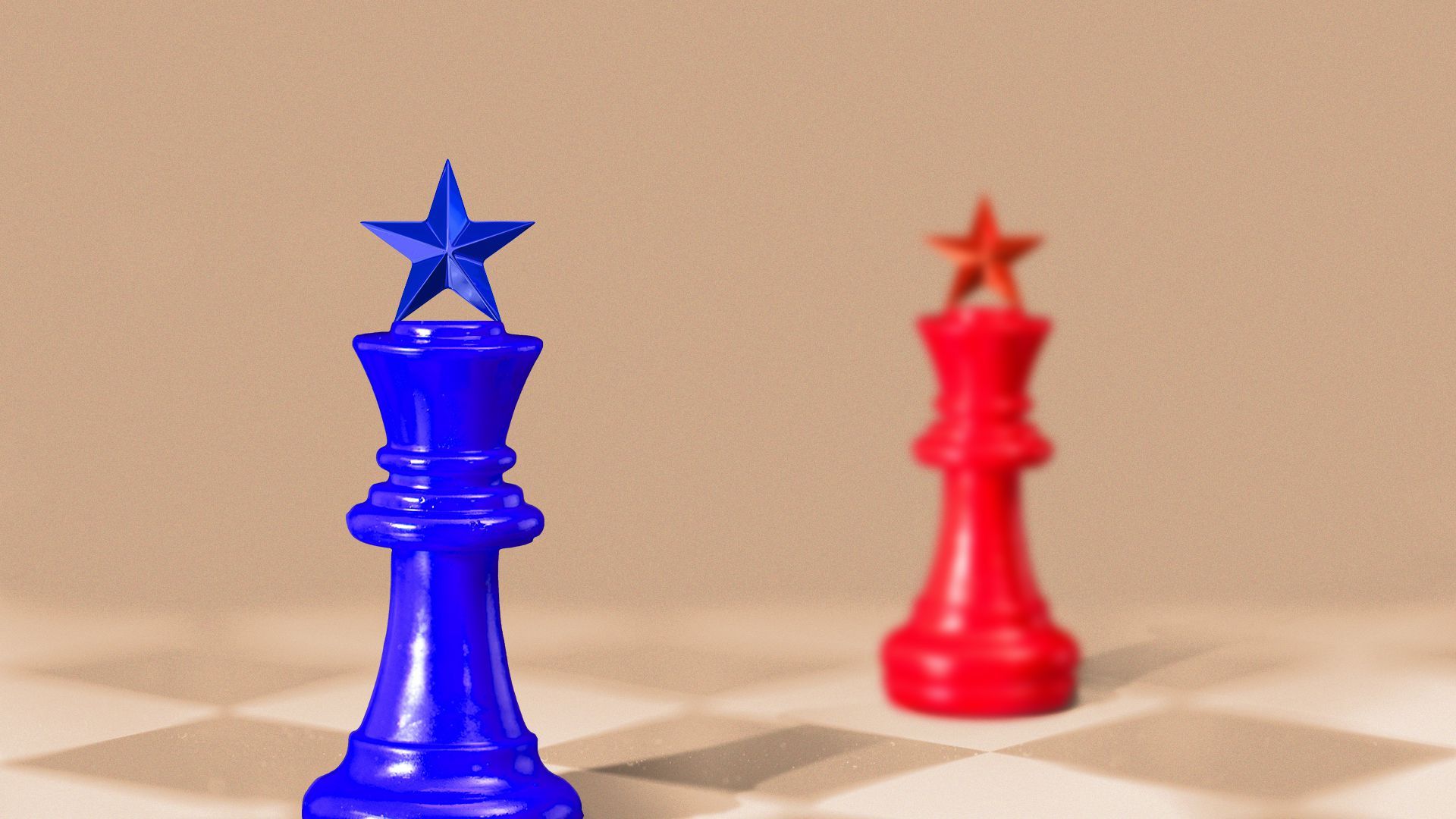 The Senate Foreign Relations Committee is preparing to vote on a 280-page bipartisan bill that aims to counter the Chinese Communist Party's global influence.
Why it matters: The bill marks a culmination of years of growing concerns over the rise of an increasingly authoritarian China. It would allocate hundreds of millions of dollars to a raft of new initiatives aimed at helping the U.S. succeed in long-term ideological, military, economic and technological competition.
What's happening: Senate Foreign Relations Committee Chair Bob Menendez (D-N.J.) and ranking member Sen. Jim Risch (R-Idaho) announced the "Strategic Competition Act of 2021" on April 8.
The committee is scheduled to vote on the draft bill on April 21. If it passes, it will head to the Senate chamber for further debate.
Details: The bill includes $655 million in funding for foreign militaries in the Indo-Pacific region and $450 million for the Indo-Pacific Maritime Security Initiative, which aims to ensure that the U.S. and its partners can operate freely in the region and address threats that arise.
Other new programs and allocations include:
$75 million for an ''Infrastructure Transaction and Assistance Network'' in the Indo-Pacific as a counterweight to China's Belt and Road Initiative.
$100 million for a ''Digital Connectivity and Cybersecurity Partnership," which would promote secure telecommunications and digital infrastructure in developing markets and promote U.S. exports.
$15 million to help U.S. companies exit the Chinese market, diversify their supply chains, and identify alternate markets.
$300 million for the ''Countering Chinese Influence Fund," to push back against the Chinese Communist Party's efforts to promote its authoritarian model abroad.
What they're saying: Menendez called the bill an "unprecedented bipartisan effort to mobilize all U.S. strategic, economic, and diplomatic tools for an Indo-Pacific strategy that will allow our nation to truly confront the challenges China poses to our national and economic security."
Lisa Curtis, director of the Center for a New American Security's Indo-Pacific Security Program and a former National Security Council director for south and central Asia, said the bill "shows that the U.S. is preparing itself for a whole of government comprehensive approach to meeting the China challenge."
Context: The Biden administration has made countering China's rising global authoritarianism a key focus.
In Washington, there is a high degree of bipartisanship around the idea that China under its current leadership poses a serious threat to U.S. values and interests.
Yes, but: Americans at large are more divided along party lines in their views of China, with 54% of Republicans viewing China as an "enemy" compared to 20% of Democrats, according to a recent poll from Pew Research Center.
Go deeper: Read the draft bill
2. Interview: Gen Nakatani on China and the U.S.-Japan alliance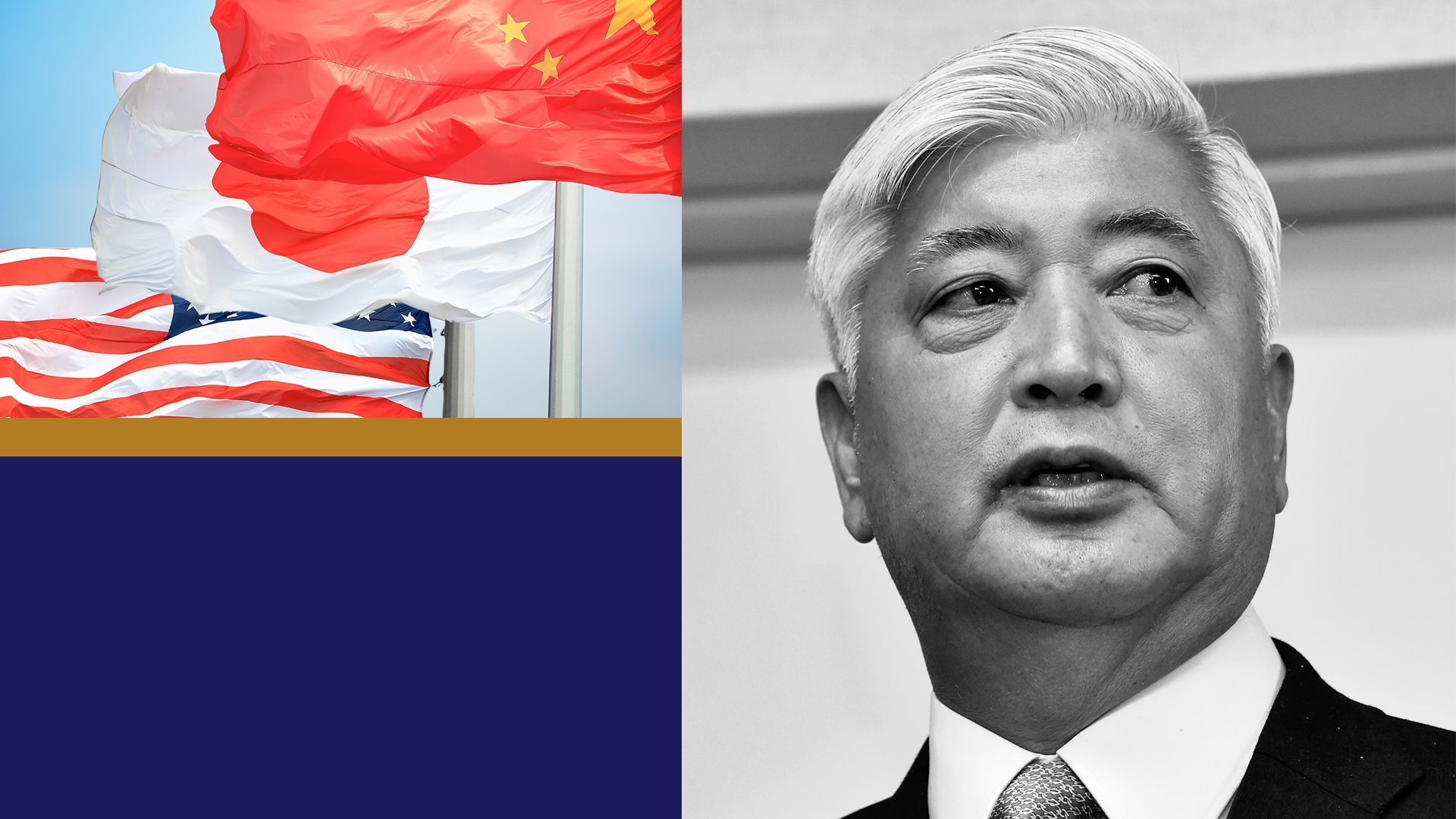 The U.S. and Japan should coordinate even more closely to check China's military rise, Gen Nakatani, a prominent member of Japan's House of Representatives and a former defense minister, told Axios in an interview.
Why it matters: Later this week, Japanese Prime Minister Yoshihide Suga will become the first foreign leader to visit President Biden at the White House, demonstrating the importance that the Biden administration is placing on the U.S.-Japan relationship.
Details: Nakatani is a co-chair of the Inter-Parliamentary Alliance on China, an international group of legislators from democratic countries focused on the challenge of China's rise. He is also the co-founder of the Japan Parliamentary Alliance on China.
What he's saying: "Japan's greatest concern about China is its growing military power," Nakatani told Axios. "The Japan-U.S. alliance should strengthen the maintenance of vigilant surveillance and deterrence through joint Japan-U.S. actions."
To address this challenge, Nakatani emphasized the importance of working together with regional partners who share common values, including the Quad, an informal grouping of four Indo-Pacific democracies — Australia, Japan, India and the U.S.
Nakatani said that with the new challenges facing the region, Japan should amend its pacifist constitution so that the country can shift from a focus on pure defense to "active Asian security."
On what to expect from the upcoming summit between Biden and Suga:
"The two sides will likely declare that they share common strategic goals and values, confirm specific policies and issues, and make a clear statement that they will maintain deterrence through the Quad with India and Australia."
Also likely up for discussion: cooperation on climate change; human rights diplomacy toward China; naval cooperation and freedom of navigation operations; missile defense; and economic and security topics such as space, cyberspace and 5G.
Driving the news: Japanese Foreign Minister Toshimitsu Motegi recently criticized China's human rights violations in Xinjiang, its Hong Kong crackdown, and its actions in the contested East China Sea.
But while Tokyo has been unusually outspoken on Xinjiang, it has not taken action.
"The Japanese government has never sanctioned human rights violations and is even hesitant to ratify the UN Genocide Convention," said Nakatani.
What to watch: The EU only recently created its own version of the Global Magnitsky Act to sanctions human rights abusers overseas, and Nakatani hopes that Japan will soon follow suit. "I will continue to spare no efforts in passing the Japanese Magnitsky Act," he said.
3. Catch up quick
1. Special climate envoy John Kerry plans to visit China ahead of Biden's climate summit. Go deeper.
2. The U.S. issued new guidelines to "encourage" government engagement with Taiwan. Go deeper.
3. China imposed a $2.8 billion antitrust fine on e-commerce giant Alibaba. Go deeper.
4. Biden asked Congress for $715 billion for the Department of Defense in part to "counter the threat from China." Go deeper.
5. Hong Kong democracy activist Nathan Law was granted asylum in Britain. Go deeper.
6. China warned of a "robust" response if the U.S. boycotts the 2022 Olympics in Beijing. Go deeper.
4. Xinjiang statement removed from cotton watchdog website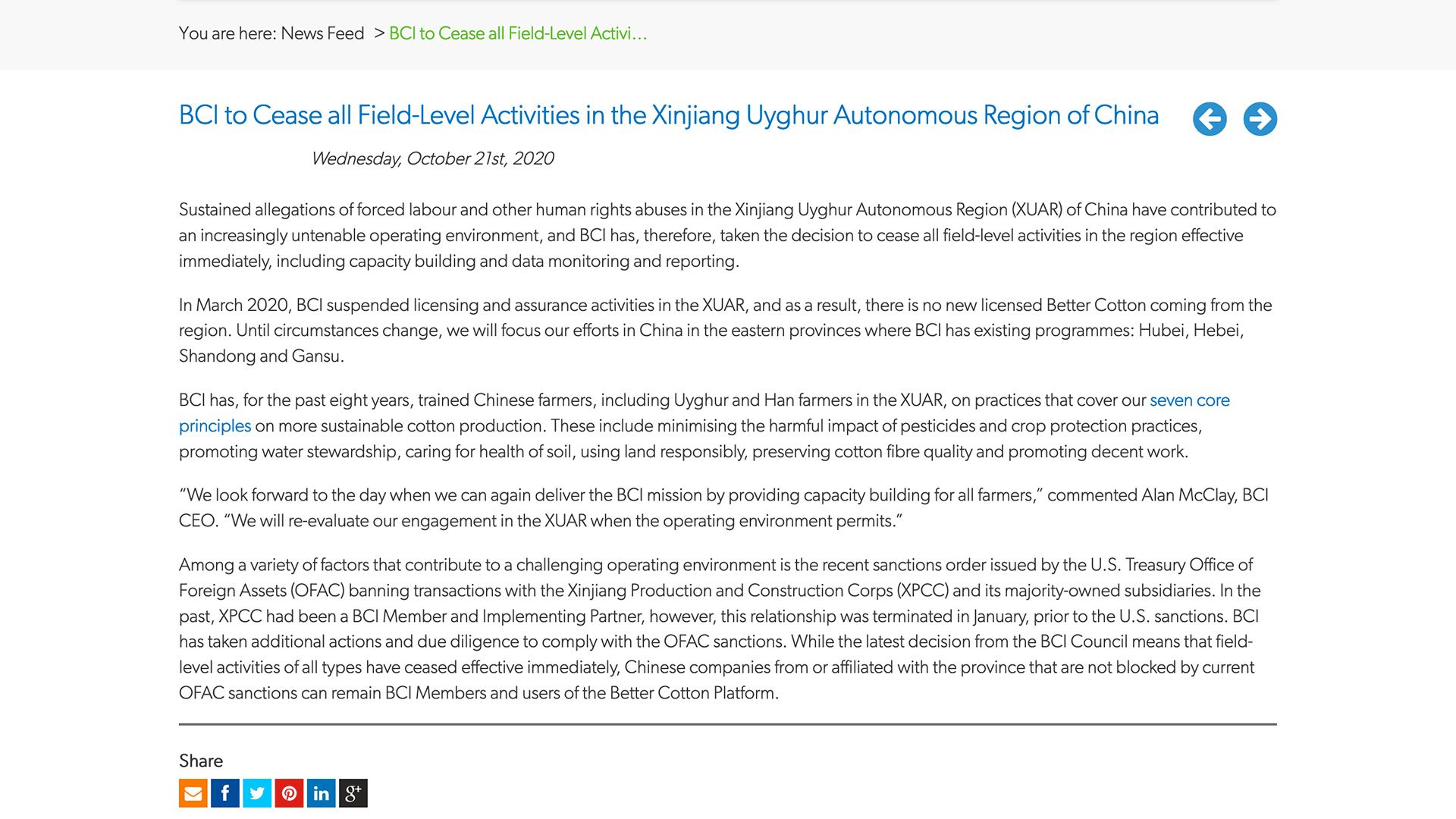 Last year, an international cotton watchdog organization announced it was ceasing all operations in Xinjiang amid reports of widespread forced labor. That statement has now disappeared from the organization's website as backlash grows in China against international attempts to boycott Xinjiang cotton.
The big picture: The Chinese government is pressuring foreign companies and organizations to stay silent on repression in Xinjiang, or in some cases, to even actively promote Xinjiang-made products.
What's happening: The Better Cotton Initiative (BCI), a Europe-based nonprofit, has recently faced pressure to rescind its October 2020 announcement that it was enacting a policy of "responsible disengagement" and pulling out of Xinjiang.
In late March, the Chinese state-affiliated Global Times ran a series of articles lambasting BCI for ceasing its Xinjiang operations.
On March 26, BCI's Shanghai branch said that it had found no evidence of forced labor in the Xinjiang cotton industry.
Driving the news: Major global clothing retailers including H&M and Adidas have recently faced a state-fanned consumer boycott in China over their previous statements disavowing Xinjiang cotton.
Background: A growing body of evidence indicates that hundreds of thousands of Uyghurs may be working under coerced conditions in the Xinjiang cotton industry, amid a campaign of repression including mass internment and forced sterilization of Muslim minorities.
The U.S. has banned imports of all cotton and tomato products from Xinjiang.
What they're saying: "We will not be providing input on this at the moment," BCI spokesperson Joe Woodruff told Axios in an email.
When asked in a follow-up email if BCI now believed there was no forced labor in the Xinjiang cotton industry and if BCI would be resuming operations there, Woodruff did not respond.
Go deeper: Global textile watchdogs struggled to raise alarms in Xinjiang
5. What I'm reading
Double-edged sword: China's sharp power exploitation of emerging technologies (National Endowment for Democracy)
In its export of new technologies, the Chinese Communist Party "does not distinguish basic public goods, like traffic safety or the prevention of violent crime, from the authoritarian suppression of pluralism and dissent. Instead, it blends the two together," writes Samantha Hoffman of the Australian Strategic Policy Institute.
China as a "cyber great power": Beijing's two voices in telecommunications (Brookings)
Rush Doshi, a current China director on the National Security Council, is one of the co-authors of this report.
To boycott or not to boycott: Americans are divided over boycotting the 2022 Beijing Olympics (Washington Post)
"Half of Americans (49 percent) favor an Olympic boycott, while nearly as many (46 percent) are opposed. And while partisanship colors Americans' view of a boycott, the survey reveals a narrower gap than on many other China-related issues."
6. My summer reading list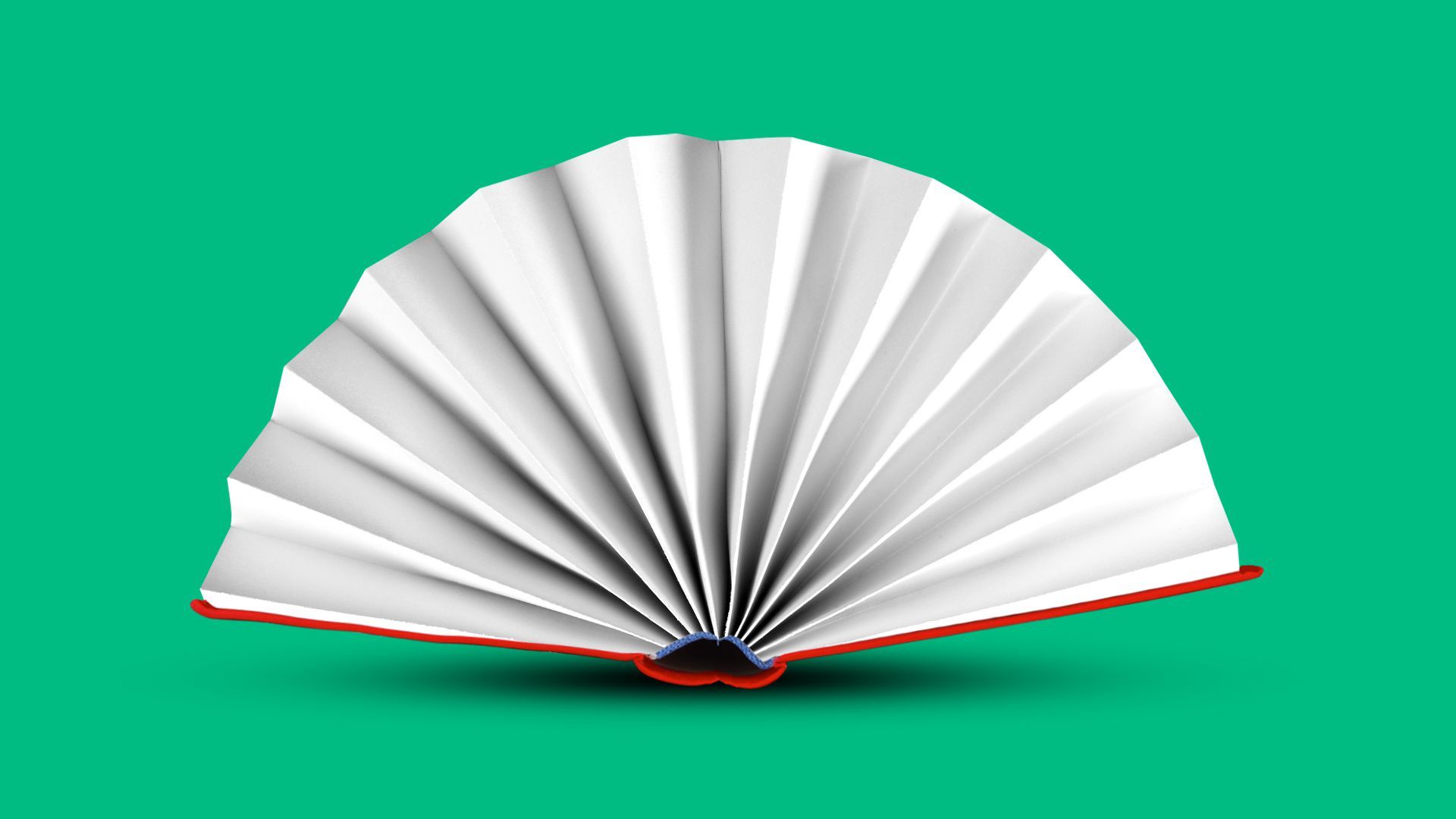 Thanks to Axios China subscribers for your recent reading recommendations. Here are a few books I plan to read this summer.
Expect to see a few of these featured in upcoming Axios China newsletters!
Chinese Antitrust Exceptionalism: How the Rise of China Challenges Global Regulation (Oxford University Press, May 2021)
By Angela Huyue Zhang, director of Centre for Chinese Law at the University of Hong Kong.
China's Civilian Army: The Making of Wolf Warrior Diplomacy (Oxford University Press, May 2021)
By Peter Martin, Bloomberg journalist.
I'm currently reading this. Axios China subscribers can expect a review in an upcoming issue.
Land of Big Numbers (Mariner Books, February 2021)
By Te-Ping Chen, Wall Street Journal reporter and former China correspondent.
I've already read this collection of short stories, and yes, all the reviews are true — it's stunning.
Winter Pasture: One Woman's Journey with China's Kazakh Herders (Distributed by Penguin Random House, February 2021)
By Li Juan.
This is the official English translation of a work of travel writing already quite popular in China.
P.S. There are several great newsletters that have recently launched that specialize in China's engagement with a particular region of the world. For those of you with particular regional interests, here they are: