We are heading into a three day weekend, so today's newsletter is a bit shorter than normal, as I assume many of you will be enjoying the start of summer.
Thanks for reading, and if you want a daily and deeper look at China, please check out my daily Sinocism China Newsletter and follow me on Twitter @niubi.
https://www.axios.com/newsletters/axios-china-241f3342-53a5-479d-bb49-5f5def2ce9d8.html?chunk=0#story0
1 big thing: Why China wants Trump and Kim to talk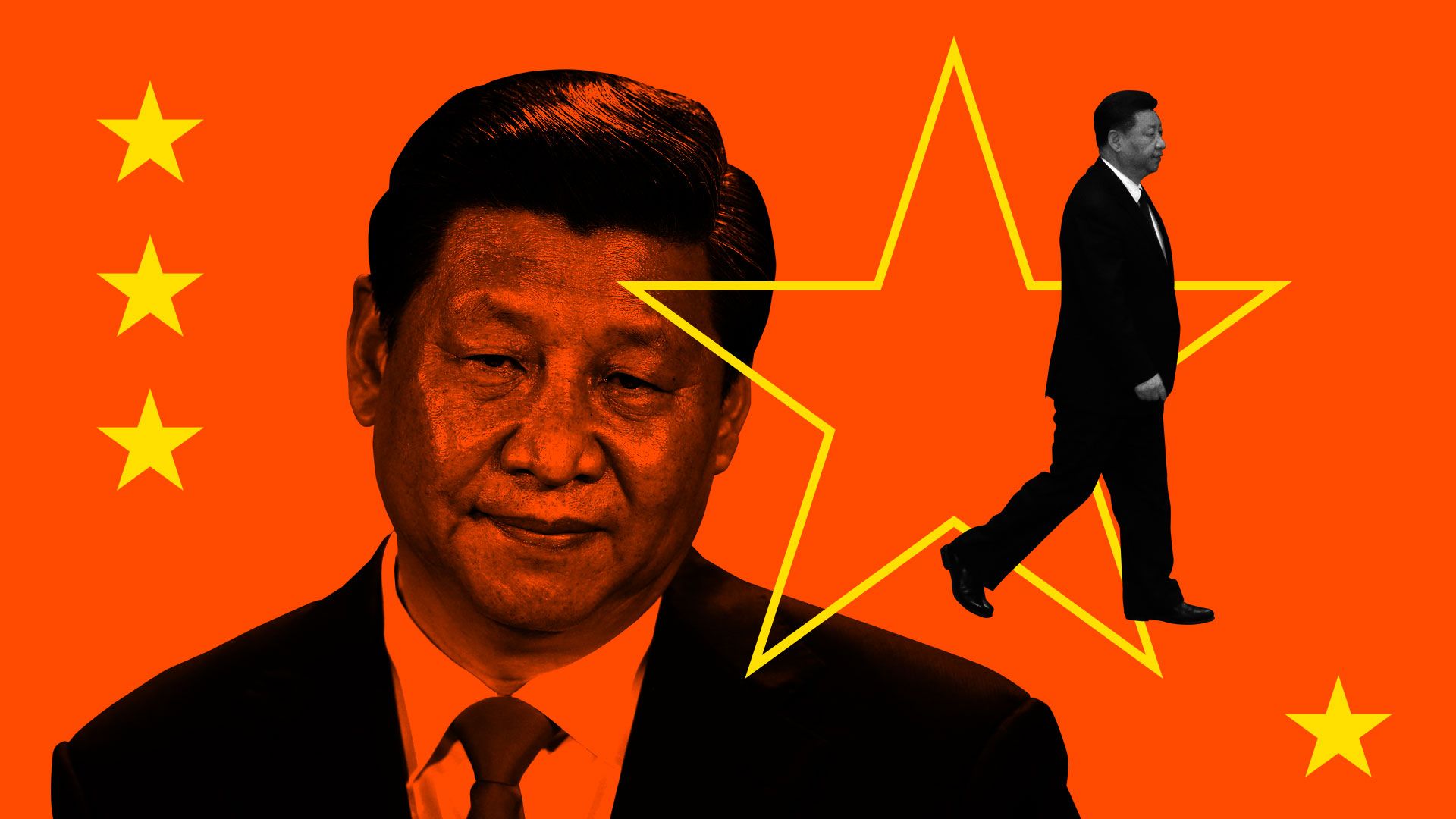 President Trump's decision to cancel the North Korea summit is bad news for China — because it's in China's interest for Trump and Kim Jong-un to talk.
What's next: If the summit is truly off, the U.S. will likely double down on pushing for strict implementation of all UN sanctions and continue the "maximum pressure" campaign to squeeze North Korea into submission. China has only joined those efforts reluctantly, and has been hoping they would ease off with the Trump-Kim dialogue.
The intrigue: Trump said this week that he believes Kim's attitude towards the summit changed after Kim's meeting with Xi Jinping in early May.
The official Chinese coverage at the time made it clear that Kim was not planning on immediate, complete, verifiable and irreversible denuclearization. As Xinhua noted in its May 8 report:
Kim expressed the hope that the DPRK and the United States would build mutual trust through dialogue and relevant sides would take phased and synchronous measures in a responsible manner so as to comprehensively advance the political settlement of the Korean Peninsula issue and eventually achieve denuclearization and lasting peace on the peninsula.
The big picture: If the talks really are off, and Trump believes Xi helped derail them, expect a further downward turn in U.S.-China relations. Trump has deferred tougher actions against China across a range of issues, including trade and the South China Sea, in the hopes of securing China's cooperation to solve the North Korea situation.
A tougher approach might include (but not be limited to):
A scrapping of many of the concessions on tariffs.
Renewed threats of U.S. sanctions against Chinese banks and state-owned oil companies if the "maximum pressure" campaign against North Korea is not maintained.
More robust U.S. efforts in the South China Sea to push back on China's expansion there.
A visit to Taiwan by National Security Adviser John Bolton.
https://www.axios.com/newsletters/axios-china-241f3342-53a5-479d-bb49-5f5def2ce9d8.html?chunk=1#story1
U.S. disinvites China from major naval exercise
The Pentagon has withdrawn China's invitation to the Rim of the Pacific (RIMPAC) exercise in Hawaii due to China's expansion and militarization in the South China Sea. Department of Defense spokesman Marine Lt. Col. Christopher Logan explained:
"The United States is committed to a free and open Indo-Pacific. China's continued militarization of disputed features in the South China Sea only serve to raise tensions and destabilize the region. As an initial response to China's continued militarization of the South China Sea we have disinvited the PLA Navy from the 2018 Rim of the Pacific (RIMPAC) Exercise. China's behavior is inconsistent with the principles and purposes of the RIMPAC exercise...
"We believe these recent deployments and the continued militarization of these features is a violation of the promise that President Xi made to the United States and the World not to militarize the Spratly Islands."
Why it matters: China's participation in RIMPAC was seen as a confidence-building measure to improve communications between the U.S. and Chinese militaries. The goal was to lower the risk of misunderstandings and accidents between the two navies, since they're both operating on the high seas.
The bottom line: The rescinding of the invitation is another sign of the deepening tension in the U.S.-China relationship.
Go deeper: Reuters reports on a new satellite survey that shows the construction of hundreds of buildings on Subi Reef in the contested South China Sea, structures that could house hundreds of Chinese troops.
https://www.axios.com/newsletters/axios-china-241f3342-53a5-479d-bb49-5f5def2ce9d8.html?chunk=2#story2
Taiwan loses another diplomatic ally
Burkina Faso terminated formal diplomatic relations with Taiwan on Thursday, the second country to dump Taiwan in a month. Taiwan now has official diplomatic relations with only 18 countries, including the Vatican.
Burkina Faso has not announced that it has formally established relations with China, but that's likely to be just a matter or time.
Taiwan President Tsai Ing-wen is not happy. At a press conference Thursday, she said:
"The series of outrageous maneuvers from China intended to diminish Taiwan's sovereignty has crossed a red line for Taiwanese society,"
"We will no longer tolerate (such actions). We will only be more determined in efforts to connect with the world and establish meaningful partnership with like-minded countries"
Why it matters: Beijing is increasingly constricting Taiwan's international space, from poaching allies to forcing multinational firms operating in China to change their websites to reflect Beijing's view of Taiwan's status. Expect the growing pressure to spark a backlash inside Taiwan as well as in the U.S. Congress and the Trump administration.
https://www.axios.com/newsletters/axios-china-241f3342-53a5-479d-bb49-5f5def2ce9d8.html?chunk=3#story3
A sad end for a Beijing Cuckoo
Flappy McFlapperson, a Common Cuckoo that had been fitted with a satellite tracker as part of the Beijing Cuckoo Project — a project to tag and test cuckoo migration — sent her last transmission on May 17 from somewhere in Myanmar.
Flappy had thousands of followers in China and around the world, flew from Beijing to Africa and back, and was the subject of a front page New York Times article in 2016.
The Birding Beijing blog posted a heartfelt goodbye to Flappy earlier this week:
Flappy was an ambassador.  She linked the Great Wall with the Taj Mahal, Jaipur with Mogadishu and Cuihu Urban Wetland with the Arabian Sea.  As one loyal follower on Twitter remarked, her most recent position – and it seems final resting place – around 100km north of Mandalay and 30km east of the Irrawaddy River recalls Rudyard Kipling's "Road to Mandalay", the last words of which are:
"Oh the road to Mandalay,
Where the flyin'-fishes play,
An' the dawn comes up like thunder out China 'crost the Bay!"
RIP Flappy.
https://www.axios.com/newsletters/axios-china-241f3342-53a5-479d-bb49-5f5def2ce9d8.html?chunk=4#story4
Worthy of your time
Bloomberg — Taiwan Is Running Out of Friends Fast as China Turns the Screws
The New York Times — Chinese Legal Maverick, Facing Political Gales, Bides His Time
Xinhua — Putin meets Chinese vice president Wang Qishan on ties
Sinica Podcast — Talking trade and tech with Yasheng Huang
The Daily Beast — Trump Adviser Peter Navarro Slams Steve Mnuchin as 'Neville Chamberlain'
Caixin — Secretive Financial Group Tomorrow Holdings Unloads $3.5 Billion Trust
Bloomberg — Volvo Is Better Than Ever Thanks to This Chinese Billionaire
China Daily — Xi: Audits to bolster clean governance
South China Morning Post — How Chinese mining in the Himalayas may create a new military flashpoint with India
Politico — How China acquires 'the crown jewels' of U.S. technology
The Sinocism China Newsletter — the "Presidential Daily Brief for China hands"