Axios China
September 20, 2023
Welcome back to Axios China. Today we're looking at the ouster of two top Chinese officials, China's smoking addiction, U.S. competitiveness and lots more.
Today's newsletter is 1,631 words, a 6-minute read.
1 big thing: Xi proteges fall as Beijing focuses on security risks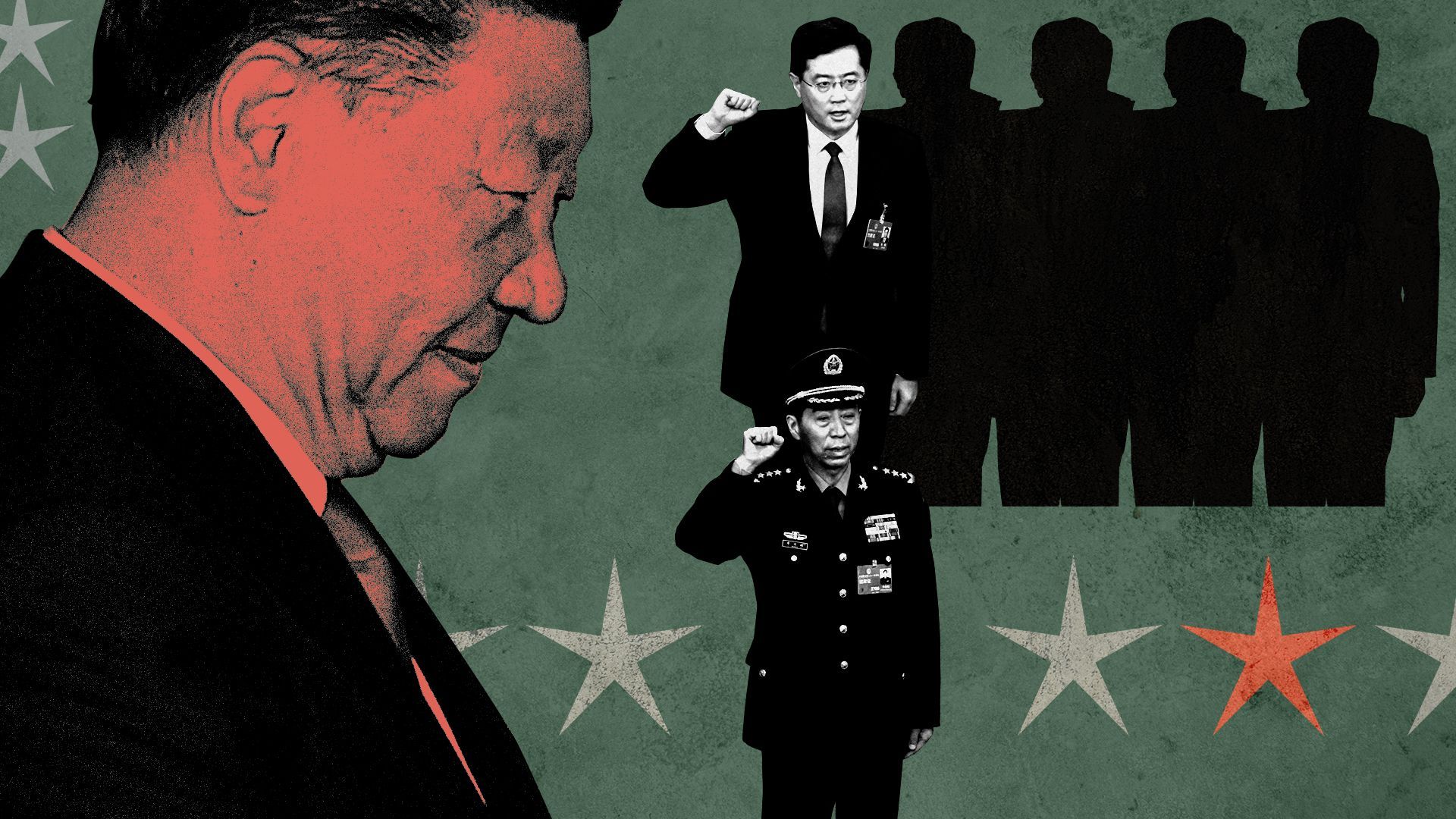 The ousting of two top Chinese government officials in under two months is the latest indication that the leadership in Beijing is increasingly fixated on eliminating security risks.
Why it matters: The Chinese Communist Party's growing preoccupation with stamping out perceived national security threats at home could undermine China's reputation abroad for stable leadership.
The turbulence in China's top ranks damages the aura of stability that the Chinese government has cultivated in comparison to the frequent elections and leadership transitions in democracies, Jacob Stokes, a senior fellow at the Indo-Pacific Security Program at the Center for a New American Security, told Axios.
But authoritarian systems "lack a set of rules around how transition happens related to individual people in the system," bringing its own form of unpredictability, Stokes said.
Driving the news: The CCP is reportedly investigating former Foreign Minister Qin Gang for an affair he had while serving as ambassador to the U.S., the Wall Street Journal reported yesterday. The affair reportedly led to the birth of a child in the U.S.
Rumors began swirling about Qin and his possible affair earlier this summer. In July, after Qin hadn't been seen in public for over a month, the Chinese government announced without explanation that he had been removed from his post.
Party leaders reportedly view the alleged affair and U.S.-born child as security risks that might affect Qin's loyalties and ability to carry out his duties on behalf of Beijing.
What's happening: The reported investigations of top former ministers come amid a major government push against foreign espionage.
In August, China's intelligence agency called on all citizens to report suspicious activity.
Cash rewards are being offered for information leading to the arrest of spies, and posters have appeared on the campuses of Chinese universities urging students to be vigilant, Bloomberg reports.
The Chinese Embassy in Washington did not respond to a request for comment.
Between the lines: China's diplomats have long faced suspicion back home due to their close contact with foreign governments and societies — but scrutiny seems to have intensified under Xi.
"Qin's abrupt removal reflects Beijing's heightened sensitivity to potential risks, real or imagined," Craig Singleton, senior China fellow at the Foundation for Defense of Democracies in Washington, told Axios.
"If a U.S. diplomat in China were to mirror Qin's alleged indiscretions, Chinese security services would almost certainly seize the opportunity for strategic gain," said Singleton, who added that Xi likely believes the U.S. could seek to exploit Qin's private life.
The big picture: In recent months, Xi has made a big push to promote China as the center of an emerging global governance intended to rival that of the West — an effort that could be undermined if Beijing isn't seen as reliable or steady.
What to watch: The U.S.-China diplomatic relationship so far doesn't seem affected by China's domestic turmoil. Washington and Beijing have maintained a schedule of high-level meetings in recent days despite the leadership shake-up.
In Malta over the weekend, U.S. national security adviser Jake Sullivan held two days of meetings with China's new foreign minister, Wang Yi, a seasoned diplomat.
Secretary of State Antony Blinken met Chinese Vice President Han Zheng on the sidelines of the UN General Assembly this week.
These meetings suggest the pieces could still be in place for a possible Biden-Xi meeting at APEC in San Francisco later this year, Stokes said, though Xi has not yet confirmed his attendance.
2. Report: How China's tobacco monopoly derailed anti-smoking efforts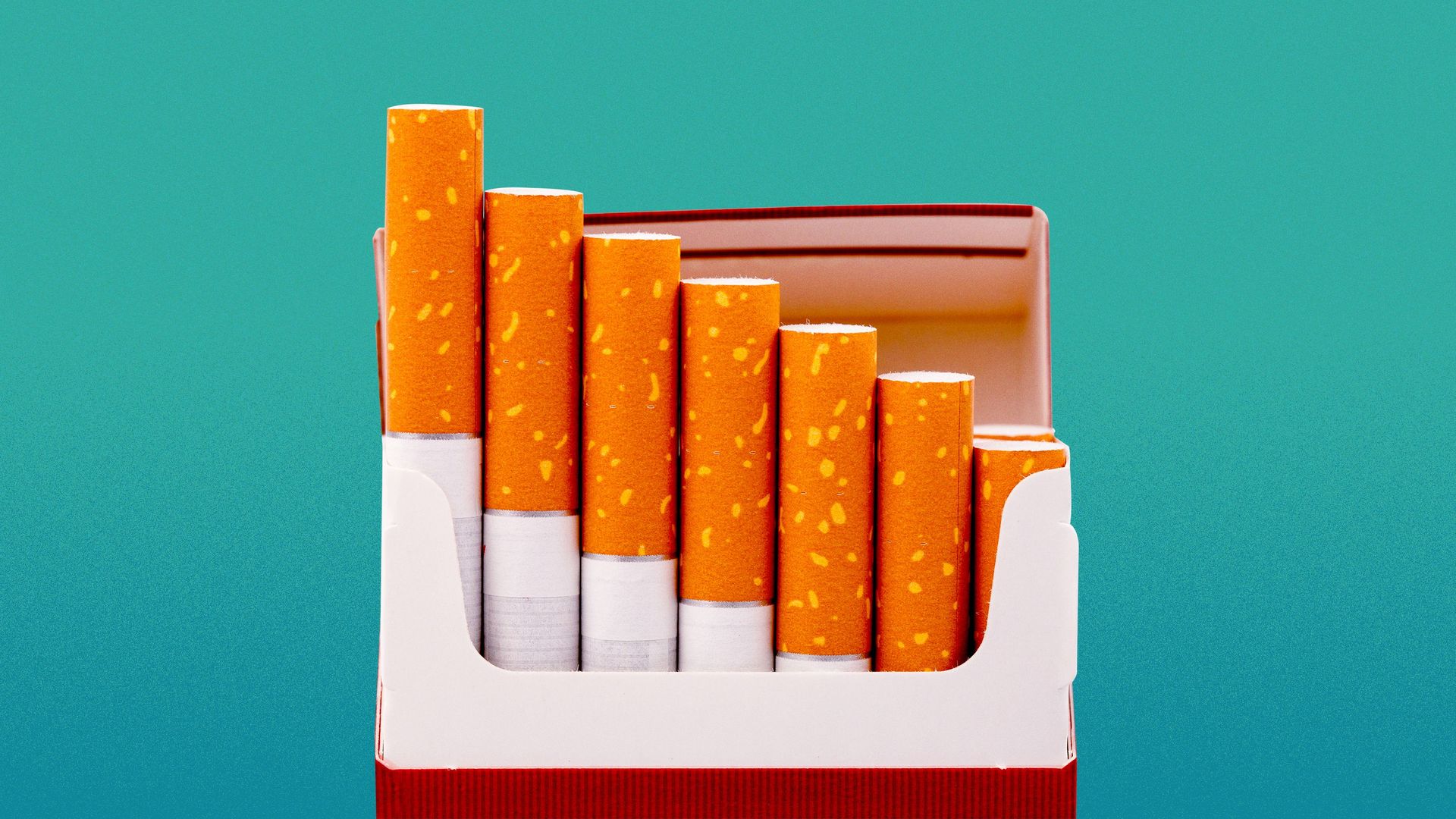 For the past 20 years, China's tobacco monopoly has used its political clout to stymie anti-smoking efforts in the country, according to a report by new investigative journalism outlet The Examination.
Why it matters: Smoking rates in China have remained high for years while cigarette use in countries around the world has dropped dramatically.
That has created "a smoking epidemic with increasingly dire consequences," The Examination reports. "Epidemiologists say smoking-related deaths will soar in coming years, straining the country's health system."
Details: The state-run China National Tobacco Corp., known as China Tobacco, is the world's largest tobacco company.
The company's leadership also sits atop the State Tobacco Monopoly Administration, the government's tobacco regulatory office — giving company executives broad influence over how tobacco is regulated.
Two decades ago, China signed on to the World Health Organization Framework Convention on Tobacco Control and promised to enact an indoor smoking ban and other smoking reduction measures.
But China Tobacco has blocked many efforts to enact bans or implement public campaigns to raise awareness of the risks of smoking,
By the numbers: China has about 20% of the world's population but consumes about half of the world's cigarettes, per the report.
2.4 trillion cigarettes are sold in China every year by China Tobacco, comprising 46% of global cigarette sales. Philip Morris International is a distant second, at 649 billion in global sales annually.
There are about 300 million smokers in China.
The bottom line: "Had China's tobacco use rate, which includes smoking, declined at the same rate as the rest of the world from 2005 to 2020, about 80 million fewer people in the country would be hooked on nicotine today," The Examination writes.
3. Catch up quick
1. U.S. business optimism about China's markets has fallen to a record low according to new survey data, Reuters reports.
Political tensions between the U.S. and China, worries about China's regulatory environment, and China's economic slowdown were top concerns.
It was the lowest level of confidence in the Chinese market since the survey was first introduced in 1999.
2. The Chinese government has suspended its controversial spy balloon program, U.S. officials believe, CNN reports.
3. U.S. climate envoy John Kerry and his counterpart Xie Zhenhua will co-chair the first local climate summit at the UN climate meeting in Dubai later this year. Go deeper.
The joint effort suggests climate change is still an area of potential cooperation despite growing tensions between the U.S. and China.
4. The Biden administration plans to deny Egypt $85 million in military aid and redirect much of it to Taiwan due to concerns about political prisoners and other human rights abuses in Cairo. Go deeper.
4. Lawmakers call to boost U.S. competitiveness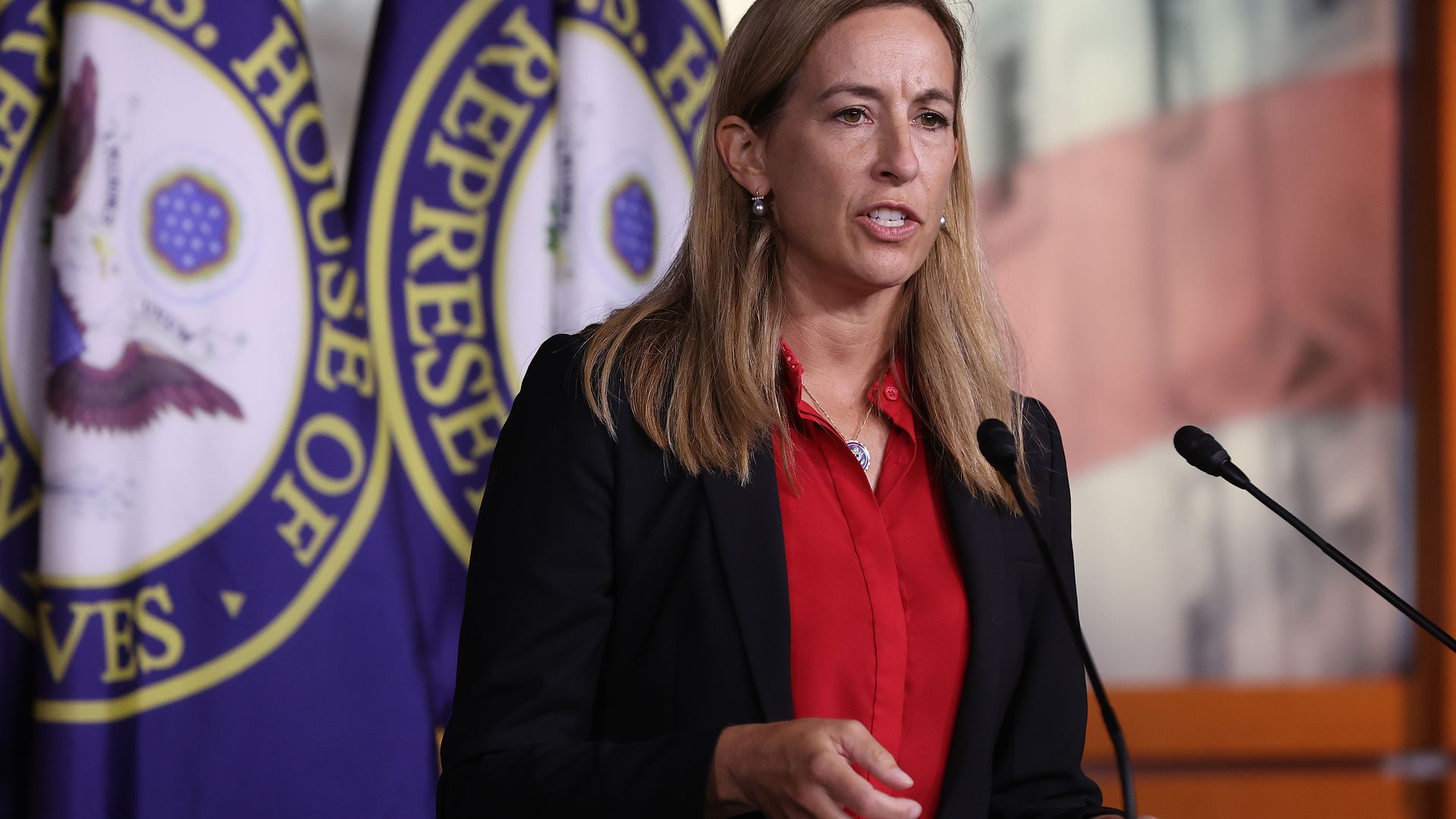 Several lawmakers from both sides of the aisle are calling for the U.S. to take stronger measures to push back against ongoing unfair trade practices and industrial espionage coming from China.
Why it matters: A year after the passage of the CHIPS Act, there's still bipartisan appetite in Congress for more action to promote U.S. technological competitiveness.
Driving the news: On Monday, Rep. Mikie Sherrill (D-N.J.) introduced the Leading Global Innovation Resolution, which calls for further action to counter Beijing's "Made in China 2025" plan for dominance in emerging technologies.
Both the chair and ranking member of the House Select Committee on the Chinese Communist Party signed on as co-sponsors of the resolution.
At a hearing on Tuesday, Rep. Brian Babin (R-Texas), a member of the House Science, Space, and Technology Committee, said that the CHIPS Act was a good step towards bolstering U.S. competitiveness but it needs better and more efficient implementation.
What they're saying: "There are fundamental challenges that must be overcome for the CHIPS programs to be a success," Babin said at the hearing.
"America cannot profit from trade and international collaboration if China and other nations are allowed to steal intellectual property or cutting-edge research. We cannot afford to settle for business as usual."
It's not just an issue of national strategic significance, Sherrill told Axios in an interview. "Unfair competition from the Chinese Communist Party has had real impacts locally," she said. "It's a New Jersey problem."
What to watch: Sherrill plans to introduce legislation in the coming months that will boost U.S. companies, give the Department of Commerce more tools to fight unfair trade practices and strengthen cooperation with U.S. allies.
"We need to more than simply pass resolutions going forward," Sherrill said. "We need to appropriate funding for research and development, for tech hubs, for the National Science Foundation," and other initiatives.
"These are the ways we are moving our economy forward."
5. What I'm reading
Fast train: Africa's biggest city is nervous about a Chinese-built metro system (Semafor)
"A new Lagos train service will need to buck the trend of poor maintenance that has blighted other Chinese-funded mass transit projects in Africa in order to provide a long-term solution to the Nigerian megacity's infamous transport problems."
Cultural genocide: The 1 million Tibetan children in China's boarding schools (New York Times)
Chinese government-run boarding schools where Tibetan children are only taught Chinese "house roughly one million children between ages 4 and 18, approximately 80 percent of that population. At least 100,000 of those children — and I believe there are many more — are only 4 or 5 years old," writes educational sociologist and Tibetan activist Gyal Lo.
"I met young Tibetan children who could no longer speak their native tongue. The schools strictly controlled parental visits. In some cases, schoolchildren saw their families only once every six months. Dormitories, playgrounds and teachers' offices were heavily surveilled. I saw security cameras installed in classrooms."
6. 🤝 1 local thing: Virginia opens trade office in Taiwan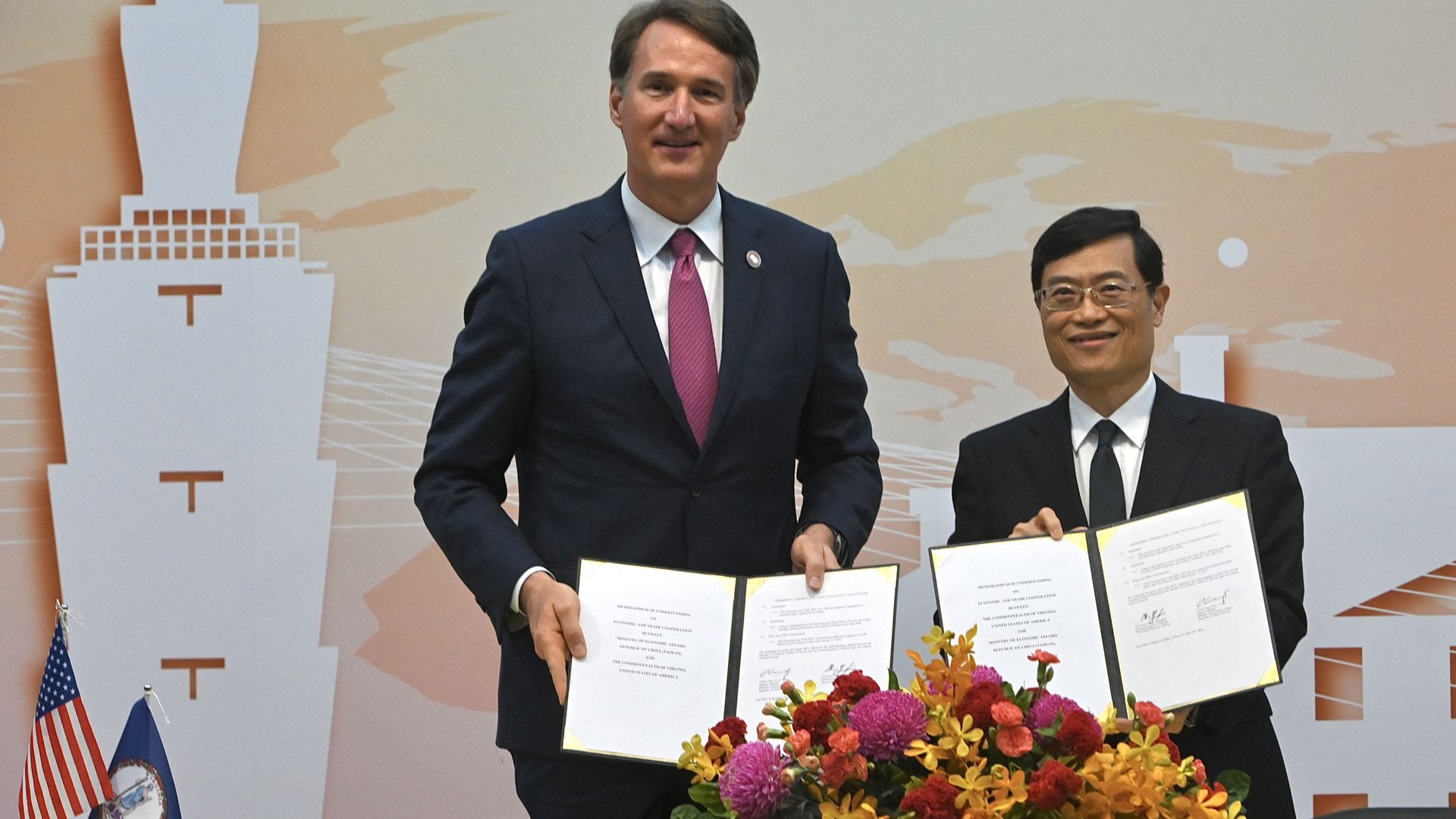 Virginia opened a trade office in Taiwan this week, after Gov. Glenn Youngkin signed an executive order in April creating the office, Virginia's VPM reports.
The big picture: The move comes amid growing interest from democracies in strengthening trade ties with Taiwan, which faces military and economic threats from neighboring China.
The U.S. recently signed a trade agreement with Taiwan, and several European countries have strengthened unofficial relations with the self-governing island.
Zoom in: Youngkin has also sounded the alarm in Virginia's General Assembly about economic and security challenges posed by China.
A big thank you to Alison Snyder and Laurin-Whitney Gottbrath for edits, Sheryl Miller and Carlos Cunha for copy edits, and the Axios visuals team.