Axios China
February 19, 2020
Welcome back to Axios China. This week, we've got exclusive comments from Mike Pompeo, how a Beijing think tank rated all 50 U.S. governors on their China views, and lots more.
Feel free to forward this newsletter to co-workers and friends who might be interested. They can sign up here. It's free. Like free free!
And follow me on Twitter @BethanyAllenEbr for news and updates throughout the week.
Smart Brevity count: 1,674 words, a 6-minute read.
1 big thing: China's military-civil fusion challenge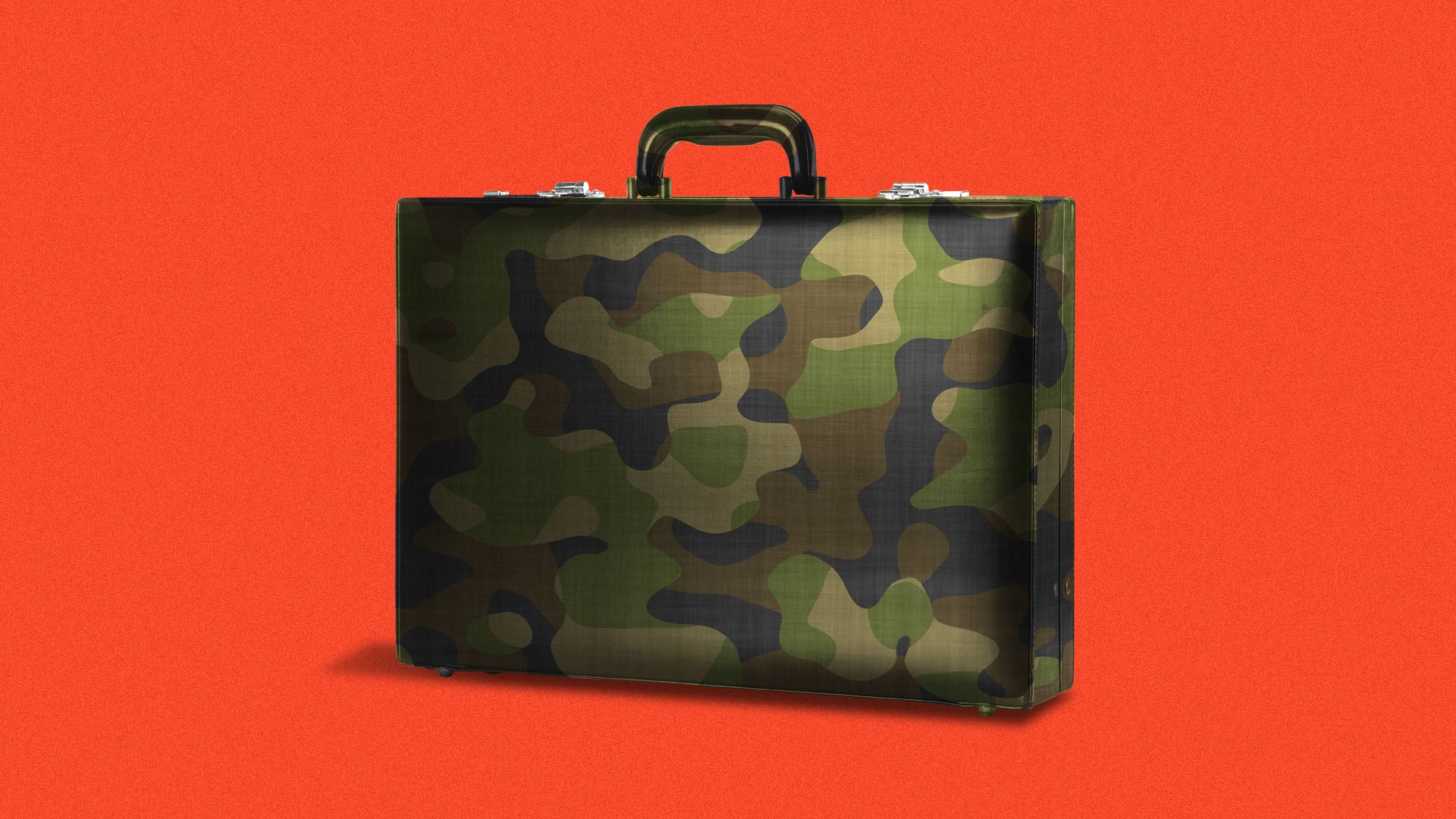 The U.S. government is sounding the alarm about China's military-civil fusion, a national strategy launched by Chinese President Xi Jinping to get China's private companies and defense sector to work together.
Why it matters: Such a strategy could threaten U.S. national security and the integrity of international collaborations. But Beijing has failed to implement it successfully in the past.
Driving the news: The FBI is working with U.S. universities and other research institutions to investigate researchers' ties to Chinese institutions through a Chinese government recruitment program known as Thousand Talents.
In January, the FBI arrested Charles Lieber, the chair of Harvard University's chemistry department, and charged him with making false statements about hundreds of thousands of dollars from Chinese institutions that he failed to disclose.
A major concern of the FBI is that Beijing is seeking to siphon off U.S. research and technology for military use.
What they're saying: "Under Chinese law, Chinese companies and researchers must — I repeat, must — under penalty of law, share technology with the Chinese military," Secretary of State Mike Pompeo recently said.
"We are very aware of and concerned with military-civil fusion. We understand that it is deliberately eliminating the barrier between the defense-industrial complex and the civil economy," said a senior government official in an interview with Axios.
China's defense industry has remained largely walled off from the vibrancy of the country's private sector, particularly its hugely successful tech companies, because of structural barriers in the economy.
That's held back China's military from Xi's goal of making it a world-class power.
It also means private companies aren't motivated to develop technologies that are useful to the military.
To address this problem, Xi made military-civil fusion an official national strategy and had the phrase "military-civil fusion" enshrined in the Chinese Communist Party constitution in 2017.
"Higher ranks of Chinese military are now very interested in 5G and other emerging technologies and see real military potential," said Lorand Laskai of Georgetown's Center for Security and Emerging Technology.
China views the U.S. military-industrial complex as a blueprint for its own strategy of civil-military fusion, but the U.S. government rejects the notion they are comparable.
But, but, but: Military-civil fusion in China may, in many cases, function in similar ways as the U.S. military-industrial complex, in which companies actively jockey for government partnerships and funding.
Many Chinese companies appear eager to work with the government and describe themselves in their materials as strongly supporting China's military-civil fusion, said Elsa Kania of the Center for a New American Security.
But major technology companies with global ambitions may be reluctant to cooperate with military-civil fusion because they have other priorities, such as seeking access to open markets, she said.
What to watch: Experts and government officials agree, however, that if fully implemented, China's military-civil fusion would force a fundamental rethink of how companies and research institutions engage in partnerships with Chinese counterparts.
"Conceivably, any academic partnership with a Chinese institution should be taking these concerns into account. But preventing or constraining collaboration on those grounds — I do worry about the effects on academic freedom and on the ability to sustain research collaborations that are mutually beneficial," said Kania.
"There are ways in which the Americans and Chinese are looking at each other through a glass darkly," she said. "There can be some distortions as a result."
2. Exclusive: Pompeo says new China media restrictions "long overdue"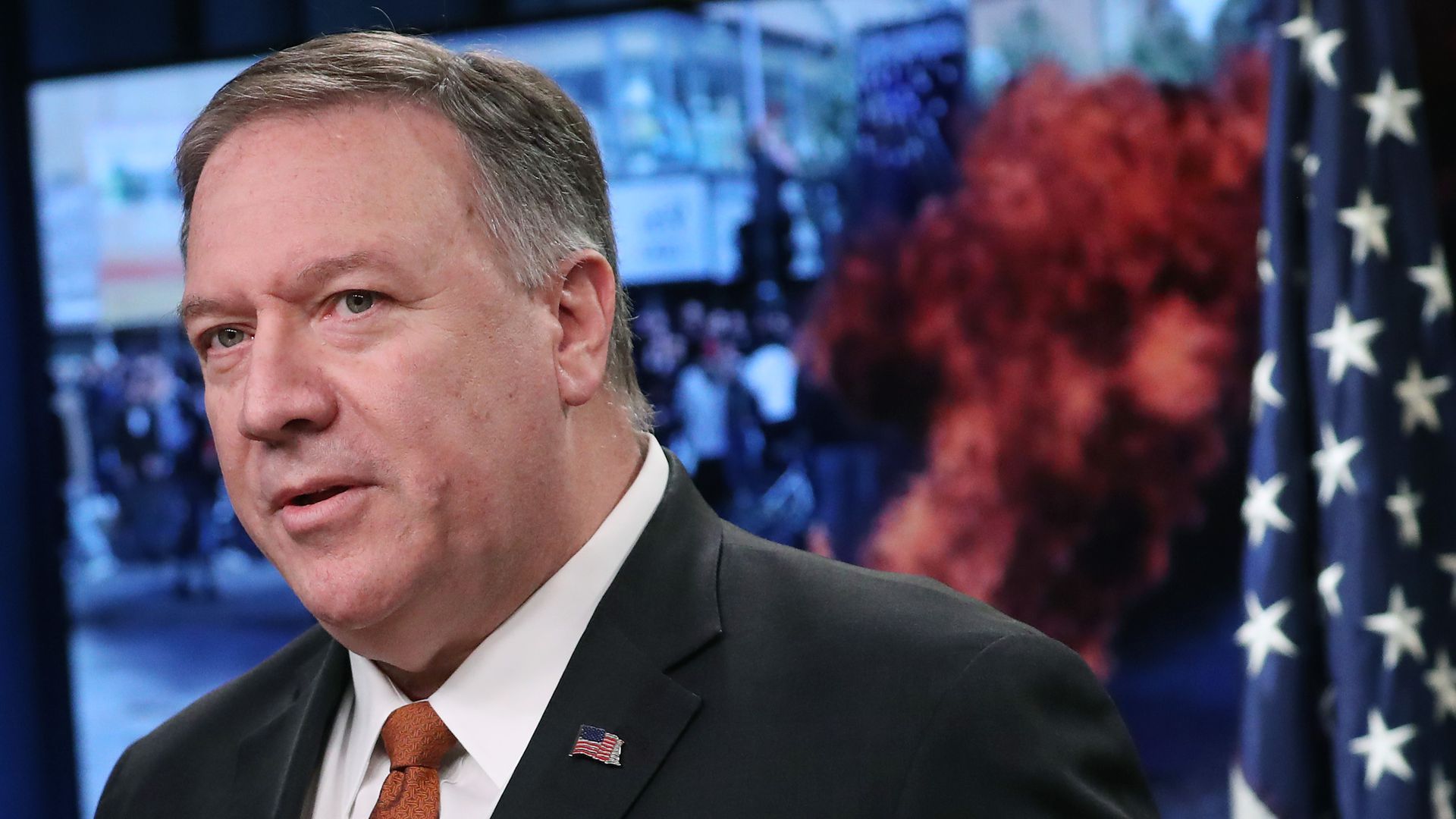 The State Department announced Tuesday it has designated five Chinese state media outlets as "foreign missions," meaning they will be treated as arms of the Chinese government.
Driving the news: In his first public statement on the new designation, Pompeo tells Axios it was "long overdue" and the five outlets are "clearly controlled by the [Chinese Communist Party], and we are simply recognizing that fact by taking this action."
The label applies to the U.S.-based operations of five Chinese state-funded news outlets — Xinhua News Agency, China Global Television Network, China Radio International, China Daily Distribution Corp., and Hai Tian Development USA.
Why it matters: It is the latest move by the Trump administration to pressure the Chinese government by applying similar restrictions on Chinese entities in the U.S. as Beijing places on American organizations in China.
"We are determined to treat China as it is, not as what we want it to be. In China, all media works for the Chinese Communist Party (CCP), as General Secretary Xi Jinping has explicitly stated."
— Mike Pompeo in a statement provided to Axios
Details: The label "foreign mission" means Chinese media outlets will now have to provide personnel rosters and information about their U.S. real estate holdings to the State Department.
It's also explicitly intended to move toward reciprocity.
"These propaganda organs operate freely within the open American system, while journalists inside of China face massive restrictions," said Pompeo. "We hope that the Chinese Communist Party will reconsider its treatment of journalists inside of China."
3. A Beijing think tank rated U.S. governors' views on China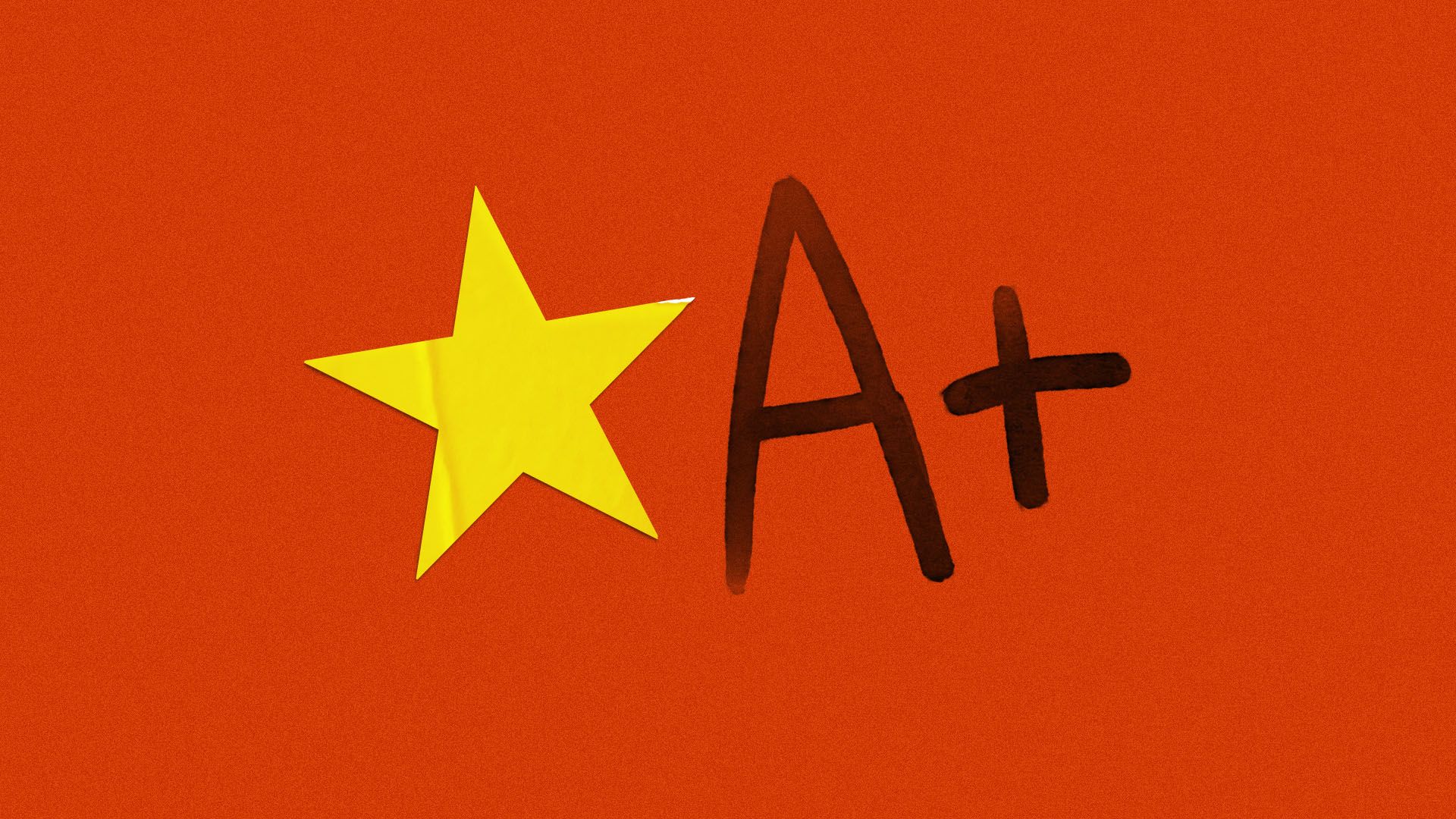 A Chinese think tank has rated U.S. governors and White House advisers on how "friendly" they are to Beijing in a series of reports analyzed by Axios.
Why it matters: Washington's sharp turn toward hardline policies on China means there's a strong push in Beijing to find alternate channels of engagement, especially via U.S. local government leaders.
Driving the news: Pompeo mentioned one of the reports in a Feb. 8 speech to the National Governors Association, in which he warned that the Chinese Communist Party is trying to influence U.S. state and local government decision-making.
The U.S. governors report, dated June 22, 2019, was published by D&C Think, a think tank based in Beijing, in collaboration with Tsinghua University.
It stated that while a hardline attitude toward China now prevails in Washington, the American federal system means that state-level governments may not be in lockstep.
"Governors can ignore orders from the White House," the report claimed, "and state governments can change or even cancel local governments such as cities, counties, and school districts."
State-level officials "enjoy a certain degree of diplomatic independence," the report stated.
The report's ratings of U.S. governors, which should be taken as subjective:
"Hardline:" six governors, including Andrew Cuomo (D-N.Y.), Mike Parson (R-Mo.) and Ron DeSantis (R-Fla.).
"Friendly:" 17 governors, including Eric Holcomb (R-Ind.), Janet Mills (D-Maine) and Jared Polis (D-Colo.).
"Unclear" or "no stated position:" all remaining governors, including Gavin Newsom (D-Calif.) and Greg Abbott (R-Texas).
The findings provide insight into how Beijing sees U.S. politics and its place in it.
The bottom line: China's state-funded research ecosystem is placing a growing emphasis on nuanced analysis of U.S. domestic politics amid Chinese government efforts to quietly reshape America's China policy from the ground up.
Go deeper:
Bonus: Ratings of senior White House advisers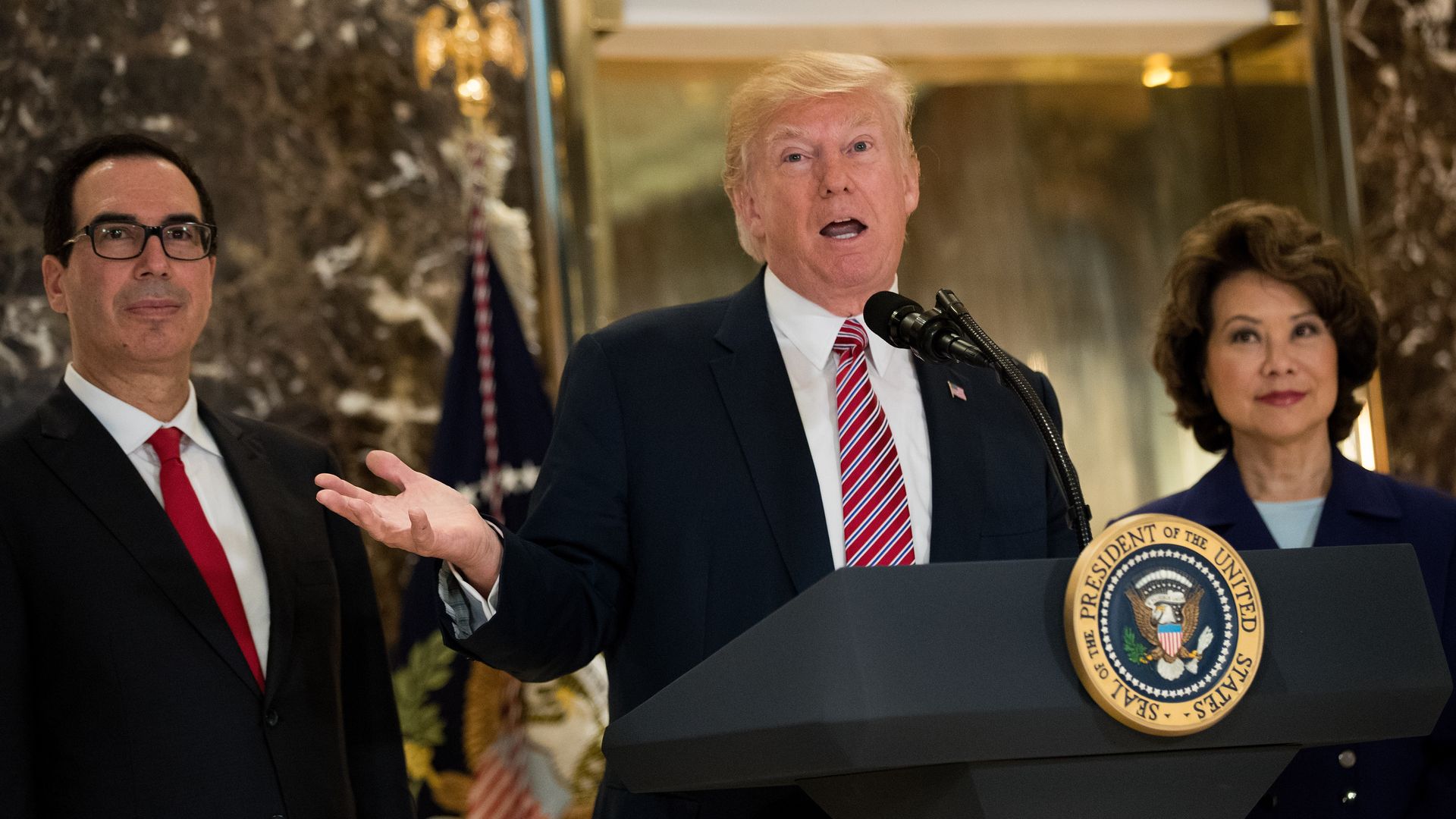 In a second report, dated June 29, 2019, D&C Think also examined the views of President Trump's top advisers on China.
Why it matters: The report's findings, while subjective, provide a glimpse into the increased emphasis that many in Beijing are placing on reading the tea leaves of the White House.
The think tank's researchers put forward the following conclusions:
A hardline attitude is not universal among top White House officials.
Three Cabinet positions in particular tend to have officials who hold friendlier views, in the report's estimation — the finance, agriculture and transportation secretaries (currently held by Steve Mnuchin, Sonny Perdue and Elaine Chao, respectively).
The trade war is primarily being pushed by officials in charge of strategy and national security, rather than those who are responsible for trade.
4. How coronavirus affects patients
In a new report, the Chinese Center for Disease Control and Prevention analyzed 44,672 confirmed COVID-19 cases and found that 80.9% of patients had mild symptoms, 13.8% experienced severe illness, and 4.7% were critically ill.
Of those in critical condition, nearly half died.
Go deeper: Coronavirus may be "at the brink" of a global epidemic
5. Economists warn coronavirus risk far worse than realized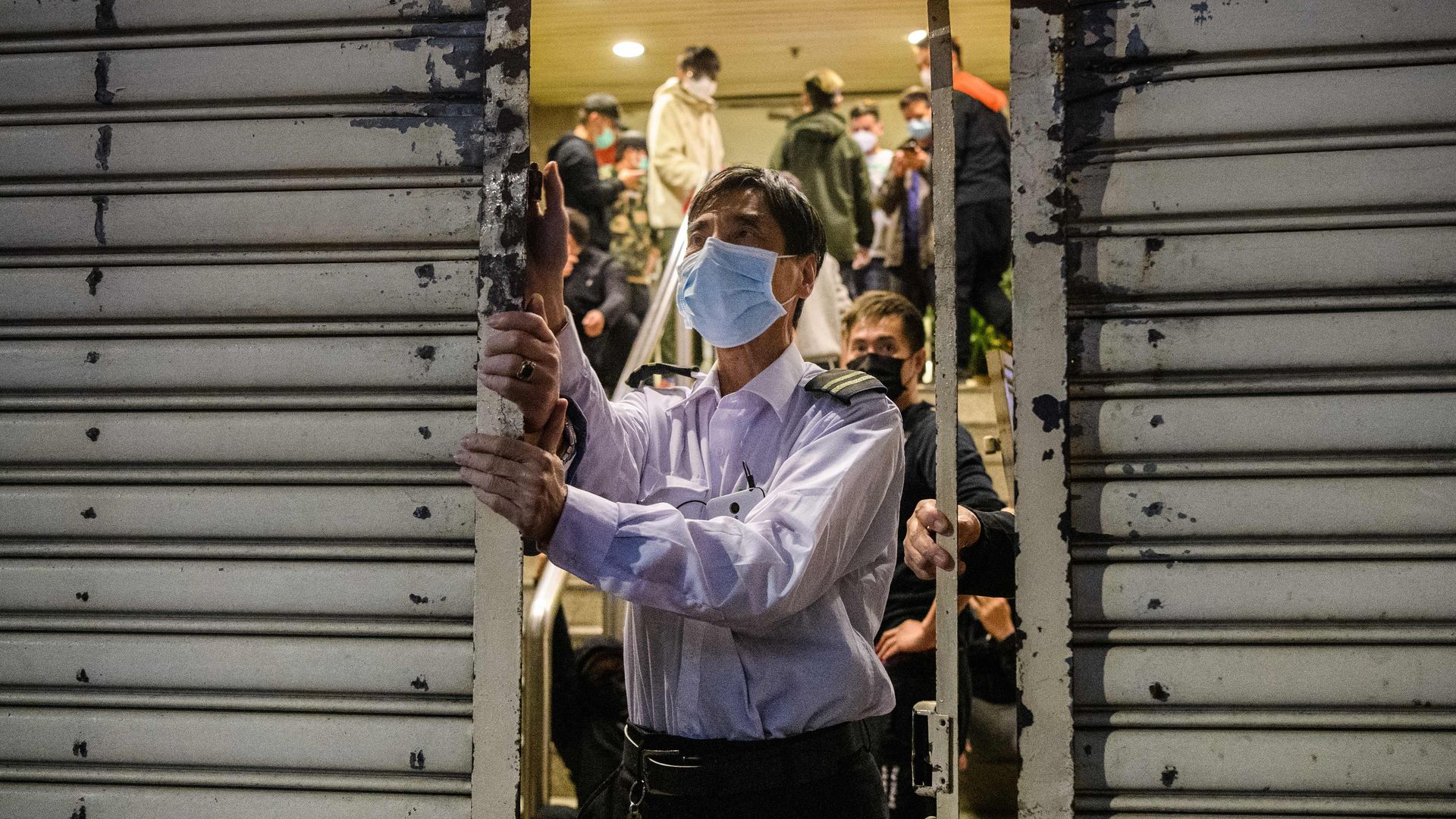 Worries are growing that the economic impact from the novel coronavirus outbreak will be worse than expected and that markets are being too complacent in factoring it in as a risk, Axios' Dion Rabouin reports.
What's happening: U.S. stock indexes have continued to hit all-time highs, bond spreads remain compressed, and even some Asian bourses have recouped losses that followed the initial coronavirus headlines.
Driving the news: Of the 364 companies that have held Q4 earnings calls, 138 cited the term "coronavirus" during the call, and about 25% of those included some impact from the coronavirus or modified guidance due to the virus, according to FactSet.
Apple was the latest, saying Monday it would not meet quarterly revenue expectations due to limited iPhone production and Chinese demand.
What they're saying: "This will eventually end badly. I have never in my career seen anything as crazy as what's going on right now," Scott Minerd, global CIO of Guggenheim Investments, writes in a note. "The cognitive dissonance in the credit market is stunning."
Minerd predicts that the "impact of all this on corporate profits and free cash flow will be dramatic," warning that China's first-quarter GDP could fall as low as -6% annualized in the first quarter and oil could drop to $25 a barrel.
The bottom line: "We are either moving into a completely new paradigm, or the speculative energy in the market is incredibly out of control," Minerd says.
6. What I'm reading
Bloomberg and Beijing: When Bloomberg News's reporting on China was challenged, Bloomberg tried to ruin me for speaking out (The Intercept)
Biosecurity state: How the COVID-19 epidemic and the government cleanup of its aftermath will probably lead to invasive new forms of surveillance (supchina)
Global dragnet: She escaped one of China's brutal internment camps for Muslims. Now she could be sent back. (BuzzFeed)
More Xinjiang leaks: Chinese government records reveal detailed surveillance reports on Uyghur families and Beijing's justification for mass detentions (CNN)
Huawei fallout: Britain and Australia suffer a growing diplomatic rift over Huawei policy (BBC)
Targeting military families: Advances in digital technology combined with unregulated data collection threaten to make the homefront the military's new front line (Fifth Domain)
1 piano thing: China threatens Czech piano company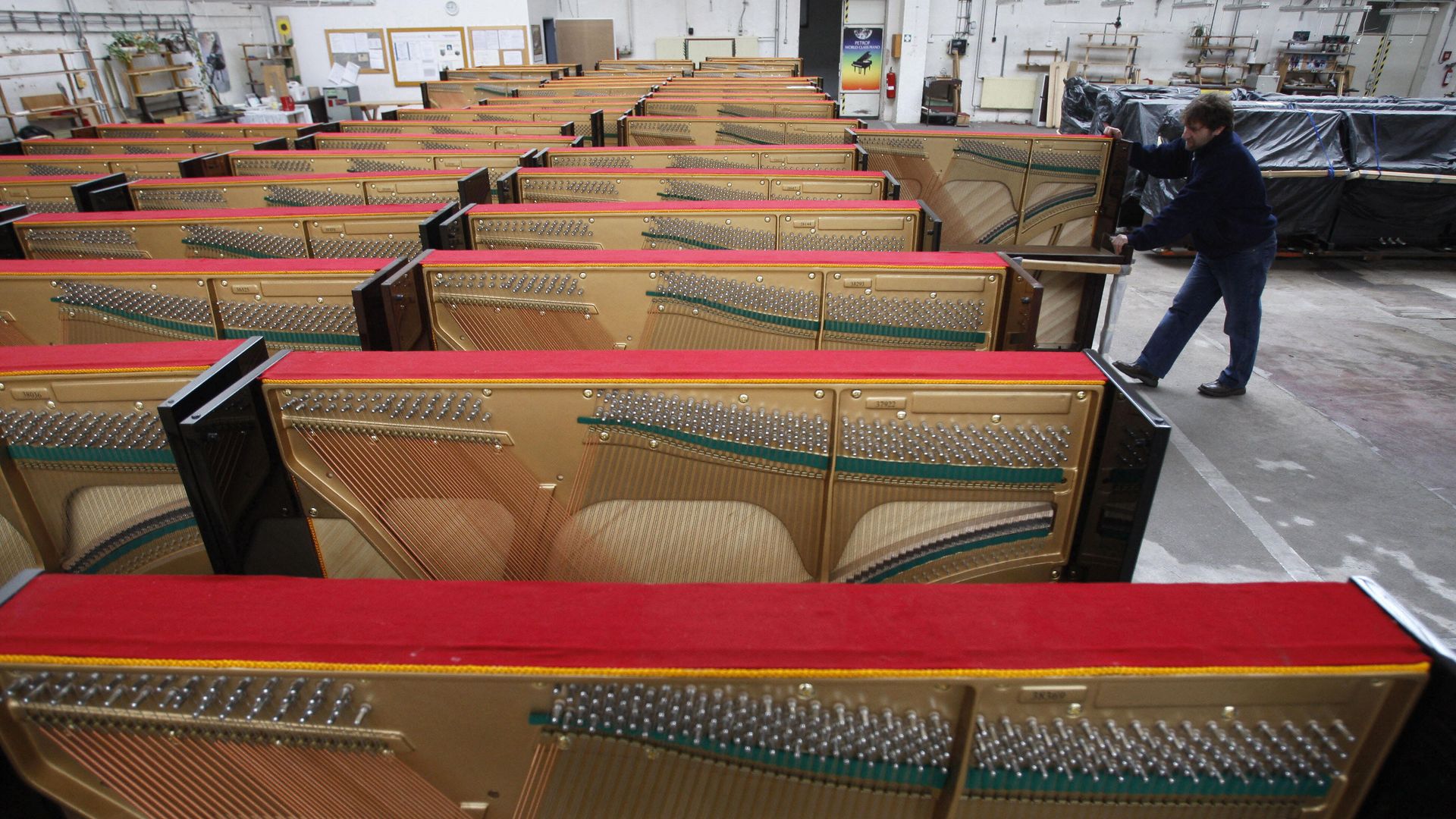 In a diplomatic letter dated Jan. 10, China threatened retaliation against Czech companies if a senior Czech politician carried out plans to travel to Taiwan, Reuters reported today.
The politician in question, Senate speaker Jaroslav Kubera, passed away 10 days later on Jan. 20, before his trip to Taiwan occurred.
What they're saying: "Czech companies who have economic interests in China will have to pay for the visit to Taiwan by Chairman Kubera," the letter stated, according to Reuters. "China is the largest foreign market for many Czech companies like Skoda Auto, Home Credit Group, Klaviry Petrof and others."
Between the lines: Founded in 1864, Klaviry Petrof is one of Europe's leading piano manufacturers. It relies heavily on the Chinese market. A well-made piano can cost upward of $50,000.
Last year, Klaviry Petrof sold around 5,000 pianos in China, producing revenue that comprised 38% of their annual profit.