Axios China
December 13, 2022
Welcome back to Axios China. Today we're looking at how China is preparing for a wave of infections, Biden's Africa summit, Chinese consumer sentiment, a ban on beer, and lots more.
Today's newsletter is 1,358 words, a 5-minute read.
1 big thing: China braces for COVID wave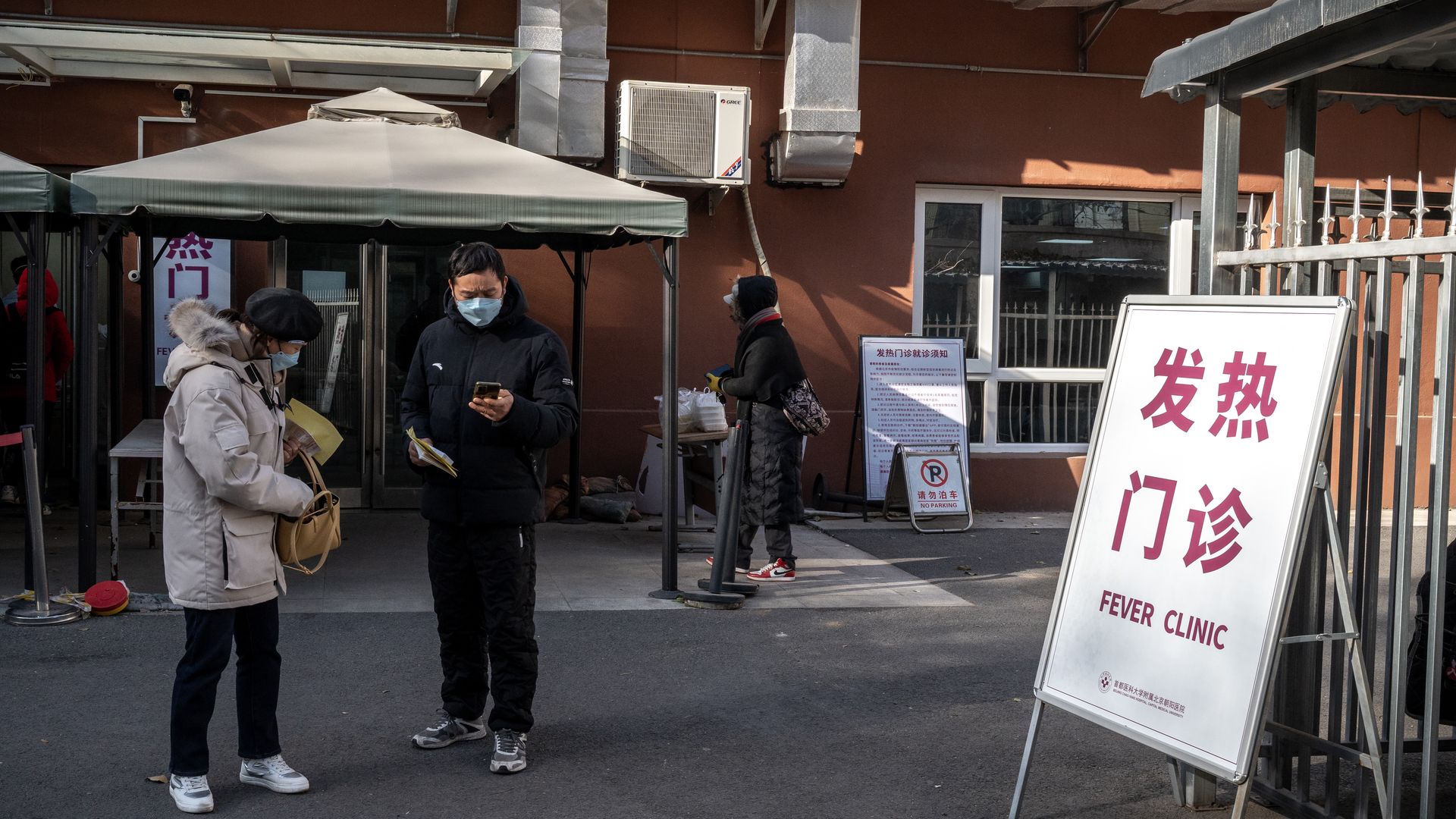 Chinese residents and the country's medical system are bracing for a wave of COVID infections.
Why it matters: The sudden unwinding of stringent pandemic measures, if not handled carefully, could strain the health care system and lead to a higher number of deaths from the disease than a slower relaxing of measures otherwise might.
What's happening: Chinese hospitals are already feeling a shock wave of new cases, and they're scrambling to set up new intensive care units in preparation for more infections.
Background: Chinese authorities began relaxing pandemic restrictions after historic protests rocked cities around the country two weeks ago, including ending mass quarantines and lockdowns in most outbreaks.
Since then, the central government and local authorities have continued to dismantle elements of the extensive contact tracing and testing system that health authorities implemented effectively for almost three years.
Chinese authorities also announced they would no longer use the nationwide location tracking app that collected cellphone data on the travel history of Chinese residents to determine who had entered a COVID outbreak zone.
What they're saying: "These measures will very likely lead to a messy and hasty transition process where local governments ditch all the zero-COVID measures without investing seriously in preparing for the transition," Yanzhong Huang, senior fellow for global health at the Council on Foreign Relations, told Nature magazine.
Chinese health officials have also suddenly shifted how they characterize the severity of COVID.
💭 Our thought bubble: Though much of the rest of the world is now living normally with COVID, it may take time to persuade many Chinese people they no longer need to be seriously concerned about an illness they have sacrificed so much to avoid — especially if hospitals begin filling up and death counts rise.
2. Biden plans Africa trip amid China competition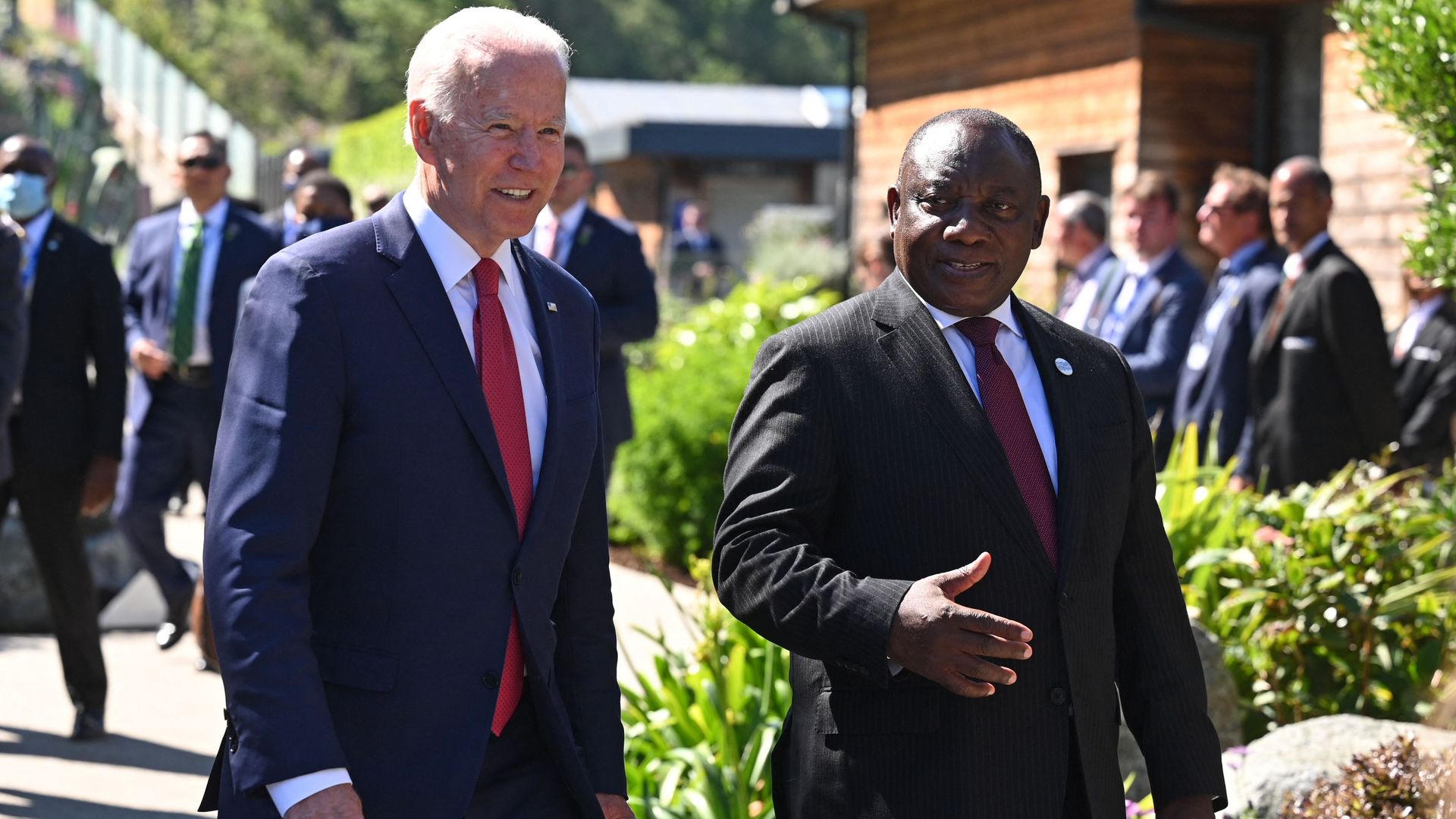 President Biden is planning a multi-country trip to Africa next year, with an announcement expected to be made at this week's U.S.-Africa summit, Axios' Hans Nichols and Dave Lawler report.
The big picture: Unmentioned in the agenda, but looming over the entire summit, is China, which holds summits with Africa every three years either in Beijing or on the continent.
What's happening: With representatives from 49 African countries visiting Washington, the White House is using the pageantry of a summit to convince leaders that Africa is a priority.
U.S. officials won't focus this week on countering China, but instead on what the U.S. can offer, a senior Biden administration official told Axios.
There will be sessions on issues like climate change and space cooperation, not just the security and humanitarian prisms of the past, the official added.
The only previous U.S.-Africa summit was hosted in 2014 by Barack Obama.
Between the lines: China's trade with Africa was five times the U.S. total last year, and Beijing can offer loans and infrastructure projects that the U.S. won't, says Gyude Moore, who attended three "Africa+1" summits while serving as public works minister of Liberia.
However, the U.S. can leverage its private sector investment and expertise in areas like health, Moore says.
3. Catch up quick
1. The World Trade Organization ruled against the U.S. last week, finding that the aluminum and steel tariffs Trump levied on imports from China, Norway and other countries in 2018 violated trade rules, the Wall Street Journal reports.
2. A Hong Kong court sentenced media tycoon Jimmy Lai to more than five years in prison. Go deeper.
Press advocates see the ruling as a blow to the city's free press. Lai still faces additional charges, including under the national security law Beijing forced onto Hong Kong in 2020.
3. Chinese and Indian soldiers clashed at a disputed border in the Himalayas, the first such clash in almost two years, CNN reports.
4. Armed men opened fire inside a Kabul hotel popular with Chinese and other foreign nationals, Reuters reports.
The attack came the day after China's ambassador to Afghanistan met with top officials seeking better security for Chinese nationals in the country.
5. The Human Rights Press Awards will resume in 2023 and are now hosted by advocacy nonprofit Human Rights Watch and Arizona State University's Walter Cronkite School of Journalism and Mass Communication. Go deeper.
Previous host Foreign Correspondents' Club of Hong Kong announced earlier this year it would suspend the awards, which honor human rights reporting from around Asia, amid safety and legal concerns due to the national security law.
4. China's consumer sentiment crashes
The wave of dissatisfaction visible in the demonstrations across China in recent weeks is also showing up in consumer polling data, Axios' Felix Salmon writes.
Why it matters: Chinese confidence during the pandemic was one of the big economic forces continuing to drive the global economy forward. Now it's slumping, and it's hard to see what can replace it.
State of play: Decision intelligence company Morning Consult tracks five different aspects of consumer confidence. All five of them have deteriorated markedly over the course of 2022. The overall five-day average is now 15% lower than it started the year, thanks in large part to worries over COVID-19.
By the numbers: In November, 70% of Chinese adults said the virus was a "major threat" to their country — up markedly from 52% in January.
The bottom line: While consumer confidence in China is low, it's not a lot lower than pre-pandemic. That means there's quite a lot further it could fall, should the pandemic start spreading out of control.
5. What I'm reading
China's Brute Force Economics: Waking Up from the Dream of a Level Playing Field (Texas National Security Review)
"The time has come for the United States and its allies to abandon the notion that competing on a level playing field with China's state-led economy is possible and confront the reality of what I am calling the country's brute force economics," writes Liza Tobin, who served as China director on the Trump National Security Council.
"Cooperative trading relations require a common set of rules or expectations that ensure that economic competition occurs on a level playing field. Beijing's rejection of the rule of law as a fundamental operating principle means that the normative commercial structures upon which modern trade depends are at the mercy of a powerful and ideologically motivated political party."
Update needed: Rise of open-source intelligence tests U.S. spies (Wall Street Journal)
"A congressionally mandated report on OSINT [open-source intelligence], reviewed by The Wall Street Journal, found that the U.S. government is already behind China and other competitors."
"China puts a premium on OSINT and has an estimated 100,000 analysts tasked with scouring scientific and technical developments globally, mostly in the U.S., according to research by William Hannas of Georgetown University."
6. 1 beer thing: China bans Taiwanese brews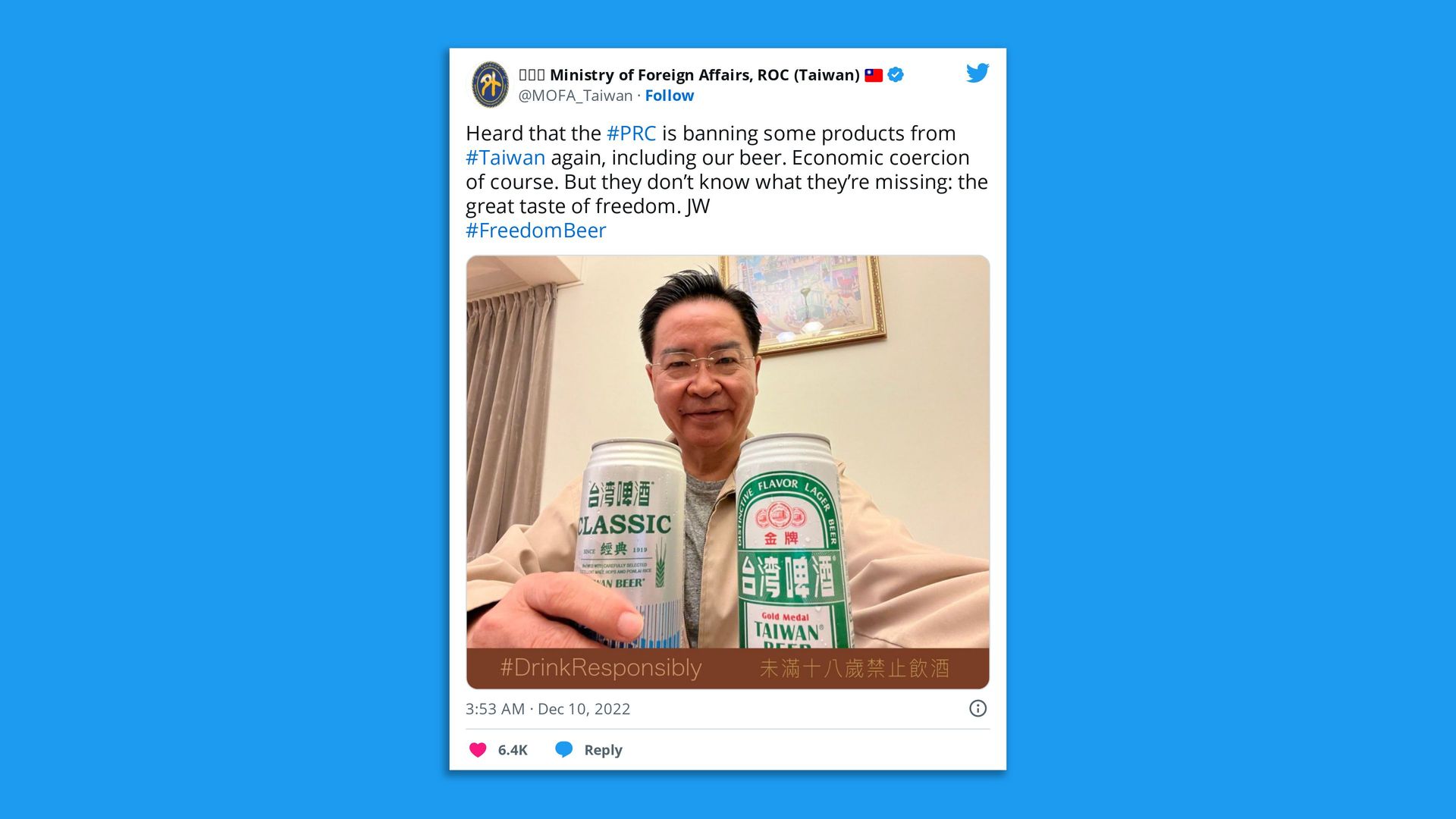 China suspended imports of some beer and liquor shipments from Taiwan late last week, just days after placing a similar ban on some Taiwanese seafood products.
Chinese customs authorities said the Taiwanese exporters failed to provide the required information, but the bans are the latest in a series of retaliatory trade measures Beijing has imposed on Taiwanese products after U.S. House Speaker Nancy Pelosi's visit to Taiwan this summer.
In response, Taiwan's Foreign Minister Joseph Wu tweeted a photo of himself with two Taiwanese brands now subject to Chinese import bans.
"Economic coercion, of course," Wu wrote. "But they don't know what they're missing: the great taste of freedom."
A big thank you to Alison Snyder for edits and Sheryl Miller for copy edits.