Axios China
February 02, 2021
Welcome back to Axios China. Today I'm looking at the proliferation of new China proposals, the NSC China strategy, trade war fallout, and lots more.
"Axios on HBO" is back! Tune in on Sundays at 6pm ET/PT on all HBO platforms.
Today's newsletter is 1,713 words, a 6-minute read.
1 big thing: Let 100 strategies bloom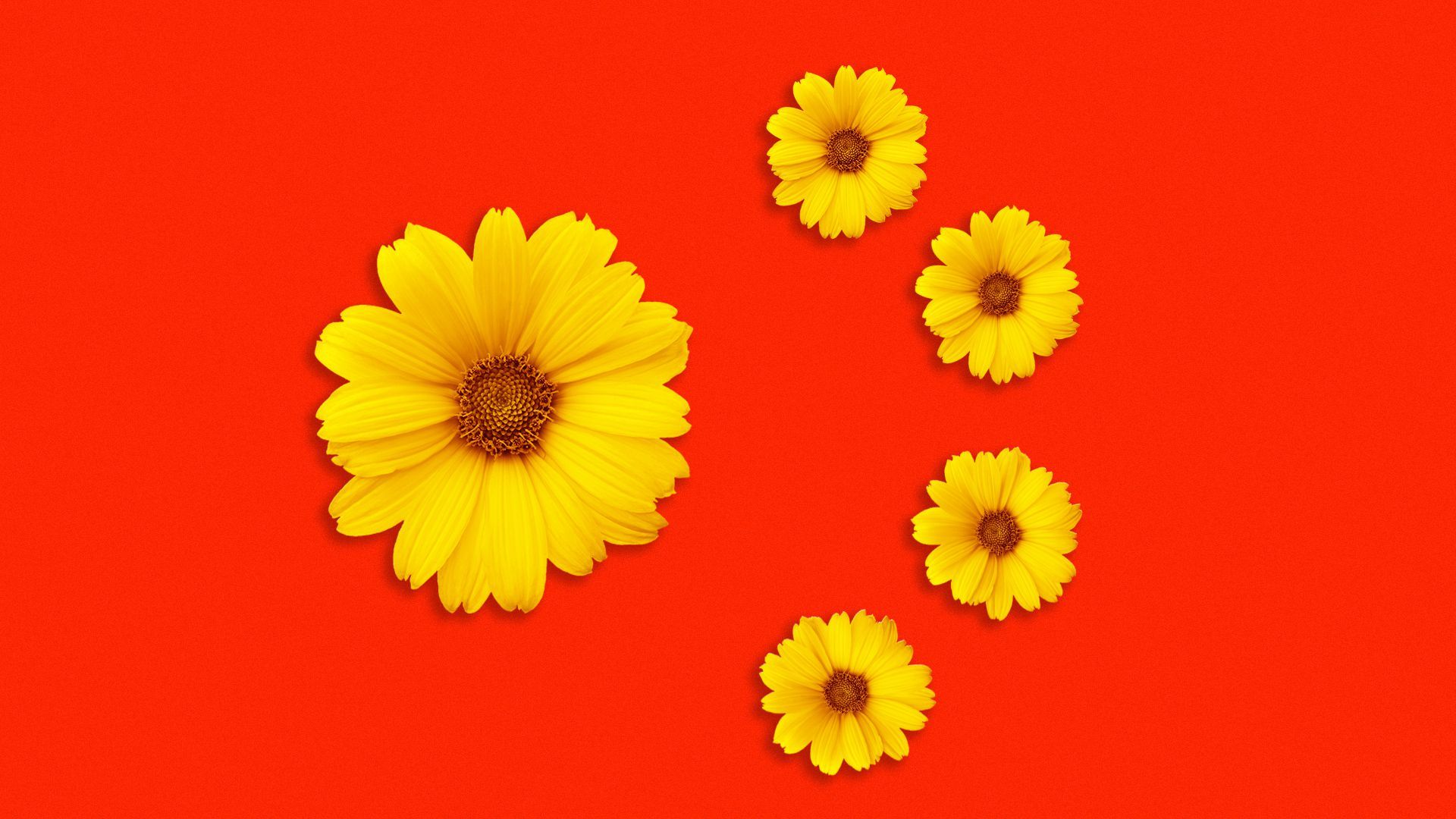 A proliferation of new policy ideas often accompanies a changing of the guard in Washington. But this time around, growing concern over China's rise has driven debate into overdrive, as numerous stakeholders present competing visions for a U.S. response.
Why it matters: The actions the U.S. and its allies choose to take over the next few years could make the difference between a world made safer for autocracy or one in which human rights and liberal ideals still have a fighting chance.
The big picture: The U.S. is currently hovering in a rare moment of total possibility. The Trump era of shoot-from-the-hip confrontation with China is over, while Biden has yet to roll back Trump's China policies or announce his own.
Numerous analysts are seizing this moment to showcase their ideas for containing China's authoritarianism and rejuvenating democracy, in the hope that their proposals might influence the Biden administration's future direction.
China's leaders, too, view the current period as critical. "The world is in a turbulent time that is unprecedented in the past century," Chinese President Xi Jinping said in a January meeting, though he projected a sense of confidence by adding that "time and momentum are on China's side."
What's happening: Some U.S. strategists have made comparisons to the early days of the Cold War, when State Department official George Kennan published an anonymous essay based off a cable, later known as the "Long Telegram," that laid out what would become the U.S. strategy of containment toward the Soviet Union.
In November, the Trump State Department's office of policy planning produced a 70-plus-page China strategy paper that openly drew inspiration from the Long Telegram but was not named after it.
Last week, the Atlantic Council published a lengthy strategy paper called "The Longer Telegram," attributed to an anonymous former U.S. senior official.
These two "telegrams" identified similar problems — China's growing global dominance and increasingly aggressive authoritarianism, and an underperforming U.S. They also presented some overlapping solutions, including the need for strengthened alliances and U.S. domestic rejuvenation.
But the Longer Telegram had a more optimistic view of the Chinese Communist Party, suggesting the U.S. had the ability, through carefully calibrated policy, to roll back the clock on the CCP's totalitarian transformation under Xi.
The State Department paper, by contrast, viewed the CCP's extreme authoritarianism as a permanent feature and focused instead on containing China's power.
Other proposals focus on U.S.-China tech competition, which the Biden administration has said it will focus on.
One report by U.S., European and Japanese researchers recommends the creation of a "democratic tech alliance" to establish tech standards that support democratic principles and to provide a common market and source of partnerships for innovation.
Last week, a group of tech leaders and China analysts called for selective decoupling in the U.S. and Chinese tech sectors, the creation of a national tech analysis and forecasting center, more resilient supply chains, and other measures to protect U.S. users and preserve a U.S. tech advantage.
And a new book called "The World Turned Upside Down" by Clyde Prestowitz, an economist who served as counselor to the commerce secretary during the Reagan administration, also provides a list of recommendations to fix U.S internal problems and outcompete China, which include:
Merging the National Economic Council and the National Security Council.
Government backing for a 5G joint venture to take on Huawei.
A marginal tax rate of 70% on the top 1% of earners, with those tax revenues used to invest in new infrastructure and R&D spending.
Strengthening labor unions.
The bottom line: There is now broad consensus China can and will shape the U.S.-led international system in its more illiberal image, unless democracies act in concert to prevent this. But so far, we've only just begun to discuss what to do about it.
2. Scoop: Biden's whole-of-National Security Council strategy
Virtually every team in the National Security Council, from technology to global health to international economics, will incorporate China into their work, Axios has learned.
Why it matters: This is a concrete example of the "whole-of-government" approach toward China that officials from both the Biden and Trump administrations have supported.
The big picture: "Kurt Campbell's Indo-Pacific team will be the largest regional NSC directorate, a sign of how this NSC is prioritizing China and broader Indo-Pacific policy issues," NSC spokesperson Emily Horne told Axios. "But work on China expands into virtually every NSC directorate," Horne added, including the following teams:
Technology and national security, led by senior director Tarun Chhabra.
Global health security and biodefense, led by senior director Beth Cameron.
Defense, led by senior director Cara Abercrombie.
Democracy and human rights, led by coordinator Shanthi Kalathil.
International economics, led by senior director Peter Harrell.
"National security adviser Jake Sullivan is personally focused on China as a priority, building capacity across departments and agencies and running processes that break down old silos between foreign and domestic policy," said Horne.
Details: Several NSC hires who will be doing China-related work specialize in political interference in democracies, the U.S.-China tech rivalry, and countering the CCP's grand strategy.
Laura Rosenberger, NSC senior China director:
Expertise: Authoritarian regime interference in democracies and state-backed disinformation.
Recent work: Rosenberger founded the Alliance for Securing Democracy (ASD) at the German Marshall Fund of the United States, an initiative that first focused largely on Russian interference activities in the U.S. and Europe and later expanded to include Chinese government activities.
Suggested reading: Under Rosenberger's leadership, ASD published an in-depth study of China's authoritarian political interference in democracies, with an emphasis on the CCP's United Front Work Department and its strategies. She also helped spearhead a project that tracks Russian and Chinese information campaigns on Twitter and YouTube.
Rush Doshi, NSC China director:
Expertise: The CCP's global grand strategy.
Recent work: Doshi was the director of the Brookings China Strategy Initiative, where he worked on issues such as China's growing illiberal influence in the international system and the importance of alliances in pushing back.
Suggested reading: Doshi has a book coming out in a few months called "The Long Game: China's Grand Strategy to Displace American Order," based in part on a large database of CCP documents he has spent several years collecting. It includes a section on concrete policy recommendations.
Tarun Chhabra, NSC senior director for technology and national security:
Expertise: The geopolitical implications of emerging technology, with an emphasis on China.
Recent work: Chhabra was a senior fellow at Georgetown's Center for Security and Emerging Technology, a relatively new program that has published numerous key studies relating to China and tech policy. He and Doshi also co-led an initiative at Brookings that explored China's growing global influence.
3. Catch up quick
1. Ukrainian President Volodymyr Zelensky told Axios' Jonathan Swan he doesn't consider China to be a major geopolitical threat, even as he vowed to limit Chinese control of critical technology sectors. Go deeper.
2. About 7,000 Hong Kongers have fled to the U.K. since China imposed a national security law on Hong Kong. Go deeper.
3. China is imprisoning ordinary citizens who criticize the government on foreign social media platforms like Twitter, the Wall Street Journal reports.
4. Biden inherited a trade war quagmire
The Biden administration plans to review the phase one U.S.-China trade deal, White House press secretary Jen Psaki said on Friday. Based on publicly available data, it's hard to imagine they'll find anything other than a debacle, Axios' Dion Rabouin writes.
Driving the news: China isn't even close to fulfilling its end of the deal — having come up 42% short of its commitment, Chad Bown, a fellow at the Peterson Institute for International Economics, reported late last week.
What was supposed to happen: The trade war was billed as a plan to bring China to its knees by choking off the all-important American market with 25% tariffs on many imports that would rein in the U.S. trade deficit, boost American exports and slow China's rise as a global superpower.
What really happened: "The trade war with China hurt the U.S. economy and failed to achieve major policy goals," a recent study commissioned by the U.S.-China Business Council argues, finding that the trade war reduced economic growth and cost the U.S. 245,000 jobs.
Last year, the U.S. trade deficit widened to its largest on record. In the fourth quarter, the U.S. goods trade deficit hit its highest share of GDP since 2012, and the U.S. current account deficit jumped to its highest level in more than 12 years in the third quarter.
Foreign direct investment to the U.S. fell 49% in 2020 — outpacing the overall global decrease of 42%.
Yes, but: The coronavirus pandemic affected global trade patterns, making 2020 something of an outlier.
The big picture: "The tariffs forced American companies to accept lower profit margins, cut wages and jobs for U.S. workers, defer potential wage hikes or expansions, and raise prices for American consumers or companies," analysts at Brookings noted in August.
5. What I'm reading
A world divided: The conflict with Chinese techno-nationalism isn't coming — it's already here (War on the Rocks)
"The incoming Commerce Department leadership ... needs to use export controls to carefully restrict critical technology from Beijing and to shape behavior. Yet, export controls are not always the best tool. Sometimes the best tools will be economic sanctions, reviews by CFIUS, or domestic R&D investments."
Power to the people: The blunt force of China's mobilization campaigns (Financial Times)
The CCP's use of mass campaigns in its governance model is often overlooked in the West, but these campaigns can sometimes be quite effective.
You can read more about China's mass campaigns here.
Bearing witness: Trapped in the system (Radio Free Asia)
This qualitative report relies on dozens of hours of interviews with a small number of people who survived China's mass internment and surveillance system.
6. 1 quiz thing: Who said it?
Who said it? Answers are at the bottom of the newsletter.
1. "China is working across the UN system to drive an authoritarian agenda that stands in opposition to the values of the institution."
a) Special envoy for UN integrity Mark Lambert
b) Nominee for U.S. Ambassador to the UN Linda Thomas-Greenfield
2. The U.S. should take a "whole-of-government" approach to challenging China.
a) Commerce Secretary nominee Gina Raimondo
b) Trump national security adviser Robert O'Brien
c) Both
3. "China has built an unparalleled surveillance state, and it's growing more expansive and intrusive — often with the help of U.S. technology."
a) Former Vice President Mike Pence
b) National security adviser Jake Sullivan
4. U.S. policy should include "holding China accountable" for its harmful actions.
a) White House Press Secretary Jen Psaki
b) Sen. Marco Rubio (R-Fla.)
c) Both