January 14, 2022
Happy Friday. As we head into the Martin Luther King Jr. weekend, a reminder that we'll be off for the holiday but back in your inbox bright and early Tuesday!
Today's weather: Cloudy with a high of 35.
🗳 Situational awareness: Now that the COVID-19 safety battle between the CTU and CPS is done, we're looking into the lasting political fallout.
So we want to know: Did the standoff and its outcome make you more or less likely to vote for Mayor Lori Lightfoot in 2023?
Answer our survey or respond to this email.
Today's newsletter is 960 words — a 3.5-minute read.
1 big thing: Chicago's living history of MLK
We celebrate Martin Luther King Day on Monday, commemorating a man with many ties to Chicago.
Why it matters: It's been almost 56 years since King famously moved to Chicago to protest housing inequality as part of the Chicago Freedom Movement.
Driving the news: There are a handful of activists and advocates who spent time with King still living in Chicago today. Here are just a few:
Rev. Jesse Jackson: Arguably the most influential and powerful of King's inner circle, Jackson was with him in 1968 when he was assassinated in Memphis.
Must watch: The Hulu Documentary "Summer of Soul" features Jackson on stage in 1969 telling the assassination story just months after it happened.
Dorothy Tillman: The legendary Chicago alderperson served for 22 years. Before that, she was a civil rights activist who marched with King in Chicago.
Rep. Danny Davis: The West Side congressman was right there with King during the Freedom Movement in 1966. He has continued the fight for affordable housing in a number of political jobs since 1979.
Fun fact: With Bobby Rush retiring, Davis takes over as the longest serving congressman in Illinois (if he wins reelection).
Carol Moseley Braun: As a young girl, Moseley Braun marched with King in Gage Park.
She later became an Illinois state representative and was the first Black woman to serve in the U.S. Senate.
Bernard Kleina: The photographer documented King's time here, including a march in Marquette Park when Chicagoans struck him with rocks.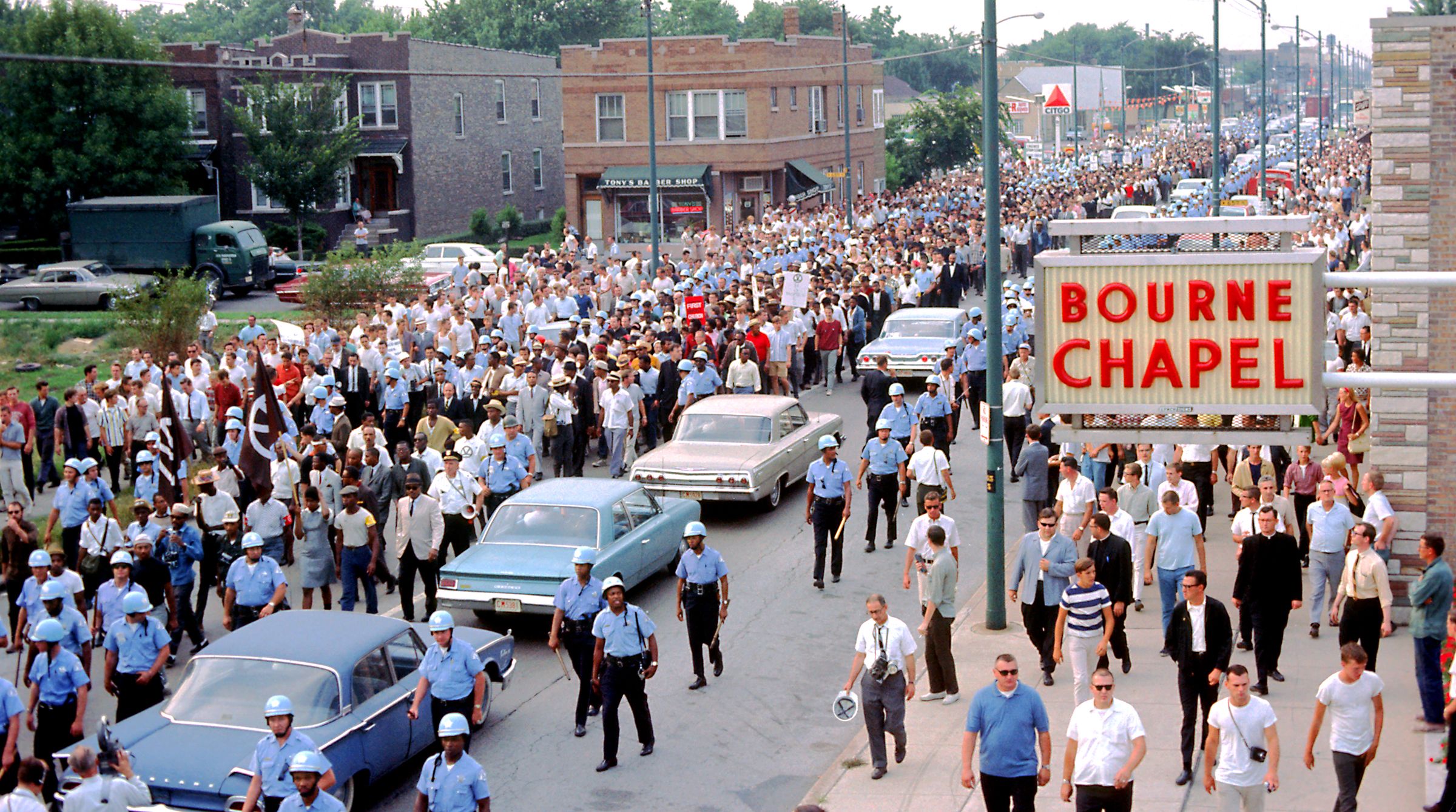 2. Best day ever: Author Shawn Taylor
Writer Shawn Taylor collaborated with TV host Tamron Hall to co-write "As the Wicked Watch," a book based on the true story of two homicides of 11-year-old girls in Chicago.
The inspiration: Taylor covered the police beat for the Tribune in the early 2000s while Hall reported for FOX News Chicago for 10 years.
The plot feels even more relevant amid fresh conversations about coverage of missing Black women in Chicago, Taylor tells Axios.
We asked the longtime Chicago writer and media consultant how she'd spend her perfect day in the city.
🍳 Breakfast: "The lemon dill grilled salmon with eggs over easy and hash browns at Batter and Berries."
🚲 Morning activity: "A ride along the lakefront bike trail from Buckingham Fountain to the Museum of Science and Industry."
🍚 Lunch: "The fried rice at Chant is addictive. It's one of the ways I cheat on Oak Park with Hyde Park. Virtue and Ja' Grill are two others."
⚓️ Afternoon activity: "Cruising Lake Michigan aboard my friend's charter yacht, the Allons-y, named for the 10th Dr. Who's way of saying, 'Let's go!'"
🥃 Dinner: "Gibsons Italia is my go-to for special occasions. The branzino is superb. I like to finish with an Amaro Nonino."
🎤 Evening activity: "I like to catch a show at Zanies or Second City, or at one of the city's hidden gems with an open mic."
3. Tips and hot links
👩‍🎓 Some CPS students are planning a walk out today to protest inadequate COVID safety measures. (The Triibe)
📽 Oak Park is celebrating hometown hero Betty White tomorrow. (Wednesday Journal)
🏈 The NFL playoffs start this weekend. Some former Bears to root for include Robbie Gould (49ers), Leonard Floyd (Rams), Kyle Long (Chiefs) and Jordan Howard (Eagles). (NFL)
🍕 Gullivers in West Ridge is closing this weekend. The famous pizza place has been around since 1965. (Block Club Chicago)
Fresh openings from the job board
4. Comedian spoofs Mayor's policies and suits
Chicago comedian Lisa Beasley nearly broke the internet in 2020 with her Margaret Thatcher parody.
But in recent months she's turned her focus to a mayoral character with a scratchy voice, big suits and lots of laptops she calls "Lory Litefoot."
Driving the news: Beasley performed the "Litefoot" character at a sold out Laugh Factory show this week. We caught up with the CPS mom to learn more.
Q. How did you decide to create this Mayor-like character?
A. When I heard about how she reacted to Anjanette Young, I was stunned … and needed to satirize her for my own catharsis. Then I saw her in these big suits and that's when I knew, one of the reasons I was put on this earth was to impersonate Mayor Lori Lightfoot.
Q. How's the response been?
A. Overwhelmingly positive and rewarding. One of my fears was that people would only want me to portray Margaret Thatcher and people embracing this character proved me wrong.
Q. Have you heard from the mayor?
A. Not directly. But has anybody noticed that she's dressing a little better and attempting to look more like a Mayor? You're welcome.
Editor's note: Justin and Lisa are part of the creative ensemble at Chicago4Real.
5. Smoque marks 15 years with prime rib sandwich
When Smoque BBQ opened its doors on a quiet corner of Old Irving 15 years ago, it forever changed and blessed the North Side.
Why it matters: Tomorrow, for one day only, Smoque is celebrating its anniversary with a limited edition smoked prime rib sandwich for $15.
At a place famous for smoked brisket, this cut offers a strange but delicious surprise.
The details: Each sandwich features meltingly tender slices of rare prime rib, topped with roasted shallots, a red wine reduction and tangy horseradish cream nestled in a freshly toasted Italian roll.
What they're saying: "We wanted to do something special for our customers who have helped us get to 15 years … something befitting of a milestone, but still felt right for a BBQ joint," Barry Sorkin, co-owner of Smoque BBQ, tells Axios.
Details: Smoque will make just 100 sandwiches at lunch and 150 at dinner.
Orders are limited to two per person.
You can only order in person or on the phone starting at 11am.
Hot tip: If they run out of prime rib, order the brisket. You can't lose.
Our picks:
Monica is hoping that Chicago news slows down next week so we can bring you more fun things to do, read, eat and see.
Justin is excited to announce that his "Daaa Chicago Game Show" is back next week! 8pm Monday on Twitch!
Want free Axios swag? Refer your friends to Axios Chicago and get cool merch like stickers, totes, hats, T-shirts and more!