January 07, 2022
1 big thing: Losing the metric system
Setting COVID-19 infection metrics to trigger school closings has become a huge issue in the current fight between Chicago Public Schools (CPS) and the Chicago Teachers Union (CTU).
The metrics they agreed to last winter expired in August, and the two sides have still not settled on new ones.
Why it matters: It's not just in CPS. The city and state have also quietly dropped COVID metrics that would tighten safety measures.
Context: While this Illinois site shows metrics used to move the state forward into looser safety measures, it doesn't specifically state what level of infection might send us back.
Instead it says officials will make recommendations based on current factors.
What they're saying: Illinois Department of Public Health spokesperson Melaney Arnold says the state stopped using the metrics because things have changed.
Today we have, "Safe and effective vaccines free to everyone, monoclonal antibody treatment… state testing locations now operating 6 days a week, and State staffing contracts to help hospitals address the nationwide health care worker shortage."
2. "For the Left Hand" plays tonight
At the age of 10, Norman Malone was attacked by his dad, leaving his right hand paralyzed and his piano future shattered.
But over the next seven decades, the former Chicago Public School chorus teacher practiced using his left hand until he was good enough to perform with an orchestra.
Why it matters: A documentary about Malone called "For the Left Hand" airs Friday and Sunday on WTTW, featuring the 78-year-old's orchestral concert debut playing Ravel's "Piano Concerto for the Left Hand."
What they're saying: "If I take the time and patience, I can do it, whether anybody hears it or not, it's mine," Malone says in the film.
On what viewers should take out of the film: "That music can help you survive unimaginable events; that the arts are central to being an educated person; that a disability does not define an individual," the film's writer and co-producer, Howard Reich, tells Axios.
"His perseverance can be a model for all of us."
3. Tips and hot links
👮‍♂️ Former Chicago police officer Jason Van Dyke could be released from prison next month. (Eric Zorn)
Mayor Lori Lightfoot is among 25 big city mayors urging Congress to help restaurants with new relief funding or risk "catastrophic" impacts on communities. (Independent Restaurant Coalition)
💥 TikTok may be inspiring explosions in Rogers Park. (Block Club Chicago)
☕ The Starbucks union movement has come to Chicago. (Eater)
🏈 Justin Fields has been put into COVID protocols and is in jeopardy of missing Sunday's game. (WGN-TV)
4. 60 years of Bears/Vikings rivalry
The Bears head to Minnesota for a meaningless game this Sunday. But there's nothing meaningless about the Bears vs. Vikings rivalry.
Why it matters: The two NFC North teams have played every year since 1961.
The Vikings lead the all-time series, 62–57–2.
🏈 We decided to energize this rivalry a bit by mixing it up with our Axios colleague in the Twin Cities (and resident Vikings fan), Nick Halter.
What do you like about the Bears?
Nick: Like the Vikings, their fan base has remained loyal despite not having a franchise quarterback.
And the Vikings?
Justin: They always have fun players. Randall Cunningham, Randy Moss and now Justin Jefferson.
What do you dislike?
Nick: Akiem Hicks is a force, but he drives me nuts with his chippy behavior.
Justin: Uniforms. Purple and yellow? Nah.
What's your favorite game from the rivalry?
If you could sign one player in history from the other team, who would it be?
🧀 The big picture: There's always one thing the Bears and Vikings fans can agree on.
Nick: We hate the Packers.
Justin: So do we.
🏈 Game time: The Bears and Vikings meet for the 122nd time on Sunday at noon.
5. Sound off: Working (out) remotely
We asked for your suggestions for working out at home earlier this week and you delivered.
📿 Joe J: The Jump Rope Dudes. They are quite bro-y, but I like the variety of workout and lengths of classes. They also break up the jump roping with push-ups, crunches, and stretches.
If you're wondering how my downstairs neighbors feel about me jumping rope in my apartment, I have a cushioned board that I put down on the floor, designed for practicing tap dancing.
🗞 Derick B.: I've done the "7-minute workout" since it appeared in the New York Times … That, plus cycling, cross-country skiing and walking keep me in shape. I'm 73 and feeling great.
🌳 Janet V.: Chicago Park District online classes! A good workout with great instructors in the comfort of my own home.
⛄️ Spencer W.: ​​At-home HIIT keeps me fit. Working out in the morning makes it easier to carve out time for it, and if you stick with a routine for six weeks it becomes a habit. Also, shoveling definitely counts as a workout!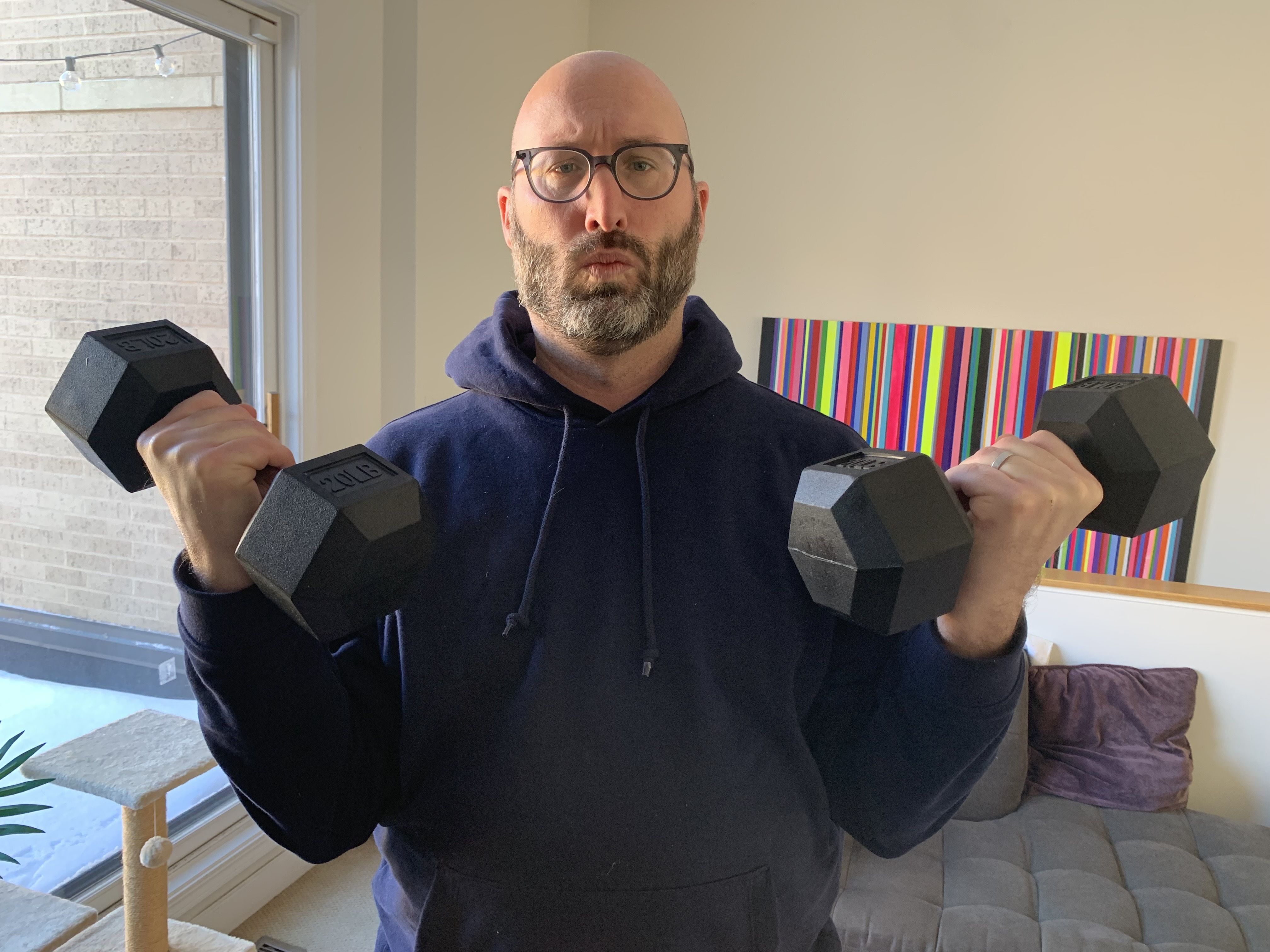 6. More winter beauty
Thanks to Christian L. for the great photo of the Morton Arboretum in Lisle, proving once again that bone-chilling cold can be beautiful.
Our picks:
💤 Monica is getting ready to sleep a lot this weekend.
💸 Justin is happy to announce that he fought the city and won! The expired sticker ticket has been dismissed. Whoo! Have a great weekend.