Axios Chicago
January 31, 2022
☕️ Happy Monday! Today is the 11th anniversary of Snowmageddon, which stranded hundreds of drivers on Lake Shore Drive.
🌤 Today's weather: Partly sunny, with a high of 31.
Situational awareness: Local COVID-19 cases have fallen, but the city remains at "very high transmission" levels.
Today's newsletter is 918 words — a 3.5-minute read.
1 big thing: Get smart about dibs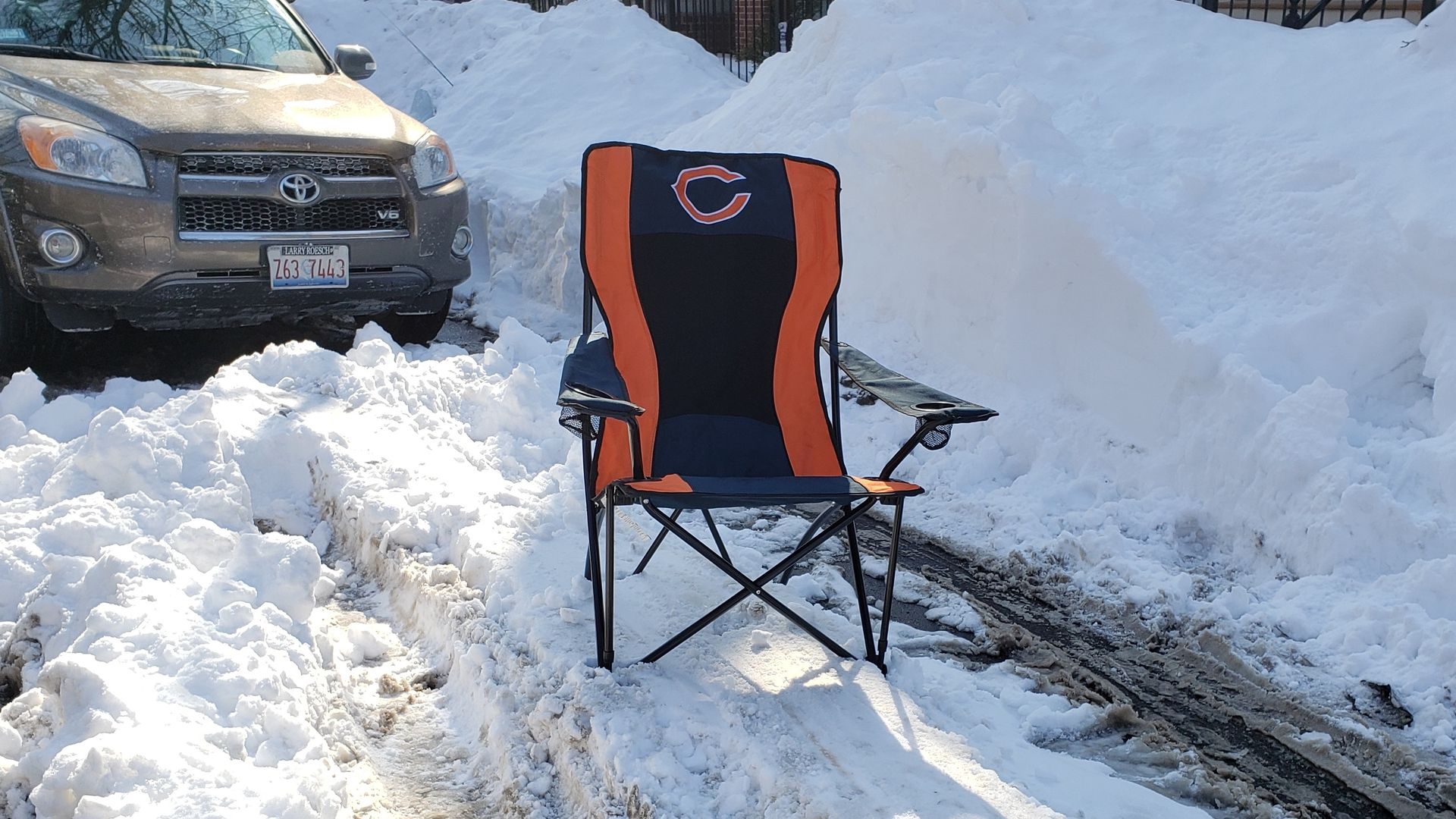 👋 Hey, Monica here. As we emerge from a snowy weekend and brace for more on Wednesday, I figured it was time to share a few cold facts about dibs.
Dibs definition: Using chairs and other junk to "save" shoveled-out parking spaces, with the implied threat of punishing violators.
Second definition: What your neighbors are probably doing right now.
Why it matters: Neighbor wars, online debates and bar fights erupt over dibs every year — often fueled by more emotion than data.
I researched the topic for WBEZ in 2019, back when commutes were still a big deal for most.
Background: Ever since Mayor Richard J. Daley urged citizens to help shovel the streets during the great storm of 1967, Chicagoans have practiced dibs with the implicit blessing of city leaders.
Yes, but: Dibs are 100% illegal, according to Chicago's municipal code, which states "no person shall use any public way for the storage of personal property."
Zoom in: Dibs cause crime. After snowstorms, the CPD routinely investigates scores of smashed windows, slashed tires and even severed brake lines on cars that "took a saved spot."
My proposed solution: Copying the Twin Cities' snow emergency parking rules that kick in during significant snow storms. The city directs all cars to one side of the street for plows to clear the other side in 24 to 48 hours.
📬 Where do you stand on dibs? Right or wrong?
2. Chicago's "Work in Progress" canceled by Showtime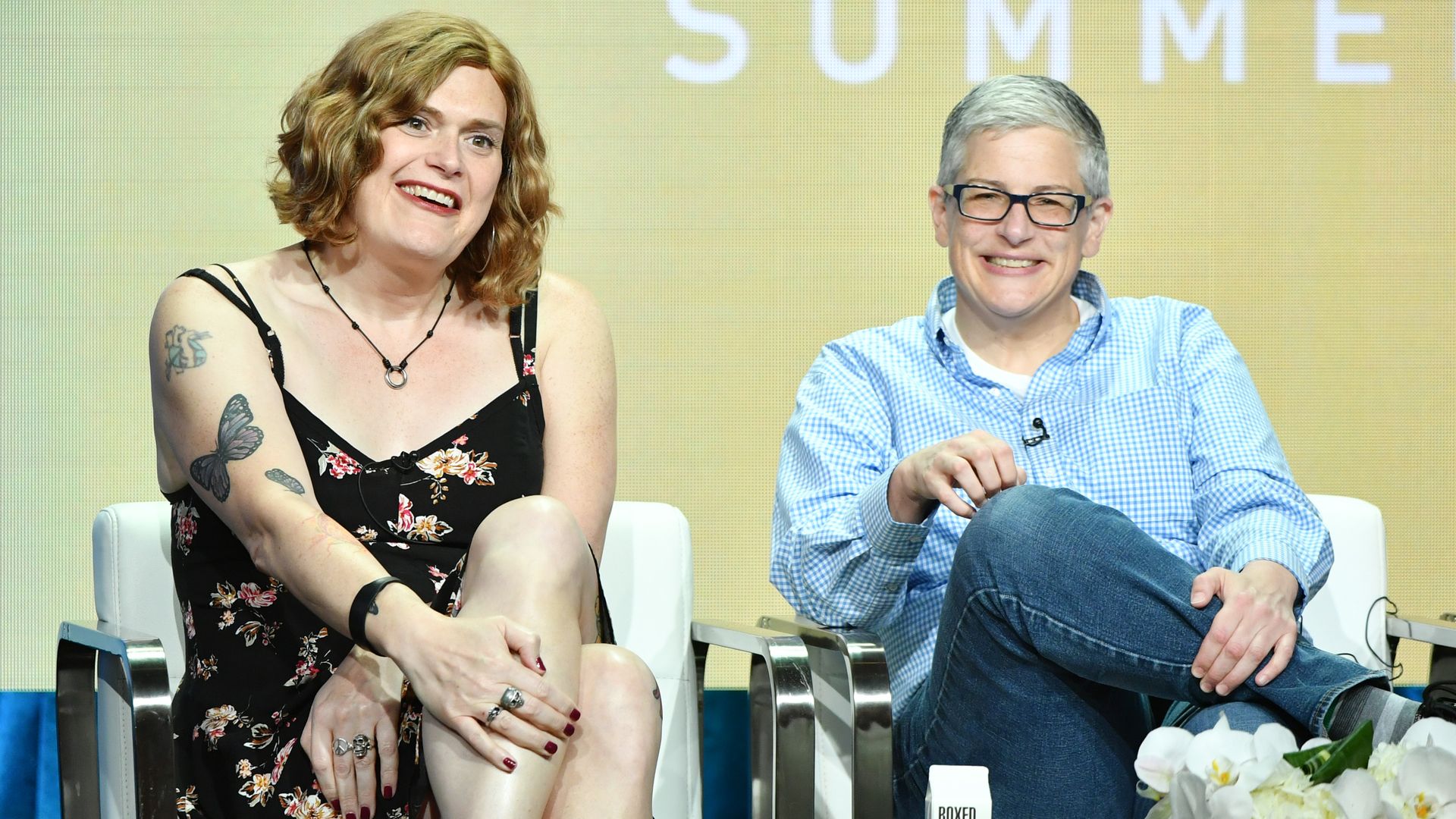 Showtime did not pick up the comedy series "Work in Progress" for a third season.
The show was shot and produced in Chicago, primarily on the North Side in the Andersonville neighborhood.
Why it matters: "Work in Progress'' followed Abby — played by Abby McEnany — as she navigated depression, mental illness and family issues.
The show prominently featured the local LGBTQ+ community, was on several "Best of 2021" lists and was just nominated for a GLAAD award.
What they're saying: "I am grateful to Showtime for giving us the opportunity to make this super queer and beautiful show," executive producer Lilly Wachowski wrote in a Twitter thread late last week. "But I am also not content or happy to just be here."
"Shows like ours get trotted out to illustrate how networks and studios are soooo committed to diversity but then get cut before they can establish a viewership."
The other side: In a statement to Axios, Showtime said, "We are incredibly proud of the two seasons of 'Work in Progress.'"
💭 Justin's thought bubble: I've known Abby for years from Chicago's improv scene. There are so many great Chicagoans that work for this show. "Work In Progress" was hilarious and touching and a great representation of Chicago. Somebody else pick it up!
3. Tips and hot links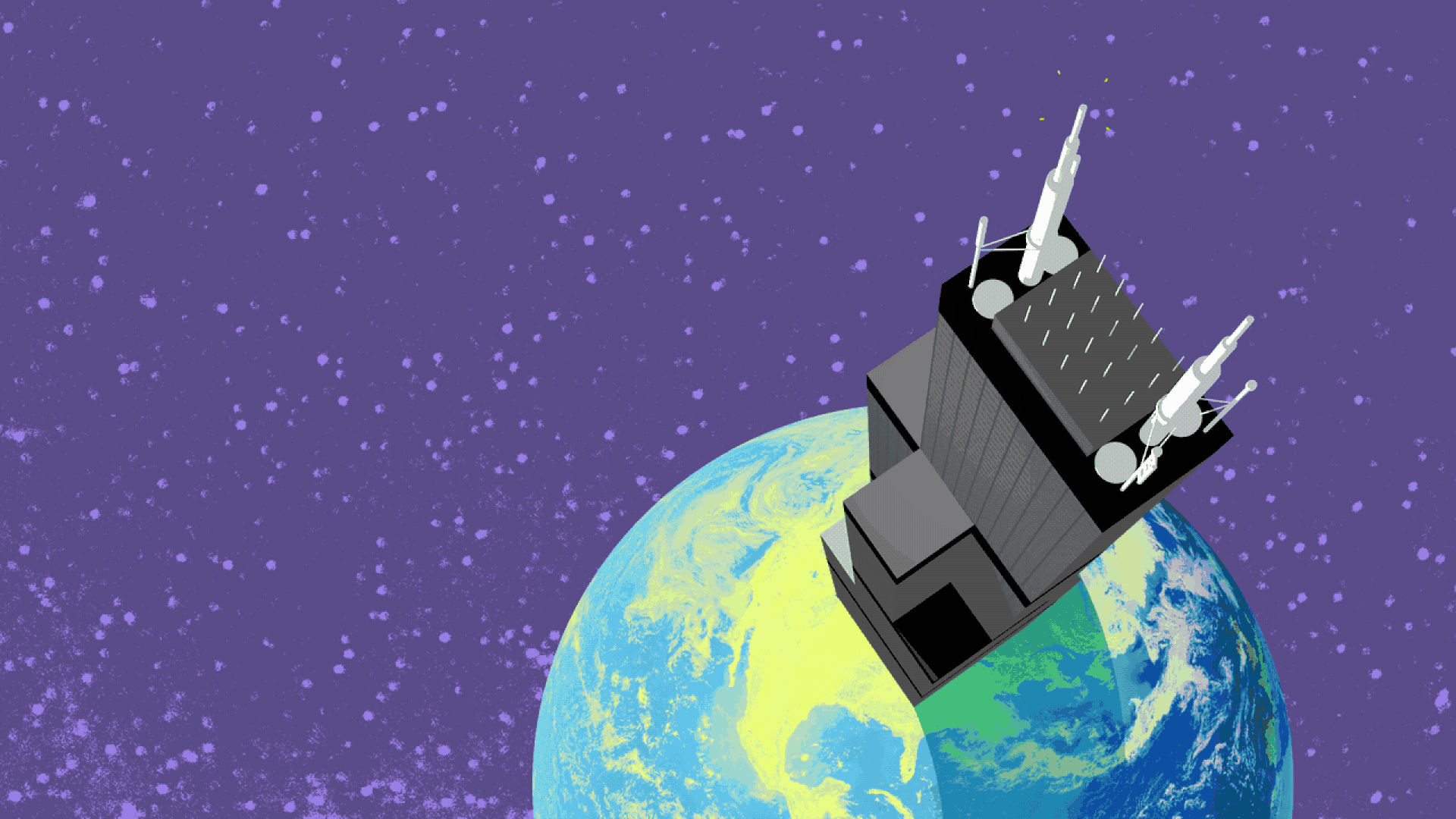 🗺 Despite an unusual Sunday session, negotiations over the city's ward map remain deadlocked. (WTTW)
🏃‍♂️ Some Illinois high school athletes are skirting the indoor mask mandate while they play. (Eric Zorn)
🕺 Tyrone Winfield had the "fastest feet in the land." The renowned stepper died at the age of 61. (Sun-Times)
🧀 The Bears hired Green Bay passing coordinator Luke Getsy as their new offensive coordinator. (Tribune)
4. The case for Sammy Sosa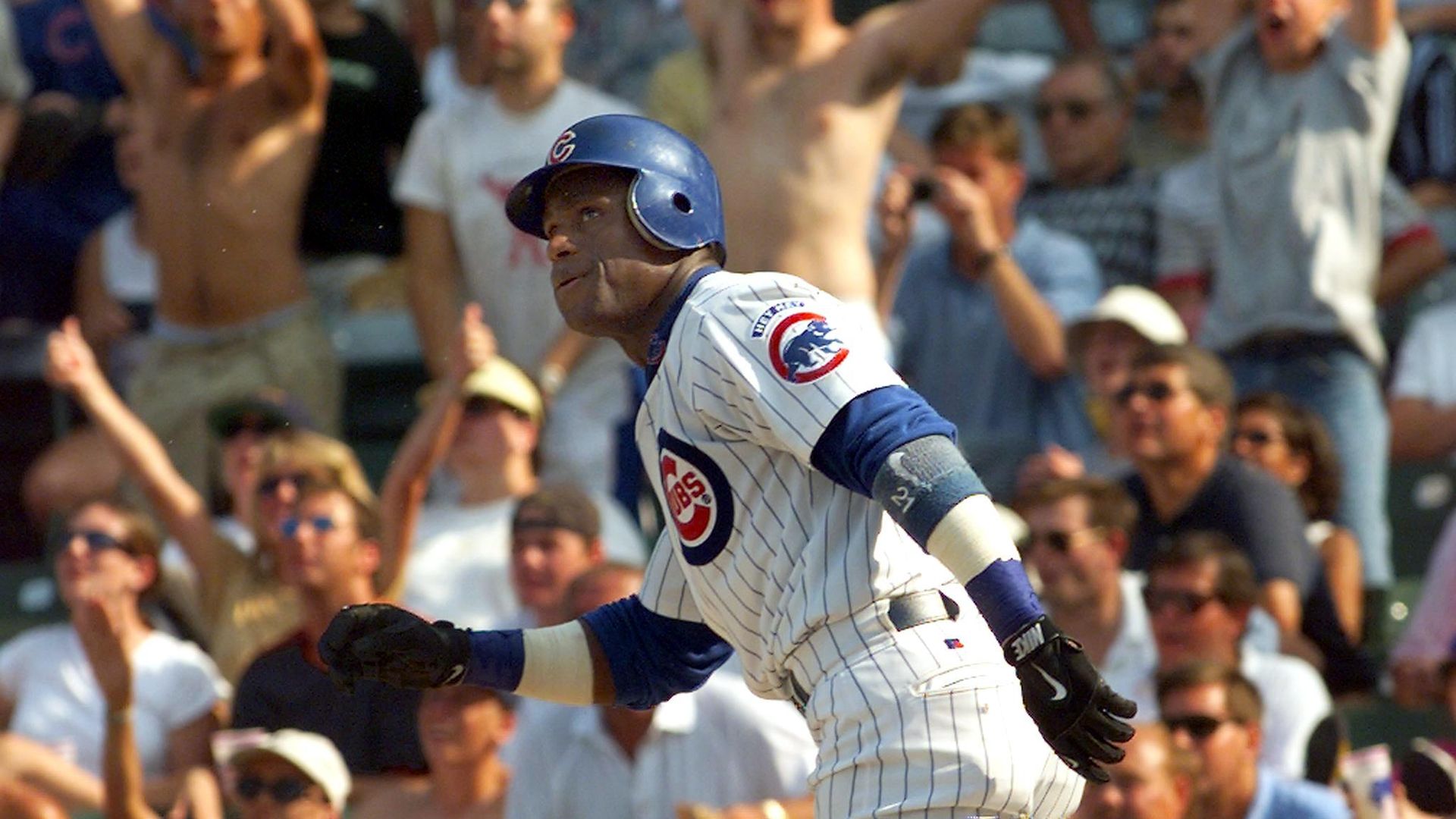 👋 Hi, Justin here. Red Sox slugger David Ortiz will enter the Hall of Fame this year after a legendary career, the only MLB player voted in.
But his numbers are very similar to those of another player who has now officially been kept out: Cubs slugger Sammy Sosa.
Why it matters: After 10 years of eligibility, the window has closed on Sosa making the Hall of Fame.
Sosa received just 18.5% of the vote from baseball writers, falling shy of the 75% threshold for entry. He will now rely on the Today's Game committee, voted on by the Hall of Fame's board of directors, to get in.
Context: Sosa is one of many players being shunned from the HOF because of alleged use of performance-enhancing drugs.
Yes, but: As the internet surges in support of Barry Bonds and others, Sosa is left behind. Why?
Cheating: Sosa's firm denial of steroid use left a sour taste in fans' mouths. He also got caught with a corked bat in 2003.
Personality: Sosa has been cast as a bad teammate, his offenses ranging from leaving Wrigley before games ended to playing loud music in the locker room.
Stats: His final year in Chicago was lousy enough to get him booed at Wrigley Field.
The bottom line: Last year the Cubs unveiled their own Hall of Fame. Sosa was not one of the 56 inductees.
💭 Justin's thought bubble: Fans would skip bathroom breaks or beer runs when Sosa was due up, even before the 1998 home run chase. He brought magic — and a lot of money — back to the Friendly Confines.
🗳 So, Cubs fans: What did I miss? Should Sammy Sosa be in the Hall of Fame? Vote here.
5. Where in Chicago is Monica?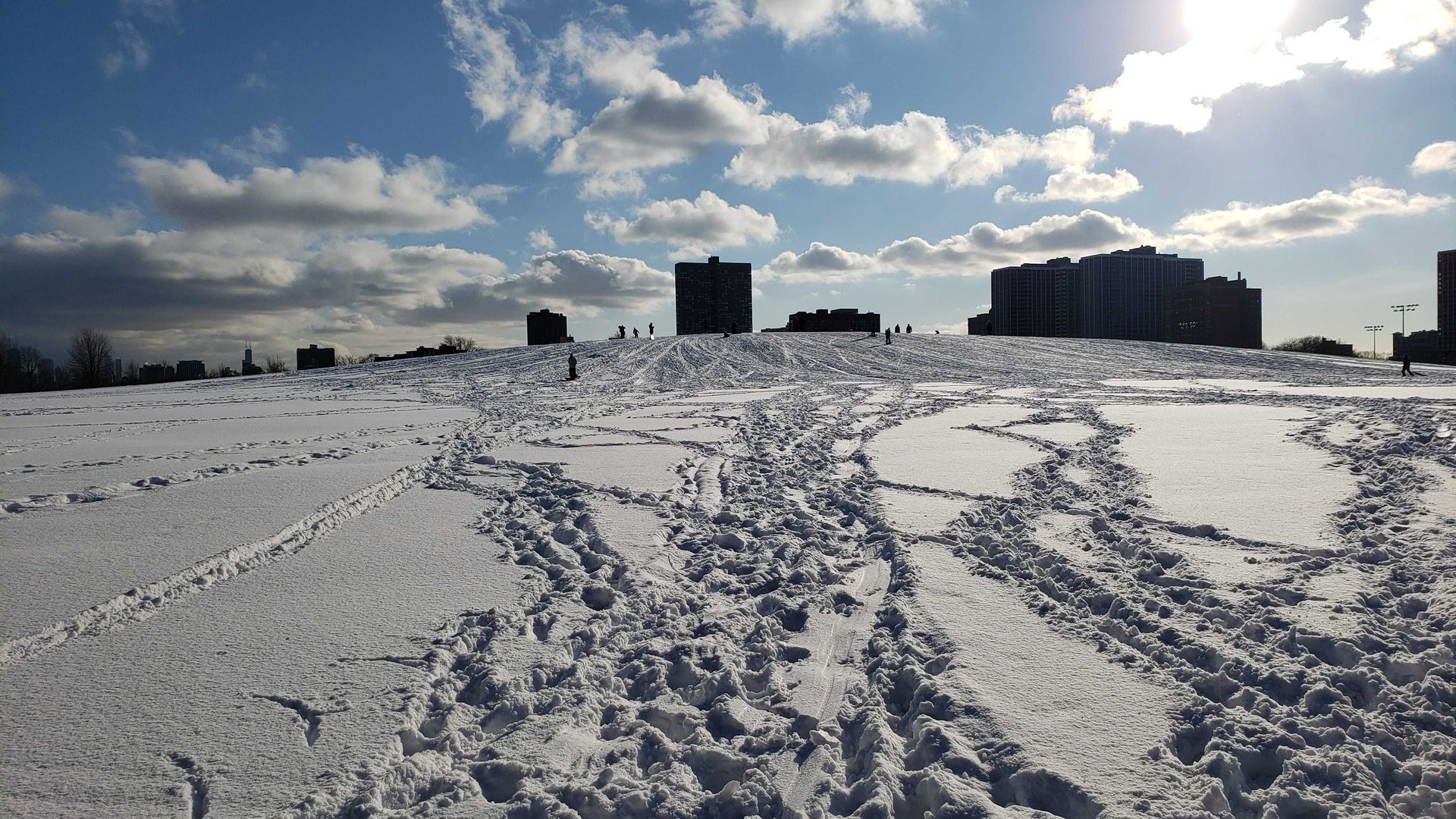 Where was Monica right after Friday's snowfall? Here's a hint:
To this North Side spot, our sleds we do lug. It's got a cute name that's fit for a bug.
📬 Guess correctly and you could win some Axios swag!