September 27, 2022
👋 Happy Tuesday! On this day in 1950, Chicago poet Gwendolyn Brooks became the first Black American to win a Pulitzer Prize.
🧣 Today's weather: Sunny but chilly. High of 59.
🎂 Happy birthday to our Axios Chicago member Liane Gonzalez!
Today's newsletter is 716 words — a 2.5-minute read. Edited by Everett Cook and copy edited by Rob Reinalda.
1 big thing: Frustrating ticket fees
Bill Linden was close to booking tickets last month to the Museum of Ice Cream on Michigan Avenue, a treat for his 75th birthday.
Linden tells us he was looking forward to going despite the expensive base tickets ($36-$44), but his patience ended when he got to the final payment screen and saw $18 in taxes and service fees.
"Service for what????!," Linden wrote in an online complaint. "I did all the work! I will never ever visit."
Why it matters: Expensive "service fees" have infuriated ticket buyers and some bands for decades, but better technology — that leaves more work to the consumer — seems to have only raised those fees.
And at places like the Museum of Ice Cream, where service fees are $9.50 to $11.37 per person, ticket buyers can't even go straight to the box office anymore to avoid the fees.
What they're saying: "It's ridiculous," Linden says. "It feels like a total racket."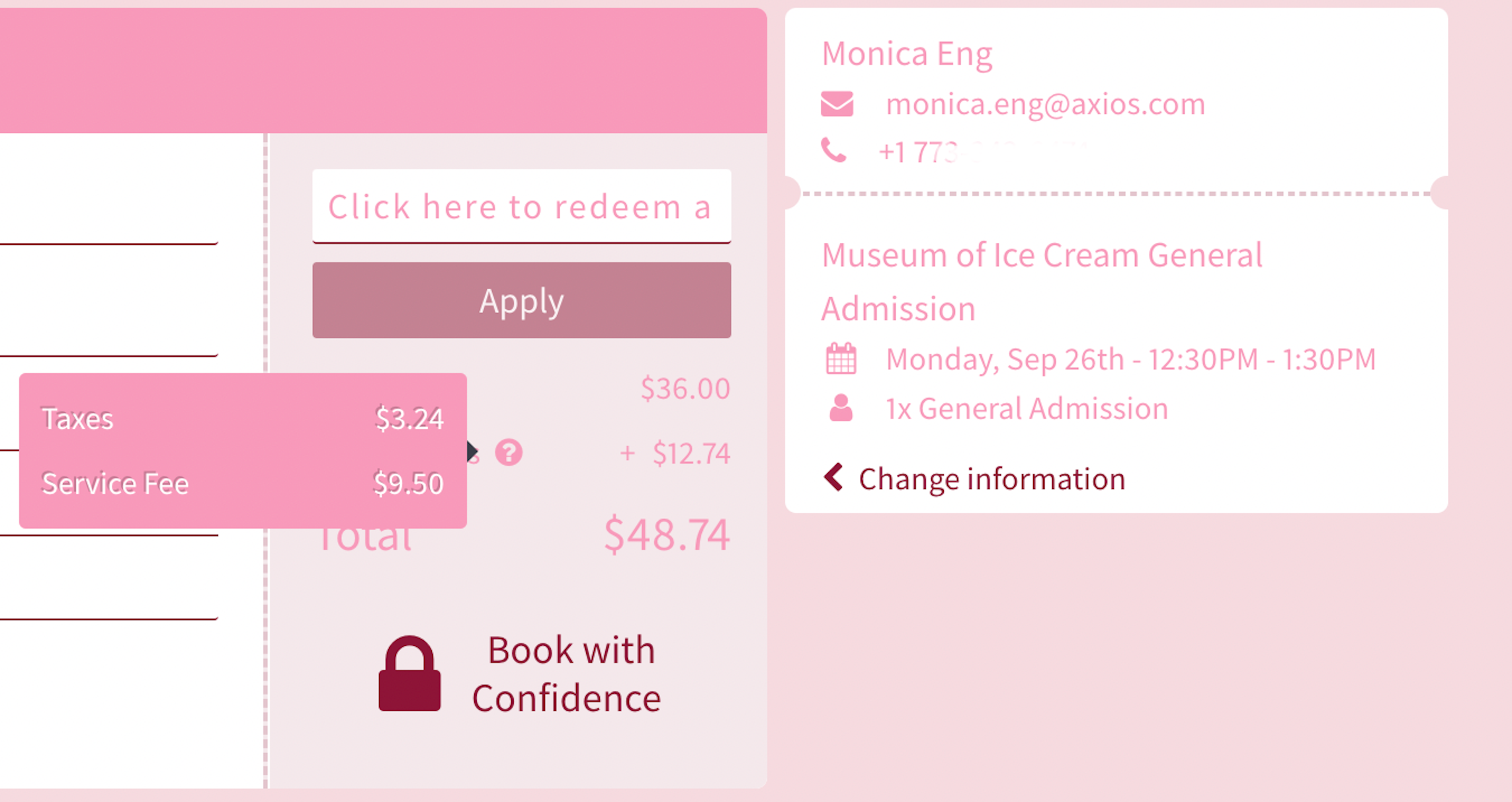 The other side: Museum of Ice Cream officials attribute the fees to Peek, the company they hire to "manage scheduling, customer service, in-depth reporting, and communications."
Yes, but: Tickets we checked through Peek for other local attractions — including architecture tours, kayak tours and crime tours — list smaller fees.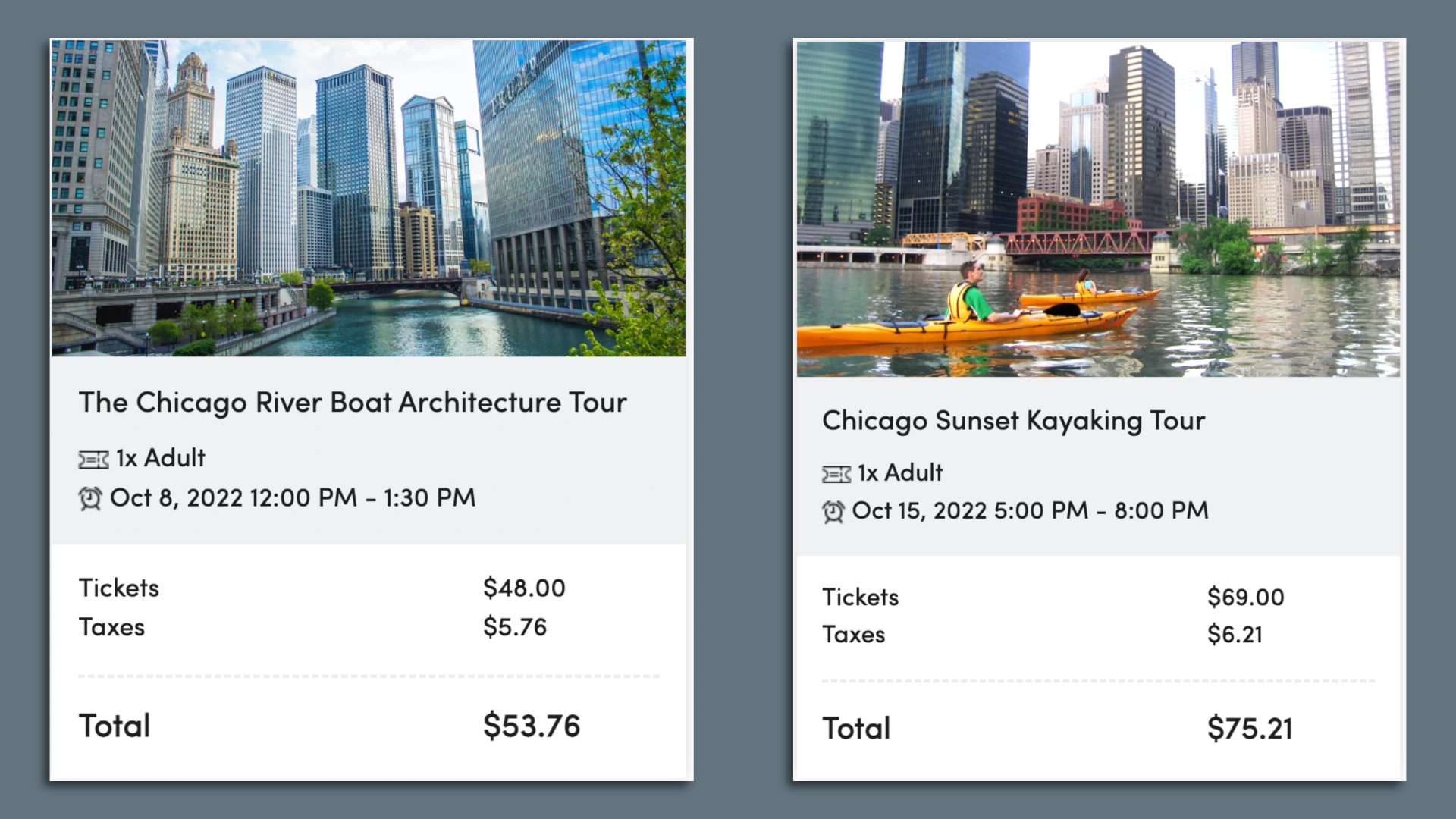 What's more: Justin ran into annoying service fees when booking tickets for the Color Factory, which uses Peek.
And when he tried to buy Cubs tickets at Wrigley this summer, the box office clerk told him to hand her his phone so that she could buy the ticket for him — with service fees — online.
Cubs officials say the policy started in 2019.
What's next: Despite the complaints, Museum of Ice Cream officials say they are not currently seeking a different ticketing service.
They are, however, touting a 20% discount on kids' tickets by using a BACKTOSCHOOL code this month.
2. Housing coming to LaSalle Street
Expressway traffic, lunchtime lines and downtown congestion might make you think that Loop office occupancy has returned to 2019 levels.
Reality check: It's probably not even close.
Driving the news: A new report from Kastle card swipe systems suggests office occupancy rates are climbing but still lag way behind pre-pandemic levels.
These new realities have city leaders thinking differently about downtown office space. The Department of Planning announced an initiative yesterday to redevelop the financial district along LaSalle Street.
The new project would develop 1,000 new homes and 300 affordable housing units while offering relocation incentives for storefront businesses.
What they're saying: "There is nearly 5 million square feet of vacant commercial space on the LaSalle Street corridor, but not a single unit of affordable housing," Mayor Lori Lightfoot said in a press release.
Of note: The LaSalle Street corridor has historically been lined with banks and other financial institutions but reports the highest post-pandemic vacancy rates in the Loop.
3. Tips and hot links
👮 The CPD are encrypting their radio calls, which raises transparency concerns. (Tribune)
⚖️ Mayor Lightfoot says she is willing to go to court over the Biden administration's assertion that Chicago is environmentally racist. (Sun-Times)
😈 The Logan Square Farmers Market is evidently the place to be for hookups. The market is embracing its "horny" label by creating singles events. (Block Club)
Additional criminal charges could be coming for the woman who killed her 3-year-old nephew by pushing him into Lake Michigan at Navy Pier. (ABC 7)
4. Local chefs mobilize again
Take your career to the next level
5. Where in the world is … Justin?
Where's Justin this week? Here's a hint:
A neighborhood on a hill
With a castle turned into a church
It's one of Chi's best landmarks
So try not to Google search
📫 Guess correctly, and you could win some Axios swag. Details on a new Axios Office Hours coming soon!
Our picks:
🐇 Monica took her rabbit Binky for speed dates at the Red Door Animal Shelter over the weekend. She's happy to report that he really clicked with a certain lop-eared bun and she has moved into an adjacent hutch for now.
🥎 Justin congratulates WGN Radio for winning this year's Kup Cup in the 16-inch softball media league! Enjoy it … for now.
Want free Axios swag? Refer your friends to Axios Chicago and get cool merch like stickers, totes, hats, T-shirts and more!