January 21, 2022
Happy Friday! Today is the anniversary of the last time the Bears went to the Super Bowl. It was in 2007 and they lost. We don't need to dwell.
Today's weather: Snow showers this morning with a high of 26.
Situational awareness: Citywide COVID-19 cases may be falling, but CPS quarantines hit a record this week with 18,575 students and 1,819 staffers as of Friday morning.
Today's newsletter is 960 words — a 3.5-minute read.
1 big thing: Mega-developments to watch in 2022
2022 looks to be a big year for development — mega-development.
Why it matters: New projects on the North and South sides of Chicago could change the way we look (and live) for years to come.
Large developments plans this year include:
🏗 Lincoln Yards: Drive down Elston Ave. near North Ave. and you can see the $6 billion Lincoln Yards project starting to take shape. Well, at least the empty lots it will be built on.
The 55-acre project will take years to complete and will forever change the North Side of Chicago.
🧂 Morton Salt: Speaking of Elston, the old Morton Salt building along the expressway is being renovated into an office building and music venue.
Construction should be finished later this year.
🚧 The 78: If Lincoln Yards will transform the North Side, the $7 billion "The 78" development will do the same for the near-South Side.
Construction has begun on the biggest development in Chicago history, with Phase 1 expected to be complete in 2024.
It's called The 78 because planners expect the finished community just north of Chinatown to be big enough to be considered Chicago's 78th neighborhood.
🚉 One Central: This mega-development is planned for the South Loop near Soldier Field.
Developers are pushing the state to pay for a new transit hub with a train station.
The first phase of construction could begin later this year if the state agrees to fund the transit hub, but the mayor was not convinced as of last fall.
🏦 United Yards: A retail and housing development chosen by the city's Invest South/West initiative, it would be located around 47th and Ashland Ave. in the Back of the Yards neighborhood.
🛋 Luxury condos: A slew of luxury condos are being developed in 2022, including a new building in the West Loop where units could cost up to $6 million.
2. Chart of the Day
Home prices in 12 Cook County communities more than doubled over the past 20 years.
The rises happened in a county where all 33 submarkets saw home values increase by at least 42%.
Why it matters: The stats offer a peek into communities whose fortunes have risen most over the last two decades.
The details: Data comes from Cook County property records and was crunched by the Institute for Housing Studies at DePaul University.
The fascinating Cook County Price Index looks at 33 local real estate markets from Jan. 2000 to June 2021.
Latest takeaway: The analysis says that between 2020 and 2021, "on average, house prices in Cook County increased by 12.8% compared to the previous year."
3. Tips and hot links
✈️ United lost $646 million in Q4 2021 and expects more losses in Q1 2022. (Chicago Tribune)
👩‍⚖️ The Cook County judge who made sexist remarks to a lawyer during a live hearing has been reassigned and ordered to take sensitivity training. (Sun-Times)
🧪 Ex-employees say the Center for COVID Control told them to lie about test results and throw some in the trash. (Block Club Chicago)
🏀 Bulls point guard Lonzo Ball will be out 6-8 weeks for surgery to repair his torn meniscus. (CBS Sports)
4. Bite Club: Birria Lasagna in a parking lot
👋 Hey, Monica here. Last November, Axios reader Brian W. wrote in raving about the quesabirria tacos sold from a tented cart in an AutoZone parking lot.
Brian had me at "AutoZone parking lot!"
But I was really sold when he mentioned that Antojitos La Esquina also sells "lasagna birria."
Why it matters: Chicago is full of great quesabirria tacos, stuffed with hot chihuahua cheese and stewed beef or goat. But birria lasagna is a new rare find.
The journey: I visited the Rogers Park stand four times before I was able to try it.
Chef Raul Estrada kept telling me he'd run out and would have more tomorrow.
The goods: Lasagna birria ($12) turns out to be a deconstructed quesabirria taco featuring melty cheese, tender stewed beef and diced onions between three layers of thick, crispy tortillas.
Bottom line: It may be fun to say "lasagna birria," but eating the actual nacho-like dish is too messy— especially in the car.
You're better off getting Estrada's wonderful quesabirria tacos (three for $12). They're so much easier to dip in his rich birria consomme that comes with both dishes.
Plus: While you're in the parking lot, you can stock up on auto supplies.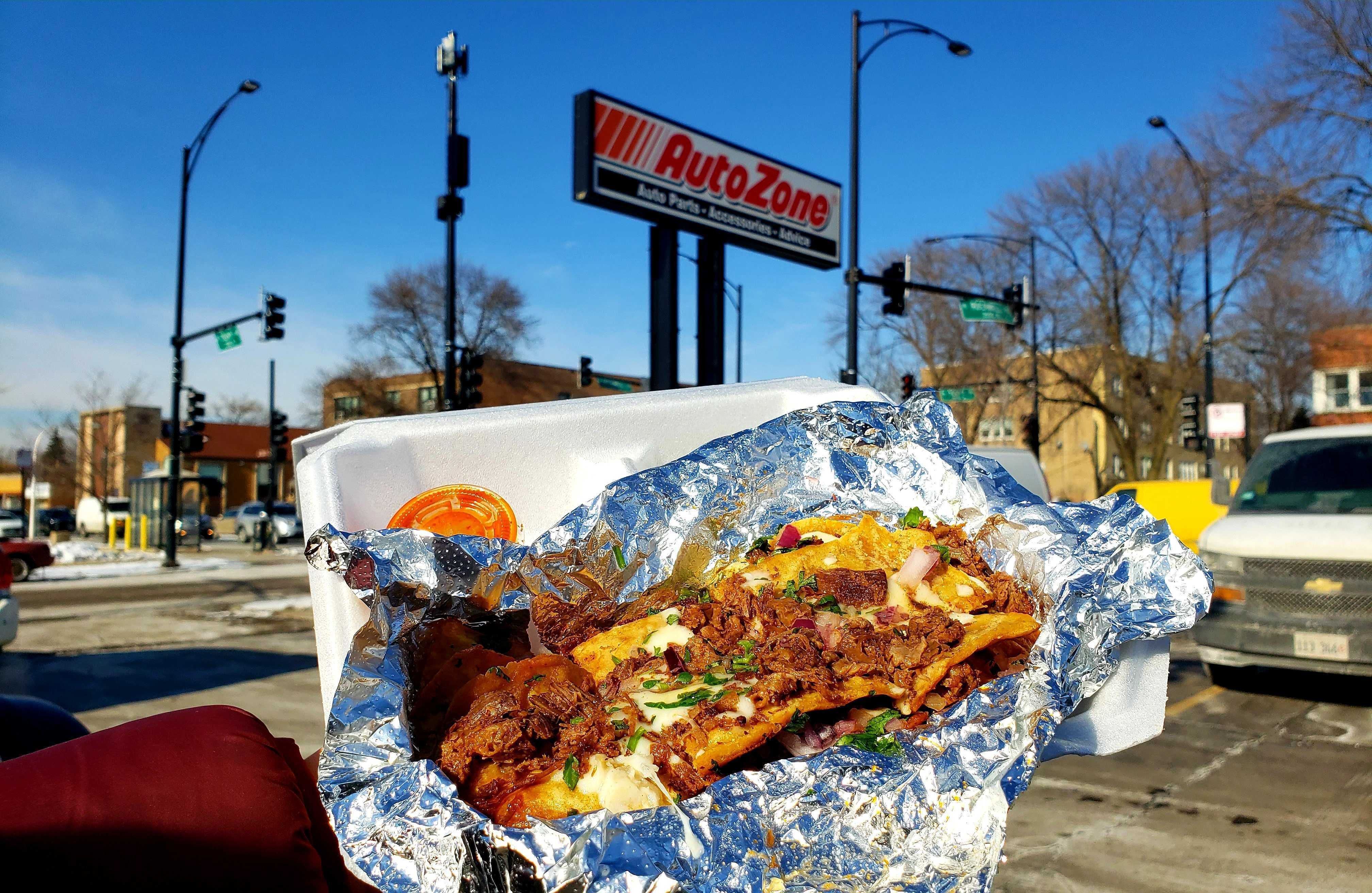 5. Must watch: Chicago TV
👋 Hi, Justin here! The Netflix smash hit Ozark returns today for its fourth and final season.
If mafia/drug cartel/Missouri lake shows aren't your thing, here are a couple of shows featuring Chicago ready for your binging pleasure.
Station Eleven: If Ozark is too high stress for you, maybe try a show about a flu that kills almost everybody? Station Eleven creates a post-apocalyptic world set in the Chicago area with terrific storytelling.
Bonus: They do some amazing still shots of what Chicago would look like if everyone left. Something to fantasize about when stuck in rush hour traffic.
Somebody Somewhere: Comedian Bridget Everett made her name doing raunchy live shows in NYC, but is now turning in great dramatic performances. Her new HBO Max dramedy has her coming back home to Kansas after her sister's death.
Except it's not shot in Kansas — the pilot was filmed right here in Lockport.
South Side: It doesn't have to be new to be bingeworthy. South Side (season 2) is a Chicago masterpiece. You'll find yourself saying "How will someone get that joke if they don't live here?" Luckily, we do.
📭 What are you watching? Reply with your favorites and we'll put together a show guide for all of our readers.