January 18, 2022
It's Tuesday and we're thrilled to be back talking with you.
Today's weather: Cloudy with a high of 40. Break out the flip-flops.
Love this newsletter? Show your support by becoming a founding Axios Chicago member today.
Today's newsletter is 940 words — a 3.5-minute read.
1 big thing: Irvin announces run for governor
Richard Irvin, the moderate Republican mayor of Aurora, announced his candidacy for Illinois governor on Martin Luther King Jr. Day after months of speculation.
Why it matters: The candidate will likely be backed by billionaire Ken Griffin, who has pledged to spend millions to beat incumbent JB Pritzker, sources tell Axios.
"I am excited that [Irvin] has decided to join the race, and look forward to the opportunity to meet him and learn more about his ideas in the weeks ahead," Griffin said in a statement.
What they're saying: "Where JB Pritzker has failed in Illinois, I have succeeded in Aurora," Irvin said in a press release. "If we can do it in Aurora, we can do it for all of Illinois."
Bigger picture: Irvin would top a ticket that has been vetted by Griffin and other Illinois Republican donors, including:
Lieutenant Governor: State rep Avery Bourne (Morrisville).
Secretary of State: Former U.S. Attorney John Milhiser (Sangamon County).
Attorney General: Attorney Steve Kim (Northbrook).
Treasurer: State rep Tom Demmer (Dixon).
Comptroller: Auditor Shannon Teresi (McHenry County).
What's missing: There is no candidate slated to take on incumbent Senator Tammy Duckworth.
Yes, but: Not every Republican is excited about yesterday's announcement. Irvin joins a crowded field of candidates, including state senator and conservative Darren Bailey.
"Not surprised to see the establishment already cuddling up with a career Democrat like Irvin," Bailey tweeted. "Some people are willing to throw away principles for a few bucks."
The other side: Not to be outdone, Gov. Pritzker wrote himself a $90 million dollar check this weekend that will go to "turning out voters and ensuring Democrats across the state run competitive races and have the resources to win," Pritzker campaign spokesperson Natalie Edelstein tells Axios.
What's next: Candidates can start circulating petitions to get on the ballot. The primary for governor is on June 28.
2. How to use your new KN95 mask
Chicago ward offices and many Chicago Public Schools started handing out an estimated 1.5 million KN95 masks to the public last week.
Why it matters: The CDC now recommends the high quality masks for public use and at least one study suggests they are 75 times more protective than surgical masks against COVID-19 infections.
How to use: Although the masks are often labeled "single use," they can actually be worn multiple times, according to Chicago Department of Public Health guidance.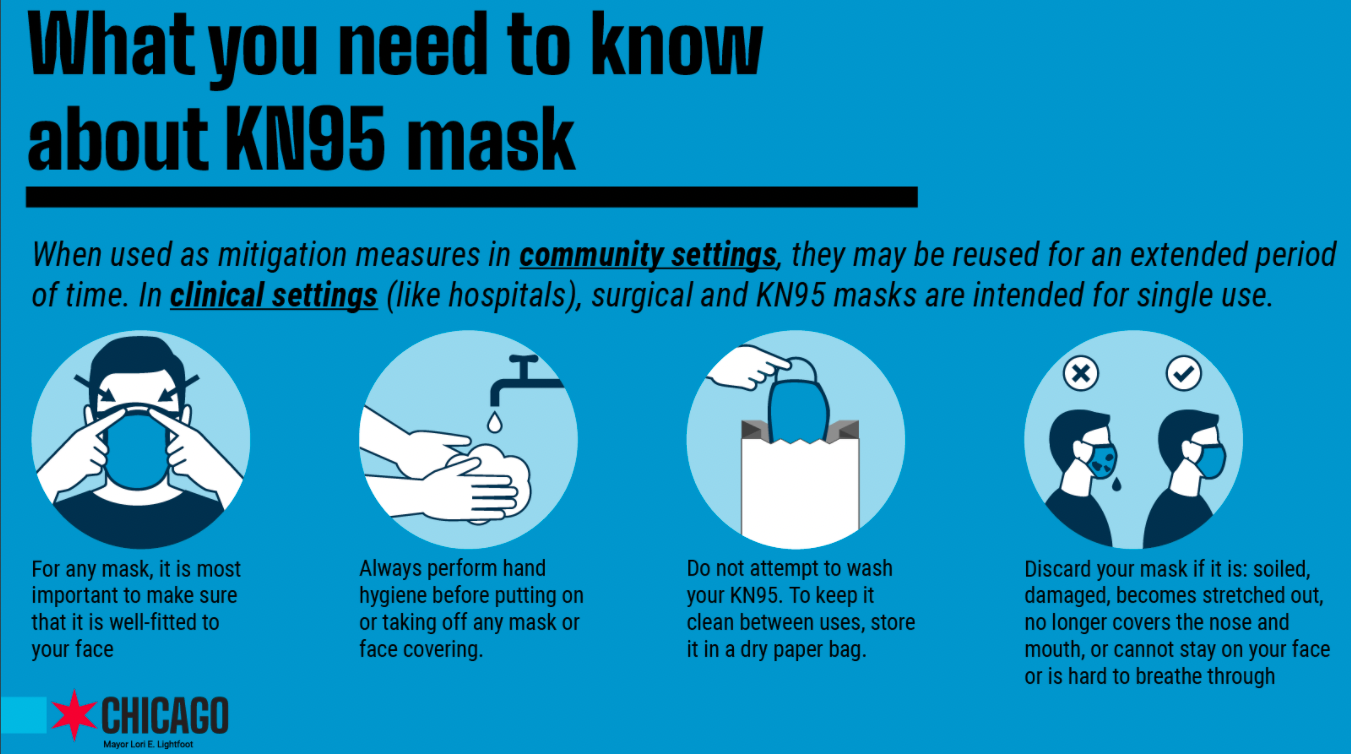 CDC tips: Don't layer KN95s with other masks or wear if wet or dirty.
The bottom line: You should be able to find the free masks this week at your local ward office or school.
3. Tips and hot links
With news that former Chicago police officer Jason Van Dyke could be released early from prison, activists want the feds to intervene and are calling for transit workers to shut down the CTA for 16 days. (Chicago Tribune)
😷 A CPS student questioned COVID safety protocols in her school with a letter to the editor. (New York Times)
🐠 The Shedd Aquarium's multi-million dollar renovation includes an underwater glass tunnel. (Secret Chicago)
🎙 Tributes are pouring in for legendary sports talk personality Les Grobstein. He passed away Sunday at 69. (Robert Feder)
🌚 Did you see the wolf moon, the first full moon in January? Not to worry, it should be visible until Wednesday morning. (NBC Chicago)
4. Rejected Illinois vanity plate requests
The Illinois Secretary of State's (ILSOS) office has rejected more than 6,000 applications for "offensive" words on vanity license plates over the past two years.
A small committee in drivers services reviews the applications and makes a call based on "good taste and decency," says ILSOS representative Henry Haupt.
"While judgement is discretionary, the goal is to make sure license plates are easy for law enforcement to read and are not offensive to the motoring public."
Between the lines: We recently got a list of these words through a public records request.
Most rejected words had to do with sex, drugs and violence, but others were just kind of juvenile.
They offer a disturbing — and sometimes hilarious — peek into the psyche of your fellow Illinois drivers.
Bathroom requests: FARTMAN, FECES, TURDS, POOPIN, POOPOO, PASSNGAS.
Why: FLOOZE, FLOOZIE, FLOOZY, FLUZEE, FLUZIE, FLUZZY.
Not super offensive: ACID, BEER, BIDEN, DRFUNK, ESTROGN, EUNUCH, MENOPAS, ZAMBONE.
Go deeper: A whole page of rejected names — many too hot for the newsletter.
5. Your chicken sandwich picks
We clucked about our favorite chicken sandwiches last week.
Your feedback: Most readers sided with Justin but also offered suggestions of their own.
If you haven't tried Lucy's chicken sandwich you need to get on that ASAP. Roost doesn't even compare. — Benjamin O.
Justin is right about the Roost and the peach cobbler … but the buttermilk biscuit [as opposed to Justin's pick of the Hawaiian roll] was made to have spicy chicken in between. — Chad R.
Reve Burger's fried chicken sandwich (and their fries) is the best I've had … And Parson's Nashville Hot is up there too. — Mario G.
Hands down, Honey Butter Fried Chicken's "OG" Chicken Sandwich, in Avondale. — Karen J.
Gotta check out JT's Genuine Sandwiches next. Best pork tenderloin sandwich in the game (and have a dang good fried chicken sandwich too). Extra pickles + add a little sriracha and I promise you won't be disappointed. — Christina C.
Please tell me you have tried, or will soon try, the legendary chicken sandwich at Hermosa. It's phenomenal! — Steven B.
The Motherclucker (sandwich) at Cluck-It. Despite the truly terrible names of both resto and item, I have never had a better chicken sandwich and I still dream about my first bite. Unfortunately, I suspect it needs to be eaten on-premise for max enjoyment which understandably is not high on many folks' to-do list right now. — Andrew N.
Go deeper: A few more South Side reviews from Monica.
Editor's note: The top story was corrected to reflect Ken Griffin has not officially committed to supporting Richard Irvin.
Our picks:
Monica is worried about all the Christmas trees she sees in the alleys and hopes folks will drop theirs at these sites through this Saturday. Come on, you'll feel really good about it.
Justin is hooked on Station Eleven. The show does a great job of depicting Chicago after the world ends. The main characters hunker down in Lake Point Tower. There are worse places to ride out the apocalypse.
Want free Axios swag? Refer your friends to Axios Chicago and get cool merch like stickers, totes, hats, T-shirts and more!