January 11, 2022
Happy Tuesday. Today is National Milk Day! Not to be confused with Milk Days, the Harvard, Illinois festival that has been running for almost 80 years. That's usually in June.
Today's weather: It's just nine degrees outside as we publish. The high today is 34. That's quite a swing.
Today's newsletter is 890 words — a 3.5-minute read.
1 big thing: Back to school
The Chicago Teachers Union (CTU) voted last night to "suspend the Union's remote work action" and return to school buildings today.
In-person classes for students will resume Wednesday after five days of class cancellations, though rank and file CTU members will still have to vote in favor of the deal.
The Union House of Delegates voted 389-226 in favor.
Details: The two parties shared broad outlines on the terms:
Opt-out testing
All surveillance testing will require parents to explicitly opt their children in.
A win for the CPS side.
Metrics to flip a school to remote
Schools would go remote for five days if 30% of teachers are absent for two consecutive days or 40% or students are quarantined.
A compromise between both sides' proposals.
Metrics to flip to districtwide remote
No metric is set to trigger districtwide remote.
A win for CPS.
What they're saying: "I'm glad that we're hopefully putting this behind us and looking forward," Mayor Lori Lightfoot said in a press conference Monday night. "....Three work stoppages in three years. Of course people are frustrated. Why wouldn't they be?"
CTU President Jesse Sharkey in a separate Monday press conference: "We worked hard to find other compromises. I'm not going to say anyone on our team feels like this is a home run."
CTU VP Stacy Davis Gates: "We had to go to remote to get face coverings … and more testing inside of our school communities in the middle of a pandemic."
Davis Gates on Mayor Lightfoot: "This mayor is unfit to lead this city. She is on a one-woman kamikaze mission to destroy our Chicago Public Schools."
Yes, but: Chicago Sun-Times reporter Nader Issa tweeted that teachers were not uniformly happy with the proposal.
One told him, "I just paid $3,200 for two KN95 masks," presumably referring to pay teachers may lose from lost instructional days.
Big picture: "Families have to have a voice [in these discussions] especially as we move forward," said CPS CEO Pedro Martinez. "I commit to you right now that that is what's going to happen."
What we're watching: It's still unclear if teachers will be paid for the lost instructional days. CTU attorney Robert Bloch said the issue was "punted" to CEO Martinez.
What's next: CTU members are expected to vote this week, even as early as today.
2. Restaurants "back to square one"
Chicago restaurants are calling for renewed help amid the latest surge.
"We were in good standing before the pandemic … then [during the pandemic] we got some PPP and worked hard to get back into good standing and thought we'd be OK," Diana Davila, chef-owner of Mi Tocaya Antojeria, tells Axios.
"But with this latest surge we're back to square one again."
Driving the news: Over the weekend 25 big city mayors, including Lori Lightfoot, sent a letter to Congress urging lawmakers to replenish the Restaurant Relief Fund or risk losing crucial parts of the community.
Between the lines: For a lot of Chicago restaurateurs, the current moment brings a triple whammy of special challenges:
Omicron infections keeping workers out of the restaurant and scaring customers.
Shortage of rapid tests and PCR results taking up to five days.
Icy temperatures that make even hardy al fresco diners think twice about going outside.
The latest: Restaurateurs tell us that it's still too early to tell if the law requiring customers to show proof of vaccination is hurting or helping restaurants.
"The bigger issue right now is that a lot of my staff can't come in because their (CPS) children aren't back in school," says R.J. Melman of Lettuce Entertain You restaurant group.
The bottom line: "We're seeing places closing all the time," Davila says. "I don't want to hear one more politician say that small businesses are the backbone of our communities if they're not going to do anything about it."
3. Tips and hot links
📈 Cook County Jail is seeing its biggest COVID outbreak since the pandemic began. (Block Club Chicago)
👮‍♂️ Chicago police brass are trying anything and everything to get officers on the streets to fight city violence. This includes more shuffling. (Chicago Tribune)
🏈 Now that the Bears have fired Ryan Pace (and Matt Nagy), they have officially begun their search for a new general manager. The Colts' Morocco Brown is reportedly high on the list. (NBC Sports)
🐻 As for head coach: The Bears requested permission to interview both of the Bills' coordinators, DC Leslie Frazier and OC Brian Daboll. (ESPN)
😒 For the second straight year, we are No. 1 in the U.S. for bed bugs! Whooo! (ABC7Chicago)
4. Chicago's best suburbs
Chicago-area suburbs have always been known as great places to live. A new study confirms it.
Storage marketplace StorageCafe broke down the best 100 suburbs in the country that offer city-like living and 20 of them surround Chicago.
The study broke down the best suburbs for "city-life amenities." That includes schools, access to restaurants and stores, plus health care facilities.
By the numbers: Southlake, TX took the top spot, but Lake Forest and Highland Park were close behind. Others in the top 100:
Algonquin (28)
Vernon Hills (36)
Orland Park (51)
Downers Grove (56)
Frankfort (75)
Now hiring: New job openings
5. Where in the world is … Justin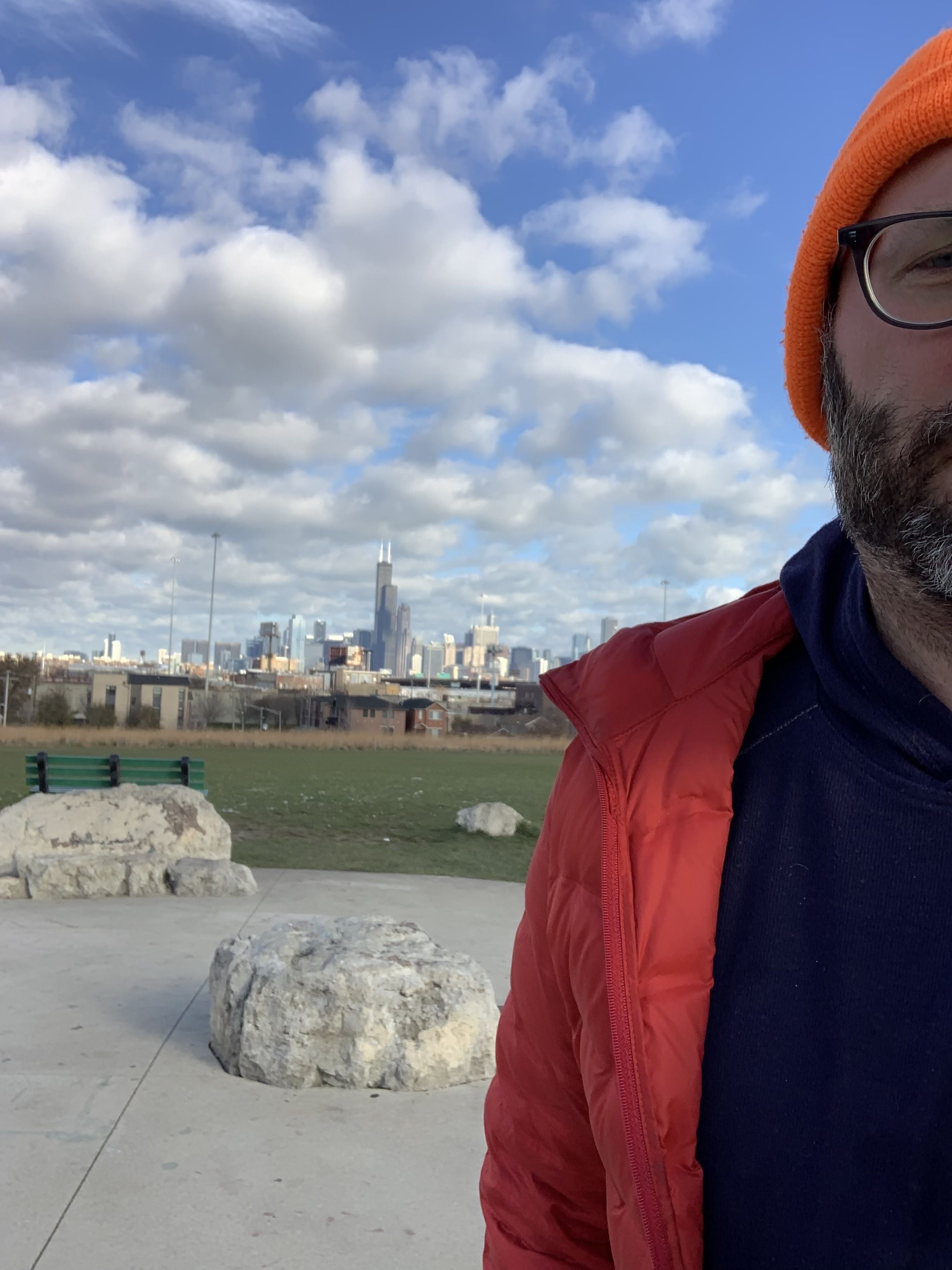 Where in the world is Justin?
📬 Let us know and you can win some Axios swag!
Hint: Historians say this location used to actually be a coral reef before becoming a landfill later turned into a park.
Our picks:
🤧 Monica is really hoping this cough and fatigue are just temporary.
🤫 Justin spent the last few days listening to the Encanto soundtrack. He's definitely not talking about Bruno-no-no.
Want free Axios swag? Refer your friends to Axios Chicago and get cool merch like stickers, totes, hats, T-shirts and more!