Axios Chicago
October 25, 2021
Happy Monday It's officially Sourest Day, a good time to enjoy kombucha, sourdough or sauerkraut. Or all of them at once.
🌧 Today's weather: Blah. Rainy with a high of 54 and low of 48.
Today's newsletter is 870 words — a 3.5-minute read.
1 big thing: Life in the Loop today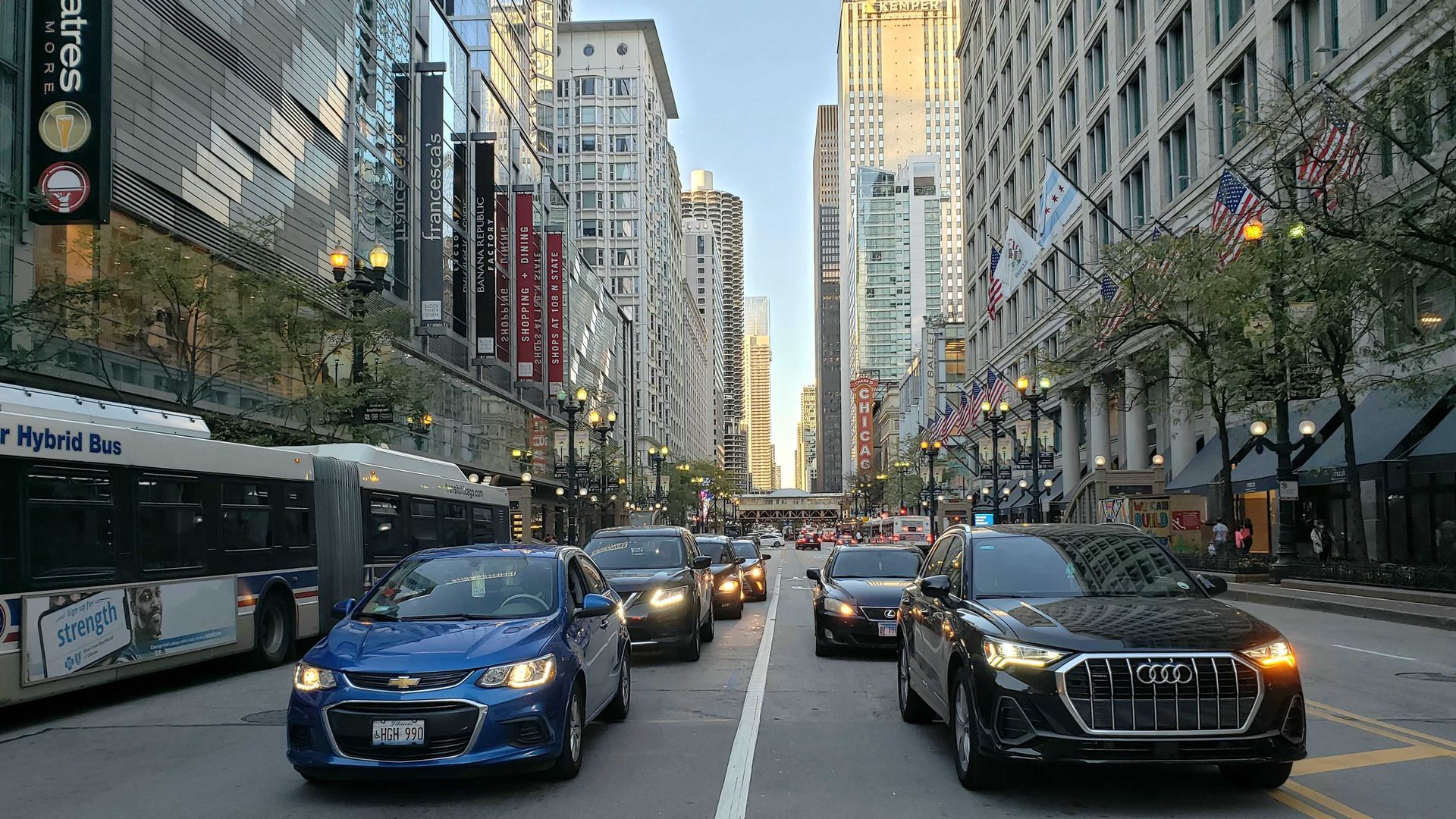 Chicago's COVID-19 cases continue to fall, but downtown life is still far from back to normal.
CTA ridership is still down by more than 50% from pre-pandemic levels.
Office occupancy is only at about 32% in buildings managed by leading commercial real estate services firm Commercial Real Estate Services (CBRE).
Why it matters: These reduced crowds are taking a toll on city coffers and some downtown businesses, but they can also make the area easier to enjoy for visitors and folks working downtown occasionally.
What it's like: Monica took the Red Line downtown to check out the current scene.
Noon commute: Granted, this was never a crowded time for public transportation, but there were only nine other people in my train car — two without masks shouting at each other.
The line report from former hot spots:
Blue Crab Lounge of Shaw's Crab House at 1pm. No line and a few open tables. The host says you can expect about a 20 minute wait at noon, but it depends on the day.
The Purple Pig on Michigan Ave at 1 pm. No line with a few open tables.
The big Starbucks Reserve café on Michigan Ave. at 2 pm. No line to get in or for food on 3rd and 4th levels. On the 3rd level we even spotted three empty window tables with sweet views of Michigan Ave.
Garrett's Popcorn around 2:30 pm: No line at location off Michigan Avenue nor on Randolph St.
Go deeper to read about lines at the Thompson Center DMV and the rush hour commute home.
2. Bite club: Homestyle Filipino foods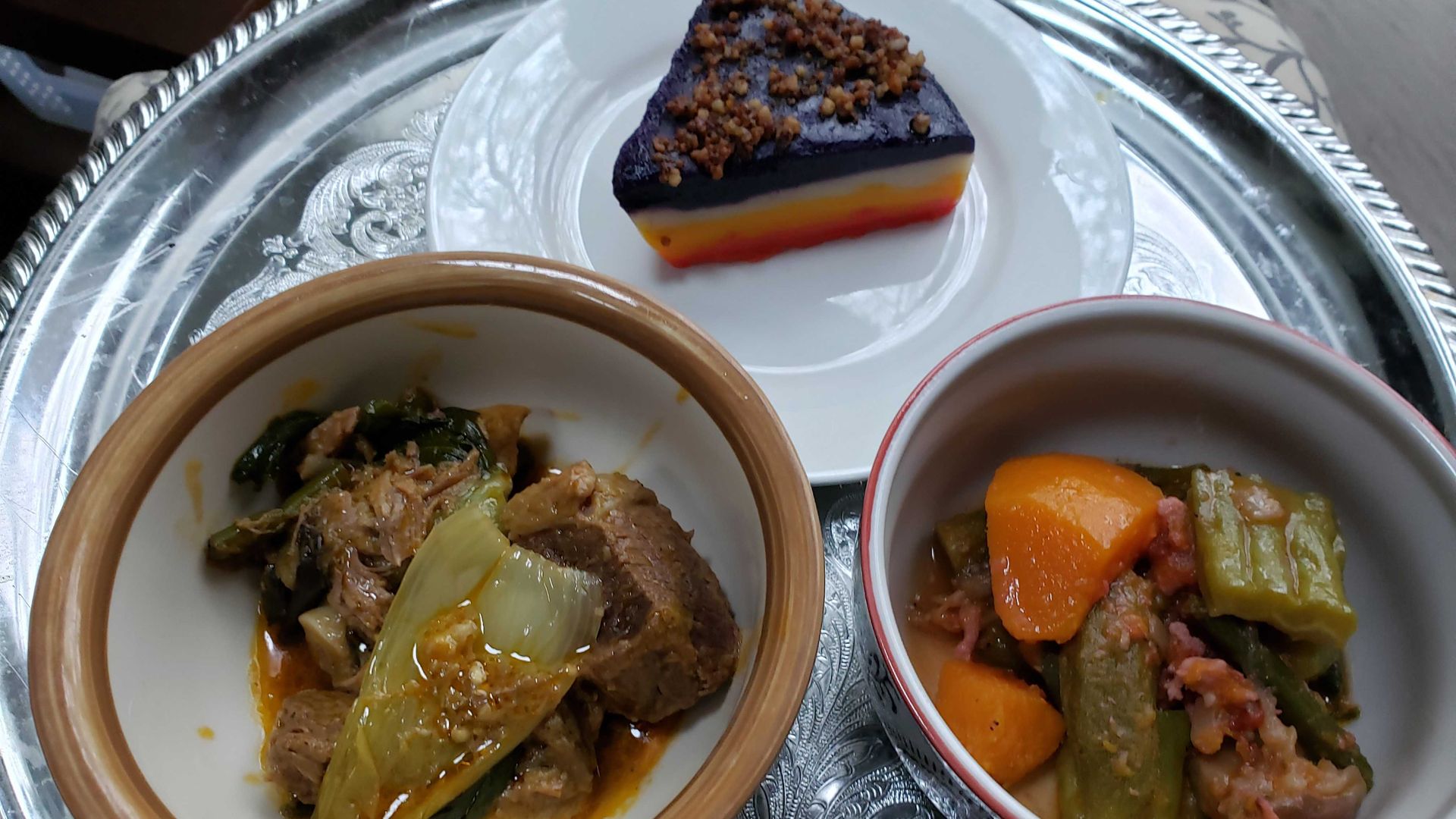 It's Filipino American History Month, a time to celebrate the history and culture of the second-largest Asian American group in the country.
So we asked Filipino-American writer Sarah Lynn Pablo for a Bite Club recommendation, thinking she might send us to the new Urbanspace food hall to try the Isla Filipino booth or to Jennivee's Bakery in Lakeview for ube cupcakes.
Instead she pointed us to the ultra-homey Ruby's Fast Food in Albany Park, open for more than 20 years.
"It's a family run business with food that's like what mom used to make," she says. "They're best known for crispy pata, a deep fried pork knuckle. But honestly it's the best steam table you'll find in the tri-state area."
👋 Monica here. I stopped by on a rainy Sunday morning to find a line of folks picking up their tapsilog breakfasts, with cured meat, fried rice and egg.
The crispy pata wasn't ready yet so I got scoops of kare kare, a peanut butter enriched stew of vegetables and beef tripe, as well as pinakbet, a vegetable stew with okra, eggplant, sweet potatoes and, my favorite, bitter melon.
For dessert I got sapin sapin (sah-PEEN), layers of coconut-infused glutinous rice cake.
Next time I hope to be there for the crispy pata. But these stews and dessert brought soul-satisfying Filipino sunshine to a gloomy Chicago day.
Go deeper: Pablo offers guidance on Filipino food shopping at the massive Seafood City grocery store.
3. Exhibition turns waste into thought-provoking art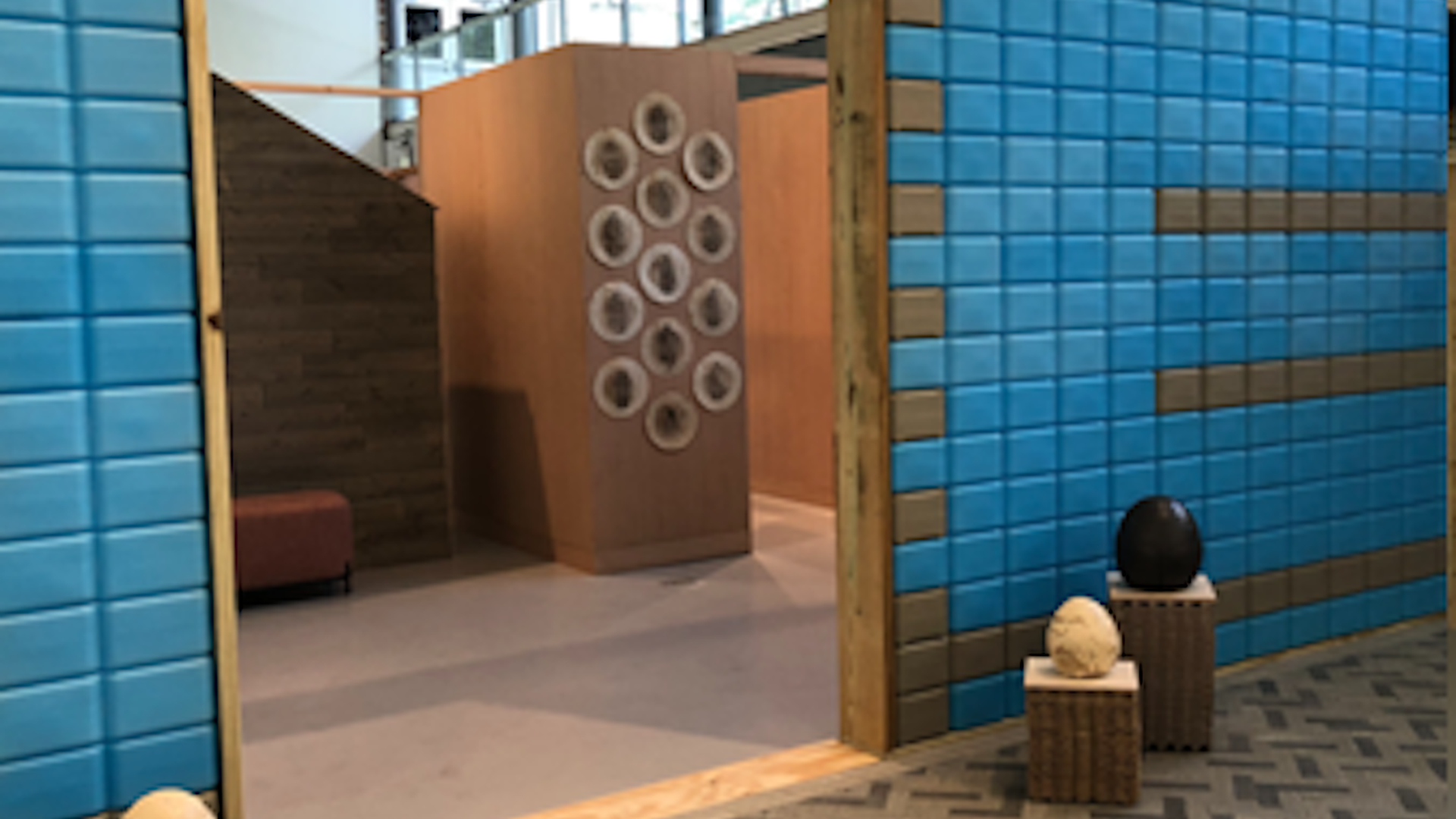 In her new show at the Hyde Park Art Center, artist Lan Tuazon has built a house made only from repurposed materials.
Why it matters: The exhibit presents visitors with a life-sized reminder of the 109 tons of waste the average person creates in a lifetime and what might be done with it.
What you'll see: A house with walls constructed from newspaper and water tanks, concrete floor made with bacteria, egg cartons turned into tables and artwork created with plastic forks and plush toys.
Audience participation: Visitors can bring in plastic waste for the artist to shred for new additions to the house.
Tuazon's inspiration: The concept was sparked by a 2014 New York Times article about plastiglomerates, a new category of rocks where plastic waste melds with sediment and coral.
"This was making artifacts of human culture," she tells Axios, "which begs the question, not what we make of the world, but what the world will make of us?
"My intent with this work is to present our shared ecological condition which may be the last warning to shake up our man-made categories towards ecological justice," she says.
Details: Future Fossils: SUM runs at the Hyde Park Arts Center through November 13.
4. Tips and links: Tasty tidbits you need to know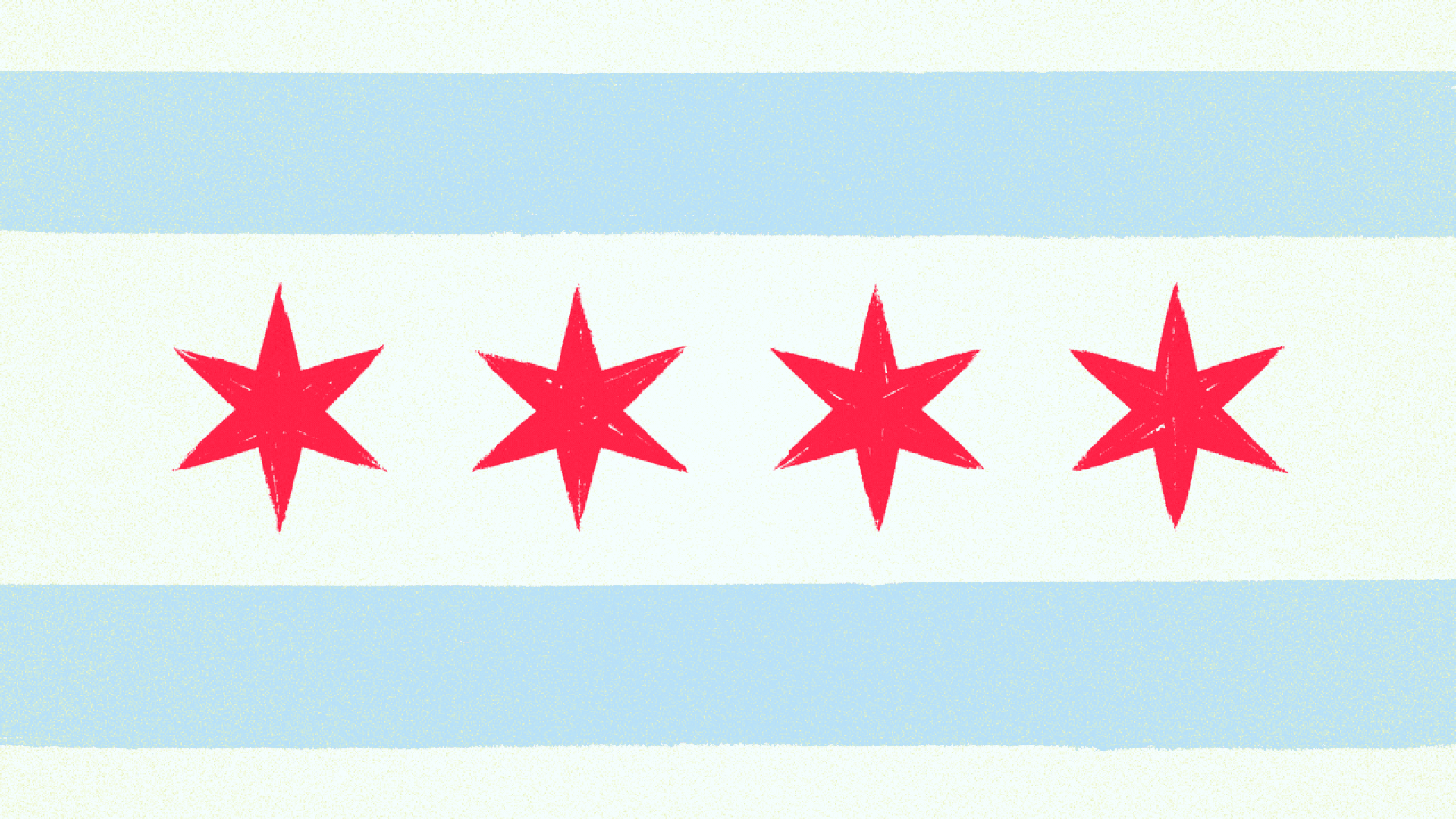 🍁 Why aren't we seeing awesome fall colors yet? Blame the drought and heat. (WTTW)
🗳 Illinois Democrats push for a second Latino seat in redistricting maps. (WBEZ)
🐀 Chicago rats are acting weird. (NBC-Chicago)
5. MMQB: Listless Bears dominated by Brady, Bucs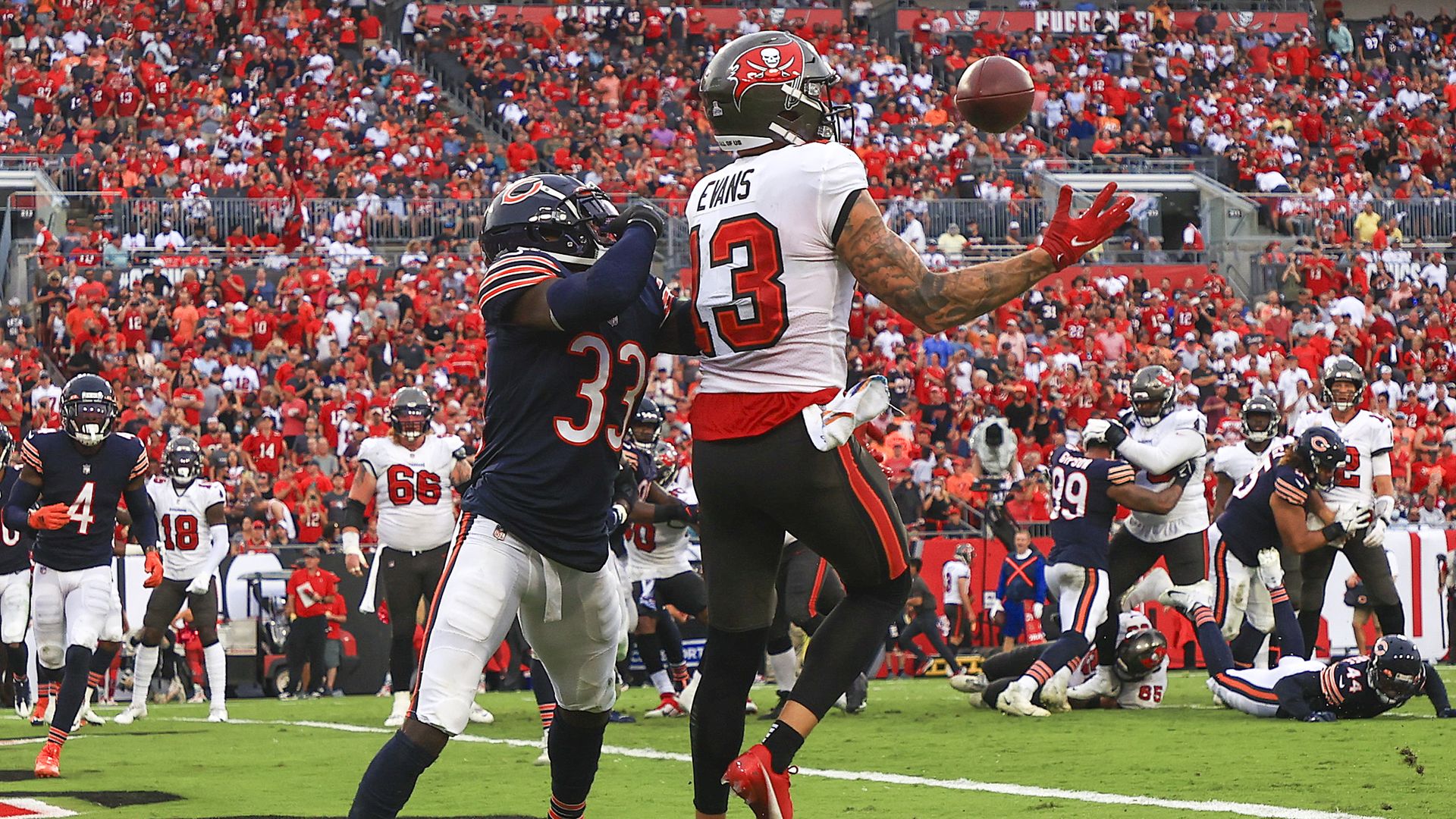 The Bears got a reality check in Tampa as the Buccaneers blew out the Bears, 38-3.
Why it matters: The defending Super Bowl champs served as a litmus test for the 2021 Bears, which they failed miserably. The defense, supposedly the strength of this team, looked completely overmatched and out of sync against Tom Brady, who threw for four touchdowns.
Justin Fields: The rookie QB had a bad, bad rookie day. He lost two fumbles, threw three interceptions, and looked lost throughout most of the game.
MVP: No one.
LVP: It was a group effort.
What's next: The Bears host the 49ers at Soldier Field next Sunday.
6. Thanks for coming to Axios Office Hours Friday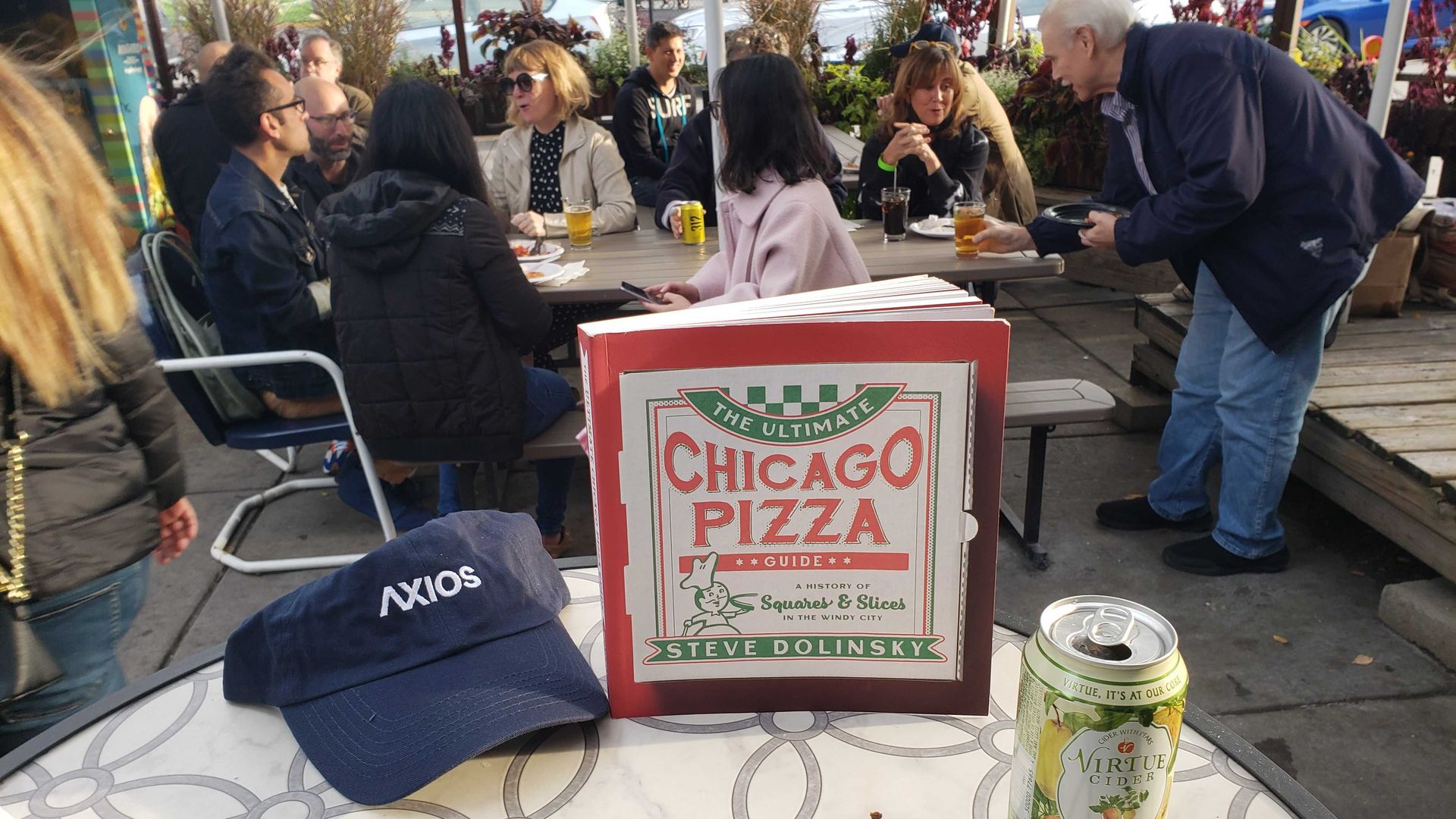 We loved seeing everyone and will schedule another one soon.
Our picks:
🤧 Monica has a runny nose, and she's not sure if it's allergies or a cold. Either way, she doesn't like it.
👻 Justin is already feeling overwhelmed with Halloween.