January 13, 2022
Happy Thursday! Today is the anniversary of the Blizzard of 1979 (Chicago's fourth worst snowstorm). Well, today and tomorrow. And probably the next day too.
Today's weather: Cloudy with a high of 37.
Today's newsletter is 920 words — a 3.5-minute read.
1 big thing: Kids leading COVID-19 daily cases
Children under 17 years old make up 23% of current Chicago COVID cases and lead all age groups, according to daily average case counts on from the Chicago health department.
Why it matters: Hundreds of thousands of kids under 17 returned to school buildings this week where children eat together maskless, the majority of students are unvaccinated and, critics charge, safety mitigations are inconsistently enforced.
By the numbers: We analyzed the current stats to find which groups lead these categories:
Highest COVID rates: White Chicagoans (30% of all cases where race is known), females (55%) and people 0-17 years old (23%).
Highest hospitalizations: Black Chicagoans (53%), women (55%) and people ages 60-69 (18%).
Most deaths: Black Chicagoans (44%), women (51%) and those over 80 (36%).
Highest full vaccination rates: Asian-American Chicagoans (73%), women (67%) 50-59 year olds (86%).
Biggest risk for severe outcomes: Lack of vaccination. Chicago's unvaccinated account for twice as many COVID cases and six times as many hospitalizations as those who are vaccinated and boosted.
More testing: The department of health has added a new SHIELD testing center at the Federal Courthouse that uses a U of I-developed saliva test rather than nasal swabs.
2. Chicago teachers vote to ratify safety agreement
The CTU membership voted Wednesday to accept the terms of the new safety agreement from CPS after classes were canceled for five straight school days.
Meanwhile, some schools had a bumpy start back yesterday, including reports of teacher shortages and student absences, per Block Club Chicago.
What they're saying: "More than 88% of CPS CTU teachers reported to school (Wednesday)," said CPS in a statement. "Student attendance data for Jan. 12 is still being calculated."
What's next: A group of CPS student activists called Chi-RADS is planning an organized school walkout at 12:30pm tomorrow to demand a voice on school safety.
3. Tips and hot links
🧪 Insurance companies, pharmacies and the federal government are still working out how to cover at-home COVID tests. (Chicago Tribune)
😷 Governor Pritzker will send additional health care workers to Illinois hospitals to help with the Omicron surge. (CBS 2 Chicago)
💵 A worker at Washington Federal Bank for Savings has pleaded guilty to forging paperwork making it look like Ald. Daley Thompson (11th) made mortgage payments to the failed bank when he allegedly did not. The worker says she was forced to by the bank president. (Sun-Times)
🏞 The fight continues over a caged coyote who is an "ambassador animal" in a Northbrook forest preserve. (Chicago Tribune)
♟ Chicago has one of the best young chess players in the country, a student at Lane Tech High School. Go get em Avi! (Block Club Chicago)
⚾ Legendary Cub Jon Lester has retired. Thanks for the memories, Jon. (NBC Chicago)
4. Bite Club: Best chicken sandwich
Two chicken sandwiches enter, one chicken sandwich leaves.
Well, both technically left, because Monica and Justin ate them.
The new feature: Food of the week cage match, where we throw down our favorite picks on the same (ish) dish and let you decide the winner.
Today's food: chicken sandwiches.
Justin: Mine comes from Roost Chicken & Biscuits. They have two locations in Chicago, but I've been a regular customer at the Milwaukee location for almost a decade. Their chicken sandwich is a piece of art.
I opt for the house style which includes spicy chicken on a Hawaiian bun (also available on a biscuit) with coleslaw, dill pickles and a chipotle ranch sauce.
I'd also recommend the Carolina style, a sandwich slathered in pimento cheese.
And even though it's not a chicken sandwich, don't be a fool. Get the peach cobbler.
I'm not alone in my assertion that Roost is the best in Chicago. Chance the Rapper shot a music video in front of the place.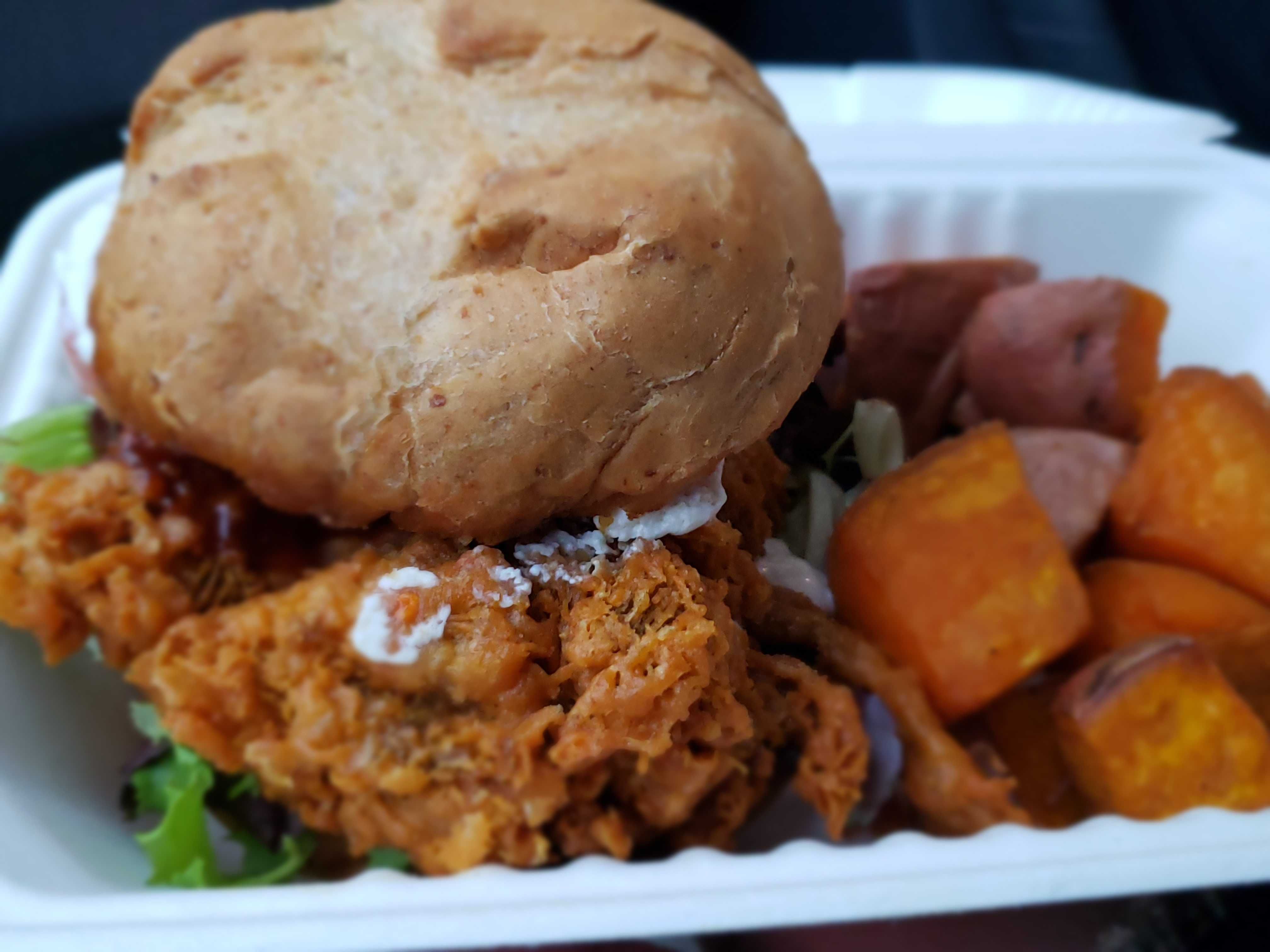 Monica: While I love a traditional chicken sandwich, I've been fascinated by the explosion of faux chicken sandwiches in Chicago, especially the oyster mushroom kind. My favorite comes from Majani Soulful Vegan Cuisine in South Shore — one of three South Side locations.
Called a fried oyster mushroom sandwich ($12.95), it features lettuce and tomato on a hearty bun. It comes with crispy sweet potato chunks but the secret is the mushrooms.
These tender but meaty tasting mushrooms are expertly breaded and fried in a delectable batter and smeared with a creamy garlic sauce.
Youth view: My vegetarian daughter and her friend devoured theirs and said "it's bussin," which I'm told means they liked it.
📫 Reply to this email with your winner. And while you're at it, let us know what your favorite chicken sandwich in Chicago is!
5. Revisit Chicago's demolished Garrick Theater
Visitors can step back in time by touring Chicago's Louis Sullivan-designed Garrick Theater in an exhibition called "Romanticism to Ruin," hosted at the Wrightwood 659 gallery.
Why it matters: Super COVID-safe entertainment is in short supply these days, and this exhibit delivers lots of wows without the crowds.
Famed cartoonist Chris Ware designed the show. It's housed in a hidden gem of a museum tucked between residential buildings in Lincoln Park.
What you'll find: Huge blown up photos, tickets, programs and even actual terracotta art from the theater that stood near Randolph and Dearborn from 1891 to 1961.
Neatest feature: Bangladeshi architectural animator Razin Khan created a virtual reality style video tour of the building in mind blowing detail.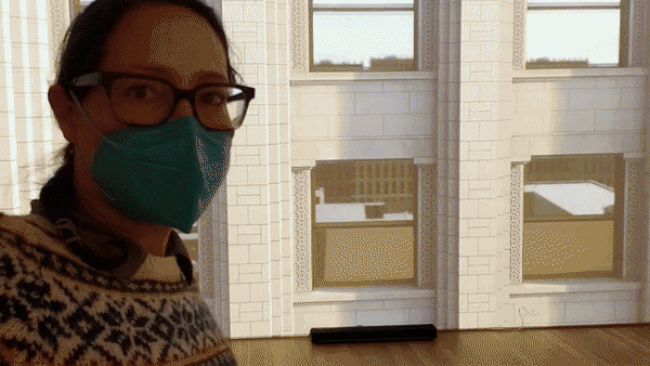 Cool fact: The facade of the Garrrick was saved and remounted over the iconic entrance to The Second City theater building on Wells Street.
If you go: Romanticism to Ruin is open on Saturdays through February and tickets are reservation only.
Our picks:
😋 Monica is savoring every last chocolate-enrobed almond that she ordered from Chicago Artizen over the holidays and forgot to give as gifts. All socially conscious, eco-friendly foods should be this delicious.
🥣 Justin is overwhelmed by all the soup recipes you sent! Soup for months! Thank you.