January 12, 2022
Happy Wednesday! Today is HAL 9000's birthday. In 2001: A Space Odyssey, HAL became operational January 12, 1992 in Urbana, Illinois.
Situational awareness: Chicago teachers have til this afternoon to vote for the new safety agreement negotiated by CPS and the CTU.
Today's newsletter is 880 words — a 3.5-minute read.
1 big thing: Mayor Lightfoot has COVID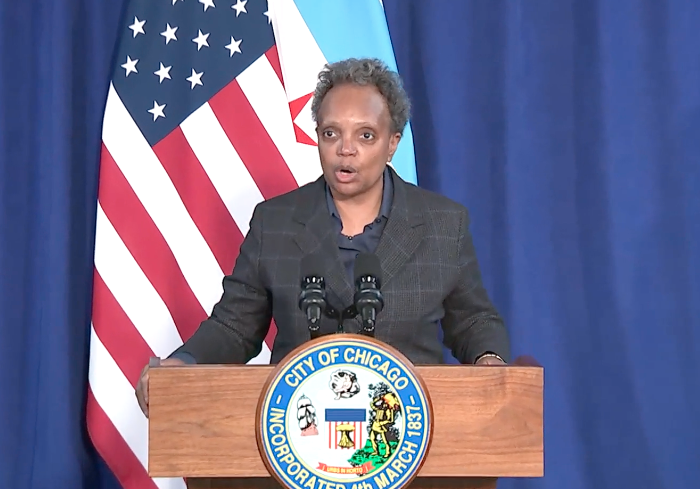 Mayor Lori Lightfoot announced yesterday afternoon that she tested positive for COVID-19. She says "she's feeling fine" and is experiencing cold-like symptoms.
Why it matters: Lightfoot is the highest profile Illinois lawmaker to test positive.
Context: This comes on the heels of a five-day battle with the Chicago Teachers Union over COVID safety precautions.
As late as Monday night, Lightfoot spoke at a press conference with CPS CEO Pedro Martinez and Chicago Department of Health commissioner Dr. Allison Arwady. But they all wore masks when not speaking.
Bottom line: Lightfoot used the news to remind folks "to get vaccinated and boosted as it's the only way to beat this pandemic."
What's next: Lightfoot said she will follow CDC protocols on isolation and quarantining.
2. Ward remap battle could be coming to ballot near you
It's early 2022 and the Black and Latino Caucuses are still at odds over the new city ward map with no compromise in sight.
Why it matters: This decennial remap will set the course of Chicago politics for the next decade as a theoretical reflection of the 2020 census figures.
Context: A new map was approved by a city hall committee in December. But the Latino caucus and its 13 wards came out against it because they want at least 15 majority Latino wards based on population increases.
Even though the Black Caucus lost population, they don't want to give up any more seats.
By the numbers: City council needs 41 votes to pass a new map into existence, otherwise competing maps will be voted on in June.
The Latino Caucus is holding out, making it increasingly likely this issue will head to next year. They back a different map called the coalition map, along with a handful of other alderpeople including Brian Hopkins (2nd).
"The coalition map is fair, almost perfectly balanced among demographics, and there was a more transparent process to develop it," Hopkins tells Axios.
Driving the news: 2022's first public hearing was held yesterday by the rules committee heading up the ward remap process.
What they're saying: "They don't want to cooperate, they don't want to work, they would rather come in and destroy the process than work with their colleagues," said Ald. Michelle Harris (8th), chair of the rules committee, of the Latino Caucus.
The other side: "We're not gonna be pushed around anymore or have our constituents used as backfill in order to prop up other wards," Latino Caucus chair Gilbert Villegas tells Axios.
"Not only are the maps proposed by our colleagues diluting our ability to elect more Latinos to office, but they put currently elected Latino officials in jeopardy of losing their seats over the next decade."
Big picture: Fights over representation and redistricting are happening all over the country.
What's next: The city council says they will have one more public hearing to review the map this month.
3. Tips and hot links
🚨 A new investigation reveals that Mayor Lightfoot knew speeding camera tickets were disproportionately affecting Chicago's communities of color but expanded the program anyway. (ProPublica)
🎓 Three local universities were named in a class action lawsuit about limiting financial aid to students. (Sun-Times)
📻 The former CEO of Chicago Public Media has been tapped to helm Politico. (New York Times)
💰 It pays to be a former mayor: Rahm Emanuel has made $13 million since leaving office in 2019. (Chicago Magazine)
🎭 Steppenwolf Theater postponed the opening of its "1919" production due to COVID but still plans on moving forward with the rest of its season. (NewCity)
Fresh job openings around town
4. How to fake it: Bears coaching choices
According to some NFL insiders, the Bears are a top destination for head coach candidates this offseason even though the big-market team hasn't won a playoff game in over a decade.
Quick take: Here's a cheat sheet of a few coaches on the Bears' radar. Use it to make you look smarter on your next Zoom happy hour.
Jim Harbaugh: The former Bears quarterback and current head coach at the University of Michigan has reportedly not ruled out a return to the NFL. Seems like a long shot he'll leave, but he did get drafted by Chicago in 1987.
Byron Leftwich: The offensive coordinator for the Tampa Bay Bucs has designed one of the best offenses in the league. Although let's be honest, it's much easier to execute when Tom Brady is your quarterback.
Todd Bowles: How about the Buccaneers defensive coordinator? He's already been a head coach with the Jets and was lousy, but his defenses usually are the best in the league. And Bears fans looooooovvvvveeee defense.
Leslie Frazier: The Bills defensive coordinator was a starting cornerback for the 1985 Bears. Need we say more? The franchise owes him for that busted reverse punt return in the Super Bowl that ended Frazier's playing career.
Brian Daboll: The Bills offensive coordinator is on everyone's short list. Who knows, maybe he'd bring Mitch Trubisky back.
Honorable mentions: Former head coaches Brian Flores (Miami), Doug Pederson (Philadelphia) and Dan Quinn (Atlanta) are all reportedly on the Bears short list.
5. Where's Justin? Bridgeport!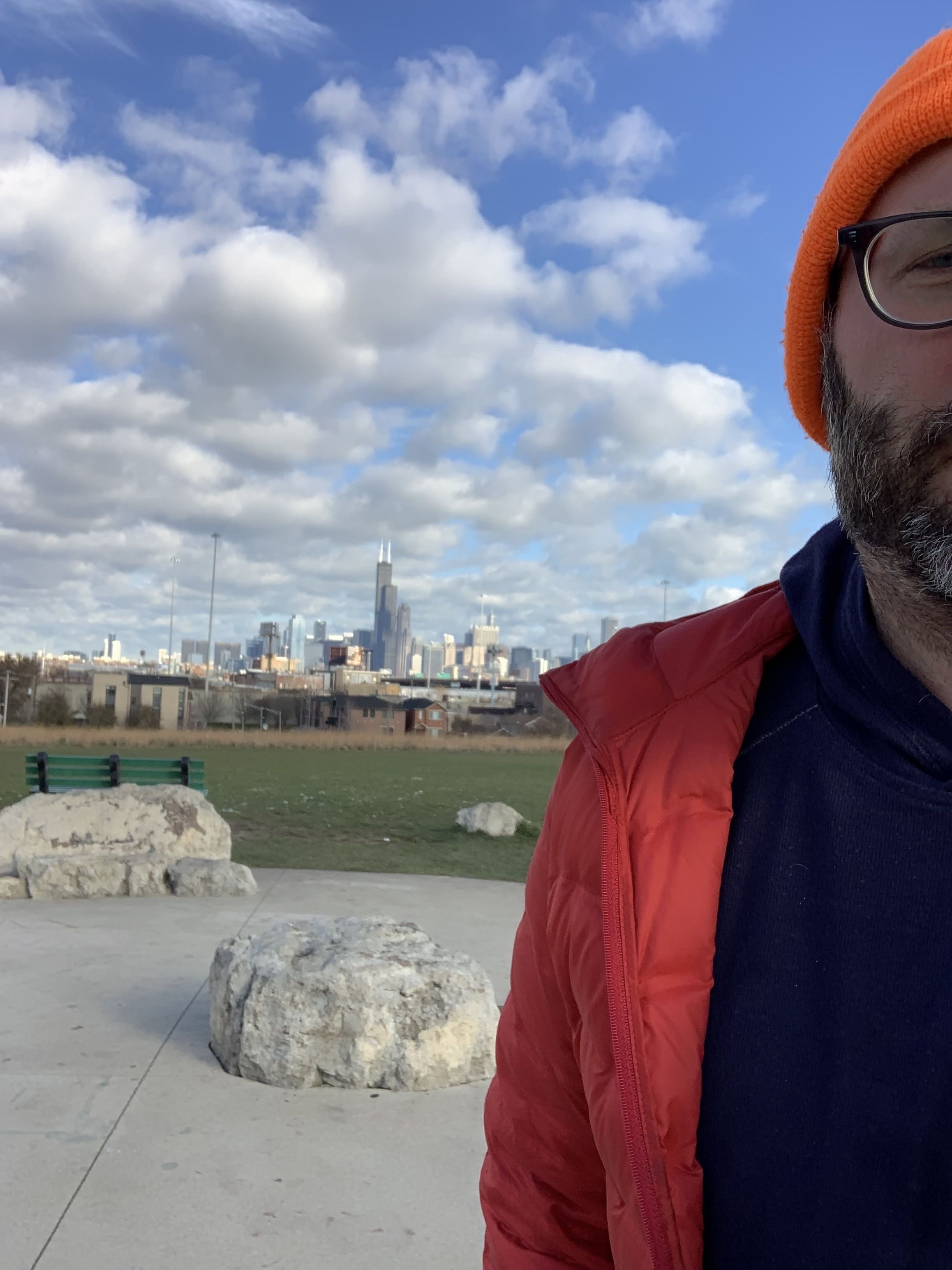 Justin is standing on top of Palmisano Park at 29th and Halsted in the Bridgeport neighborhood.
👏 Congrats to readers Susan K. & Paul M. for guessing correctly!
History: Palmisano Park had been a landfill, quarry and even a coral reef (400 million years ago) before 2009. Now it serves a place for great views, fishing and Chicago-style hiking (walking).
Editor's note: Yesterday's story on restaurants struggling in Chicago has been corrected to note that the emergency assistance program is called the Restaurant Revitalization Fund, not the Restaurant Relief Fund.
Our picks:
🤠 Monica is intrigued by the CityLit Theater's premiere of a new adaptation of "The Virginian," a cowboy play featuring near life-sized horse puppets.
🍜 Justin is in the market for new soup recipes. Feel free to send along!
Want free Axios swag? Refer your friends to Axios Chicago and get cool merch like stickers, totes, hats, T-shirts and more!