July 14, 2022
It's Thursday! Happy Bastille Day. It's also National Nude Day. So celebrate the French Revolution by going au naturel.
🌤 Today's weather: Partly sunny with a high of 80.
Today's newsletter is 838 words — a 3.5-minute read.
1 big thing: Feder's exit leaves coverage hole
Robert Feder abruptly announced his retirement in early July after covering the Chicago media beat for 42 years.
Feder later lamented the future of media coverage in town. "All the businesses I was covering are in decline," he told former Tribune columnist and current Picayune Sentinel newsletter author Eric Zorn. "The business models are broken for television, radio and newspapers."
Why it matters: With national corporations gobbling up local outlets, the city needs watchdogs to keep tabs on who's keeping us informed.
Flashback: Feder didn't just report on ratings and staffing changes.
State of play: The Tribune's Robert Channick and Crain's Ally Marotti are full-time reporters dedicated to the business of media, but they also cover other topics.
Chicago Public Media (Sun-Times and WBEZ) has no one covering the beat and tells Axios it has no plans to.
And leaders at the Chicago Reader, which published Michael Miner's media column for decades, say the paper's yet-unnamed culture editor will decide on media coverage.
What they're saying: "It's a different world of coverage than when Feder first started," Chicago Reader managing editor Salem Collo-Julin tells Axios.
"We see the importance of thriving local and community-based media. A varied media landscape helps us gain an understanding of all the different kinds of communities that make up a city like ours."
💭 Justin's thought bubble: I can't tell you how many meetings I've been in where a manager was yelling at us about something Feder reported. He didn't just inform Chicago, he also kept management in check.
I fear his departure may change that.
2. Poll: Relocating for abortion laws
Illinois lawmakers have publicly invited residents of states with restrictive abortion laws to relocate here.
3. New playground for (grownup) kids
A seven-year dream came true last month at Lake Shore Park near the MCA — the opening of a playground for grownups.
Flashback: Phyllis Mitzen was on a Sister City delegation to Shanghai in 2015 when she noticed a cool downtown park.
"It was teeming with people who were exercising and eager to show us how to use each piece," Mitzen, who leads downtown neighbors organization Skyline Village, tells Axios. "I came back determined to bring this idea to our Chicago Park District."
She then joined the Park District Advisory Council and began working with Ald. Brian Hopkins, who gave her the mantra: "People don't outgrow playgrounds. Playgrounds outgrow people."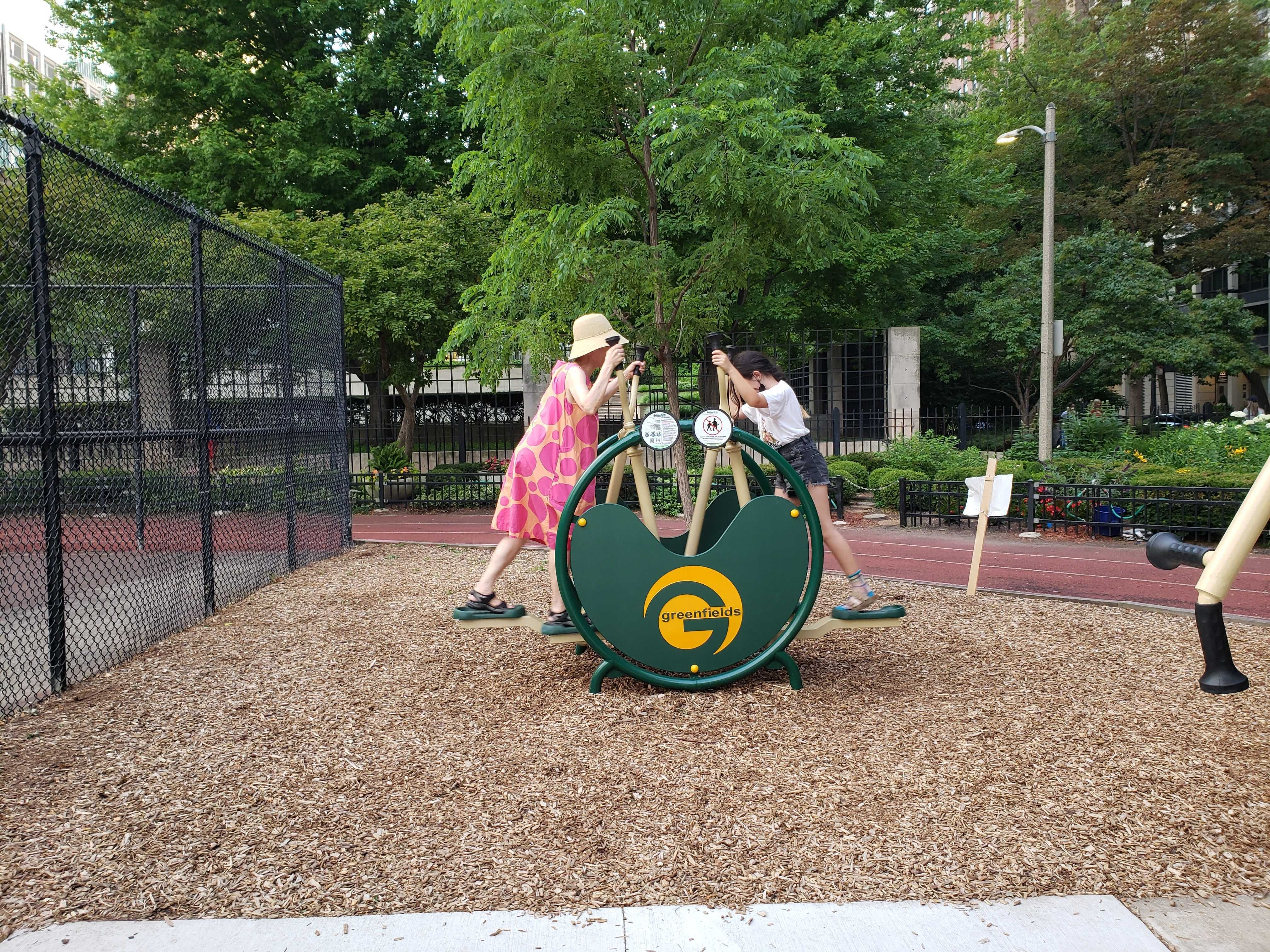 What's happening: The park features several pre-weighted universal lifting machines, a swinging elliptical-ish machine and tai chi wheels.
Mitzen says that she hopes "this type of equipment will show up in parks all over the city. It is a wonderful example of how much we can learn and benefit from international exchanges!"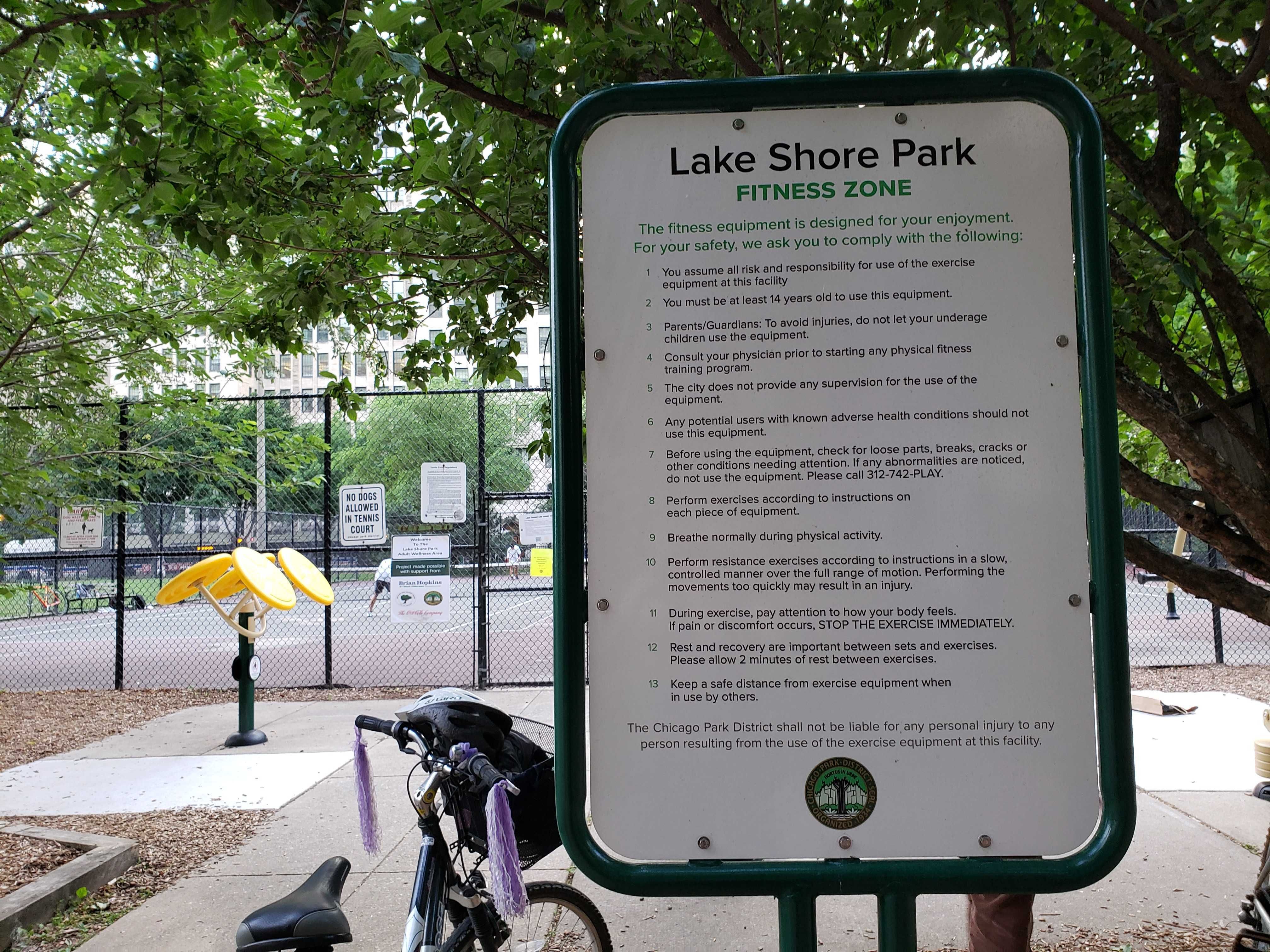 4. Tips and hot links
🏀 Laura Ricketts is in talks with the Sky to become a major investor. (Tribune)
🎶 Organizers say a threat was made against Labor Day weekend's North Coast Music Festival in Bridgeview. (Sun-Times)
🐦 Beware: "Nature's a--holes" are back on the lakefront. Red-winged blackbirds are getting aggressive in Rogers Park. (Block Club)
🎸 Bruce Springsteen announced his 2023 31-city tour. One small problem: He's skipping Chicago. (NBC 5)
Come climb the ladder to success
5. Food Fight: Gyros
Though the Mediterranean may have birthed the first gyros, Chicago birthed the first mass-produced gyros in the 1970s, allowing their popularity to explode across the nation.
Yes, but: Not all gyro sandwiches are created equal. The best are carefully roasted — some using house-made gyro — and served with great supporting ingredients.
But which is the best? We did some inspired Food Fight reporting to find out.
Monica's pick: It's not a real Chicago gyro unless you have to avoid getting into a crowded elevator for the next three days. That's how much flavor I want.
So I was disappointed by the tame-ish house-made versions from Andros Taverna ($22) and Avli Taverna ($18), where they use Berkshire pork. Good but not great.
And don't even get me started on the blah new Potbelly gyro ($9.99).
But just when I thought I maybe didn't like gyros anymore, I dug into the deluxe gyro plate from Lakeview's Windy City Gyros — crispy-edged meat on perfectly griddled pita topped with ripe tomato, pungent onions and bold, creamy tzatziki ($17.65).
Made from a mass-produced meat cone, this finally hit the spot.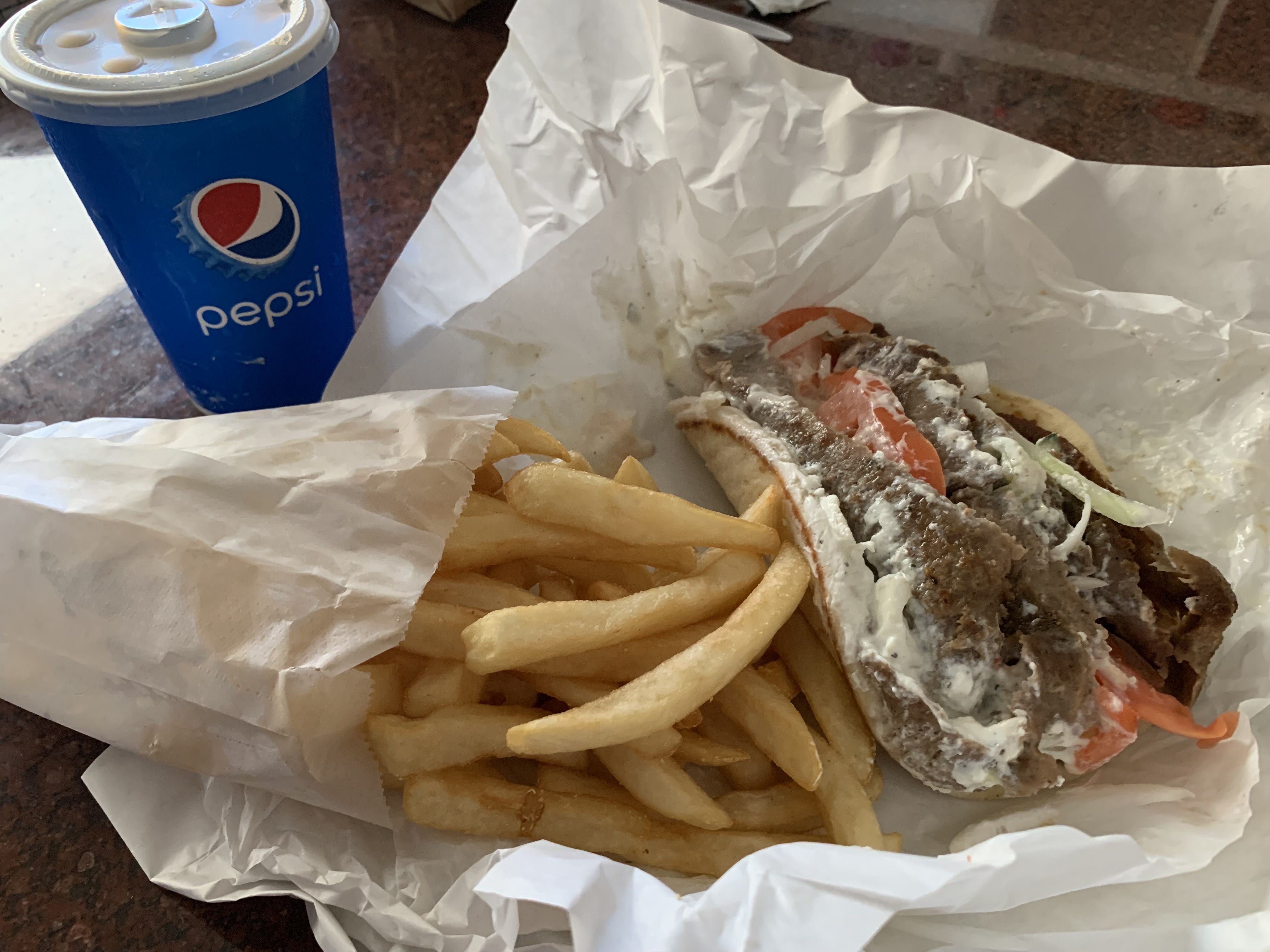 Justin's pick: I'll admit, gyro is not my go-to sandwich. It's messy, the meat is usually suspect, and the onions stick around for hours. But when I unwrapped my gyro from Mr. Greek Gyros in Greektown, I devoured it.
They boast the No. 1 gyro in Chicago.
The tzatziki sauce balances perfectly with the tomato and onions.
The combo with fries and a medium drink is $11.68.
📬 Reply with your favorite gyro spot and we'll feature it next week!
Our picks:
🏊 Monica is trying to take a dip in a park pool or the lake every day after finishing this newsletter. She knows her cold October self will thank her.
🤨 Justin is ready for "The Rehearsal," which may have the most bizarre premise in the history of television. And he loves it.
Want free Axios swag? Refer your friends to Axios Chicago and get cool merch like stickers, totes, hats, T-shirts and more!