Axios Chicago
July 05, 2022
It's Tuesday, the first day of the Chicago Park District's limited outdoor swimming pool season.
⛈ Today's weather: Hot and muggy, with a chance of thunderstorms and a high of 92.
Situational awareness: Due to the complex and late-breaking nature of yesterday's mass shooting in Highland Park, we are taking the rare step of focusing most of the newsletter on it. Warning: sensitive content below.
Today's newsletter is 845 words — a 3-minute read.
1 big thing: Highland Park shaken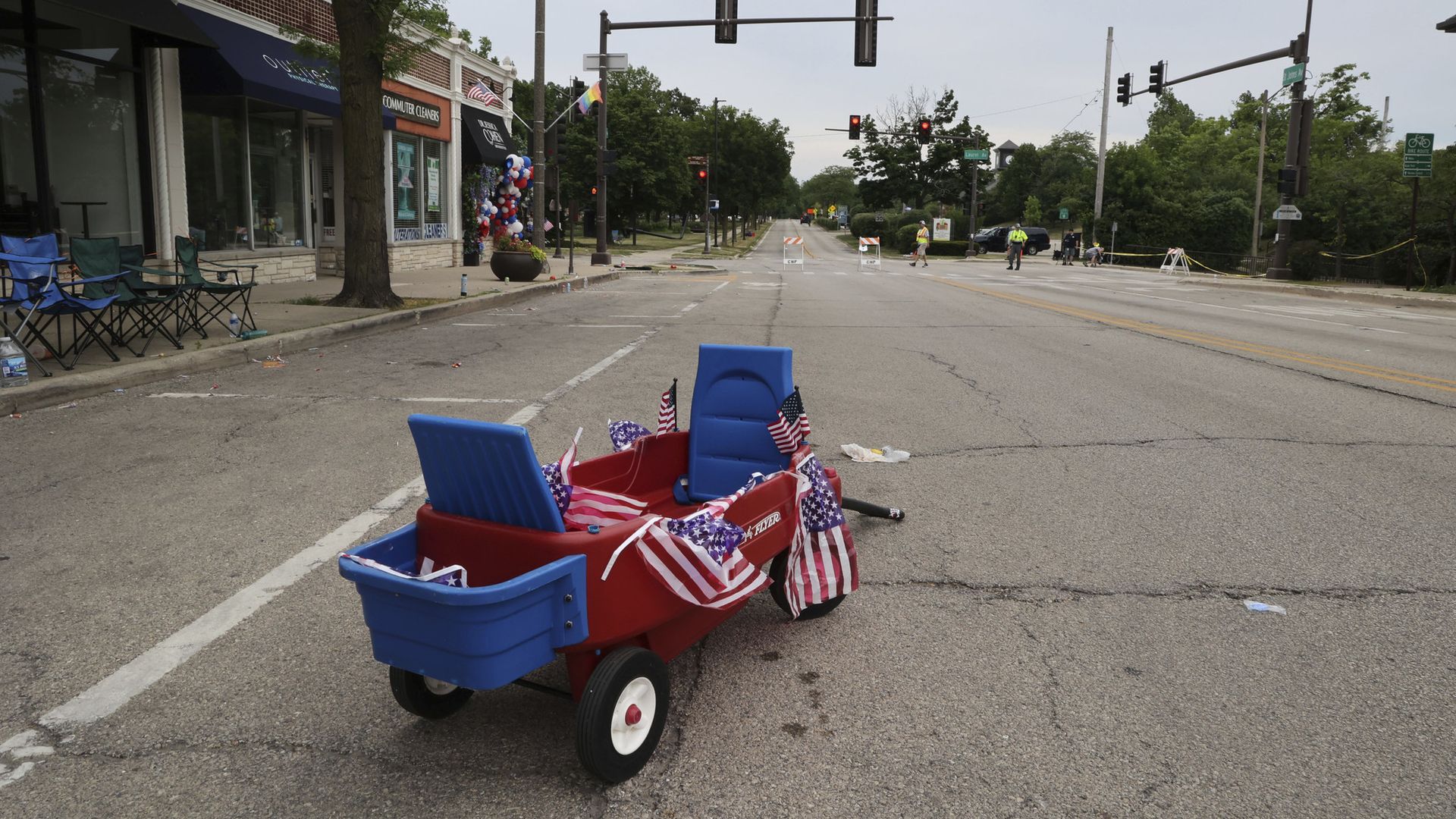 Just minutes after the Highland Park Fourth of July parade started yesterday, an assailant shot into the crowd from a nearby rooftop, killing six people and seriously injuring at least 31.
Hours later, person of-interest Robert "Bobby" Eugene Crimo III was spotted driving on Route 41 in North Chicago. After a brief chase, Crimo was taken into custody near Lake Forest.
Officials said they recovered a "high-powered rifle" at the parade but did not disclose more details.
What they're saying: "Our community was terrorized by an act of violence that has shaken us to our core," Highland Park Mayor Nancy Rotering said in a press conference. "On a day when we came together to celebrate community and freedom, we are instead mourning the tragic loss of life."
State Sen. Julie Morrison attended the parade with her children and grandchildren. She said they ran for safety after hearing gunshots.
"I'll never do a parade again," Morrison told WGN-TV. "I will never ask my family and friends to put themselves in what is obviously harm's way."
U.S. Rep. Brad Schneider, who had just arrived at the parade when the shootings happened, told the station: "Evil visited our town and destroyed many lives today."
As of this morning, five of the shooting's six fatalities occurred at the scene.
Among the victims was a grandfather visiting family in Highland Park and a staffer at North Shore Congregation Israel.
Twenty-six victims, ages 8 to 85, were taken to Highland Park Hospital.
"Four or five were kids," according to hospital officials.
Additional patients were brought to other nearby facilities.
Between the lines: The shooting sent shockwaves through Highland Park, a suburb with one of the lowest crime rates in America for its size.
"For perspective: We just locked our doors during the daytime for the first time since we have been living in Highland Park," longtime resident and Tribune writer Kevin Williams tweeted yesterday.
What's more: The shock and terror reverberated into several nearby suburbs that immediately canceled their own parades and evening fireworks shows.
Evanston closed its beaches and Wilmette evacuated its aquatic center.
Context: Highland Park banned assault weapons in 2013. The Supreme Court ultimately didn't hear a case challenging the ban in 2015.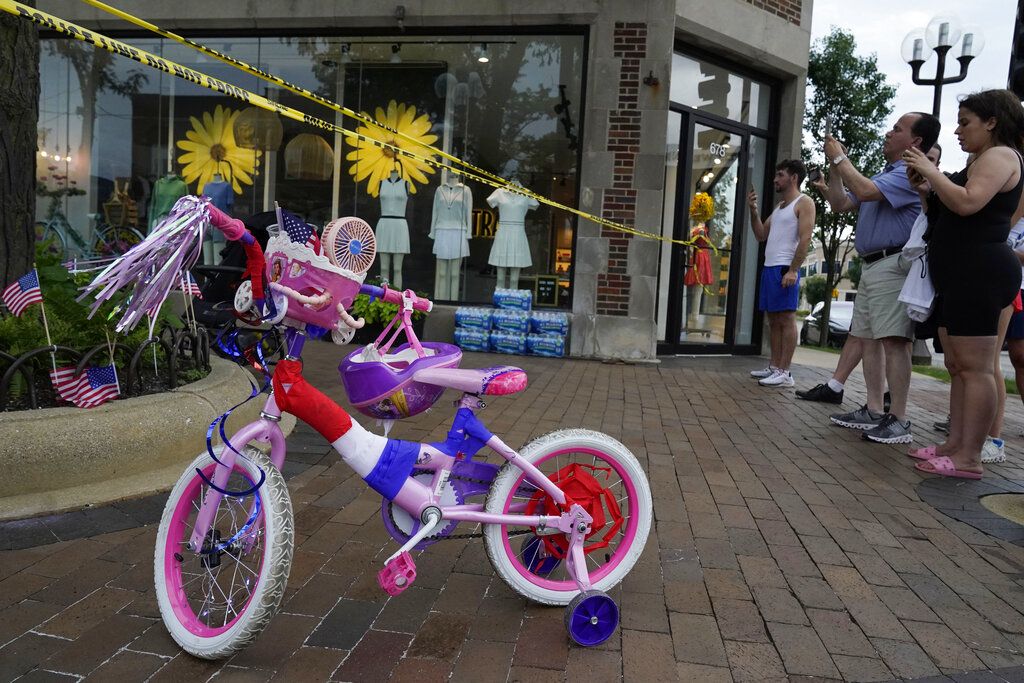 2. What we know about Crimo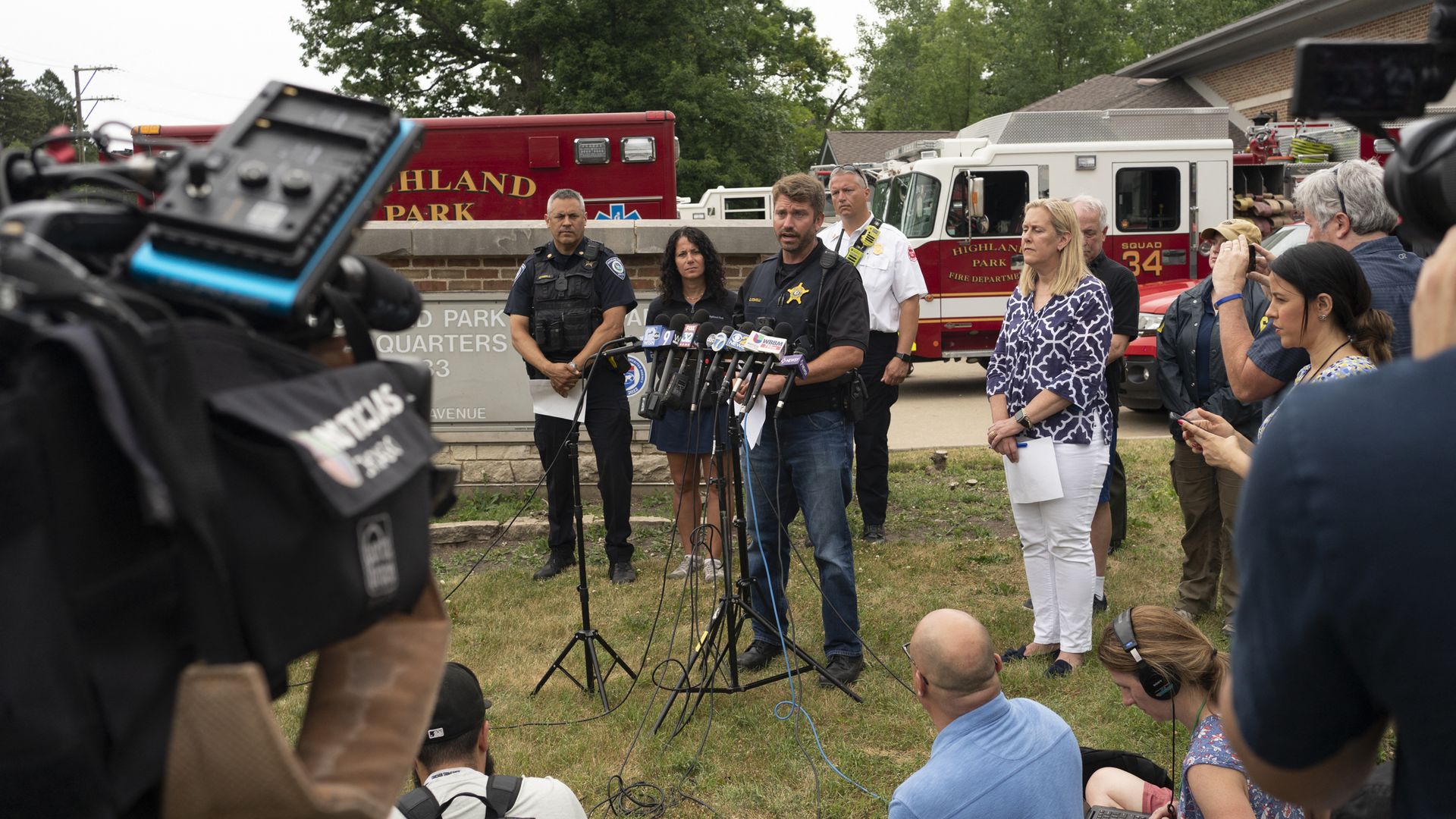 Highland Park police have 21-year-old Robert "Bobby" Eugene Crimo III in custody as a "person of interest."
He was apprehended by a North Chicago police officer who spotted Crimo driving into Lake Forest in a silver 2010 Honda Fit.
Earlier in the evening, the FBI raided a residence in Highwood, where Crimo reportedly lives with his dad and uncle.
The suspect's uncle Paul Crimo told CBS-2 news that his nephew had been living in back of his house for 5 years. He further said he had "no idea" his nephew possessed a weapon.
Context: Crimo is a local musician who posts music under the name Awake the Rapper.
In one video, he raps in a classroom dressed in a tactical vest and helmet while leaning against the American flag.
He has more than 2 million plays on his Spotify channel.
NBC reports that videos now removed from Crimo's YouTube channel featured depictions of mass murder and Crimo in a crowd cheering on a Donald Trump motorcade.
Police said "a significant amount of digital information" helped lead investigators to Crimo and he was "known to law enforcement."
Backstory: Robert Crimo's father, Bob Crimo, is a former convenience store owner in Highland Park. He placed second in the 2019 race for mayor against Nancy Rotering, a vocal opponent of assault weapons.
Of note: Late Monday, Chicago police advanced on a house on West Taylor Street believed to be linked to the suspect's relative.
What's next: Lake County law enforcement official Chris Covelli said they are referring to Crimo as a "suspect" and "person of interest" interchangeably, but charges had "not yet been approved."
They expect to update his status today.
3. What they're saying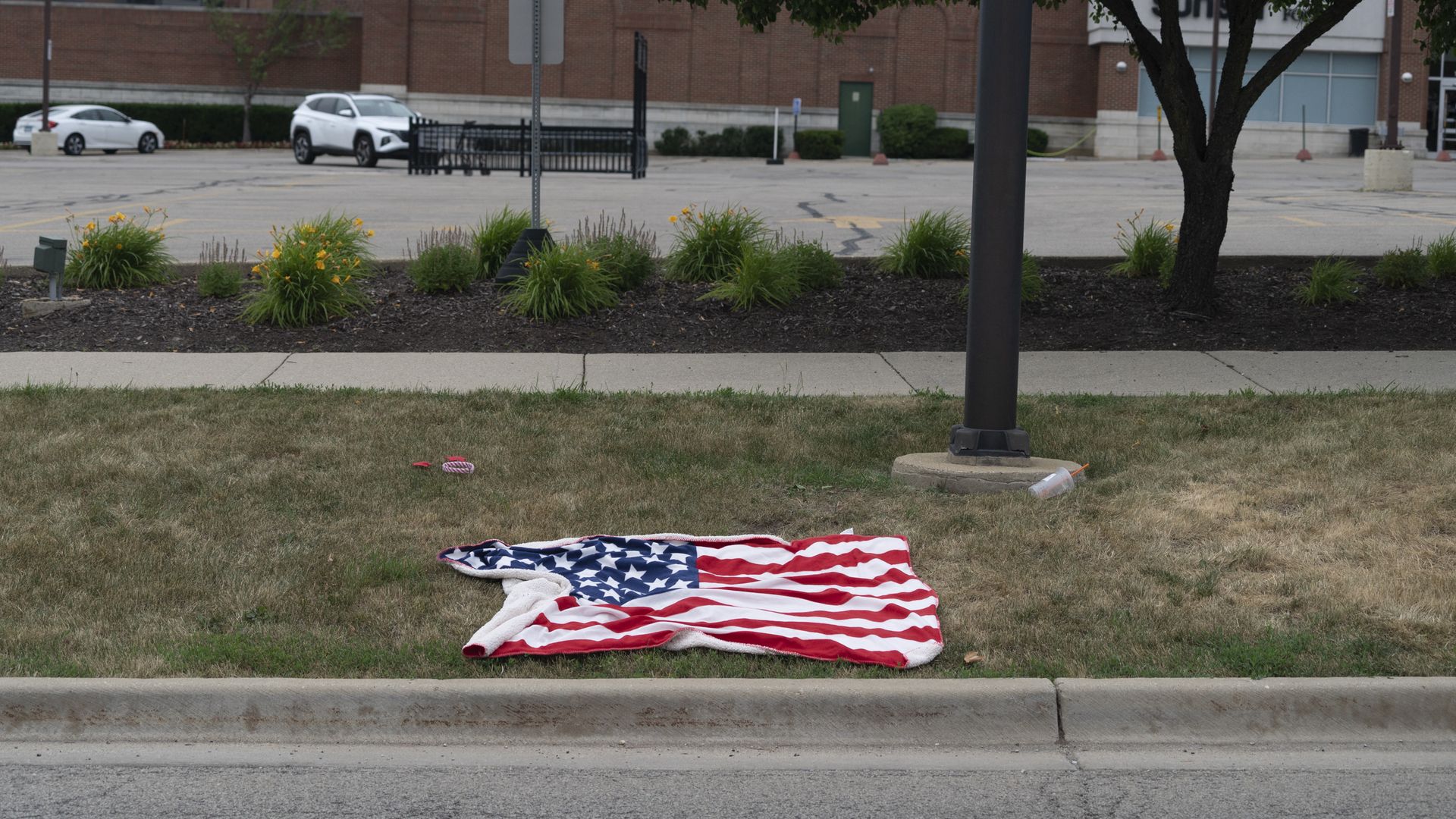 Officials weighed in on the Highland Park tragedy yesterday with pointed statements about gun policy and mental health.
Within hours, the shooting became the latest fodder for the ongoing political debates on gun rights and the causes of gun violence.
President Joe Biden: "Jill and I are shocked by the senseless gun violence that has yet again brought grief to an American community on this Independence Day."
Gov. J.B. Pritzker: "There are no words for the kind of monster who lies in wait and fires into a crowd of families with children celebrating a holiday with their community."
State Sen. Darren Bailey, the GOP candidate for governor: "We hope we can all come together in prayer and action to address rampant crime and mental health issues to ensure these horrific tragedies don't happen again."
Yes, but: Before releasing that statement, Bailey led a group prayer on Facebook Live from the canceled Skokie parade.
"The shooter is still at large, so let's pray for justice to prevail and then let's move on and let's celebrate the independence of this nation."
Bailey later released another statement apologizing.
What's next: The Democrat-controlled General Assembly could take up new gun measures during the upcoming special session Pritzker called to address abortion policy, though no announcement has been made in that direction.
4. Tips and hot links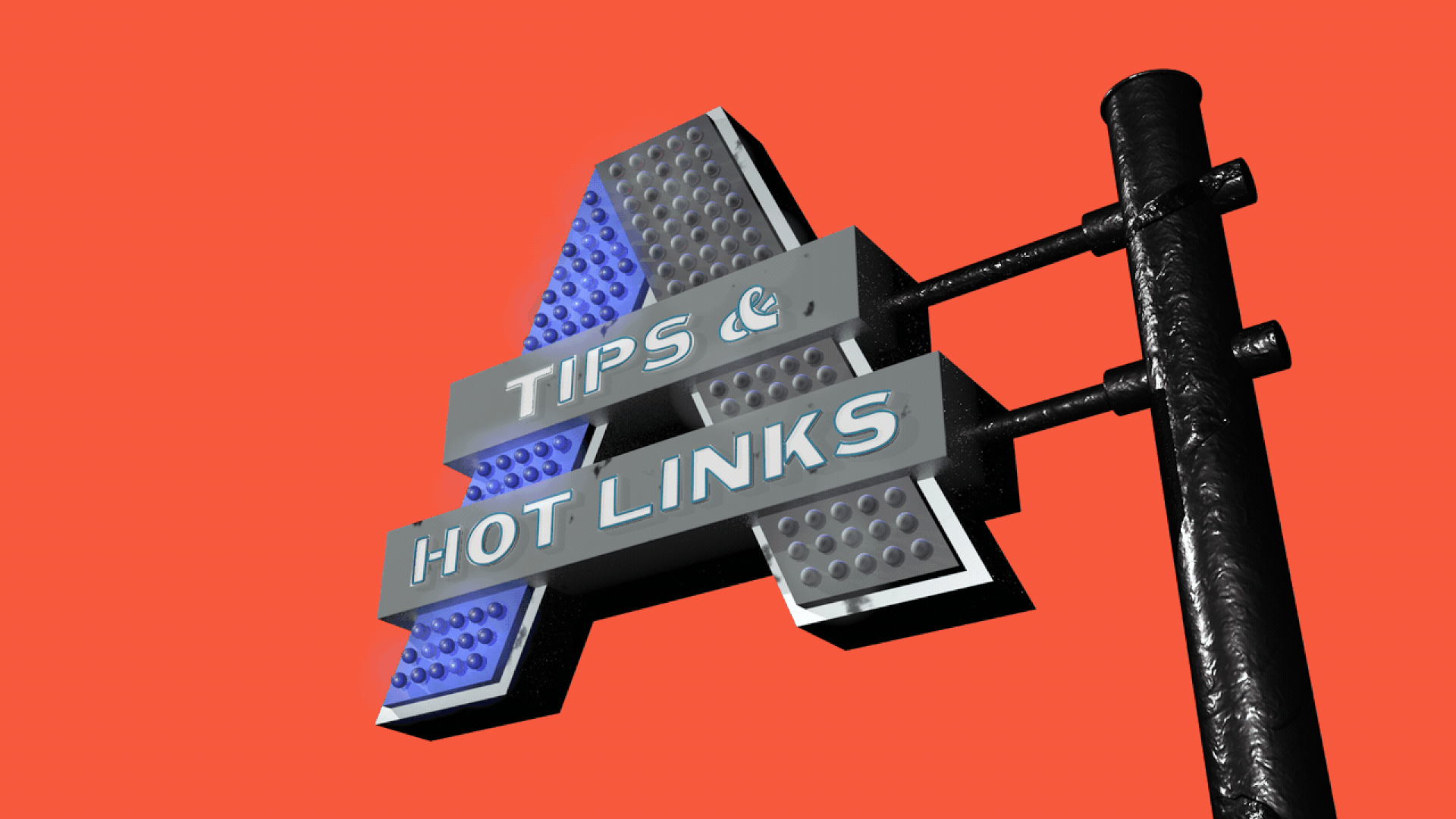 ✅ Democrat Hoan Huynh won the 13th District primary, which virtually assures his place as the first Vietnamese American elected to the Illinois General Assembly. (Tribune)
Large groups attacked police cars with fireworks and other projectiles throughout the city this weekend. (CBS 2)
🏆 Legendary columnist Robert Feder published his last media column after 42 years covering Chicago media. (Robert Feder)
Chinatown residents want authorities to close the No. 18 Karaoke Bar after a woman was shot and killed in front of it. (Sun-Times)
Fresh openings from the job board
Our picks:
Monica is transfixed by the fascinating story the Tribune's Tracy Swartz has reported on her great-grandfather's 1935 death and possible murder in Humboldt Park.
Justin's friend, writer Jay Ferrari, was at the parade yesterday with his family. He sums up his profound thoughts here.