Axios Chicago
June 15, 2022
1 big thing: Heat is here to stay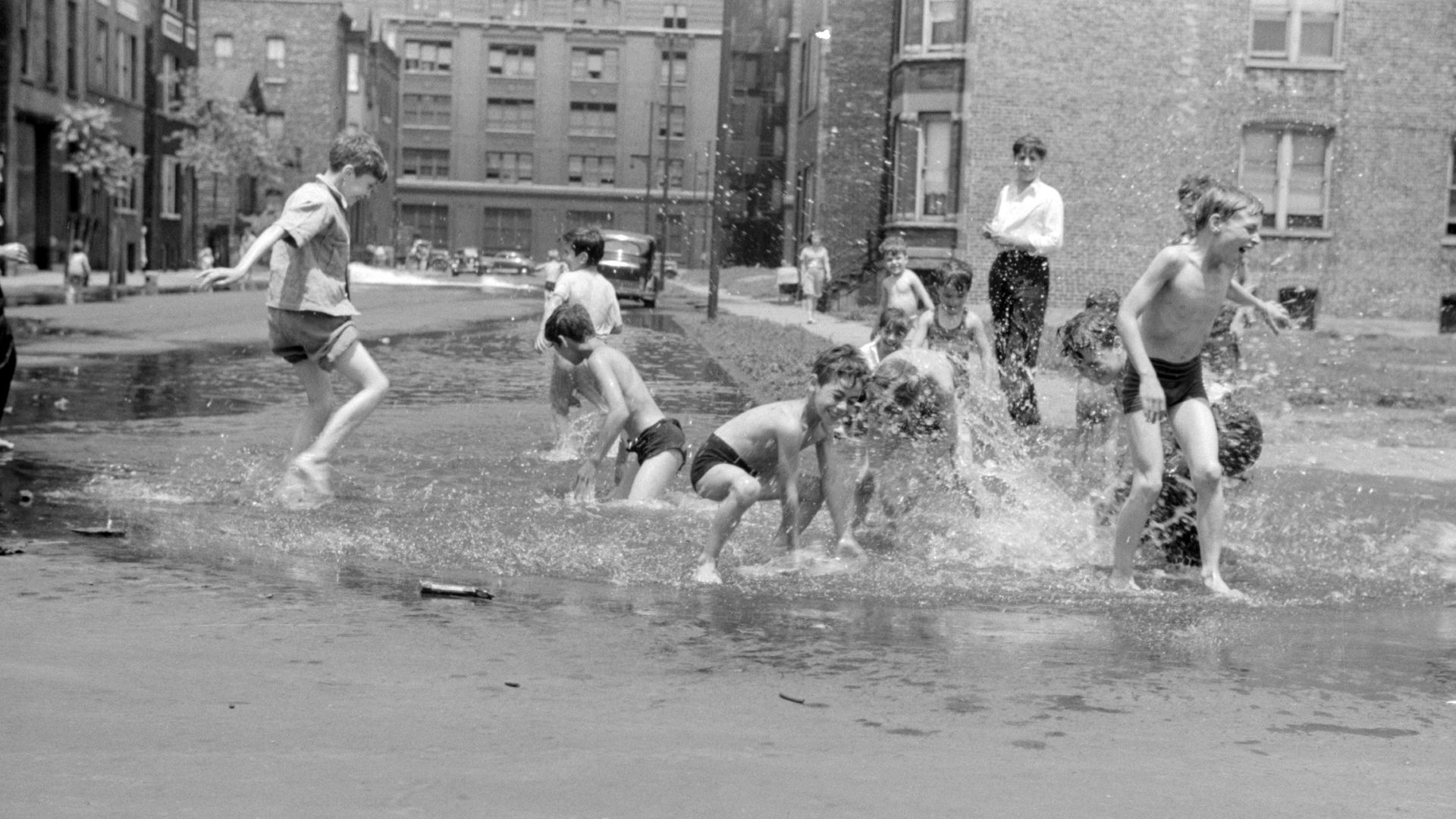 Temperatures hit 100 for the first time in a decade yesterday at the same time many suburban residents were without power due to storm damage.
As we slog through these steamy days, it's natural to wonder — is this just a typical heat wave or a bigger part of our future with climate change?
Why it matters: The science is pretty clear that we're in for more of this.
"One of the most high-confidence conclusions of climate science is that human-caused global warming is raising the odds of, as well as the severity and longevity of, extreme heat events. That likely includes this one," says Andrew Freedman, Axios' climate and energy reporter, who recently reported on this record-breaking heat wave.
Zoom in: A new analysis from nonprofit climate research company Climate Central shows that Chicago is seeing an average of seven more summer days above normal temperature than in 1970.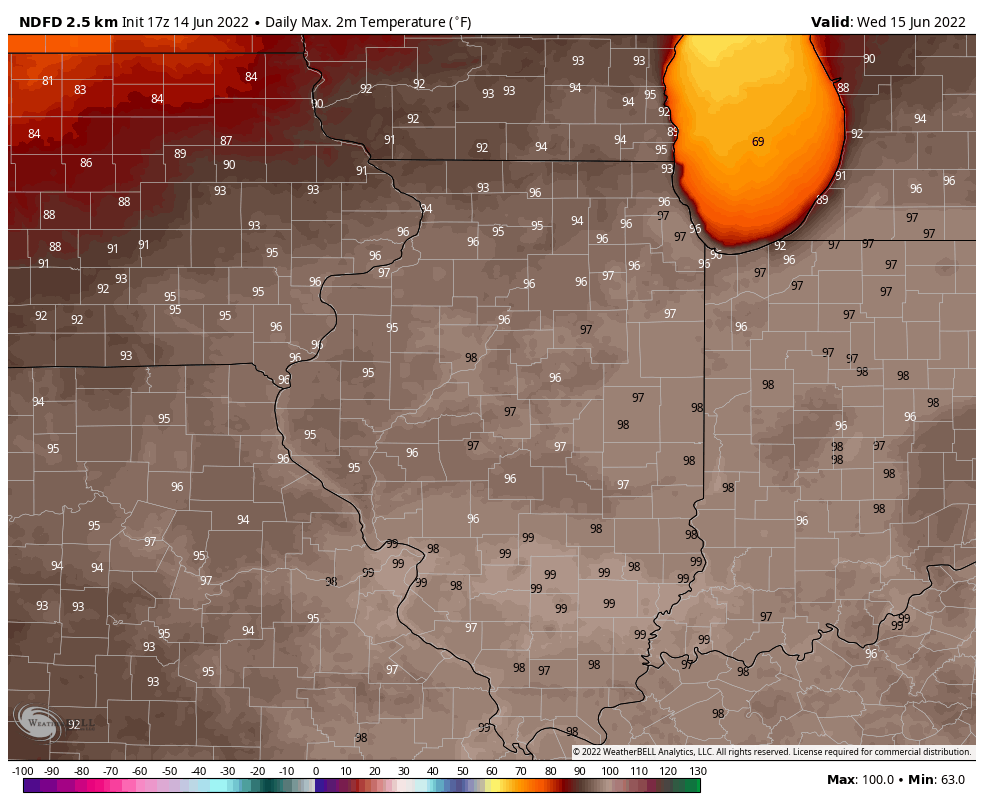 The latest: We're in for at least two more days of this heat, but the worst is expected to end on Friday.
Be smart: At a press conference yesterday, Office of Emergency Management and Communications chief Rich Guidice advised residents to:
Stay hydrated.
Open windows and close shades if you don't have AC.
Don't leave people or pets in the car.
"Be aware of the cumulative effect with extreme heat and how it affects you in the coming days, even after the temperatures cool down."
Pro tips: Use 311 to request a wellness check on loved ones, but Guidice advises calling 911 if someone is suffering a heat-related medical emergency.
In addition to cooling centers, park district buildings and libraries are also open for heat relief.
2. Trail Mix: Pritzker for president?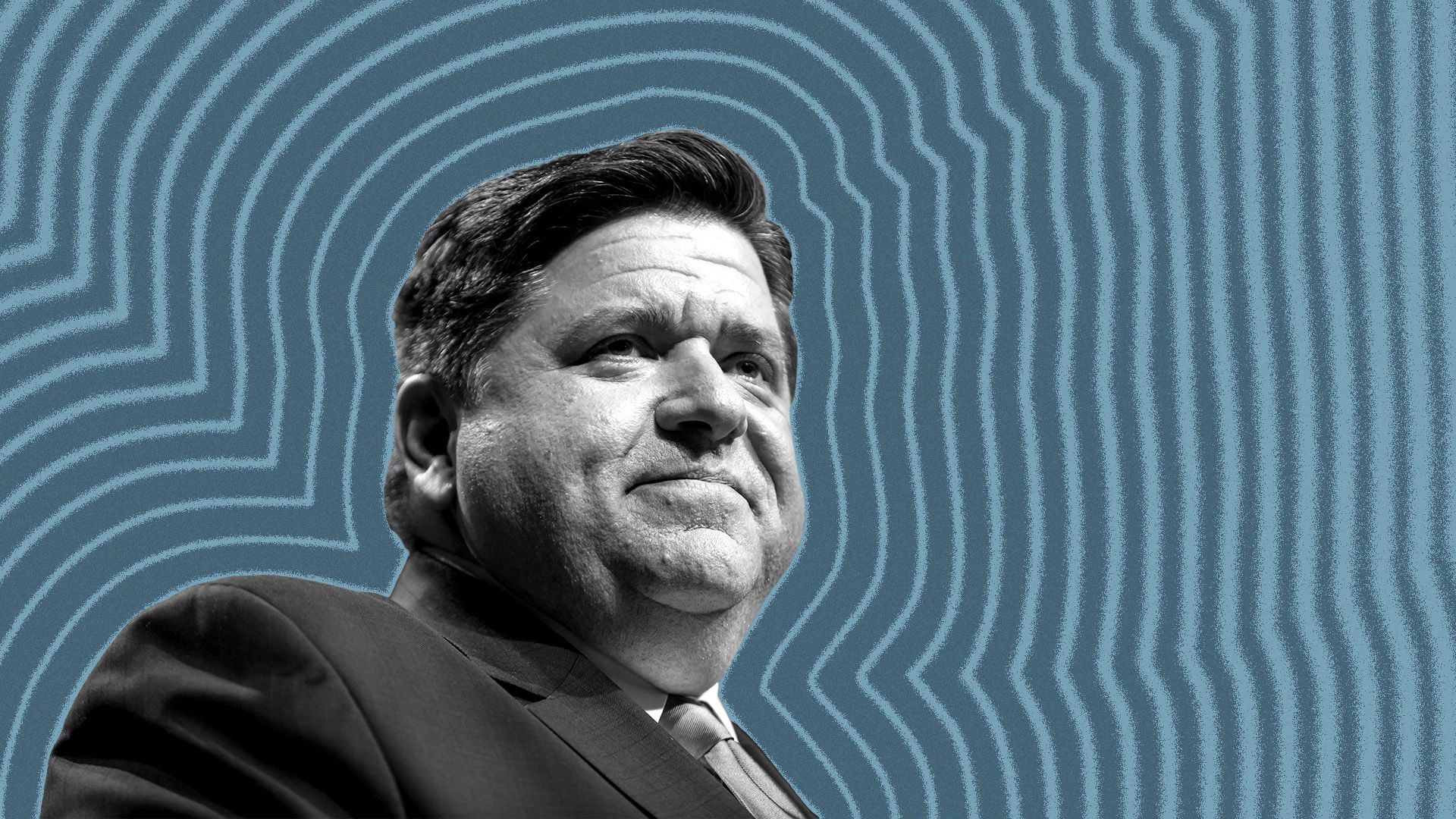 As GOP gubernatorial hopefuls crisscross the state duking it out for the nomination, incumbent Gov. J.B. Pritzker is taking the weekend to campaign in New Hampshire.
What's happening: The Democrat is slated to speak at the Granite State's annual party convention on Saturday, fueling speculation that his sights are set on running for president in 2024.
His campaign is downplaying the event, saying he's kicking off his East Coast swing with a trip to D.C. to lobby party officials to bring the 2024 Democratic National Convention to Chicago.
What they're saying: "The governor is focused on supporting and electing Democratic governors, given his belief that Democratic governors in the post-Roe era are the last line of defense to defend reproductive rights," campaign spokesperson Natalie Edelstein tells Axios.
The intrigue: This isn't the first time Pritzker's name has been attached to a 2024 presidential run.
Meanwhile, you can now vote early in all 50 wards. Here's an update on what's going on with the GOP races before the June 28 primary:
Attorney general: Downstate attorney Tom DeVore is locked in a close battle with North Shore attorney Steve Kim.
DeVore made his name by filing lawsuits against the governor's pandemic restrictions.
Kim has run before, but this time he's backed by billionaire Ken Griffin.
The winner will take on incumbent Attorney General Kwame Raoul.
3. Land of robocalls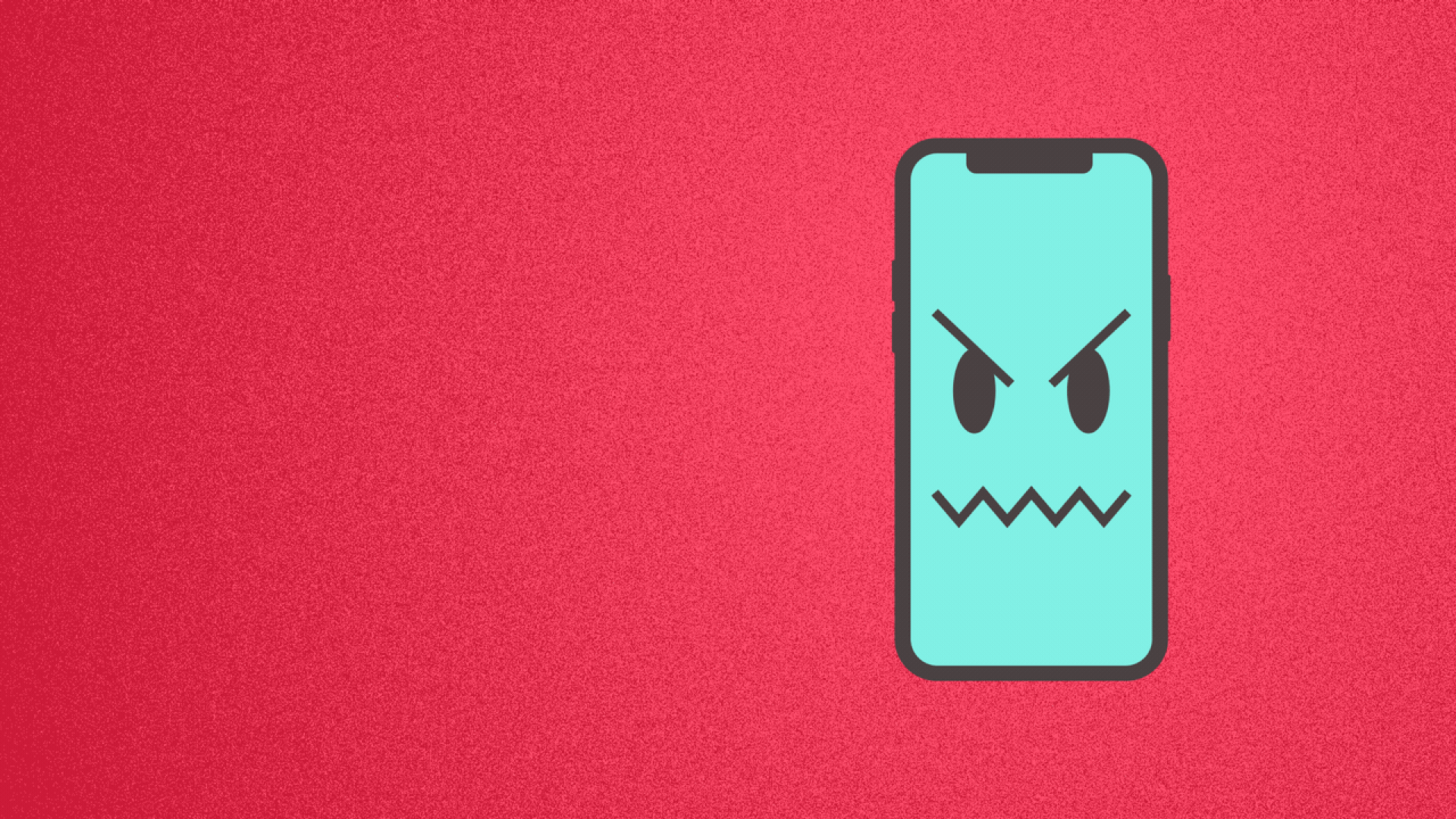 A new analysis of national robocalls in May ranks Chicago as the third-worst city for scam calls.
Why it matters: These calls range from annoying to disastrous for those ensnared in financial scams.
By the numbers: The data comes from Transaction Network Services, which analyzes 1.6 billion robocalls daily from hundreds of carriers.
It found that Chicagoans got 41 million robocalls last month.
💭 Monica's thought bubble: I'm pretty sure I got about half of those on my phone alone.
📫 Respond to this survey to let us know how many daily robocalls you get.
4. Tips and hot links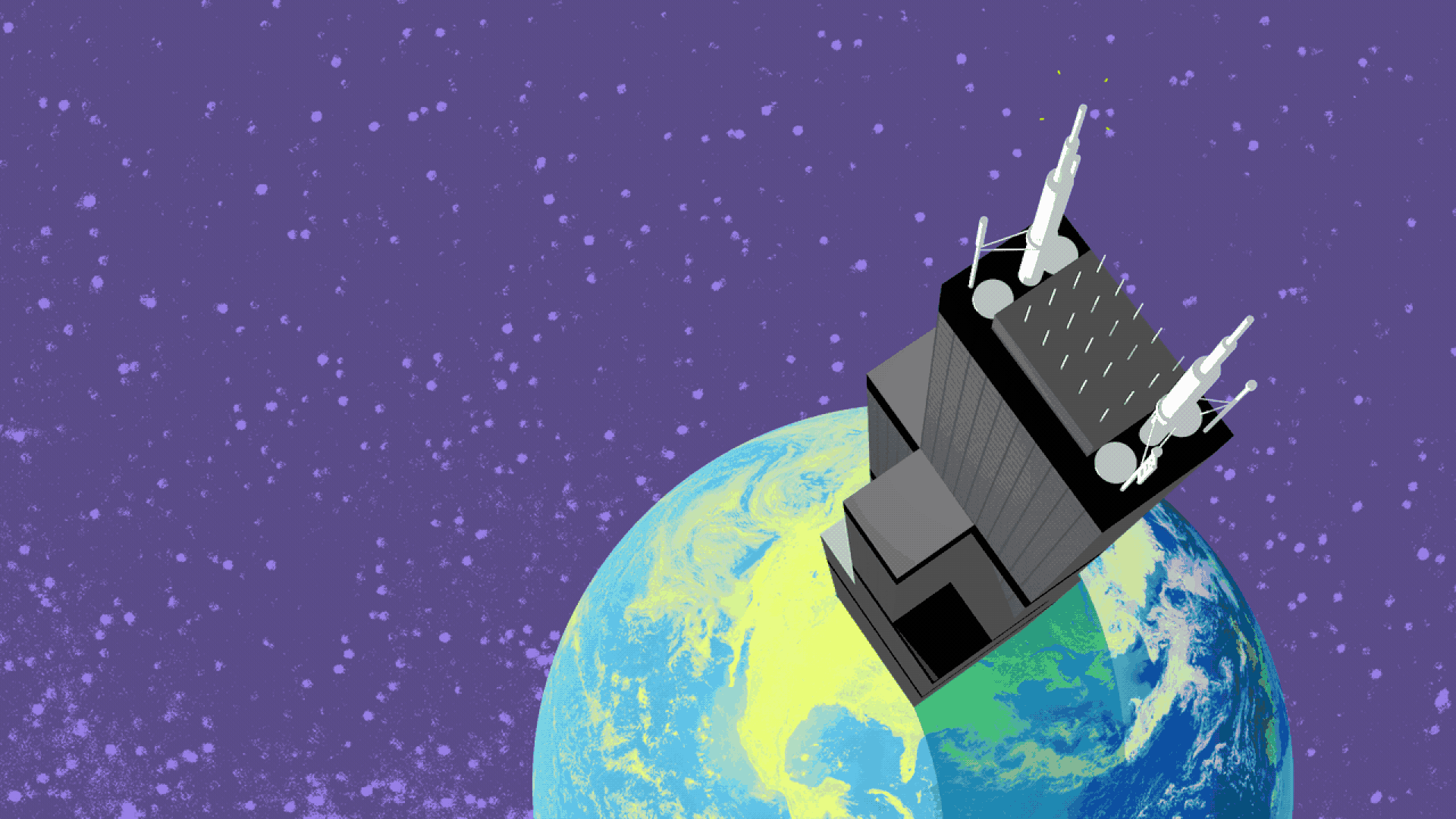 🚜 Caterpillar is moving its global headquarters from Deerfield to Irving, Texas. The company has been based in Illinois for almost 100 years. (Axios)
✅ Activist Ja'Mal Green is running for mayor. (WGN-TV)
👏 Cook County officials approved a new flag. Designed by a high school student, it is inspired by the 1893 World's Fair goddess statue. (Tribune)
🦁 The Art Institute has temporarily removed the lions for conservation work. (CBS)
🏒 The Chicago Wolves are heading to the Calder Cup Finals. Game 1 is on Sunday at the Allstate Arena. (Daily Herald)
Do you see yourself with a new career?
5. Your favorite Italian ice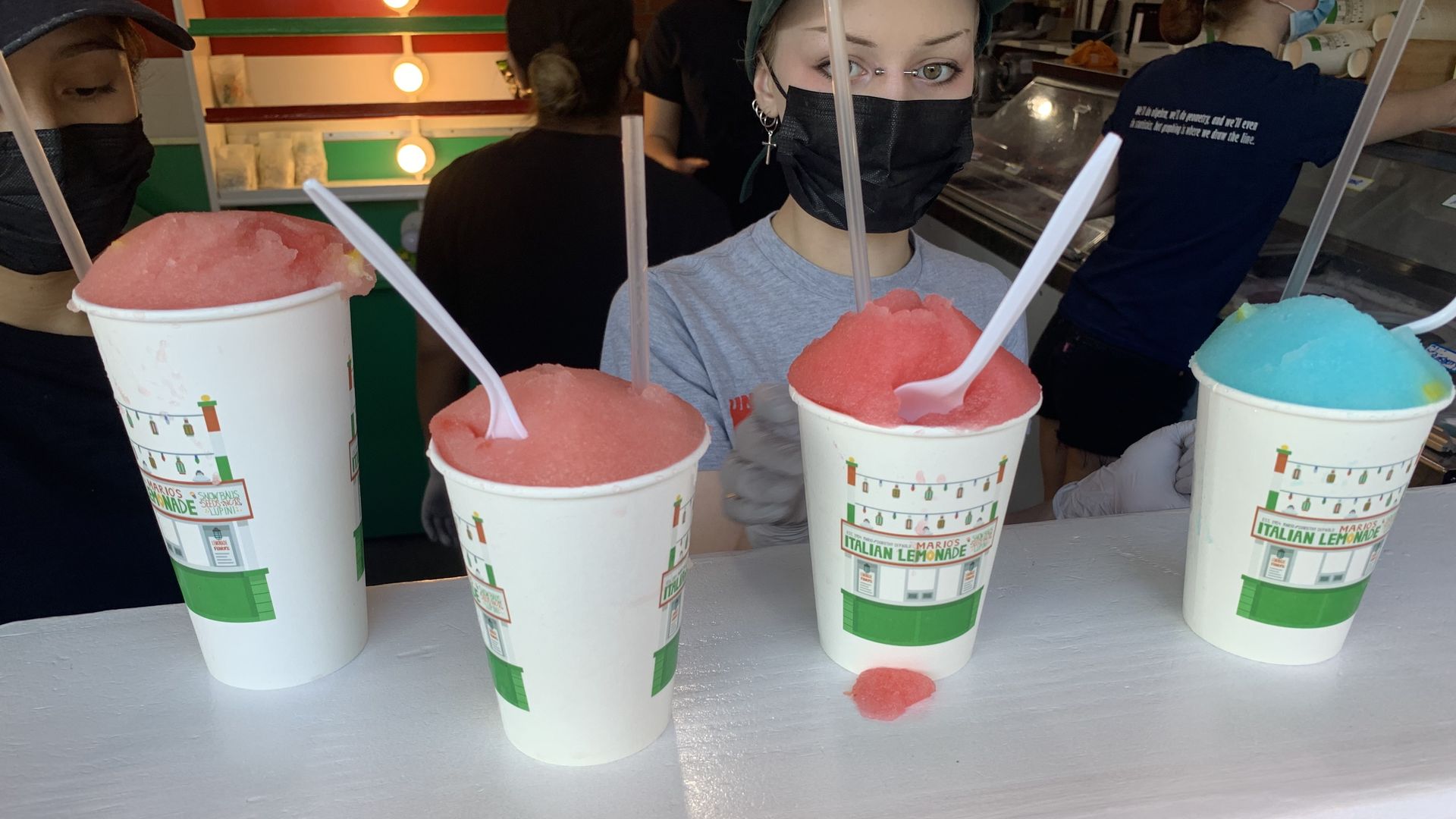 Today is a perfect day to hit up your favorite Italian ice spot. Monica stands by Annette's Italian Ice in Lincoln Park, while Justin is hanging all summer at Mario's Italian Lemonade in Little Italy.
You served up a cool batch of your own in return:
Mario G.: "Freddy's Pizza in Cicero is the best in the city/'burbs by far. All-natural fruit flavors, an amazing chocolate version and you can channel your inner kid by following one of those with the best Roman-style pizza outside of Rome."
Vicki L. agrees: "Freddy's in Cicero is the best! We drive from Naperville to enjoy it!"
Liz F.: "My favorite order is a half-pint of half-cantaloupe/half-watermelon, and my sister swears by their chocolate Italian ice."
Jeff D.: "Gina's Italian Ice on Roosevelt Road in Berwyn has been our summer go-to for 18 years. The horchata ice is a new favorite."
Sarah C., Becky R. and Brian P. also love the flavors at Gina's.
6. Where's Justin? Northalsted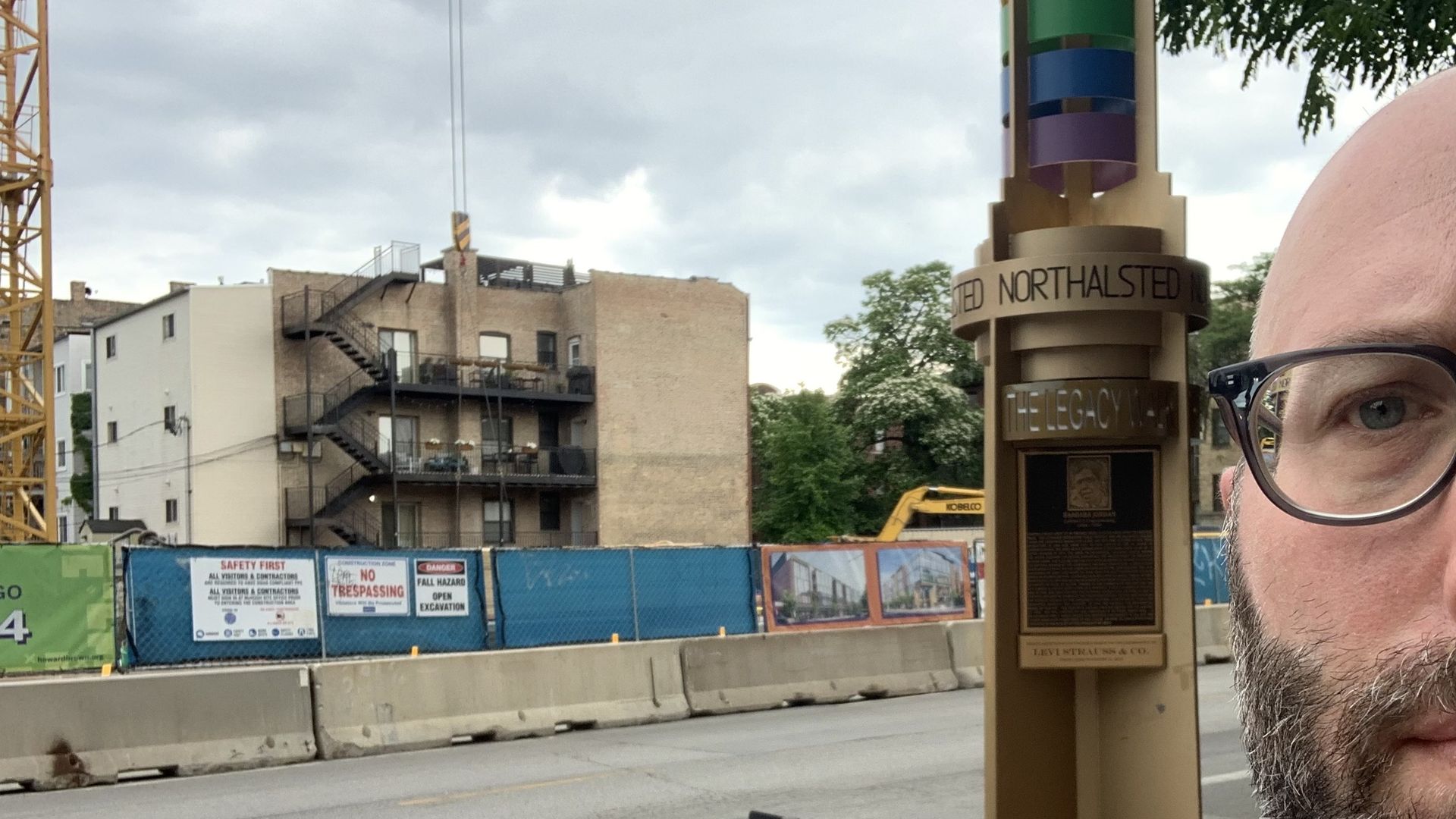 Many of you guessed correctly that Justin was on the North Side in the newly named Northalsted neighborhood.
Specifically, he's at Halsted and Cornelia, right in front of the construction site for the new Howard Brown Health Center.
The site was previously home to Little Jim's Tavern.
👏 Congrats to Nicholas V. and Tyler E.! You can pick up your Axios swag at our next Office Hours event.
Our picks:
😠 Monica is a little crabby since her upstairs AC stopped working. But she's blessed to have a cool downstairs where she can work at the dining room table until this ghastly heat subsides.
🏀 Justin hopes the rumors are true that Zach LaVine is going to re-sign with the Bulls.
Did you miss our new members-only podcast last week? Consider supporting our local journalism by becoming an Axios Chicago member.