January 10, 2022
Happy Monday: It's National Clean Off Your Desk Day, which is making Monica self-conscious about all the half-finished coffee mugs in front of her computer.
Situational awareness: Chicago Public Schools (CPS) announced at 7:41pm last night that it has canceled classes today again as the CTU and CPS try to hash out final points of contention. If you are a CPS parent, let us know your thoughts on the situation.
Today's newsletter is 875 words — a 3.5-minute read.
1 big thing: Sticking points
Chicago Public Schools (CPS) and the Chicago Teachers Union (CTU) swapped counter proposals over the weekend but remain stuck on three main points.
Opt-out testing
The CTU wants 10% of randomly chosen students tested each week unless parents opt them out.
Mayor Lori Lightfoot says she's morally opposed to testing students unless parents explicitly opt them in.
Context: Dozens of districts across the state and country conduct opt-out testing. And some cities, including Los Angeles and Washington, D.C., are making testing mandatory for all students to return.
Speaking of testing: Gov. J.B. Pritzker tweeted Saturday that he'd secured 350,000 rapid tests to "get teachers and kids safely in classrooms ASAP."
Remote teaching
The CTU wants teachers back in school buildings Monday to prepare for remote teaching.
CPS insists that students return to the buildings, too.
What they're saying: CPS says "schools are the safest place" for students, citing a department of health study showing fewer COVID-19 infections among students who returned to in-person school last year.
The other side: CTU contends schools are still unsafe. Northwestern University infectious disease professor Dr. Robert Murphy told WGN-TV Friday that "it's not safe to open schools."
Districtwide metrics
CTU wants a stated threshold that could flip the whole district to remote rather than just a single school or classroom.
CPS rejects any such threshold.
🤝 Meanwhile, a surprise mediator has emerged: Rev. Jesse Jackson. At a CTU press conference Saturday, he said he has been speaking to Mayor Lightfoot and the union as an "honest broker," to help solve the impasse.
2. Newest disparities in CPS: COVID factors
Vaccinations in CPS vary wildly: The district's highest-income schools show some of the highest rates, while low-income schools show some of the lowest.
This is according to an Axios analysis of December vaccination and testing data obtained by Chalkbeat Chicago through public records requests.
Why it matters: CPS and the CTU are currently hammering out policies that will be applied uniformly in a district where COVID safety circumstances vary immensely.
The data argues for a more nuanced approach based on circumstances on the ground.
Big takeaway: Majority Black high schools had an average vaccination rate of 28%, while majority Latino high schools averaged 57%. Grade schools have much lower rates.
Dozens of schools showed vaccination rates under 10%.
Some schools with high rates still have low weekly COVID testing enrollment.
All of the top vaccinated schools are selective or partially selective enrollment schools.
Go deeper: Chalkbeat's full data set and analysis.
What's next: Axios has filed a public records request to CPS for updated vaccination and testing data through early January.
3. Tips and hot links
🚑 Local emergency rooms can't find enough non-emergency beds to accommodate admitted COVID patients. (Chicago Tribune)
🚧 A piece of the Hancock building fell off, terrifying passers-by and neighbors. (Block Club Chicago)
🏀 After a slow start, Illinois men's basketball is 4-0 in the Big Ten, tied for the top spot. (Daily Illini)
🎙 'Dancin' Man' Perry Kanlan, famous for jumping up on stage and dancing with performers like James Brown and The Jackson 5, has died. He was 78. (Sun-Times)
4. Bears, Nagy blown out yet again
The Bears finished the 2021-22 season with their first losing season under fourth-year head coach Matt Nagy. According to the Sun-Times, it will be his last.
Why it matters: Bears management expected a high-flying offense from the first-time head coach but instead got one of the worst offenses in franchise history.
Sunday's 31-17 loss to the Vikings was a microcosm of Nagy's tenure. The offense moved the ball in the first half but couldn't score points before the Vikings made the necessary halftime adjustments to outscore the Bears 28-3 in the second half.
Wide receiver Darnell Mooney was the lone bright spot Sunday. He had a career-high 12 catches and finished with over 1,000 receiving yards on the season.
Context: Nagy was hired because he was considered an offensive guru from his time in Kansas City. He started off great with a 12-4 record in 2018 while winning NFL Coach of the Year honors.
But after the infamous "double doink" that ended the Bears playoff run, the team never recovered.
This year, the Bears passing offense ranked towards the bottom of the entire league.
According to sportswriter Bill Zimmerman, Nagy's passing offense is worse than the Bears offense run by Sid Luckman in the mid-1940s!
The latest: If fired, Nagy leaves Chicago with an overall winning record of 34-31, but only 22-27 since that 2018 season. He's also 0-2 in the playoffs with a 1-7 record against the dreaded Packers.
Lowlights: He was unable to develop Chicago's 2017 No. 2 overall pick, quarterback Mitch Trubisky.
In 2019, the Bears set a franchise record for the fewest carries in a game against the Saints.
In 2021, Nagy was criticized for not preparing a game plan that fit rookie quarterback Justin Fields' strengths.
What's next: The Bears have not yet called a press conference but said Nagy will meet with management today. Still no word about the future of general manager Ryan Pace.
Rumors point to Michigan coach and former Bear Jim Harbaugh as a candidate to potentially replace Nagy.
5. Winter by the lake
Thanks to readers Ellen Partridge and Liane G. for these breathtaking views of winter in our city.
📫 Keep the photos coming!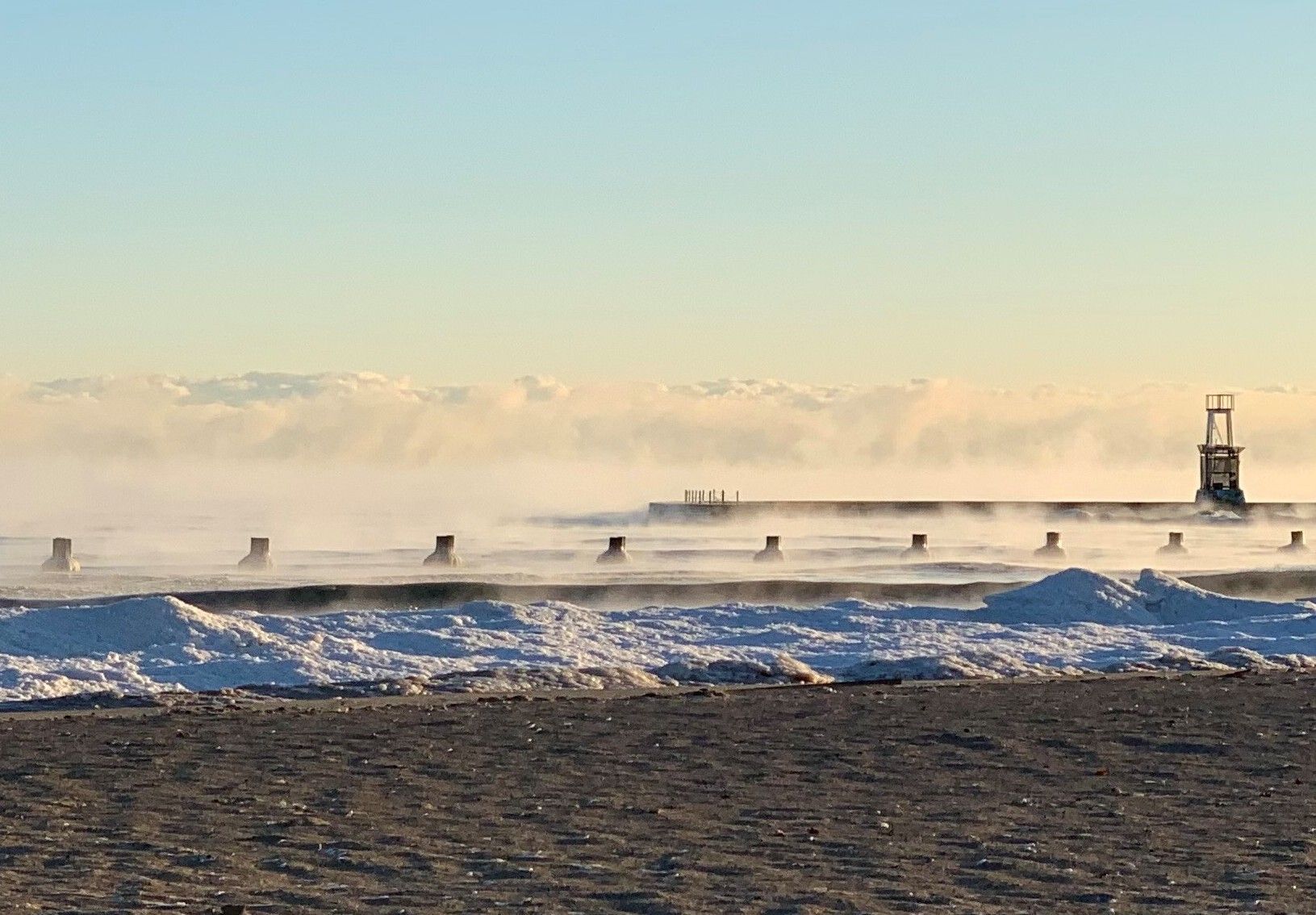 Our picks:
🍊 Monica is excited for the arrival of Sumo orange season!
😢Justin is sad about Bob Saget. He had many Chicago connections and made frequent trips to town. He will be missed.
Want free Axios swag? Refer your friends to Axios Chicago and get cool merch like stickers, totes, hats, T-shirts and more!