November 30, 2021
Happy Tuesday. Can you believe December starts tomorrow? Where did this year go?
☀️ Today's weather is mostly sunny with a high of 49.
Situational awareness: The City Council has less than 48 hours to agree on a new map of Chicago wards, but alders have still not released a proposed map and members of the Black and Latino caucuses remain at odds. It all raises the likelihood that the map will go to a public vote. (Crains Chicago Business)
Today's newsletter is 720 words — a 2.5-minute read.
1 big thing: CPS expands composting — slowly
Chicago Public Schools (CPS) could nearly double the number of schools that compost their food waste this school year.
Why it matters: Food waste that isn't composted and goes to landfills creates methane, a greenhouse gas eighty times more potent than CO2 when it comes to driving near-term climate change.
The Environmental Defense Fund calls methane reduction the "fastest opportunity we have to immediately slow the rate of global warming."
How it works: An environmental group called Seven Generations Ahead trains students and staff to separate organic waste (food and compostable trays) from recyclables, liquid and trash to be sent to local composting facilities.
Participating elementary schools: Hamilton, McAuliffe, Bell, Waters, Mitchell, Peterson, Von Linne, Suder and Sandoval.
Middle and high schools: Southside Occupational, Solorio Academy, Marine Leadership Academy, Northside College Prep and Hernandez.
Yes but: Nearly 500 district-run schools are not yet composting.
Based on current waste figures, that's likely sending thirty-five tons of organic waste to the landfill every day.
Since 2016, CPS has paid for compostable food trays, hundreds of thousands of which are sent to the landfill each week instead of being composted.
What they're saying: "The District aims to meet our goal of diverting eighty percent or more of all cafeteria/kitchen waste from landfills through commercial composting, recycling, liquid diversion, and food recovery by 2025," CPS spokesperson Mary Ann Fergus tells Axios.
That means adding launching hundreds of composting programs in a few years.
What's next: When asked about the slow expansion so far, Fergus mentioned challenges "including funding, school-level support, and student, staff and parent participation," but didn't directly answer the question.
2. Taste test: Christkindlmarket food
Now in its 25th year, Chicago's Christkindlmarket has expanded its food offerings way beyond bratwurst, strudel and spiced wine.
But it's hard to know what's worth trying with only one stomach for sampling.
So we brought three hearty appetites to the Wrigleyville Christkindlmarket to test old favorites and new flavors.
Takeaways: We ranked a few items using a one to five ❄️ system.
❄️ The Spam-like leberkase ($9) doesn't taste nearly as bad as its translation of "liver cheese," but recalls a dull hot dog and should be avoided.
❄️ ❄️ The Fons plant-based Venezuelan empanadas ($11.95 for 3) come in fun colors with intriguing fillings (sweet potato chili and smoky mushroom), but feature too much dough and scream for some sort of sauce.
❄️ ❄️ ❄️ ❄️ ❄️ The snappy kilometer sausage ($8) topped with tasty sauerkraut from the Austrian Lodge delighted all three tasters.
❄️ ❄️ Bob's Belgian Hot Chocolate gets so much hype that we joined the long line and plopped down our $8 for a small cup, only to be disappointed. Rich and creamy but not super duper.
❄️ ❄️ ❄️ The tasty $4 cup of hot cocoa from the Austrian Lodge booth (where we got our sausage) actually beat the $8 cup in a blind taste test.
❄️ ❄️ ❄️ ❄️ ❄️ The much lauded Soul & Smoke BBQ lives up to the hype with meltingly tender pulled pork and apple slaw between soft brioche buns ($14).
❄️ ❄️ ❄️ The cheesy raclette sandwich stuffed with a brat and pickles ($16) from the Baked Cheese Haus hit the spot for one taster. But another yearned for more flavor and less cheese. Still, it is fun to watch the servers scrape bubbly cheese into toasty rolls.
Pro tips: Visit on a weekday when lines are short and sun is strong.
Unless you want to buy a commemorative mug, bring your own thermal coffee cups to keep drinks hot and your hands warm.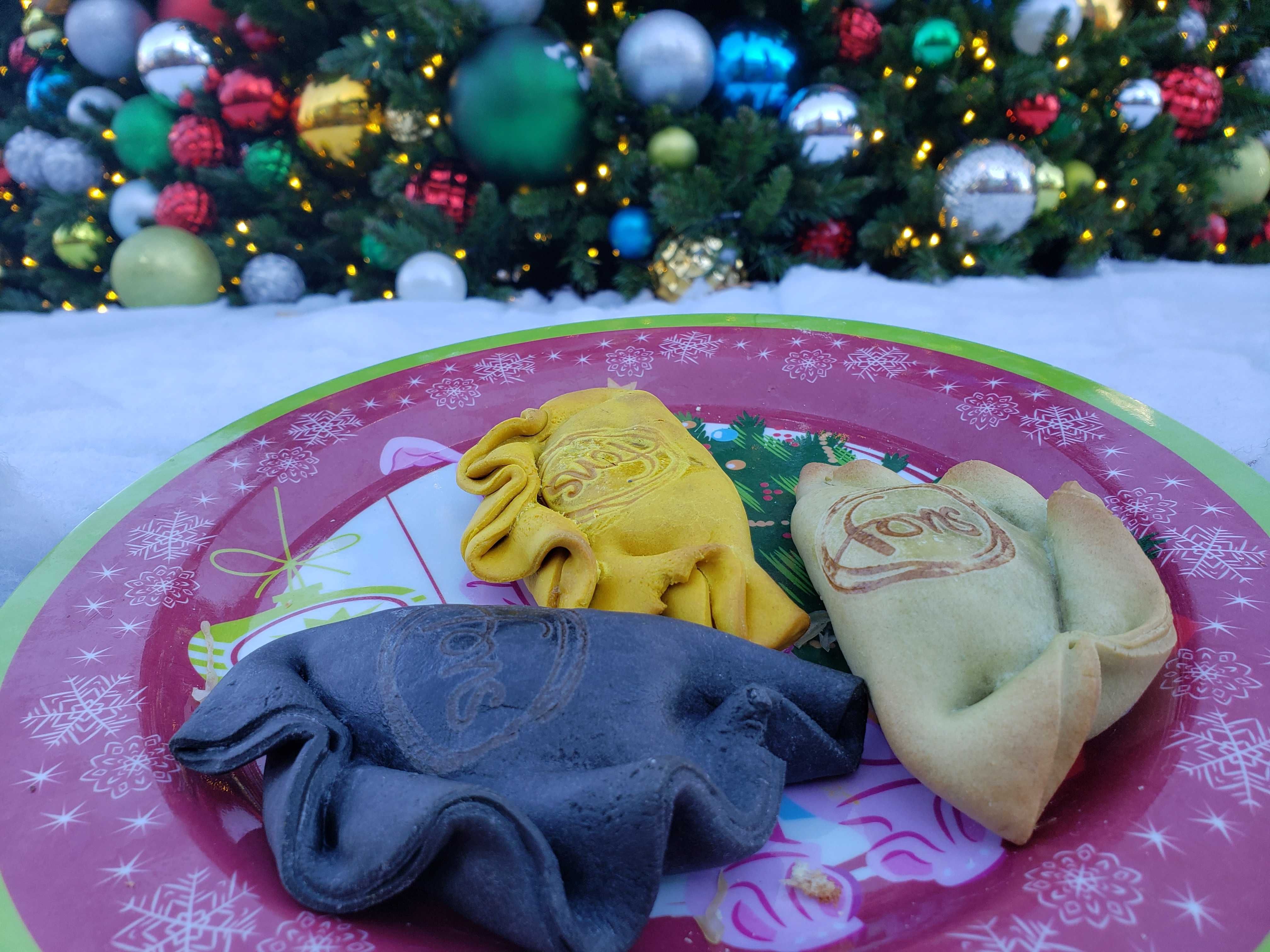 3. Tips and hot links: Quick bites of Chicago news
📻 WVON launched a five-part series called "The Invisible Ones," on Chicago women who have gone missing. Tune in to hear it, just like olden times. (BlockClubChicago)
🏢 Allstate is selling its Northbrook headquarters for $232 million. (Tribune)
✏️ Some majority Latino schools have seen shrinking enrollment. (Chalkbeat)
💉 Local officials say they're watching the Omicron variant "very carefully," and urge citizens to get vaccinated. (NBC)
Jussie Smollett's lawyer calls him "a real victim" in opening statements of the actor's trial. (Fox 32 Chicago)
4. More fall foliage to brighten your day
Winter is coming and the fall foliage is fading fast, but Monica couldn't resist sharing this pic from her neighborhood.
More lovely fall foliage snaps came in from Jefferson Park, Glenview and Lakeview taken by readers Najwa K., Frances A. and Margaret-Ann N.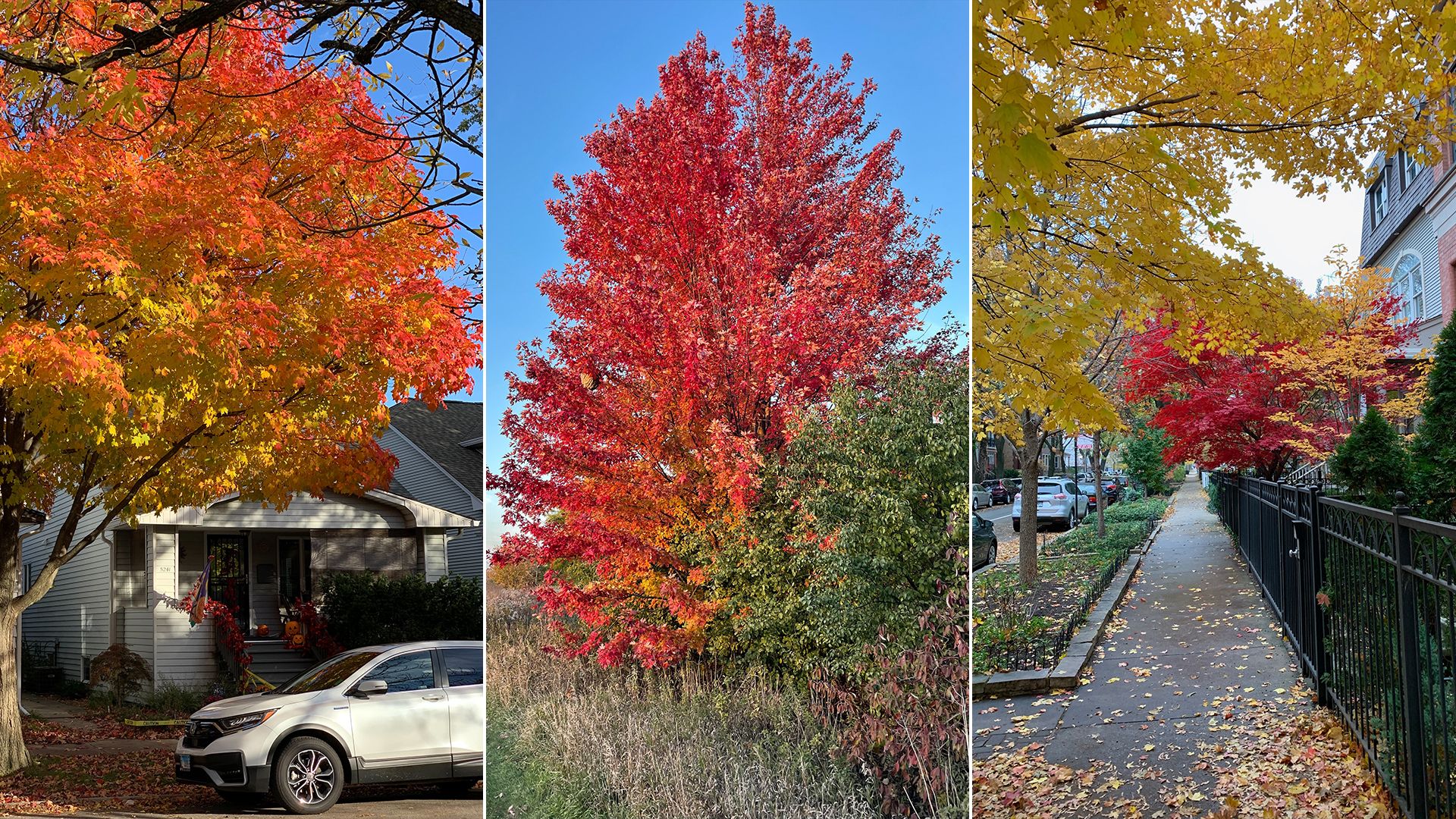 Our picks:
🚗 Monica is tired of driving and wants to stay put for a while.
😎 Justin is on vacation.
Want free Axios swag? Refer your friends to Axios Chicago and get cool merch like stickers, totes, hats, T-shirts and more!