January 28, 2022
Happy Friday! On this day in 1851, Northwestern University got its charter, making it the first recognized university in Illinois.
❄️ Today's weather: Snowy until the afternoon, which could complicate morning commutes. It's only going to get to 19 degrees.
Situational awareness: Last night, Bulls star DeMar DeRozan was named a starter for the NBA All-Star game.
Today's newsletter is 840 words — a 3-minute read.
1 big thing: Finally, the COVID poop data
Like a lot of other cities, including Boston, Minneapolis, and Des Moines, Chicago has been tracking COVID-19 through traces of the virus in fecal wastewater.
Why it matters: The city has shared very little waste water data with the public, especially compared with other municipalities involved in this federal program.
And Chicago's first report doesn't show much, except that cases rose from the beginning to the end of December, which we already knew. January data is unavailable.
Eight months ago, the state put at least $5.5 million into a sister surveillance system that expects to share its first data in February.
Driving the news: That data could soon become pretty useful.
Yes, but: Researchers told WBEZ last week that the data is more useful for tracking trends than actual case numbers. Different people shed different levels of virus in their poop, plus, storm water can dilute the samples.
What's next: Researchers told WBEZ they hope to deliver more timely and specific (even neighborhood level) data as the program progresses.

2. Eberflus brings defense back to forefront
The Bears hired Matt Eberflus to be the 17th head coach in franchise history yesterday.
It's moments like these that you wish Harry Caray was still alive. "Eberflus said backwards is…"
Why it matters: Eberflus inherits a team that went 6-11 last year and is in dire need of a complete overhaul.
Context: Eberflus is a defensive coach, most recently coordinating an Indianapolis Colts unit that was top 10 in points allowed this season.
The Colts ran a 4-3 defense and the Bears currently run a 3-4.
His defense is similar to the style that Lovie Smith and Brian Urlacher made famous in Chicago.
His specialty: Linebackers. Welcome to Chicago, coach.
The intrigue: This will be his first head coaching job. But players who have played for him have nothing but good things to say.
The top item on his list: Developing rookie QB Justin Fields.
The second: Beat the Packers and make the playoffs.
The third: Getting Chicago to pronounce his name correctly. It's EEEE-burr-floose. Players call him "Flus."
What's next: Eberflus will have an official introductory press conference soon and will then get to work on hiring his staff.
3. Tips and hot links
🧪 Chicago is set to open more city-run COVID testing sites after federal and state investigations into private pop-ups. (Block Club Chicago)
Even though the Omicron variant seems past its peak, it's still wreaking havoc in Illinois prisons. (BGA)
⚽ The Chicago Fire are looking to build team facilities on the site of the old ABLA Homes near Roosevelt Road on the Near West Side. (Chicago Tribune)
💰 Chicago-based Leap, which helps operate brick-and-mortar stores for online brands, raised a $50 million Series B funding round. (Yahoo)
🎄 Lite-FM's gimmick of playing only Christmas music during the holiday season paid off. The light rock station pulled the city's highest radio ratings since 1975. (Robert Feder)
Employment satisfaction at its best
4. Food fight: Asian dumplings
Asians all over the world will celebrate the Lunar New Year next week. In many parts of China, the celebration would not be complete without dumplings.
In honor of the holiday, we're throwing down our favorite dumplings.
Yes, we know the traditional new year dumplings are boiled jiaozi, but we are expanding our horizons.
Monica's pick: Pretty much any Sichuan dumplings get my vote. The above Sichuan wontons come from Chinatown's Dongpo Impression, named after a famous Chinese writer from the region.
These boiled pork dumplings — nestled in fiery, garlicky red oil and dusted with Sichuan peppercorns, scallions, sesame seeds and powdered chiles — are pure poetry to me ($8.95).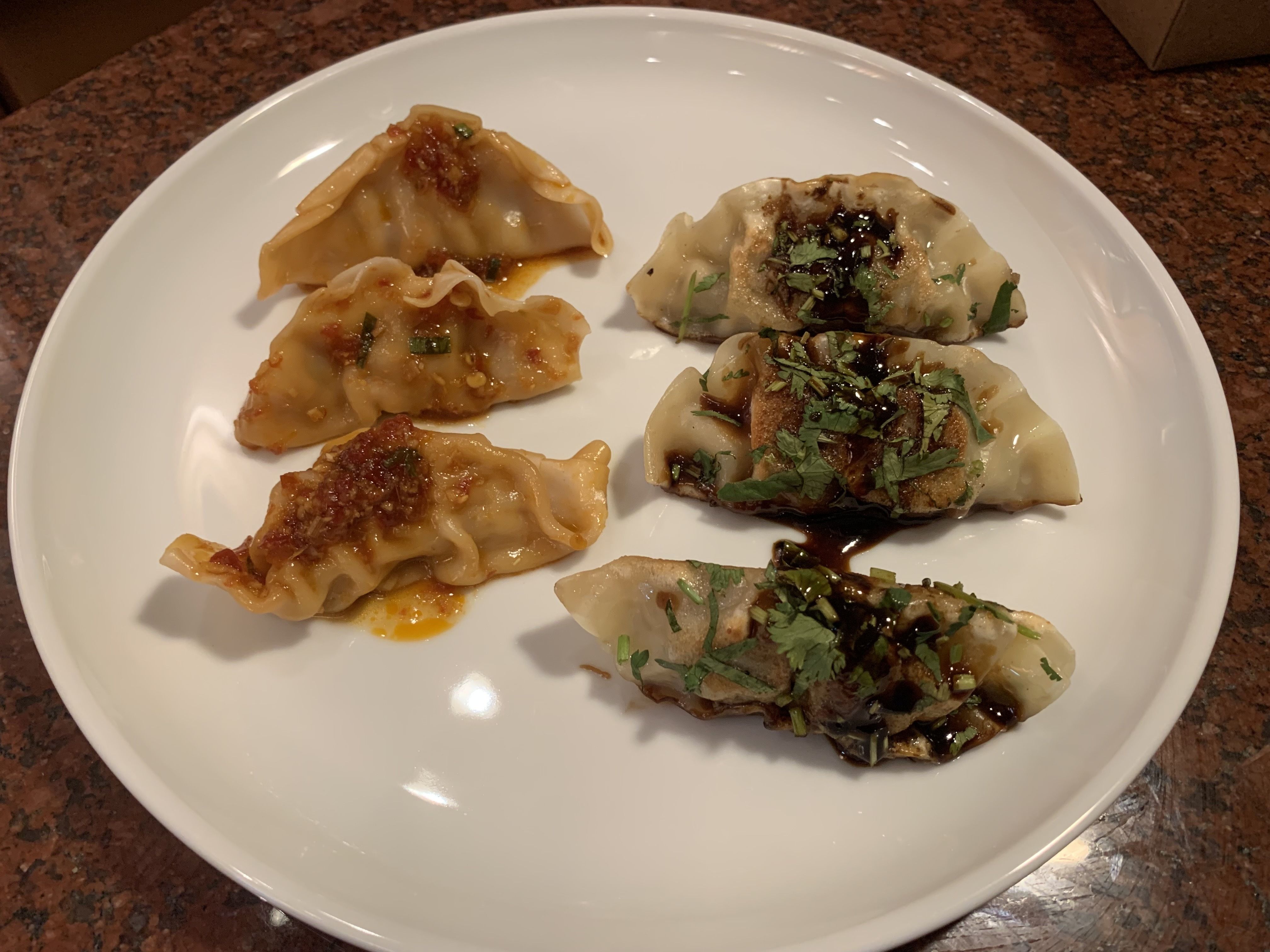 Justin's pick: All the dumplings from Urbanbelly. I'll go with award-winning chef Bill Kim any day.
The Korean BBQ beef dumpling is my favorite. They are either fried or pan seared (more in the potsticker family) and doused in Kim's signature sauce.
If beef is not your thing, the chicken dumplings in a red curry sauce are also tasty. They have a vegetable option (edamame) as well ($1.50-1.75 per dumpling).
📬 Tell us which of the two you'd choose and share some of your own local favorites for a list next week.
5. How to make a tub desk
👋 Hi, Monica here. After sharing tips for staying warm during remote work this week, I have been asked by readers how I'm able to work comfortably from my tub.
I should have mentioned that I line it with towels, pillows, an old box for a desk and, of course, a warm dog.
Plus, I have everything I need in one room: workspace, water and the facilities.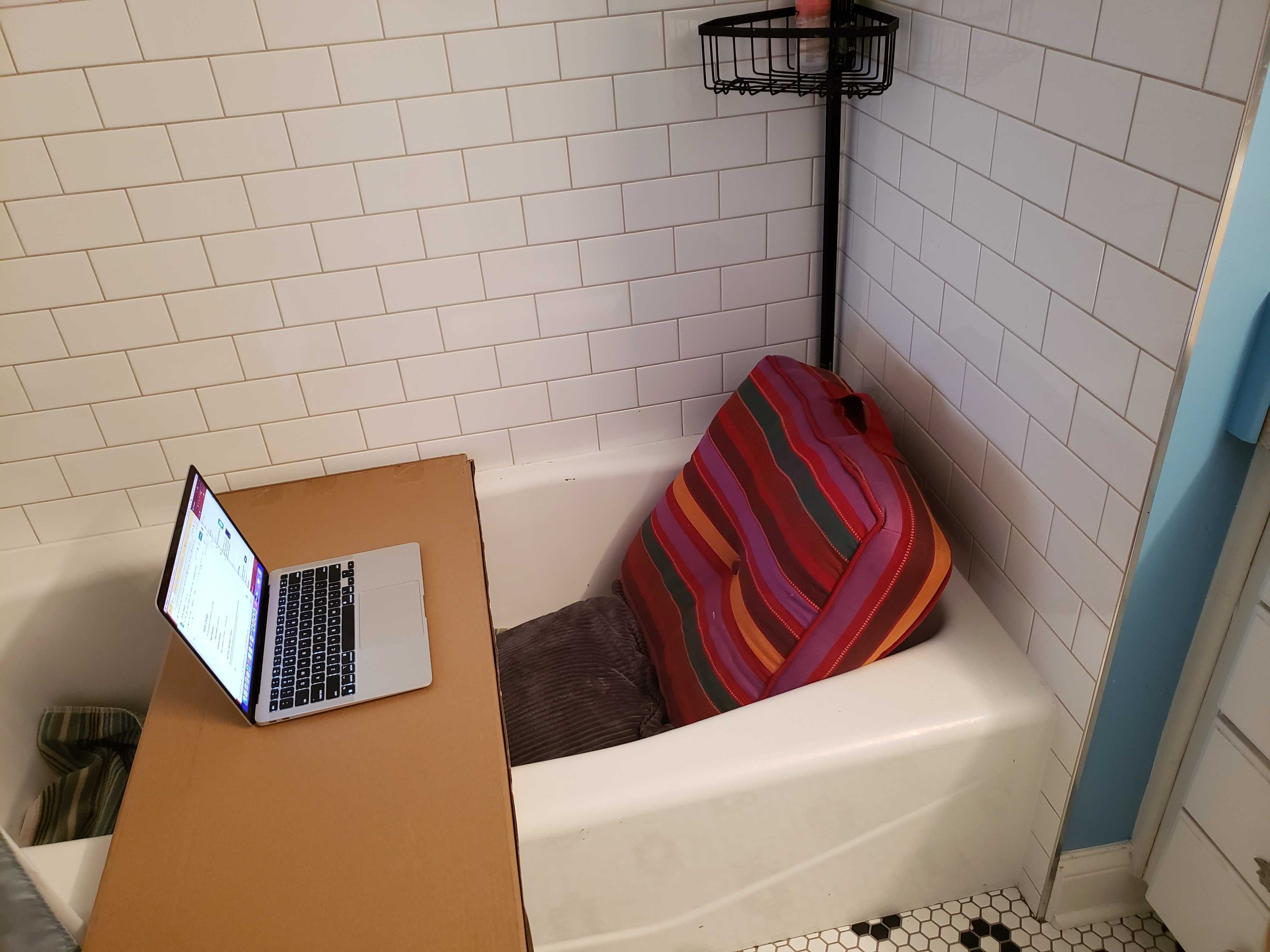 Our picks:
☀️ Monica is thrilled that tonight's sunset will finally happen AFTER 5pm! Yay sunshine!
🖥 Justin is excited to talk Rogers Park tomorrow night on Twitch! 5pm from the comfort of your own home.
Want free Axios swag? Refer your friends to Axios Chicago and get cool merch like stickers, totes, hats, T-shirts and more!