May 20, 2022
Happy Friday! Today is National Be a Millionaire Day. So what are you waiting for?
☔️ Today's weather: Rain with a high of 87.
Situational awareness: We're in a lighter mode today as we're in D.C. learning new tricks of the trade for the newsletter. Back in full on Monday!
Today's newsletter is 781 words — a 3-minute read.
1 big thing: More secondhand shopping
Buying secondhand is no longer an afterthought, reports Axios' Hope King.
Driving the news: 93% of shoppers in the U.S. have or are open to buying secondhand products, according to a new report from resale platform ThredUP.
That's up from 70% in 2019.
Why it matters: We've grown increasingly aware of our consumption habits — particularly younger consumers — and are living in a period of high inflation that has us questioning purchases.
Details: Nearly two in three people believe their individual buying habits have a significant impact on the planet, according to a survey of 3,500 U.S. adults.
82% of respondents said they feel a positive emotion when they buy used.
74% said preowned apparel is more socially acceptable now than it was five years ago.
Yes, but: Saving money is the top reason people buy secondhand over new — across all age groups — the study found.
Among Gen Z, sustainability is the other top motivator.
For average consumers, being able to afford higher-end brands is the second-leading motivator.
The big picture: E-commerce technology has matured so much over the past few years that it's helped increase the availability of used clothing around the world, whether through dedicated platforms like ThredUP, Poshmark and The RealReal or a closet-sharing service like Tulerie.
What to watch: Big legacy brands are building more ways to resell their own products.
Doing so not only helps companies like Oscar de la Renta and Levi's retain customers, but it also adds a new stream of revenue by taking back what a resale platform might have made on their products.
📫 Where do you buy secondhand stuff in the Chicago area? Reply to tell us about your favorite places for a story next week.
2. Market Watch: Green City Market
We continue our Market Watch series, highlighting farmers markets and festivals that showcase all the Midwest has to offer.
The market: Green City Market in the West Loop.
Lincoln Park's Green City Market may be Chicago's fanciest market, but its West Loop outpost is no slouch.
Why it matters: The market highlights local farmers and food trucks near the bustling West Side, where it's easier to park.
The market: Local farmers and bakers range from Wisconsin's River Valley Ranch to Evanston's Bennison's Bakery.
The food: You can find wide selections of fruits, vegetables and terrific food trucks, but the main attraction is the Baked Cheese Haus from Darlington, Wisconsin.
Come for the taste of the cheesy sandwiches and stay for the spectacle of making them.
Pro tip: Prepare for dogs. Bartelme Park hosts a popular dog park, and you are bound to get tangled up in leashes.
💭 Justin's thought bubble: It's amazing to see how many people flock to this park that's great for families, with or without the farmers market.
3. Hot happy hours
Going out is fun, but who doesn't like a deal?
Worth noting: Happy hours weren't fully legal in Illinois until 2015.
In the spirit of being legally allowed to drink with a discount, Axios' Maxwell Millington highlights a few specials to take advantage of during the week.
Get $1.50 oysters and drink specials on weekdays from 4:30pm to 6pm.
Happy hour is weekdays from 5pm to 7pm. You can get $6 beers, $10 cocktails, and wine and snacks under $10.
Weekdays from 4:30pm to 6:30pm, get $7 select beers, $9 select wines, $10 Moscow mules, $11 house sangrias and appetizers for $15 and under.
Choose from a selection of $6 mixed drinks weekdays from 5pm to 8pm.
4. Tips and hot links
An Aurora police report suggests that last year, Richard Irvin may have interceded when his then-girlfriend was arrested for battery. (Tribune)
🚴‍♀️ Drivers are ignoring flexi-posts aimed at protecting bikers. (Block Club)
Owners of a senior home with recent deaths have a history of heating citations. (Sun-Times)
🪱 Don't panic over those jumping worms. (WGN-TV)
Stop by to see who's hiring
5. Dispatches from D.C.
Our company-wide Axios retreat wraps up this morning. We've been learning a ton while trying to schmooze with the bosses and talent like Jonathan Swan. Super nice guy.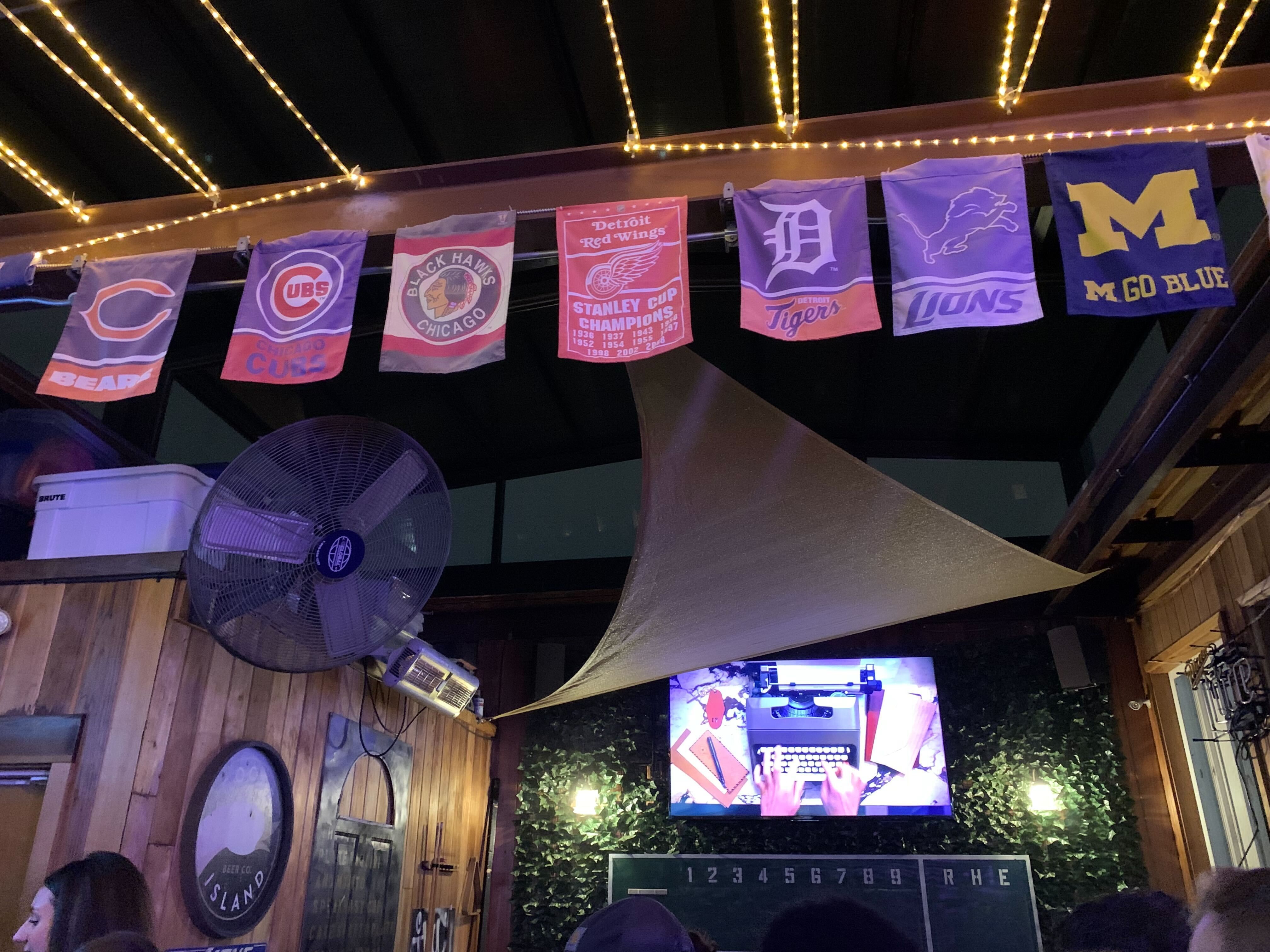 Of note: Justin went to a D.C. bar called Ivy and Coney, which bills itself as a Detroit/Chicago bar.
The bar was great, but this rare Detroit/Chicago theme is just wrong.
Upside: The food was legit. Coney and Chicago dogs, plus Italian beef and Detroit-style pizza.
Downside: Red Wings, Blackhawks, Bears and Lions all together? Nah.
But at least they had Three Floyds.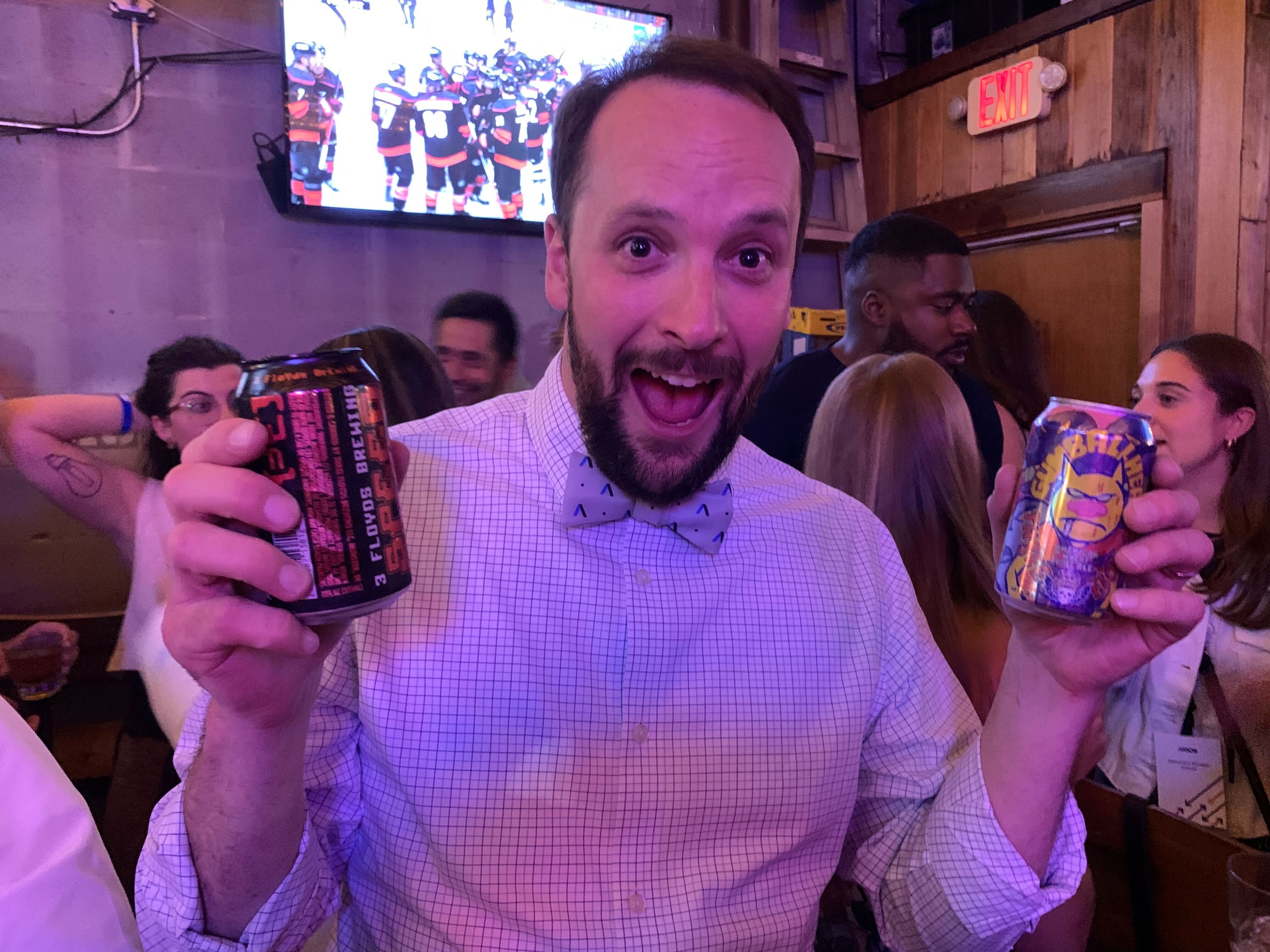 Our picks:
📺 Monica is thankful to reader Carlos B., who responded to our story on local TV errors by saying some shows purposely use impossible Chicago addresses to prevent doofuses from showing up there as if they're real. Good point. It's similar to how movie phone numbers always start with 555.
🍸 Justin is looking forward to tonight's happy hour in D.C. He can't wait to drink fancy cocktails at the same rooftop bar where Millard Fillmore once drank fancy cocktails.