June 21, 2022
☀️ Happy Tuesday! We've reached the summer solstice, bringing us the longest day of the year.
🥵 Today's weather: Sunny and sweltering with a high of 100.
Today's newsletter is 933 words — a 3.5-minute read.
1 big thing: High lead levels
Water in more than a third of the homes tested by the city shows high levels of lead.
Why it matters: The EPA says no level of lead in drinking water is safe. But according to an Axios analysis of nearly 25,000 test results from spring 2018 to spring 2022, 82% of tested homes had more than 1 part per billion (ppb) of lead.
Almost 35% had at least one sample with more than 5 ppb, the legal threshold for lead in bottled water.
More than a dozen homes had readings over 50 ppb, with one as high as 6,000 ppb.
Context: About 400,000 Chicago homes are connected to the water main using lead pipes because city rules required all houses and small apartments to install them until 1986 — when they were finally outlawed nationally.
Lead can damage children's brains and contribute to heart disease in adults.
Illinois children have shown some of the highest blood lead levels in the nation.
Flashback: The Chicago Tribune analyzed home tests in 2018 and found similar results.
What they're saying: "There are many possible reasons for high test results, such as debris collecting in aerators and extended vacancy before testing," Department of Water Management spokesperson Megan Vidis tells Axios.
State of play: Municipal water supplies are under the jurisdiction of the EPA and are held to a standard of 15 ppb, not the FDA's bottled-water standard of 5 ppb. So Chicago officials only act if levels reach 15 ppb.
After that, the water department "sends out a team comprised of a plumber, electrician and sanitary engineer to help determine the cause and make customized mitigation recommendations," Vidis says.
What's next: Mayor Lori Lightfoot has agreed to remove all lead lines by 2077, and to release a plan for it by 2027.
Reality check: The removal track record is dismal. In fall 2020, Chicago pledged to use $15 million in grants to remove 600 lead lines in low-income homes per year.
2. IL GOP reacts to Kinzinger death threat
Some Illinois Republicans are responding to the death threat against fellow GOP member Adam Kinzinger and his family.
Why it matters: The Illinois GOP candidates speaking out against the threat of violence are risking losing the support of former President Trump just days before the primary.
Driving the news: U.S. Rep Kinzinger posted on Sunday that his family had received a death threat because he's on the Jan. 6 select committee.
Context: Kinzinger has been censured by both the national and local Republican parties for working with the panel and voting to impeach Trump. He is not seeking reelection.
What they're saying: "We can disagree on issues, but we will never condone threats of violence," a spokesperson for GOP gubernatorial candidate Darren Bailey tells Axios. "It's unacceptable and needs to stop."
Republican Rep. Rodney Davis has also faced death threats, and he was practicing on the Virginia baseball diamond in 2017 when a gunman opened fire on Republicans.
"Threats of violence against anyone are unacceptable and should be prosecuted to the fullest extent of the law," Davis tells Axios. "No member of Congress or their family should ever have to face such threats."
Yes, but: Axios didn't hear back from Davis' primary opponent, Rep. Mary Miller. She was recently endorsed by Trump.
The Illinois Republican Party also did not respond.
The intrigue: The death threat to Kinzinger's family comes as the Jan. 6 select committee continues to make its case that the former president conspired to incite violence at the Capitol.
What's next: Trump heads to Illinois this weekend to stump for Miller at the downstate Adams County Fairgrounds.
3. Tips and hot links
💉 Officials announced city-sponsored COVID-19 vaccination sites for kids as young as 6 months old and could start administering shots this week. (Sun-Times)
🚨 The city is upping security at Pritzker Pavilion in Millennium Park starting tomorrow, including closing the entrance on Michigan Avenue. (Fox 32)
Veteran Bears beat reporter John "Moon" Mullin died Sunday from pancreatic cancer. He was 74. (NBC Sports)
4. Your favorite birthday cakes
To celebrate Monica's birthday, we threw down our favorite spots for cakes last week.
Monica chose the light, fruity, whipped-cream delights from Chinese Chiu Quon Bakery in Chinatown and Uptown.
Justin celebrated the dense buttercream version from Sweet Mandy B's in Lincoln Park.
Our readers recommended their own favorites:
Amy R.: "Jennivee's Bakery. This Filipino bakery in Lakeview has a gorgeous 'purple velvet' cake made with ube, a purple yam. The hummingbird cake (banana, pineapple, caramel, nuts) is insanely good."
Robert W.: "As a double chocolate cake lover, I like Bent Fork Bakery in Highwood. Also, surprisingly, Jewel's cake is amazing."
Liz S.: "Orland Bakery in Orland Park! We've been getting our cakes there for about 50 years!"
Fresh job openings around town
5. Where in the world is … Monica?
Where's Monica this week? Hint:
It's a place you go when things get rough
With your washer, dryer and other big stuff
Think fresh-baked cookies while you buy a TV
And a name that's always been confusing to me
📫 Reply with the correct answer and you can win some Axios swag!
6. Ready … set … soapbox race!
👋 Hi, it's Justin! I went to Des Moines last weekend to join my Axios colleagues as part of the Red Bull Soapbox Race in Iowa.
Our makeshift car performed admirably, but, alas, we didn't win.
We didn't technically crash — the car just kind of fell apart.
🏎 But it was amazing to race in front of thousands of people on a great summer day in Iowa.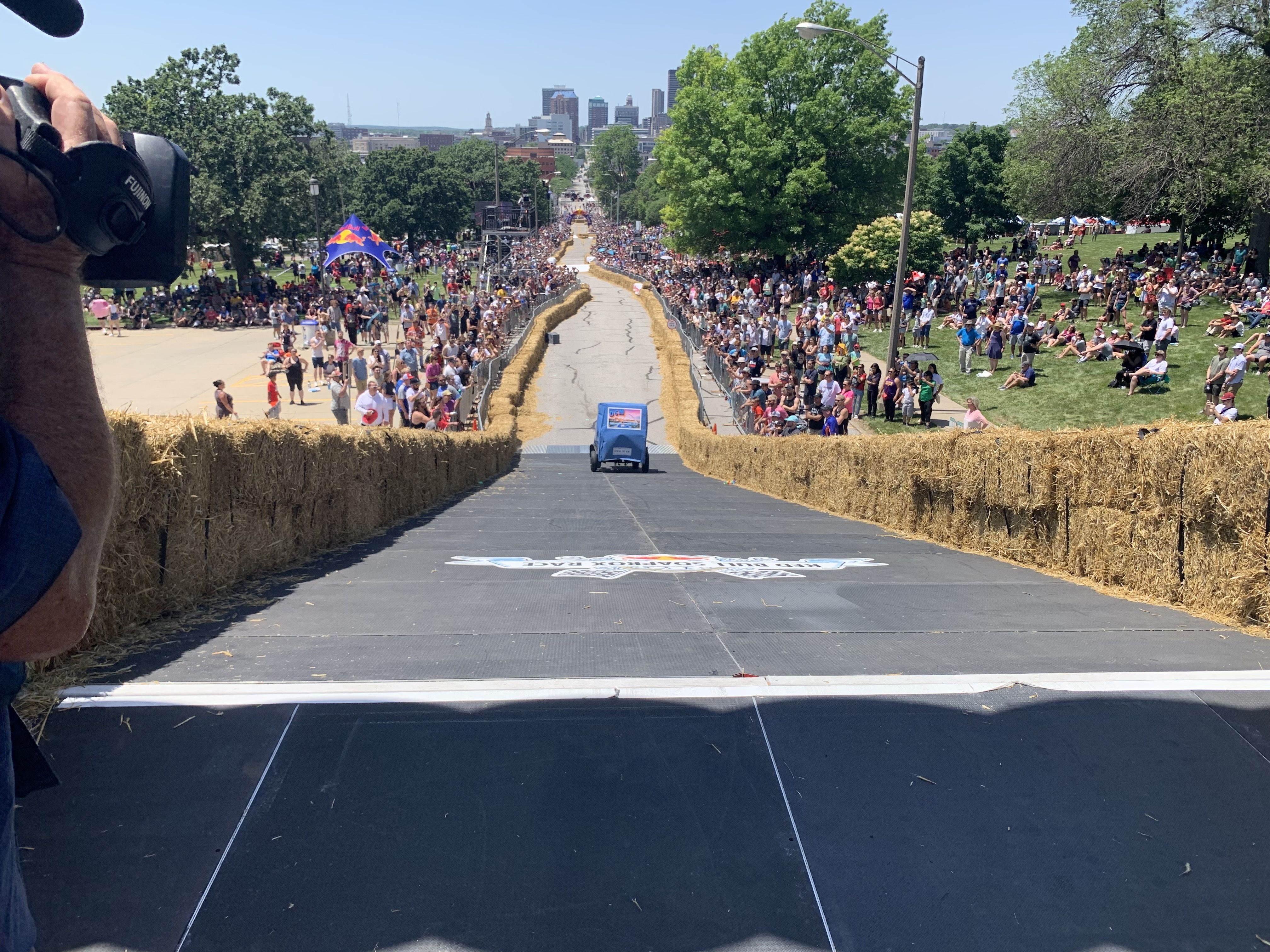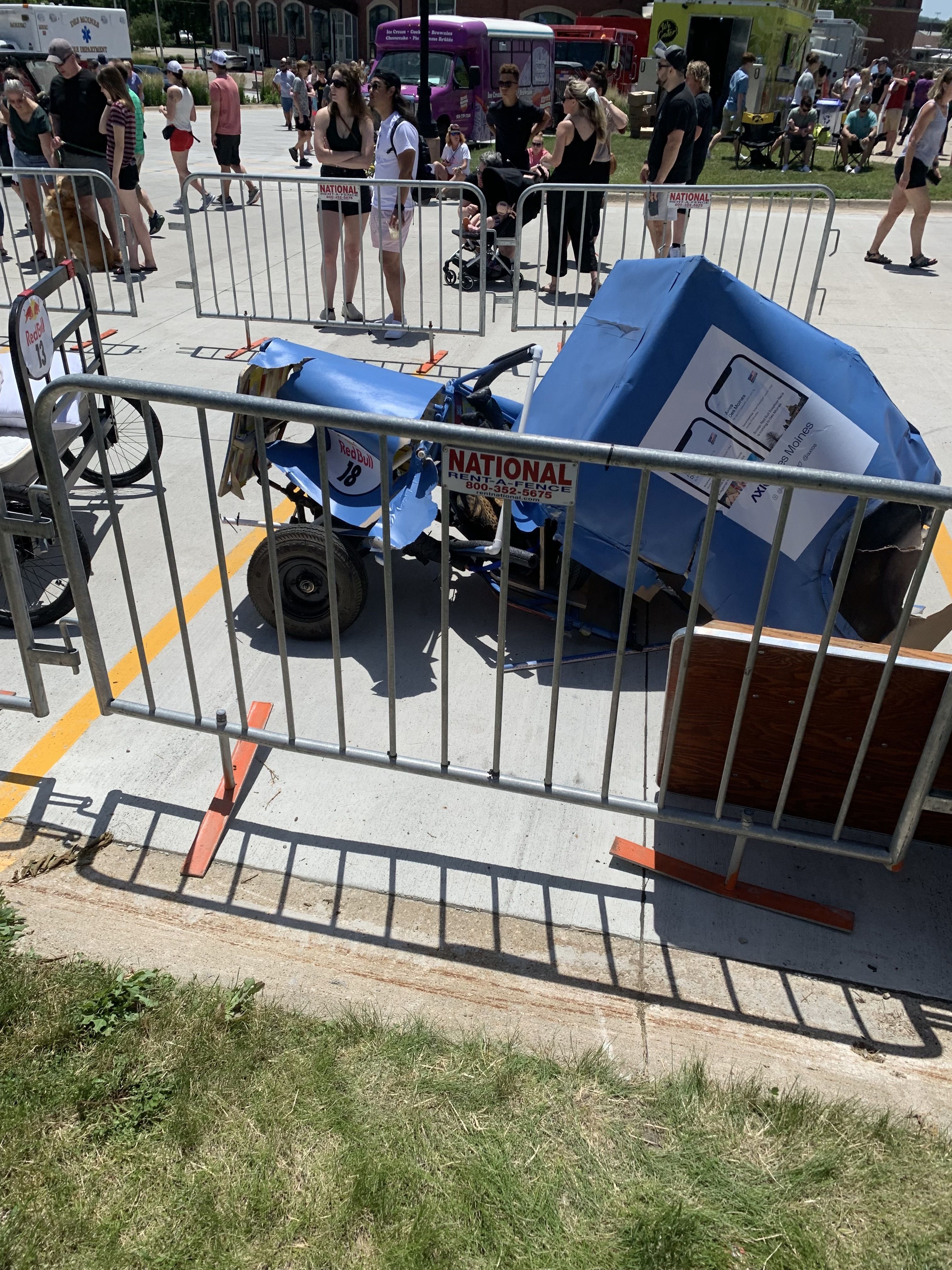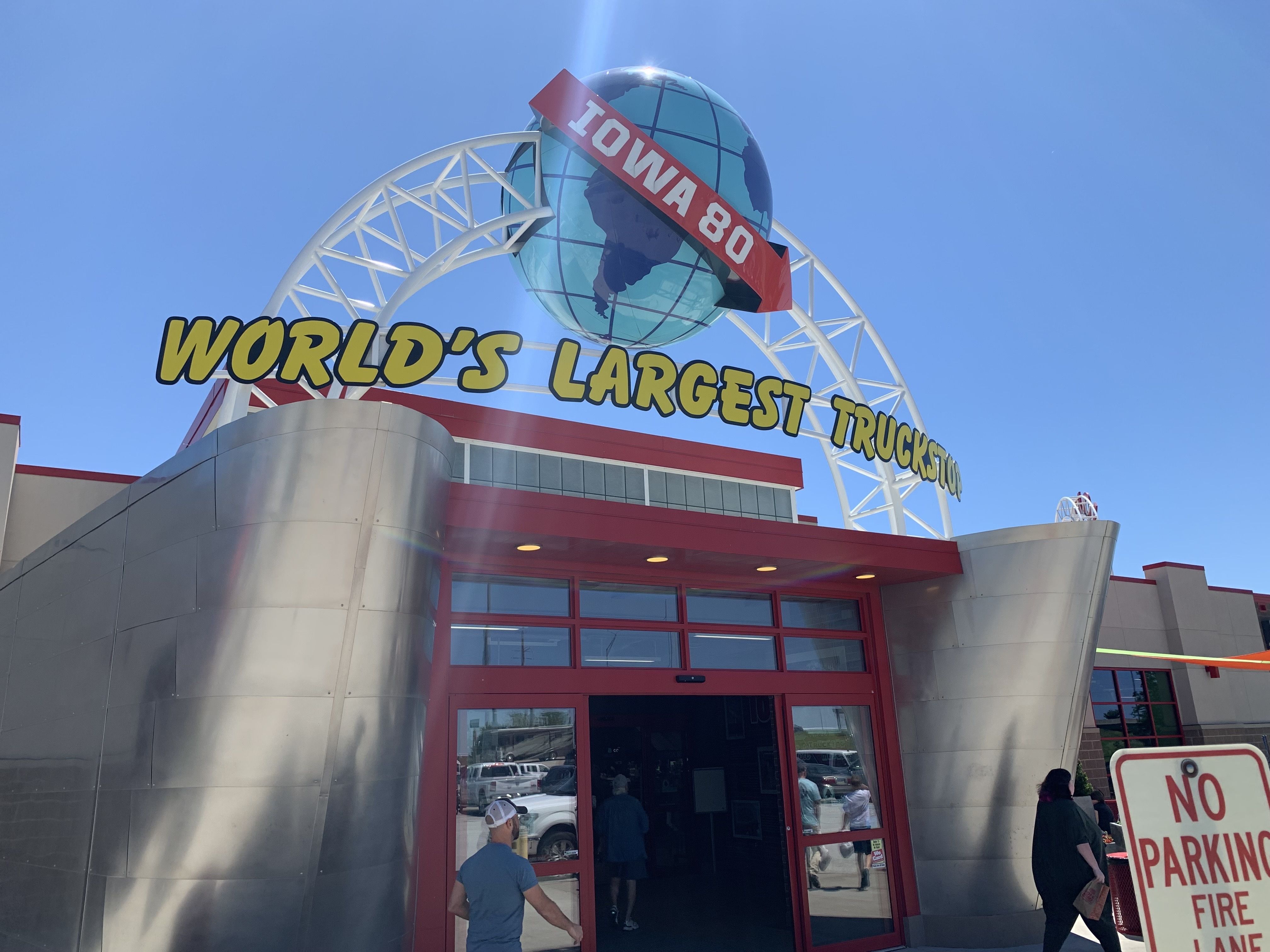 Our picks:
🍅 Monica's tomato plants like this hot weather a lot more than she does.
🥎 Justin is happy to inform you that the Axios softball team got its first win last night versus WBEZ. The score: 10-5.
Want free Axios swag? Refer your friends to Axios Chicago and get cool merch like stickers, totes, hats, T-shirts and more!