Axios Chicago
April 18, 2023
Happy Tuesday! It's tax day. Don't panic! Just remember your ancestors filed their taxes by hand with no help from the internet. They'd just pick up a few 1040EZ forms (or more complicated ones) from the library and sharpen a pencil.
Today's weather: The rollercoaster week continues. Sunny with a high of 56°.
Situational awareness: Chicago police announced new security measures for beaches and downtown parks after the chaos last weekend.
They are also investigating violent attacks posted on social media.
Today's newsletter is 898 words — a 3.5-minute read.
1 big thing: Unemployment blues
Chicago's unemployment rate fell by 0.2 percentage points in February to 4.4%, per a new analysis of Labor Department data from Axios' Kavya Beheraj and Alex Fitzpatrick.
Yes, but: We have one of the highest unemployment rates in the nation.
Why it matters: Though unemployment is down nationally, some cities, like Chicago, are struggling with it more than others.
It signals the region's sluggish recovery from the pandemic, which led to the loss of hundreds of thousands of local jobs over a six-month period.
By the numbers: Nationally, the unemployment rate was 3.5% as of March — down 0.1 percentage point from the previous month, and down 0.1 percentage point year over year.
As of February — the latest month for which city-level data is available — unemployment remained above 4% in a handful of large cities besides Chicago, including in Las Vegas (5.7%), Los Angeles (4.3%) and Houston (4.3%).
In a handful of other major metro areas, including Miami, Minneapolis and Tampa, unemployment dropped below 3%.
Between the lines: Though Chicago's unemployment rate checks in higher than the national average and that of most other cities, the city is improving. The rate has dropped slightly from February 2022.
The big picture: Illinois is still short nearly 40,000 jobs that existed before the start of the pandemic three years ago, according to data released last month by the state Department of Employment Security.
What we're watching: Mayor-elect Brandon Johnson in his recent economic plan said the city needs "to do better to train Chicagoans to fill the jobs that exist today."
"Modern manufacturing jobs require tech skills, and it is our job to give our students the skills necessary to succeed."
2. We're pretty neighborly for a big city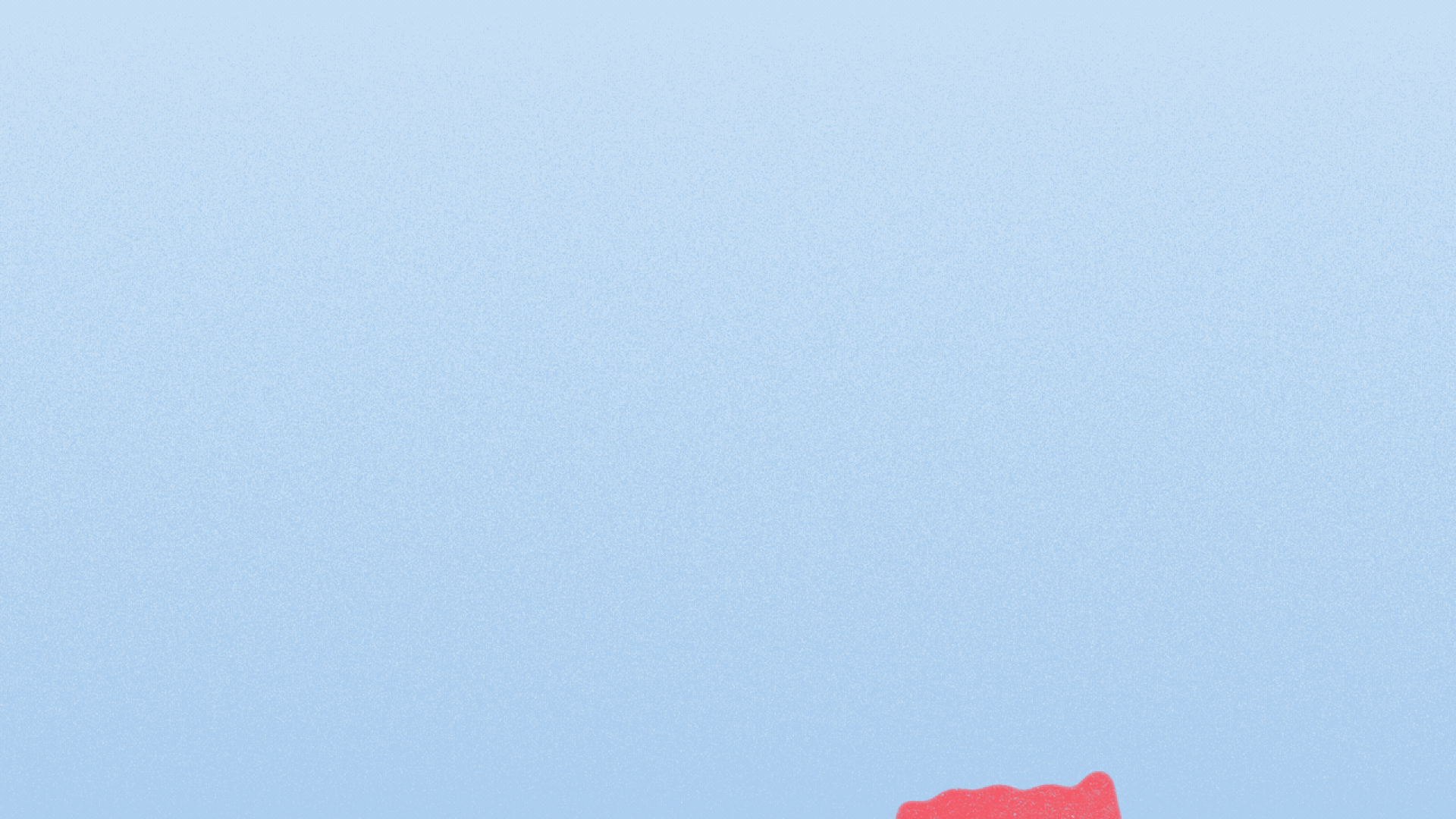 If you need a favor in Chicago, you might be in luck.
Driving the news: The Chicago metro area ranked near the top of the nation's biggest metro areas surveyed on volunteerism and civic engagement by AmeriCorps, in partnership with the U.S. Census Bureau.
Why it matters: Community service not only makes a difference in other people's lives, but volunteering can improve your mental health, provide a sense of purpose and build support systems, according to Mayo Clinic.
Plus, it's National Volunteer Week — a time to recognize the impact of volunteering nationwide.
By the numbers: We ranked No. 3 in formal volunteerism with an organization, just behind Philly and Washington, D.C.
We also ranked No. 3 in belonging to a civic organization and "informal helping," which includes things like doing a favor for a neighbor.
We ranked No. 2 in charitable giving.
Zoom out: When the Washington Post averaged the data from 2017 to 2021 and expanded it to include 88 U.S. metros, we dropped to the middle of the pack at No. 43.
Provo, Utah, topped the chart.
Between the lines: Income, education level, citizenship and race play a role in civic engagement rankings, the Post reports.
What they're saying: "It comes down to time, money and civic skills," Mike Hanmer, director of the Center for Democracy and Civic Engagement at the University of Maryland, told the Post.
"And we know that those things are not evenly distributed throughout the population," he said. "Systematically, certain groups — particularly members of underrepresented racial and ethnic groups in our society — haven't had the same access and the same opportunities."
3. Tips and hot links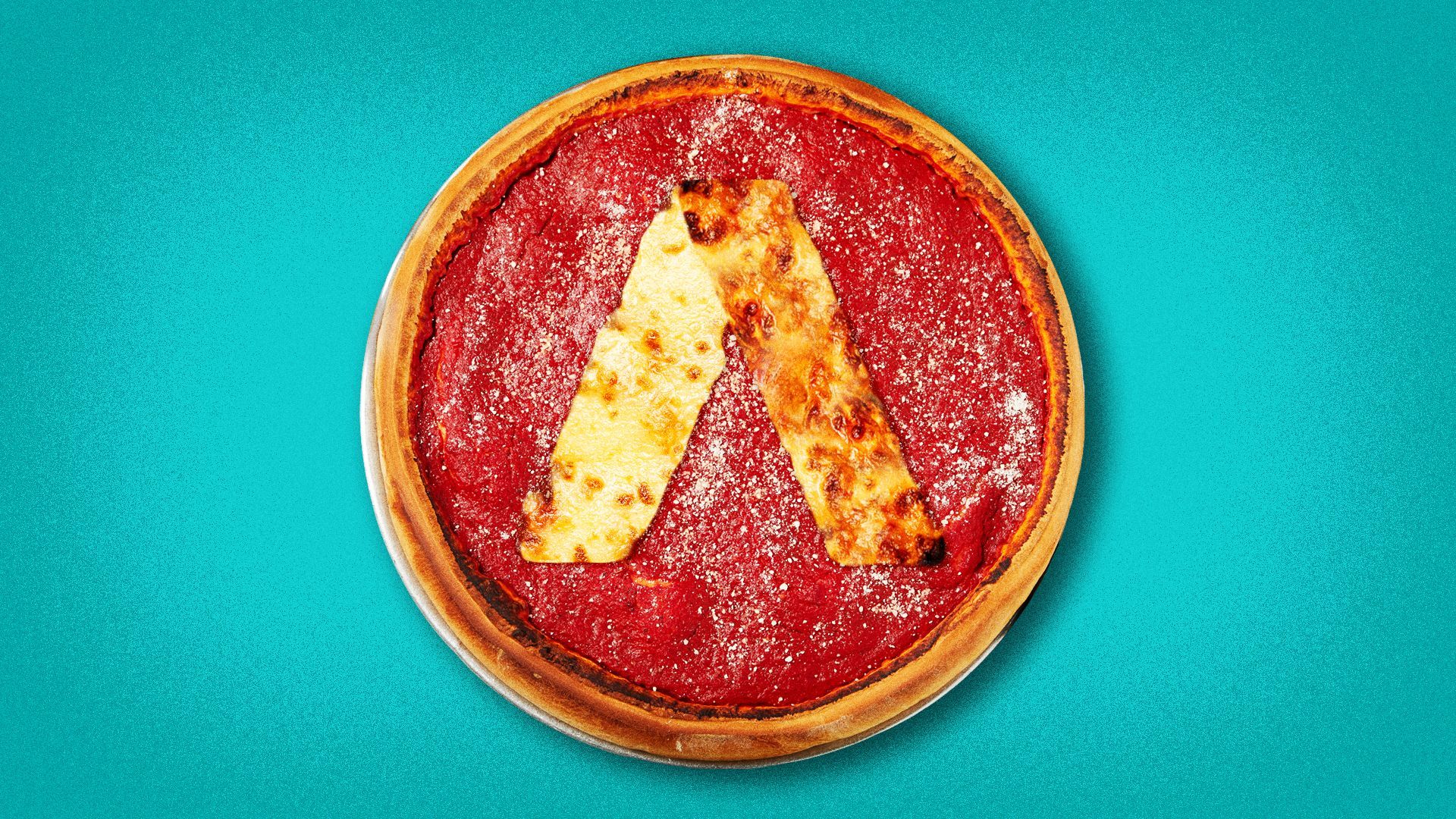 🪧 Faculty and staff at Governors State University have tentatively reached an agreement with the administration to end the six-day strike. (Tribune)
🔥 A large fire at a pallet yard sent plumes of smoke throughout Bridgeport last night. Nobody was injured. (WGN-TV)
🍗 The popular North Carolina chicken restaurant Bojangles has announced plans to open stores in the Chicago area over the next three years. No word on where the stores will be located. (NBC 5)
4. Justin's new nocturnal neighbor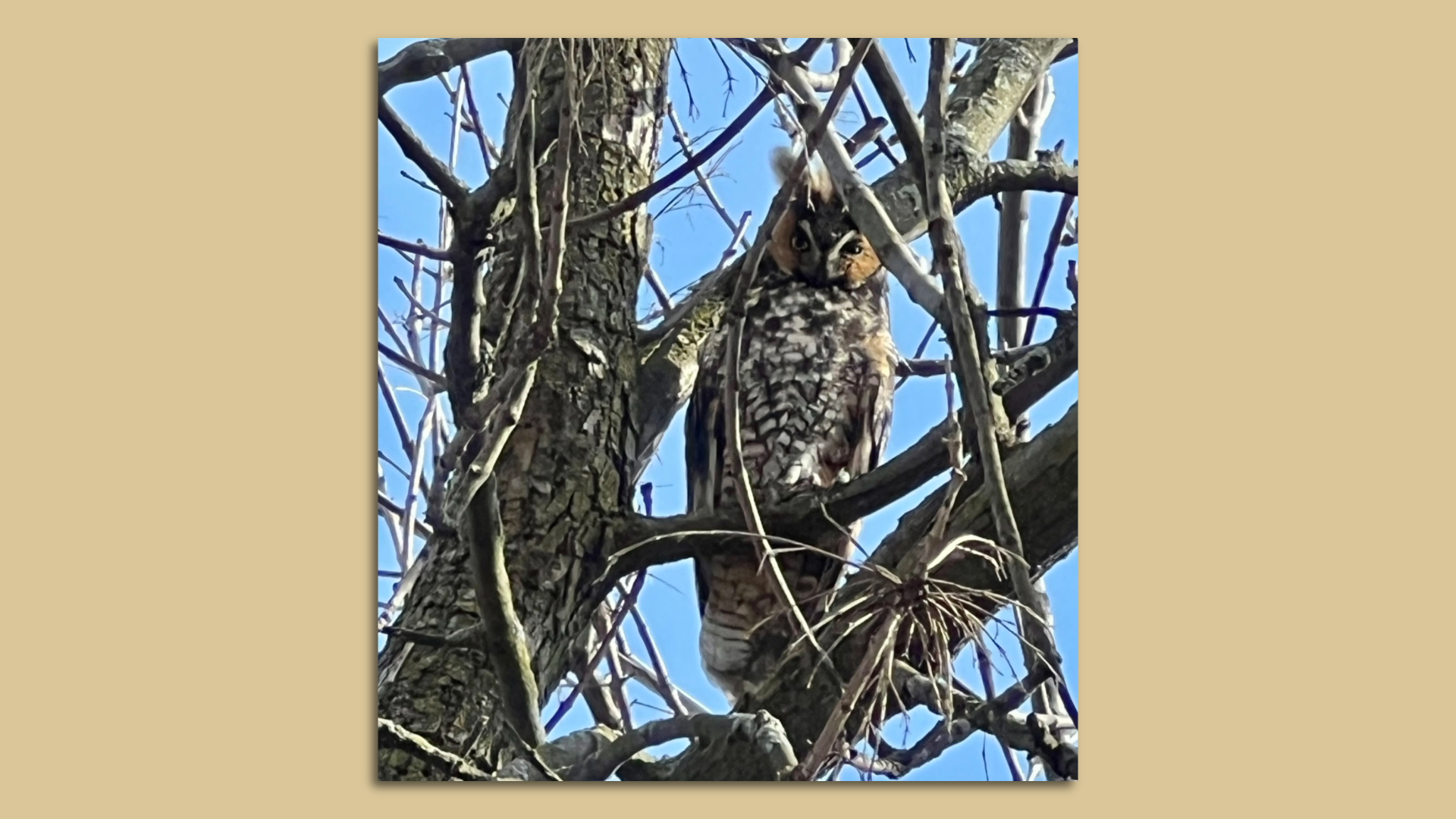 👋 Hi, it's Justin!
Last week, I took advantage of the nice weather and sat out in my front yard for the first time this spring. But I was quickly distracted by a bunch of white bird droppings and some unique, fuzzy-looking rocks.
Turns out, they weren't rocks. They were actually fur and bones regurgitated from a bird sitting in a nearby tree.
And it wasn't any ordinary bird. It was an owl.
State of play: This owl is massive. The internet tells me it's probably a long-eared owl.
And much to my chagrin, the bird has chosen the tree hanging over my yard as its roosting spot.
Professor Google says owls can be good luck or bad luck, depending on where they are situated (outside good, inside bad).
The question: What do I do? I love nature, but I don't want my front yard to be the owl's bathroom.
Also, could the owl be dangerous to the little pooches walking past on the way to the dog park?
Weigh in: Help me figure out what to do by answering this quick poll.
If you have any suggestions beyond my unproven method of verbally reasoning with the owl ("There are plenty of trees over there"), I'd welcome them.
Take your career to the next level
5. Where in the world are ... Monica and Justin?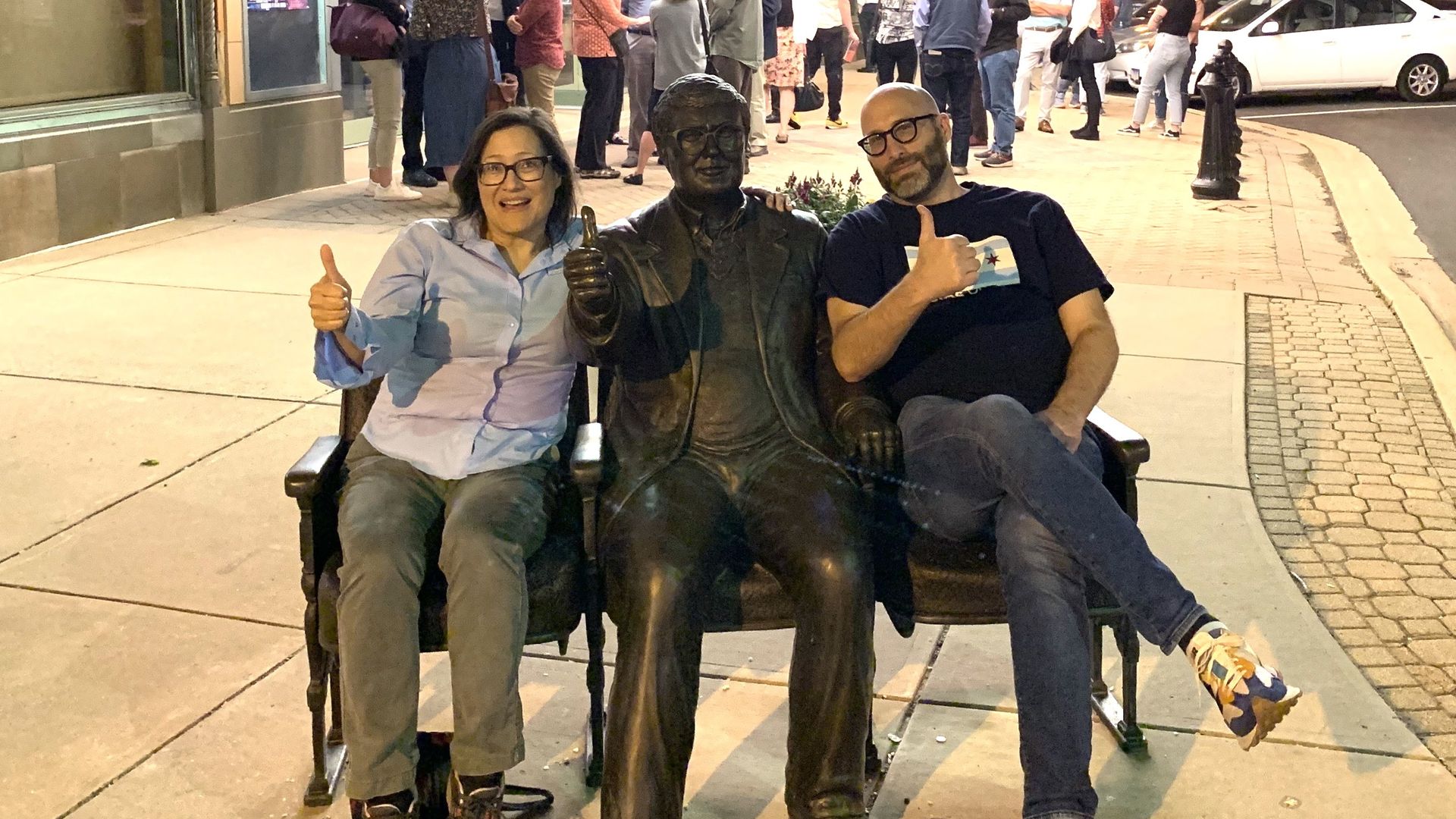 Do you know where Monica & Justin are? Here's a hint:
About two and half hours south of the city
We sit with a man whose prose was so witty
That the Pulitzer judges deemed him the best
And here he put on a terrific film fest.
Reply with the correct answer, and you'll be entered to win some Axios swag!
Edited by Alexa Mencia and copy edited by Rob Reinalda and Keely Bastow.
Our picks:
Monica is grateful that reader Kyle W told us about this fascinating chronolog of Cowles Bog in the Indiana Dunes that lets you view photos of the same area over years and seasons.
Justin isn't sure if "Barry" is still a comedy. He finds himself laughing at stuff that is supposed to be serious. He's so confused.
Want free Axios swag? Refer your friends to Axios Chicago and get cool merch like stickers, totes, hats, T-shirts and more!