Axios Chicago
October 31, 2022
🎃 Happy Halloween! Did you know Chicago is the second-best city in the country for vampires?
☁️ Today's weather: Not bad for trick-or-treating — cloudy with a high of 62.
❗️ We need you: All this week, please support local journalism by becoming an Axios Chicago member for less than $5 a month.
Sign up today, and you'll be entered to win our brand-new Axios Chicago T-shirt!
Bonus: All members will be entered into a drawing for prizes this week.
Today's newsletter is 885 words — a 3.5-minute read. Edited by Everett Cook and copy edited by Rob Reinalda.
1 big thing: Prepare for an ad-heavy week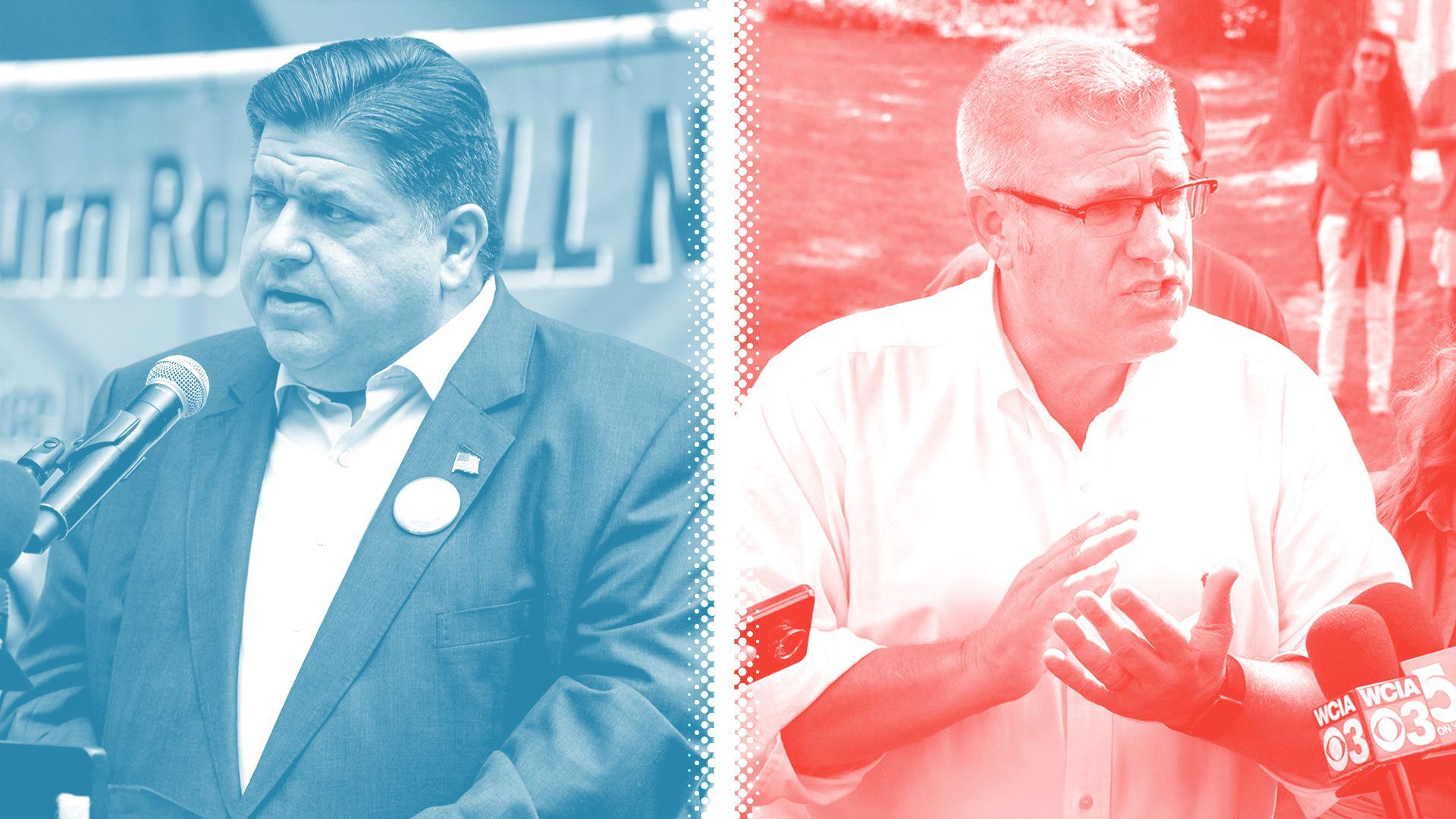 👋 Hi, it's Justin! This weekly Trail Mix column covering the midterm election cycle comes with a warning — brace yourself for more political ads on their way to your screens.
Methodology: I looked at FCC public records to see what campaigns are spending as we approach Election Day.
I examined WGN-TV's contracts from 10/26 to 11/6, although other Chicago stations show similar spending for the same time period.
These are just ad purchases by the campaigns themselves, not the PACs supporting candidates.
By the numbers: Gov. JB Pritzker bought 324 spots for $274,150 through today.
GOP gubernatorial candidate Darren Bailey purchased 159 spots for $134,500 through next Monday.
Secretary of State Democratic candidate Alexi Giannoulias: 78 spots at $64,075 through today.
Surprise spender: Incumbent Democrat Rep. Anne Stava-Murray (Naperville area) has secured 98 spots for $66,425 through next week.
The intrigue: Other than Bailey, GOP state candidates haven't purchased many spots on Chicago stations.
The ads you're seeing are from PACs and are not produced by the candidate's campaign.
Bailey brings crime to CTA
Bailey tweeted photos of himself and team members campaigning on the North Side last week, taking photos and handing out flyers on the Belmont L station platform.
One problem: It's against the law.
Context: According to CTA rules, "distributing of advertisements or any other written materials or soliciting or petitioning" is "prohibited in the paid areas and prohibited in the unpaid areas if blocking ingress or egress or the flow of traffic."
Basically, you may not hand out materials on platforms, and you may stand in front of the station only if you're not blocking patrons' right of way.
The bottom line: We thought Bailey was campaigning to lower crime on the CTA, not add to it.
Trust issues
According to the Edelman Trust Barometer, the Midwest is more distrustful of American institutions than the rest of the nation.
Bottom line: We don't trust anybody.
MMQB: Bears can't corral Cowboys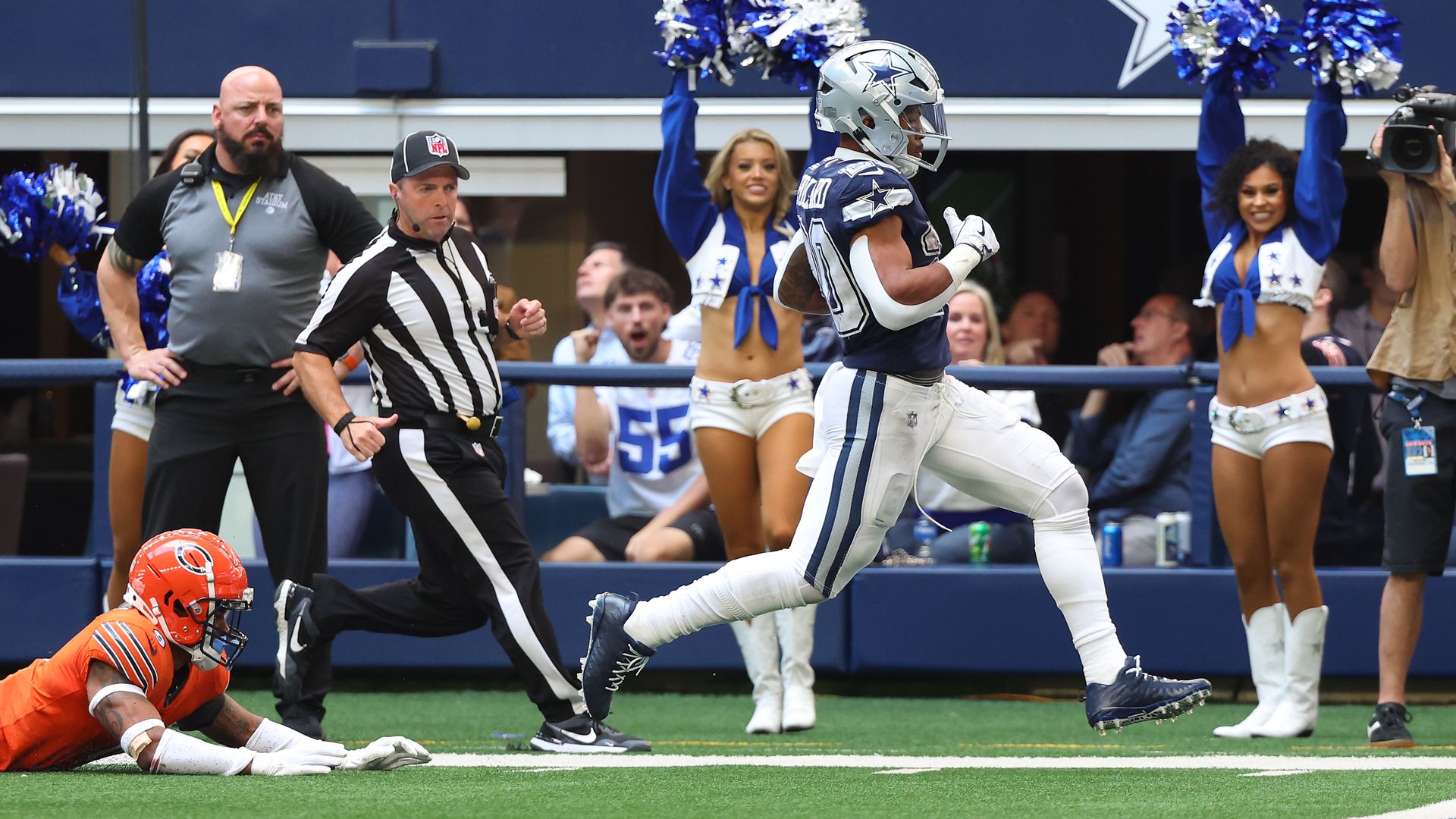 The Bears defense followed up last week's dynamic performance by laying an egg in Dallas. 
Driving the news: The offense tried to make a game of it, but poor fundamentals and blown coverages doomed the 3-5 Bears from the start. 
Justin Fields: If Fields and the offense scores 29, you should win. The young quarterback threw for 151 yards and ran for 60. He threw two touchdowns and ran for another.
He didn't throw any interceptions.
MVP: The running game. They rushed for 240 yards.
The Bears haven't been this good on the ground since 1968.
LVP: The defense missed Robert Quinn. They gave up several big plays and failed to tackle Cowboys quarterback Dak Prescott on a quarterback sneak that went for 25 yards.
The Cowboys scored on their first 4 drives, which they hadn't done since 2014.
Play that changed the game: With the Bears hanging around in the third quarter, David Montgomery fumbled and Dallas' Micah Parsons recovered it. Instead of touching him down, Justin Fields jumped over Parsons, who got up and ran for a touchdown.
What's next: The 3-5 Bears will host the 5-3 Miami Dolphins on Sunday.
3. Tips and hot links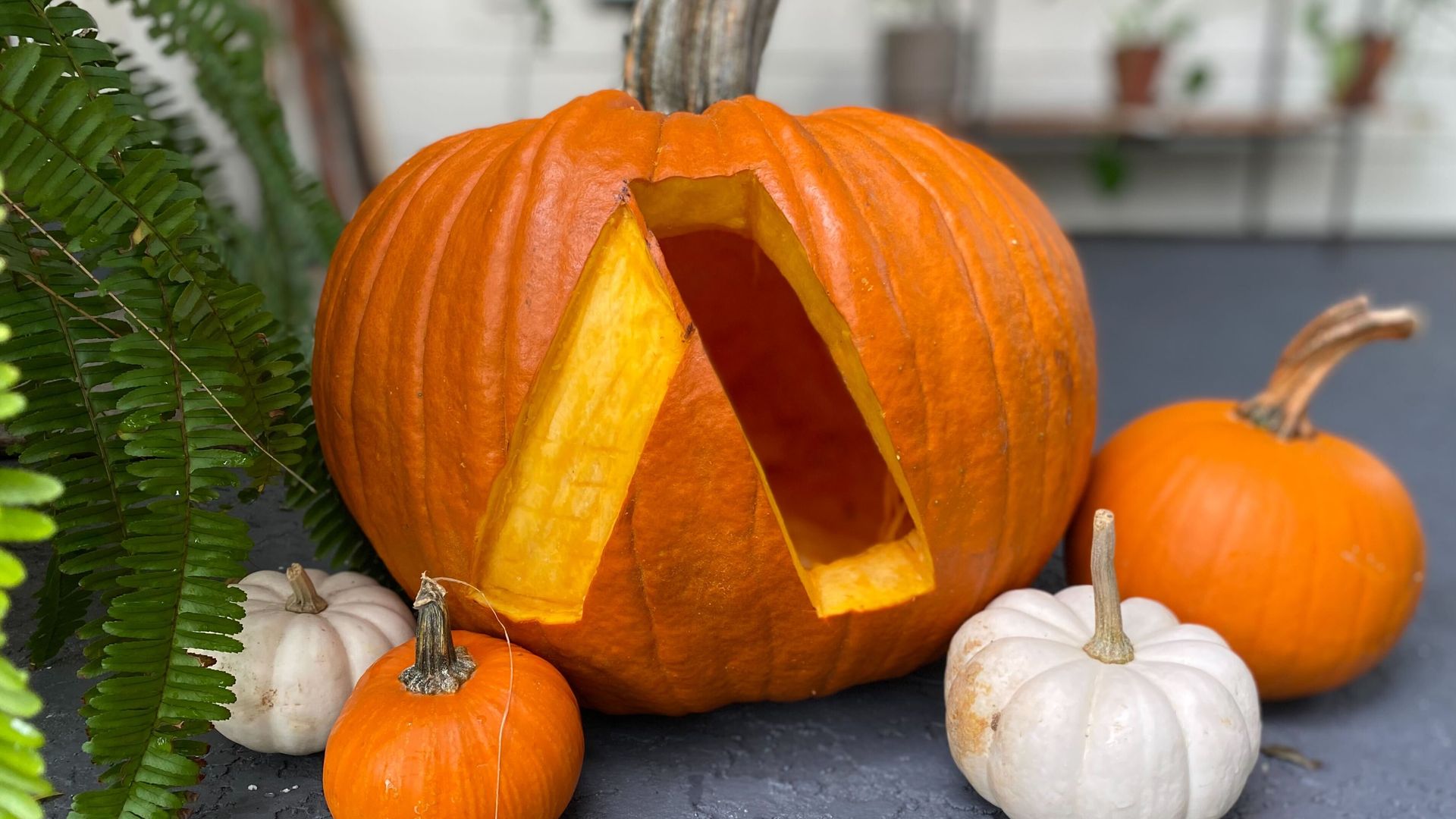 🧑‍⚖️ A federal lawsuit led by downstate Republican U.S. Rep. Mike Bost looks to invalidate mail-in ballots postmarked before — but received after — Election Day. (Tribune)
🛒 Englewood residents are demanding the city replace Whole Foods, which officially closes Nov. 13. (Block Club)
🏈 The Illini football program beat Nebraska on Saturday. They have moved up to #14 in the AP Top 25. (Associated Press)
4. Your favorite Halloween candy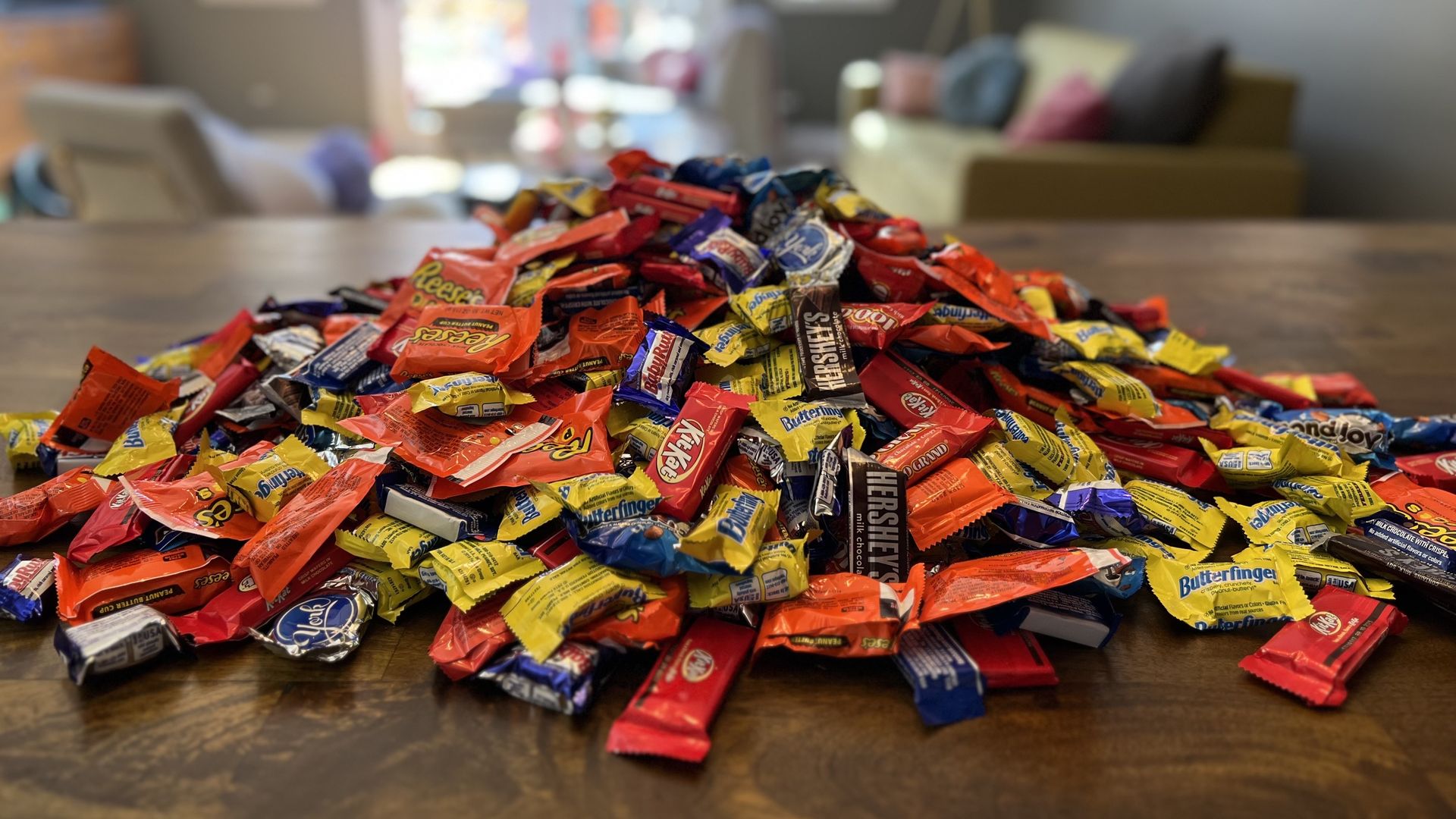 Last week's Food Fight was all about tonight's loot.
Here's the candy you keep for yourself when sorting out your kids' bounty:
Mary Lynn N.: "My Halloween favorite was the full-size six piece Bit-O-Honey bar that seemed reserved for trick-or-treating."
"Honey flavored taffy with almond bits to chew or suck. Yum."
Ken B.: "Since you mentioned local companies, the Willy Wonka Brands company located in Itasca made Nerds, Gobstoppers, Runts, Wacky Wafers, and Tart & Tiny candy."
Colleen M.: "Remember those black and orange wrapped peanut butter taffies? Yummmmmmo."
Fresh job openings around town
5. Photos of the Day: Halloween 1949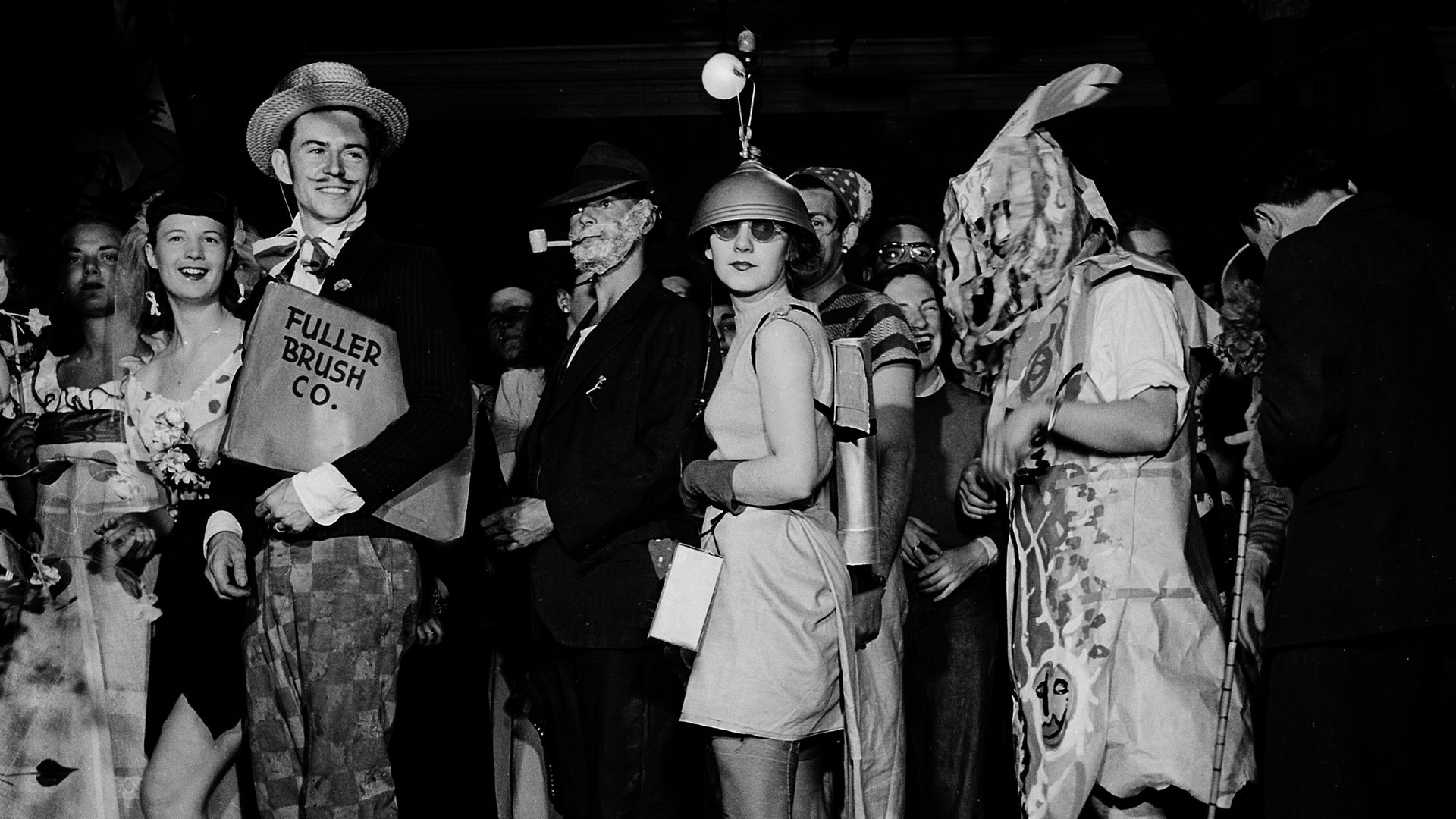 It's fun to look back and see how other generations celebrated in Chicago.
This series of archived Getty photos from Robert Natkin captured "The Halloween Ball" at the Art Institute in 1949. Talk about a time and a place!
The artists didn't skimp on the creativity.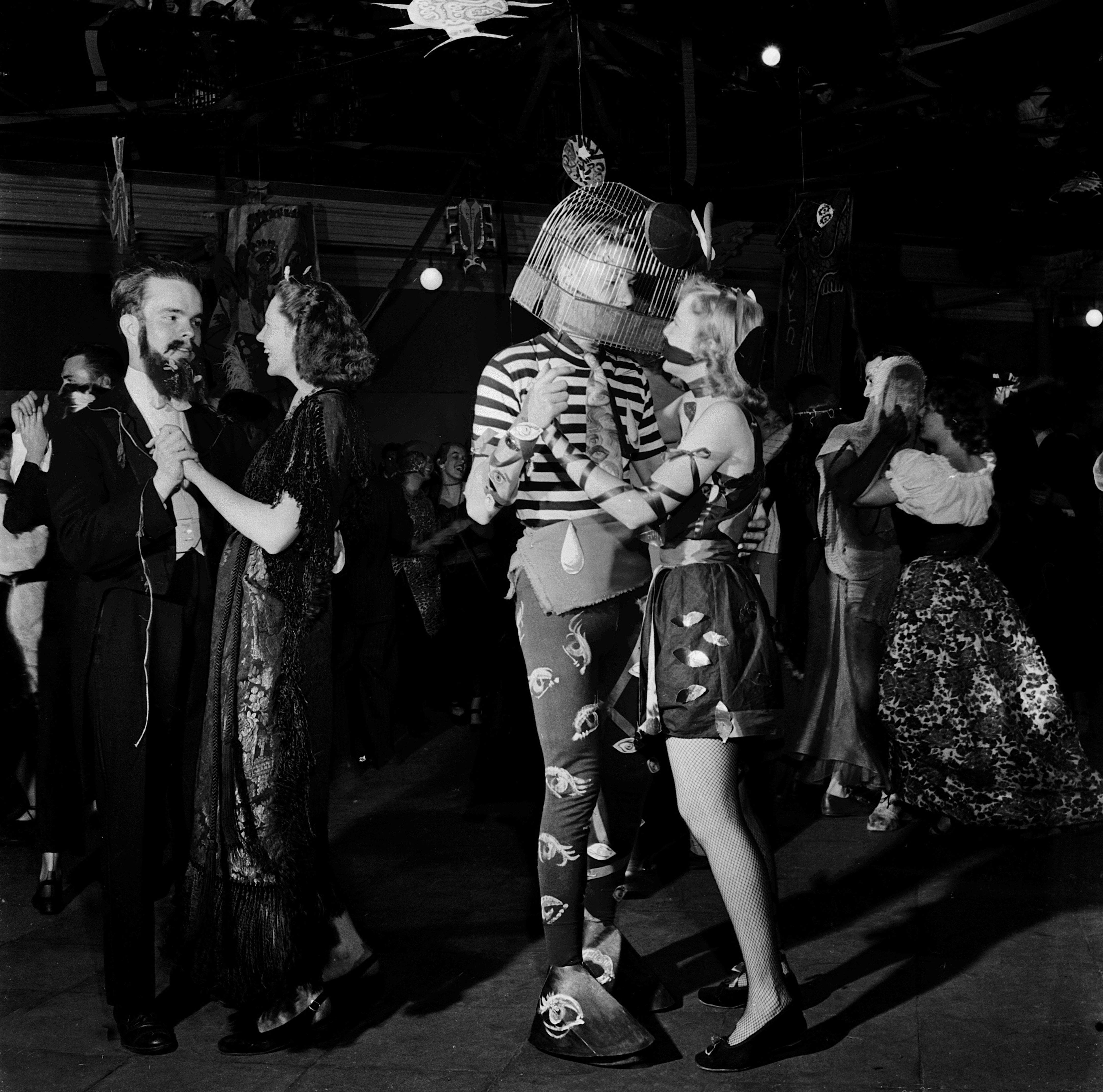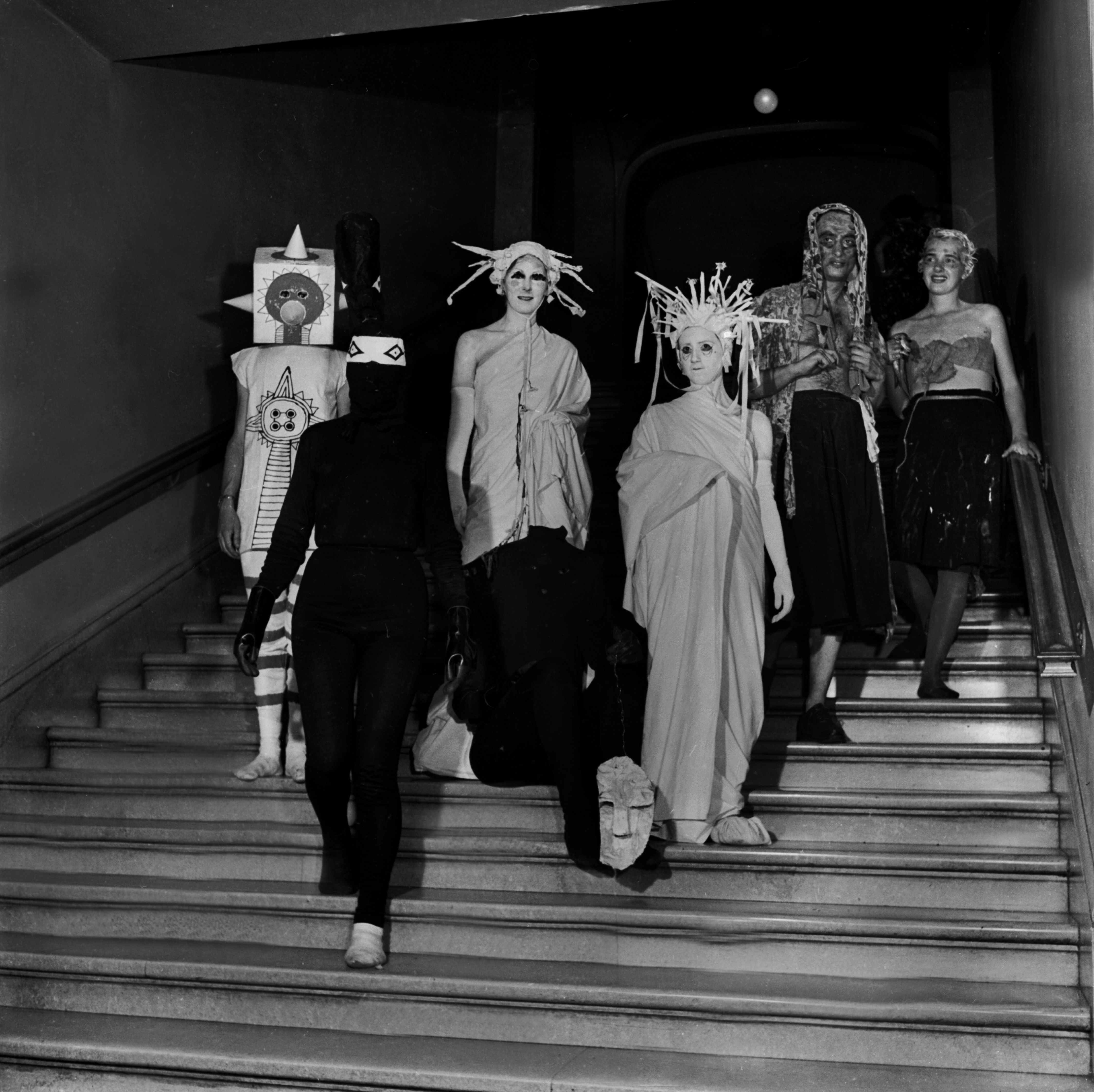 6. The Axios Chicago T-shirt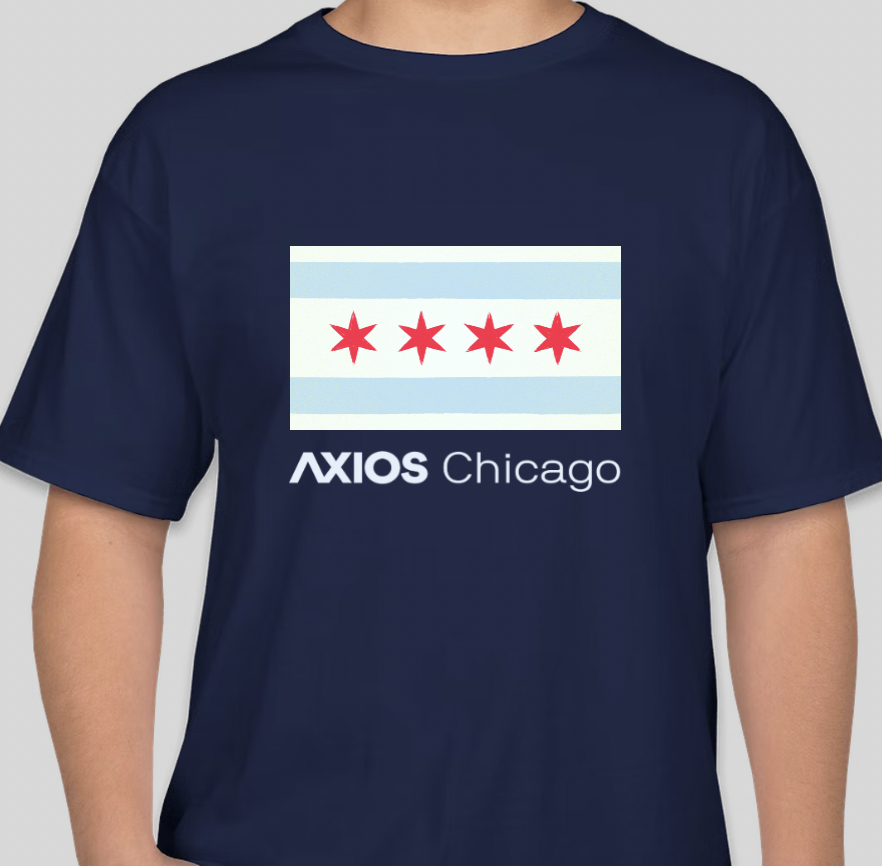 We're channeling our public radio pledge drive roots this week to entice you to become an Axios Chicago member.
That means offering you fun and creative membership premiums.
Don't worry if you're already a member — you will have access to the gifts as well.
Our goal: We want to have 312 members by the end of this week. We are currently around 250.
What to expect: Your membership gets you perks like Axios swag, a members-only podcast and invitations to exclusive events.
Why it matters: Donations will go toward supporting local journalism and helping us secure more resources to cover the city we love. Maybe we can get a van!
Or maybe a helicopter.
Or another reporter (to pilot the helicopter).
The bottom line: How cool is it that we have our own T-shirt!
Thanks, as always, for your support.
Don't forget about our event on Wednesday! It's filling up fast. Register to make sure you have a spot.
Our picks:
🏖 Monica is off today.
🍬 Justin has made a decision. He's setting up the chute!