Axios Chicago
December 06, 2022
🍅 Happy Tuesday, and welcome to National Gazpacho Day — because who doesn't want some cold summer soup right now?
☁️ Today's weather: Cloudy with a high of 44.
🙏 Thank you to our Axios Chicago members for their support! Become a member today.
Today's newsletter is 744 words — a 3-minute read. Edited by Everett Cook and copy edited by Rob Reinalda.
1 big thing: Leaf composting plunges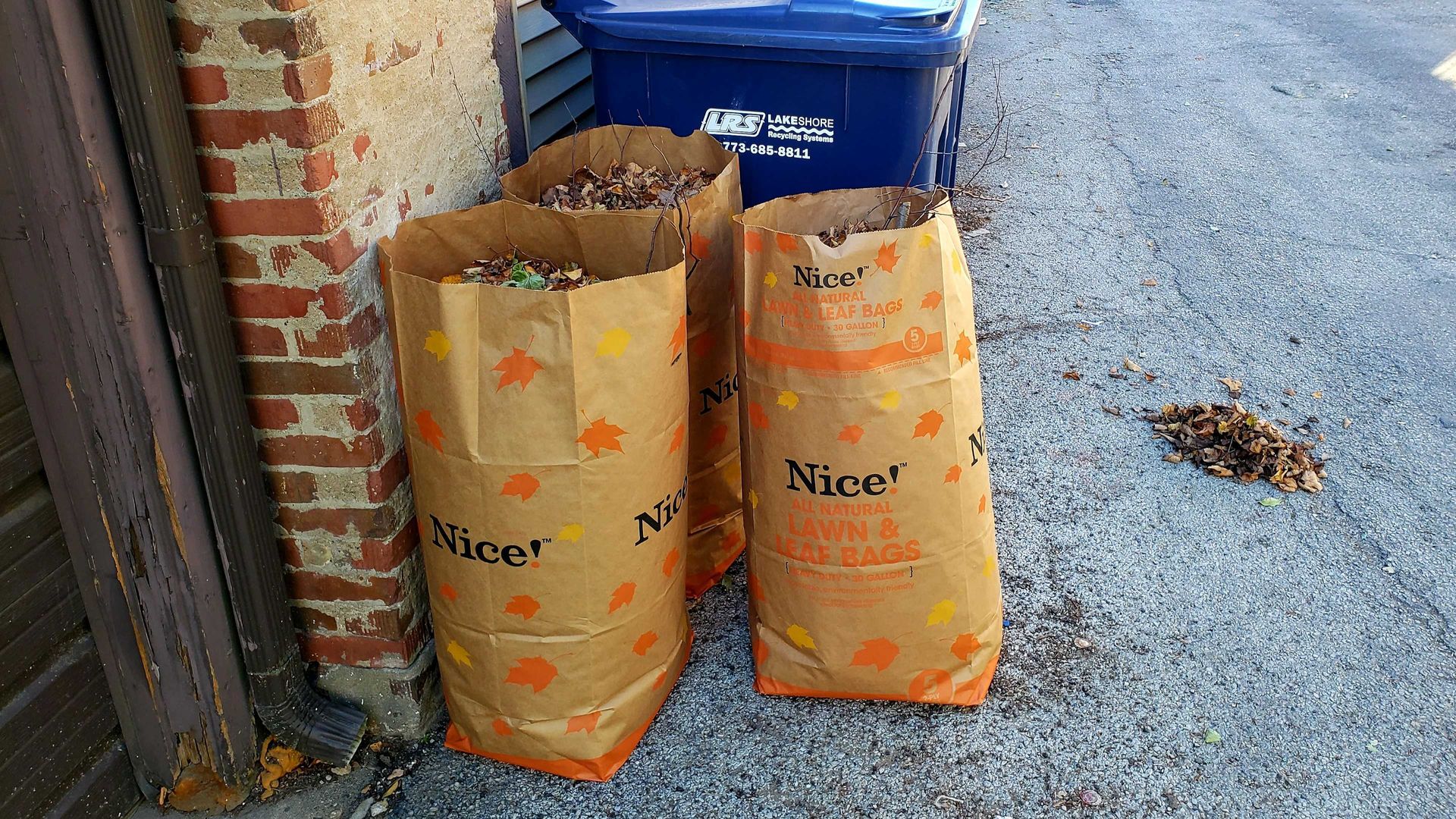 As requests for leaf pickup rose to record levels in 2021 and '22, the amount of yard waste actually collected by the city plunged by nearly 60%, per data Axios obtained through the Freedom of Information Act (FOIA).
Context: For at least a decade, the city has required residents wanting to dispose of yard waste to call 311 and put it in bags outside their carts for collection and composting by the Department of Streets and Sanitation (DSS).
Why it matters: The new data indicates the department is actually doing worse. It suggests workers are either ignoring thousands of resident requests or illegally dumping yard waste in landfills.
Illinois has outlawed yard waste in landfills since 1990, because it creates the powerful greenhouse gas methane.
What they're saying: DSS officials could not explain why yard waste collection has dropped so dramatically while requests rose over the past two years, but they did tell Axios they have to improve their data collection.
The intrigue: The department this fall hired two longtime compost advocates, including Carter O' Brien, who watchdogged DSS for years on its leaf composting practices.
We want to "embrace organic waste as an opportunity as much as an obligation," O'Brien tells Axios. "Organic waste collection, be it leaves, pumpkin smashes, or composting at community gardens, is just a whole different way to redefine the city's relationship with waste."
🎃 Of note: The city this year launched pumpkin smashes that diverted 12 tons of compostable waste from the landfill.
And next month, it will host many Christmas tree mulching programs at local parks.
2. Map of the Day: Housing prices
While most local homeowners saw tax bills rise this year, their home prices stayed flat or dipped from summer to fall.
Zoom in: In the city, the biggest drop happened in the South Shore (-4.3%), according to recent Zillow data.
Meanwhile, Garfield Park saw an almost 3% increase.
Zoom out: In the wider metro area, Kenosha, Wisconsin, and Gary, Indiana, saw the biggest price drops.
Dekalb County saw the biggest price increases.
3. Tips and hot links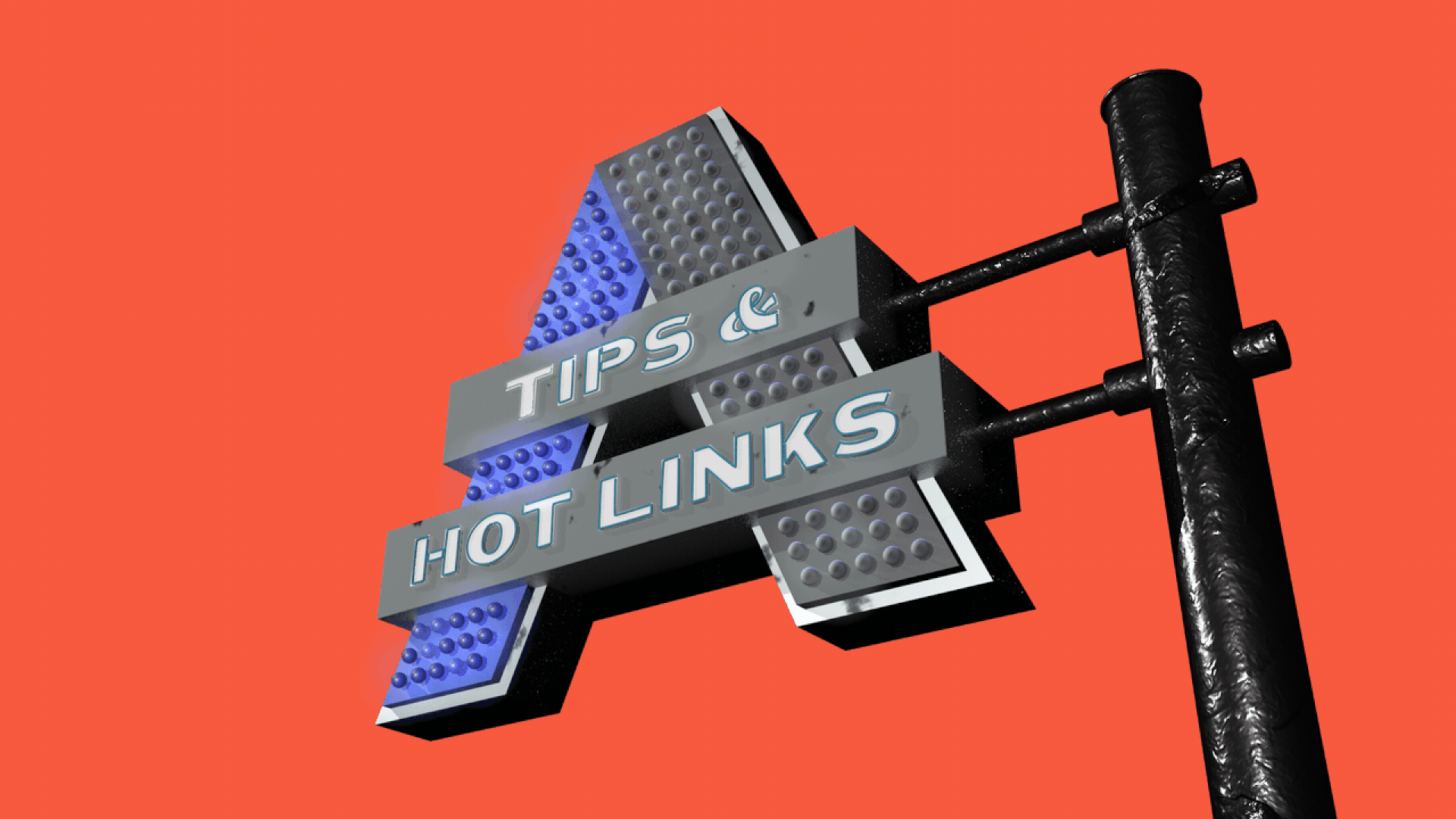 🚔 Candidates for new district police councils include both CPD supporters and would-be de-funders. (Sun-Times)
💰 A former CTA employee was charged with stealing $350K in retirement funds. (WGN)
✂️ Pepsi expects to cut hundreds of jobs in its North American headquarters including Chicago. (Wall Street Journal)
🌮 New Logan Square restaurant Omarcito blends Latin American cuisines and offers a Cuban-flavored twist on quesabirria. (Tribune)
🎸 Jack White is playing a surprise show at Empty Bottle tomorrow. Online tickets go on sale today at noon. (BlockClub)
4. Readers sound off on Christmas trees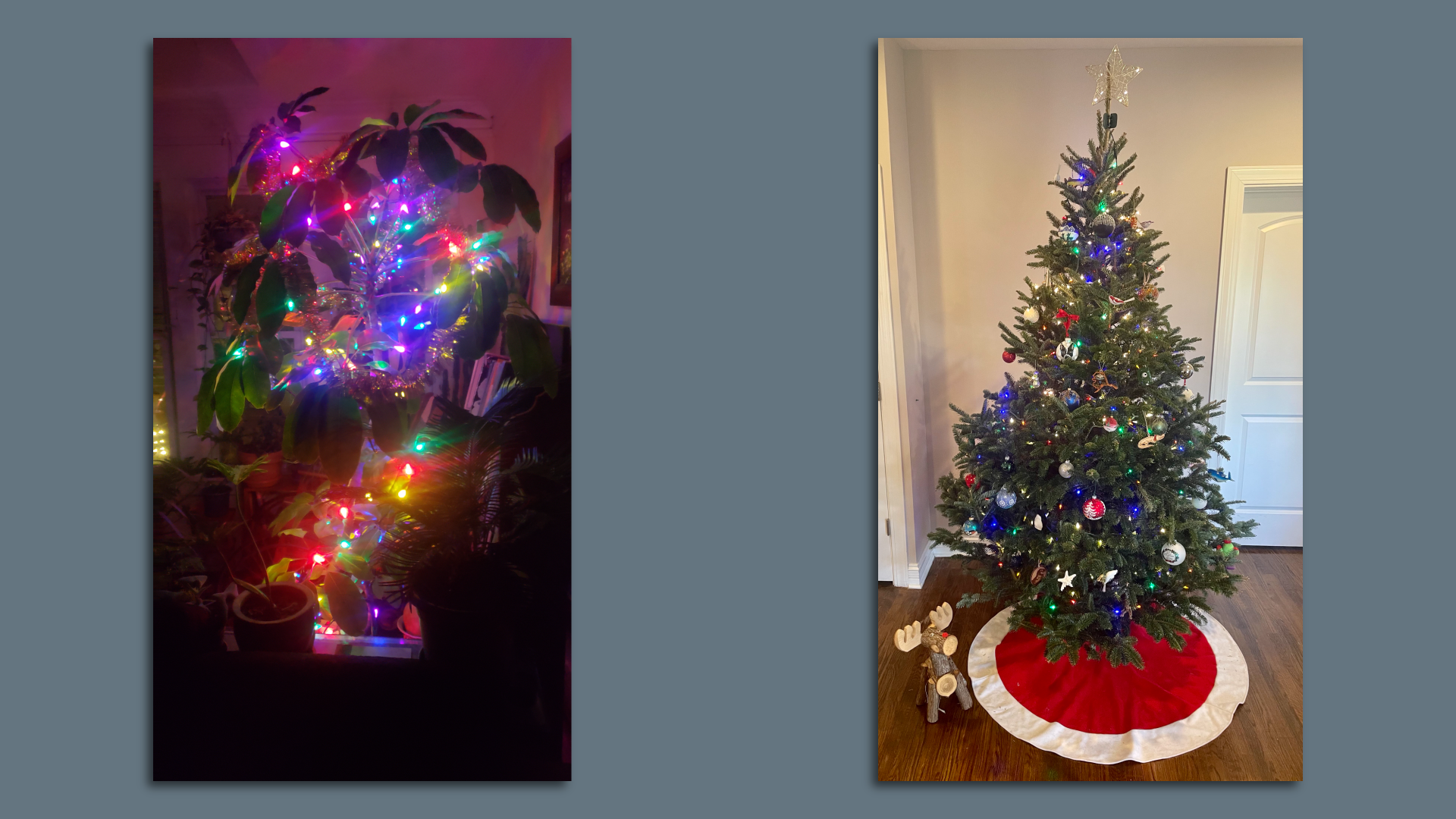 It looks like you are split right down the middle on the great Christmas tree debate, with real trees enjoying a tiny piney edge in our informal poll.
Real-tree fans: 83
Artificial-tree lovers: 82
Between the lines: Our readers like real trees way more than the rest of the country, where about 85% of trees on display are artificial.
But at least one PBS poll suggests Democrats choose fresh trees more often than Republicans. And we are in Chicago. Just saying.
If you're wondering which is more sustainable, it depends on how long you use a fake tree and where you buy and dispose of your real tree.
Your top tree opinions:
🌿 Mike N.: "For several years, I have celebrated the holidays and sustainability at the same time by decorating my 8-9-foot-tall Schefflera plant with lights and ornaments. No piney smell, but no cleanup either.
This year, my 6-foot-tall avocado tree (grown from a pit!) will get the treatment."
🌲 Jess A: "We got the most beautiful Christmas tree at Superior Evergreens, 7950 W. Belmont!"
Mario G: "We went to Sprout at Chicago and Damen this year, but usually Christy Webber on Grand. They had no trees bigger than 8' this year and we usually get a 10-footer."
🥃 Steve J: "I always get my tree from Phyllis' Musical Inn, because what's better than a shot and a Christmas tree."
🏬 Barbara M: "Got my tree at Wayfair."
Take your career to the next level
5. Where in the world is ... Monica?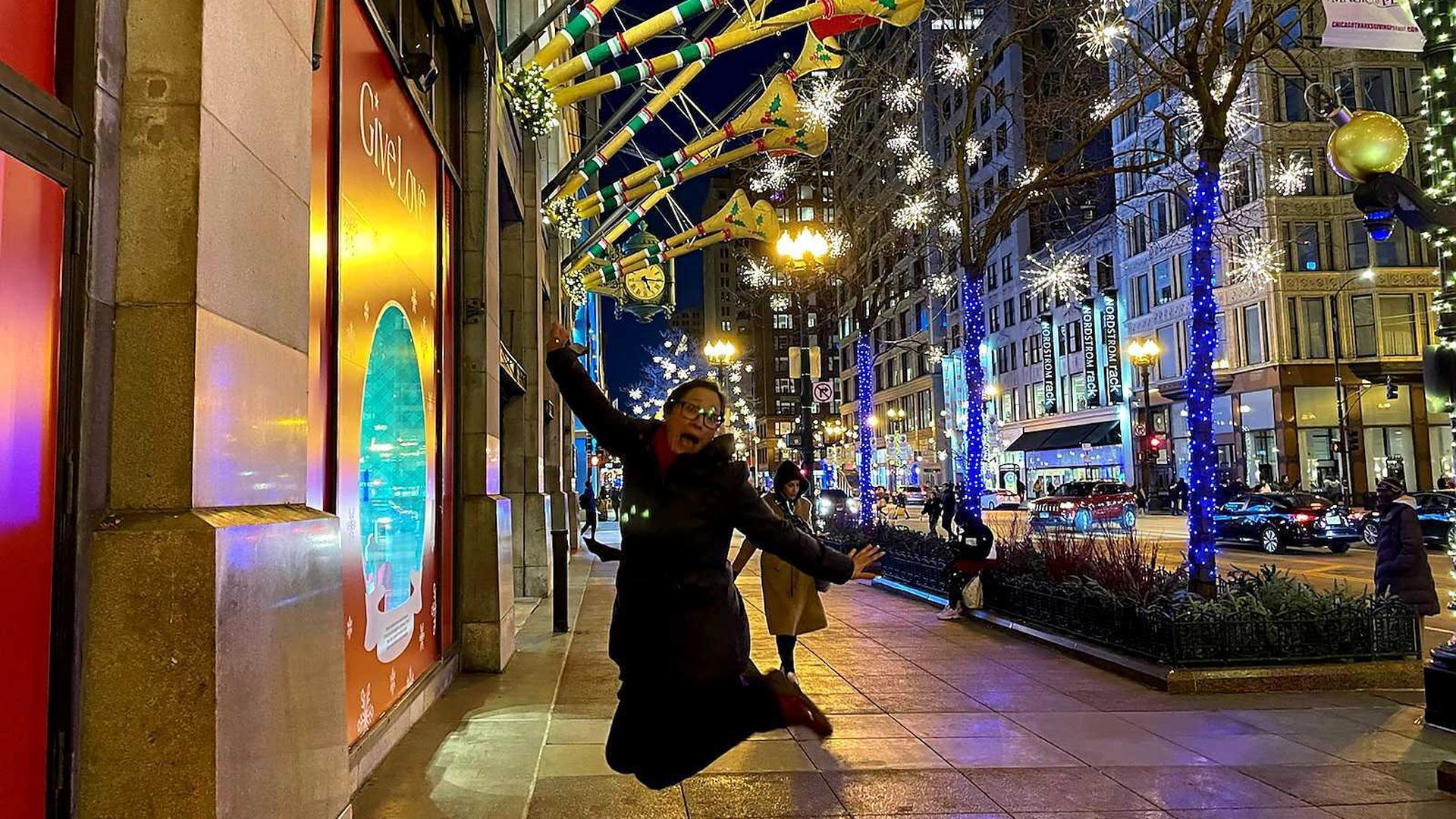 Where's Monica this week? Here's a hint:
It's a former Field on a street that's great
Where the Christmas windows always rate
There's a Walnut Room with a great big tree
And some Frango mints you can gift to me
📫 Reply with the correct answer to be entered into a drawing for some free Axios swag!
Our picks:
🥪 Monica is bummed she didn't make it out to Northfield to try this Italian beef collab between Hofherr Meat Co. and her old colleague Kevin Pang at America's Test Kitchen.
🏖 Justin is trying to burn off some PTO before the end of the year.
Want free Axios swag? Refer your friends to Axios Chicago and get cool merch like stickers, totes, hats, T-shirts and more!