September 22, 2022
Happy Thursday! Today begins a new season, a celebration of all things autumnal.
Still, it is Chicago, so give that about a week.
🍂 Today's weather: Fall-ing temperatures. Cooler, with a high of 64.
Today's newsletter is 719 words — a 2.5-minute read. It was edited by Everett Cook and copy edited by Rob Reinalda.
1 big thing: Chicago Gourmet rises again
After a pandemic cancellation followed a mini festival, the 2022 Chicago Gourmet kicks off tonight with a robust roster of events — but still not as many as at its peak.
Why it matters: This year's event again lacks the signature Millennium Park tasting lawn full of chefs, winemakers and thousands of visitors.
That's due to a local hospitality industry that is rebounding but still desperately hurting for workers.
What they're saying: Many chefs "don't even have enough team members to staff their restaurants," Illinois Restaurant Association president Sam Toia tells Axios.
"So they weren't able to send anywhere from four to eight members out to the park to represent them at Chicago Gourmet."
To deal with the labor shortage, Toia says the IRA is talking to Sen. Tammy Duckworth about immigration reforms, like creating more "work visas for hospitality workers, because we're not just having a team member crunch here in the state of Illinois, it's all over the country."
Of note: Taste of Chicago scaled back this summer for similar reasons.
Yes, but: The steady rebuilding of the 15-year-old Chicago Gourmet still drives tourism and showcases our city's vibrant culinary scene.
Quick take: 2022 highlights include:
Tonight: Tacos & Tequila, hosted by chef Rick Bayless.
Friday: Hamburger Hop, hosted by chef Stephanie Izard, and Somm Sessions with top sommeliers.
Saturday: Grand Cru wine tasting.
Reality check: We hope you preordered tickets, because several events are sold out. Organizers advise snapping up the remaining tickets for:
The intrigue: Some festival proceeds will go to the Illinois Restaurant Association Educational Foundation, which supports culinary programs in Chicago high schools.
2. Chart of the Day: Tech salaries
Chicago tech salaries had one of the lowest increases among major U.S. cities from 2021 to 2022, according to the job website Hired.
But, hey, at least we're not San Diego. And who needs that weather?
The big picture: The report says job seekers still have the advantage — for now.
Salaries are rising despite economic uncertainty, while flexible work schedules remain the most valuable perk.
3. Tips and hot links
🏛 Timmy Knudsen, 32, was sworn in Wednesday as the new 43rd Ward Alder, the youngest member of City Council and 6th member of the LGBTQ caucus. (Sun Times)
✈️ Both O'Hare and Midway rank below average on passenger satisfaction. (Tribune)
🍎 Ten local places for apple picking. (WBEZ)
🌇 Learn how to take awesome Chicagohenge photos as we hit the equinox today. (BlockClub)
4. Treating out-of-towners
👋 Hey, it's Monica. I recently got to show off Chicago to some visiting Axios colleagues.
Why it matters: I love sharing my favorite local things with out-of-towners, but this time I asked them for a short review.
Axios Local Deputy Managing Editor Emma Way
💧 Hammocking at the lake: Fun fact about Monica — she collects hammocks.
I was lucky enough to try out her new one from Aldi during a recent afternoon meeting at Montrose Harbor.
And yes, I'd highly recommend taking your work-from-home meetings outside while you still can.
🍖 Soul N Smoke BBQ: I'm from North Carolina, so I was skeptical, but this BBQ exceeded my expectations.
The brisket, tips and hot links were tender and juicy in a way that can only be achieved when meats are cooked low and slow.
The pulled pork was just OK.
🍻 Beer on the riverside deck of Metropolitan Brewing: The afternoon was one of those just-right days in Chicago that made me think for a moment I could really live here.
Axios Boston reporter Steph Solis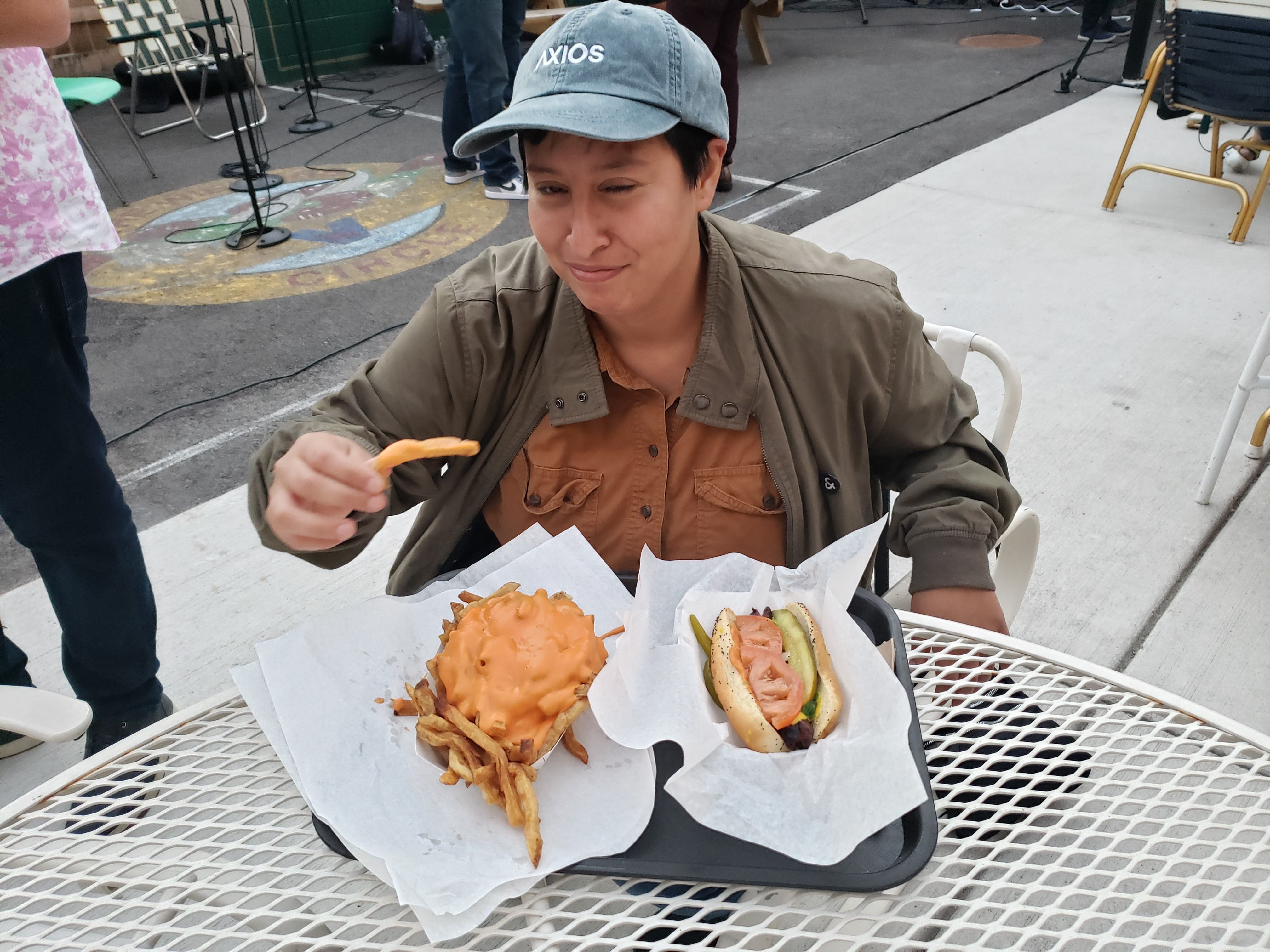 🌭 A char dog and fries at Wiener's Circle: "Tasted like heaven with a side of cheese fries."
Of note: Solis is a New Jersey native who swears by New York-style pizza — sorry about that, deep dish — but they'll take a Chicago hot dog any day of the week.
📬 Reply to tell us your must-visit spots for out-of-towners: fall edition.
Our picks:
🤗 Monica is jazzed about the Hyde Park Jazz Festival this weekend.
🌴 Justin is still at the ONA conference in downtown LA. Tonight's plans include hanging with friends in Silver Lake and Los Feliz. He is hoping The Dresden is still open.
Want free Axios swag? Refer your friends to Axios Chicago and get cool merch like stickers, totes, hats, T-shirts and more!