November 04, 2021
Situational awareness: The taper is upon us. It was priced in.
In this week's newsletter: COP26; anti-monopsony; NFTs; Ford; car-rental stocks; Maersk; and a dubiously philanthropic 11-story cube. All in 1,738 words, a 6.5-minute read.
1 big thing: The progress made in Glasgow
This will not be an historic year for making progress on addressing climate change — it can't be, with Chinese President Xi Jinping refusing to make new pledges and not even showing up at the COP26 summit in Glasgow. But that doesn't mean the summit was a wash.
Why it matters: Substantial progress has already been made at this year's summit; it's worth taking a minute to celebrate three of the most important wins for the planet.
The Glasgow Financial Alliance for Net Zero, a group of private-sector investors, launched in April with $5 trillion committed to "achieving net zero emissions by 2050 at the latest." That number has already ballooned to $130 trillion — enough for the private sector to be able to play its part in getting the world to net zero, per the alliance.
More than 100 countries, including the U.S., have now signed the Global Methane Pledge, which aims to slash emissions of the powerful greenhouse gas by 2030, and which on its own could reduce warming by 0.2 degrees Celsius by 2050.
Leaders representing more than 85% of the world's forests — including even Brazil's Jair Bolsonaro — pledged to halt and reverse deforestation and land degradation by 2030.
The bottom line: Promises can be broken — but they're also the only real hope for effective and lasting change. Now that the pledges are in place, they can be built on at future summits, and they can be used to shame those who fall short.
Fear of humiliation has proved to be a surprisingly effective tool when it comes to getting world leaders to stay true to their promises.
Go deeper: Methane limits could be COP26's real legacy
2. Monopsony in the antitrust crosshairs
The Department of Justice filed suit on Tuesday to prevent Penguin Random House — a subsidiary of German publishing giant Bertelsmann — from acquiring rival publisher Simon & Schuster.
Why it matters: This isn't a standard anti-monopoly case. Quite the opposite, in fact: It's an anti-monopsony case, which shows that the DOJ — and the Biden administration more broadly — is willing to push the envelope of antitrust enforcement.
The big picture: The two publishers combined would control "more than two-thirds" of the money paid to authors of "anticipated top-selling books," per the DOJ. (Penguin Random House disputes that math.)
That kind of market concentration would make the combined company qualify as a monopsony — a company where one buyer is the dominant purchaser of a product coming from many suppliers (in this case, authors).
At the heart of the government complaint is something called the "hypothetical monopsonist" test — an undisputed part of antitrust law, but also one that has rarely been used in recent legal cases.
Between the lines: The main harm being alleged in the complaint is a harm to workers — authors who could end up receiving less money when there are fewer bidders for their work.
"This is the DOJ saying they are prepared to bring at least some labor-side monopsony cases," says Rebecca Haw Allensworth of Vanderbilt Law School. "Even though the statutes and the case law would support the idea, it is a departure from how things have been going in the past 40 years."
The other side: There would still be four big publishers even after the merger, and Bertelsmann claims that author advances rose, rather than fell, as a percentage of revenue after Random House bought Penguin in 2013.
Bertelsmann also has promised that Penguin Random House and Simon & Schuster will continue to bid against each other in book auctions — a pledge that the DOJ says "defies economic sense, can be evaded or violated without detection, and is unenforceable."
3. Misadventures with NFTs
It's Ape Fest this week in New York, which is about as edifying as you'd expect.
Catch up quick: Bored apes (2021) are the buzziest current exemplar of community-based NFTs, which have replaced art-object NFTs as the hot part of the crypto market for people looking to get rich quick. They're the latest in a line of such projects that dates back to CryptoPunks and Crypto Kitties, both of which launched in 2017.
What they're saying: "The project's name, Bored Ape Yacht Club, represents a club for people who got rich quick by 'aping in' — crypto slang for investing big in something unsure — and, thusly, are too bored to do anything but create memes," writes Rolling Stone's Samantha Hissong.
By the numbers: Bored apes have gone from nothing to a billion-dollar ecosystem in less than a year, with one ape selling for $3.4 million at Sotheby's.
The 277-year-old auction house called its image "an NFT with historical significance," on the grounds that only 100 apes have gold fur.
Driving the news: Three apes, including number 9564, were stolen last weekend, and the major NFT marketplaces all decided that they wouldn't allow those apes to trade on their platform. 9564 (a/k/a Kit) was later reunited with his former owner.
Between the lines: While apes were busy being bored, two CryptoPunks traded for improbable amounts.
CryptoPunk #9998 was sold for $532 million by the owner to himself, in a trade facilitated by an enormous flash loan — a loan that, by the magic of crypto, automatically repays itself, and therefore carries no credit risk.
CryptoPunk #7557 sold for $19,400, which is a tiny fraction of what any other CryptoPunk has traded for of late. It seems that the owner, intending to put the NFT up for sale for 4,444 ETH, instead typed in 4.444 ETH, and it got snapped up very quickly.
The big picture: While the rest of the art world is getting dragged reluctantly into increased transparency, NFTs remain a caveat emptor world where nobody knows who they're dealing with — or how clean their money might be.
4. A tale of two automakers
Ford is arguably the most exciting electric-vehicle manufacturer in the U.S. at the moment. Even so, its market value is just 6% of Tesla's.
Why it matters: Ford's valuation is barely a rounding error compared to that of Tesla — indeed, Tesla's valuation rose by more than two Fords in a single day last month.
Driving the news: Ford's flagship electric vehicles — the F150 Lightning and the Mustang Mach-E — are generating astonishing amounts of buzz, with over 160,000 pre-orders for the truck and much more demand for the car than there is supply. An upcoming electric transit van is already sold out.
Ford snagged a cover of the climate special issue of Time magazine, and won Twitter this week with its retro electric F100 truck. (To see it is to want it.)
Ford has a formidable balance sheet with $31 billion in cash, double Tesla's $16 billion, as well as an extremely valuable brand.
The other side: Ford itself is first to admit that Tesla is a first-rate automaker. "We have a lot of work to do," said Ford CEO Jim Farley to employees at the end of October. "Our competitors are unbelievable in this space, something we have never seen."
Between the lines: For all that Ford lacks Elon Musk, it has long had a devoted following among Redditors and Robinhood investors. The only thing it hasn't had is a concomitant surge in valuation.
5. The rental-vehicle pop
Hertz and Avis have — unlike Ford — discovered the magic that electric vehicles can have on share prices.
Why it matters: Both companies increased in value after announcing ambitious plans to move aggressively into renting out EVs.
Hertz stock — which still trades on the pink sheets ahead of an anticipated "re-IPO" later this year — rose sharply after the company said it would buy 100,000 cars from Tesla.
Avis shares doubled on Tuesday after the company indicated it planned to move in the same direction.
The intrigue: Hertz shareholders aren't waiting for the IPO to get out of the stock. The company announced a $1 billion secondary offering on Wednesday.
The bottom line: Hertz and Avis are now full-fledged meme stocks. Short at your peril.
6. Shipping it
Few have benefited from the tangled supply chain like Maersk, the globe's biggest shipping company, writes Axios' Courtenay Brown.
The company operates 20% of the world's shipping containers, per the BBC — rates for which have skyrocketed.
The bottom line: Profits are already over four times (!!) higher than 2020, the company reported this week — and this year isn't over yet.
Maersk will expand air freight operations as companies turn to the sky as a way to get their goods. (We wrote about that here.)
7. Coming up: October's jobs report
450,000 jobs were added to the U.S. economy in October, per economists' estimates — a much stronger showing than the 194,000 jobs added in September, writes Axios' Hope King.
8. Building of the week: Munger Hall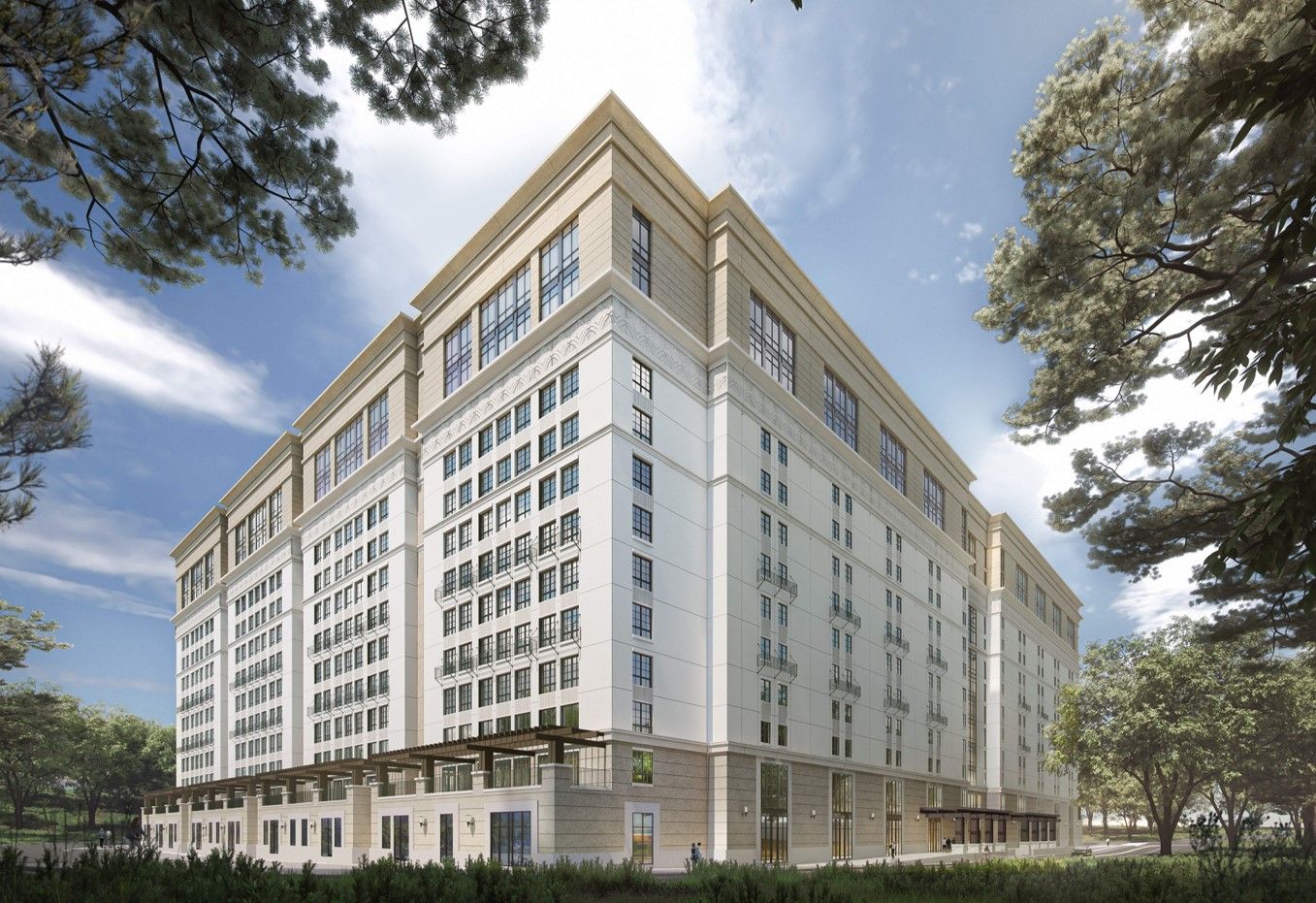 Munger Hall, a "cutting edge" proposed new student dorm at UC Santa Barbara, exhibits "flourish and elegance," with "visionary design elements" and "a living environment unparalleled in undergraduate housing," per UCSB, whose chancellor, Henry Yang, has praised its "inspired and revolutionary design concept."
The design includes putting toilets in the same room as showers. At two such rooms per 8 students, that significantly increases the chances both will be occupied at any given time.
The architect is Charlie Munger, the 97-year-old vice chairman of Berkshire Hathaway who proudly boasts that he has never read a book on architecture.
Munger is providing $200 million towards the eye-popping $1.5 billion budget for the dorm, on the condition that his design not be altered in any way.
What they're saying: Dennis McFadden, a member of UCSB's Design Review Committee, resigned last week, saying that the dorm — where 94% of bedrooms are windowless — was "unsupportable from my perspective as an architect, a parent, and a human being."
Architecture critic Paul Goldberger called it "a grotesque, sick joke — a jail masquerading as a dormitory."
Be smart: True cutting-edge dorm design — cheaper, more sustainable, with natural light and ventilation, and with just as much space per student — can be found in the timber-framed Collegium Academicum by DGJ Architektur.
The bottom line: Munger's $200 million is considered philanthropic under U.S. tax law, even though it looks much more like an arm's length exchange of value — in return for his money, he gets to name the building and indulge his wildest Roarkian fantasies.