Axios Capital
May 26, 2022
I'm in Switzerland, at an Alpine gabfest. If you're subscribed to Axios AM, a deep dive on the conference should arrive in your inbox on Saturday.
In this week's newsletter: The real victims of global inflation; biodiversity; my robo-bio; and much more. All in 1,588 words, a 6-minute read.
1 big thing: The global inflation menace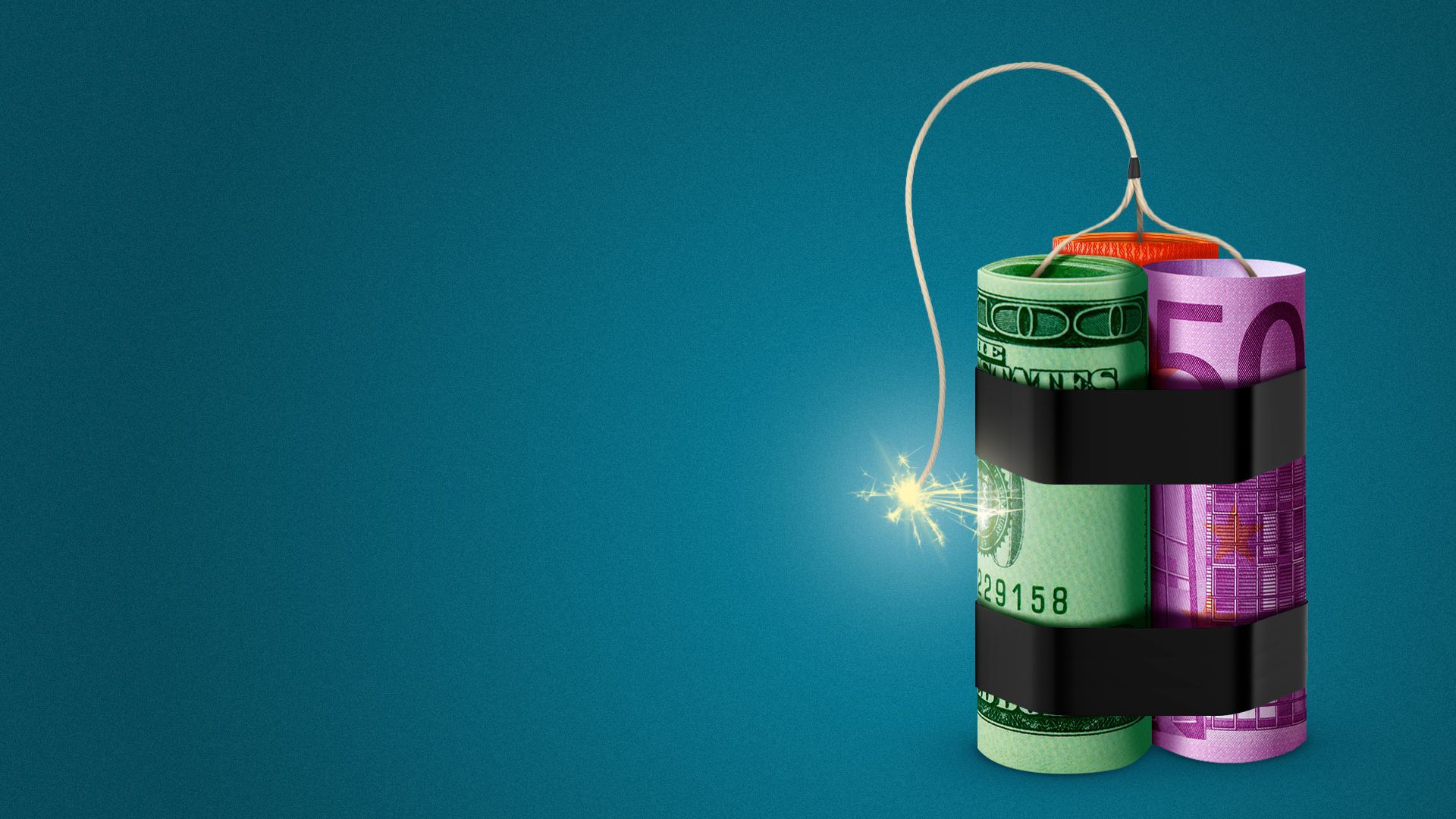 If economic growth is the magic wand that neoliberals like to wave to bring billions of people out of poverty, then inflation is its evil doppelgänger — the hardship-creating weapon that can destroy decades of progress at a stroke.
Why it matters: As Ray Dalio, founder of the Bridgewater hedge fund, tells Axios, inflation is bad for everyone, but it's not equally bad for everyone. Some people can afford to pay more for goods and services — while others lose the bidding war entirely and end up with nothing.
"Those who have the most have to help those who have the least," says Dalio. "You're not going to have a sturdy society if there's intolerable suffering."
By the numbers: The World Economic Forum surveyed 24 chief economists from around the world — not just at banks but also at corporations, investment shops, and multilateral institutions.
96% of them saw high or very high inflation in the U.S.;
90% agreed that average real wages are set to decline in low-income countries;
87% expected food insecurity in sub-Saharan Africa to be high or very high.
The big picture: Over the past 30 years, the number of people living in extreme poverty has plunged — from 1.91 billion in 1992 to 656 million in 2022.
That progress could now be reversed. "The pandemic and war in Ukraine have fragmented the global economy and created far-reaching consequences that risk wiping out the gains of the last 30 years," WEF managing director Saadia Zahidi said in a statement.
Between the lines: Wars, rate hikes, and possible recessions do nothing to help the poor. And if they're not helped, says Dalio, "we're going to have a civil war."
American victims of rising prices can be helped by the government taxing the rich and redistributing wealth to the poor, the investor argued.
"Taxes are probably the way," he says. "It's better than the alternative, which is printing money. You can't deal with inflation by creating debt and printing money."
Be smart: The biggest victims of inflation — the people who are losing the global bidding war for food and ending up with nothing — are overwhelmingly in the poorest countries, mainly in Africa. U.S. fiscal policy is not going to help them.
The global solution to the suffering caused by inflation has to involve not just wealth redistribution within countries, but also a broader redistribution of power, with the lowest-paid workers granted higher wages, and stronger collective bargaining rights.
The bottom line: So long as governments and even corporate executives are focused on providing support for the war in Ukraine, don't expect much, if anything, to be done for the global victims of rising food prices.
2. The sovereign defaults begin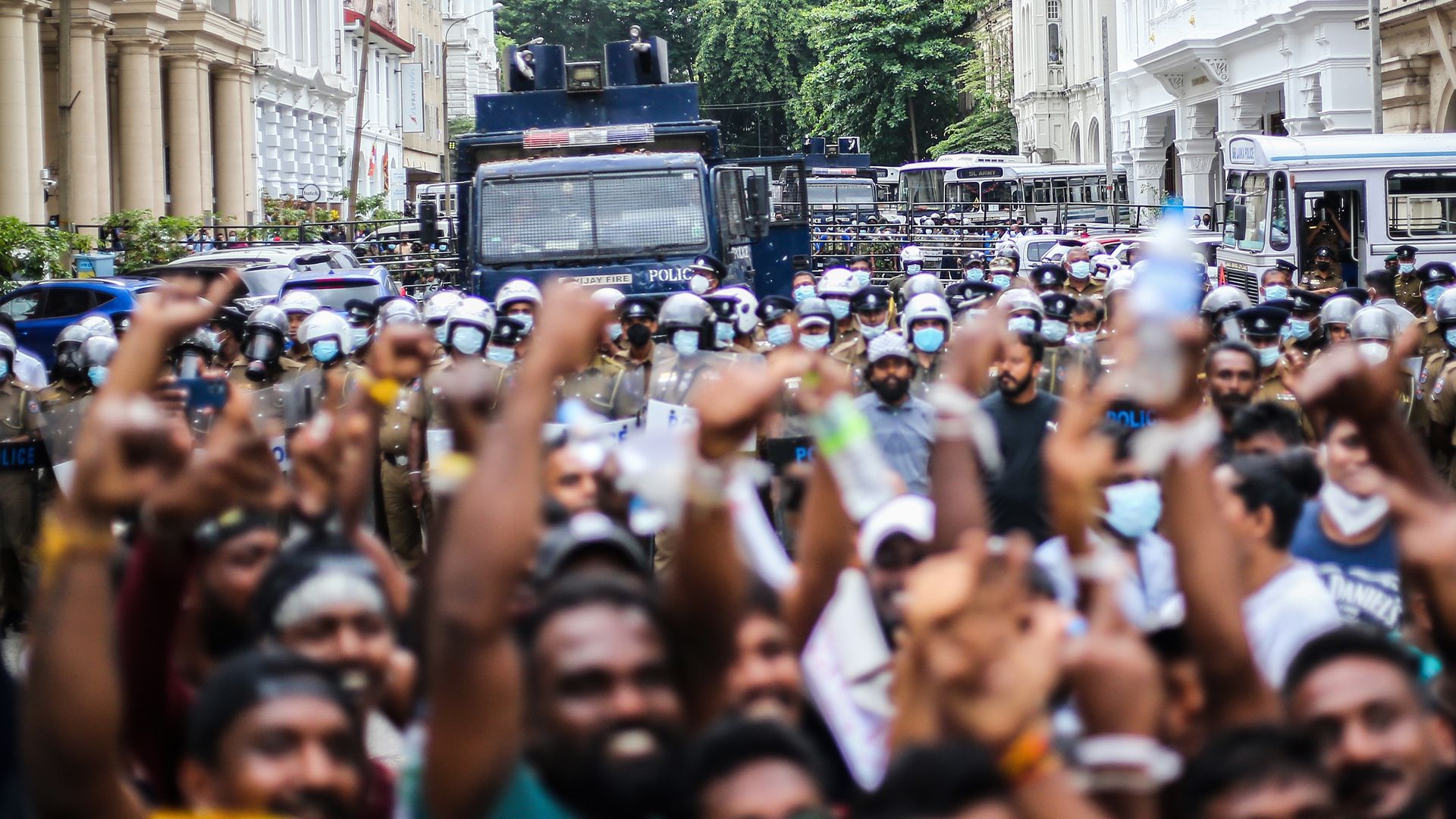 For an idea of what happens when the poor can no longer afford essentials, writes Axios' Kate Marino, look to the south Asian island nation of Sri Lanka.
Driving the news: Sri Lanka just defaulted on its debt, in a move that threatens to worsen its existing humanitarian crisis.
If Sri Lanka's any indication, this next round of debt crises won't be pretty. Its citizens have taken to the streets in outrage over food and energy shortages — which the government is in no position to solve — at times spilling into violence.
Why it matters: Sri Lanka's situation is not so different from a host of other lower-income nations. There's no reason to think others won't share the same fate.
The big picture: Countries like Sri Lanka loaded up on debt before and during COVID. Now, rising interest rates will make these debt loads more expensive — and cool the growth that's needed to help pay them off.
The war in Ukraine has made the already-precarious financial positions of many nations even worse, generating food and energy price shocks while interrupting trade and tourism.
Don't forget government corruption (a factor not unique to Sri Lanka): "Some observers argue Sri Lanka's debt crisis is the product of the hubris, mismanagement and alleged venality of political elites including the Rajapaksa family," as the FT puts it.
The bottom line: When a poor nation defaults, the real victims aren't the international creditors — but the regular people whose economy is put in a holding pattern, while the government haggles over austerity and repayment schedules.
3. Biodiversity is the new net-zero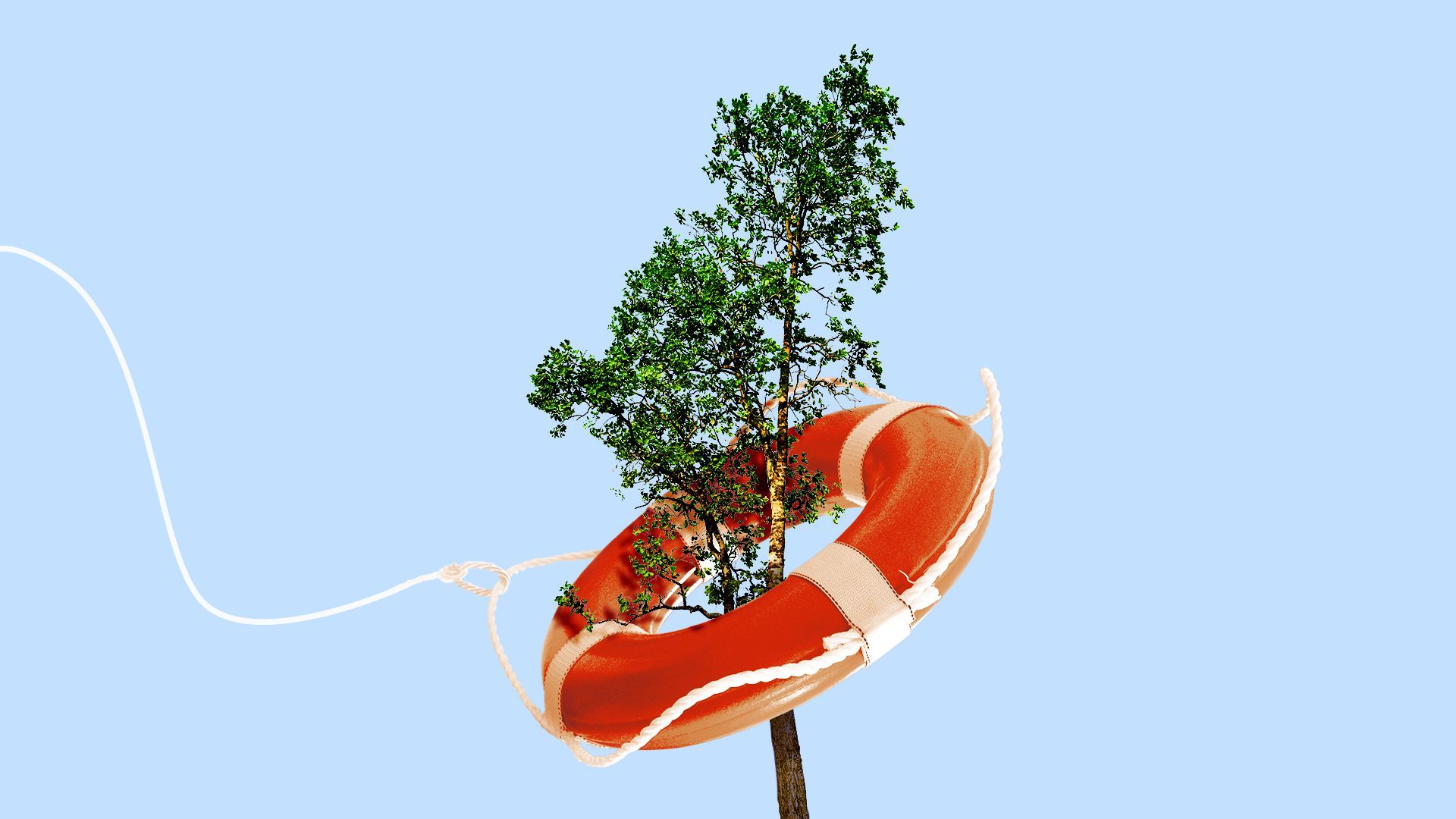 While we're saving the planet, can we save nature too? That's the plea from a group of executives from 16 countries that collectively manage over $18 trillion in assets.
Why it matters: Saving the planet involves more than just reducing carbon emissions — it also means protecting nature. A plunge in biodiversity isn't just morally unacceptable when species go extinct; it also threatens corporate profits and future growth.
By the numbers: More than half of the world's economic output — $44 trillion — is moderately or highly dependent on nature, per the Taskforce on Nature-related Financial Disclosures.
Context: If neoliberalism was the unofficial religion of Davos during its late-1990s Clinton-Bono-Gates heyday, then climate awareness is the replacement religion today. All CEOs pay lip service to it in interviews, and the subject was covered ad nauseam in the official program.
Climate religion is monotheistic: All efforts are focused on a single, simple global-warming goal that can be expressed in the form of an easily-calculated number.
Between the lines: Biodiversity, by contrast, is messier and more diverse. Broadly, climate change threatens natural abundance, so the two goals are aligned — except when they're not.
The batteries that will power our electric future, for instance, need enormous quantities of minerals, mined in ways that are often environmentally very destructive.
What's next: Data companies including Refinitiv and S&P are working on putting together ways to measure and quantify corporate attempts to improve biodiversity. At that point, investors will be able to overweight those companies' shares, and buy green bonds that fund those goals.
4. The ick factor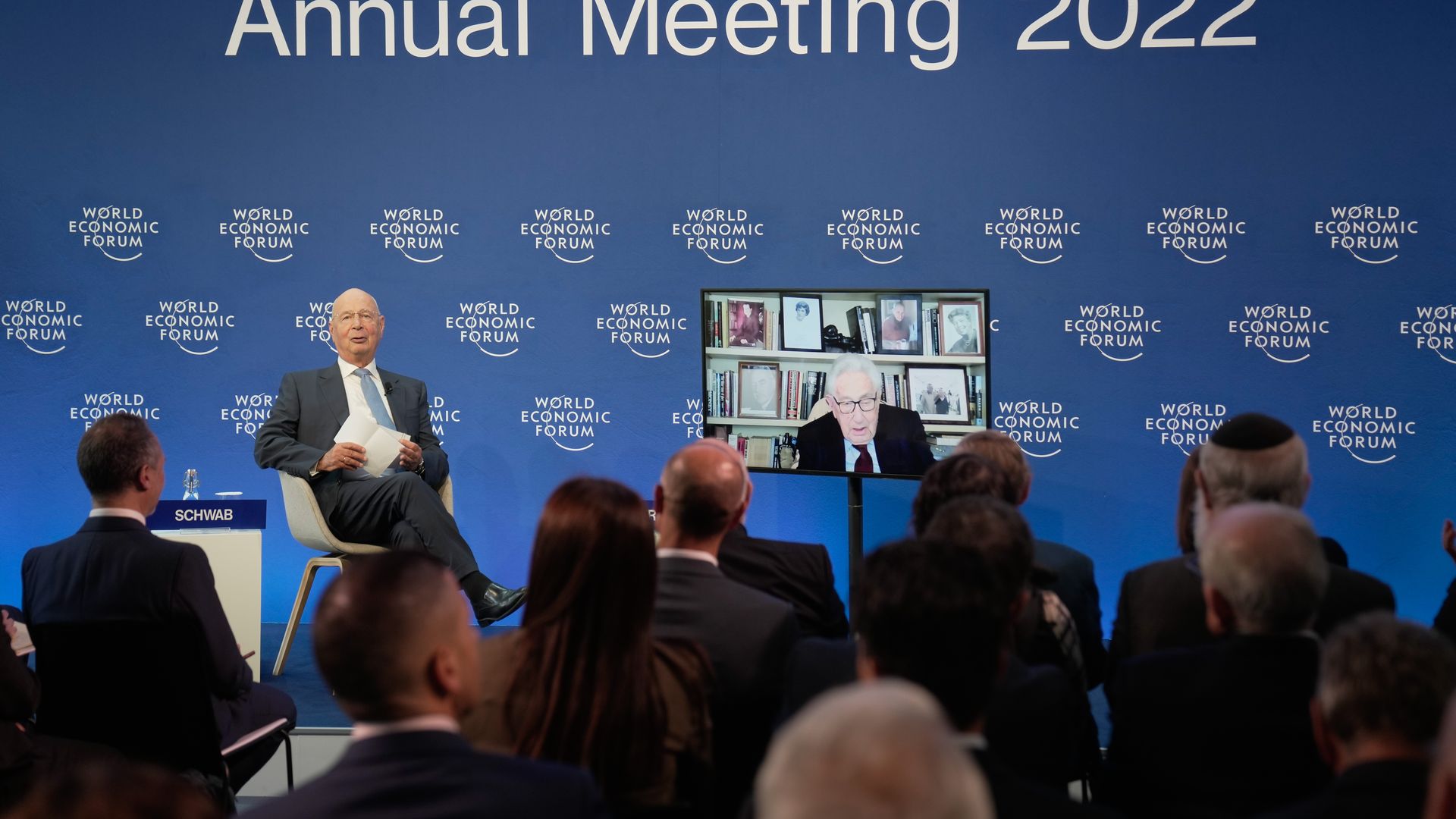 This year's delayed Davos feels more irrelevant than ever.
The most important heads of state were more likely to be in Tokyo than in Davos; regulars like JPMorgan Chase chief Jamie Dimon were nowhere to be seen; and many sessions featured an abundance of empty seats.
What one delegate described to me as "the ick factor" hit new highs. Saudi Crown Prince Mohammed bin Salman sponsored a stall giving away free ice cream; the Promenade was covered in ads for dubious crypto schemes; and Henry Kissinger, speaking to a crowded room, suggested that Ukraine should give up territory to Russia.
The bottom line: The popularity of Davos has always been something of a self-fulfilling prophecy. If the world's most influential VVVIPs don't want to come any more, its demise could be swift.
5. How FTX expands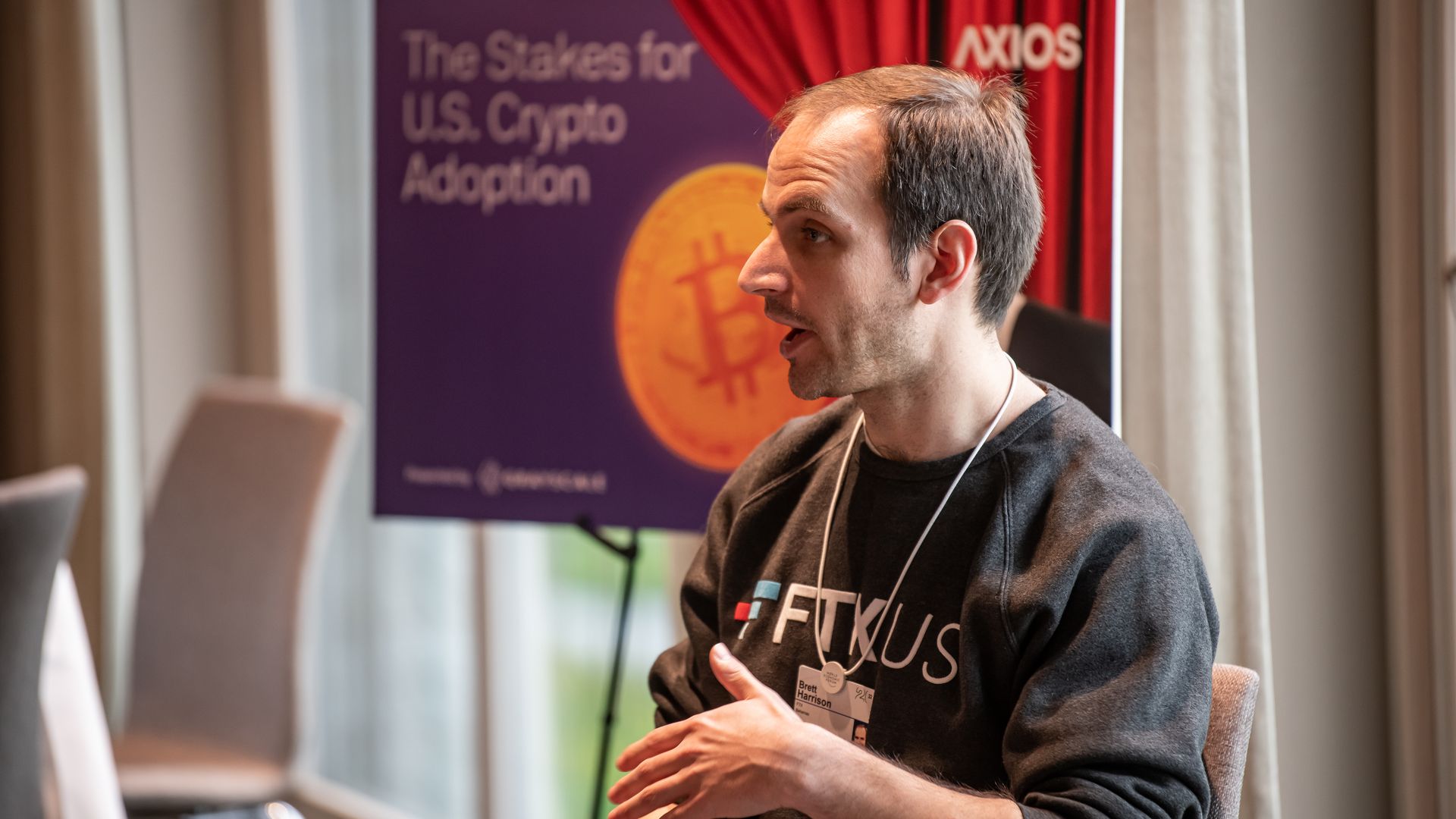 "We have a great crypto offering, and maybe if we add a mediocre stock offering, then we can start to attract customers who don't want to split their savings between two different applications."
— FTX president Brett Harrison, in conversation with me in Davos
Crypto exchange FTX is moving into stock trading, becoming a direct competitor to Robinhood, a stock-trading app that also offers crypto.
Between the lines: FTX is owned by Sam Bankman-Fried, who recently revealed a 7.6% passive stake in Robinhood.
What they're saying: FTX is looking to buy a brokerage, according to reports that the crypto company's president flatly denied and that Bankman-Fried implied were leaked by bankers.
Still, FTX is perfectly happy to grow by acquisition, said Harrison — either to acquire users (e.g. Blockfolio) or to acquire regulatory licenses (e.g. LedgerX).
Go deeper: This story first appeared in Axios Pro Fintech, but, just for you, here's a free link.
6. Felix Salmon, the AI version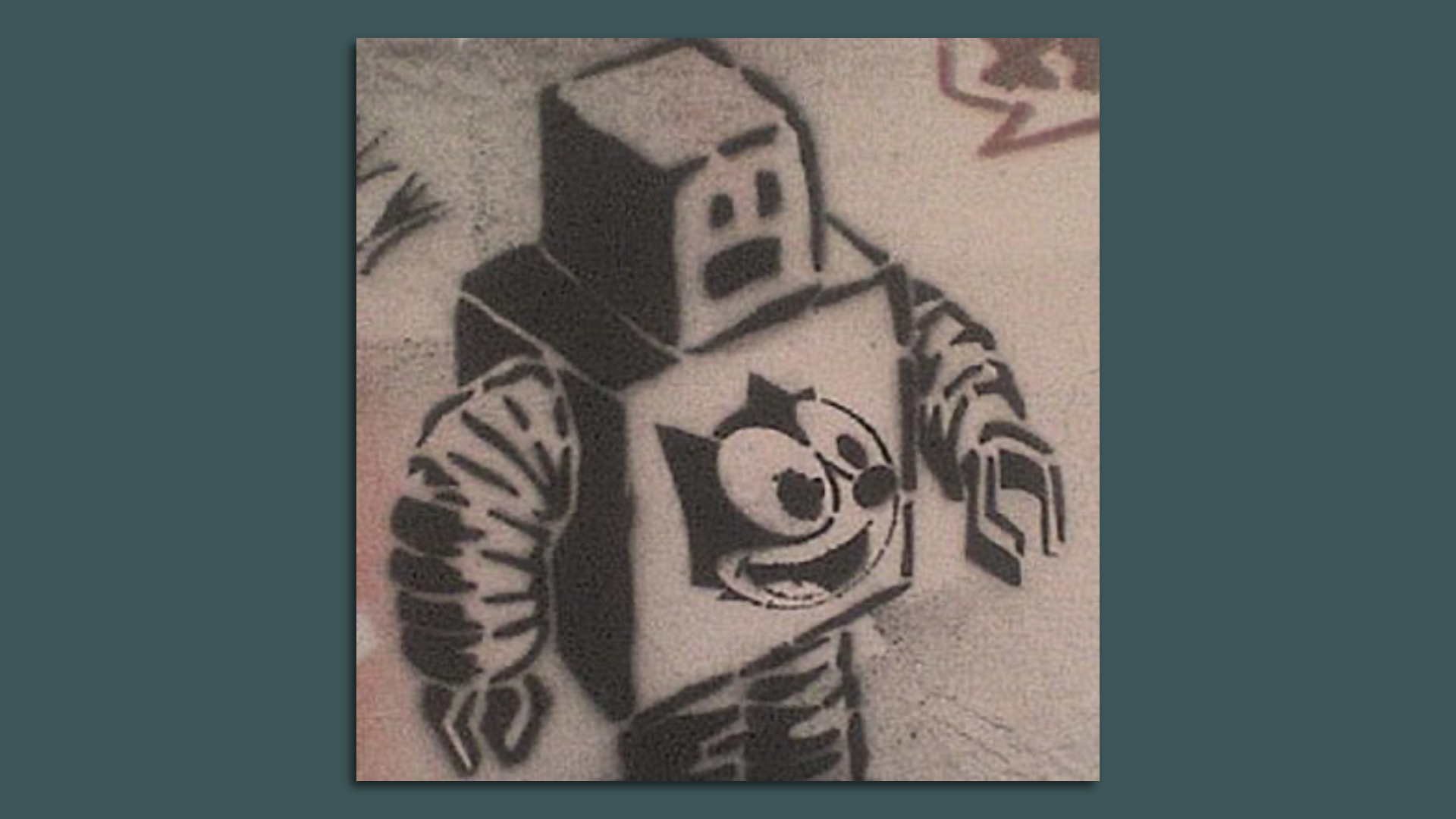 If you think most official bios read as though they could have been written by a robot, you're right.
A friend with access to GPT-3 fired it up yesterday, and put in a simple prompt: "Write a LinkedIn bio for Felix Salmon." Here's what the computer spat out:
Felix Salmon is a veteran financial journalist and one of the most respected voices in the business. He's been writing about finance and the economy for over a decade, and his work has appeared in some of the most prestigious publications in the world. Felix is known for his clear and concise writing, as well as his ability to make complex topics accessible to a wide audience. He's a sought-after commentator on financial affairs, and he regularly appears on television and radio.  In addition to his journalism, Felix is also a successful author. His first book, "The First $20 Million Is Always the Hardest", was a best-seller, and his second book, "Finance and the Good Society", was hailed as a groundbreaking work on the role of finance in society.  Felix Salmon is a respected authority on finance, and he's a trusted source of information for anyone looking to make sense of the complex world of money.
For the record: "The First $20 Million Is Always the Hardest" is a 1997 novel by Po Bronson, while "Finance and the Good Society" is by economics Nobel laureate Bob Shiller.
7. Building of the week: The Buzludzha monument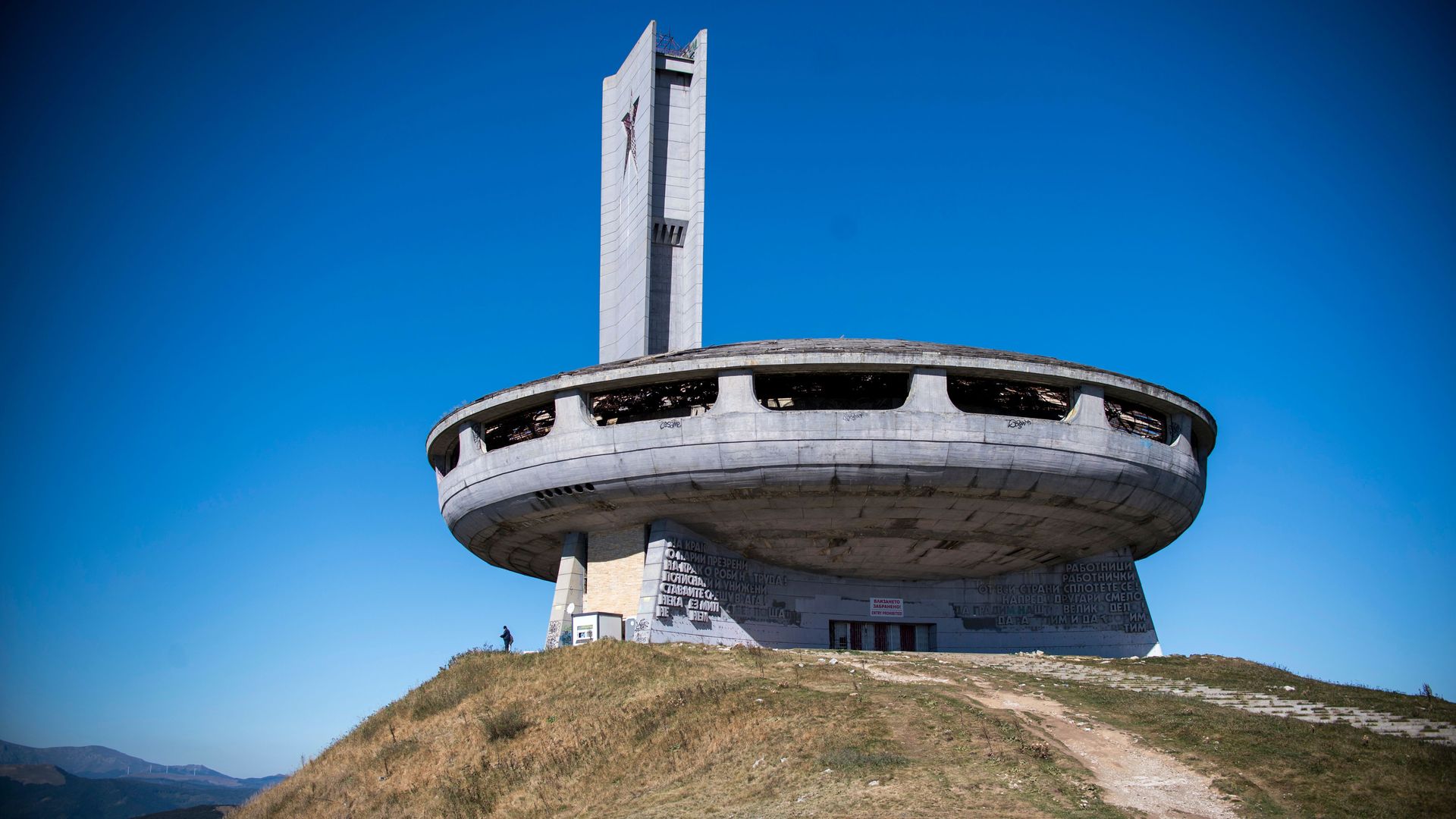 The House of the Bulgarian Communist Party, designed by architect Georgi Stoilov, was built between 1974 and 1981.
The work of more than 6,000 laborers, it used 70,000 tons of concrete, 3,000 tons of reinforced steel, and 40 tons of gilded glass.
Today it lies in ruins, the subject of a major conservation campaign.
Andrew Higgins of the NYT calls it "one of the world's strangest structures — a masterpiece of brutalist architecture that, in its Pharaonic dimensions, is both sinister and oddly beautiful."
He quotes Bulgarian conservator Nikifor Haralampiev, who calls it the "Sistine Chapel of socialism."