September 30, 2021
Situational awareness: Fanatics Trading Cards is worth $10.4 billion.
In this week's newsletter: The folks who insist on buying individual stocks; an interview with the founder of Binance; the future of Germany; a skeptical look at inflation expectations; an imploding media company; and much more. All in 1,758 words, a 4.5-minute read.
1 big thing: The problem with individual stocks
Buying and selling individual stocks is a hobby for rich people that, over the course of the pandemic, also became a hobby for millions of new investors using free trading apps. But given the number of conflicts involved, it's a hobby that many people should probably give up.
Why it matters: In recent days we've seen shock headlines about the stock-trading activities of judges and corporate insiders. Two Federal Reserve presidents resigned after they were revealed to be actively trading the markets they were also influencing via monetary policy.
Thanks to the passive-investing revolution, no individual investor needs to pick and choose which stocks they invest in. (Even many institutions don't.) Trillions of dollars are invested happily in low-cost index funds that tend to outperform active investment strategies over the long term.
Context: While recent decades have seen a long-term trend away from active and toward passive investing, the past year has seen a countertrend toward rampant stock-market speculation.
The notional value of options traded this year, for instance, has surpassed total stock market volumes for the first time ever. Billions of dollars' worth of those options are short-dated zero-sum bets that expire worthless within days or weeks unless the stock moves dramatically.
The big picture: Back when individuals had no choice but to invest in individual stocks, there was much more tolerance for the conflicts such activities raised. Today, it's more common for those trades to be considered scandalous, evidence that the market is rigged.
The bottom line: The recent headlines mostly concern boomers whose formative investment years predate the height of the passive revolution. As apps try to make stock-picking "easier and more delightful," in the words of Robinhood CEO Vlad Tenev, it's becoming increasingly likely that we'll see similar headlines about the boomers' kids.
Go deeper: Bloomberg's Matt Levine notes that when it comes to corporate insiders, it's not so easy: Companies can't issue index funds in lieu of stock options. He asks for rules that might solve that problem; if you have any ideas, do copy me as well as him.
2. Why Binance is bearish on its own exchange
Binance became the largest crypto exchange in the world by perfecting a stateless model that avoided highly-regulated activities. Now its founder tells Axios that model is doomed.
Why it matters: No industry moves faster than crypto. "When the industry shifts, you've got to be willing to abandon your old business," says Changpeng Zhao, or CZ, the billionaire who founded Binance in China in July 2017.
Flashback: In early September of the same year, China banned crypto exchanges, forcing Binance out of its country of origin at the age of a month and a half.
Since then, Binance has not really had a home, making it naturally aligned with crypto traders who mistrust structures built by nation-states.
The big picture: The uneasy and largely unspoken compromise in most of the crypto world is that national regulators can and will closely monitor all attempts to convert fiat currency into cryptocurrency, or vice-versa: the so-called "on-ramps and off-ramps". Binance is a purely crypto-to-crypto exchange, so it receives no such regulation.
Binance still has to deal with regulators, however — a lot of them. Meanwhile, it's competing against decentralized exchanges that, per CZ, are at heart just "500 lines of code on the blockchain."
What he's saying: CZ sees being regulated as a potential competitive advantage for Binance, if the company can ever get there. Current crypto investors are satisfied with relying on sophisticated technology, he says; the broad mass of the population, however, "would like to continue to trust a central party" — which is an area where regulators can help a lot.
The other side: Decentralized exchanges with small teams doing little more than ensuring their code is secure, says CZ, are nimbler than he is. "Their infrastructure is so much smaller. We cannot compete with them, cost-wise, personnel-wise."
"The future belongs to decentralized technology," he says. "It's bearish for the Binance exchange, maybe. But there's more opportunities in the decentralized space. Our past businesses will not always survive. Our centralized exchange might not exist in 10 or 20 years."
CZ is unfazed by the prospect of the demise of the Binance exchange. "It's extremely bullish for us," he says, "as long as our business continues to evolve with the industry."
The bottom line: CZ wants to move in two directions simultaneously — towards a greater embrace of regulation and regulators, and also towards a greater reliance on decentralized finance protocols. In order for that strategy to succeed, there will need to be a lot more regulation of DeFi than currently exists.
3. The Scholz agenda
Olaf Scholz, the winner of this week's German election, is clearly the most popular party leader in the country and the individual Germans most want to be chancellor. What's less obvious is which policies the country wants him to follow.
Why it matters: Germany is the power at the heart of the European project, and tends to choose leaders who are capable of setting the broader European agenda. Those include current chancellor Angela Merkel and her CDU colleague Ursula von der Leyen, now running the European Commission.
Scholz is seen as representing in some sense a continuation of Merkel's chancellery — he is still her finance minister, after all, even if he heads a rival party. (Merkel's own CDU successor, Armin Laschet, is broadly unloved, which is one reason he is considered unlikely to be able to put together a governing coalition.)
The big picture: The most likely outcome is a "traffic light" coalition where the Greens and the Free Democrats end up supporting Scholz's Social Democrats. The Free Democrats are well to the right of the other two parties fiscally, but all three parties are strongly pro-European and will support adding Germany's full weight to the pro-Europe axis of France's Emmanuel Macron and Italy's Mario Draghi.
Fiscal policy is going to be much more fraught. The Greens want an aggressive program of higher taxes, higher borrowing, and higher spending; the Free Democrats want none of that. Whatever fragile compromise they manage to agree upon is likely to give Scholz relatively little freedom of movement in terms of his domestic agenda.
The bottom line: Europe has rarely been this cohesive. Internally, however, Germany remains divided.
4. Maybe we can ignore inflation expectations
Just because we expect inflation to show up, doesn't mean it will. That's the message from a new paper throwing cold water on a central tenet of monetary economics.
Why it matters: The Fed hikes interest rates when it thinks inflation is otherwise going to be too high. That means it needs a formula to determine where it thinks inflation is going to be. But now a senior Fed economist is saying that the key ingredient in that formula "rests on extremely shaky foundations."
How it works: The Fed's main formula effectively says that actual future inflation is equal to expected inflation, adjusted by a few variables associated with things like unemployment and supply shocks.
The catch: There's no empirical reason to believe that inflation expectations play a central role in driving observed inflation.
The big picture: If inflation expectations fed into actual inflation, it would be easy to construct a narrative as to why that might be the case. Businesses, for example, might raise their prices in order to stay ahead of expected cost increases in both materials and labor.
Precisely because that narrative is so intuitive, however, it tends to be embraced even when inflation expectations have consistently outpaced observed inflation for decades.
Driving the news: The important new paper from Fed economist Jeremy Rudd systematically dismantles all the reasons inflation expectations play such a central role at the Fed.
"Using inflation expectations to explain observed inflation dynamics is unnecessary and unsound," Rudd writes. "Invoking an expectations channel has no compelling theoretical or empirical basis."
Between the lines: As former Fed economist Claudia Sahm notes, Fed chair Jay Powell was talking about the central importance of inflation expectations as recently as last week. ("Our framework for monetary policy emphasizes the importance of having well-anchored inflation expectations," he said.)
The bottom line: It's unlikely that a single paper is going to change the board's mind on something so important. But Rudd's research does serve the purpose of encouraging the Fed to spend much more time looking at observed, rather than expected, inflation.
Bonus: The Fed's favorite inflation formula

5. Ozy's bubble bursts
Ben Smith of the NYT dropped a bombshell on Sunday about how Samir Rao, the co-founder and chief operating officer of digital media company Ozy, had impersonated a YouTube executive while attempting to raise money from Goldman Sachs — and that the Ozy board had chosen not to investigate his seemingly fraudulent behavior.
Why it matters: Since then, the board has announced an investigation; Rao has been put on leave; Ozy's marquee journalist has resigned; a major Ozy festival and TV documentary have been canceled; a VC investor in the company has voluntarily surrendered its stock in the company; and other investors are distancing themselves.
Be smart: Ozy raised six successive equity rounds from top-tier investors, all while claiming highly improbable traffic numbers. None of them had any incentive to find out that the emperor was wearing no clothes. So they didn't.
6. Coming up: A debt ceiling vote
The Senate next week is expected to vote down a bill that would suspend the U.S. debt limit through the end of next year.
House Speaker Nancy Pelosi and Senate Majority Leader Charles Schumer have ruled out raising the ceiling under the budget reconciliation process, Axios' Hope King writes.
Why it matters: Without another hike or suspension of the limit, the U.S. risks defaulting on its loans starting October 18, Treasury Secretary Janet Yellen said on Tuesday, which could send the economy "into recession with billions of dollars of growth and millions of jobs lost."
7. Building of the week: The Cosmopolitan, Las Vegas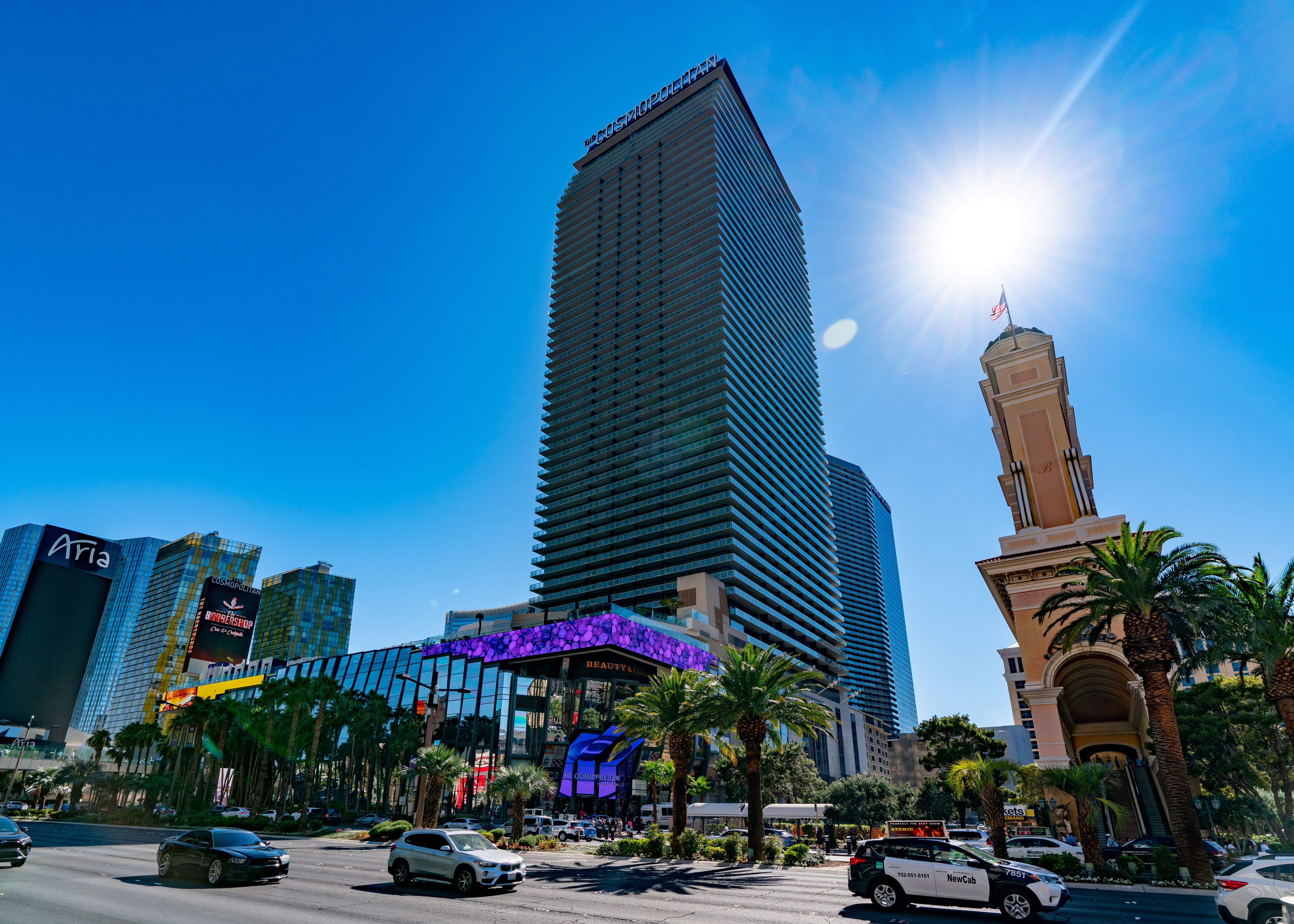 The architecturally undistinguished Cosmopolitan Hotel, on the Las Vegas strip, sold for $5.65 billion this week, or an eye-watering $1.86 million for each of its 3,032 rooms.
The hotel was designed by Arquitectonica, famous for the colorful, post-modern Atlantis apartment block in Miami.
The Cosmopolitan, bloated by its $3.9 billion budget, has no such coherence, although it does boast amenities such as a layer of water covering the entire roof, which the architects call a "rooftop ocean."
Flashback: After the original developer went bust, the hotel was finished by Deutsche Bank, which sold it to Blackstone for $1.73 billion, representing a loss of more than $2 billion for the German lender.
After this sale, Blackstone will have made a profit of $4.1 billion on the hotel — the most money it has ever made on a single building.