Axios Capital
May 12, 2022
Are you nervous about the markets? My advice: Just think of this as stocks going on sale. So long as you're buying stocks rather than selling them, you want them to be cheap.
In this week's newsletter, I talk about the billionaires who want stocks to be expensive, and then segue into Andy Warhol, Marilyn Monroe, Kim Kardashian, Tom Brady, a very long-lasting currency peg, and more. All in 1,756 words, a 7-minute read.
1 big thing: The billionaire party cools down
It hasn't been a great year for the 0.00001%. The fortunes of Russian oligarchs have been frozen; crypto fortunes have been destroyed; and five billionaires — Bernard Arnault, Elon Musk, Mark Zuckerberg, Jeff Bezos, and Changpeng Zhao — have each lost more than $50 billion this year alone.
Why it matters: Even the most chipper tycoon might feel a pang of humility upon seeing an 11 (or 12)-figure sum evaporate from his personal balance sheet.
What we're watching: In good times, billionaires enter into a friendly (or not-so-friendly) competition over who can have the biggest and most expensive toys: yachts, castles, art, islands, jets, that kind of thing. But during times like these, such competition is replaced by a desire to preserve wealth, rather than spend it.
A $410 million Roman villa with an original Caravaggio ceiling goes unsold.
A Warhol that art dealer Richard Polsky suggested might sell for $500 million instead sells for less than $200 million.
Even the richest man in the world can start to feel constrained, after his wealth has fallen by an astonishing $124 billion since early November.
Musk has a legally binding obligation to buy Twitter for $44 billion, but the markets don't believe it's going to happen, with the price of Twitter stock implying a probability of only about 65% that the deal will go through at full price. (I went into the full details of the math involved here.)
It's not going to be easy for Musk to find the cash he needs to put down to buy Twitter — and he can't just walk away while paying a $1 billion break-up fee, either. Twitter's board would file suit, asking a court to require him to pay the agreed-upon $44 billion, and a judge would almost certainly side with them.
That explains Musk's attempt to find co-investors in the deal. He clearly wants to lighten his personal financial burden, even if that means borrowing money at 14% interest or making an implicit promise to take Twitter public again.
The bottom line: The U.S. economy is still running hot — but the markets aren't. Those of us who work for a living are broadly fine. Those who don't need to, on the other hand, are feeling a bit of a pinch.
Bonus: The silence of the scams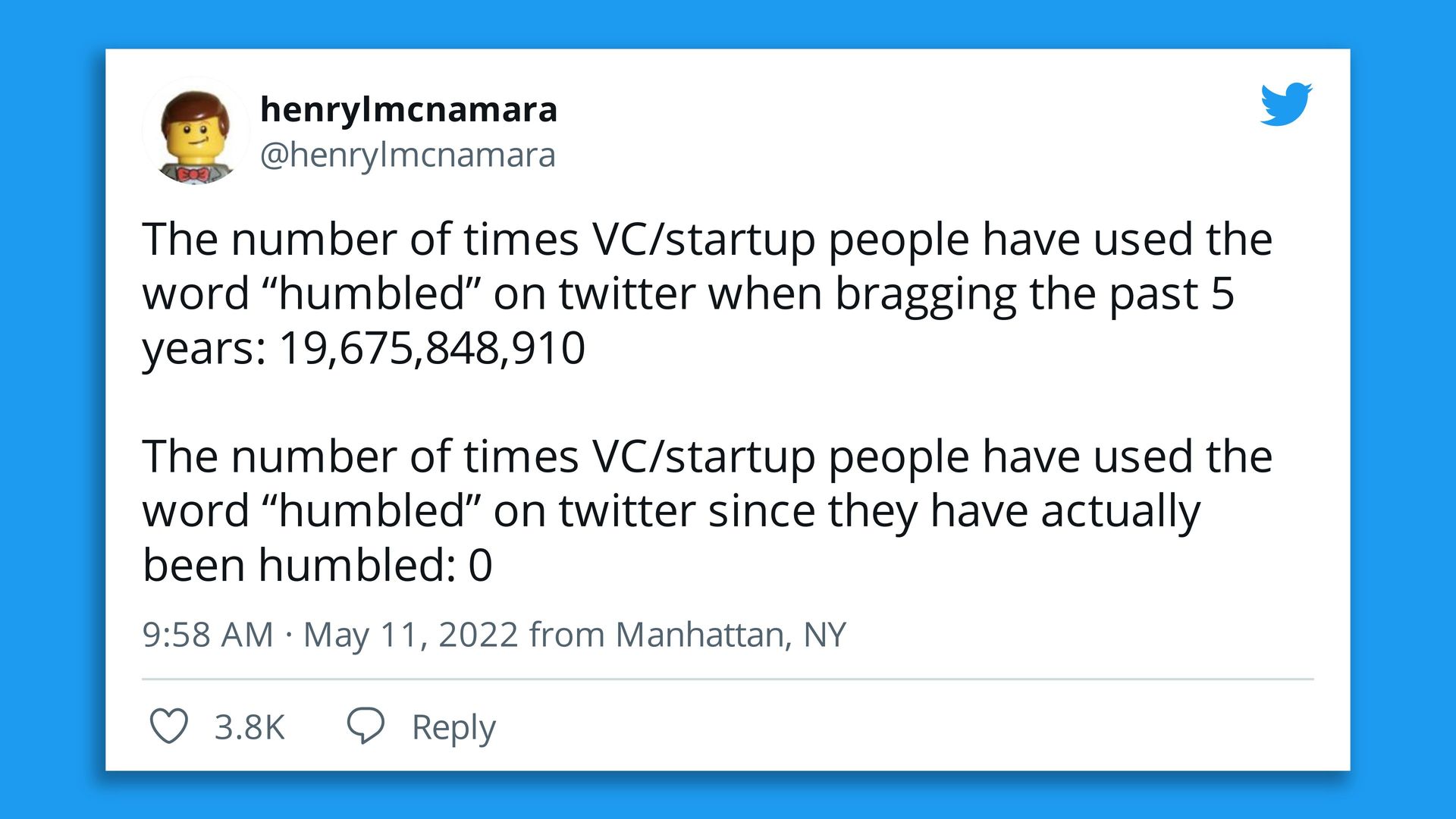 2. When $195 million is a bit meh, really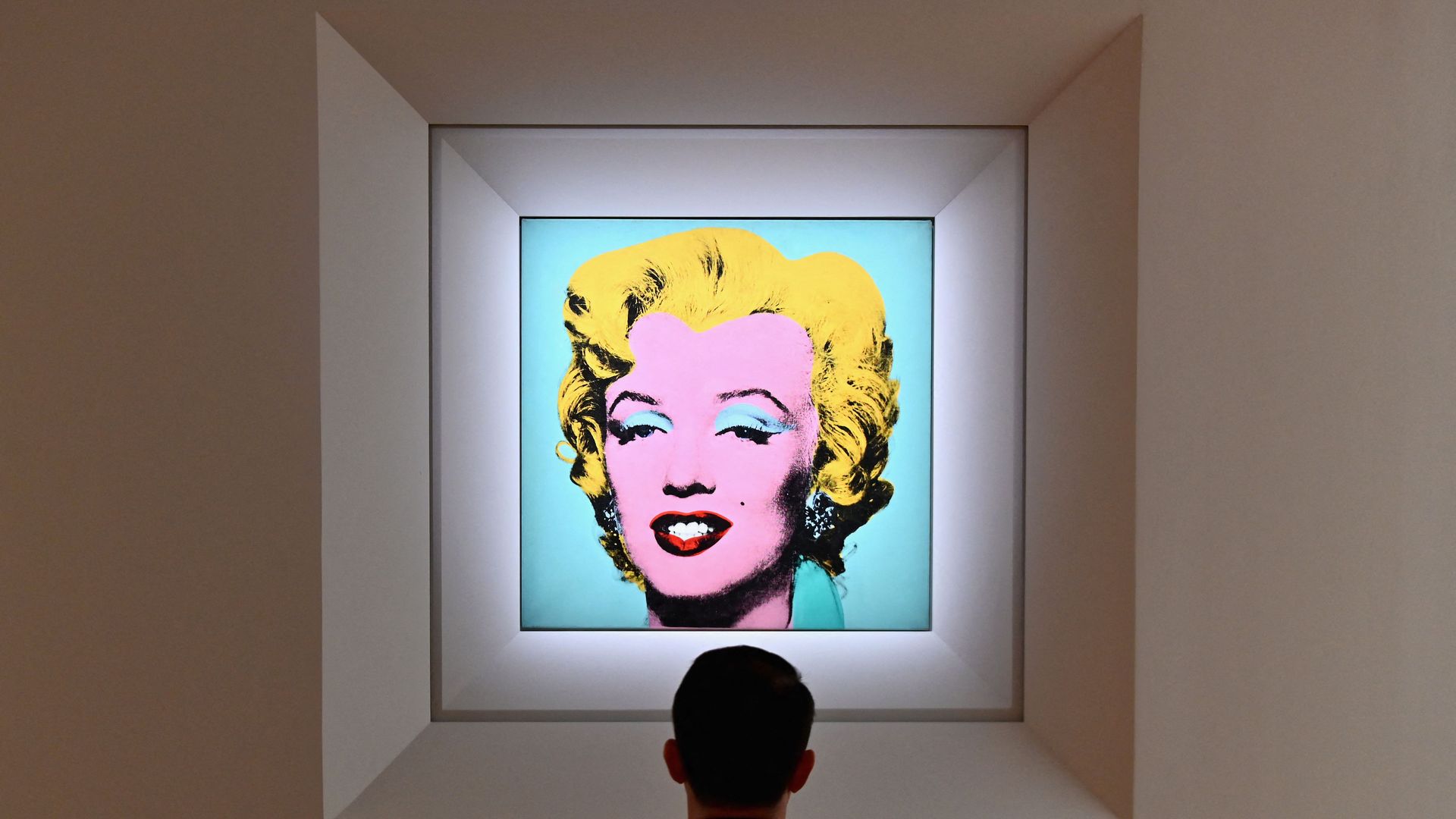 Andy Warhol's "Shot Sage Blue Marilyn" — an iconic portrait from 1964 that is in some ways the Mona Lisa of the 20th century — sold at Christie's Monday for $195 million. That might be an auction record for any modern painting, but it's also much less than had been expected.
Why it matters: The painting was offered without any kind of guarantee, which meant that in order for the price to reach stratospheric levels, two or more billionaires would have had to find themselves fighting each other for the trophy.
By the numbers: "There's less than 20 people worldwide capable of spending $100 million" on a single work, according to Sotheby's co-head of Global Fine Art Mari-Claudia Jimenez.
That's why ultra-high-dollar deals are often painstakingly brokered through private channels. Sellers don't like to roll the dice and simply hope that, come the day, an aggressive underbidder will show up.
Context: The previous auction record for an American painting was held by a Jean-Michel Basquiat skull that sold for $110 million. The record for a modern painting was held by a Picasso that sold for $179 million in 2015.
The highest price paid for a Warhol, however, was almost certainly the $240 million that Citadel's Ken Griffin paid for the orange version of this Marilyn portrait in 2018.
Do the math: Although the 2018 sale was private and didn't take place in an auction sale room, Monday's result implies that the market for high-end Warhols has actually declined over the past four years.
How it works: Market worries aren't necessarily to blame for billionaires sitting on their hands during the Warhol sale, says Jimenez. In fact, fine art can look like a relatively stable asset during a period when everything else is falling.
All the same, it's a lot cheaper — and more in line with the times — to diversify one's collection by buying works by women and artists of color than it is to pay top dollar for a trophy asset depicting a female sex symbol.
In next week's Now sale at Sotheby's, women artists outnumber men for the first time. In the main exhibition in the Venice Biennale, women outnumber men by nine to one.
The bottom line: The rise in prices for women artists hasn't yet been mirrored by a rise in female billionaire art collectors (although they do exist). If and when such a cohort arrives in earnest, that's more likely to happen in China than in New York, which makes it harder to predict which woman will be the first artist to break the $100 million barrier.
3. The power and limits of pop culture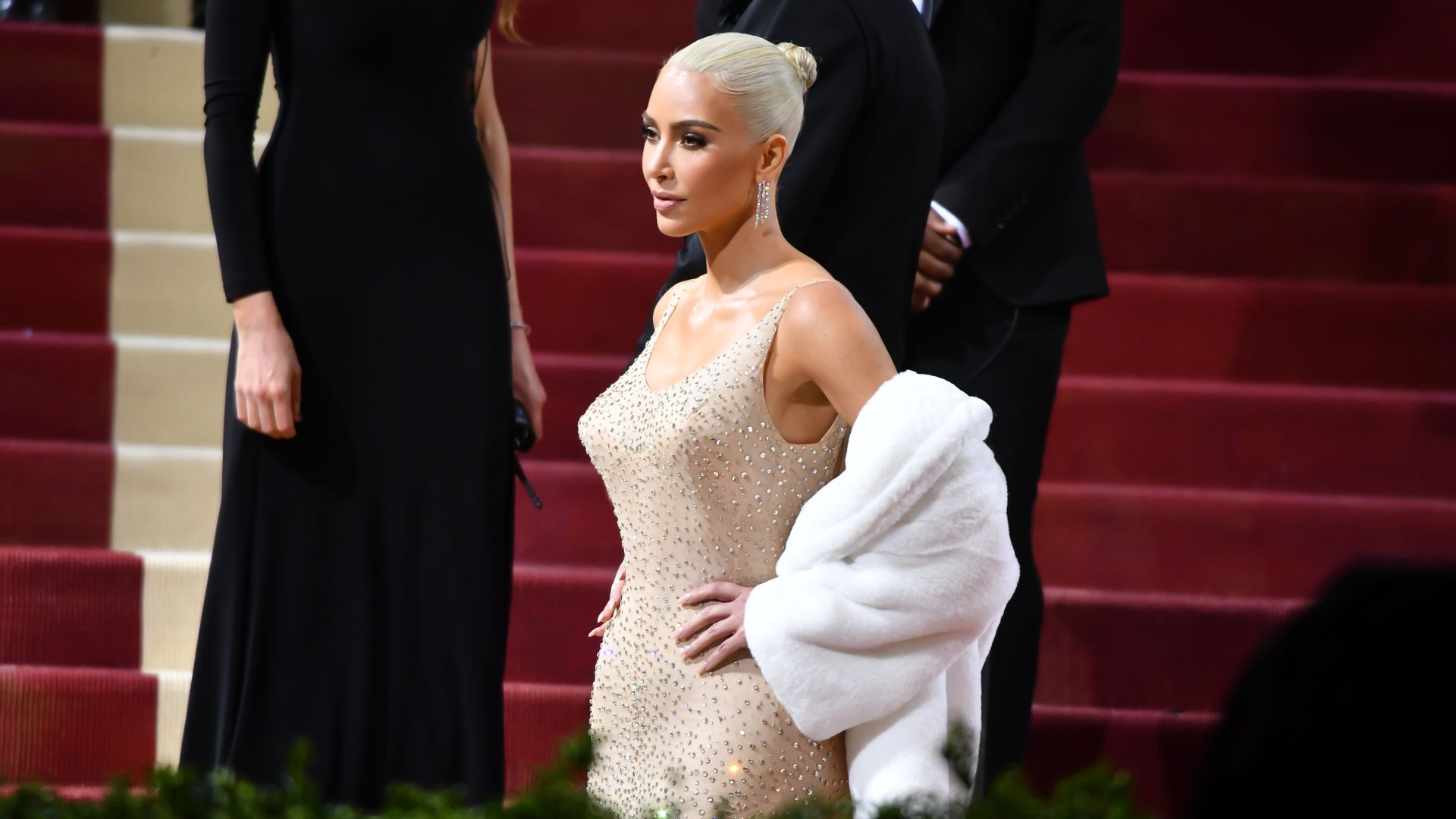 Any doubt that Marilyn Monroe remains as potent a figure now as she was in 1964 was erased last Monday. That's when Kim Kardashian stole the show at the Met Gala by wearing the frock in which Monroe famously serenaded President Jack Kennedy. (Another record: It's the most expensive dress ever sold at auction, after fetching $4.8 million in 2016.)
Why it matters: Cultural relevance "can never hurt" an artwork's value, says Sotheby's Jimenez. But when it comes to important works like "Shot Sage Blue Marilyn," the existence of something like Netflix's Warhol documentary is unlikely to move the needle on price.
The big picture: The Andy Warhol Foundation gets no money when one of Warhol's paintings changes hands — that's just a transaction between the buyer, the seller, and probably some dealer or auction house in the middle.
The Foundation does receive money from licensing fees, and owns the copyright on most of the images, but such income is relatively low. In the art world, copyright is worth much less than objects.
The Foundation's most recent tax filing shows total assets of $337 million, and total revenue of $13.9 million — of which just $3.56 million was "other income" that includes licensing fees.
The bottom line: The most important and valuable Warhol artworks don't belong to his foundation, or even to the Andy Warhol Museum in Pittsburgh. Instead, works like MoMA's "Campbell's Soup Cans," or the Tate's 1962 "Marilyn Diptych," belong to museums that will never sell them.
4. When pegs crack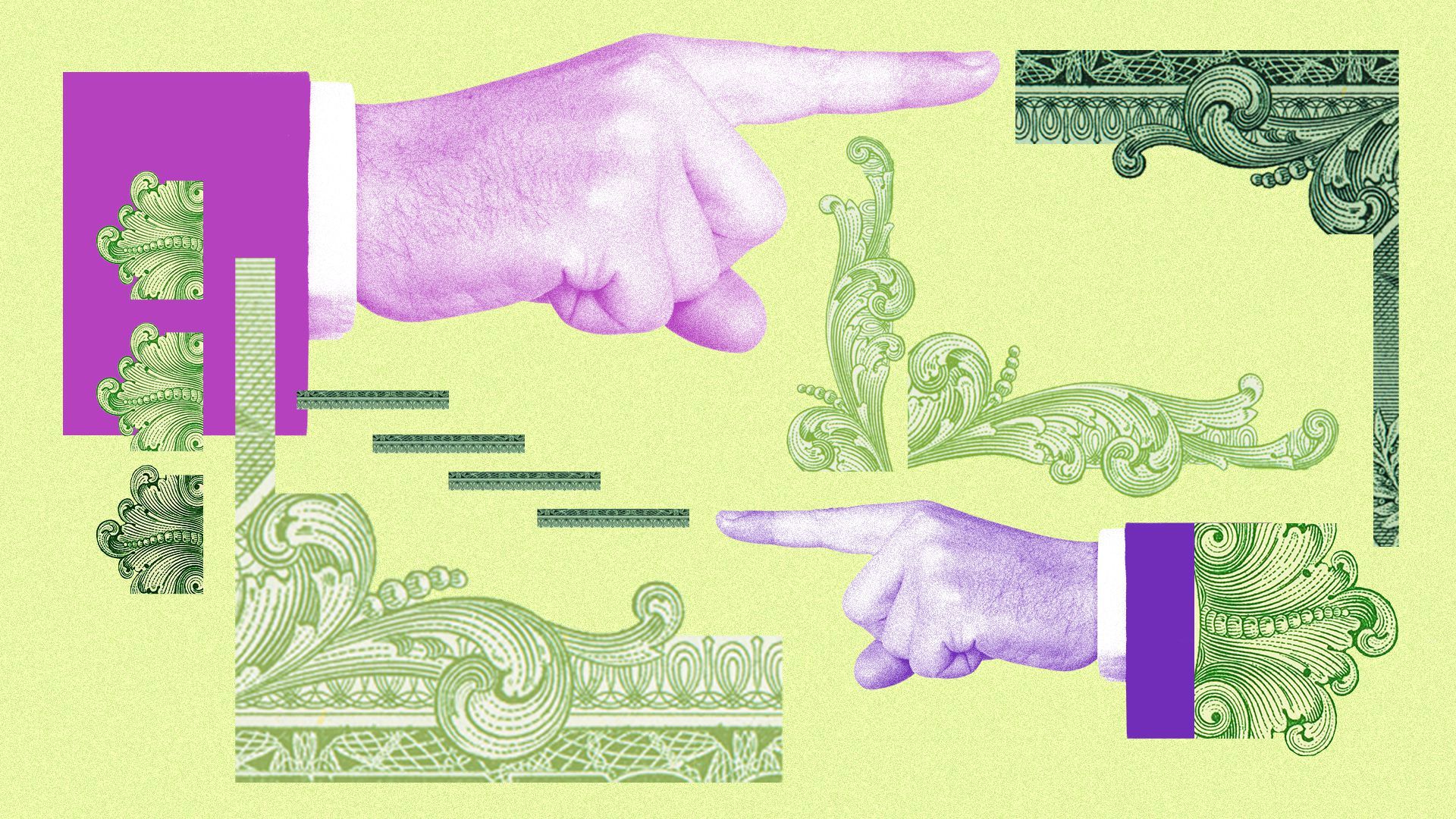 A stablecoin called TerraUSD (UST) imploded this week, causing billions of dollars in losses and raising the question of why any cryptocurrency — or even a government-issued fiat currency, for that matter — would ever want to have its value pegged to some other currency.
Why it matters: Nowadays, most currencies float freely against each other. Historically, however, that's something of an anomaly. Indeed, as recently as 1971, even the U.S. was part of the Bretton Woods system that pegged all currencies to a gold standard.
The big picture: Pegs get introduced when market forces generate a level of volatility that make planning and industry needlessly difficult.
Countries implement pegs to ensure stable prices, both for their citizens and for any industries who export or import goods. Certainty and predictability are good things.
Then, if the peg ends up too far from fundamentals, it can become harmful and brittle, and eventually break. In the case of UST, there were no fundamentals, so it was prone to break at any time. In the end, UST lasted less than 20 months.
5. A peg that's stood the test of time
The Hong Kong dollar weakened dramatically in the summer of 1983, causing panic selling of the currency, and panic buying of supermarket goods.
The solution: The local currency was pegged to the U.S. dollar at a rate of 7.8 to 1 on Oct. 13 of that year. It's stayed at that level ever since — more than 14,000 days and counting. (Since 2005, the exchange rate has been allowed to fluctuate within a narrow band, from 7.75 to 7.85.)
How it works: The Hong Kong Monetary Authority (HKMA) has a $466 billion Exchange Fund, which it uses to buy unlimited Hong Kong dollars at the 7.85 level. Conversely, the HKMA will sell unlimited Hong Kong dollars at 7.75.
The dollar peg means that the HKMA can't set its own monetary policy. Whatever interest rate the Fed sets is perforce the overnight interest rate in Hong Kong, too.
The bottom line: It's highly improbable that financial speculators could break the Hong Kong peg. China's leadership, on the other hand, could do so at any time, if Sino-American relations deteriorate further.
6. Tom Brady's disintermediation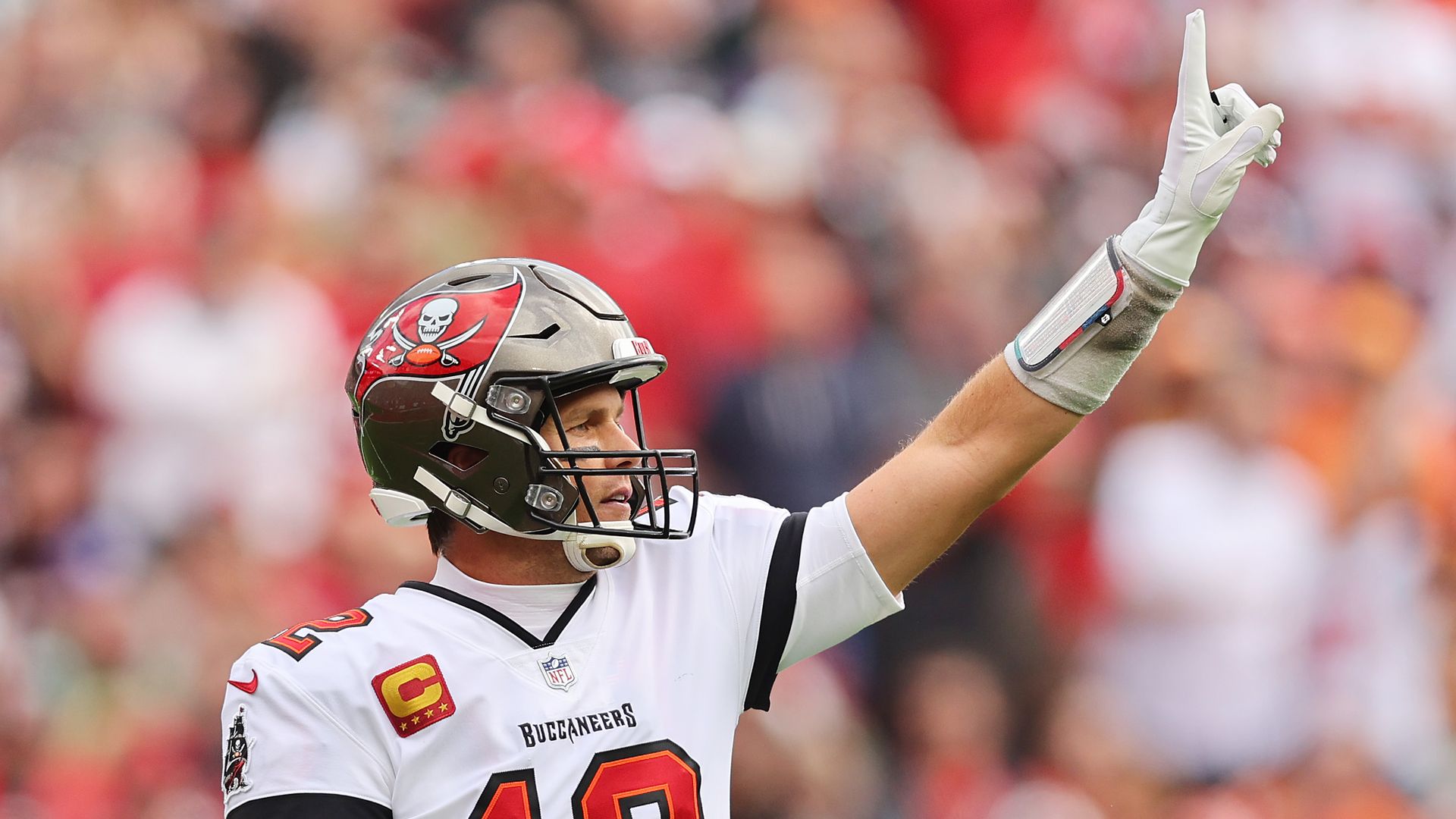 Tom Brady made about $300 million in salary the hard way, playing football on the gridiron.
The next $375 million is going to be much easier: He's going to earn that much working as an NFL analyst for Fox Sports for 10 years, announcing a couple of dozen games per year.
Why it matters: The deal shows where the real money is in sports. TV stations pay about $10 billion per year for rights to broadcast games; that money then gets split between hundreds of players, owners, and support staff.
Fox Sports is reportedly willing to pay $2 billion per year for its football rights. Brady's salary would increase that number by less than 2%, while making the broadcast much more than 2% more attractive to viewers.
Our thought bubble: "I don't think about Fox Sports often as a sports fan," Axios Pro Media Deals co-author Kerry Flynn tells me. "Tom Brady is a game changer for me. Brady fandom is real."
7. How poorer Americans could get richer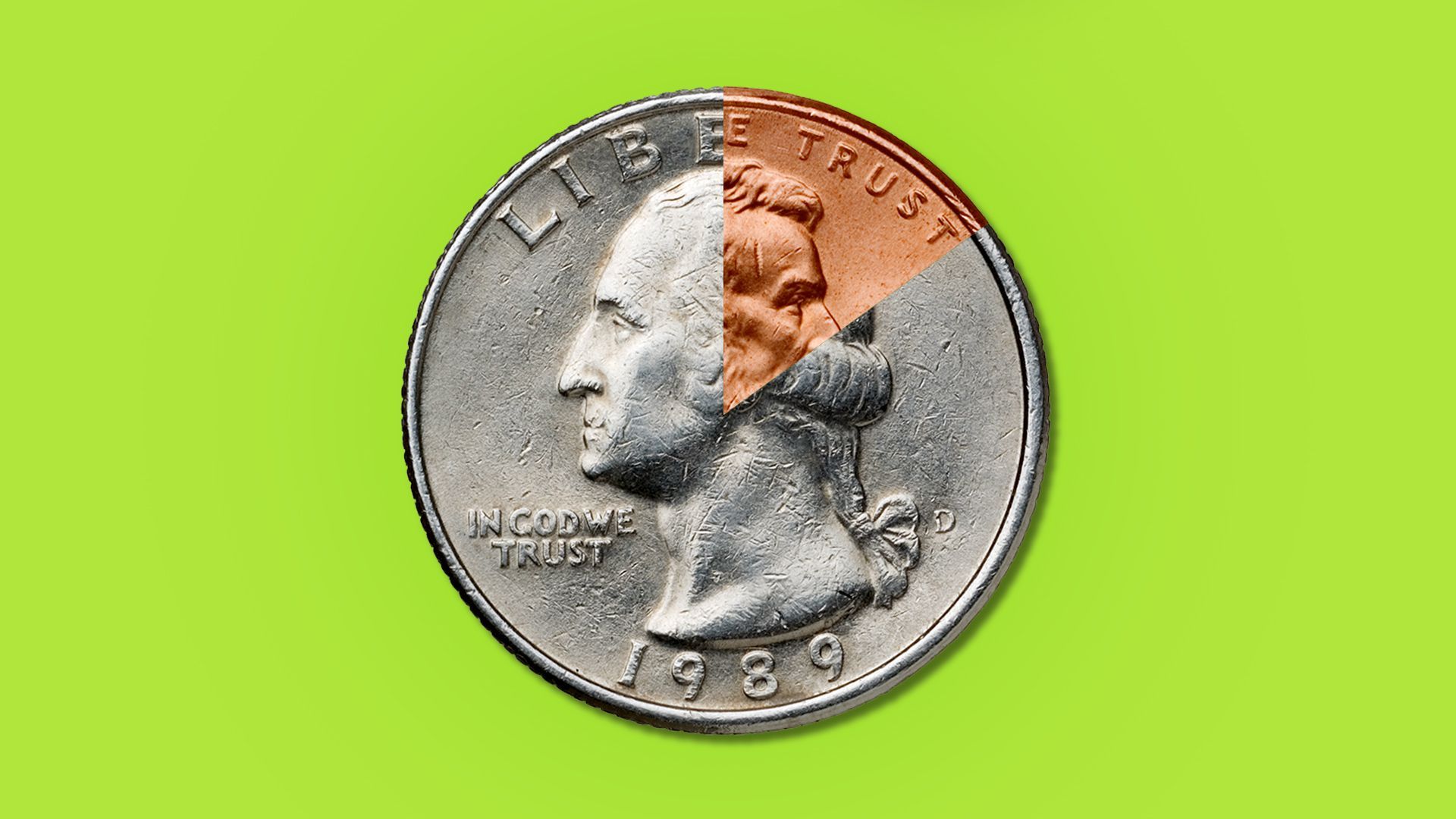 Remember the plan to extend federal retirement benefits to middle- and low-income households who don't have any retirement savings at all? It's now going to become a bipartisan, bicameral bill.
Why it matters: There's still a long way to go before this bill becomes law. But if it does, it would benefit millions of gig workers and minimum-wage employees who don't stay with any one employer long enough to build up retirement savings.
They'd get a personal, portable plan modeled on the hugely popular Thrift Savings Plan — the largest defined-contribution pension plan in the world.
Dramatis personae: The bill is going to be introduced by Sens. John Hickenlooper (D-Colo.) and Thom Tillis (R-N.C.), and Reps. Terri Sewell (D-Ala.) and Lloyd Smucker (R-Pa.).
Our thought bubble, via Axios' Hans Nichols: There are no obvious legislative vehicles for a proposal like this in 2022. With the expiration of Trump's tax cuts at the end of 2025, Congress will eventually be forced to revisit the tax code, giving lawmakers plenty of time to promote their pet projects.