Axios Navigate
February 15, 2019
Good morning! Thanks for reading. Please share this newsletter and tell your friends they can subscribe here. If you have tips or feedback, just reply to this email.
Situational awareness: Amazon is leading a $700 million equity investment in Michigan startup Rivian, developer of a flexible electric vehicle chassis with Level 3 autonomy.
1 big thing: Your grandma will lead the self-driving car revolution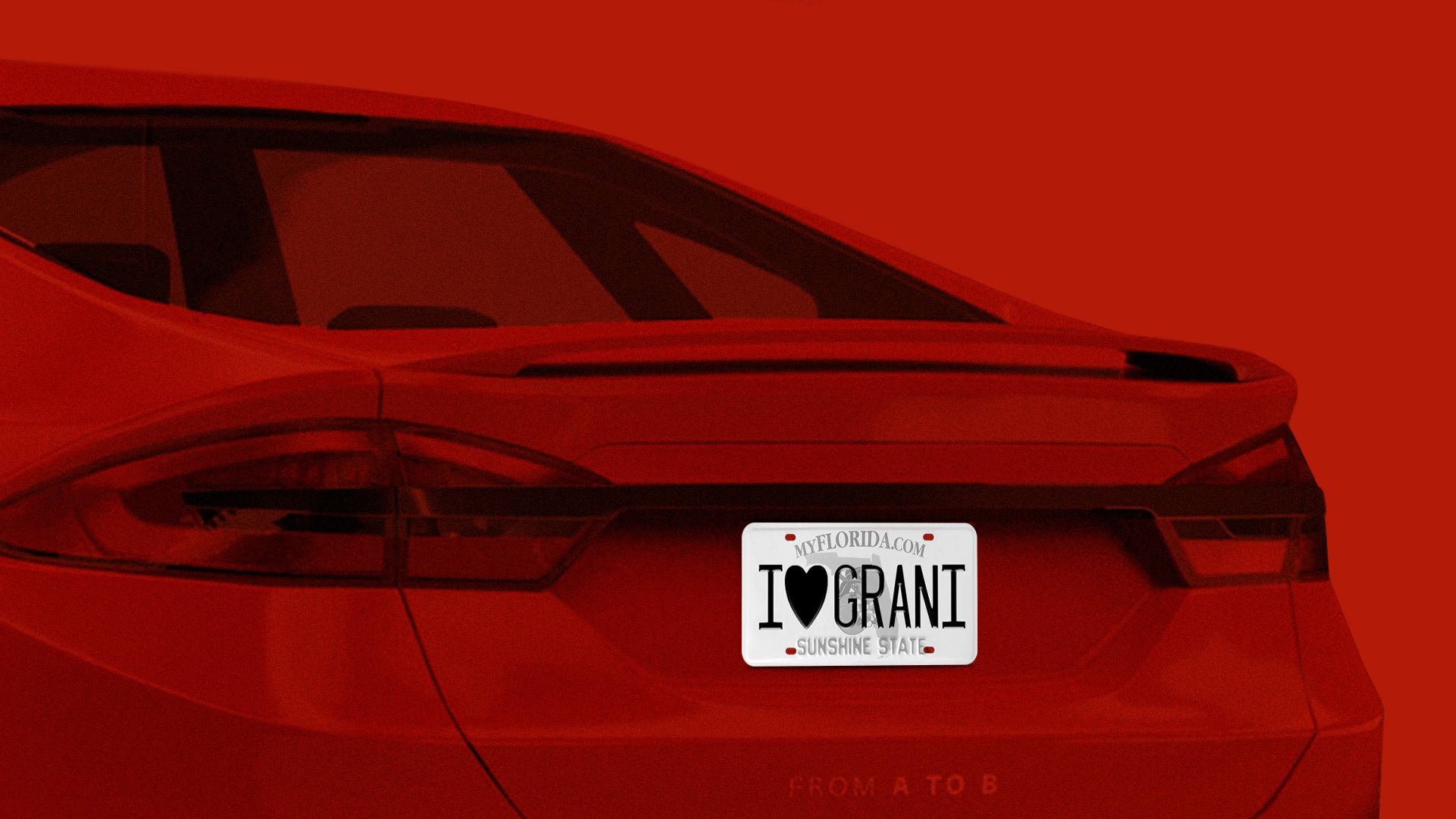 Voyage, one of America's first automated taxi services, is now up-and-running in a Florida retirement community. This means trendsetting grandparents — not car-averse urban millennials — might be the early adopters of self-driving cars.
The big picture: Retirement communities may be the perfect place to launch driverless cars — slower, simpler roads are easier to master and there's an unmet need from people who can no longer drive but want to remain active in their communities.
Yet studies show that seniors are the most reticent to ride in them, which means it will be important to earn their trust.
What's new: After a year of testing, Voyage on Feb. 1 launched its free on-demand AV taxi service in The Villages, a sprawling retirement community with 125,000 residents north of Orlando.
For now, the robot-driven minivans, with a backup safety driver and a top speed of 25 mph, are limited to a few neighborhoods in the 33,000-acre community.
An unspecified number of "pioneers" were selected as the first customers, but the company plans to add more users and more roadways in the future.
What's different: While other AV companies are aiming for the moon — GM, for example, is trying to launch a robotaxi service in downtown San Francisco — Voyage CEO Oliver Cameron favors deployment on calmer streets.
As AV technology advances, the company can tackle tougher environments, he says. In the meantime, it's serving real people who need transportation.
Context:
8 million people age 65 and over don't drive, AARP says.
Most people outlive their ability to drive safely by an average of 10 years.
At least 3.6 million Americans miss medical appointments every year due to a lack of transportation, according to a 2017 study.
Yes, but: 67% of people over the age of 50 aren't willing to ride in a self-driving car, AARP found.
But, but, but: Adults with a disability are more willing to ride in an AV than those without a disability (44% vs. 31%), AARP states.
"There's a stereotype that older people are not interested in technology but when the tech enables them to accomplish something, they will use it," AARP's Nancy LeaMond tells Axios.
Many seniors have embraced smartphones and Facebook because they can keep in touch with grandkids, for example.
What's needed: Education and training to keep seniors up to date on rapidly changing automotive technology.
AARP offers programs in many places that teach seniors about the advanced safety tech in their cars and how to use ride-sharing services like Uber and Lyft. The free 90-minute workshop is also available online.
SAE International, an engineering group, has a series of AV demonstration events, which started for seniors in Florida in December.
One key takeaway: 61% said they would prefer to own a self-driving car versus 12% who said they'd prefer shared AV access, SAE tells Axios.
The bottom line: Seniors value their independence, especially when it comes to transportation, and may be the first to adopt AVs if companies can prove their worth and earn their trust.
2. By the numbers: How often AVs disengage
This week, California's Department of Motor Vehicles released the latest data from companies testing AVs in the state, including the total number of self-driving miles logged and how often human backup drivers had to take control of the wheel.
Why it matters: The so-called disengagement reports are a proxy for how AV technology is progressing. But the data is self-reported and often misinterpreted, so it's dangerous to draw comparisons.
What they're saying:
The Wired writes that like many standardized tests, the reports miss a lot. They are poor tools for understanding how well this technology works, and how each company's progress compares to that of their competitors.
What we know:
Waymo is by far the leader, with 1.2 million miles driven in California in 2018.
The former Google self-driving car unit's vehicles drove an average 11,154 miles without driver intervention, nearly double 2017's performance.
GM's Cruise also showed strong improvement, tripling its miles driven before a human took over to an average 5,205 miles.
Zoox, Nuro and China's Pony.ai were well behind, but not as far back as Apple, whose on-again, off-again AV efforts ranked dead last with a hand-off to the human driver every 1.1 miles driven.
The 48 AV developers that tested their tech on public roads collectively drove 2.05 million miles between December 2017 and November 2018, up from 500,000 the year before, per Wired.
The bottom line: While the improvement is good to see, and shows AV technology is progressing, it's clear that fully driverless cars are not yet ready.
Go deeper: Check out the reports from all 48 AV companies tested in California here and read Chris Urmson's analysis of AV performance metrics for Axios Expert Voices.
3. ChargePoint prepares for charging of AV fleets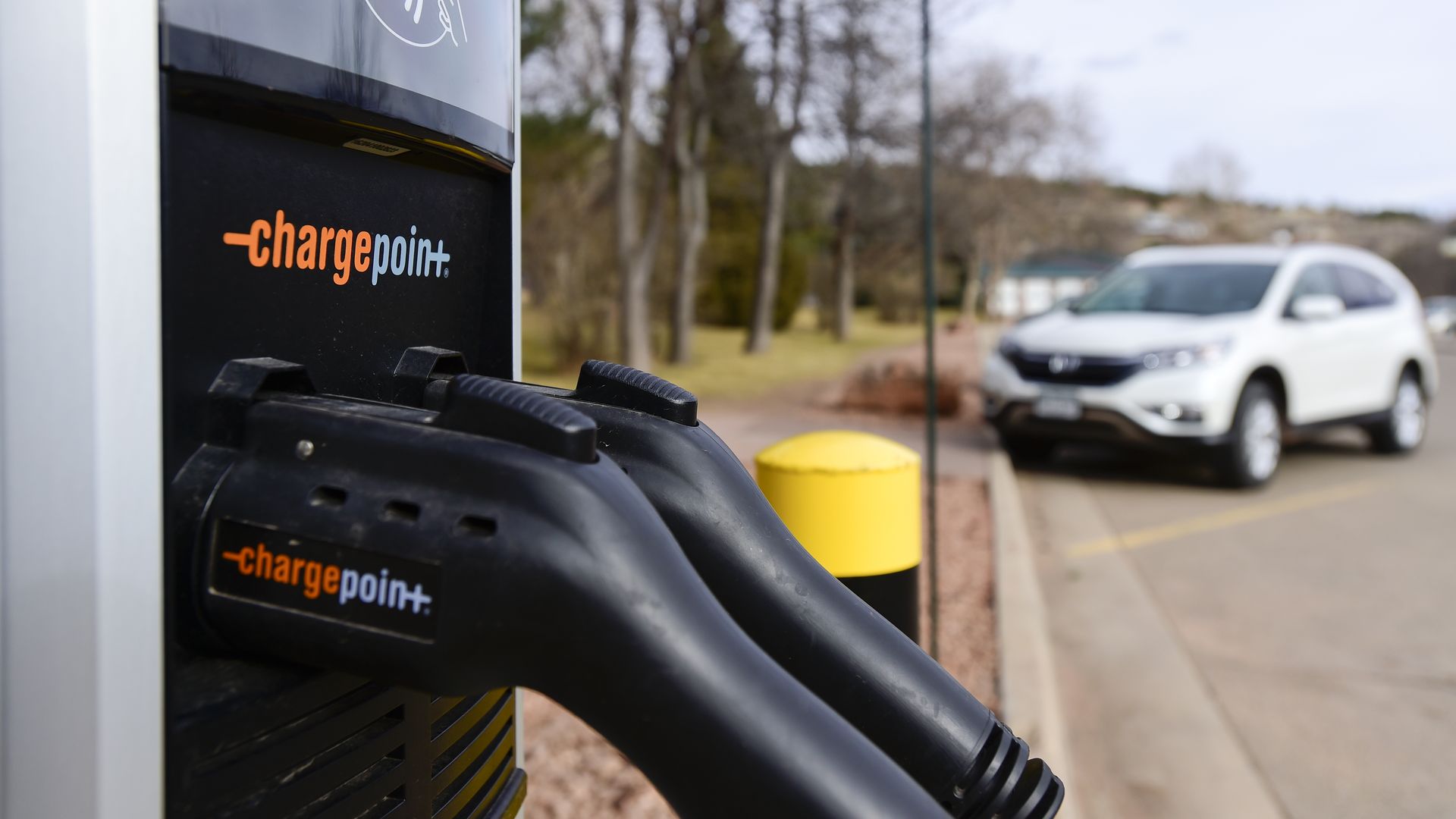 Electric vehicle infrastructure giant ChargePoint is using some of its recent $240 million fundraising haul to position itself for the electrification of different types of vehicle fleets and the rise of autonomous tech, Axios' Ben Geman writes.
What's new: CEO Pasquale Romano says in an interview with Axios that despite it being early stages of autonomous vehicle technology, AVs should be included in long-term infrastructure planning from the get-go.
How it works: If AVs, EVs, and the electrification of fleets — think ride-hailing services, commercial delivery vehicles and government vehicles — were a Venn diagram, there would be lots of overlap.
Most AVs will ultimately be electric.
AVs and electric fleet vehicles are likely to charge at different places than personal vehicles.
Charging will probably be concentrated in depots that can handle a range of vehicle types, Romano notes.
That's a seismic shift over the long-term.
"It changes your architecture for your products. It changes the scope of what your software has to talk to on the fleet side, it changes the scope of what your hardware has to deal with on the fast-charge side."
The bottom line: Romano says that preparing for the use of EVs and AVs, especially in vehicle fleets, means "you have got to be thinking literally with a 20-year lens" — and even much longer.
4. Driving the conversation
History lesson: Google's Waymo risks repeating Silicon Valley's most famous blunder (Timothy B. Lee — Ars Technica)
Why it matters: This is an important and insightful article on the importance of commercializing innovative technology. Xerox invented the personal computer but couldn't commercialize it, leaving the door open for Apple and Microsoft.
Now Waymo has a 10-year lead in self-driving cars, but is struggling to bring them to market. Meanwhile, startups like Voyage, mentioned above, and Nuro, which just raised $940 million for its robot delivery vehicles, are finding customers.
Deal brewing: Ford and VW discuss autonomous car team-up at a $4 billion valuation (Keith Naughton and Christoph Rauwald — Bloomberg)
The big picture: Ford plans to spend big on AV development, but still lags behind industry leaders Waymo and GM Cruise. VW, with more than $91 billion planned for EVs, also needs help on AVs. The two have already agreed to pool resources on trucks and commercial vehicles.
Legal jeopardy: $10 million claim blames Ducey and state for Uber self-driving crash that killed a woman (Ray Stern — Phoenix New Times)
Details: A lawsuit brought by the family of Elaine Herzog blames Arizona Gov. Doug Ducey's loose policies on AV testing for her death. The outcome could have a chilling effect on states scrambling to be seen as leaders in AV technology.
Go deeper: Read the New Times April 2018 cover story, "Ducey's drive-by: how Arizona governor helped cause Uber's fatal self-driving car crash"
5. What I'm driving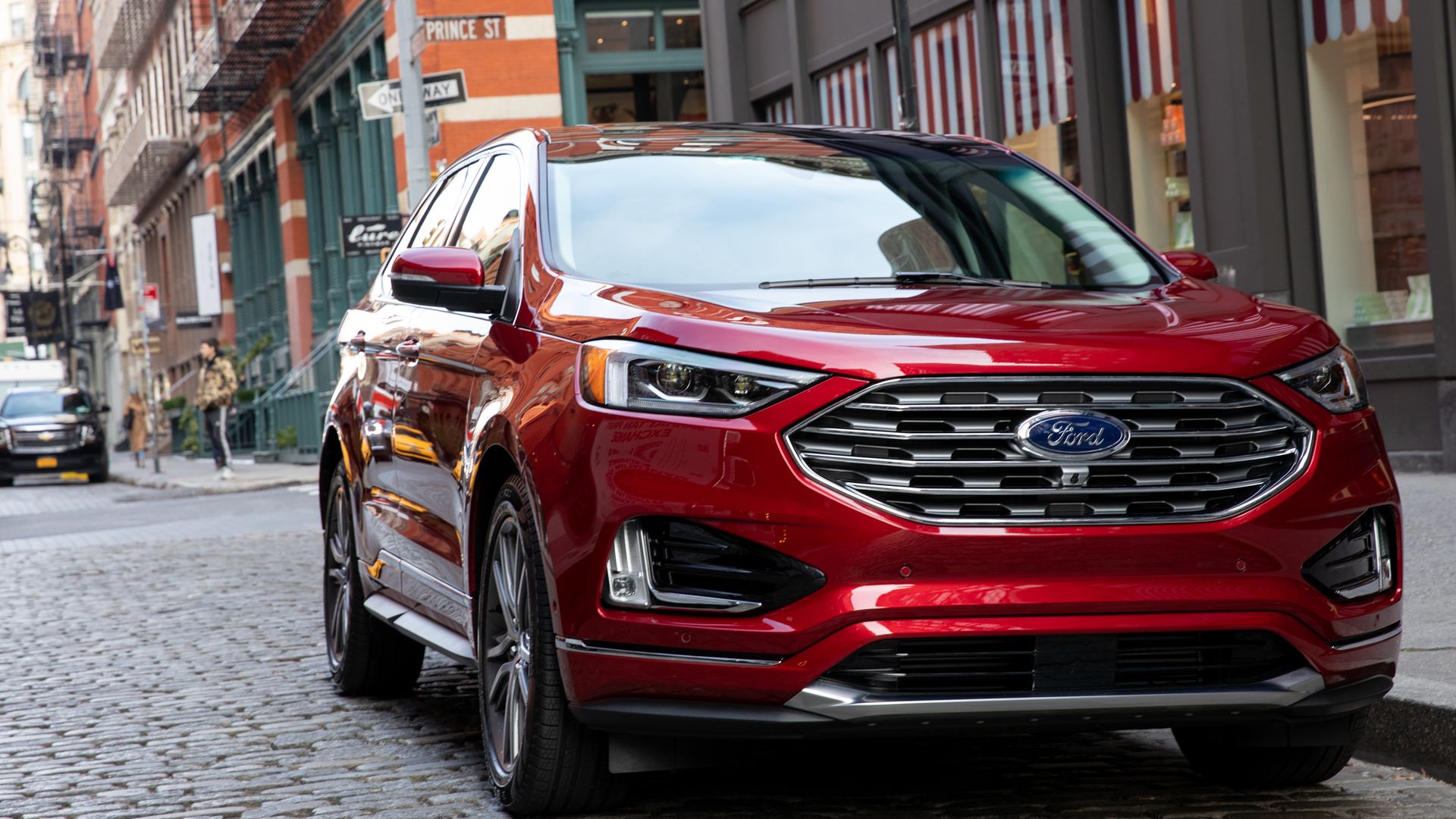 This week my snowy driveway is brightened by a ruby red metallic Ford Edge Titanium midsize crossover utility.
What's new: The 2019 Edge now comes with Ford's 250-hp, 2.0-liter 4-cylinder EcoBoost engine, and a new 8-speed transmission.
The optional all-wheel drive system uses AI to detect various driving conditions and automatically shift between 2-wheel and all-wheel drive for improved fuel economy when extra traction is not needed.
Safety stuff: Like Honda and Toyota, Ford has decided to make advanced safety features standard on many of its models.
The Edge is the first to get Ford's new Co-Pilot360 suite of safety features.
That includes tech that can automatically apply the brakes if you don't respond in time and can nudge you back into your lane if you drift.
It can also identify and steer into parallel and perpendicular parking spots.
An optional Assist+ package adds adaptive cruise control and lane centering, which allows you to take your hands off the wheel for up to 10 seconds.
Its new Evasive Steering Assist feature will even bolster your defensive steering maneuvers to ensure you react appropriately.
The bottom line: It's an impressive list of safety technology in a mainstream brand vehicle that costs between $31,000 and $45,000.