Good morning! Thanks for reading. Please share this newsletter and tell your friends they can subscribe here. If you have tips or feedback, just reply to this email.
Today Expert Voices contributor Evangelos Simoudis writes about shared AV shuttles as a way to improve urban transit and Sudha Jamthe weighs in on how AV entertainment systems may collect your personal data.
1 big thing: Wall Street's split views on AV leaders
There's a growing realization on Wall Street that self-driving cars are still many years away. That pessimism is weighing far more heavily on traditional automakers than technology companies.
The big picture: Investors are betting the real value of AV companies will come from the estimated 4 terabytes of data each car will generate per day. And based on the way they're valuing the major AV players, Wall Street seems to think tech companies have a better shot than Detroit at capitalizing on that data.
The bet on data helps to explain why analysts at Morgan Stanley have very different views on the two leading AV companies, GM's Cruise Automation and Alphabet's Waymo.
Auto analyst Adam Jonas recently reduced the value of Cruise Automation to $9 billion from $11.5 billion, citing delayed expectations for fully self-driving cars.
Meanwhile, tech analyst Brian Nowak figures Waymo is worth $37 billion, and perhaps as much as $175 billion, citing future opportunities from robotaxis, logistics and licensing revenues.
Those same opportunities are available to Cruise, too, but GM investors currently are focused more on the roadblocks ahead.
Jonas says the massive gap between Cruise and Waymo is realistic because of the advantage Waymo has from Google's superior data analytics capability.
What's happening: The mood has changed about AVs. Bold predictions by Tesla and others that cars would be able to drive themselves by now have evaporated in the face of technology challenges and market realities.
The business model for AVs assumes that by removing the driver, the cost per mile falls dramatically, from today's $2.50 or $3 per mile to less than $1, unlocking a much larger market opportunity.
"If you are going to be more pessimistic on the timing, then it means not removing the safety driver and that means the economics of the whole thing don't work," Jonas says.
"Instead of a $30,000 car with no human, you've got a $300,000 car with one or two humans."
That math looks even more difficult when you factor in the pressures facing GM's legacy automotive business under CEO Mary Barra, who is trying to lead a rapid transformation. It's a race, Jonas says, between management's execution and a cyclical downturn ahead.
The bottom line: "The value is in the data, and what you can do with it," Jonas adds.
EXPERT VOICES
2. Shared AVs could smooth urban transit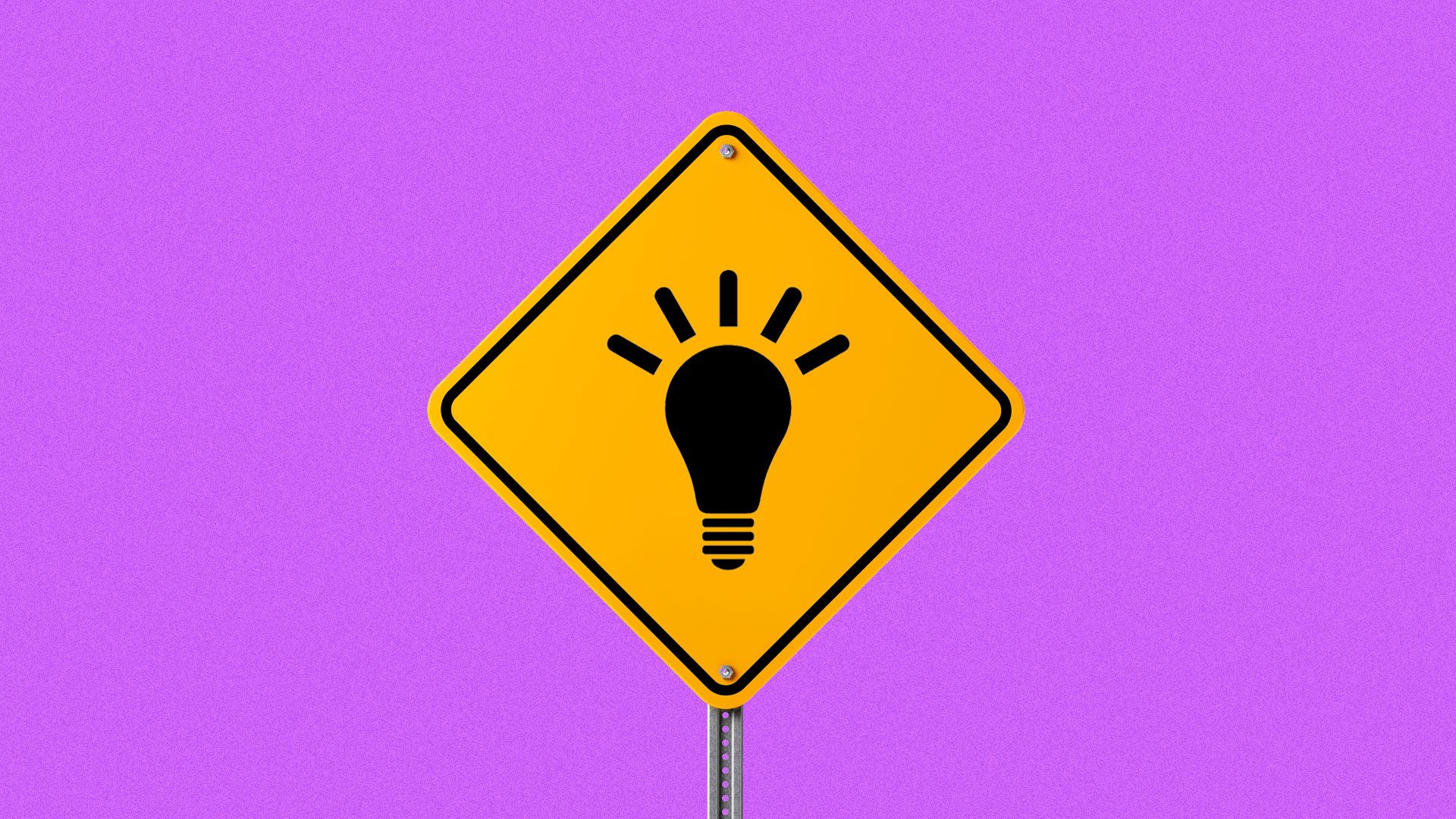 As the popularity of single-passenger ride-hailing soars, cities struggling with worse congestion and longer travel times are starting to experiment with autonomous shuttles, especially for short trips, Synapse Partners founder Evangelos Simoudis writes for Axios.
Why it matters: AV ride-sharing could help to efficiently bridge gaps between other forms of transportation services, from public transit to bikes and scooters. This could reduce congestion and enable more travelers to complete their trips more quickly, though cities and companies may need to offer incentives to spur adoption.
What's needed: Intelligent digital platforms — whether developed by cities or by transportation companies — could integrate different modes of transportation into a personal travel plan that's optimized for consumer preferences like shortest travel time or lowest price.
Together with corporate and government incentives for ride-sharing, these platforms could also help cities reduce congestion and emissions.
The bottom line: As ride-sharing displaces privately owned vehicles, different forms of AVs could play larger roles on city streets. While not a panacea, their use in on-demand services could make urban transportation more efficient.
Go deeper: Read the full post.
Simoudis is an author and the founder and managing director of Synapse Partners, which advises and invests in companies working on next-generation mobility.
3. Rewarding drivers for letting cars assist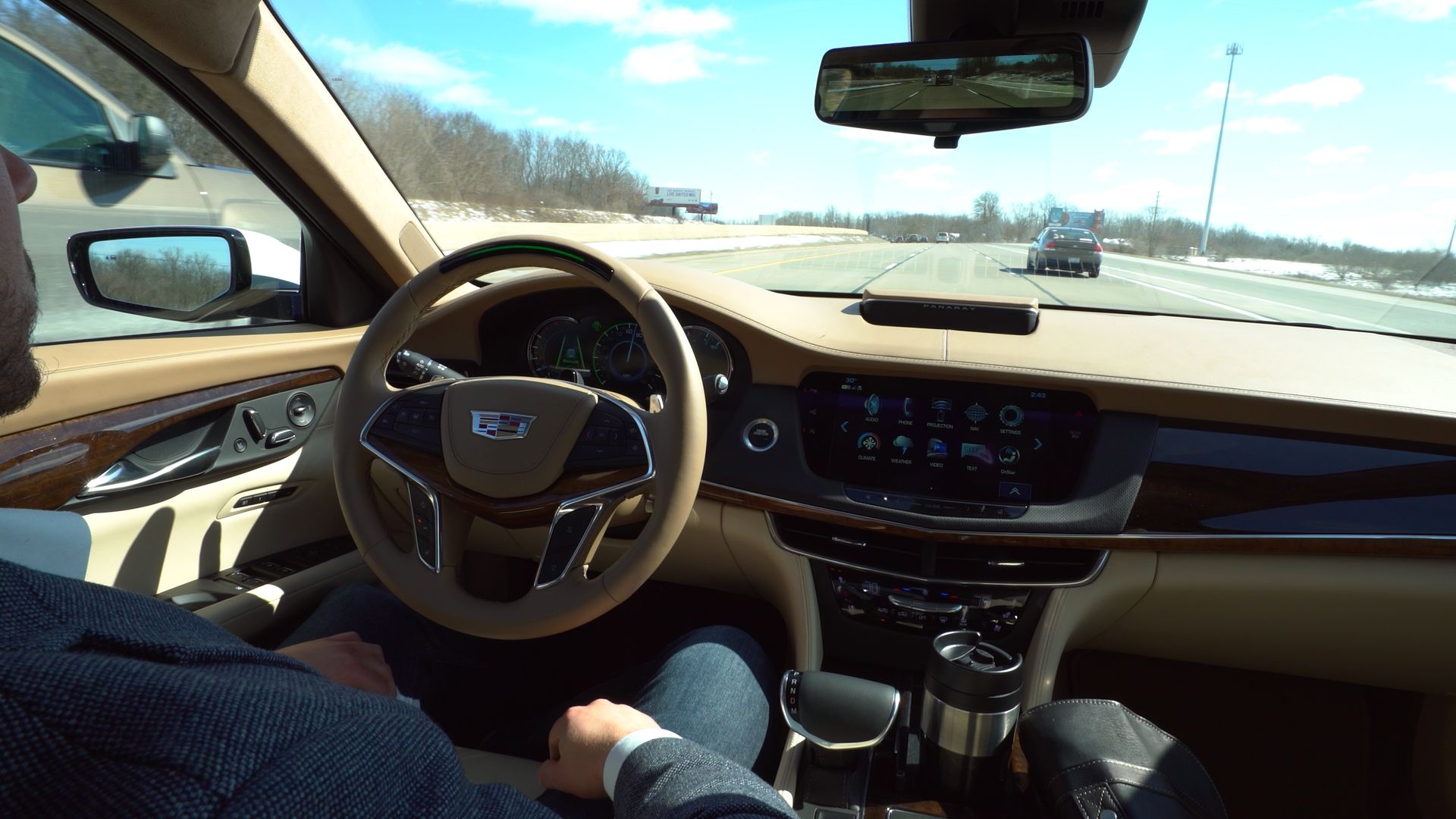 A startup insurance company called Avinew is working with automakers to offer discounts to drivers who regularly use their car's semi-automated driving features.
Why it matters: A lot of advanced driver-assistance systems have been shown to improve safety, but many people don't use them because they don't know about the technology, or don't understand how it works.
What's happening: Avinew, which just raised $5 million in seed funding, plans to incentivize drivers to use features like Tesla's Autopilot, Cadillac's Super Cruise, Ford's Co-Pilot 360, and Nissan's ProPILOT Assist.
It's negotiating with carmakers to connect directly to their vehicles to know when motorists engage those semi-automated features and offer insurance discounts of up to 50%.
A test program with Tesla owners last year showed that they engaged Autopilot for about 30% of their driving time, which would earn them substantial discounts, Avinew CEO Dan Peate said.
My thought bubble: Turning the technology on doesn't necessarily mean drivers are using it correctly, as several unfortunate incidents involving Tesla's Autopilot have shown.
EXPERT VOICES
4. Entertainment systems could share your data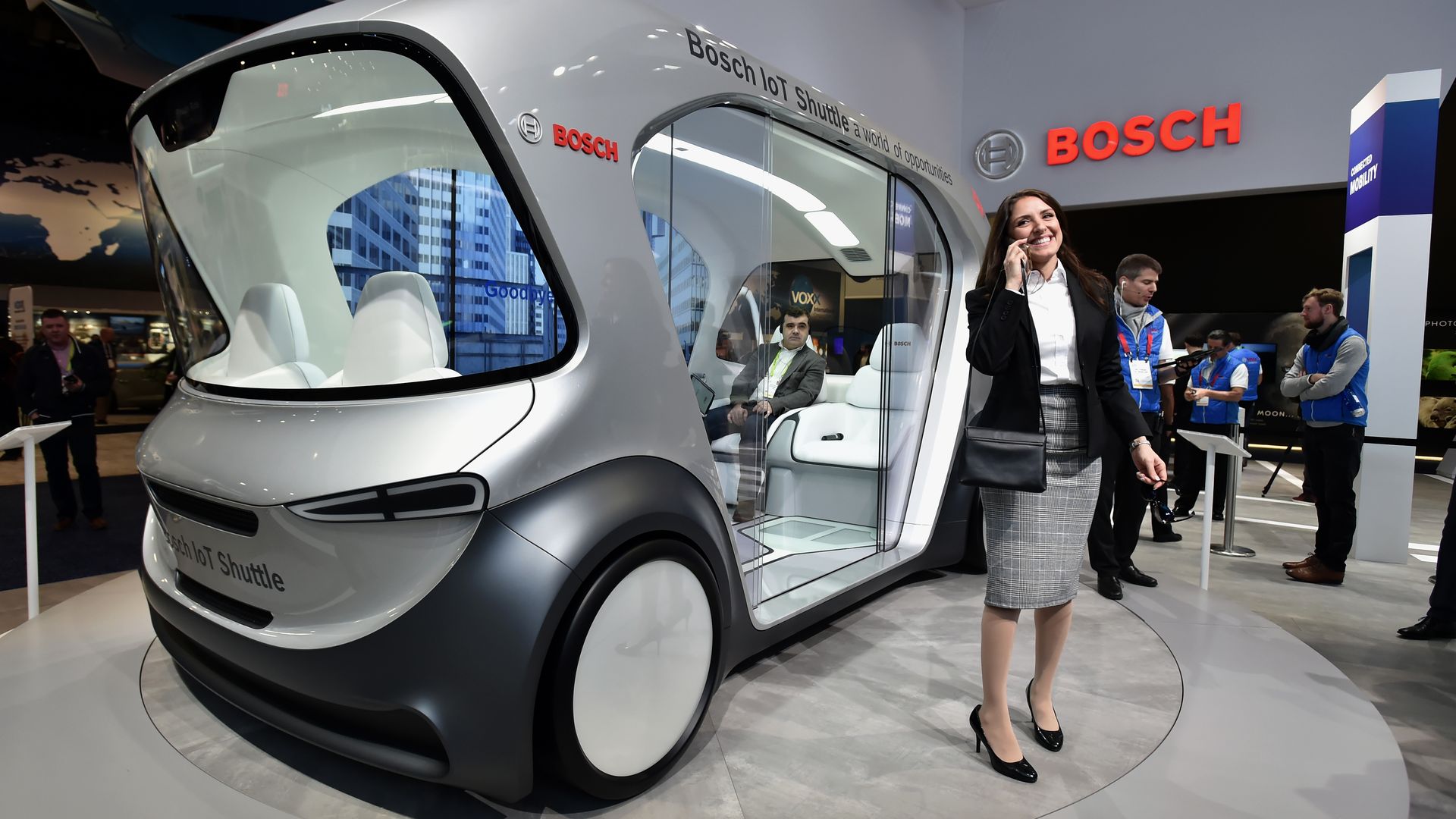 Tech and entertainment companies are rolling out infotainment concepts for AVs that could offer passengers personalized services, but require collecting data on their streaming usage, location and more, IoT Disruptions CEO Sudha Jamthe writes for Axios.
Why it matters: The collection, analysis and distribution of technology users' data has become a massive industry.
AVs could end up effectively aggregating extensive passenger information from the cars and passengers' cellphones that could then be shared with third parties — exacerbating issues around privacy and security.
Details: Beyond location and streaming data, these systems could track social media usage and data on a passenger's in-car activity.
It's not clear yet how individual user profiles might work, but they could involve creating login credentials, syncing with other apps, or incorporating biometric data like touch or face ID.
Between the lines: This data could then be used for targeted ads that could appear in a variety of settings including homes, offices and retail locations.
If data generated in AVs is synced with mobile phones or tied to social media accounts, passengers could end up sharing a much fuller data profile of themselves than they realize.
All of that information could be vulnerable to hackers as well.
What we're watching: The General Data Protection Regulation in Europe and the California Consumer Privacy Act offer some protections of consumer data, including the option for users to opt out of data sharing.
Go deeper: Read the full post.
Jamthe is CEO of IoTDisruptions and teaches AV Business at Stanford Continuing Studies.
5. Driving the conversation
On the move: Argo AI acquires permit to test AVs in California (Kirsten Korosec — TechCrunch)
Why it matters: California is the fifth state where Ford's AV partner is now allowed to test its technology. Its AVs are expected to begin testing on D.C.'s famous roundabouts this quarter.
Seated: Reimagining federal safety standards (Eric Kulisch — Automotive News)
The big picture: In cars of the future, passengers might be seated facing each other, or in a circle, which requires new safety considerations.
With the help of Humanetics, the leading maker of crash-test dummies, a handful of automakers and suppliers are collaborating to develop safety and testing standards for these new seating configurations.
Worthy: The most powerful person in Silicon Valley (Katrina Brooker — Fast Company)
Why it matters: It's a long read, but this profile of Softbank's Masayoshi Son is worth your time. He's shaping the future of mobility more than any other person, including Elon Musk.
6. 1 parking thing: automated garages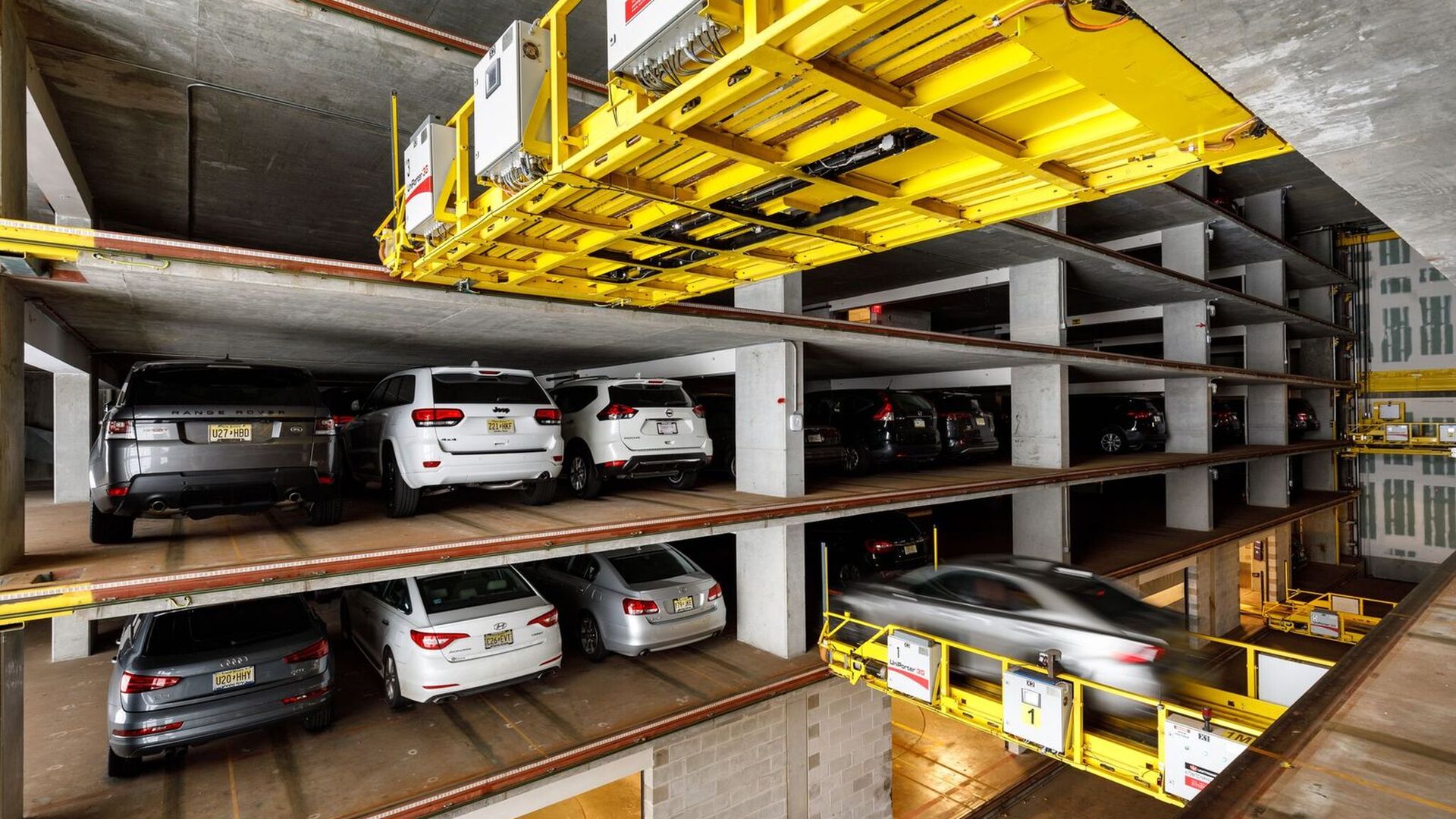 Cars might not be able to drive themselves just yet, but they can already park themselves in some cities.
Why it matters: Automated parking, just now being rolled out as a way to save space and money in crowded cities, will become increasingly important once plug-in AVs hit the streets by giving them a place to stop and recharge between rides.
What's happening: U-Tron, the automated parking division of Israeli automation company Unitronics, has 8 robot garages up and running in New York, New Jersey and California, with 25 more in development around the country.
Today, drivers pull into a bay, then vacate the car and the robot takes over. Some day, AVs will drive into the bay themselves.
U-tron's system can pack cars four inches apart, with six inches of overhead clearance.
Packing cars like sardines allows developers to accommodate two to three times as many vehicles as a normal garage.
Without human intervention, robot garages generate savings on labor, ventilation and lighting costs.
It takes about 5 minutes to summon and retrieve a parked car from a loading bay.
What's next: U-tron EVP Yair Goldberg says the company is talking with major automakers to make sure its parking robots can communicate with their driving robots.
Editor's note: Story no. 3 was corrected to show that Avinew raised $5 million in seed funding (not $5 billion).