Axios Navigate
February 06, 2019
Good morning! Thanks for reading. Please share this newsletter and tell your friends they can subscribe here. If you have tips or feedback, just reply to this email.
Today, Expert Voices contributor Laura Fraade-Blanar looks at how to modify roads to make them safer for both human drivers and autonomous vehicles.
Situational awareness: GM swung to a quarterly profit, beating analysts' estimates, on the strength of high-margin pickup trucks and crossovers in the U.S., Bloomberg reports. GM finished 2018 with net income of $8.1 billion. CEO Mary Barra is providing more details in a conference call with investors later today.
1 big thing: Helping AVs develop a "sixth sense"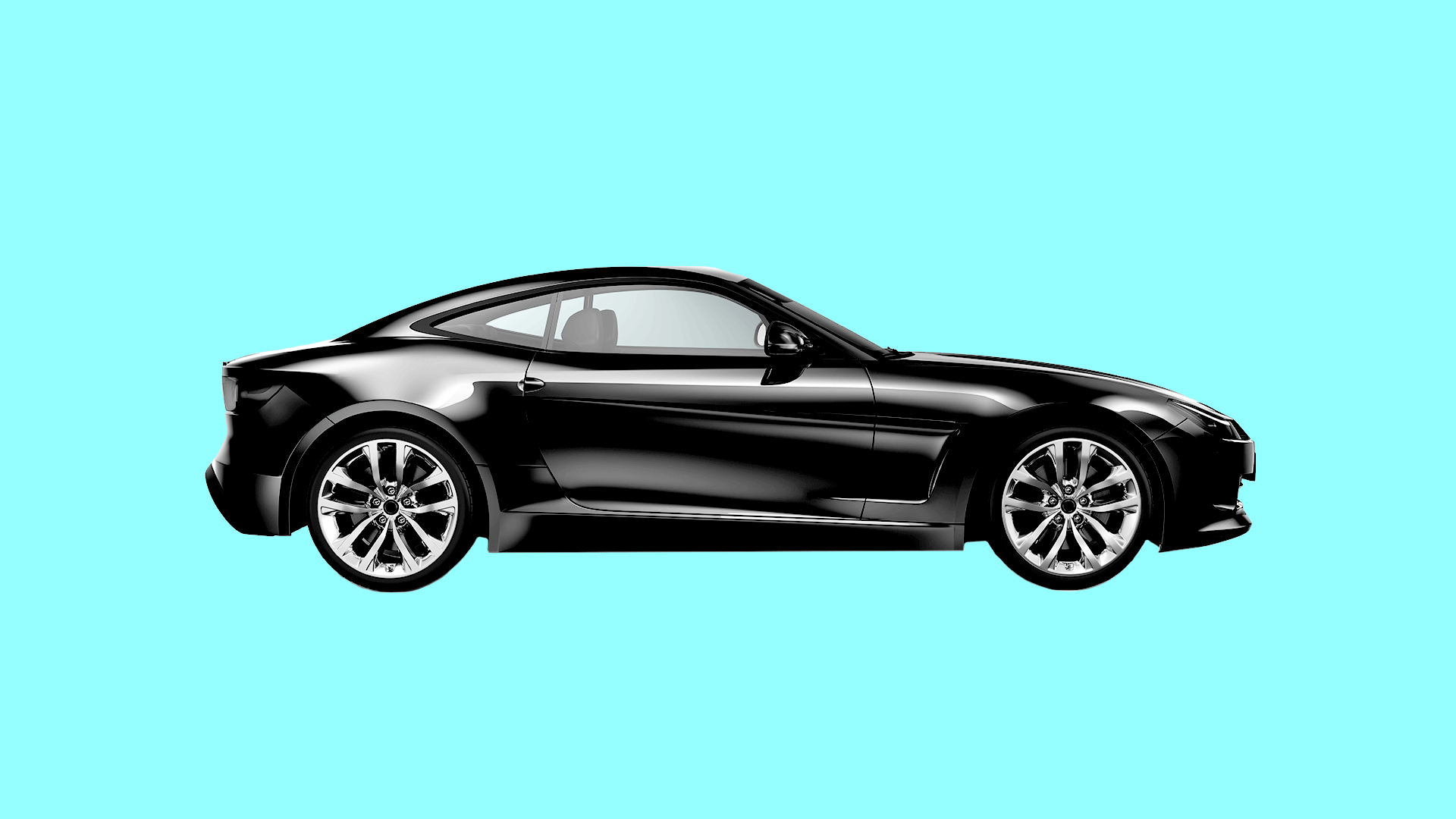 Today's AVs use a combination of cameras and other sensors to try to replicate human perception but still struggle, especially in bad driving conditions. But, new technologies under development could help fill the gaps by letting vehicles "see" and "feel" things from different perspectives.
Why it matters: The race to develop fully self-driving cars has hit a series of hurdles, with many industry experts now predicting it could be a decade or longer before their full-scale deployment.
That has inspired dozens of startups in lidar and other technologies in pursuit of a breakthrough they hope will finally make AVs possible.
Where it stands: Most AVs currently in development rely on a combination of 3 or 4 key sensor technologies, plus high-definition maps, to try to replicate the way human drivers perceive the world. Each has its own strengths and weaknesses...
High-def cameras are good at identifying objects, but struggle in poor visibility like rain or fog.
Radar can detect objects far away, even in bad weather, but not very clearly.
Lidar uses laser beams to create a 3D image of the car's environment, but struggles under certain lighting conditions.
Ultrasonic sensors can judge objects, but only at close distances.
What's happening now: Startup companies are working to add additional layers of perception to help fill the gaps in AV perception.
WaveSense specializes in ground-penetrating radar that creates subterranean maps to help vehicles navigate through snow, rain and fog.
The MIT spinoff essentially creates a fingerprint of the roadways by mapping and tracking unique geologic patterns underground.
Above ground, the landscape is constantly changing. Below the surface, maps are static, which helps AVs see the road, even in situations like a driving snowstorm.
Originally targeted for military purposes, WaveSense's technology is now being tested by several AV developers and suppliers, and CEO Tarik Bolat tells Axios he expects to announce production partners later this year.
Tactile Mobility's software helps cars "feel" the road by generating real-time data about the physical factors like traction and pressure that impact the ride and feeding it into proprietary algorithms to optimize the car's performance.
Human drivers feel how a car handles through their seat and steering wheel. It's what enables us to steer out of a spin on icy pavement, for example, or recognize when we're hydroplaning.
The Israeli startup wants AVs to "feel" the bumps, curves and potholes under their tires, just as humans do.
Ford is among the companies currently testing the company's software.
The cloud-based data can also be valuable to municipalities and fleet managers by identifying up-to-the-minute road conditions, CEO Amit Nisenbaum tells Axios.
But, but, but: As more sensors and software are added to an already complex machine, the number of potential failure modes increases exponentially, making AV systems more challenging to validate, says Sam Abuelsamid, a senior research analyst at Navigant Research.
The bottom line: Redundant sensing systems could ultimately lead to safer systems, but meticulous work remains to determine how to perfect them.
2. Making roadways safer for AVs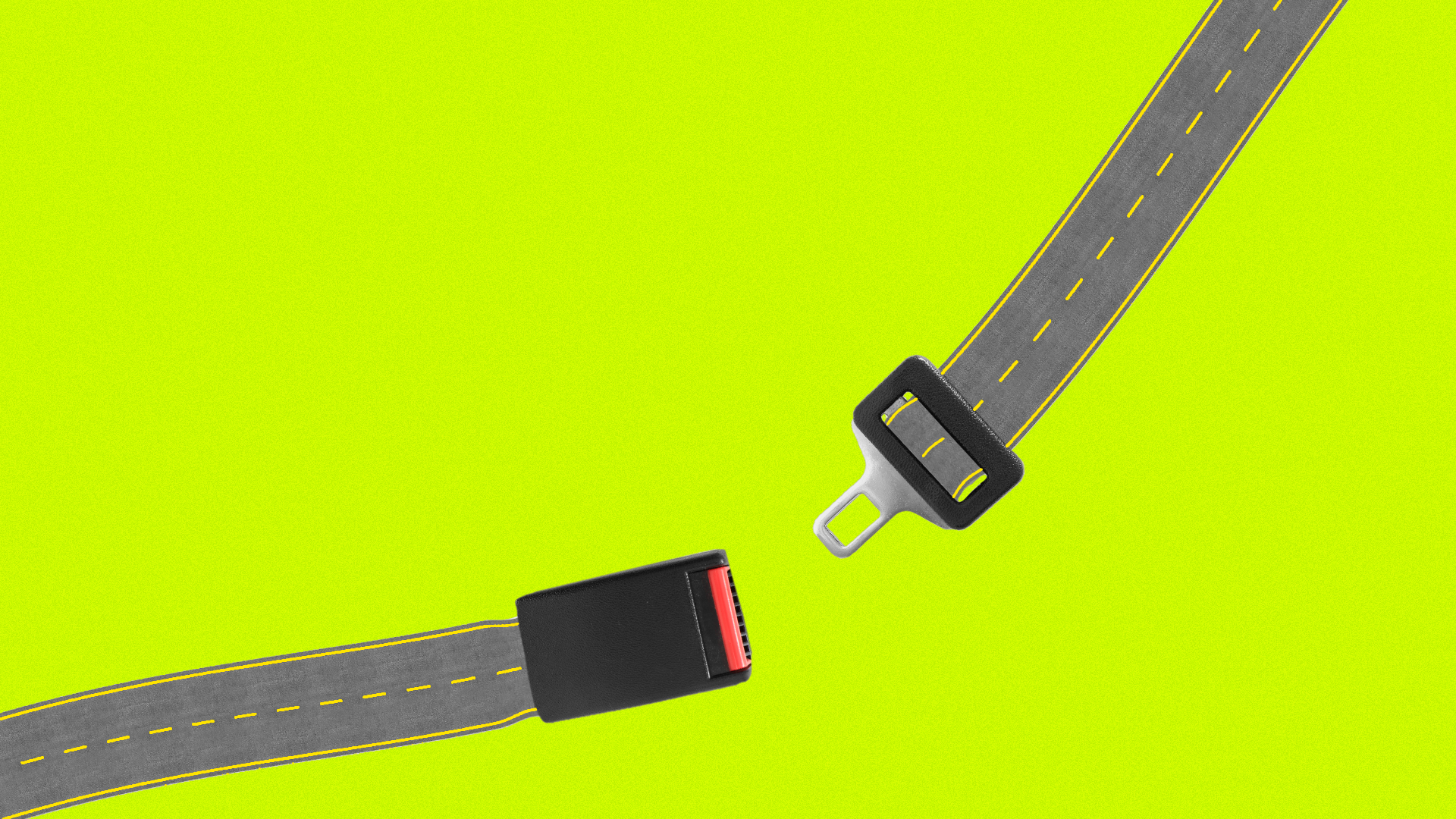 No matter how much developers test AVs, the world will still present unforeseen circumstances for vehicles to navigate. Researchers and policymakers want to mitigate these risks by making roadways more accommodating of mistakes, RAND researcher Laura Fraade-Blanar writes for Axios Expert Voices.
The big picture: Road safety policy can help offset these challenges and better plan for AV deployment, particularly the Safe System approach that originated as part of Sweden's 1997 Vision Zero initiative.
Background: Real-world road accidents from 2018 illustrate the surprising variety of "unknown unknowns" vehicles encounter: a 20-fatality limo crash in New York caused by poor road design and vehicle maintenance; a speeding car launched off a raised median into a second-story office in California; and, an Oregon roadway made slippery by a truck spill of 7,500 pounds of slime eels.
How it works: Roadways and vehicle design can be modified to be more forgiving of mistakes and AV system shortcomings. These could include...
Enhanced lane divisions to prevent head-on collisions.
Traffic-calming devices like roundabouts.
Rumble strips to keep cars in their lanes.
Lower speed limits and alerts when those limits are exceeded.
Structures to minimize lethality of crashes inside the vehicle (strengthened roof and chassis) and outside (safer designs for guardrails).
The bottom line: A roadway designed to accommodate errors could better protect motorists and the AVs that may soon populate it.
Fraade-Blanar is an adjunct researcher at the nonprofit, nonpartisan RAND Corporation.
Go deeper: Read the full post.
3. Parsing the profit formula for robotaxis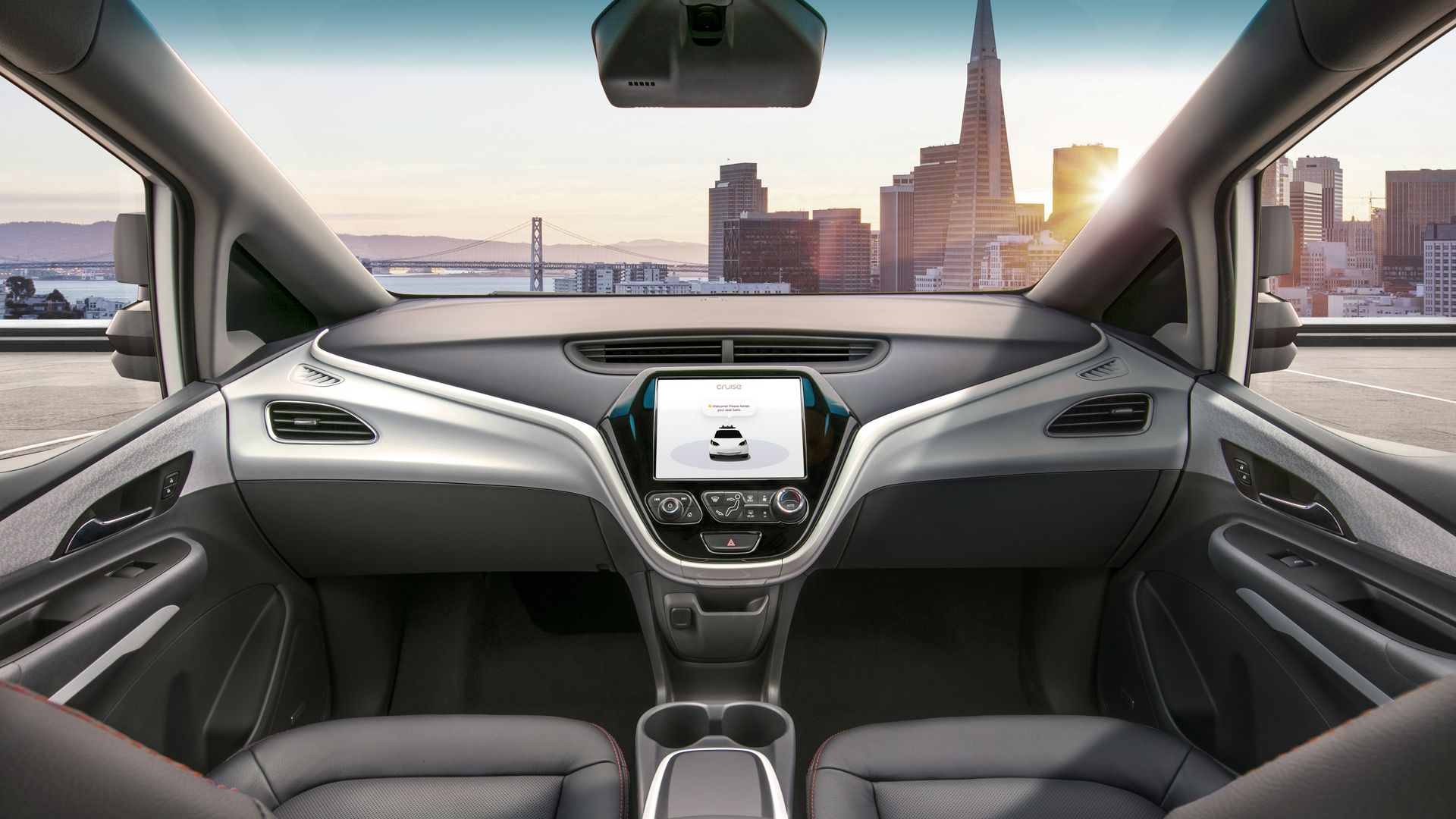 Automakers like GM and Ford are banking on the the assumption that if they can lower the cost per mile of self-driving taxis to $1 or less, demand will skyrocket. But a new analysis in the Harvard Business Review suggests their model may be flawed.
Why it matters: Carmakers are tearing apart their traditional businesses — exiting underperforming markets, closing factories and laying off workers — while diverting investment into future mobility technologies. But if self-driving taxi fleets don't take off as expected, their financial plans could be at risk.
What they're saying: Ride-hailing costs around $3 per mile today, according to GM, but only accounts for 1% of miles traveled. The driver represents most of that cost.
Without a driver, the cost per mile falls to around $1 per mile.
At that point, robotaxis will be so cheap everyone will travel that way — or so the theory goes. It's all about deploying at scale, as GM Cruise CEO Dan Ammann likes to say.
Yes, but: Authors Ashley Nunes and Kristen Hernandez see it differently.
They found the estimated cost per mile of a robotaxi in San Francisco was 3 times higher than the cost of owning an older vehicle.
The gap was due to lower utilization rates than carmakers assume. (Current taxis are in use about 50% of the time).
Even if robotaxis had substantially higher utilization rates, the cost of providing remote oversight by humans must be factored in.
The only way for robotaxis to be cost competitive with older cars is if the remote operators are paid well below minimum wage, the authors said.
Consumer subsidies will be needed to realize the life-saving benefits of AVs, they conclude.
The bottom line: Self-driving cars need to be affordable to serve those who need them most, and to keep carmakers' strategies afloat.
4. Driving the conversation
Palace coup: Inside the takedown that put Carlos Ghosn in jail (Matthew Campbell, Kae Inoue, Jie Ma, Ania Nussbaum — Bloomberg Businessweek)
My thought bubble: This is the best account yet of the breathtaking downfall of one of the world's most prominent business leaders and the likely unraveling of the global automotive empire he built. As Bloomberg writes...
Even his allies don't know entirely what to make of the allegations against him. But to some of them, his situation looks like more than the comeuppance of an executive who flew his Gulfstream too close to the sun. It looks like a palace coup.
Confusion reigns: The names car companies use to describe their high-tech features sound like gibberish (Andrew J. Hawkins — The Verge)
Why it matters: Advanced driver assistance systems can improve safety, but not if people don't understand what the technology can do. AAA blames carmakers themselves for slapping silly marketing names on similar features, making it difficult to compare models.
The group recommends standardizing names of features, which will go a long way toward educating consumers.
King of the road: Self-driving truck startup Ike raises $52 million (Kirsten Korosec — TechCrunch)
The big picture: Ike, which takes its name from President Dwight D. Eisenhower who is the creator of the U.S. Interstate Highway System, is the latest in a string of companies that thinks autonomy is the answer to our country's truck driver shortage.
But it's taking a practical, measured approach, based on the founders' collective AV experience at Apple, Google and Uber.
Injury pileup: E-Scooter Ride-Share Industry Leaves Injuries and Angered Cities in its Path (Ryan Felton — Consumer Reports)
Details: CR's gumshoe reporting found an estimated 1,500 people across the country have been injured in an e-scooter-related crash since late 2017. It notes that figures are hard to gather because neither the companies nor hospitals track scooter-related injuries.
5. 1 fun thing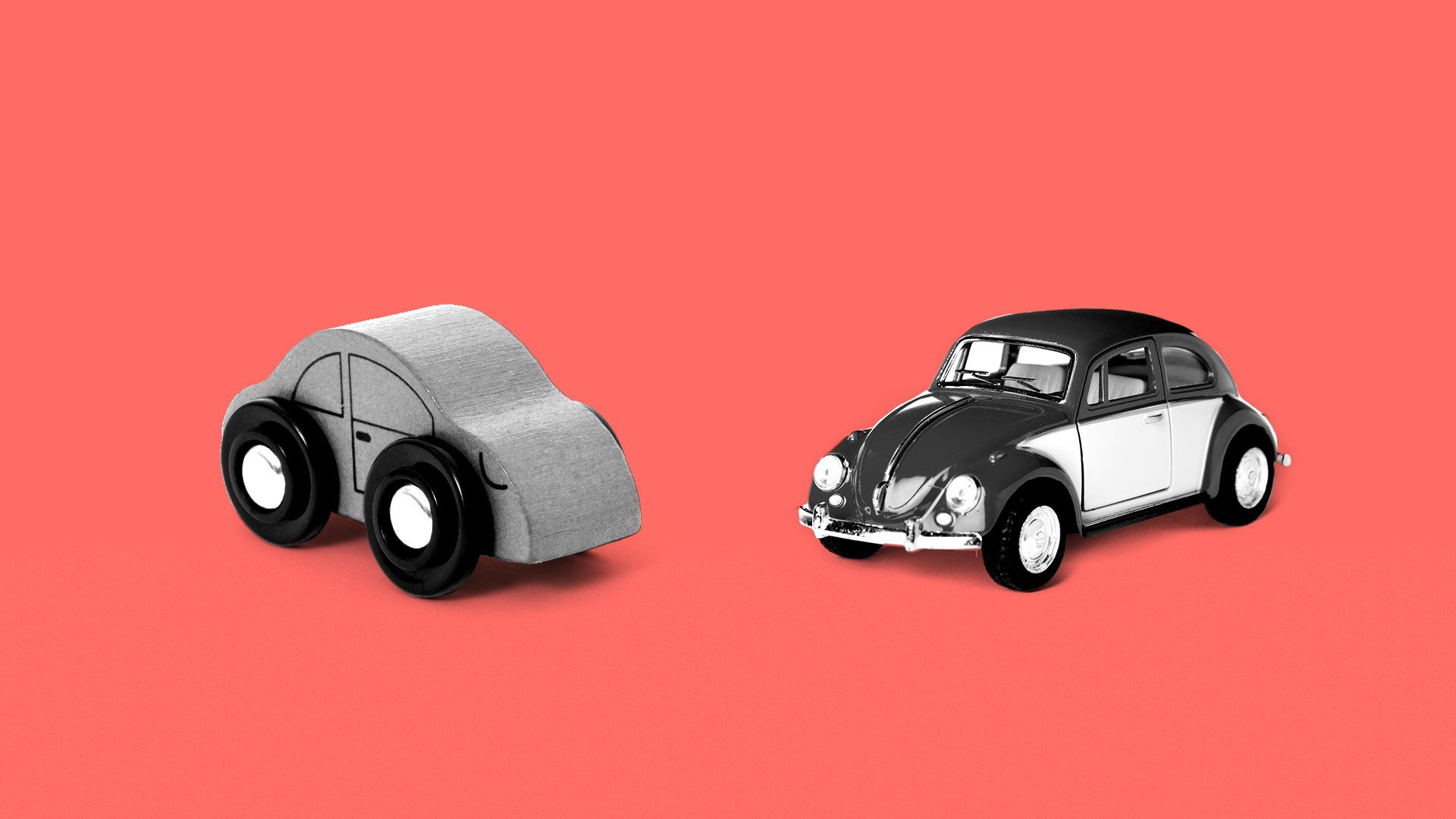 If you've got a decent background in math, you can learn how to program a self-driving car through a new online program offered by Coursera in partnership with the University of Toronto, a leading hub for AV research.
Why it matters: Coursera aims to get more people interested in AV engineering and claims, "The next big job boom is right around the corner."
Quick take: While its predictions of a $42 billion market and more than 20 million self-driving cars on the road by 2025 seem unlikely, AVs are still a growing field demanding a new kind of workforce.
Details: The AV specialization consists of 4 courses taught by 2 professors from the University of Toronto Institute for Aerospace Studies.
It starts with "Introduction to Self-Driving Cars."
Each self-paced course takes 4–6 weeks, after which you receive a certificate of completion.
It will take 4–6 months to complete all the courses, after which Coursera says you'll be able to build your own self-driving software stack and apply for jobs in AV technology.
The fee is $79 per month, but it's free to audit without earning a certificate.
Not just anyone can apply. It's recommended that you have some background in linear algebra, probability, statistics, calculus, physics, control theory, and Python programming.
My thought bubble: What could possibly go wrong by unleashing a bunch of math nerds to program their own self-driving cars in their garage?